These are called Superhero Muffins for good reason. They're loaded with fresh apples, zucchini, and carrots, plus your favorite add-ins. These are gluten-free, dairy-free, and sweetened only with honey. These muffins are everything your body needs and your taste buds want.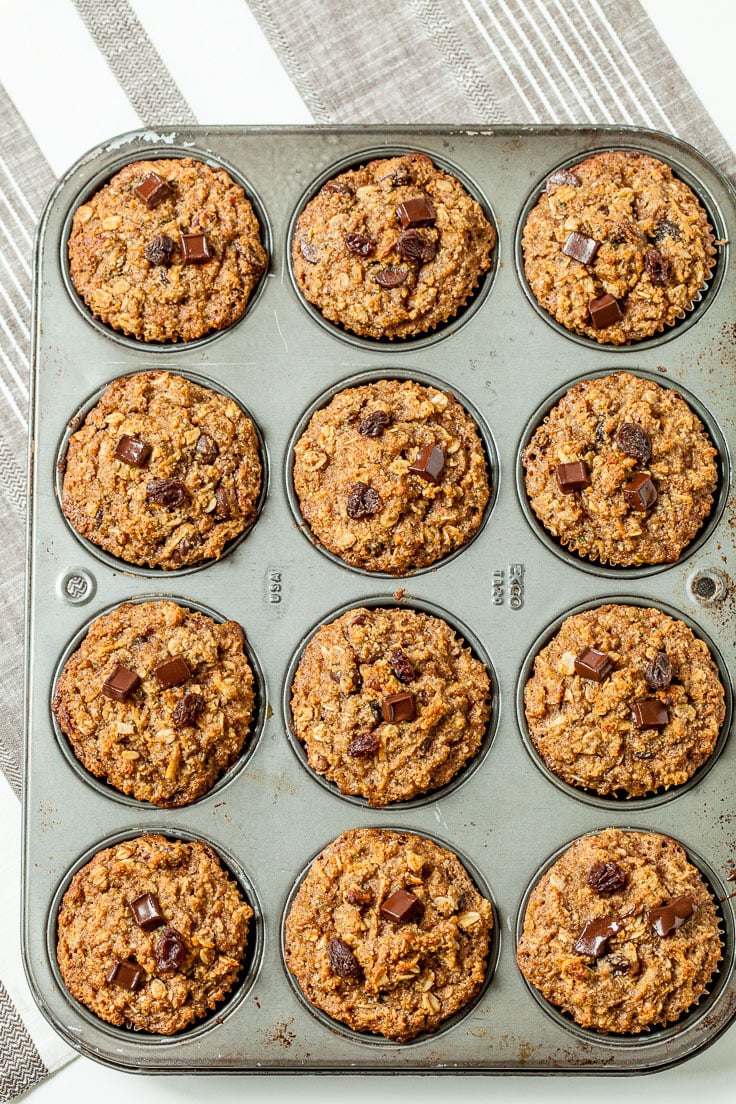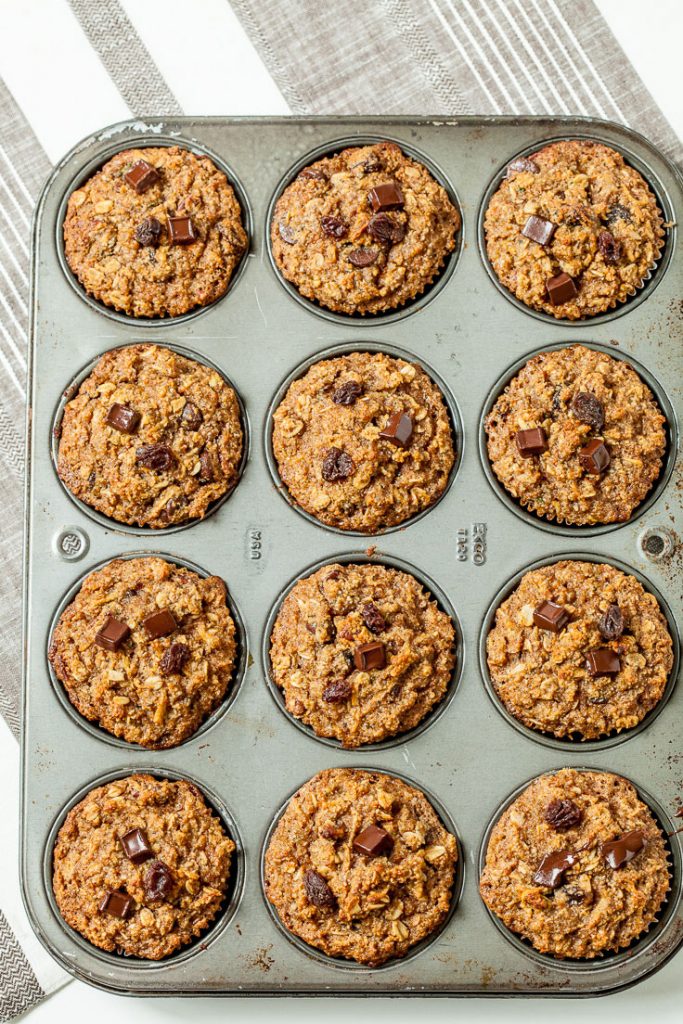 It's been nearly two months since I've baked. Pizza doesn't count.
My baking hiatus was courtesy of sugar-free January, followed by an overwhelming February. Not to mention our oven decided to conk out during our weeks of the infamous Polar Vortex and my nose decided to catch a cold simultaneously.
After all that, it's only fitting that I ultimately broke the ice by baking something with major Superhero status. I mean, Shalane Flanagan won her marathons by eating these Superhero Muffins. Okay. At very least, she co-wrote the popular Run Fast Eat Slow cookbook that commenced the Superhero Muffin craze.
Flipping through that champion's cookbook makes me want to sprint laps around the track and then cook up a storm. Or, I could just pad into the kitchen and eat a heroically delicious muffin. Those are almost the same thing. 😇
These Apple Zucchini Carrot Superhero Muffins are stacked with nutrients, ultra moist, and taste winningly delicious…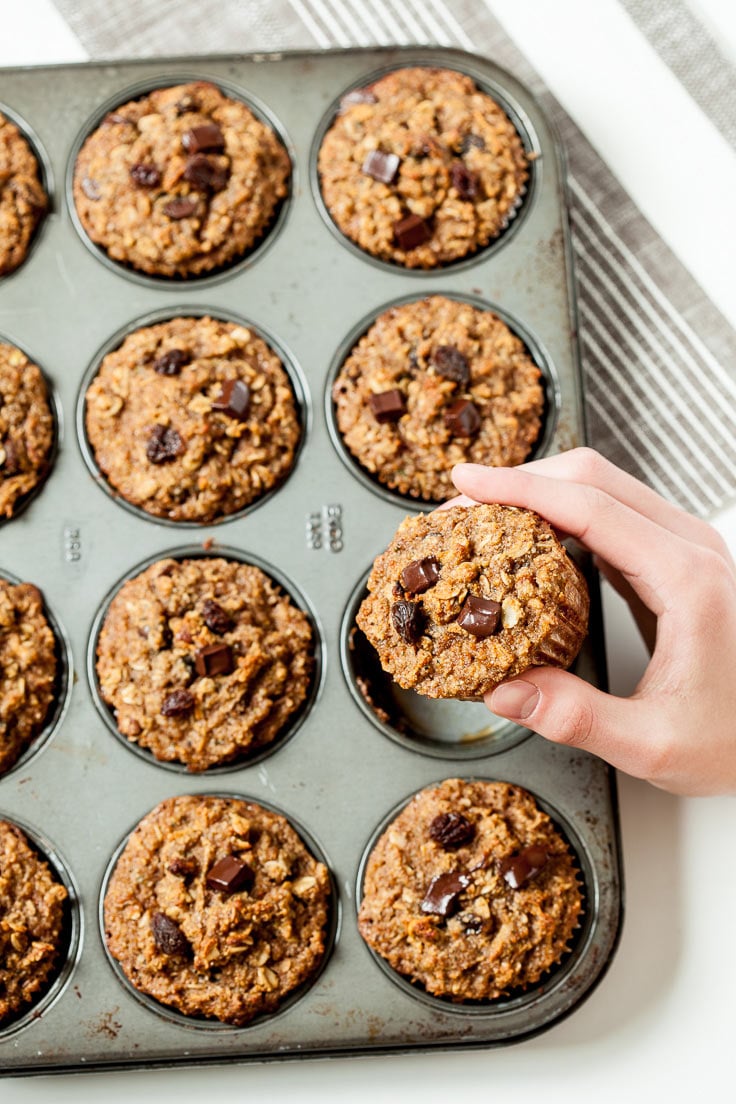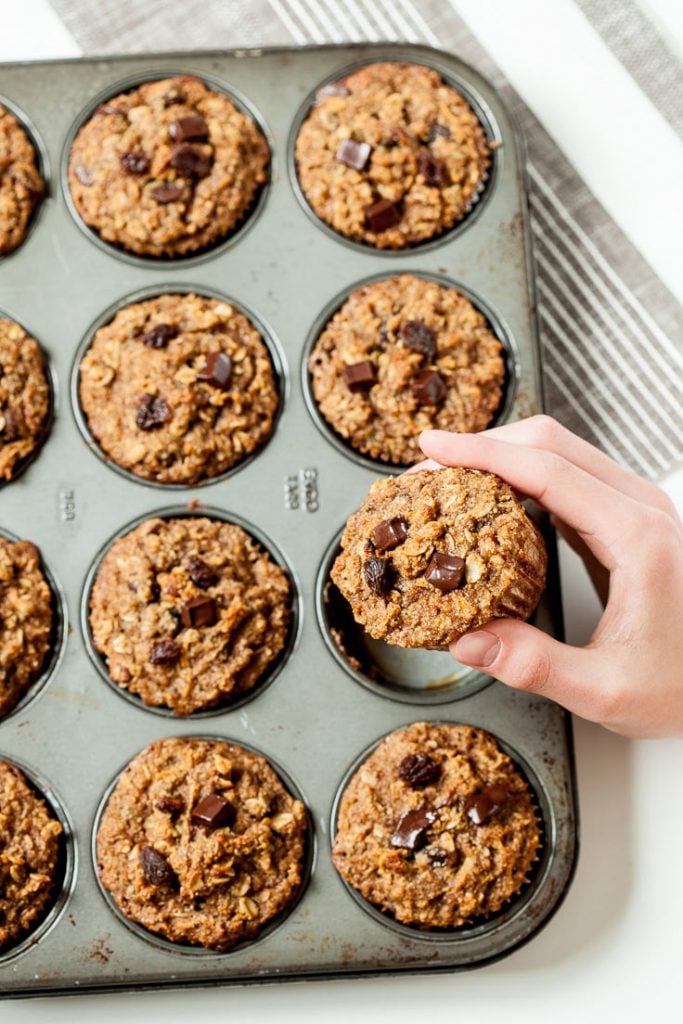 What Ingredients go into Superhero Muffins?
These muffs are everything your body needs and 100% of what your taste buds want. These gluten free muffins are loaded with all the good stuff, none of the bad, and they're truly delicious.
The action heroes in these muffins include: almond meal, rolled oats, cinnamon, vanilla, and any add-ins you like. The add-ins are where you get to be creative. Any combination of nuts, seeds, dried fruits, or even chocolate chips are wonderful. In this particular batch, I went with chopped pecans, raisins, and dark chocolate chips.
Of course, we've got plenty of freshly grated apples, zucchini, and carrots. The original recipe uses only zucchini and carrots, but I love adding grated apples to the mix.
What are some good substitutions I can use?
If you'd like to keep the muffins dairy-free, use coconut oil instead of butter. You can even try half applesauce/half oil. That's going to be my next batch, as I think it would add to the apple-y vibes while cutting down on cals. Although, these muffins are already quite healthy as is.
You can go nut-free by using roasted pumpkin seeds (pepitas) or sunflower seeds in lieu of nuts. Chia seeds would also be great nutritionally and texturally.
To ensure these remain gluten-free muffins, be sure your containers are labeled gluten-free for the almond meal and rolled oats.
The dark chocolate chips are fully optional but totally yummy. Feel free to stick with dried fruits, if you don't want the chocolate chips. Unsweetened white or dark raisins both work really well in this recipe. Chopped dates would be amazing, too.
Lastly, I like using pure honey for the sweetener, as it has such a rich golden flavor. You can substitute with equal amounts of pure maple syrup if you like.
Tips for making the best superhero apple zucchini carrot muffins:
Measure the almond meal and rolled oats carefully, so your dry ingredient to liquid ratio is accurate.
Be sure your oats are labeled gluten-free.
Use toasted nuts and/or seeds rather than raw, as they taste much better and have better crunch when toasted.
I prefer to use a fine grater for my carrots, zucchini, and apples, as the finer texture allows the veggies to blend into the batter easier. However, some people like the texture of the larger shredding holes.
Do not squeeze excess liquids from the grated veggies/fruits. Include the juices, as it will help provide moisture to the finished muffins.
Be sure to use a rubber spatula to gently fold dry ingredients with wet ingredients to form the batter; don't over mix, as that typically results in a tougher texture.
These muffin cups should be filled to the brim before baking; they won't rise as much as other muffins do.
The ultimate tip: be sure to check muffins 2-3 minutes before bake time is done, just to ensure they're not becoming over-baked. Over-baked goodies just aren't as good.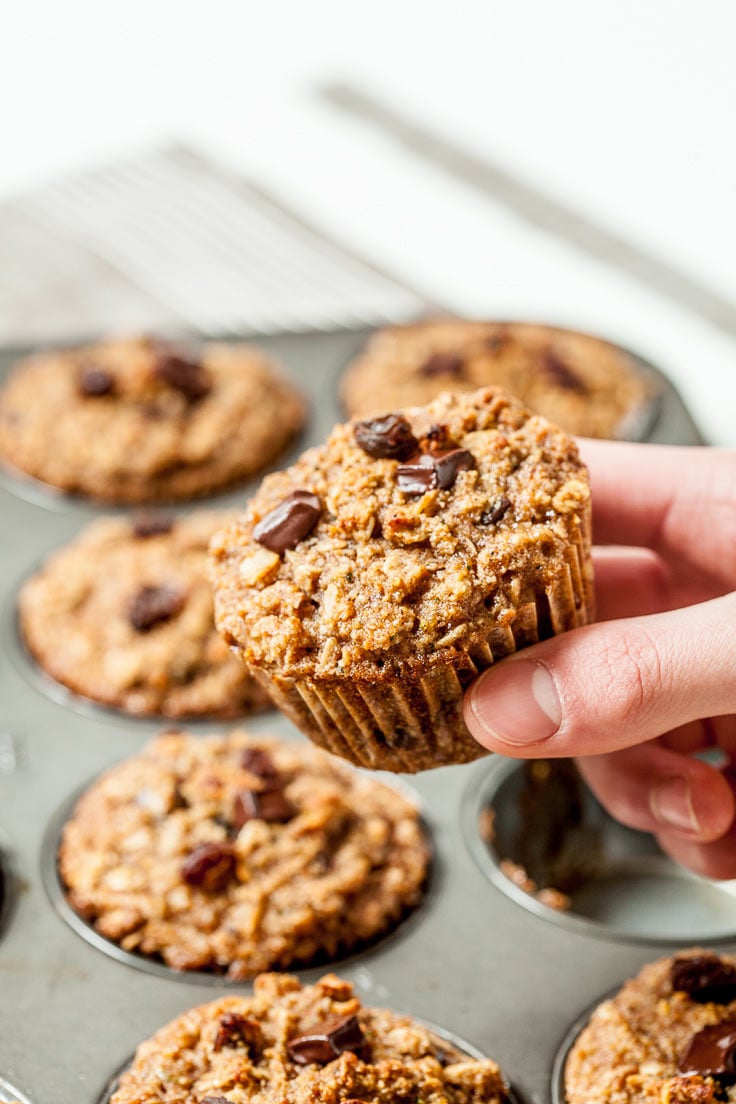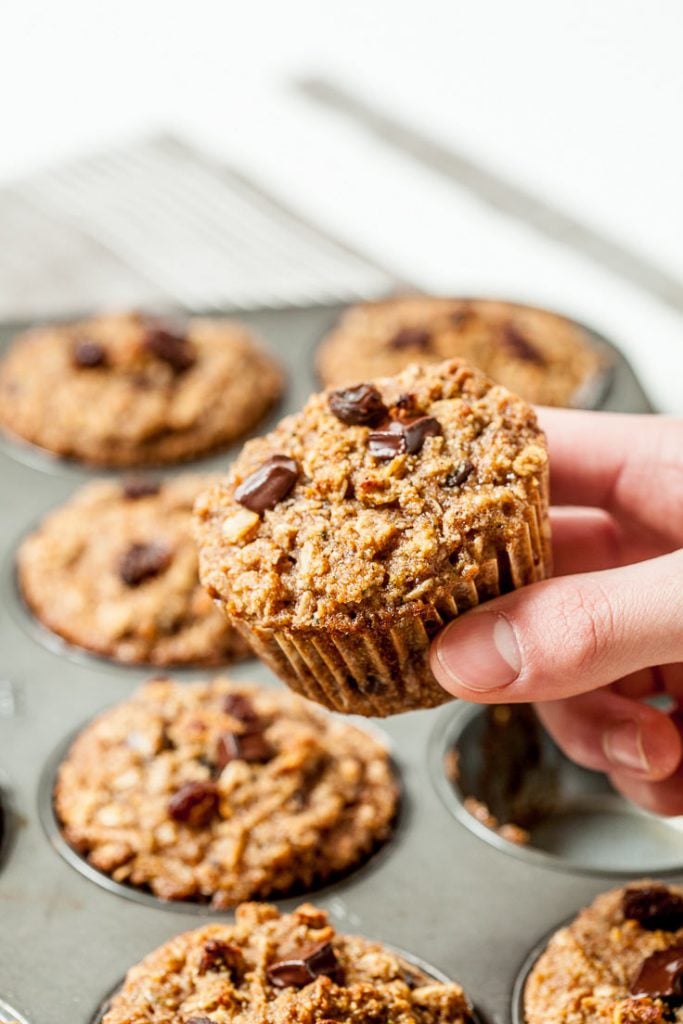 Why do we love these Superhero Muffins?
They make you run marathons like Shalane.
Not really to the above, but you might feel like a champ while eating these muffins.
These muffins are loaded to the max with nutrients, protein, fiber, antioxidants, etc.
Simultaneously, these superhero muffins taste spectacular.
Our gluten-free, dairy-free, and even refined-sugar-free friends can enjoy these muffins right along with us.
These muffins are always a hit when taken to any breakfast gathering.
These treats are awesome fuel to satisfy those midday hunger cravings.
My picky teens inhale these muffins. 'Nuff said.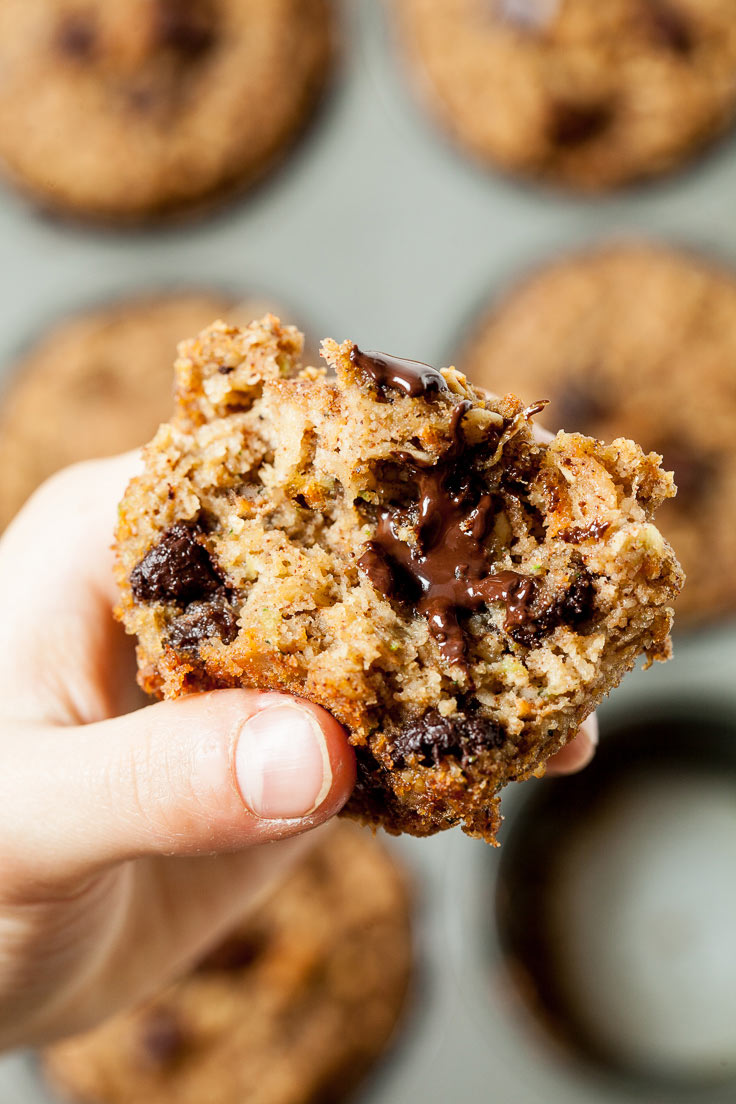 Print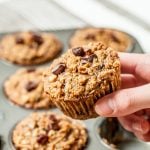 Superhero Apple Zucchini Carrot Muffins
Author:

Prep Time:

30 min

Cook Time:

25 min

Total Time:

55 minutes

Yield:

12

1

x
Category:

Breakfast

Method:

Oven

Cuisine:

American
---
Description
These are called Superhero Muffins for good reason. They're loaded with fresh apples, zucchini, and carrots, plus a dose of chocolate chips if you're so inclined. These are gluten-free, dairy-free, and sweetened only with honey. These muffins are everything your body needs and your taste buds want. 
---
Scale
Ingredients
2 cup

s almond meal

1 cup

gluten-free old-fashioned rolled oats

1/2 cup

chopped, toasted pecans (or other nuts/seeds of your choice)

1/2 cup

raisins or other dried fruit

1/2 cup

dark or semi-sweet chocolate chips, optional

2 teaspoon

s ground cinnamon

1/2 teaspoon

ground nutmeg

1 teaspoon

baking soda

1/2 teaspoon

fine table salt

3

large eggs, lightly beaten

1/2 cup

grated zucchini (no need to peel)

1/2 cup

peeled, grated carrot

1 cup

peeled, shredded apple

6 tablespoon

s melted coconut oil (or butter)

1/2 cup

pure honey

2 teaspoon

vanilla
paper muffin liners
---
Instructions
Arrange a rack in the center of the oven and preheat the oven to 350°F. Line a 12-cup standard muffin tin with paper muffin cups.
In a large bowl, combine the almond meal, oats, pecans, raisins, chocolate chips, cinnamon, nutmeg, baking soda, and salt. Stir to incorporate well.
In a separate large bowl, use a hand whisk to stir together the eggs, zucchini, carrot, apple, coconut oil (or butter,) honey, and vanilla.
Use a rubber spatula to gently fold the dry ingredients into the wet ingredients, folding until just combined; do not over-mix batter.
Divide the batter evenly into the muffin cups, filling each to the brim. Bake about 25 minutes, or just until the muffins are golden on top and a toothpick inserted in the center of a muffin comes out with a few tender crumbs attached. Start watching a couple minutes before bake time is up, to ensure muffins are not over-baked.
Let muffins come to almost room temp before removing from muffin tin. Muffins are best served the day they're made, but can be kept in airtight container at room temp for 2 days.
---
Notes
**Using butter and semi-sweet chocolate chips are totally optional. To keep these muffins dairy free, use coconut oil. To keep them refined-sugar free, stick with nuts, seeds, or unsweetened dried fruits for the add-ins.
** Baked muffins can be wrapped airtight the day they're made and frozen for breakfast on-the-go.
Keywords: Superhero Carrot Zucchini Apple Muffins
Kitchen Stuff We Love:
Other Magically Delicious Muffins:
Honey Cornbread Muffins (No Refined Sugar)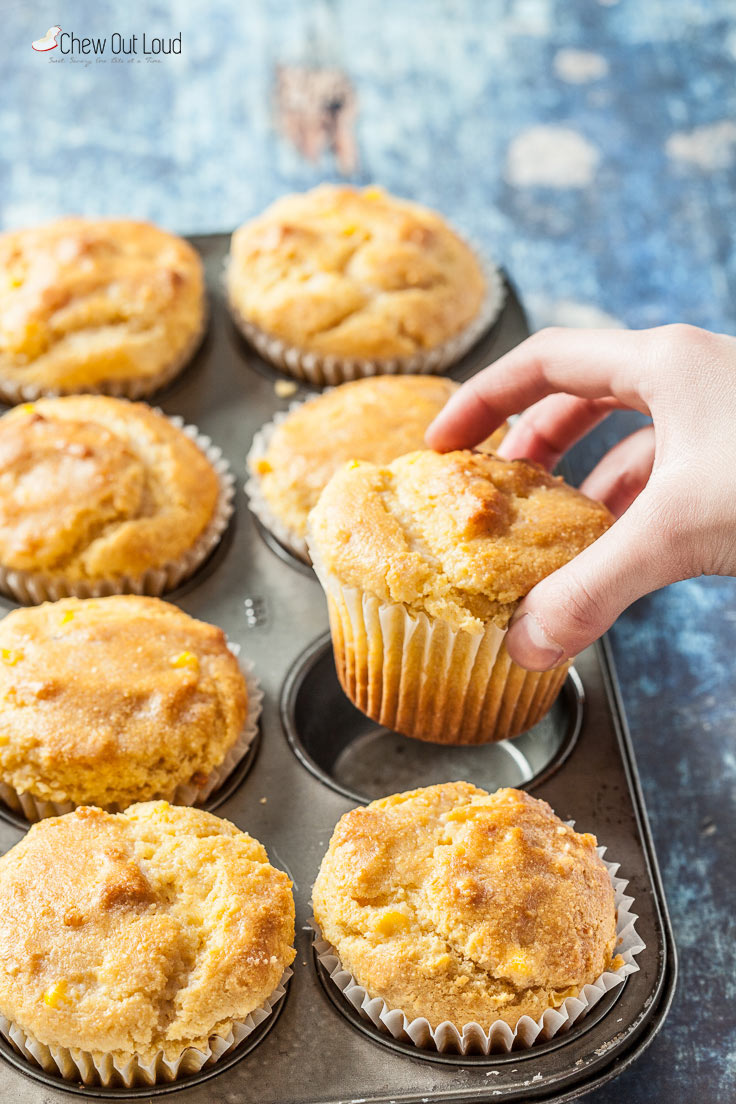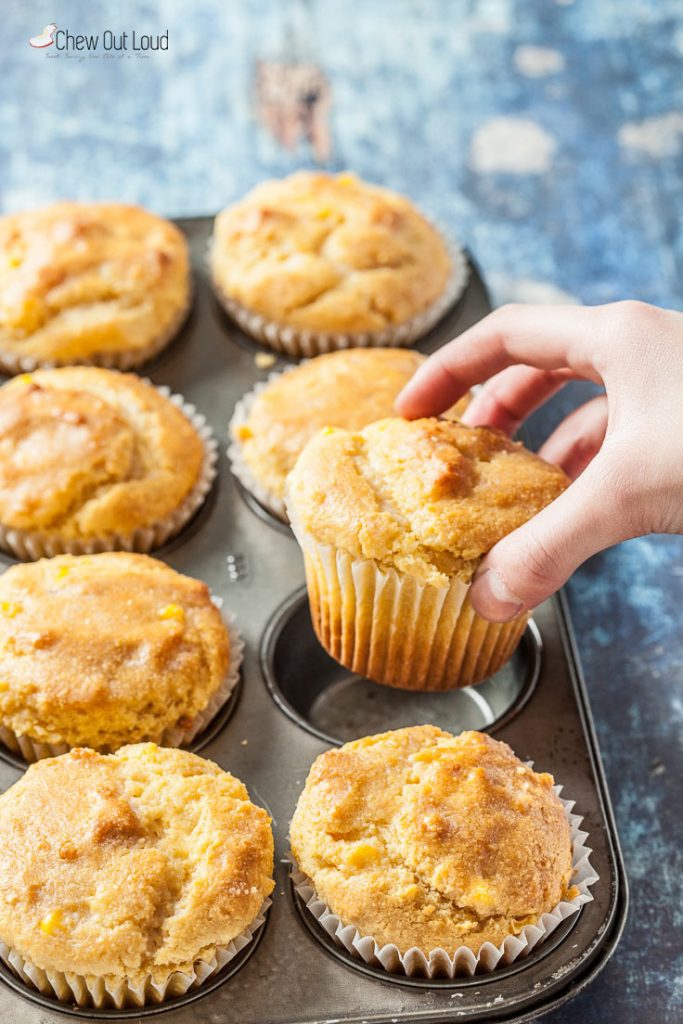 Big Blueberry Muffins, Bakery Style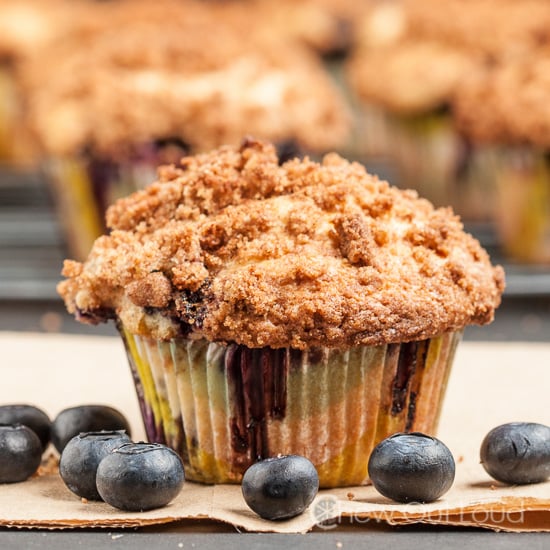 Steel Cut Oatmeal Blueberry Muffins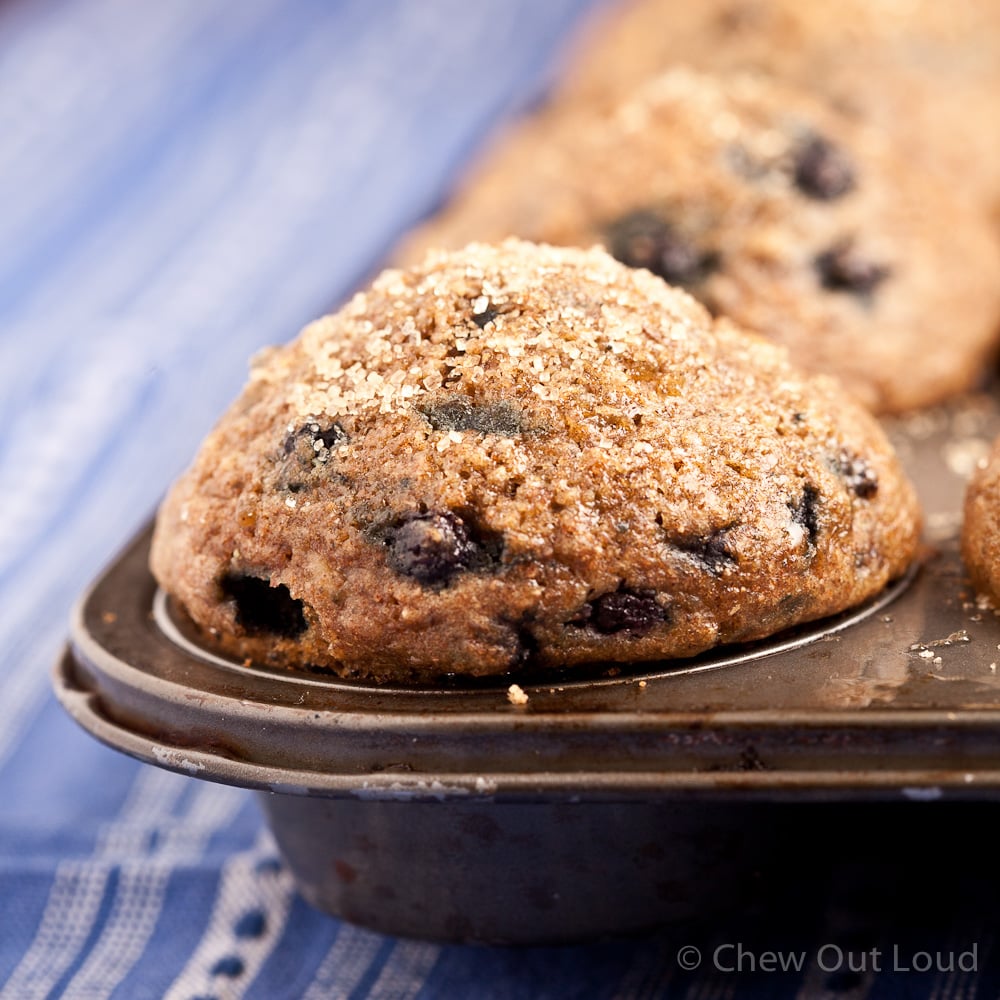 Sweet Potato Cinnamon Muffins with Brown Sugar