Chewy Snickerdoodle Bars
By Amy Dong
Published Nov. 13, 2014
Updated Nov. 16, 2023
These Chewy Snickerdoodle Bars are a must-try during the fall/winter seasons! They're chewy, cinnamony, and perfect for the holidays.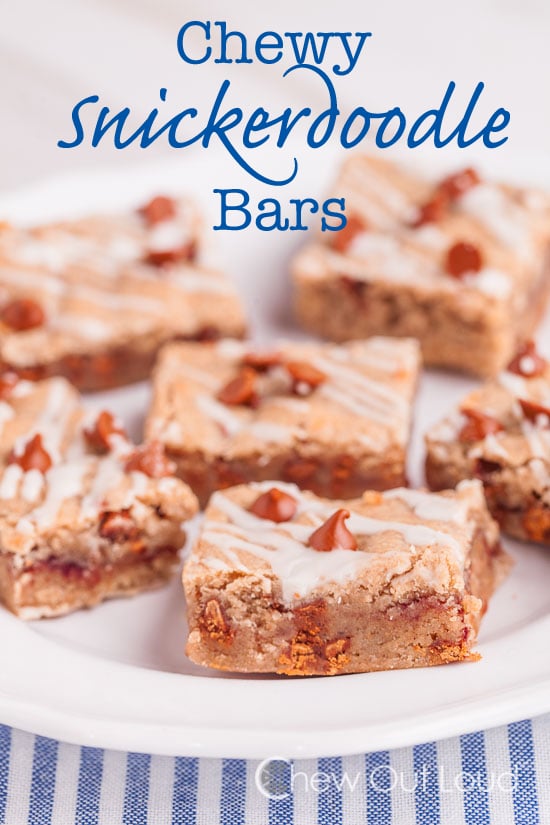 Though mid-November feels a bit too early for the sticky white snow we've been endowed with, even I have to admit the big snowflakes bring a certain soft beauty.
Come March, I'll be singing a totally different tune. But for today, that's my story and I'm sticking to it.
We've only received a couple inches so far (clearly way more to come)… but it's amusing to watch how excited the boys are. They grab their sleds with reckless abandon and run to the little hill next to our house.
They sit with giddy anticipation on their sleds. And the sleds don't move. Instead, it's somewhat of a slow shuffle downwards. Not enough powder on the ground. Yet. But The Littles don't care.
That makes two things that get me through the fiercely cold months. I love how my guys make the very most of it. And I have an undeniable crush on
…cookies. Loaded with morsels. Bars. Cinnamon 'n sugar… I'm fully in my element with fall/winter baking.
That's what these Chewy Snickerdoodle Bars are all about. They've got fall, winter, and holiday written all over them. If they could speak, they'd say joy.
I made these snickerdoodle bars for a bunch of teachers at the kids' school. Then I kicked myself for not making double.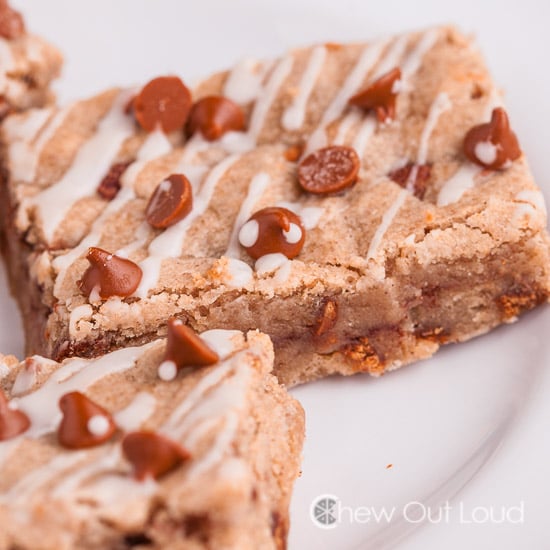 These snickerdoodle bars are everything everyone loves about snickerdoodle cookies, but they're a dozen times easier. Because we ditch the shaping and rolling for simple square-cutting.
These scrumptious bars are slightly crispy on the edges and wonderfully chewy on the inside. Chewy cookie bar bliss.
Buttery, cinnamony, just the right amount of sweetness, and drizzled with a yummy glaze.
Enjoy more snickerdoodle flavors in these golden Oreo cookie balls!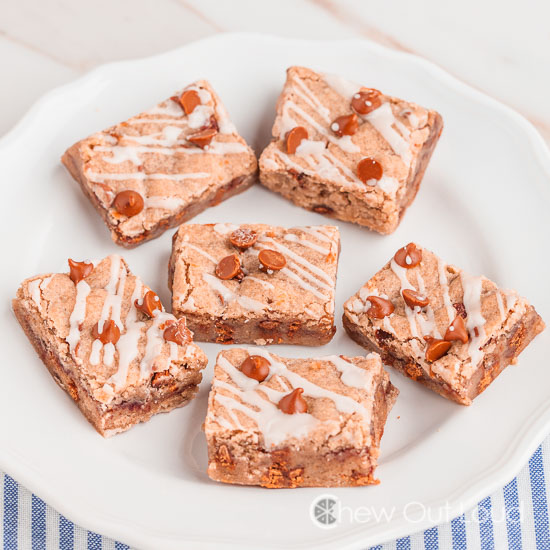 These snickerdoodle bars are fantastic for holiday potlucks, parties, and gift-giving. I'd definitely want a plate of these.
They're also terrific for baking up at home for yourself and your people, just because.
I'm guessing they keep well at room temp, but I really wouldn't know because I didn't have any leftovers to take home.
Enjoy!
Did you make this?
Please give us a rating and comment below. We love hearing from you!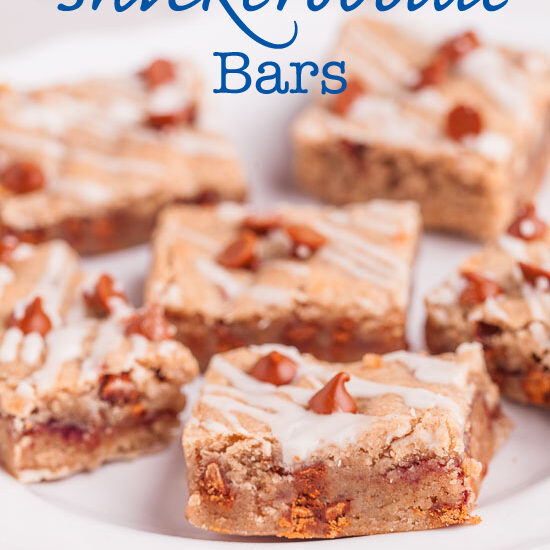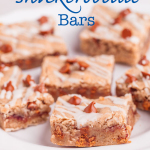 Chewy Snickerdoodle Bars
These snickerdoodle bars are slightly crispy on the exterior and wonderfully chewy on the inside. They are chock full of cinnamon and cinnamon morsels, making them doubly delicious. They're easy to make and perfect for the holidays.
Instructions
Heat oven to 350F with rack on lower middle position. Line a 13x9 inch baking pan with foil, making a foil "sling" on either side past the pan for easy lifting of the whole dessert after baking. Set aside.

In a bowl, combine the flour, baking powder, salt, and cinnamon. Set aside.

In the bowl of a stand mixer, with paddle attachment, beat the softened butter until creamy. Add in the sugars and beat until fully incorporated. Beat in the eggs and vanilla just until combined. Switch to low speed, and gradually add in the dry ingredients just until combined. Do not over beat.

Using a rubber spatula, transfer two-thirds of the batter into foil-lined pan. Spread batter evenly. Sprinkle the cinnamon sugar mixture evenly over the batter. Distribute teaspoon-sized amounts of remaining batter evenly over the cinnamon sugar mixture. (It will not cover all the cinnamon sugar layer, but that is ok. Using damp fingers will help distribute the batter with ease.)

Bake 20-25 min or just until golden brown and toothpick inserted in center comes out almost clean. A few tender crumbs attached are perfect. Allow to cool completely. Stir together the glaze ingredients until it's a nice consistency for drizzling. Add a bit more powdered sugar or milk, according to how thick/thin you want it. Remove entire bar dessert using the foil sling and transfer to a cutting board. Drizzle icing on top. Cut and serve.
Nutrition (per serving)
Calories:
191
kcal
|
Carbohydrates:
36
g
|
Protein:
2
g
|
Fat:
7
g
|
Saturated Fat:
4
g
|
Polyunsaturated Fat:
0.4
g
|
Monounsaturated Fat:
2
g
|
Trans Fat:
0.2
g
|
Cholesterol:
36
mg
|
Sodium:
154
mg
|
Potassium:
35
mg
|
Fiber:
1
g
|
Sugar:
21
g
|
Vitamin A:
218
IU
|
Vitamin C:
0.02
mg
|
Calcium:
31
mg
|
Iron:
1
mg
Source: Chew Out Loud, adapted from Betty Crocker
Now that I'm in cookie mode, here are a few more holiday favorites:
Chewy Chocolate Mint Chip Cookies. They're soft-batch style, chewy on the inside, and stay soft for many days. Minty and chocolatey.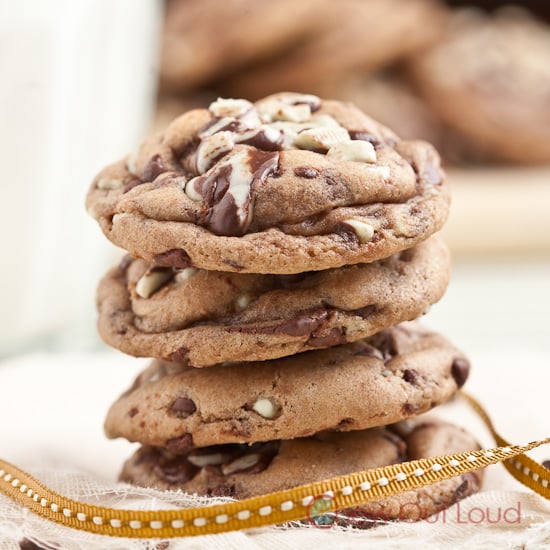 These beautiful Snowball Cookies are one of our all-time holiday favorites. It's obvious why…they're not only lovely for the season, but they are full of buttery and melt-in-your-mouth awesomeness.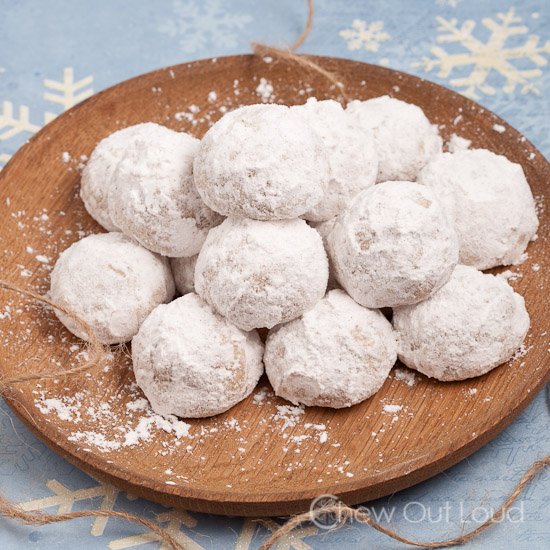 Chewy and Soft are how we like our Gingerbread Cookies. These are huge in the ginger flavor department. They stay soft and chewy and are perfect for gift-giving.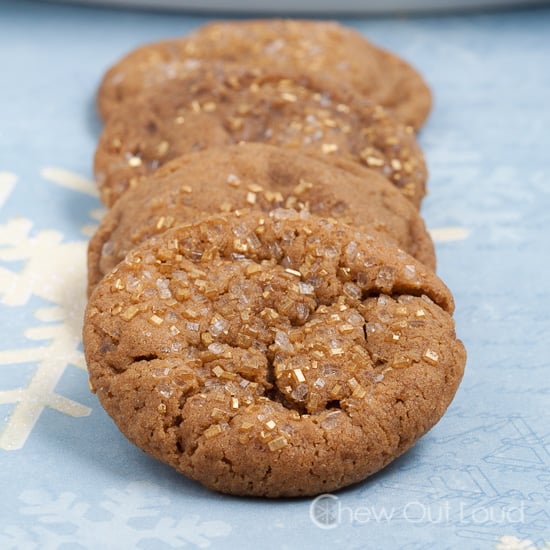 Salted Caramel Kiss Cookies. No words really needed here. These are fabulous.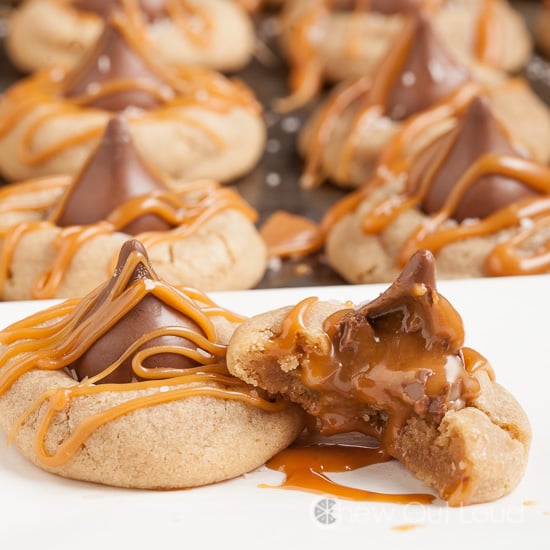 Chewy Soft Snickerdoodle Cookies. These are the ultimate classic chewy, soft, cinnamony cookies that are a must every holiday.