Snowball Cookies (Russian Tea Cakes)
By Amy Dong
Published Dec. 3, 2019
Updated Nov. 27, 2023
Snowball cookies (also known as Russian Tea Cakes or Pecan Balls) are melt-in-your-mouth incredible. They're an easy holiday favorite, with just 6 ingredients. You have to taste them to see what the hype is all about…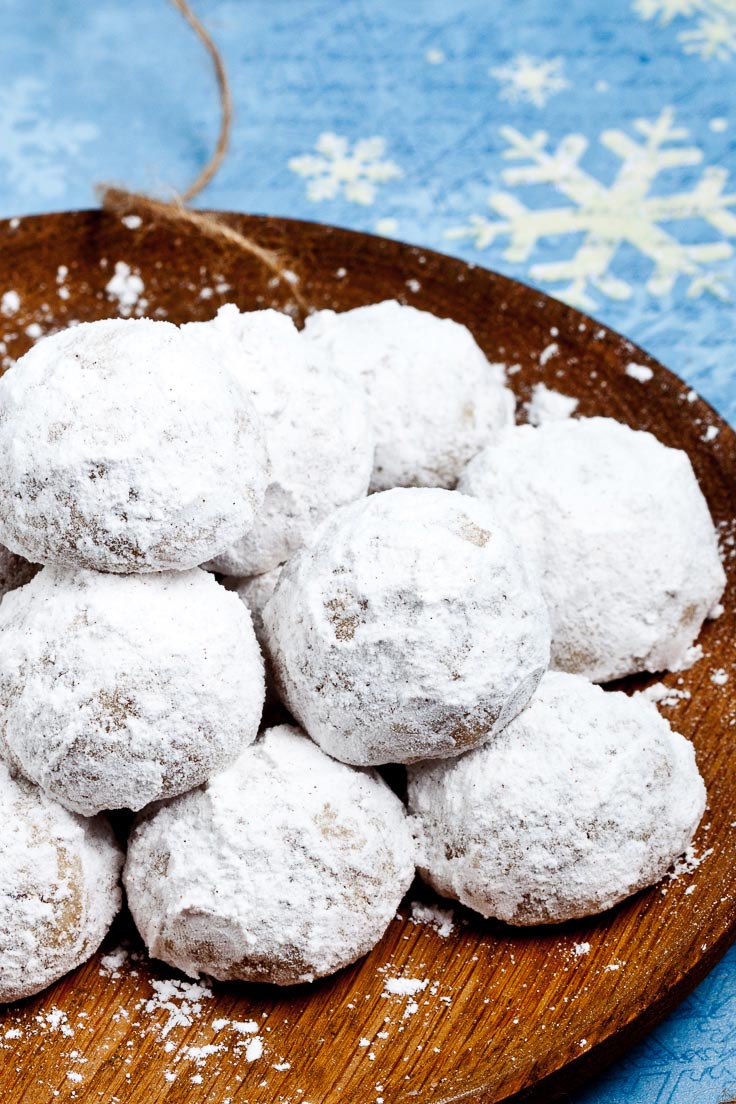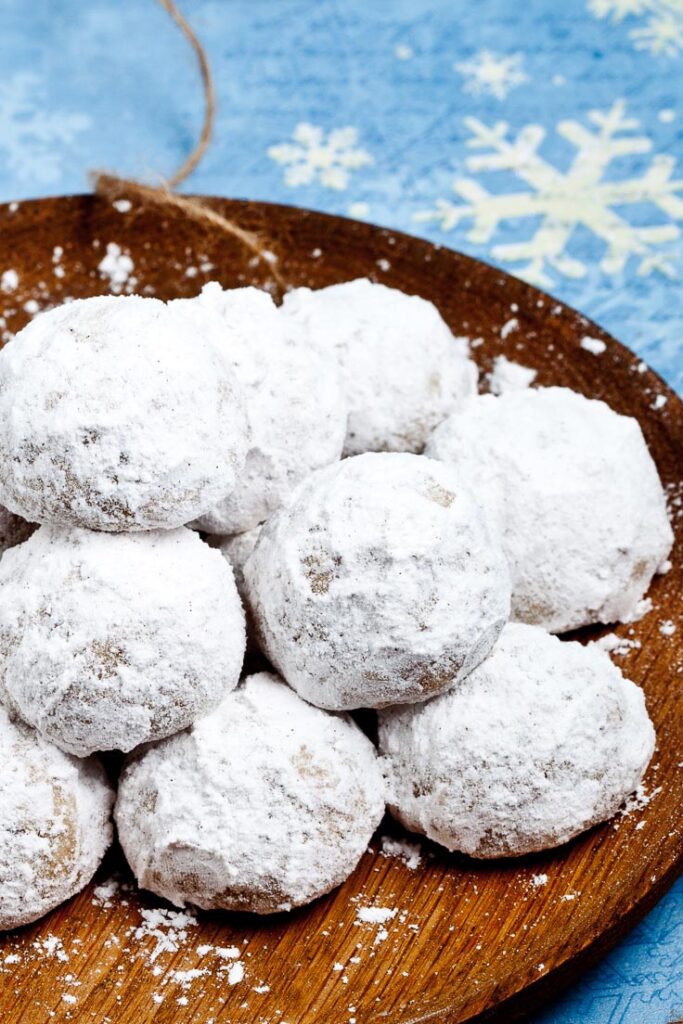 Video: Watch Us Make This Recipe
How to make snowball cookies aka Russian tea cakes
The classic Christmas lyrics have been belting out "Let it Snow." But in reality, it'd be pretty sweet if we got a break from the ice and snow around here for awhile. Just so the roads can stay clear for awhile, at the very least.
But even I will own up to a few benefits of a snow-laden landscape. A good pile of snow gives my unstoppable boys an outlet for outdoor fun. And a venue for energy expenditure (very important to my sanity.)
If snow comes in cookie form, though, I'll take that any day. Every day. And all day.
Snowball cookies may look like little balls of fresh snow, but that's where the similarities stop. Also known as Russian Tea Cakes, Mexican Wedding Cakes, or Southern Pecan Balls… these little cookies are melt-in-your-mouth perfection.
These are a quintessential Christmas cookie. You only need 6 ingredients to make them happen. That's a good thing, because once you taste these little pecan balls of melt-in-your-mouth deliciousness, you'll want to make a bunch of them to freeze, gift, and eat…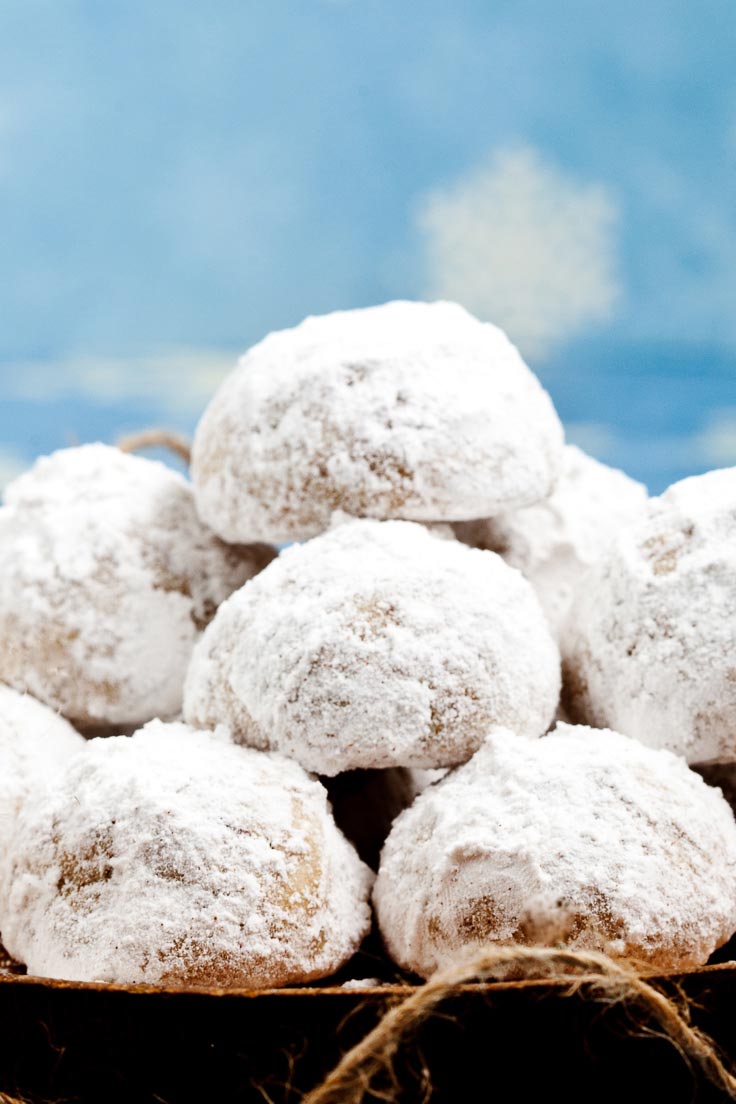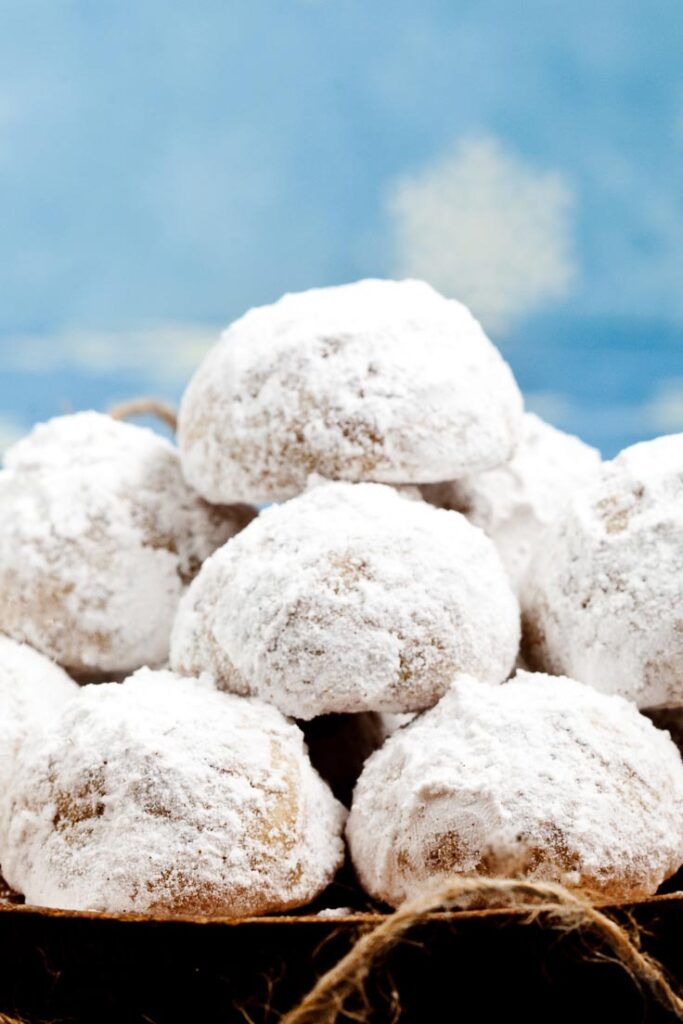 Ingredients for snowball cookies (russian tea cakes)
1 cup salted butter – we go with salted butter, as it eliminates the need to add any additional salt, and provides such great flavor. Be sure it's room temperature. Just soft, but not at all melty. Should be cool to the touch.
2 cups powdered sugar – we will divide the amount to be used in various steps. Super easy.
1 TB vanilla extract – always use pure vanilla extract. One tablespoon may sound like a lot compared to many cookie recipes, but trust! It will be amazing!
2 cups all purpose flour – we have not trialed with other flours other than all purpose, so my suggestion is to stick with this flour for best results.
1 cup pecans, toasted, cooled, and finely ground (stop as soon as it looks ground; avoid it becoming pasty) – even if your pecans seem toasted already in the package, still give it a brief toasting…it will really really bring out those deep flavors and aromas! Just take care not to let them burn; watch carefully here. When you grind them, be sure to stop as soon as they look finely ground (if you keep going, the ground nuts will become most like a paste, which you want to avoid.)
1/2 tsp cinnamon – ground cinnamon is amazing as always. Just be sure yours is fresh and not stale.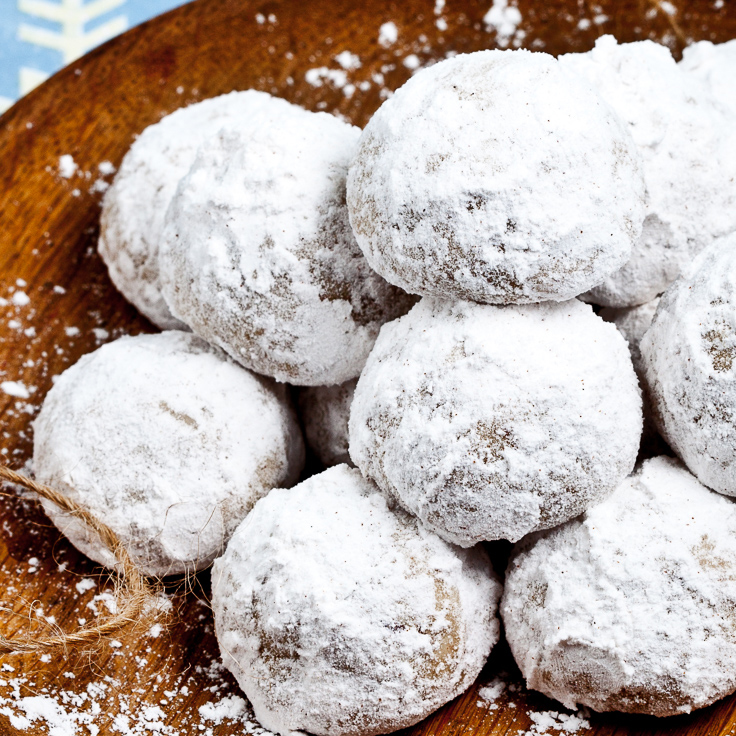 Must-have Christmas cookies for cookie exchanges and edible gifts
These snowball cookies are tender and fine-crumbed, which creates that unbeatable melty sensation when you bite into one. Or pop the whole thing in your mouth.
They keep very well, which makes them the prime candidate for gift-giving and cookie exchanges.
You can bake them, freeze them airtight, and serve them when you're ready to share. These are a must-have cookie for winter holidays. Even if you don't love snow itself, you'll love these snowball cookies.
Have you tried ultra-chewy white chocolate chip cookies?
Did you make this?
Please give us a rating and comment below. We love hearing from you!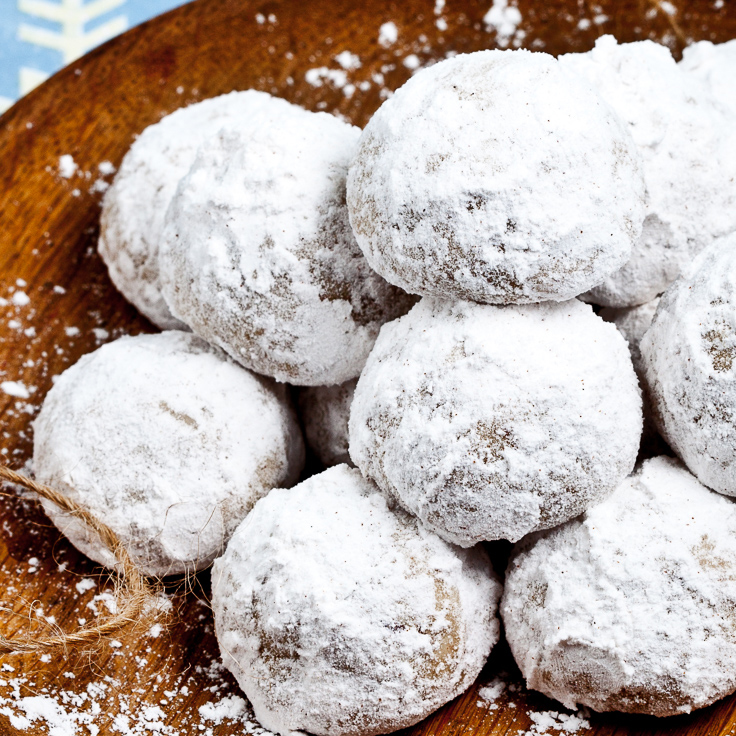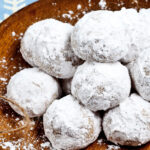 Snowball Cookies (Russian Tea Cakes)
These snowball cookies literally melt in your mouth. They are tasty little morsels that are perfect for gifting or cookie trays, as they keep very well. The bit of cinnamon adds so much to the flavor.
Instructions
Beat butter in the bowl of an electric mixer until light and fluffy, 5-8 minutes. Add 1/2 cup powdered sugar and vanilla and beat until well blended. Add flour and nuts, beating until incorporated.

Divide dough roughly in half. Wrap each half in plastic and chill in fridge for at least 1 hour.

Preheat oven to 350F. Whisk together remaining 1 1/2 cups powdered sugar and cinnamon in a pie dish.

Take out first half of chilled dough. Make 1-inch cookie balls, and arrange them on a parchment-lined cookie sheet, 1 inch apart. Slightly pinch each ball so it stands taller and somewhat oval.

Bake cookies just until bottoms are light golden brown, 12-13 minutes. Cool for 5-10 minutes on sheet.

Carefully toss warm cookies in the cinnamon sugar mix, coating completely. Place cookies on wire rack to finish cooling.

Once fully cooled, re-coat each cookie in cinnamon sugar mix and serve. Repeat with other half of dough.
Notes
If you enjoyed these cookies, please come back and give them a rating! 🙂
Nutrition (per serving)
Calories:
85
kcal
|
Carbohydrates:
8.9
g
|
Protein:
0.8
g
|
Fat:
5.3
g
|
Saturated Fat:
2.5
g
|
Trans Fat:
0.1
g
|
Cholesterol:
9.8
mg
|
Sodium:
29.4
mg
|
Fiber:
0.4
g
|
Sugar:
4.8
g
Adapted from Smitten Kitchen
Also try these White Chocolate Chip Macadamia Nut Cookies. Soft, chewy, satisfaction in every bite…
Have you seen these Chewy Triple Chocolate Chip Cookies? It's the offspring of fudgy brownies and cookies: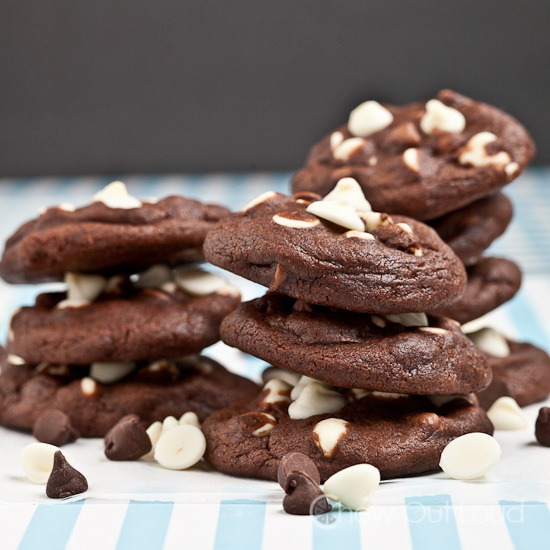 And we're not kidding about these Fudgy Chocolate Peanut Butter Sandwich Cookies. They are for real. Grab the milk and go!