Chewy Snickerdoodle Sandwich Cookies
These Chewy Snickerdoodle Sandwich Cookies are a festive sweet treat made for the holidays. Perfect for cookie parties, dessert trays, and all the potlucks. They'll be gone in a snatch.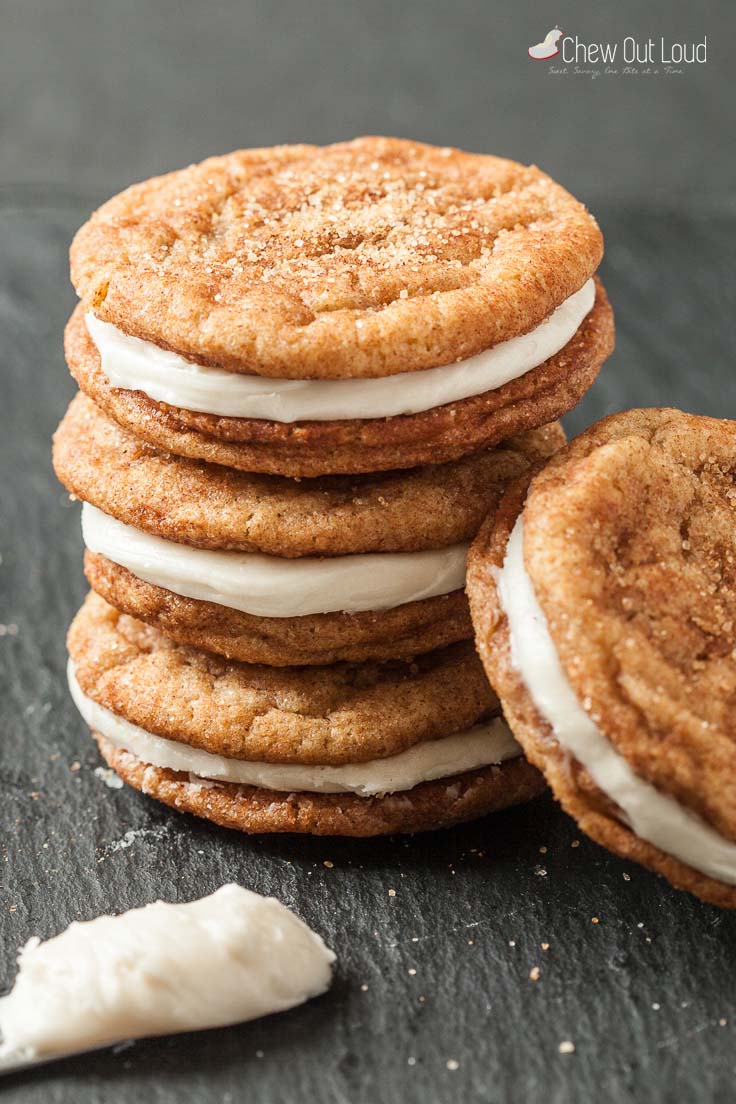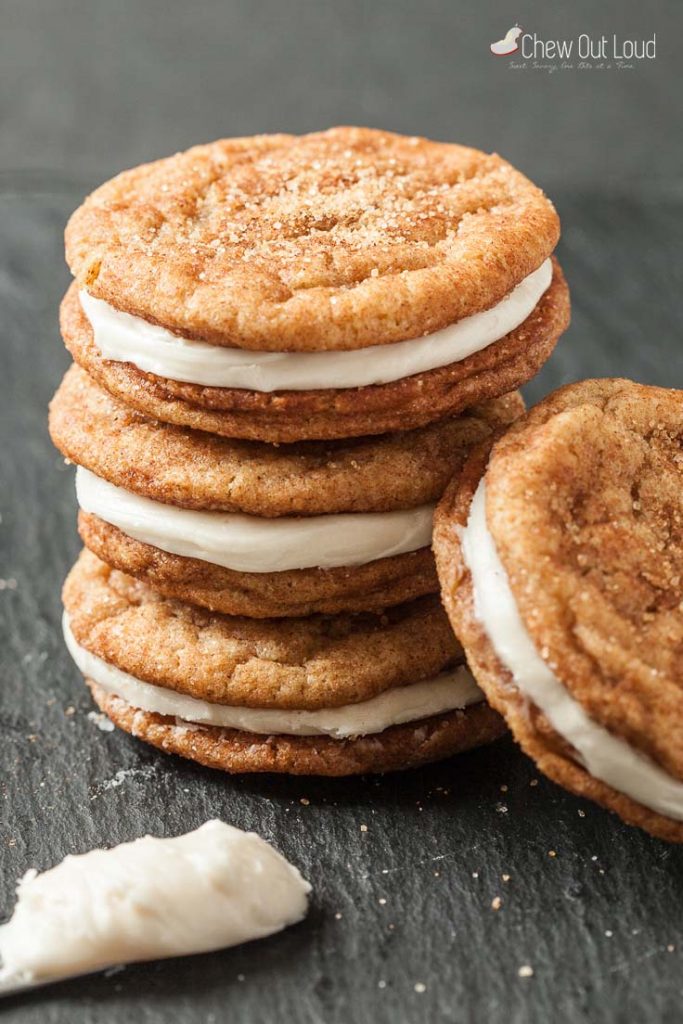 This post has been sponsored by Wholesome™. All thoughts and opinions are my own.
Happy December, Friends! 😀 We're having an unusually warm start to December, which I'm stoked about because I'm not a fan of our typically arctic temps here in the Twin Cities once winter decides to waltz in. However, the frosty air does have a few redeeming qualities in my joy book: fuzzy slippers, scented candles, and cookies.
Of course, cookies. 'Tis officially cookie baking season and we're starting off with a cheerful bang.
Seeing that cookies and frosting are both superstars during the holidays, we've taken it upon ourselves to combine the two into one irresistible treat.
Introducing Chewy Snickerdoodle Sandwich Cookies. 🎉
These snickerdoodle sandwich cookies taste like you spent time on them, but these cookies are actually surprisingly easy. That makes these snickerdoodles a prime candidate for all the cookie exchanges, dessert tables, and holiday potlucks coming right up.
These snickerdoodle sandwich cookies aren't just easy and and delish, but they're also made with 100% real ingredients. Nothing artificial.
It's absolutely possible to bake better with real ingredients for the holidays, without sacrificing a single ounce of yum. Wholesome (learn more) helps us do just that with this tasty lineup of organic frostings (shop now) that are perfect for holiday baking.
Here are some sparkly fun coupons and shiny rebate offers so you can try some mindfully delicious Wholesome for yourself. Use them at your local grocer (store locator) for some sweet holiday baking.
I'm thinking their organic products would make a super cute gift basket for any friend who loves to bake. 💗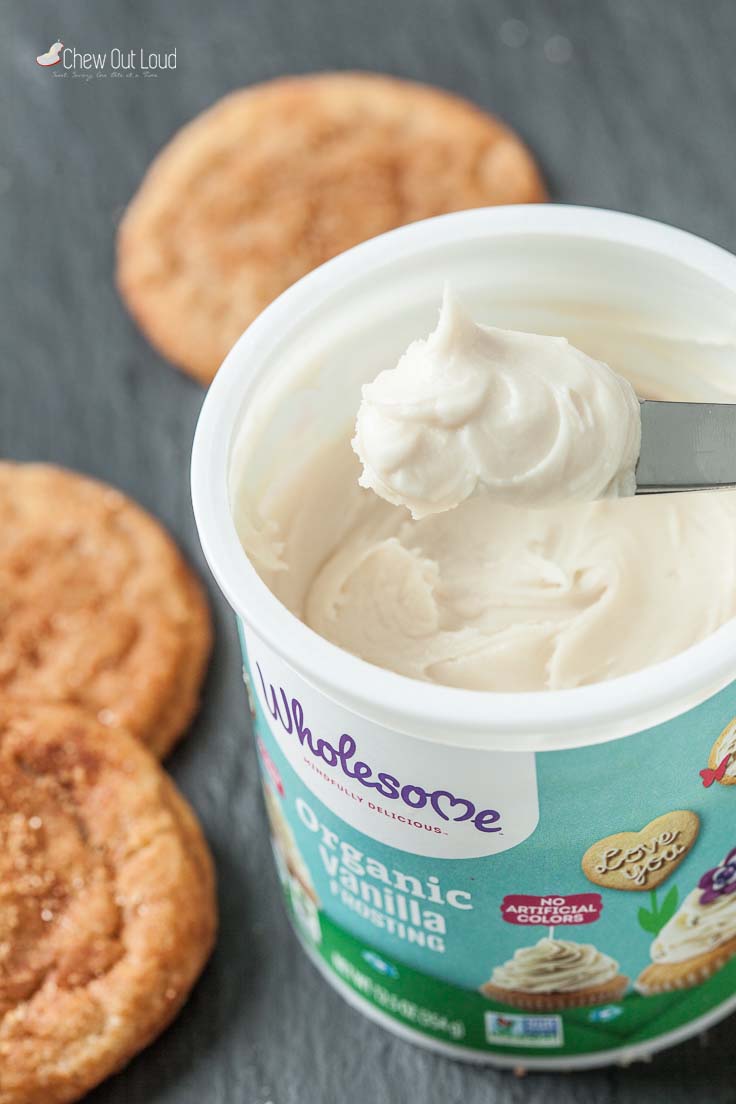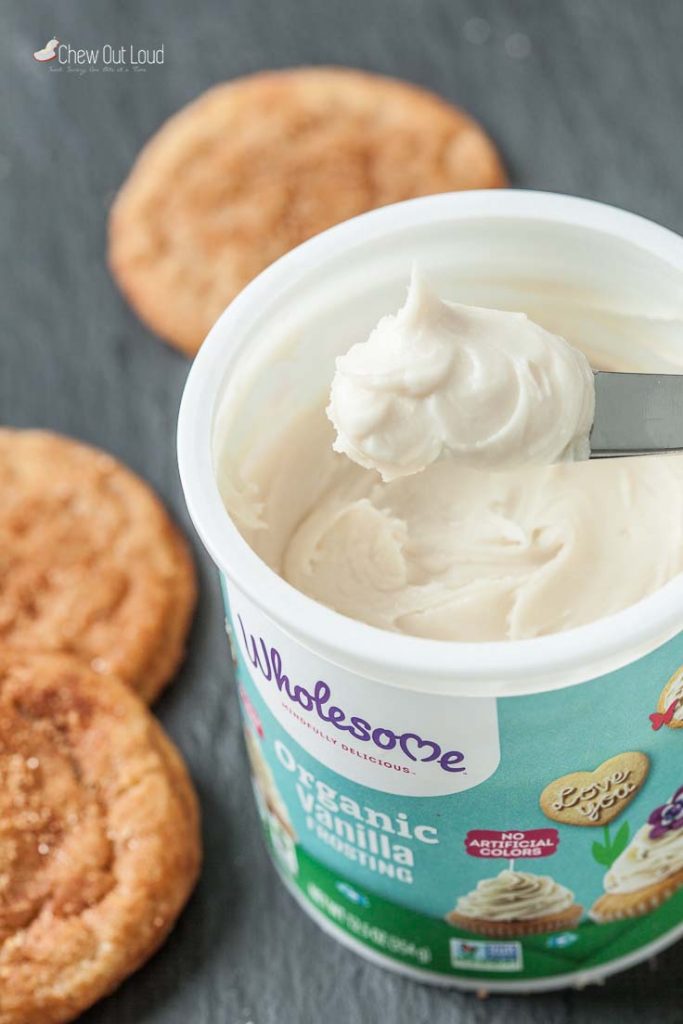 Our Littles are pretty much in love with this silky frosting, and it's easy to see why. It's ultra creamy, rich, smooth, and flavorful.
The mama in me appreciates that there's finally a convenient frosting that's not only delicious, but also organic, non-GMO, and fair trade certified.
It's also easily spreadable, which makes for happy snickerdoodle sandwich cookies. But really…any cupcake, cake, or brownie would be dazzled with some Wholesome Organic Frosting.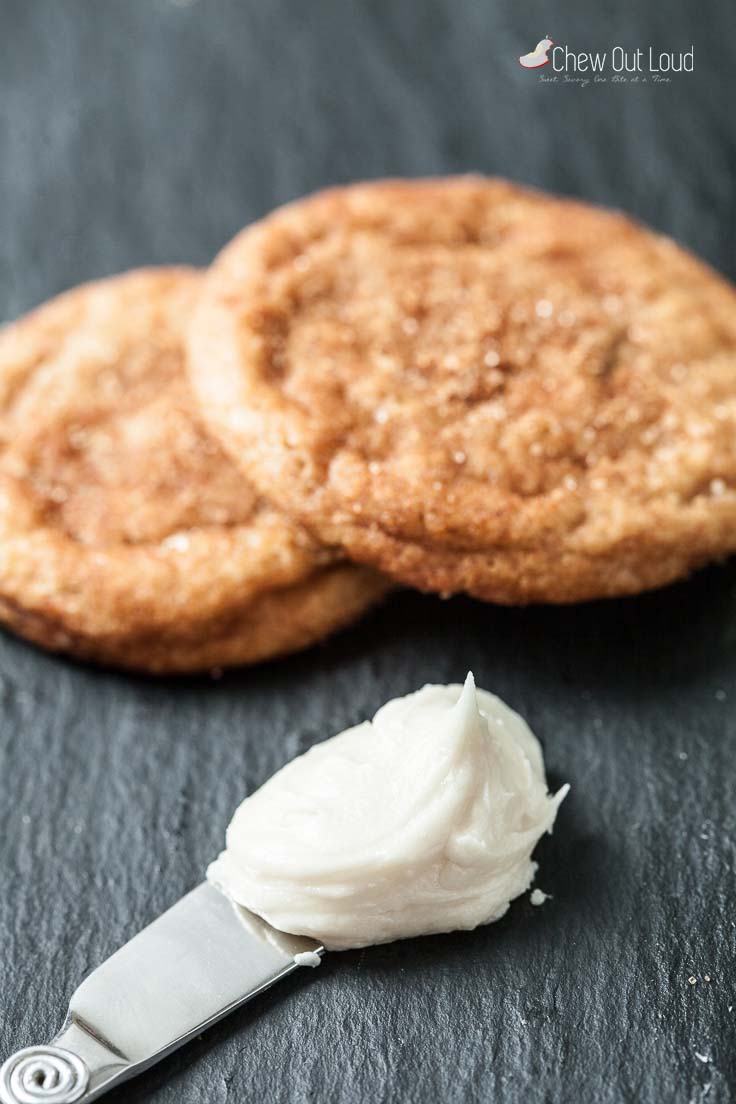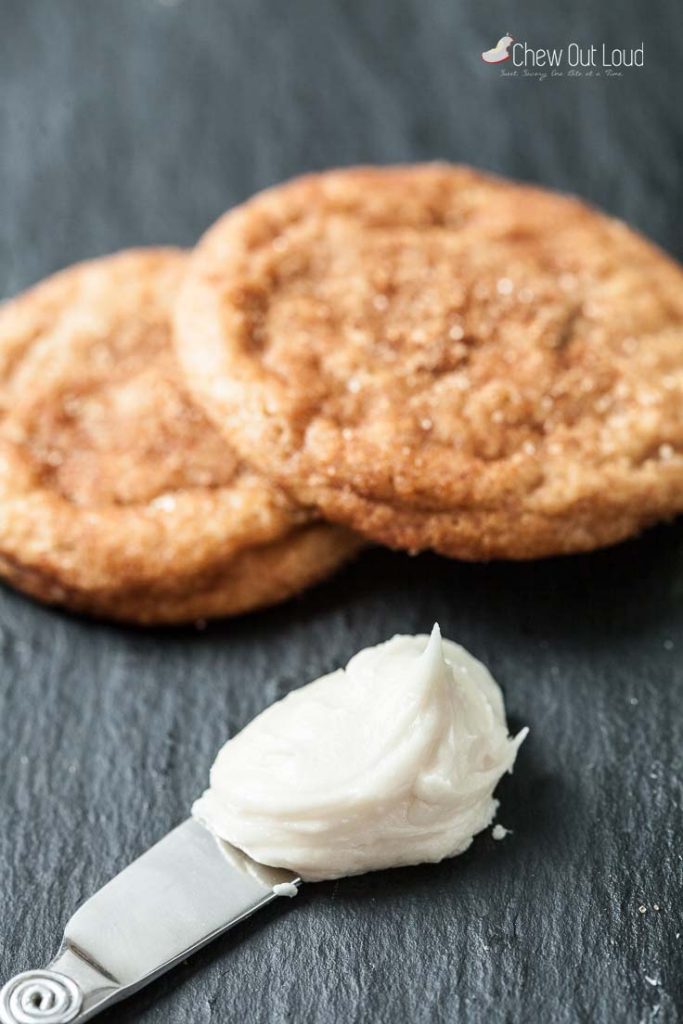 These snickerdoodle sandwich cookies are chewy – not cakey – and ideal for hugging some frosting.
We added cinnamon into the cookie dough for extra flavor, in addition to the cinna-sugar coating snickerdoodles are famous for. I have my Middle Little to thank for that idea. He suggested it, we went for it, and we're forever keeping it.
Two toothsome snickerdoodle cookies, filled with velvety vanilla frosting = holiday joy in every single bite.
We're so ready for December.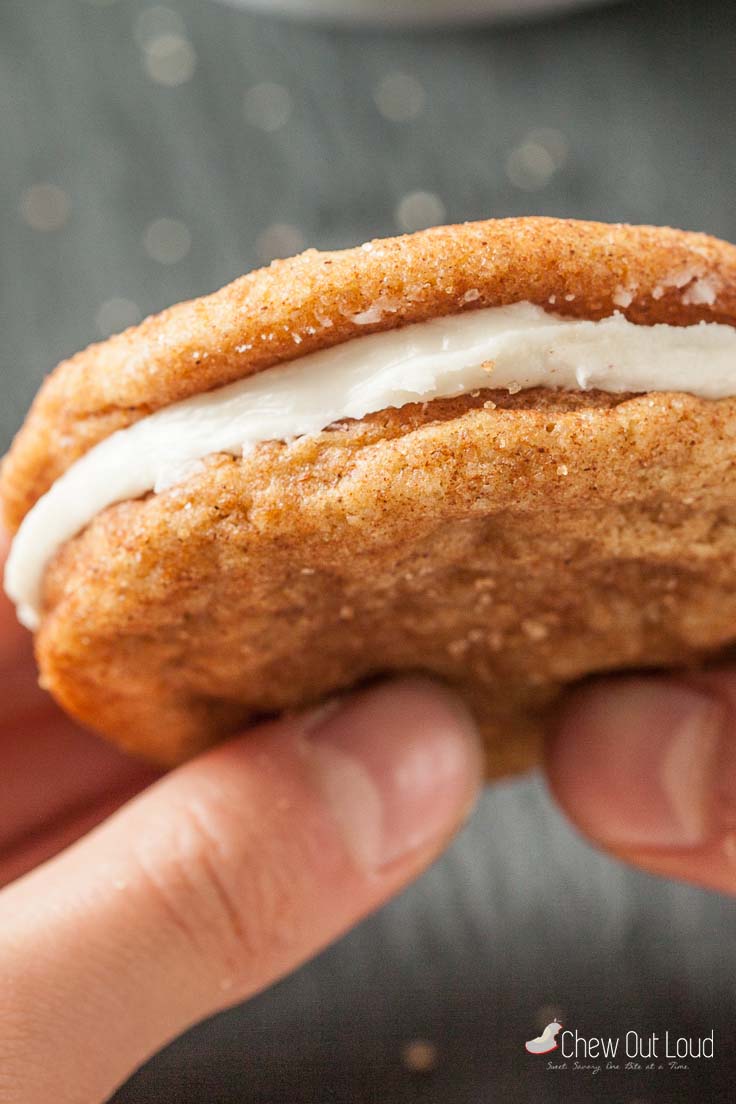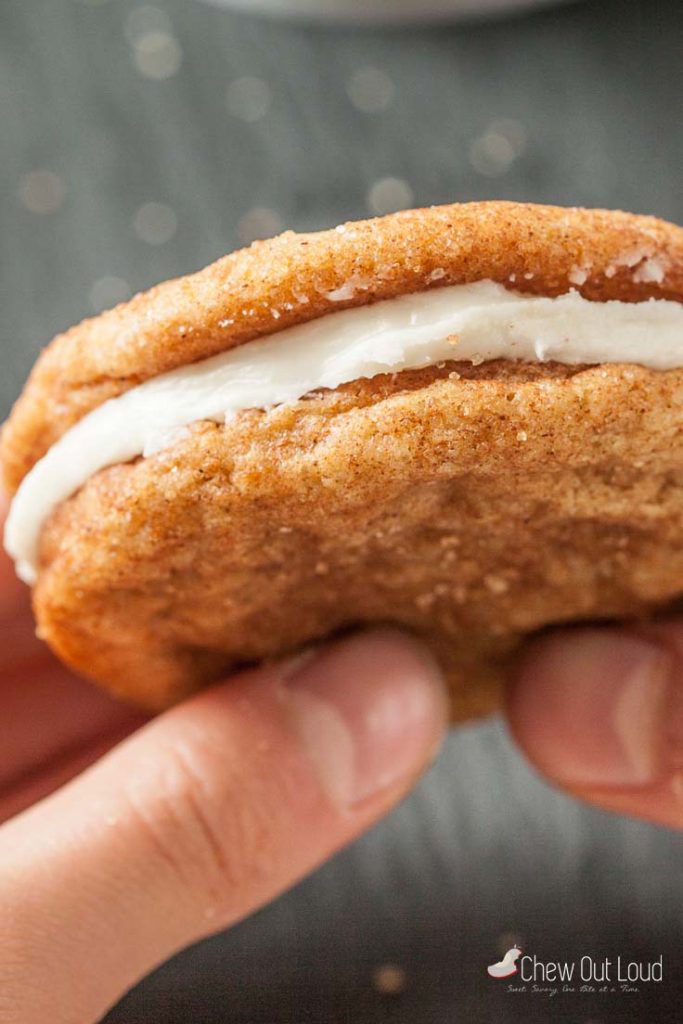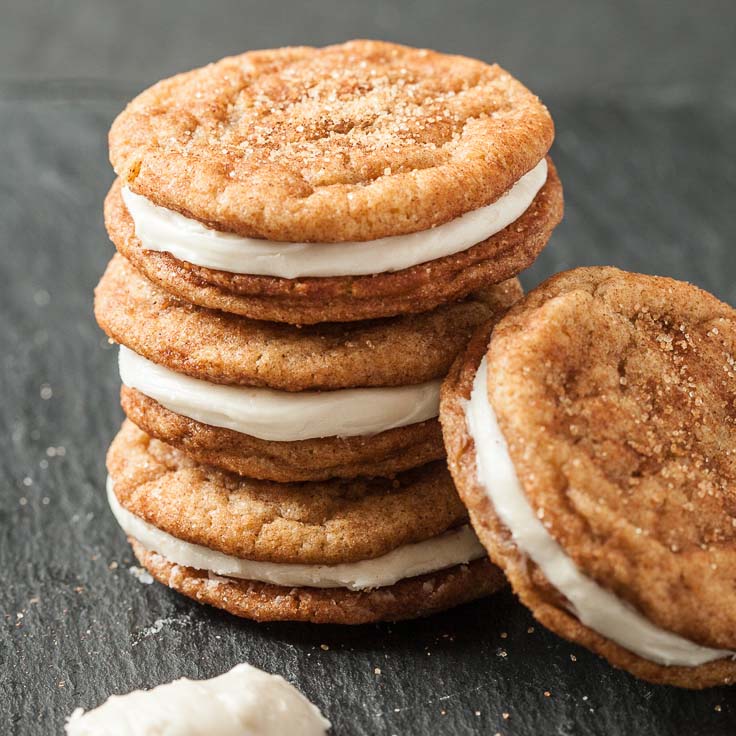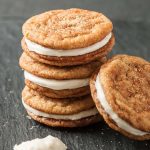 Chewy Snickerdoodle Sandwich Cookies
These Chewy Snickerdoodle Sandwich Cookies are a festive sweet treat made for the holidays. Perfect for cookie exchanges, dessert trays, and all the potlucks. They'll be gone in a snatch.
Instructions
In the bowl of a stand mixer, add butter, both sugars, and mix until light and fluffy. Add eggs and vanilla extract. Mix until fully combined.

In a separate bowl, add flour, cream of tartar, baking soda, and salt. Whisk together dry ingredients well.

Fold dry ingredients together with the wet ingredients, until fully incorporated. Cover cookie dough tightly, and chill for at least 30 minutes or until dough is cold.

Meanwhile, mix the 4 TB sugar and 2-3 tsp cinnamon in a small bowl, whisk together, and set aside.

Preheat oven to 350F. Line baking sheets with parchment paper.

Form 1-inch balls of cookie dough, roll the balls in cinnamon-sugar coating, and place 2 inches apart on parchment-lined baking sheets.

Bake about 8 minutes or just until bottoms of cookies are golden brown. Sprinkle tops of hot cookies with a bit more cinnamon sugar. Let cool on baking sheet for about 5 minutes. Transfer to cool completely on wire rack.

Stir frosting in tub until smooth and silky. Spread desired amount of frosting onto the flat side of one cookie. Top with another cookie to create sandwiches. Repeat with remaining cookies.
Did you make this?
Leave a comment below and tag @chewoutloud on Instagram
For more holiday baking recipes and inspiration, visit Wholesome's Recipe Page on Pinterest, Facebook, and Instagram.