Lemon Almond Poppy Seed Bread
Everyone adores this Lemon Almond Poppyseed Bread. Perfect for breakfast and brunch; afternoon snack, too! Super moist, dense, and bursting with lemon! The almond flavor comes through beautifully, and the drizzle is the best!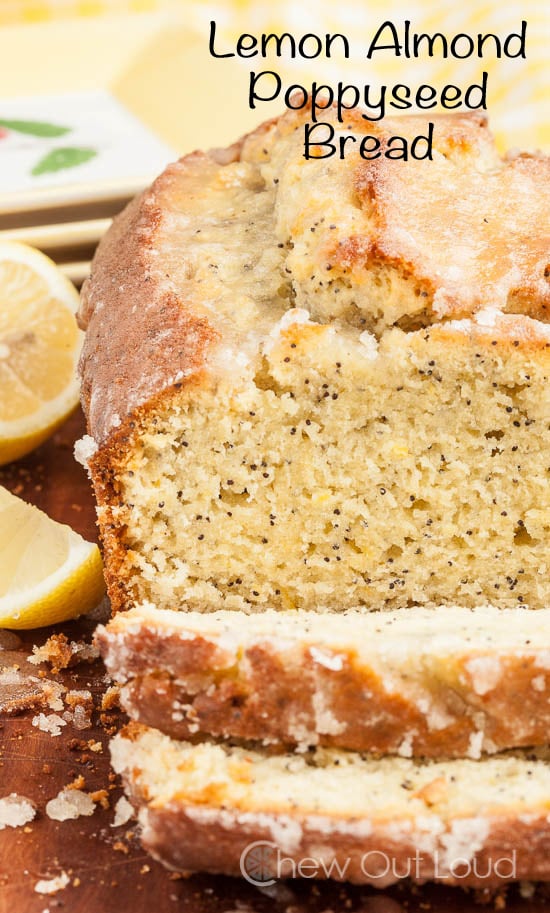 Happy Mother's Day weekend, Everyone!
Anything dealing with spring or Mother's Day calls for lemon-something-or-other!
Whether the skies bring sunshine or showers, this Lemon Almond Poppyseed Bread will no doubt shine some delightful yum to your abode!
Not too long ago, I shared this luscious and decadent Buttery Poppy Seed Bread. It is SUCH a hit with all the friends and family that I have to stash away one slice for myself before letting anyone touch it. Want. More.
So, I decided to throw in a some zing to breakfast/brunch this weekend and add splashes of refreshing lemon to our mouthwatering bread…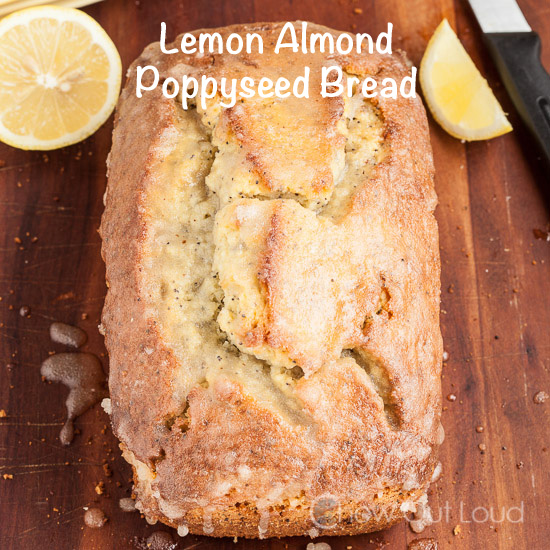 My first attempt at this Lemon Almond Poppy Seed Bread went over fabulously at a recent women's breakfast, where I brought home nothing but an empty platter.
I think you can smell this bread a mile away, with its aromatic almond essence.
I had to make another loaf just for the boys, because they fully expected me to bring home at least one small piece of leftover bread, but were disappointed when I brought home a cleaned out platter instead.
Which clearly means this is going to be a go-to breakfast/brunch, snack, and even dessert bread from now on.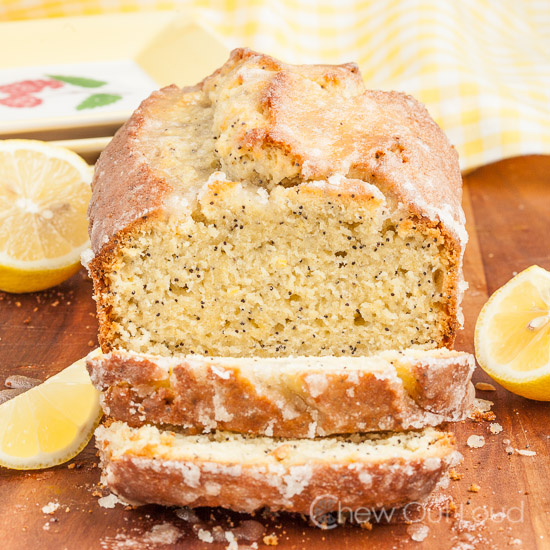 For the sake of everyone's taste buds, don't skip the drizzle. This lemony and almond-y drizzle is seriously YUM. It is what makes this lemony loaf as spectacular as it is.
This lemon almond poppy seed bread keeps very well at moderate room temperature, but it honestly won't last past a day. Two, if you're lucky.
Enjoy!
Did you make this?
Please give us a rating and comment below. We love hearing from you!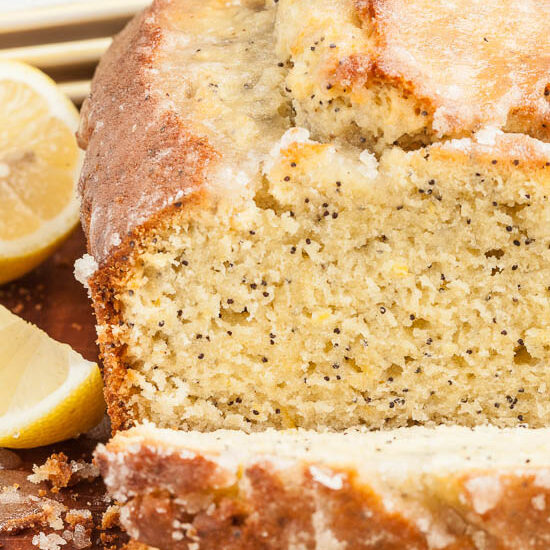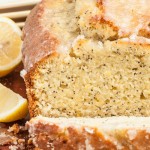 Lemon Almond Poppy Seed Bread
This Lemon Almond Poppy Seed Bread is easy, scrumptious, and moist! Perfect for breakfast and brunch. Or snack and maybe even dessert. Bursting with refreshing lemon and aromatic almond, get ready to watch it disappear fast!
Instructions
Preheat oven to 350F with rack on lower middle position. Grease one standard size loaf pan and set aside.

In a large bowl, combine flour, flaxmeal, poppy seeds, baking powder, and salt. Whisk until incorporated.

In a separate bowl, whisk together the eggs, sugar, oil, yogurt, milk, and both extracts, lemon zest and juice until well incorporated.

Add wet ingredients to the dry, folding together with rubber spatula just until incorporated. Do not over mix.

Pour batter into prepared loaf pan. Bake 55-60 minutes or just until a toothpick inserted in center comes out with a few tender little crumbs attached.

Meanwhile, combine all glaze ingredients in a bowl and whisk together just until combined.

Brush glaze generously over warm bread top, making sure to use all of the glaze. It will soak into the bread, giving it superior moisture and flavor!

Allow bread to finish cooling in pan on wire rack. Using a thin knife, gently loosen edges and remove to slice and serve.
Source: Chew Out Loud, adapted from Jo Cooks (bread) and A Farmgirl's Dabbles(glaze)
Here's that Buttery Poppy Seed Bread I'm so proud of…it's seriously scrumptious and will win your tummy!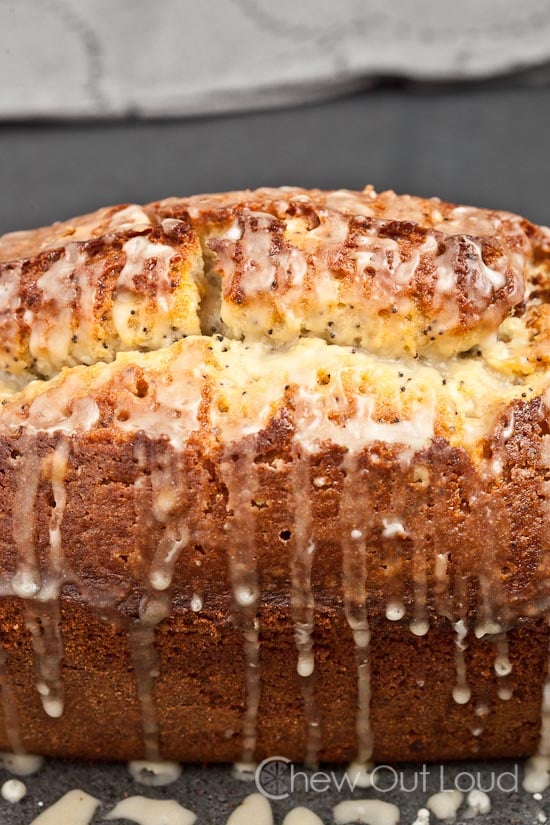 If all things lemon appeal to you, you'll be glad you bookmarked this No-Bake Lemon Icebox Cake. It is perfect for days you don't want to turn on that oven. And people are astonished at how terrific this cake is.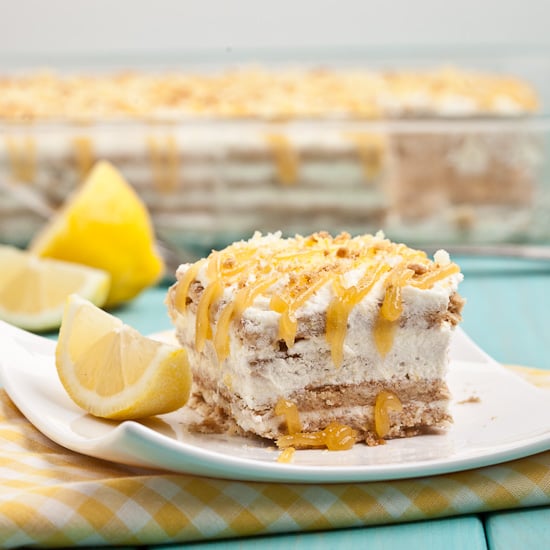 And this Lemon Monkey Bread… easy peasy. Perfect breakfast or brunch on the quick. Kids and grownups fight over this stuff.