Brown Sugar Pound Cake with Caramel
By Amy Dong
Published Jul. 8, 2014
Updated Aug. 17, 2022
This is a buttery rich pound cake, moist and dense, drizzled with a milky caramel – made from sweetened condensed milk! Brown Sugar Pound Cake is unbelievably delicious.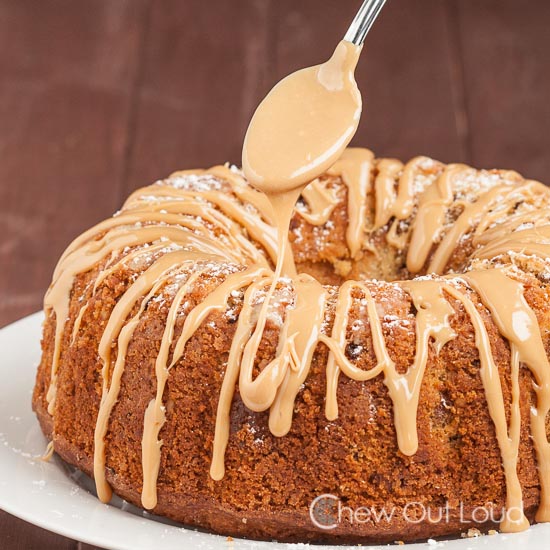 Brown Sugar Pound Cake with Caramel
We just returned from a long road trip over the holiday weekend. (I also introduced the most amazing Thick 'n chewy TRIPLE Chocolate Cookies, just in case you missed it.)
Armed with our barely used minivan DVD player and snacks, we packed up The Littles and set out for a lengthy drive up to the North Shore. After living in Minnesota for nearly six years, it's high time we took the plunge and headed "up north" where apparently all the locals spend their summer days.
We must have felt a need to make up for all these past summers that we never did the up-north thing, because we went well past Duluth and all the way up through Grand Marais. We went so far as to set our feet on the Canadian border.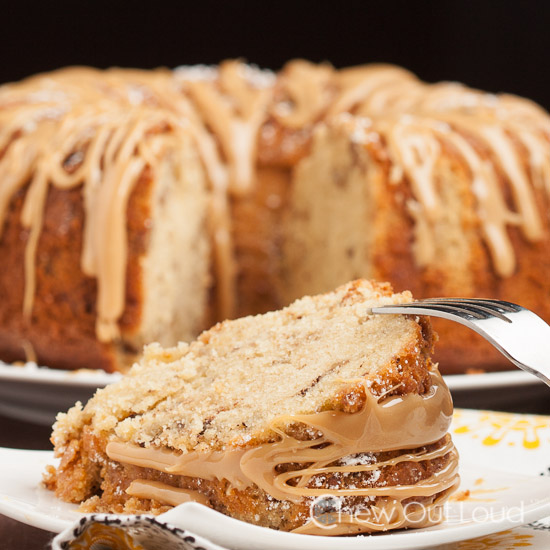 I was clueless to the fact that we needed more than shorts and hoodies. I mean, really. Nobody told me about the ominous thunderstorms that weave in and out all day long. The kind that makes you pull over to the side of a dirt road 'cause you can't see a thing in front of you.
Pathetically, I scoured the small town gift shops looking for pants for The Littles. Apparently, pants are not a hot gift shop item.
Thankfully, we did get to make our way to some crazy gorgeous waterfalls and hiking trails, covered by canopies of beautiful forest trees. It's the kind of nature that reaches all your senses and puts you in awe.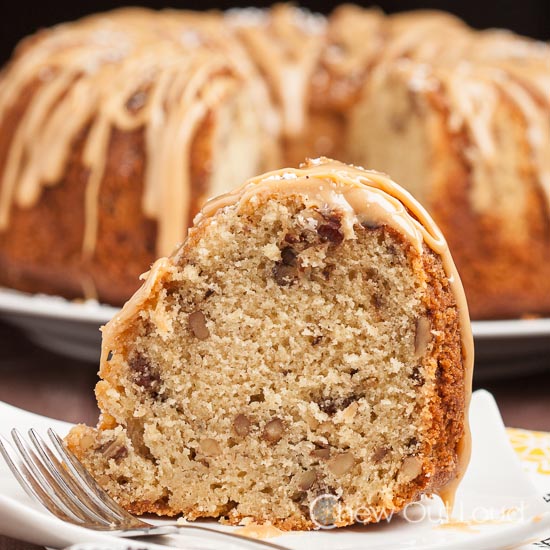 And, despite the windy hailstorms we encountered, we had a phenomenal time sightseeing and sampling the local eats of the North Shore.
We munched on freshly made donuts so good, they're literally dubbed the "World's Best." I had one of the best pizzas ever, made by a guy named Sven. #Truth.
Naturally, we didn't forget to bring a truckload of goodies for road trip munchies. I clearly didn't bring enough.
I wish we hadn't eaten all of this Brown Sugar Caramel Pound Cake so soon.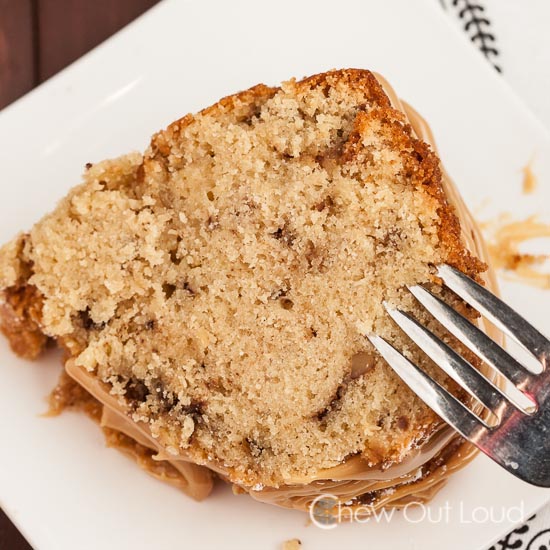 Not your traditional pound cake
This is some awesome pound cake. It's not a traditional pound cake like this buttery one, which we also highly adore.
This Brown Sugar Caramel Pound Cake is packed with, well, brown sugar. It's rich and dense. Moist and buttery (very buttery.) It's lathered in a creamy milky caramel.
Not any caramel, but a caramel made from sweetened condensed milk, so you KNOW it's got to be great.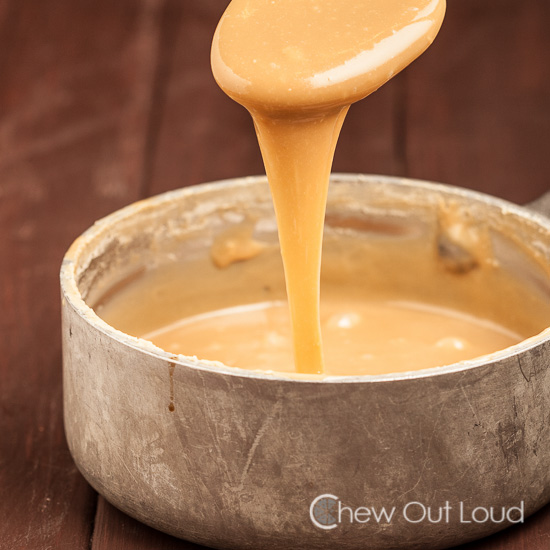 Pound Cake is for both breakfast and dessert
I couldn't stop scraping the pan and eating every last bit of yummy cake scraps. Desperate, maybe. Insane, not really. Worth it, totally.
This Brown Sugar Caramel Pound Cake is the perfect brunch treat, next to your favorite cup of joe. It's also a fabulous dessert, next to a tall glass of milk.
It's also great for slicing up and taking on a road trip. Just sayin'.
Also Try:
Did you make this?
Please give us a rating and comment below. We love hearing from you!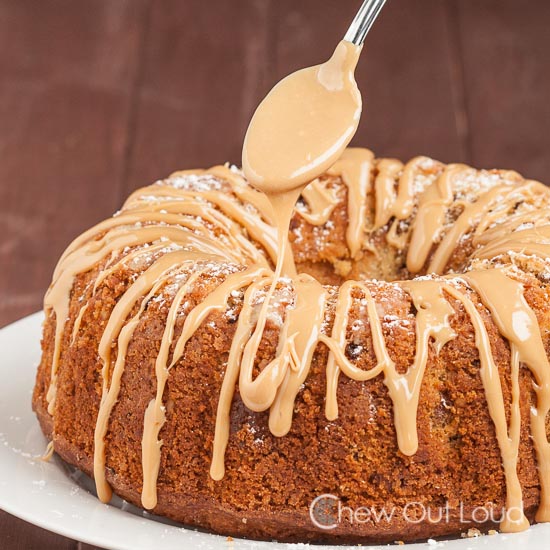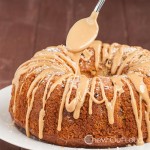 Brown Sugar Caramel Pound Cake
This Brown Sugar Caramel Pound Cake is rich, moist, and supremely buttery. Be sure to generously grease and flour your pan, so the cake doesn't stick to it. The milky caramel drizzle is amazing.
Instructions
Preheat oven to 325F, with rack on lower middle position.

Generously grease and flour the bottom and sides of a large/deep Bundt pan.

In the bowl of a stand mixer fitted with paddle attachment, beat the butter and sugars until fluffy and light using medium-high speed. Add eggs and beat to combine. Add milk and beat to combine.

In a medium bowl, combine the flour, baking powder, and salt. Add flour mixture to the butter batter on low speed, just until combined; do not over mix.

Using a rubber spatula, gently fold in the toffee bits and pecans into the batter. Transfer to greased/floured Bundt. There should be about 11/2 inches of room left at the top, if pan is large enough. If not, be sure to leave room at the top for rising.

Bake 80-82 minutes or just until a toothpick inserted in center comes out almost clean, with a few tender crumbs attached. If cake browns too quickly, cover lightly with foil during the last 15-30 minutes of baking.

Cool in pan for 10-15 minutes. Very carefully separate the cake from pan by running a very thin knife around the sides and center. Gently remove cake from pan and let it cool completely on wire rack.

When almost ready to serve, make the caramel drizzle: In a saucepan, combine sweetened condensed milk with brown sugar. Bring to a boil over mdeium high heat, whisking often. Immediately reduce heat and simmer for 10 minutes, whisking often.

Whisk in butter and vanilla and simmer/whisk for another 5 minutes. Caramel should be a thickened consistency. If not, whisk a bit longer and let it cool a bit to gain thickness. Drizzle the caramel while it is still quite warm. Once it cools, it will become thick and sticky.
Notes
If you enjoyed this recipe, please come back and give it a rating ♡
Nutrition (per serving)
Calories:
643
kcal
|
Carbohydrates:
83.3
g
|
Protein:
7.2
g
|
Fat:
32.6
g
|
Saturated Fat:
16.9
g
|
Trans Fat:
0.8
g
|
Cholesterol:
130.3
mg
|
Sodium:
324.2
mg
|
Fiber:
1.6
g
|
Sugar:
60.9
g
Loaf Cakes to Make
Here is my all-time best pound cake ever. Moist, Buttery Pound Cake.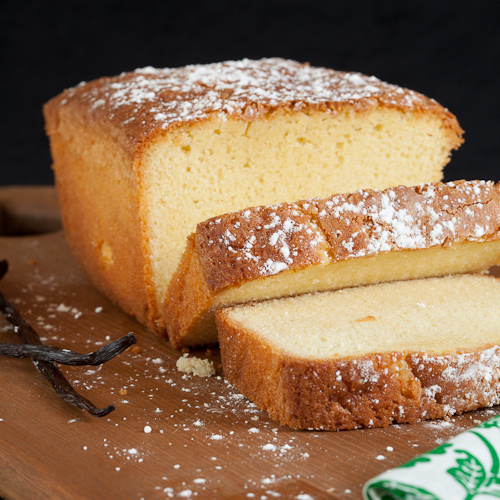 Do yourself a happy, hungry favor and make this Buttery Poppyseed Bread. It's called bread, but pssst. It's really more of a pound cake that you'll dream of for days after. Nothing is richer, denser, moister, or buttery-er.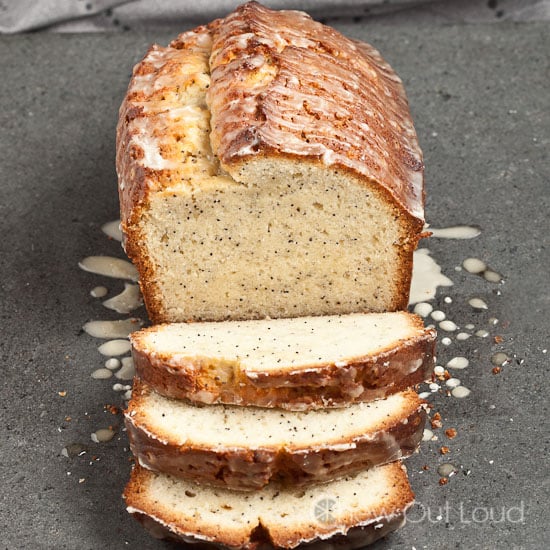 '
If you're in the summery mood for lemon, you'll love this Lemon Almond Poppy Bread. It's awesome for breakfast, brunch, or dessert. I'll take it anytime of day, every single day.