No-Bake Oatmeal Protein Bars
These No-Bake Oatmeal Protein Bars won't break your wallet like store bought bars can. These chewy soft bars taste superb. They pack a powerful punch of energy for your day.

We just emerged from an action packed weekend of back to back basketball games for our Biggest Little's championship tourney.
The crayyzeee weekend sked started at 7:00am Saturday and didn't end 'til Sunday night for us. We celebrated with a massive comfort meal afterwards.
It's truly fun to watch The Littles get older. Their games are now fist pumping, feet stomping, heart pounding events. I find myself holding my breath. Or yell-cheering…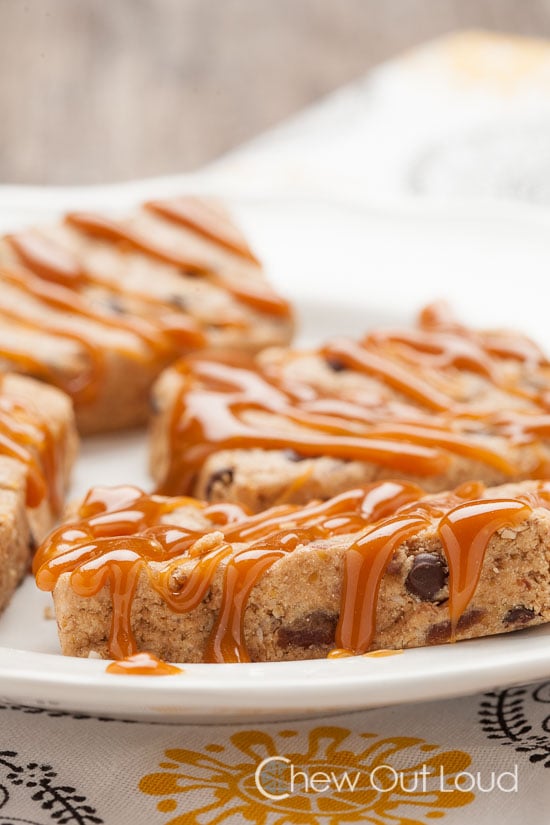 We're slowly (finally?!) reaping some benefits of Hubby coaching the boys' teams, and it's way cool to watch.
The relationships built on the court and the growing confidence of a bunch of tweens is awesome.
Not to mention the dad-son bond that happens over seasons of dribbling and shooting a ball. No price tag on that.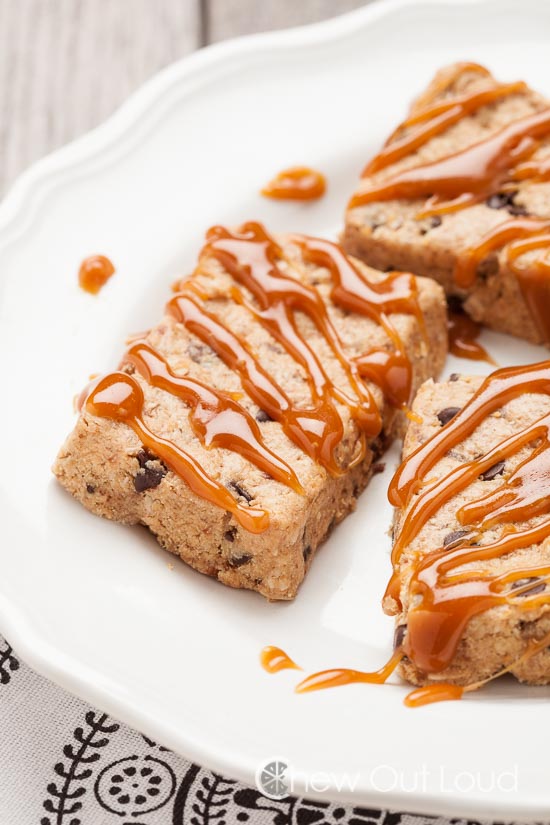 I rocked my inner sports mom by packing a load of healthful bars for in-between-game snacking.
The only sport I "play" is running. I'm not clued in to all the technical rules of the myriad of sports my boys are into. Uh, what was that foul for?
But what I do know? Snacks. Power snacks. Fuel for energy. I've got that down pat.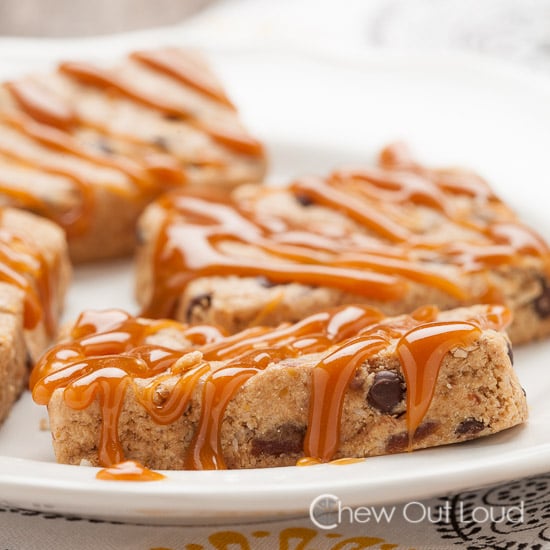 Hey, somebody's gotta do the food, right?
For protein jammed fuel, there's nothing better than portable protein bars. Yeah, I've thrown myself on the Larabar bandwagon. 'Cept I can't justify two bucks for one little bar that leaves me still hungry?!
No worries, just make a big batch of delicious, nutritious, powerlicious bars. These bars are no-bake, ridiculously easy, and taste better than the box stuff.
Homemade caramel drizzle optional but highly recommended 🙂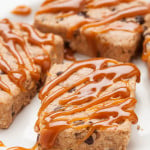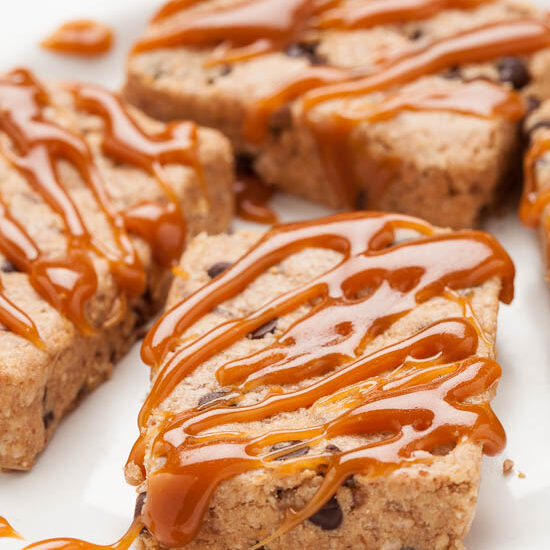 No-Bake Oatmeal Protein Bars
These No-Bake Oatmeal Protein Bars are affordable and taste better than expensive store brands. Chock full of healthy ingredients you can pronounce. No guessing what's in them. These are soft, chewy, and tasty.
Ingredients
12

large dates

,

pitted

½

cup

unsweetened finely shredded coconut

¼

cup

ground flax meal

2

scoops vanilla protein powder

½

cup

natural peanut butter

,

or your favorite nut butter

⅓

cup

honey

,

or agave

⅓

cup

mini chocolate chips
Instructions
In a food processor, blend the dates about 10 seconds. Scrape bowl down if needed, and blend another 10 seconds. Add oats and coconut and blend until mixture is combined, about 10 seconds. Transfer to a bowl and add remaining ingredients. Using a wooden spatula stir mixture until it is well combined and can form a ball.

Line an 8x8 pan with foil or parchment paper, making "slings" with excess foil hanging over the edges. Press mixture into the pan, firmly and evenly pressing down (I use the bottom of a drinking glass to press down firmly.)

Cover and chill 1 hour or more (can be made ahead and chilled overnight.) Remove using foil/paper slings and slice into squares. Keep in airtight container in fridge for several days.
Did you make this?
Leave a comment below and tag @chewoutloud on Instagram
Source: Chew Out Loud, adapted from Pomegranate Bandit
Here are some terrific pick-me-ups for energy and power for your day!
5-Ingredient Protein Bars (no bake) – these are soft, chewy, and deliciously drizzled with chocolate. Easy and nutritious!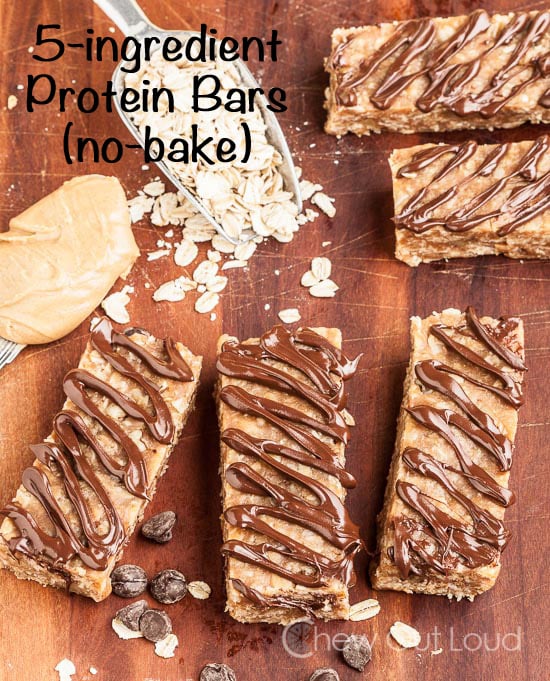 GF Oatmeal Energy Cookies. Have your cookie and fuel up, too. Simply delicious and healthful.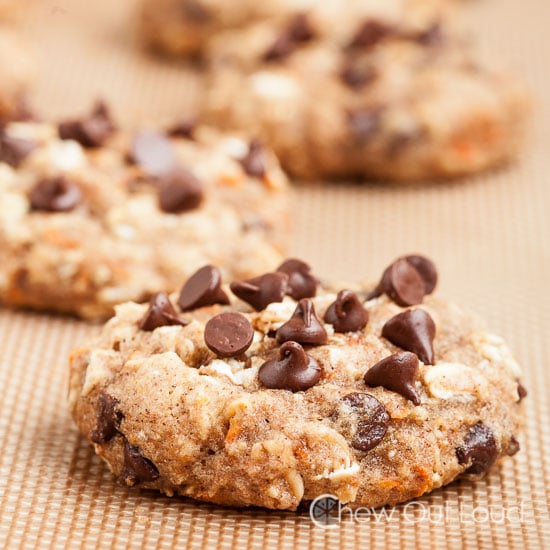 No-Bake Energy Bites (GF). Super fun, easy, and portable! These are great for taking on the run, pre/post workout, afternoon fuel, etc.
Breakfast Cookies, anyone?! Absolutely breakfast, with Oatmeal and Quinoa. These are a great way to start the day, and nobody will argue when you serve these up.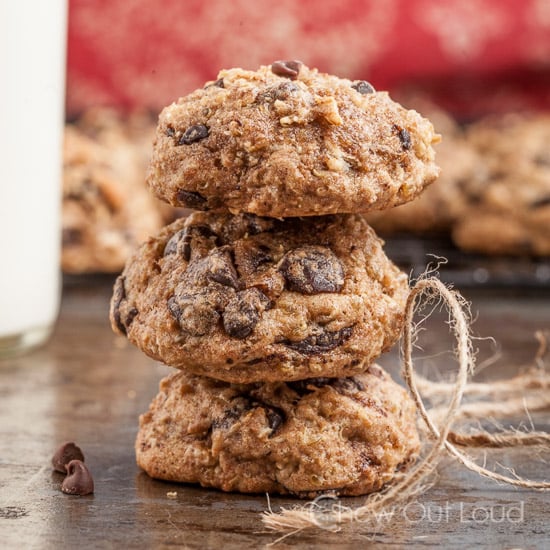 Join us on Facebook! Once you Like us, you'll get the newest recipes and great tips for making dinner a little easier. Plus, you'll get the newest Giveaways! Here's our current $100 Visa Gift Card, if you'd like to enter.