Healthy Breakfast Cookies
These healthy breakfast cookies are the breakfast of champions, on the run! They are a guilt-free indulgence that you can feel great about starting your day with. These delicious breakfast cookies are satisfying as a healthy snack that helps curb that sweet tooth, too!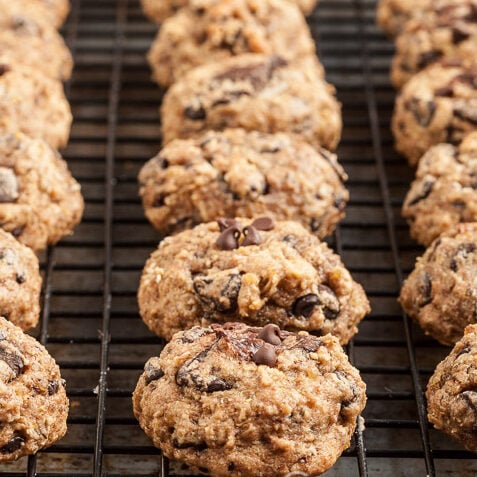 Healthy Breakfast Cookies
Did the afternoon high actually reach 53F today?! I think just about everyone in MN rejoiced over the sunshine and "warmth" that has kick-started our slush season, aka spring. The towers of snow started to melt a bit today, and slushy snow puddles abound.
Though snow showers are still to come, we are hopeful that those single-digit days are behind us. Upswing. I think we're on an upswing. It's been a very harsh and long winter, so every finger in Minnesota is crossed.
Today was also the first day of spring break for us, and the boys promptly ran outdoors to end their cabin fever. They built the perfect little area with blankets and chairs on our driveway to sit and bask in. They even kicked it barefoot. It's The Littles who easily love life and breathe and laugh…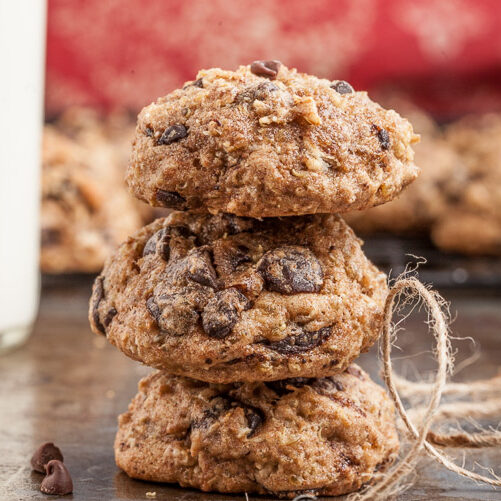 Rolled oats, whole grains, and Even chocolate
Even me, the workaholic stay-home-mom, just had to get outside and breathe in the sunshine. Sans jacket. Our newly rescued bulldog was giddy for her first neighborhood walk yet.
My guys asked me to break out some snacks, so they could munch while they basked. Too bad I didn't have any of these Oatmeal Quinoa Chocolate Breakfast Cookies left. That's a long title for a cookie, but there is a mountain of goodness in these cookies.
These cookies are chewy, soft, chock full of rolled oats and quinoa, with whole wheat to boot. The texture of oats and quinoa are the toothsome backdrop for melty chocolate chips. If you want to make it uber healthy, swap the chocolate chips for dried berries or nuts.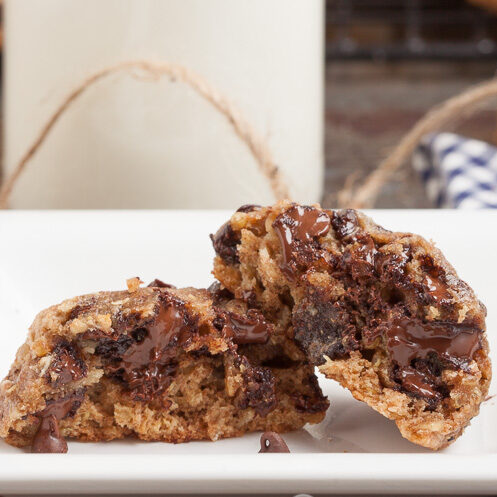 These cookies freeze beautifully
As you can see, I did the chocolate chip add-ins, since chocolate was literally calling my name this particular day. These cookies are slightly cakey (quinoa) yet still chewy and soft.
We devoured these for breakfast over a couple of mornings, and those were some good mornings! I even freeze tested a cookie I snagged, and it was just as yummy after being defrosted. Which means you can bake up these breakfast cookies, freeze them, and take them out for a great breakfast on-the-go!
Oatmeal Quinoa Chocolate Breakfast Cookies. Yeah, that's a mouthful. Worth every bite.
Enjoy!
Did you make this?
Please give us a rating and comment below. We love hearing from you!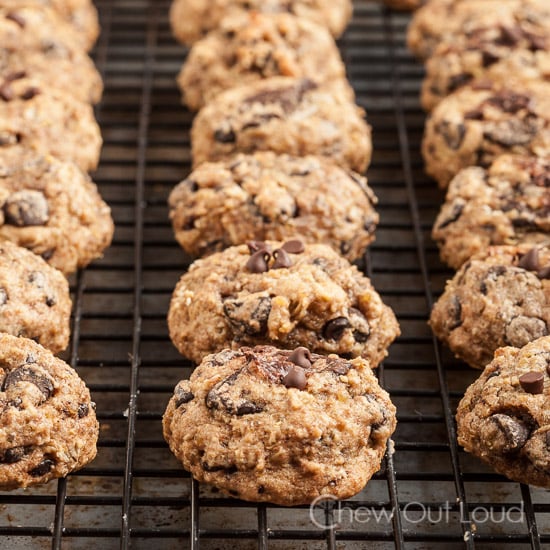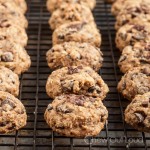 Healthy Breakfast Cookies
These Oatmeal Quinoa Chocolate Breakfast Cookies are the perfect breakfast on-the-go, or afternoon snack. Healthy, guilt-free cookies that stay soft, slightly cakey, and totally delicious! Swap out the chocolate for dried fruit or nuts, for an even healthier bite.
Instructions
In a large bowl, whisk together both flours, salt, baking powder, and baking soda.

In the bowl of a stand mixer, beat together the butter, brown sugar, and honey until light and fluffy, about 3 minutes on medium-high. Add eggs and vanilla, beating until pale and fluffy, about 2 more minutes. Slowly beat in flour mixture, 1/2 cup at a time, until dry and wet ingredients are incorporated.

Using a wooden spatula, stir in cooked quinoa, oats, and chocolate chips just until combined. Cover and chill 1 hour. Meanwhile, preheat oven to 375F. Line baking sheets with parchment paper.

Roll dough into 1 TB rounded balls. Place onto prepared baking sheets, 1 inch apart. Slightly press down on each ball to flatten just a bit.

Bake about 8-10 minutes or until golden and puffed, yet soft. Cookies might seem a bit underbaked, but they will set upon cooling. After a few minutes, transfer cookies to wire rack to cool completely.
Notes
Cooled cookies may be wrapped airtight and frozen for 2-3 weeks. Be sure the 1 cup of quinoa is already cooked, not raw. Follow package instructions for cooking.
If you enjoyed this recipe, please come back and give it a rating ♡
Nutrition (per serving)
Calories:
120
kcal
|
Carbohydrates:
16
g
|
Protein:
2
g
|
Fat:
5
g
|
Saturated Fat:
3
g
|
Polyunsaturated Fat:
0.4
g
|
Monounsaturated Fat:
1
g
|
Trans Fat:
0.1
g
|
Cholesterol:
16
mg
|
Sodium:
111
mg
|
Potassium:
78
mg
|
Fiber:
1
g
|
Sugar:
7
g
|
Vitamin A:
93
IU
|
Vitamin C:
0.04
mg
|
Calcium:
18
mg
|
Iron:
1
mg
These soft Apple Oatmeal cookies are teeming with oats, too! Chunks of apple in every bite.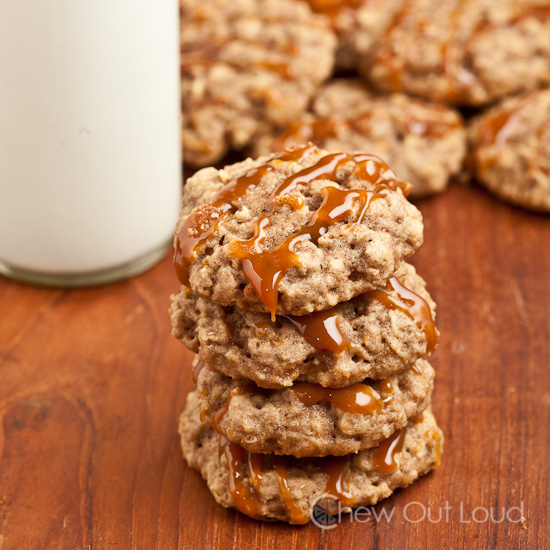 These Oatmeal Butterscotch Cookies (Scotchies) are one of our favorite ways to eat an oatmeal cookie!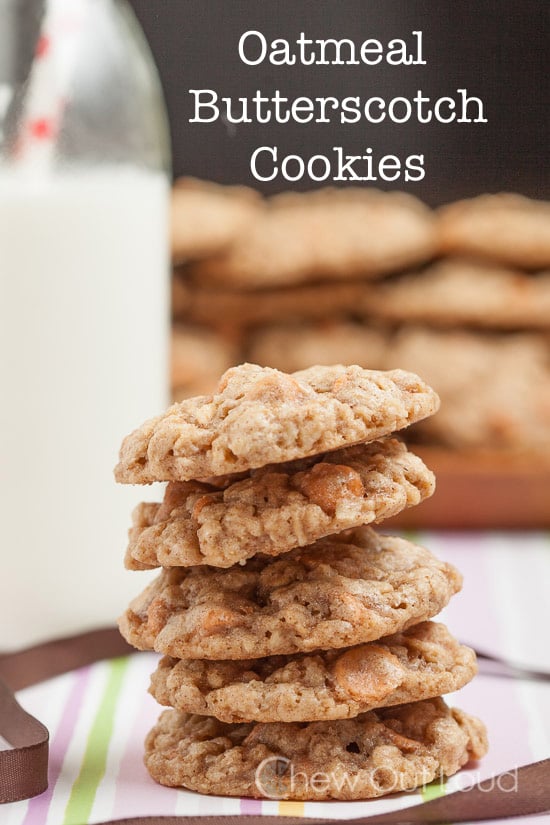 These Steel Cut Oatmeal Blueberry Muffins are moist, tender, and absolutely perfect for a healthy yet satisfying breakfast everyone will love!