Oatmeal Energy Cookies (nut-free)
These Oatmeal Energy Cookies are a powerhouse of nutrition! Great for pre/post workouts, afternoon pick-me-ups, or even an easy breakfast-on-the-go! Powerfully yummy, too!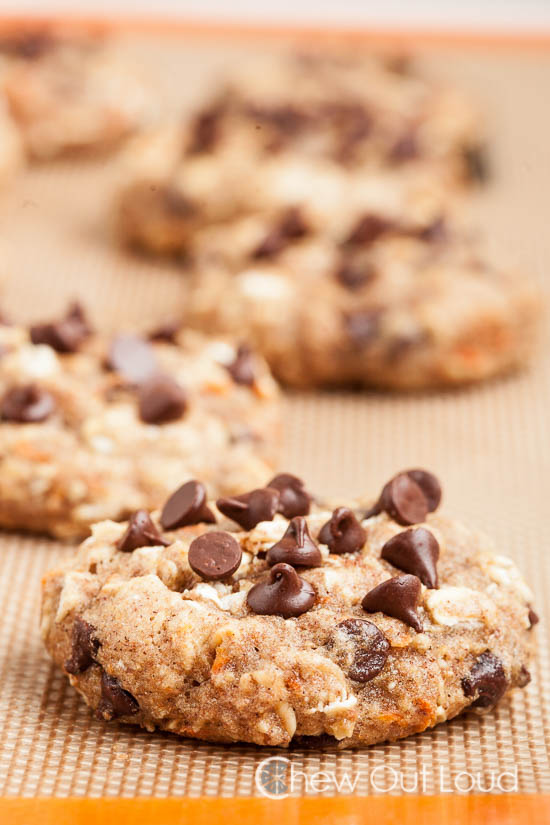 As previously noted, I make no promises to myself where chocolate and cookies are concerned.
To make up for that fact, I fuel up on healthy dishes like this one and that one. Colorful, nutritious, and completely satisfying.
If I regularly eat healthy meals, it qualifies my inhalation of these decadent things. That's my story and I'm sticking to it.
But what if we just put down some healthy cookies and call it even?
Yumalicious cookies loaded with enough nutritious ingredients to breakfast on…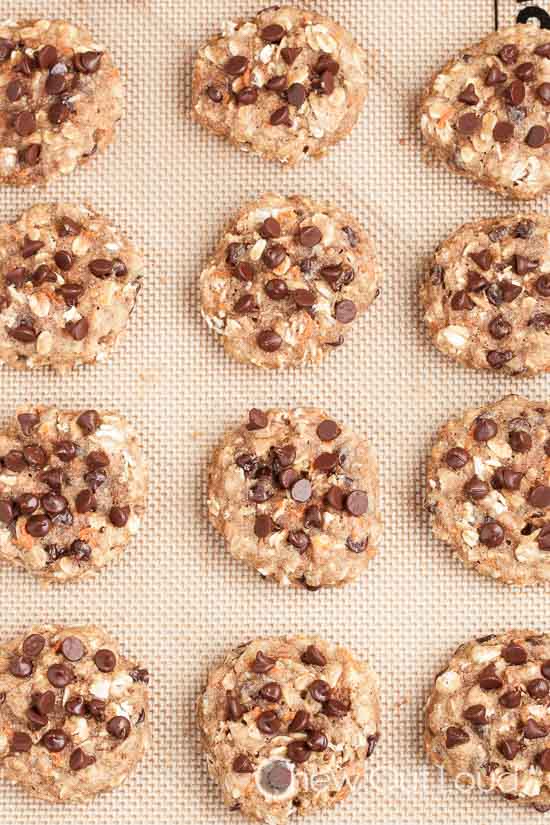 …Oatmeal Energy Cookies, I see you. And you're looking mighty splendid.
I first tasted these smart cookies at a big health fair, where some precious lady stayed up all night baking an endless basket of good-for-you cookies. They're soft, toothsome, full of great texture, and chewy good. Not too sweet but sweet enough.
Of course I fell for it at first bite, but the true test? Whether The Littles agreed. No point in making healthy cookies my guys won't eat.
They gobbled their healthy cookies up in seconds and tried to grab more from the basket. Note taken.
I swiftly redirected them towards the face painting booth instead of eating all the sweet lady's hard work.
But not before grabbing a recipe card so I could recreate my own basket full of these goodies at home.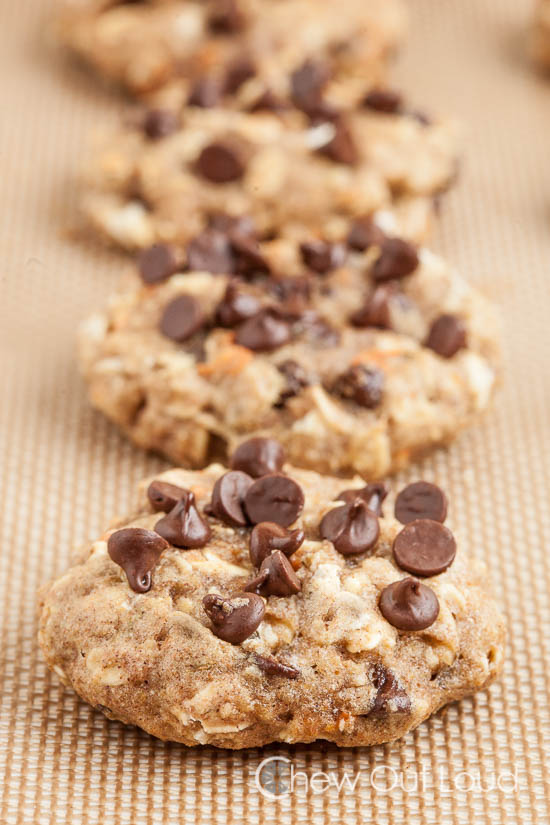 I adapted the recipe this way and that to make it as chewy soft, yummy, and healthy as possible.
If I'm going to make a cookie fit for the morning meal, I'm going all the way with it.
These smarties are filled with goodness like flaxseed, bananas, carrots, oats, whole wheat, and sunflower seeds.
They're nut-free so those with nut allergies can joyfully partake 🙂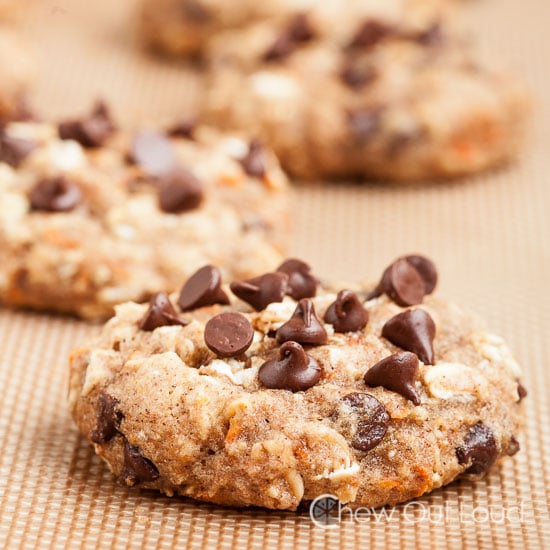 Of course I added chocolate, because is a cookie a cookie unless there's at least a liiitttle bit 'o chocolate?
Use mini chocolate chips for best results, as they meld more easily into the dough and become deliciously melty on the inside.
These cookies are soft and chewy and will stay that way for days. Wrap them up and keep them for a quick pick-me-up any time of day.
Enjoy!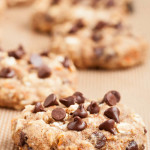 Oatmeal Energy Cookies (nut-free)
These Oatmeal Energy Cookies are a powerhouse of yummy goodness! They're healthy, full of nutritious ingredients, and can be eaten any time of day: breakfast, snack, workouts, or a guilt-free evening treat. Note that the dough needs to chill several hours before baking.
Ingredients
1

TB

ground flaxseed

,

i.e., flax meal + 3 TB water

½

cup

salted butter

,

softened just to moderate room temp, not melty

½

cup

mashed ripe bananas

⅔

cups

granulated sugar

⅔

cups

packed brown sugar

1

large egg

1

tsp

vanilla extract

1

cup

finely shredded carrots

2

cups

old fashioned oats

1 ⅓

cups

whole wheat flour

⅔

cups

all purpose flour

1

TB

cinnamon

1

tsp

baking soda

½

tsp

table salt

½

cup

miniature semi-sweet chocolate chips

½

cups

roasted sunflower seeds
Instructions
In a small bowl, combine ground flax with water and set aside.

In the bowl of a stand mixer, fitted with paddle attachment on medium speed, cream together the butter, banana, and both sugars until smooth, about 2 minutes. Beat in the egg, flax mixture, and vanilla until combined. Add carrots and mix to combine.

In a separate bowl, whisk together the oats, both flours, cinnamon, baking soda, and salt, whisking to combine well. Gently combine dry mixture to the butter mixture and mix on medium low speed just until incorporated. Hand-stir in the mini chocolate chips and sunflower seeds. Form dough into a ball, cover tightly, and chill for at least 4 hours or overnight.

Preheat oven to 350F and line baking sheets with parchment paper or silicone bake mats.

Form dough into rounded tablespoons and place 2 inches apart on prepared baking sheets. Press down to form a thick disk, as they won't spread much. Bake 8 minutes or until lightly golden. Will seem underbaked, but they'll set upon cooling. Cool a few minutes on sheets before transferring to wire racks to cool fully.
Did you make this?
Leave a comment below and tag @chewoutloud on Instagram
Source: Chew Out Loud
We do love oaty power treats! Here are a few we think you'll love:
Oatmeal Quinoa Chocolate Chip Breakfast Cookies. Yes, quinoa. Soft and tasty, these are such a treat for breakfast; the entire family can easily grab, go, and be fueled!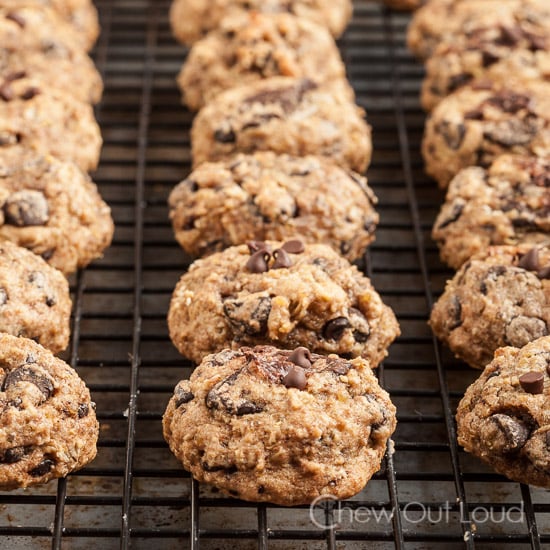 GF Energy Bites. These are easy, fun to make, and even better to munch on. Perfect grab 'n go for mornings, afternoons, or pre/post workouts! 120% yummy, guaranteed.
3. Thick 'n Chewy Oatmeal Dark Chocolate Cookies. The perfect combination for dark chocolate lovers who want some oaty goodness in every bite!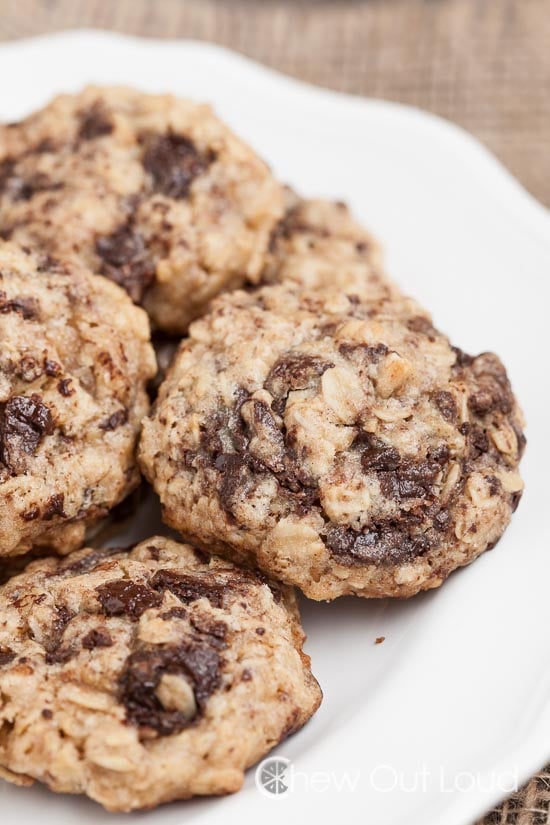 Flourless Peanut Butter Oatmeal Cookies. GF and chock full of protein plus oats. Addictively delish, too!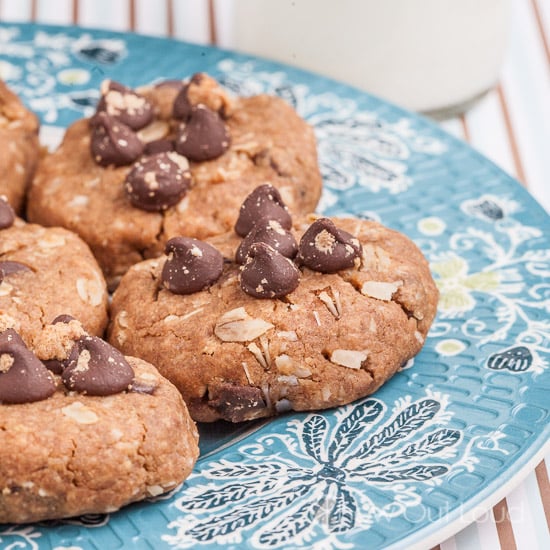 We'd love to have you follow us on Pinterest, where we pin the best finds!
Follow us on Facebook and Twitter for the newest recipes and giveaway prizes (enter our current $50 Target giveaway!!)
Hang with us on Instagram for behind-the-scenes shots of the food we make and lots of inspiration.