THE BEST Chocolate Oatmeal Bars (No-Bake!)
By Amy Dong
Published Sep. 10, 2015
Updated Mar. 28, 2023
When you've got a hankering for chocolate with a boost of healthy energy, give these Chocolate Oatmeal Bars a go. They are super easy and unbelievably yummy.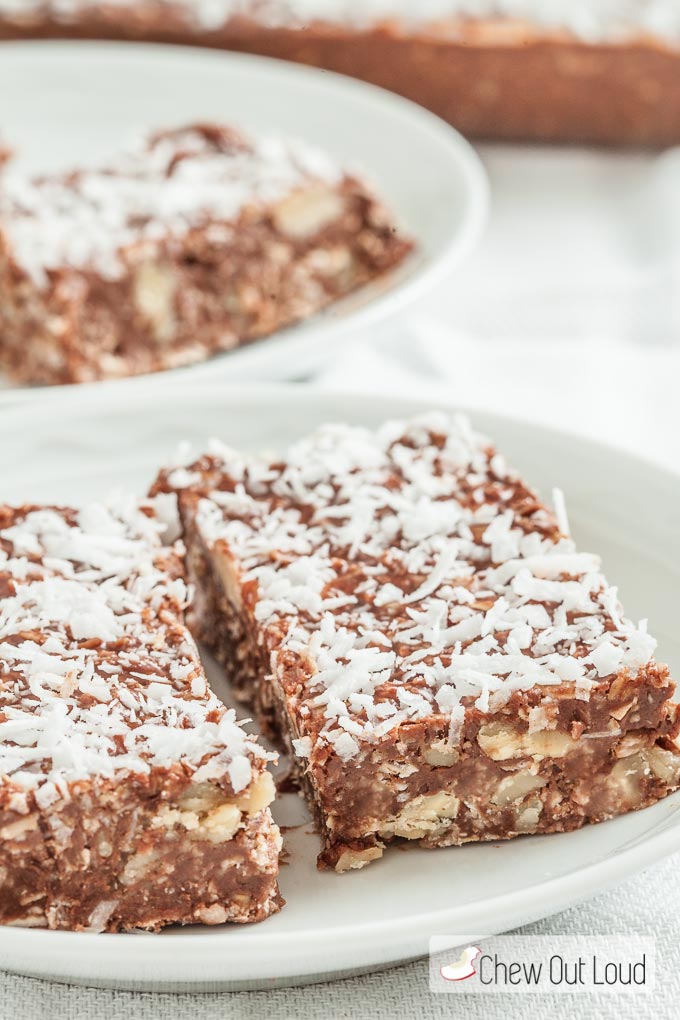 This week has been something of a ferris wheel. Not a full blown roller coaster, but there's definitely loop de loop action going on.
After one of the most gorgeous summers we've had in a long time, we abruptly traded all that in for Back to Routine this week.
Suddenly gone are the days of what's our adventure today? type of days. A swift farewell to oversized beach towels, spontaneous matinees, and the ice cream truck…
It's back to business as usual. Kind of. That's if you don't count the major fact that I'm all 'sudden the mama of a tween in middle school. How did that happen in the nanosecond blink of one eyelid?!
Other than that, it's back to the familiar juggle of backpacks and lunch boxes and after school snacks.
Why is everyone is ravenous at 3pm once the school year starts? Like clockwork. They come home immediately raiding the pantry. [Pantry attacks did not happen all summer.]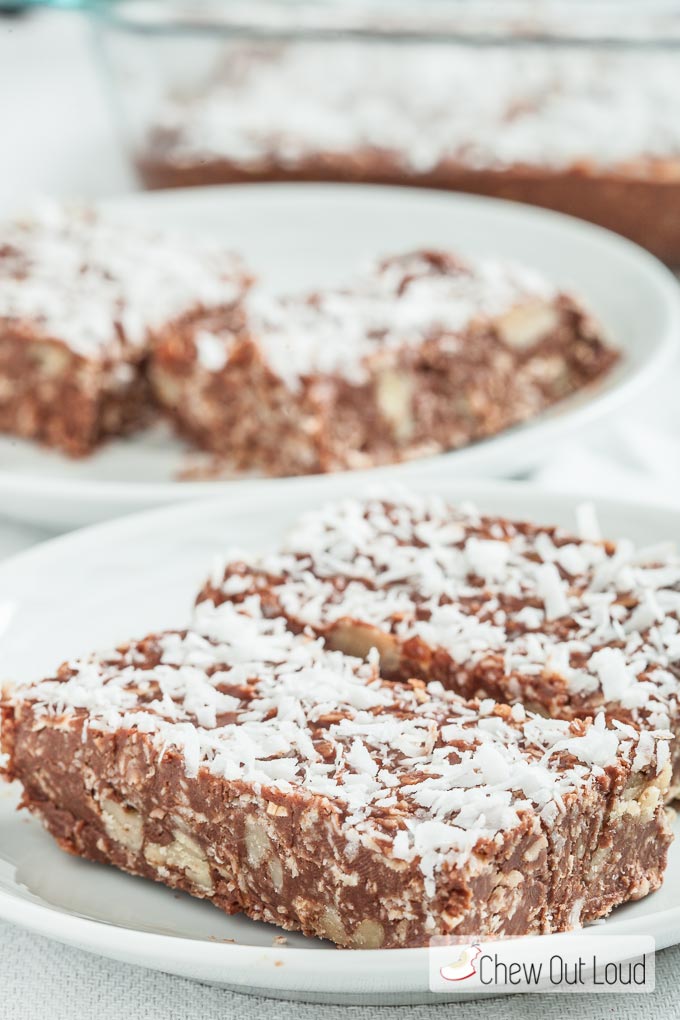 I won't lie; I love busting out little treats for my hungry guys after school. ⇑
My chart-busting afternoon pick-me-ups usually consist of nutritious goodies: energy bites, protein balls, and granola bars…we've got 'em all. They're loaded with All The Good Stuff and takes the edge off hunger until meal time.
My latest no-bake bar gig: Chocolate Oatmeal Bars. They are way too easy + yummy not to try. These bars will wow all the eaters.
These Chocolate Oatmeal Bars are deliciously sweetened only with pure honey and plenty of chocolate. Packed with protein and fiber (hi, coconut.) Plenty of chocolate. I wrote that twice, yeah.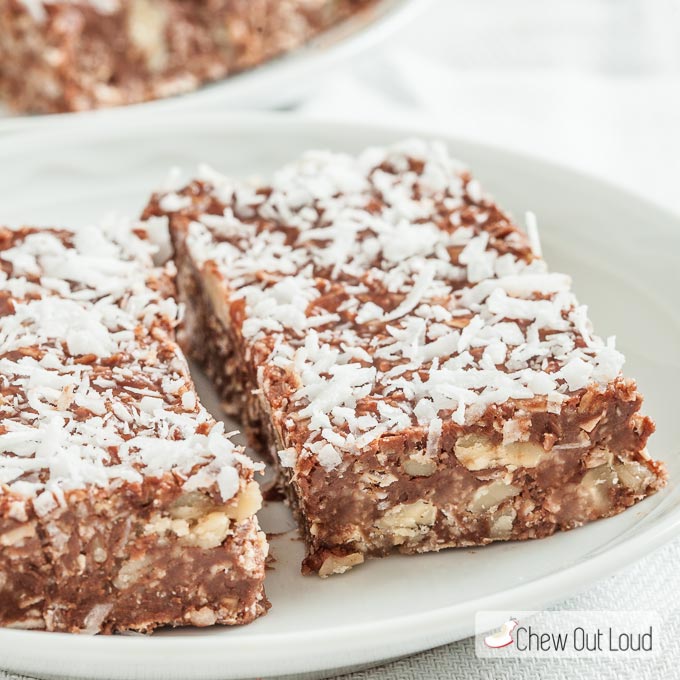 Here's to another season of familiarity and change.
And 10 months worth of afternoon hugs and chocolate-smeared faces.
Enjoy.
Did you make this?
Please give us a rating and comment below. We love hearing from you!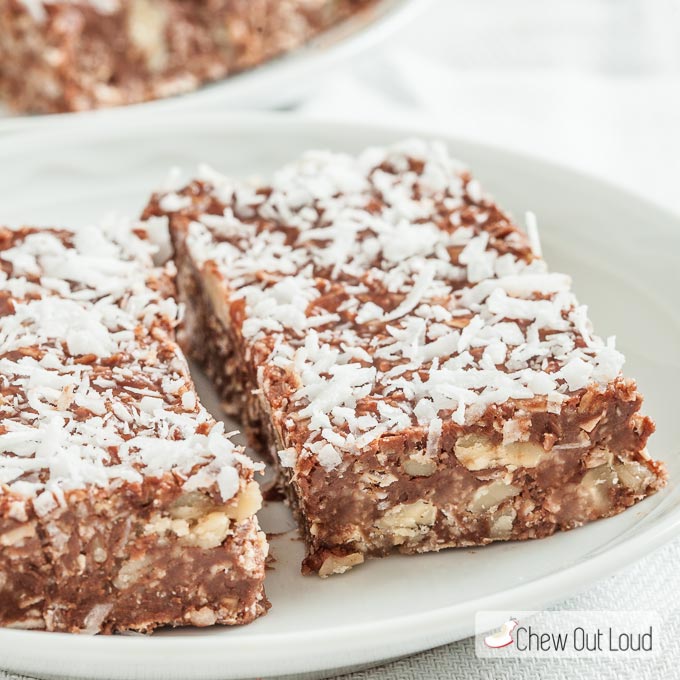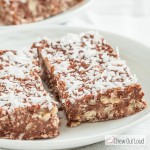 THE Best Chocolate Oatmeal Bars (No-Bake!)
When you've got a hankering for chocolate, but want a boost of healthy energy, you've got to give these Chocolate Oatmeal Bars a go. They are unbelievable. Be sure to keep these yummy bars covered and chilled until ready to serve.
Instructions
In a large saucepan over medium-low heat, add peanut butter, honey, and coconut oil. Stir constantly until just melted; take care that it doesn't burn. Turn heat off.

Add the chocolate and stir until just melted. Add oats, coconut, nuts, and vanilla. Continue to stir until fully incorporated.

Grease a 9×13 pan. Pour chocolate mixture into the pan. Use rubber spatula to spread mixture out evenly into the corners and edges. If desired, sprinkle extra coconut evenly over the top. Cover and chill for several hours or overnight. Once it is hardened and set, cut into squares and serve chilled. Bars will melt if kept out too long, so keep them covered and chilled at all times.
Nutrition (per serving)
Calories:
258
kcal
|
Carbohydrates:
22
g
|
Protein:
5
g
|
Fat:
18
g
|
Saturated Fat:
9
g
|
Polyunsaturated Fat:
2
g
|
Monounsaturated Fat:
6
g
|
Trans Fat:
0.01
g
|
Cholesterol:
1
mg
|
Sodium:
58
mg
|
Potassium:
189
mg
|
Fiber:
3
g
|
Sugar:
13
g
|
Vitamin A:
7
IU
|
Vitamin C:
0.1
mg
|
Calcium:
20
mg
|
Iron:
1
mg
Source: Chew Out Loud, adapted from moneysavingmom
Here are some of those bars/balls/bites I was talking 'bout. Yumalicious and nutritious.
5-Ingredient Energy Bites. Because there are only 5 ingredients. And they're super yummy.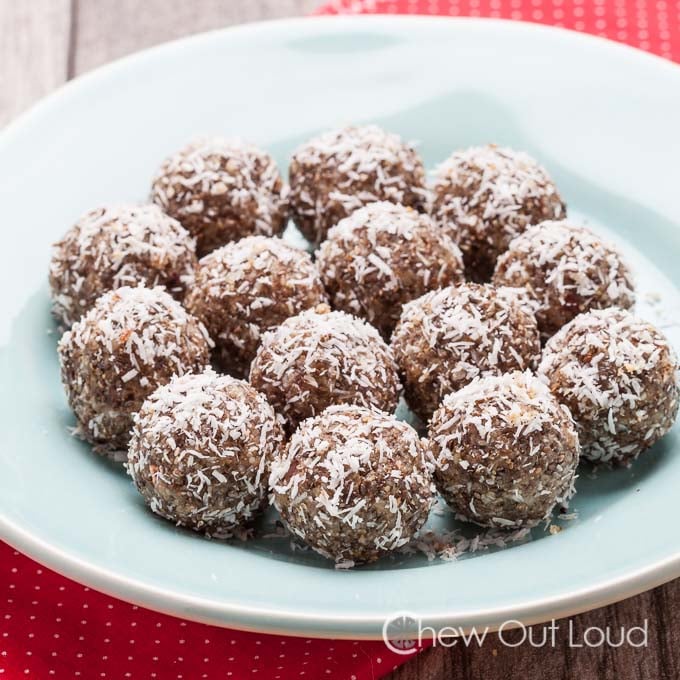 2. Chewy Chocolate Chip Granola Bars. WAY better than store bought stuff 'cause you know what's in them.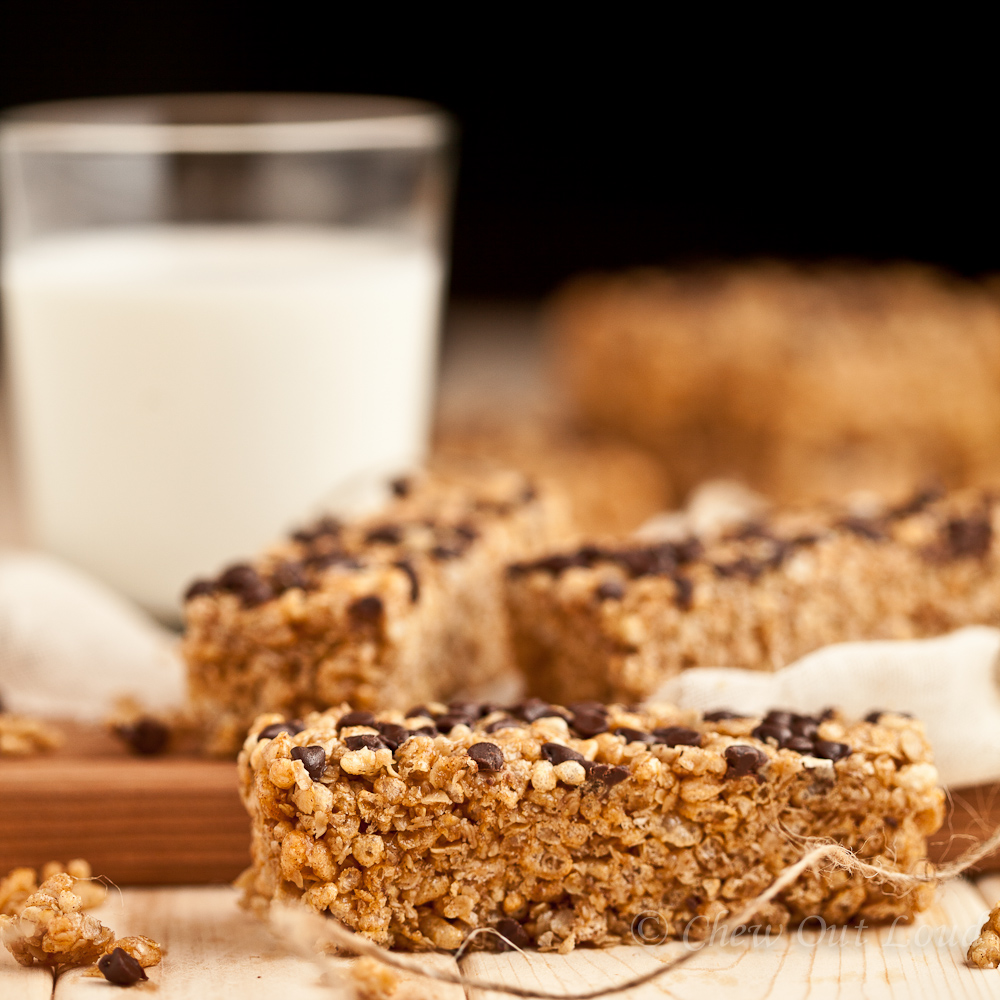 5-Ingredient Protein No-Bake Bars. We're big fans of itty-bitty ingredients and no-bake.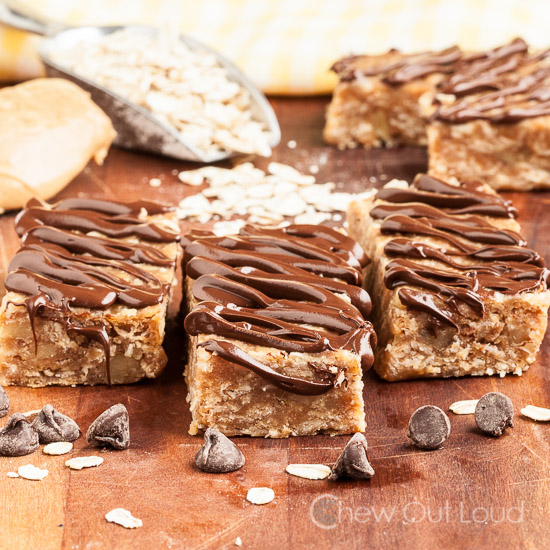 4. Coconut Peanut Butter Cereal Bars. Cheerios can become so, so much more.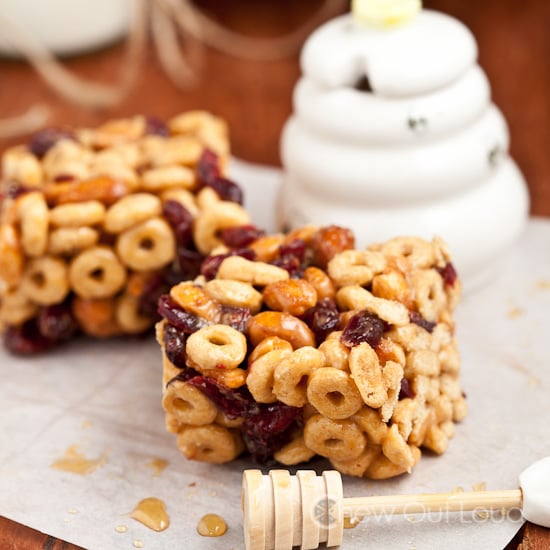 5. No-Bake Energy Bites. Did we mention it's kinda fun making ballish bites? Especially when they taste this good.