Turkey or Chicken Tetrazzini
Whenever we're planning on having turkey or chicken leftovers, especially after the holidays, we can count on Turkey/Chicken Tetrazzini to take poultry to a whole new level. Now this is a way to spin a bit of magic onto leftovers.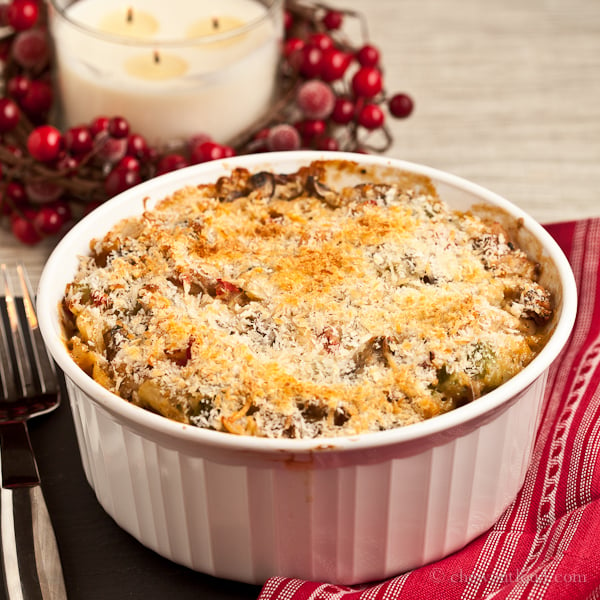 Tetrazzini is like comfort food on steroids. Combine poultry and veggies with mounds of satisfying pasta. It's an all-in-one meal that satisfies both young and old at the dinner table. A hunger-inducing aroma will beckon you while it cooks. Then, one bite leads to another until there's nothing left of your leftovers.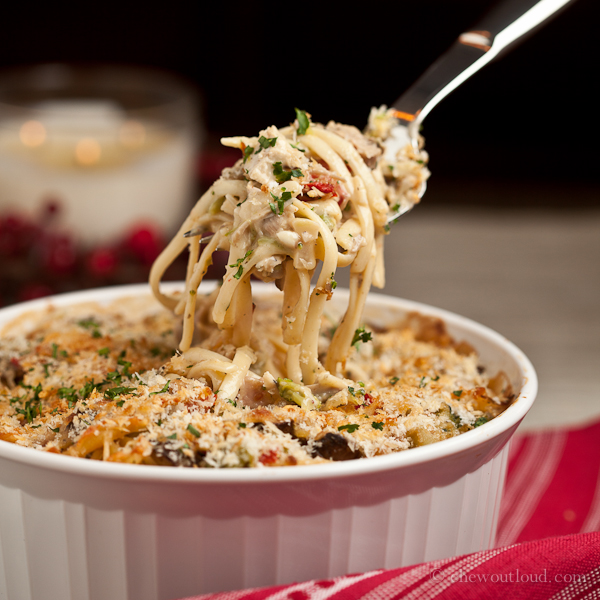 This scrumptious pasta dish is a transformation of the ordinary into something extraordinary. With players like bacon, mushrooms, and cheese, Tetrazzini is an popular crowd-pleaser. We love our Turkey/Chicken Tetrazzini with linguini noodles, but use whatever pasta you're craving. The recipe includes a fair variety of spices, but it's mostly stuff you probably already have.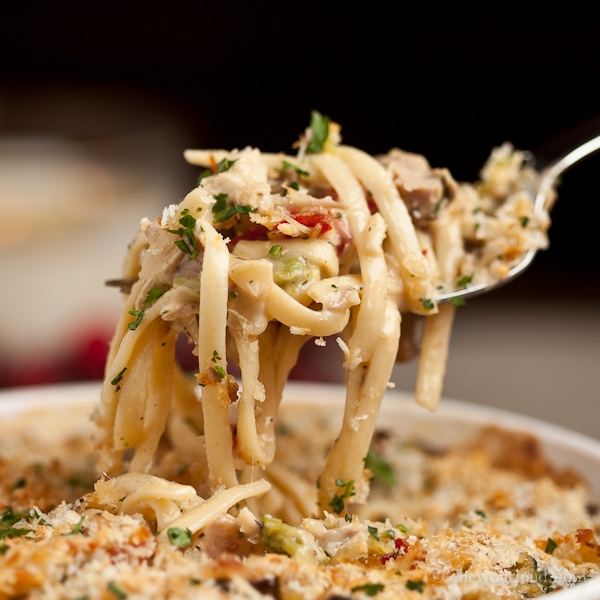 In lieu of normal breadcrumbs, this Tetrazzini is adorned with crispy Panko breadcrumbs. Gotta love Panko! It's been around a long time, but Panko has more recently started gaining well-deserved popularity. Panko is the new breadcrumb. You know, as in 40 is the new 30 (I wish.)
If you've never used it, try Panko just once – you might become its next big fan. It's extra crisp and light, and makes everything that much better. I use Panko with anything from casseroles to finger foods.
Enjoy the holiday meals with your beloved peeps, and create something wonderful out of what remains.
RECIPE (about 8)
INGREDIENTS
2 slices bacon
4 TB olive oil
2 small or 1 large chopped onion
1 red bell peppers, chopped
6 cloves minced garlic
8 oz mushrooms, sliced
1/2 tsp paprika
1/2 tsp dried thyme
1/2 tsp oregano
1/4 tsp garlic powder
1/4 cup all purpose flour
1 cup dry white wine
2 cups low sodium chicken stock
1/2 cup heavy cream
1/2 cup whole milk
1 1/2 tsp salt
1 tsp freshly ground black pepper
12 oz linguini noodles, broken in half
2 cups frozen broccoli florets
2-3 cups shredded cooked turkey or chicken
2 TB freshly copped parsley leaves
2/3 cup freshly grated Parmesan, divided
6 oz Panko breadcrumbs
DIRECTIONS
Cook bacon until crisp and browned in large, heavy pot. Remove with slotted spoon, crumble into pieces, and set aside.
Saute 3 TB olive oil, onions, garlic, and bell pepper in same pot on high for about 4 minutes. Add mushrooms, paprika, thyme, oregano, and garlic powder. Cook until mushrooms are soft, about 5 minutes. Sprinkle with the flour and cook for another 2 minutes. Add wine and chicken stock, stirring until smooth and thick, about 2 minutes. Add heavy cream, milk, salt, and pepper, and bring to a boil. Reduce to simmer, until sauce is thick enough to coat back of spoon and very flavorful, 15-20 minutes.
Meanwhile, boil a large pot of well-salted water. Cook linguini until just al dente, about 8 minutes. Drain and sprinkle with some olive oil. Set aside (do not rinse pasta.)
Oil a 9×13 casserole dish with 1 TB olive oil. Set oven to 350F. In a bowl, mix Panko with 1/3 shredded Parmesan and set aside.
When sauce has thickened, add drained linguini, crumbled bacon, frozen broccoli florets, shredded poultry, and 1/3 shredded Parmesan cheese to the sauce pot. Stir until well combined. Season with additional salt and pepper, if needed.
Transfer to prepared casserole dish. Top with Panko/Parmesan mixture. Bake uncovered until bubbly and golden, about 30 minutes. Sprinkle with fresh parsley and serve immediately.
Source: Chew Out Loud, inspired by Emeril Lagasse.