Homemade Mozzarella Sticks – Extra Crispy
By Amy Dong
Published Nov. 6, 2012
Updated Jul. 11, 2023
If you are a cheese fan and enjoy a good crunch, you'll really appreciate these Homemade Mozzarella Sticks. They are absolutely the perfect finger food that get snatched up in a wink.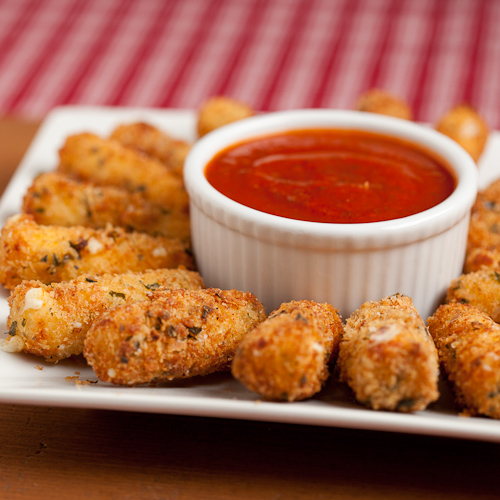 Gooey warm Mozzarella is encased by a beautifully crisp exterior – thanks to Panko breadcrumbs, in lieu of traditional bread crumbs. Panko is definitely in. Thankfully, a bag of Panko can easily be found in Asian aisles of most large grocery stores these days.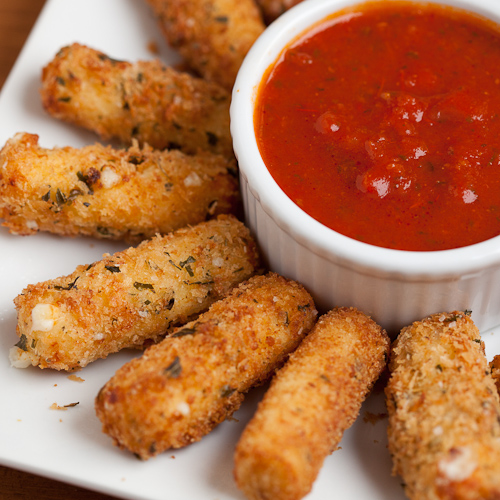 If you've never worked with Panko before, it's only fair to warn you that you just might become addicted to the stuff. It is extremely versatile. Panko can be used to coat anything from these cheese sticks to seafood to chicken. Just use them in place of your standard bread crumbs, and be prepared for an extraordinary crunch that surpasses the old stand by.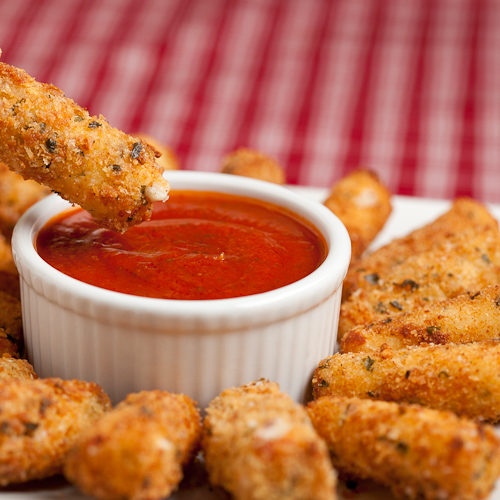 The hubby and kids were all over this crispy, tasty finger food. It's so much fun to be treated to one of our favorite appetizers without setting foot in a diner. Not to mention these mozzarella sticks are tastier, crunchier, and meltier when you do them at home! But, do serve them up while still hot, so the yummy cheese is savored while it's still very melty and delish.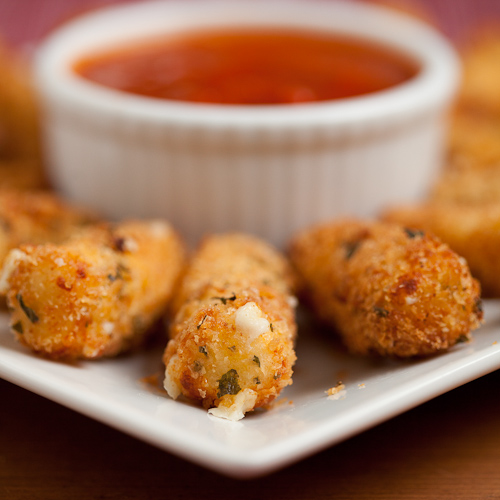 Most of us won't have a problem devouring these while still fresh and warm. Chances are, they won't be sitting around very long at your party. Enjoy!
Did you make this?
Please give us a rating and comment below. We love hearing from you!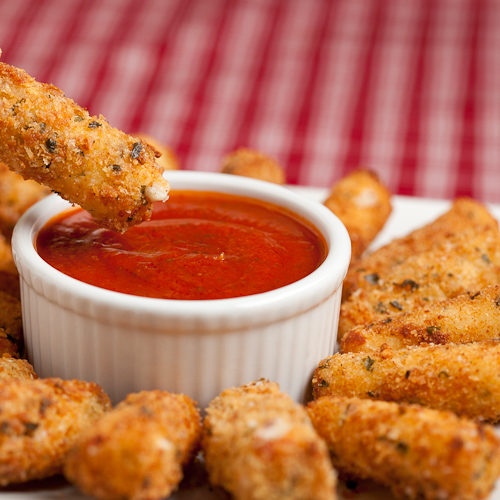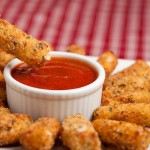 Panko Mozzarella Sticks
If you are a cheese fan and enjoy a good crunch, you'll really appreciate these Homemade Mozzarella Sticks.
Instructions
Prepare Seasonings: Place flour in a small dish. In another bowl, mix together the eggs and milk. In a third bowl, combine panko bread crumbs with garlic powder, onion powder, pepper, and oregano.

Coat and Freeze: Cut mozzarella sticks into halves. Roll a piece of mozzarella in flour, dip into egg mixture, and roll well in Panko mixture. Press crumbs in place so mozzarella stick is fully coated. Continue until all pieces are well coated. Place coated mozzarella sticks on a wax-lined baking sheet and put in freezer for at least 30 minutes. (The flash-freezing is important in keeping cheese from falling apart in hot oil.)

Fry: Pour oil to fill a third way up to halfway up in a heavy sauce pan. Using a thermometer, keep oil steady at 365F. Remove frozen mozzarella sticks and fry a few pieces (don't crowd) at a time, keeping oil temp at 365F throughout frying process (you'll have to play with turning heat up or down as needed.) Fry about 25-30 seconds, turning sticks until they are an even golden brown, and drain on paper towels. Try not to let cheese leak, but a few tiny bubbles are fine. Continue until entire batch is made. Serve with your favorite marinara sauce and do eat these while hot!
Notes
If you enjoyed this recipe, please come back and give it a rating ♡
Nutrition (per serving)
Calories:
60
kcal
|
Carbohydrates:
7.2
g
|
Protein:
6.1
g
|
Fat:
0.7
g
|
Saturated Fat:
0.2
g
|
Cholesterol:
14.4
mg
|
Sodium:
160.2
mg
|
Fiber:
0.7
g
|
Sugar:
0.8
g