5-Minute Avocado Bean Dip
This 5-Minute Avocado Bean Dip is chock full of goodness, full of protein, and superbly delicious! No blender needed. Yummy and guiltless party app and snack!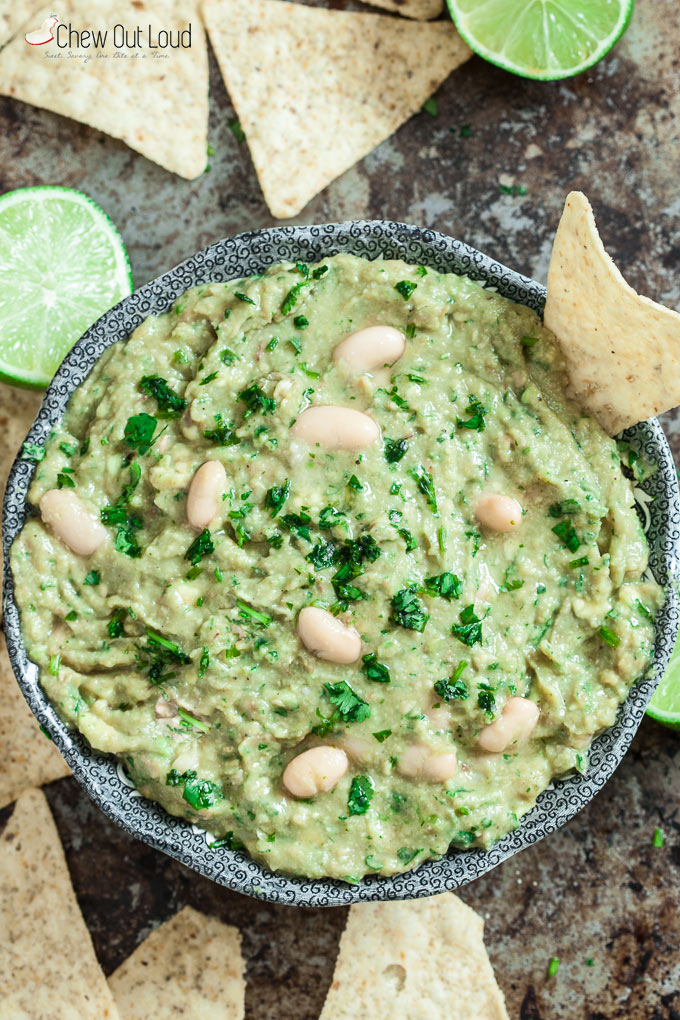 Two of our Littles devour avocadoes like candy.
That was a medium sized exaggeration.
However, it's not a stretch at all to say they eagerly dig into their 'vocados. All I have to do is give them each a ripe one, plus a big spoon. Off to town they go.
Because of the guys' eager inhalation of the almighty avocado, I sometimes go silly and hyper-hoard them when they're on sale.
That is precisely why I ended up with a few loner avocadoes in the kitchen that needed some TLC.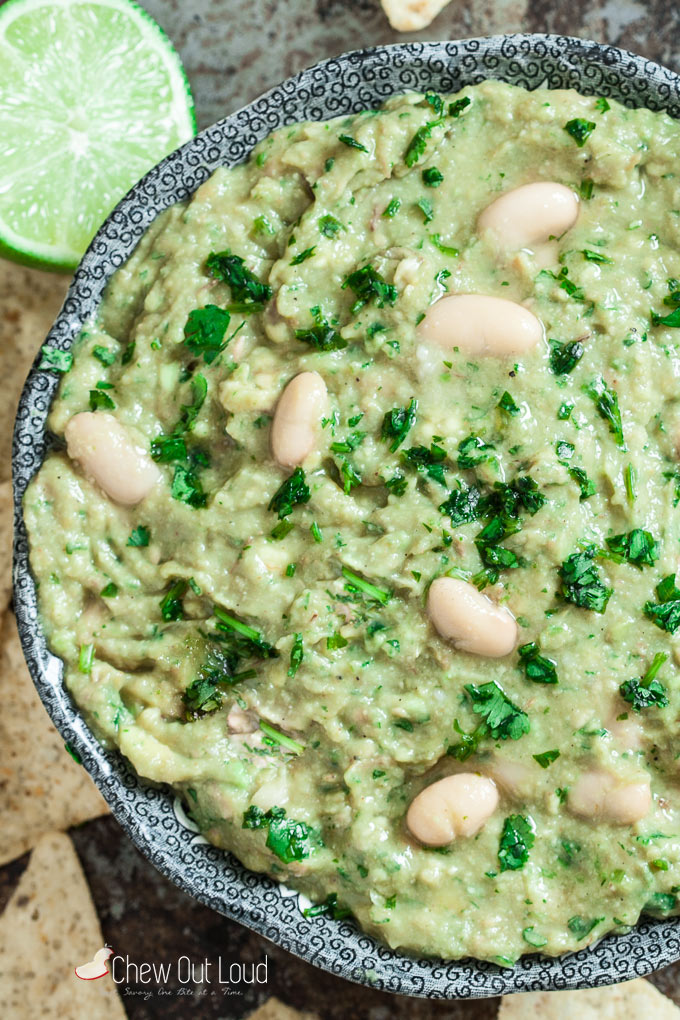 In fact, my superfluous avocado accumulation ended up to be a pretty great thing.
In a last ditch effort to prevent them from going to waste, I smashed my ripe avocados with fresh lime, white beans, and cilantro. Generous dashes of cumin, kosher salt, and black pepper bring out the scrumptious flavors of this Avocado Bean Dip.
The best part of all is that no blender is needed. No food processor. Just a fork. Just mash everything together with your handy dandy fork and serve it up with tortilla chips.
It literally takes minutes to toss this wicked good Avocado Bean Dip together. It's almost like guacamole but with mounds of protein.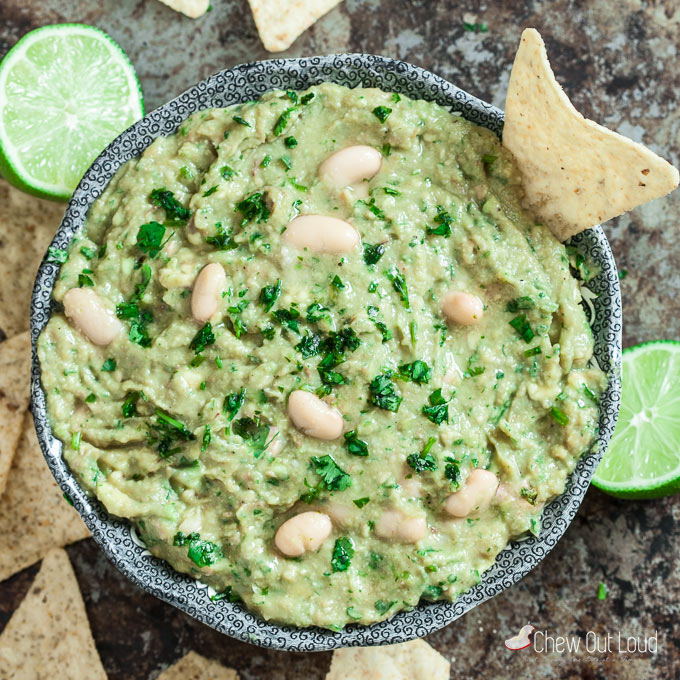 Here's to more avocado hoarding and happy smashing.
Enjoy.
Did you make this?
Please give us a rating and comment below. We love hearing from you!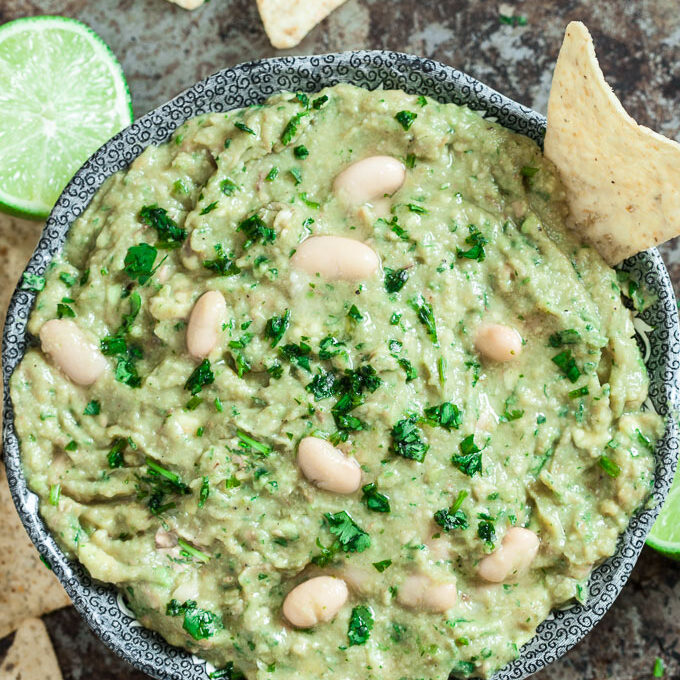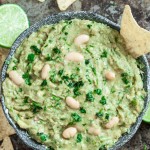 5-Minute Avocado Bean Dip
This 5-minute Avocado Bean Dip is healthy, clean, and superbly delicious. No blender needed; just a fork and simple ingredients come together for the perfect, guiltless snack attack. Great for parties or just afternoon pick me up.
Instructions
In a mixing bowl, combine all ingredients and smash together with a fork until semi-smooth and still somewhat chunky. Season with additional salt and pepper as needed. Serve immediately with tortilla chips, crackers, pita chips, or bread.

Place cling wrap directly over any leftover dip to seal out air and place in fridge.
Nutrition (per serving)
Calories:
249
kcal
|
Carbohydrates:
25
g
|
Protein:
8
g
|
Fat:
15
g
|
Saturated Fat:
2
g
|
Polyunsaturated Fat:
2
g
|
Monounsaturated Fat:
10
g
|
Sodium:
400
mg
|
Potassium:
842
mg
|
Fiber:
10
g
|
Sugar:
1
g
|
Vitamin A:
197
IU
|
Vitamin C:
11
mg
|
Calcium:
72
mg
|
Iron:
3
mg
Source: Chew Out Loud
Time to Avo-cuddle: