This Black Bean Avocado Dip is super easy and perfect for all those times you need a healthy snack or party appetizer in a jiffy! It's delicious, nutritious, and versatile.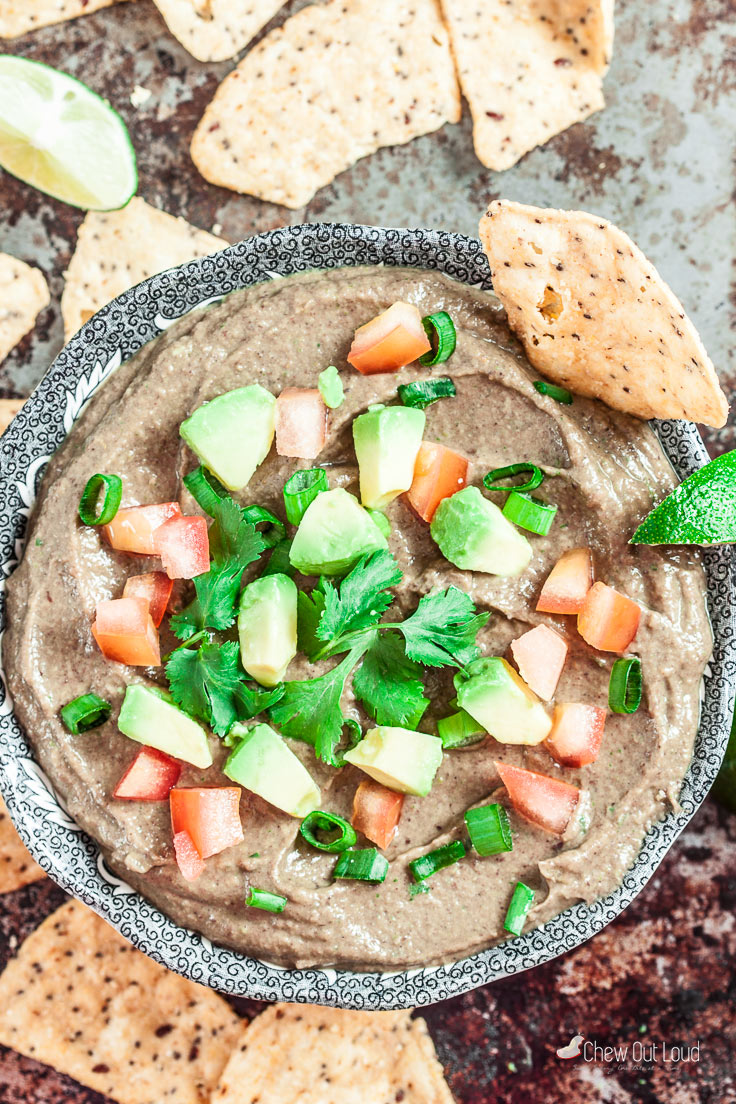 Ever need something to keep your energy levels up and hunger down, with hours to go 'til dinner? You want to take the edge off the growling tummy, but prefer not to down the open bag of chips in the pantry. Nor is it ideal to grab a big soup spoon and head for that tub of cookies 'n cream ice cream in the freezer.
Ask me how I know. #keepingitreal
There's definitely a better alternative to the kids' junk food stash. Here to save the snack-attack dilemma: a quick fixin', nutritious, fresh, and crazy-delish dip.
This Black Bean Avocado Dip requires just a handful of healthy ingredients and a quick whirr in the blender. Voila: totally guilt-free noshing at your fingertips.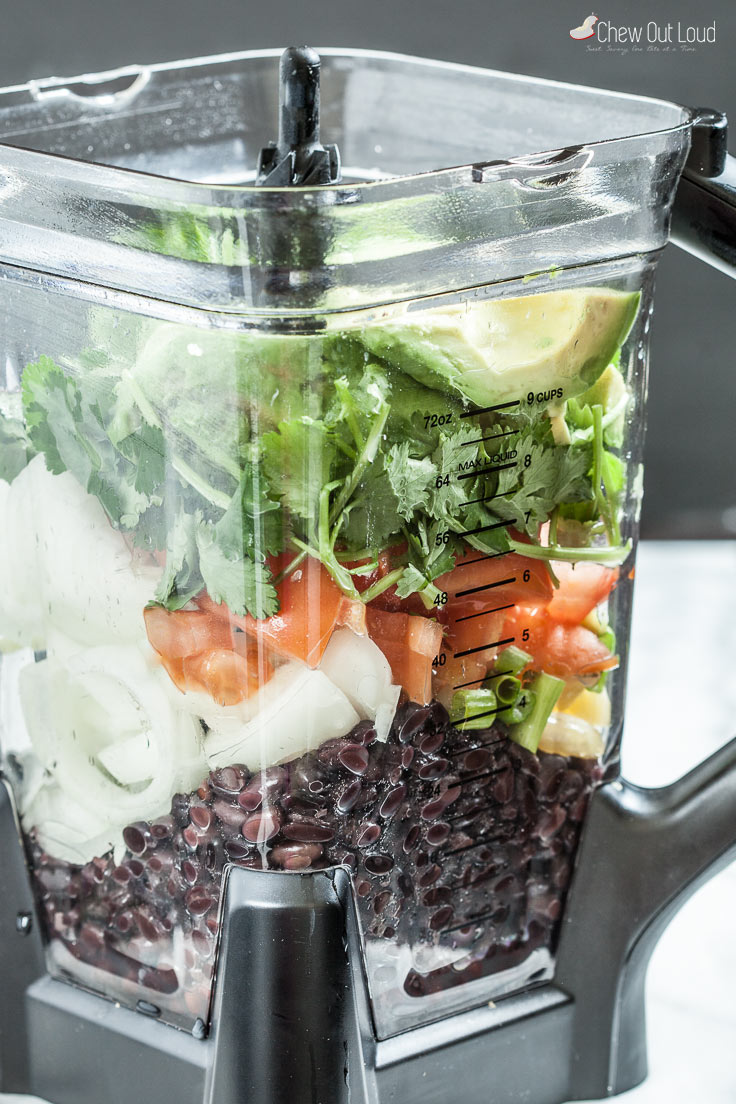 All it takes is a few goodies you probably already know and love: a can of black beans, onions, tomatoes, garlic, cilantro, and avocado. Spritz on the lime and seasoning until it's just right.
Give it a good go in your heavy-duty blender. All that goodness transforms into a luscious, smooth, creamy, and guilt-free dip right before your eyes. Yum and yum. It's awesome not only for those hours before dinner, but also as a party appetizer. My friends love this dip with crispy flax chips.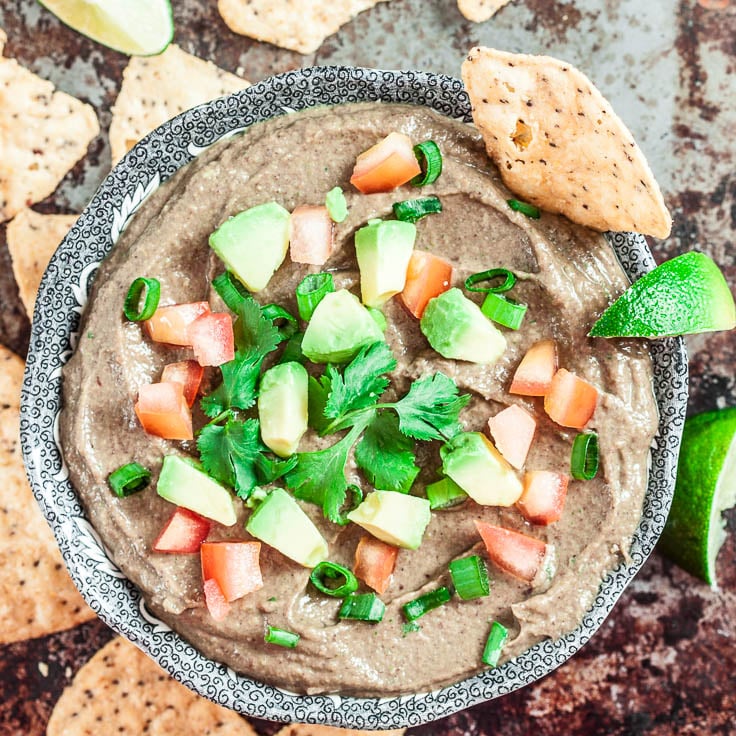 So now that snack's done: what's for lunch? Between work, race training, and kids' homework/sports, there are just some days I can't pack a lunch, and I don't want to spend money on fast food. (Anyone?!)
Here to save the no-time-to-cook dilemma: SMARTMADE™ by SmartOnes®. I rarely, rarely do frozen meals. But when SMARTMADE asked me to try their brand new meals that include grilled lean meats, roasted veggies, and real ingredients, I gave it a go.
Immediately, you can tell SMARTMADE meals were created for health-conscious people who only want simple, real ingredients. Of course you know I scrutinized the ingredients, as I do with practically everything I buy.
I stood there for a moment, reading and re-reading the few simple, real ingredients in that yummy Mexican-Style Chicken Bowl I opened for lunch. This is my kind of quick meal: tasty, nutritious, and similar to how I would do it myself.
My chicken bowl looked and tasted like something a busy gal would want from her own kitchen. When Hubby brought his bowl to work for lunch, nobody guessed it wasn't homemade. I mean, with it looking and tasting like this ↓ who would know?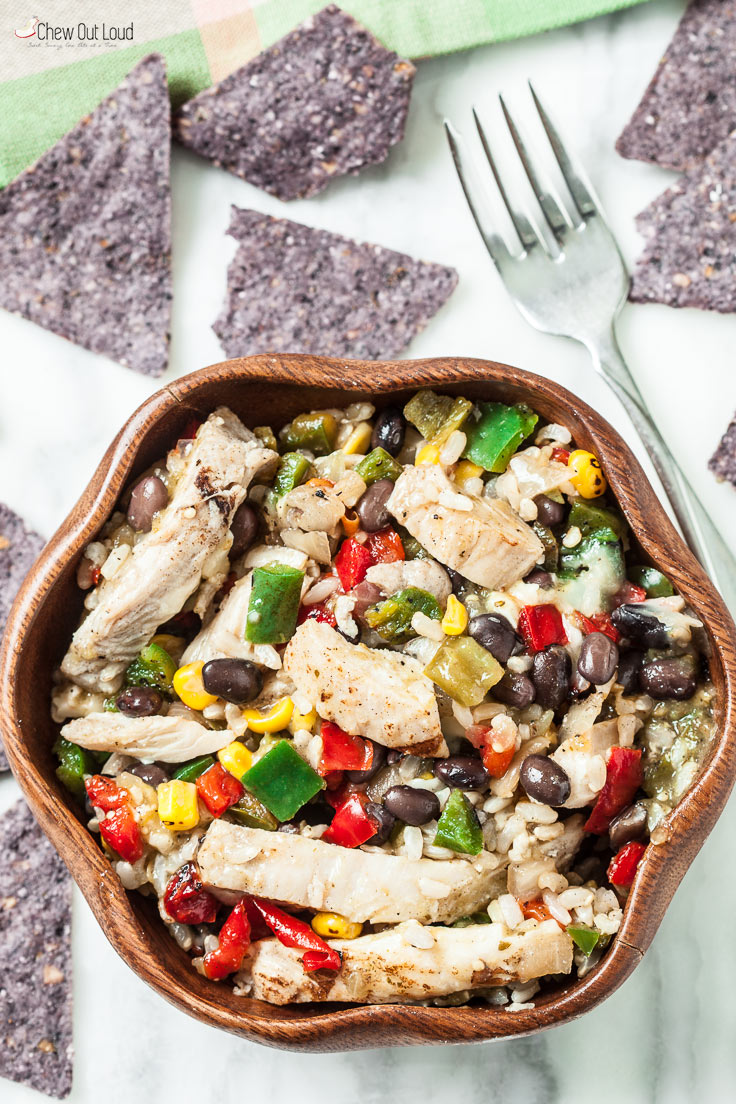 Enjoy today's black bean avocado dip; I'd love to hear back if you try the recipe!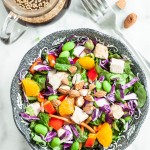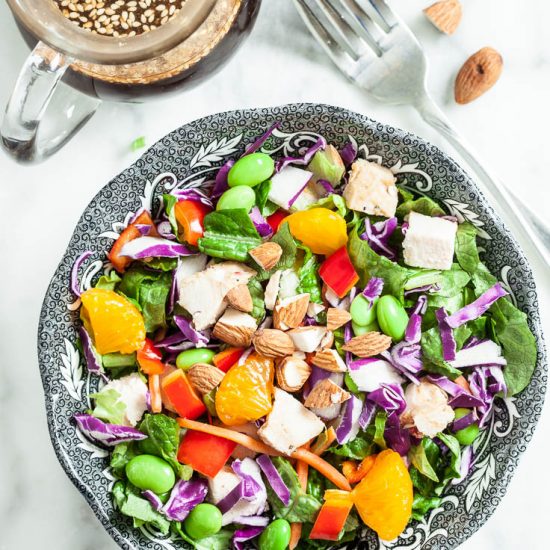 Black Bean Avocado Dip
This Black Bean Avocado Dip uses just a few, real, simple ingredients to create a healthy, guilt-free snack in a jiffy! Great for parties, too.
Ingredients
2

cans

,

13.5 oz each cans black beans, rinsed well and drained

1

medium onion

,

roughly chopped

2

garlic cloves

,

roughly chopped

1

large tomato

,

roughly chopped

½

cup

cilantro

,

roughly chopped

2

medium-large avocados

,

peeled/seeded

Juice of 1 medium-large lime

4

stalks scallions

,

chopped, plus extra for garnish

1

tsp

kosher salt

¼

tsp

freshly cracked black pepper

¼

tsp

ground cumin
Instructions
In a heavy-duty blender or food processor, add beans, onion, garlic, tomato, and cilantro. Blend until smooth. Add avocados, lime juice, scallions, salt, pepper, and cumin. Blend until smooth and creamy. Transfer to a serving bowl and garnish with chopped scallions if desired.
Notes
This dip is delicious with crispy corn tortilla chips, bagel chips, pita chips, crackers, veggie sticks, or over crostini! It keeps well when kept in an airtight container in the fridge for several days.
Did you make this?
Leave a comment below and tag @chewoutloud on Instagram
Source: Chew Out Loud
*For more delicious inspiration, check out SMARTMADE™ unique recipes here and on Facebook!