Best Pumpkin Bread Recipe
If there is one fall treat that is a regular hit in our household, it has to be this moist pumpkin bread. The topping sets it apart from all the rest. There's a secret.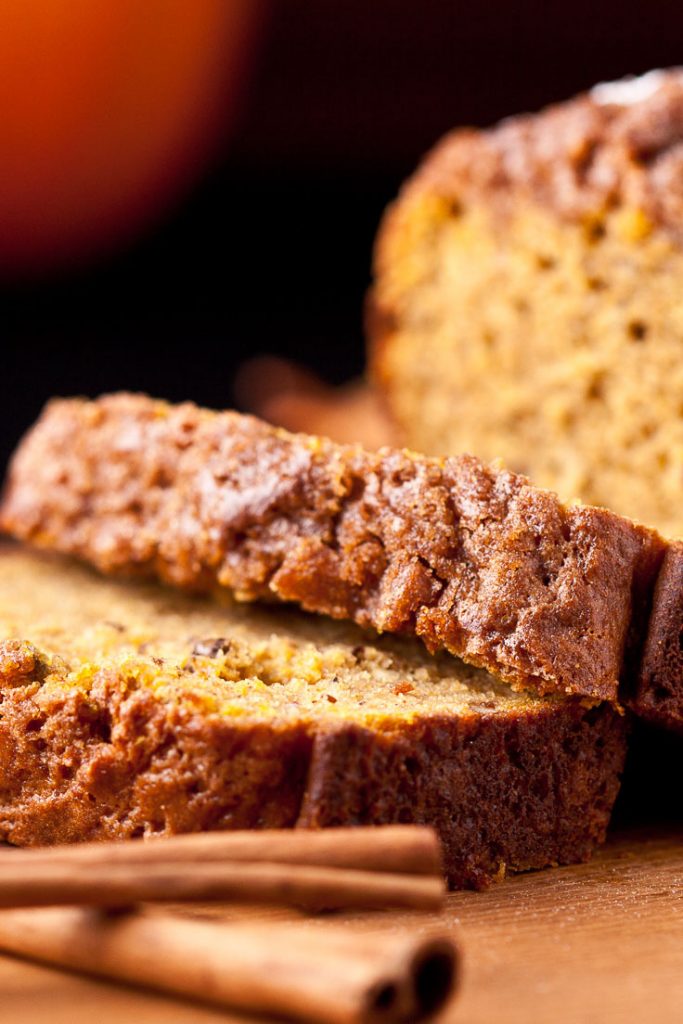 Best Pumpkin Bread Recipe
This recipe was originally posted fall of 2012. It's still our very favorite pumpkin bread, and images/notes have been updated.
We love this super moist, best pumpkin bread recipe so much that it is absolutely not reserved only for the short months of fall. Around here, you can smell the tempting aroma of freshly baked pumpkin bread any time of year, because it's just that good.
Throughout the years, I've used a number of various pumpkin bread recipes. Most all of them have been at least in the "good" category.
My most recent search for the best pumpkin bread, though, was actually a stand out. We adapted this recipe from one of my Cooks Illustrated Cookbooks, which is an oldie but goodie. Why I didn't run there in the first place, I don't know. At least I went there eventually.
We noticed a difference in an awesome way. The topping is simple yet epic. The texture and flavor of the bread itself is stellar, thanks to a secret ingredient nobody would ever guess.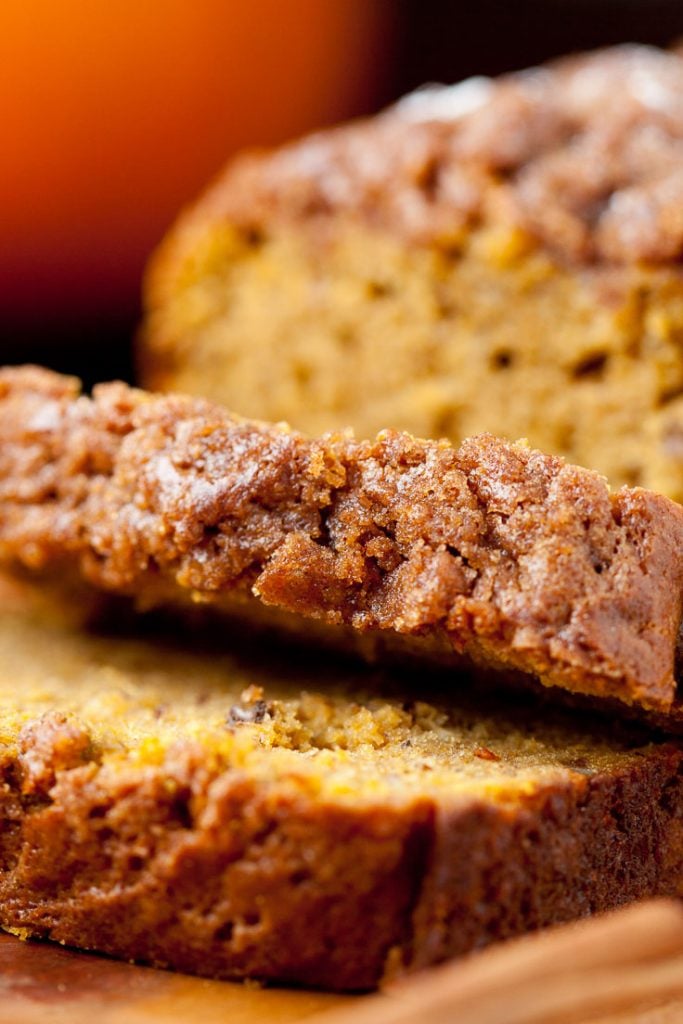 What's the secret to this moist pumpkin bread?
What makes this particular pumpkin spice bread ten notches above the usual?
There are actually two things. For one, the canned pumpkin puree is cooked down a bit to diminish the slight metallic flavor that canned pumpkin can sometimes impart. Of course, using a fresh pumpkin would eliminate that as well.
But, we all know canned pumpkin is the way to go when there's just no time for the cook-your-own-gourd route. It sounds fussy to cook down the pumpkin puree, but it's a cinch. It's as simple as boiling a pot of water, and it's even quicker.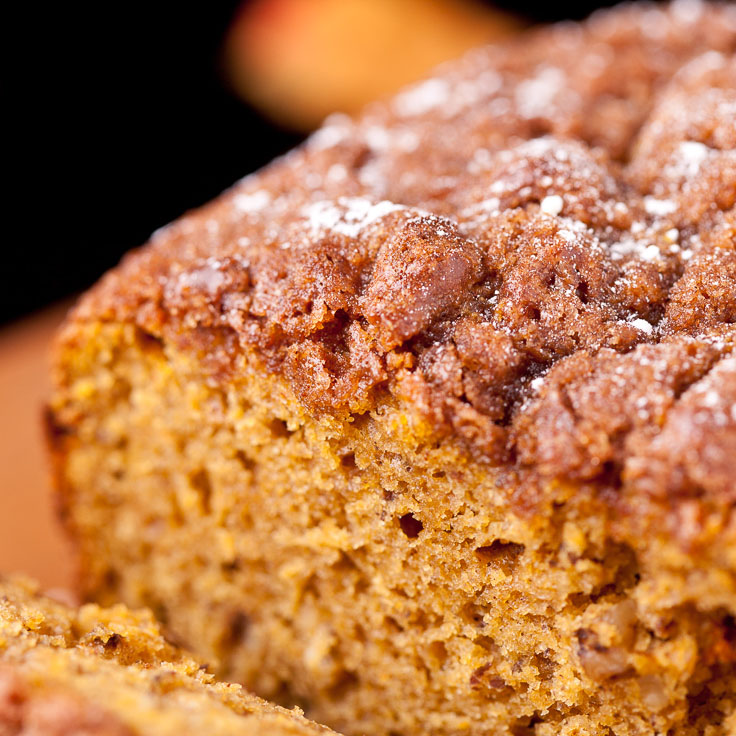 super moist interior & crisp topping that's not streusel
The other piece that makes this pumpkin bread a cut above?
It's the simple, light topping that provides a wonderful exterior crispness, without weighing down the bread with a heavy streusel. Not that there's anything wrong with a good streusel 🙂
However, this quick topping just works. Here is a light, crisp topping for the pumpkin bread that prevents any sog-factor the next day. All you need are brown sugar, flour, butter, cinnamon, and salt. No nuts or chopping or chilling required. Ridiculously easy.
The wonderfully light, crisp topping is super easy to assemble, adds texture, and maintains a nice crispness.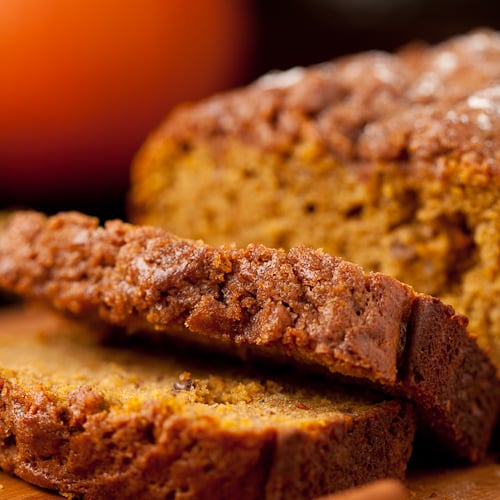 A bit of cream cheese and plenty of spice
Our best pumpkin bread delivers hugely on the moistness scale, with a soft tender crumb inside, thanks to the wonderful addition of cream cheese. YUM.
Who doesn't love a little cream cheese? We did that with this Pumpkin Cream Cheese Bundt Cake and my oh my. There's a reason pumpkin and cream cheese are perfect partners.
Lastly, we're not shy with the amount of spice, giving it plenty of seasonal spice to match the crisp air and fall leaves.
Breakfast, dessert, or snack? Yes, yes, and yes. The only problem is that we can't keep it around long enough. Try it and see if you agree 🙂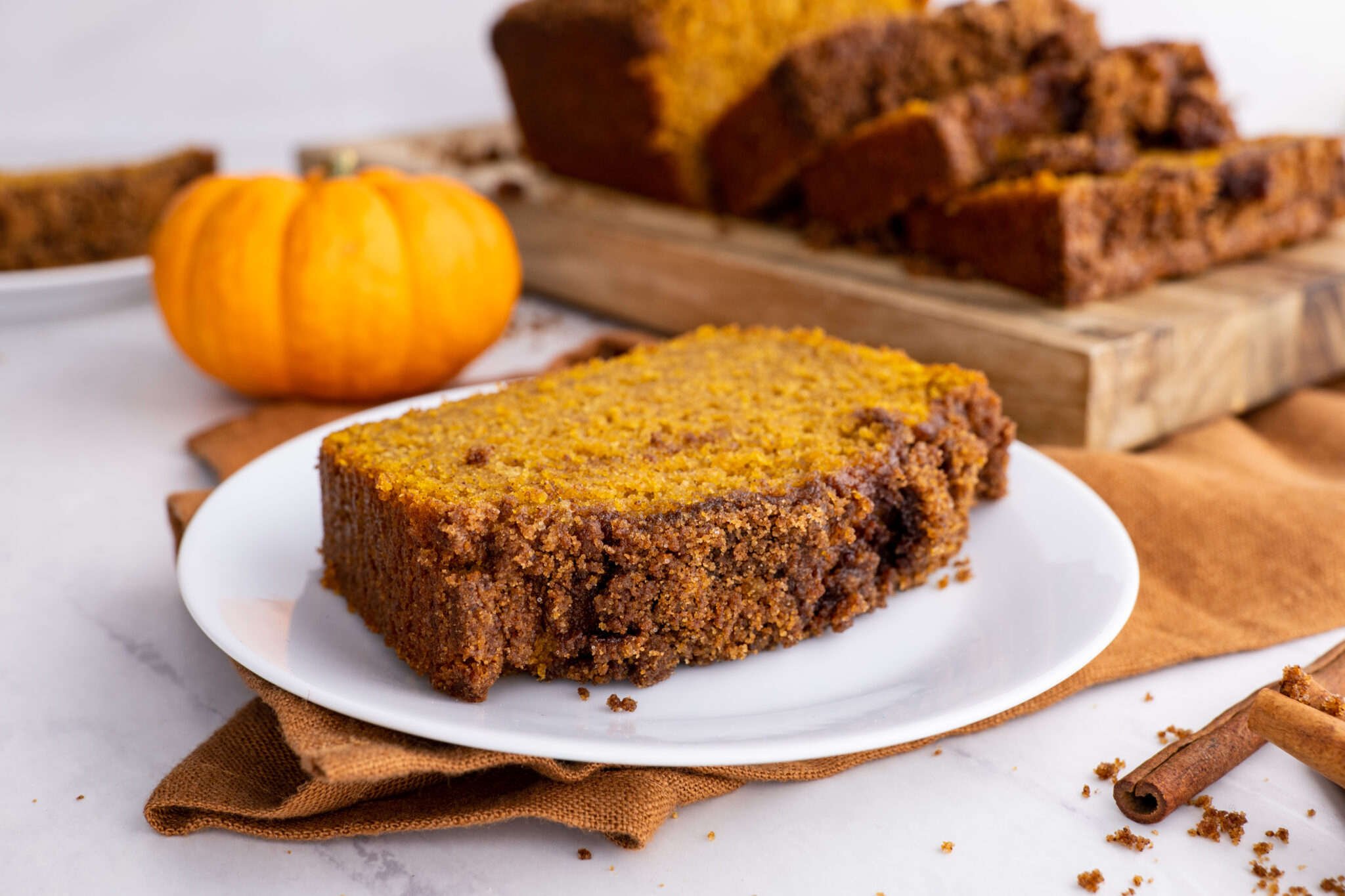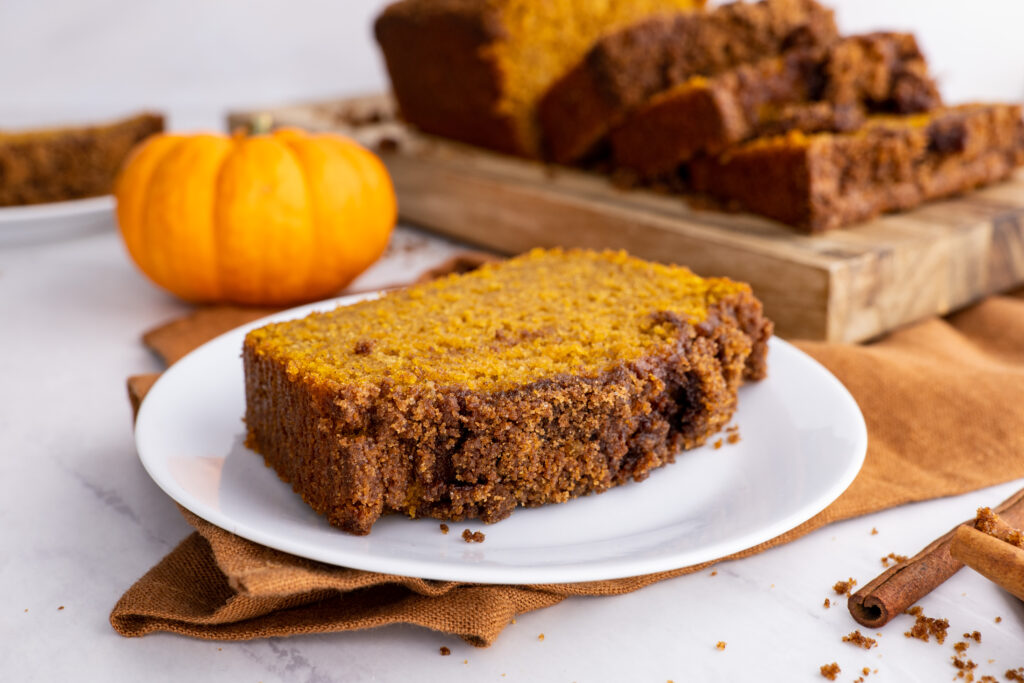 ---
Common Questions and Answers
What's the difference between canned pumpkin and pumpkin puree?
These two phrases are often used interchangeably in recipes, and refer to the same thing. Both are solid-pack, pure pumpkin.
What if my pumpkin bread doesn't rise correctly?
Be sure your dry ingredients are super fresh, especially baking powder and baking soda. Also, be sure not to overfill the pans. Make sure there's enough room on top for bread to rise.
Does this pumpkin bread freeze well?
Yes this pumpkin bread freezes just beautifully! Let the finished bread fully cool to room temperature first. Then, wrap it airtight and freeze up to several weeks.
Can you taste the olive oil in this pumpkin bread? Can I use another type of oil?
You cannot taste any olive oil in this moist pumpkin bread at all! But yes, you can absolutely use another type of oil, such as canola oil, vegetable oil, or coconut oil.
---
More to Bake and EAt:
Video: Watch this Recipe in Action
Did you make this?
Please give us a rating and comment below. We love hearing from you!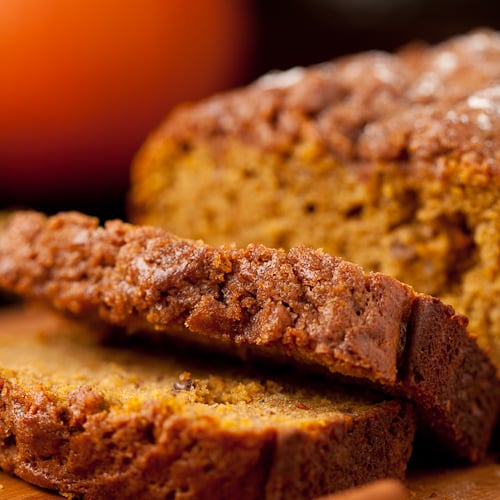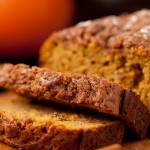 Best Pumpkin Bread
If there is one baked good that is a regular hit in our household, it has to be pumpkin bread. The topping sets it apart from all the rest. Makes 2 delicious loaves.
Instructions
Make the topping by mixing all topping ingredients in a bowl with fingers, until well combined. Will resemble wet sand. Set aside.

Heat oven to 350F with rack on lower-middle position. Grease two 8.5 x 4.5 nonstick loaf pans*

Whisk flour, baking powder, and baking soda together in a bowl. Set aside.

Combine pumpkin puree, salt, cinnamon, nutmeg, cloves, ginger, and vanilla in large saucepan over medium heat. Stir constantly for 5 minutes. Remove from heat immediately. Stir in cream cheese until smooth and combined. Stir in sugar, brown sugar, oil, and let stand 5 minutes. Whisk until mixture is smooth, without lumps.

In a bowl, whisk together eggs and buttermilk. Slowly add egg mixture to pumpkin mixture and whisk to combine. Use rubber spatula to gently fold flour mixture into pumpkin mixture just to combine (small lumps of flour are okay – do not over-mix.) Scrape batter into prepared pans.

Sprinkle topping evenly over top of each loaf. Bake until toothpick inserted in center comes out mostly clean, about 45 minutes (actual bake time depends on loaf pans used and individual ovens.) Loaves are done when inserted toothpick comes out with just a few tender crumbs attached – do not bake until they come out completely clean.

Let bread cool in pans at room temp for at least 20 minutes. Use sharp thin knife to carefully loosen edges. Remove breads from pans to finish cooling to room temp. Serve, and enjoy!
Notes
* If you only have 9×5 loaf pans, you can opt to make 1 larger loaf and use excess batter for muffins, or

decrease

the baked time for 2 loaves. Be sure to keep checking various center spots with toothpick to ensure the breads are taken out as soon as toothpick comes out with a few tender crumbs attached.
If you enjoyed this recipe, we'd love for you to come back and leave your rating/review. ♡
Nutrition (per serving)
Calories:
230
kcal
|
Carbohydrates:
35.3
g
|
Protein:
3.8
g
|
Fat:
8.6
g
|
Saturated Fat:
2.7
g
|
Cholesterol:
38.9
mg
|
Sodium:
183.7
mg
|
Fiber:
1.2
g
|
Sugar:
18
g