Chewy Chocolate Salted Caramel Cookies
These cookies are a triple threat – they're filled with triple chocolate goodness, they're chewy, and they're topped with the most amazing salted caramel drizzle. Cookie monsters, be satisfied.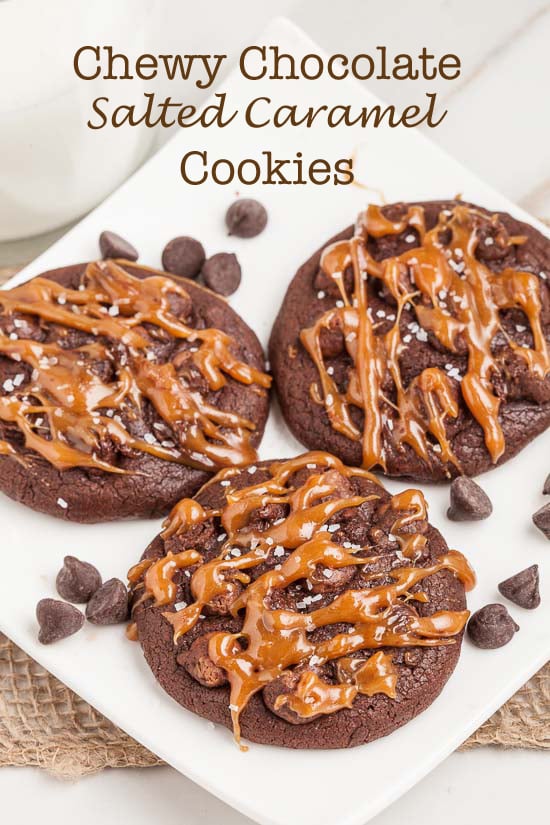 Hope you all had a fabulous Labor Day Weekend! I'm all for the long weekends, as you can tell with this recipe, but this particular weekend is bittersweet every year.
Labor Day signifies the end of summer and the (un)official start of fall. It feels pretty real around here because our first day of school is immediately after Labor Day.
Totally anticlimactic. It's a 3-day weekend followed by a sudden launch into backpacks and school buses the morning after. I still can't believe I packed the boys' lunch boxes today. Sob.
At least we filled our last-hurrah-weekend with loads of fun in the sun (and rain.) We spent an entire day at the crazy state fair and got drenched in a sudden downpour (actually a teensy fun.) We caught up with friends and ate way too much (as usual.) We did Gourmet Club. More eating…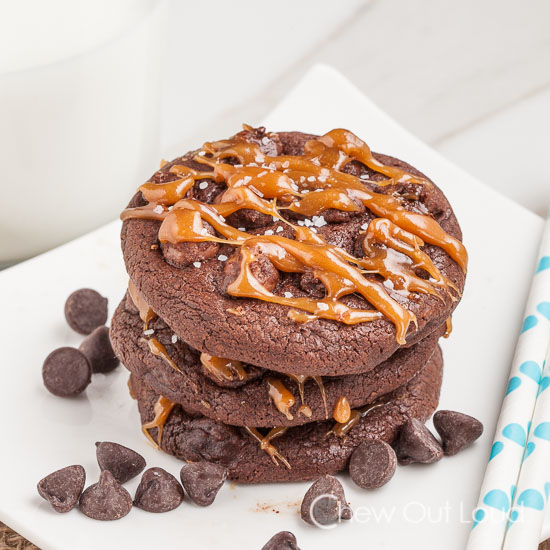 Now that we got all that fun out of the way, the fall schedule is hitting us hard.
Instant gear switch towards homerooms and lockers and morning goodbye's. I'm not quite ready to put on serious just yet. Yeah, I am a bit of an emotional mess every year on this day.
Admittedly, the last week had me going bonkers with the boys getting restless and fighting over who's breathing their air. Yet it's bittersweet to watch them leave for school and grow another year older. Sigh.
This calls for cookies. Who wants chocolate? Lots of it. And caramel just because.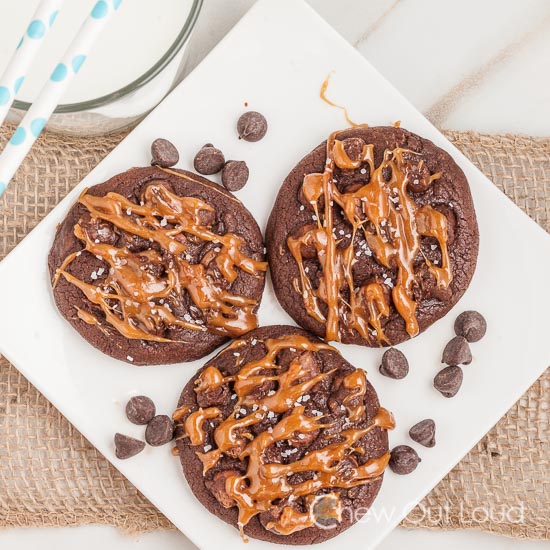 Yes, please. All of it. Thankfully, these delicious cookies are easy to make and keep super well.
These Chewy Chocolate Salted Caramel Cookies are everything you'd want and more. They are wonderfully chewy and soft. Teeming with pure chocolate galore. Topped off with a luscious caramel drizzle. And sprinkled with the perfect pinch of coarse salt.
These are so good, words cannot describe.
Here's to a new school year full of new experiences, new friends, new memories, and cookies. Lots of cookies.
Did you make this?
Please give us a rating and comment below. We love hearing from you!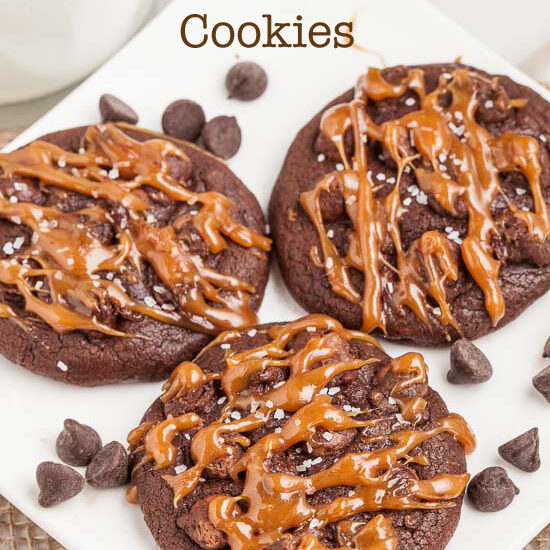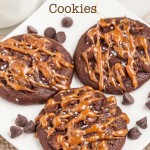 Chewy Chocolate Salted Caramel Cookies
These have a deep chocolate flavor, with a chewy and fudgy center and slightly crisp edges. Moist, rich, and satisfies any chocoholic. Freeze leftover dough for baking when you need emergency cookies!
Instructions
In a bowl, whisk the four, cocoa powder, baking powder, and salt. Set aside.

In a bowl set over saucepan of simmering water, constantly stir chocolate chips until melted.

In a bowl, whisk together the eggs and vanilla. Sprinkle coffee powder to dissolve. Set Aside.

In the bowl of a stand mixer fitted with paddle attachment, beat butter and both sugars at medium until combined, 1 minute. Mixture may be gritty. Decrease to low speed, add egg mixture, and mix to incorporate, 1 min.

Add melted chocolate in a steady stream, mixing until combined, 1 minute, scraping down bowl and beater as needed.

With mixer still on low, add dry ingredients gradually and gently mix just until combined, without over beating.

With rubber spatula, fold in chocolate chips. Cover bowl with plastic wrap and chill in fridge at least 1 hour or until scoop-able.

Adjust oven to lower middle position, at 350F. Line baking sheets with parchment paper. Divide dough into balls about 1 1/2 inch in diameter. Set balls on lined baking sheets, about 2 inches apart. Slightly flatten dough balls.

Bake just until edges are begun to set but centers are still very soft, 8-9 minutes. Cool on baking sheets 10 minutes. Carefully transfer to wire rack and cool to room temp.

For the Salted Caramel Sauce: In a heavy saucepan, place sugar in even layer. Heat sugar over medium-high, whisking frequently. Once it starts melting, whisk continuously as it cooks, until all clumps are melted down. Turn heat down to medium, insert thermometer into the melted sugar, and continue stirring until melted sugar turns red-brown. The minute your thermometer reads 350F, add all the butter (caramel may bubble up aggressively when you do this.) Whisk butter/caramel until completely melted. Immediately remove pan from heat, carefully pour in the cream, and whisk until a smooth sauce forms. Cool slightly. Drizzle desired amount of caramel over cooled cookies and sprinkle with a pinch of coarse salt.
Nutrition (per serving)
Calories:
482
kcal
|
Carbohydrates:
58
g
|
Protein:
5
g
|
Fat:
27
g
|
Saturated Fat:
16
g
|
Polyunsaturated Fat:
1
g
|
Monounsaturated Fat:
8
g
|
Trans Fat:
0.4
g
|
Cholesterol:
69
mg
|
Sodium:
139
mg
|
Potassium:
263
mg
|
Fiber:
3
g
|
Sugar:
44
g
|
Vitamin A:
507
IU
|
Vitamin C:
0.1
mg
|
Calcium:
67
mg
|
Iron:
3
mg
Source: Chew Out Loud
We're going all-cookie today. These PB Oatmeal cookies are gluten-free, healthy (for cookies) and definitely on my list of after-school goodies.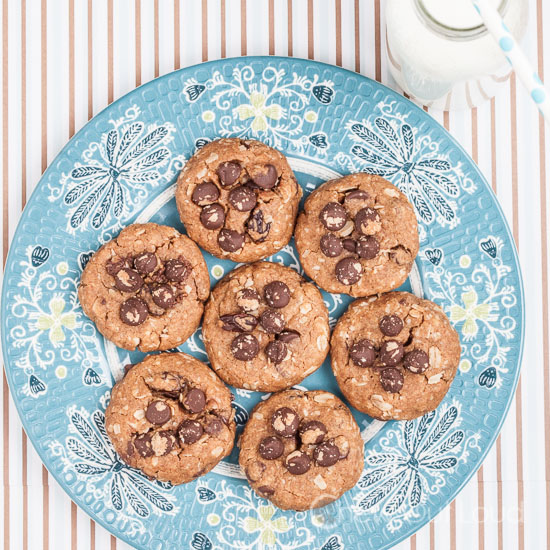 These Chocolate Oatmeal Quinoa Cookies are perfect for a hearty and healthy breakfast cookie or after school snack.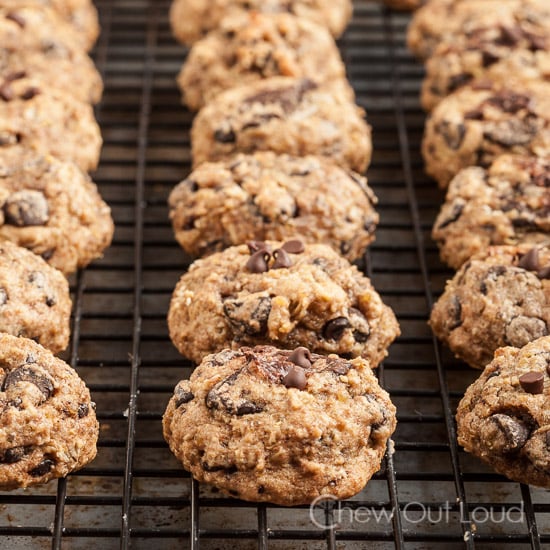 These Chewy Oatmeal Scotchies are simply aaaamazing.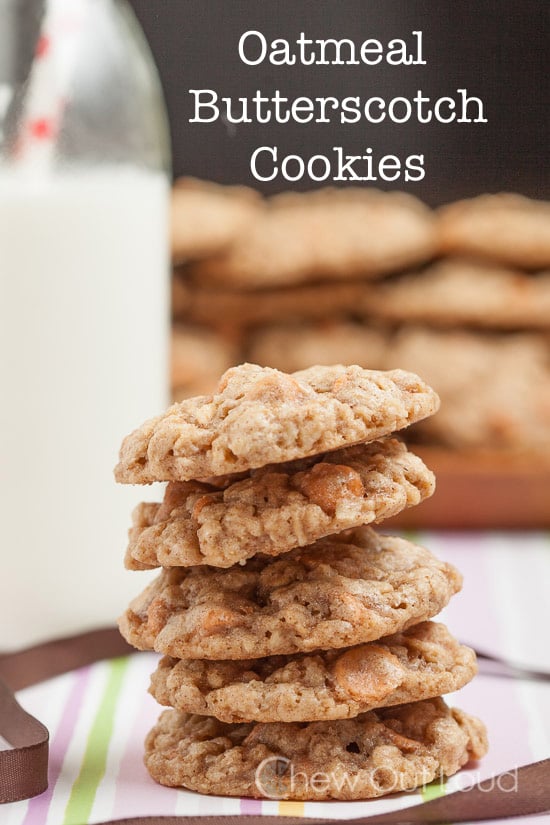 Ok, I'll feed us some more chocolate. These Chewy Chocolate M&M Cookies are an unbeatable treat, anytime and anywhere. Always a HIT.