Chewy M&M Chocolate Chip Cookies
These M&M cookies are extraordinarily chewy and soft, and stay that way for days. They are loaded with chocolate chips throughout, for the ultimate M&M cookie experience. These cookies taste sublime, as they are made with real butter (no shortening in these babies!)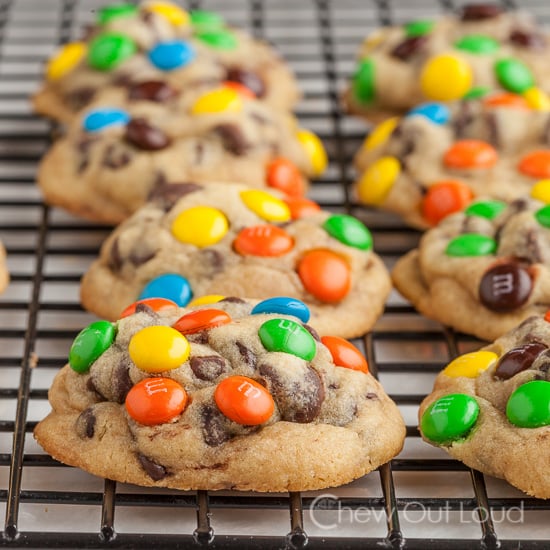 The majority of thick and chewy M&M cookie recipes I've searched for in the past call for the use of shortening. Since I make every effort to use real butter in all my baking, none of those M&M cookie recipes ever made it to our cookie jar.
Rather than staring at my bag of M&M's and wistfully passing up all the recipes that called for shortening, I decided to use my favorite chewy chocolate chip cookie dough as a base, and throw a whole bunch of crunchy M&M's into the mix. Extra chocolatey M&M cookies, made with the goodness of real butter…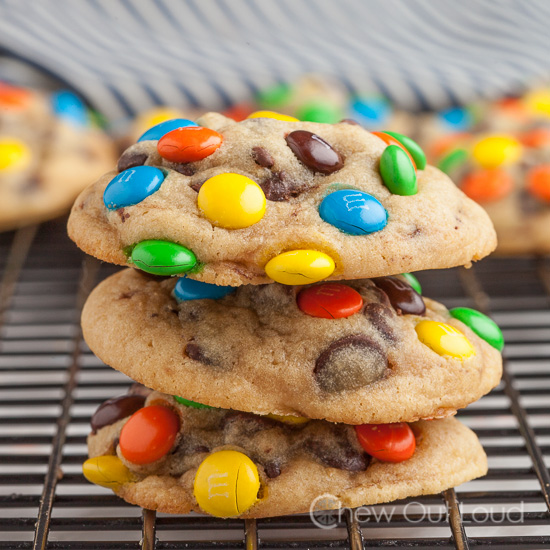 Because said chocolate chip cookies are my favorite cookie dough that happens to be fail-proof, it's a perfect base for M&M chocolate chip cookies. Without a doubt, they turn up chewy and super soft. Not cakey at all. The chewy softness of these cookies is the best backdrop for the crunchy candy coating of M&M's.
I generally make all my cookies on the smaller side, with the single motivation of being able to eat many more of them that way. I know it all works out to be the same, but I like being able to eat more 🙂 These cookies maintain their thickness no matter what size you want to make them. They don't spread into a thin oblivion.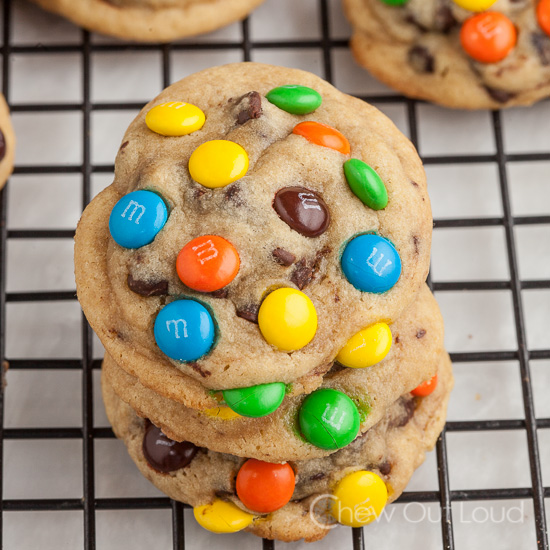 These M&M Chocolate Chip Cookies stay wonderfully chewy and soft for… ever? Ok, realistically they'll be snatched up in a wink, but they can keep their soft yumminess for days at room temperature.
The raw dough for these cookies freezes beautifully. This I know, because I often keep extra dough in the freezer, just for those spur of the moment cookie cravings. Which occur quite often around here.
Enjoy!
Did you make this?
Please give us a rating and comment below. We love hearing from you!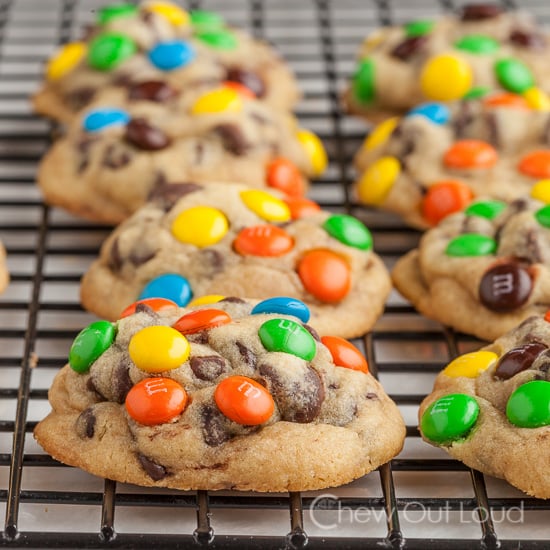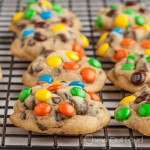 Chewy M&M Chocolate Chip Cookies
These M&M Chocolate Chip cookies taste fabulous, as they're made with real butter. They bake up nice and thick, with a chewy softness that lasts. Not cakey at all. Unused dough freezes very well.
Instructions
In a large bowl, add flour, baking soda, and salt. Whisk together well and set aside.

In bowl of a stand mixer, cream together the softened butter and brown sugar on medium high, until light and fluffy. Add packages of pudding mix, and beat until incorporated. Add eggs and vanilla, blending well.

Slowly add in the flour mixture. Using dough hook attachment, fold dry and wet ingredients together just until fully incorporated

Add in chocolate chips and M&M's, mixing into the dough. (If it gets too hard to mix with wooden spoon, I use clean hands instead)

Dough will be a bit sticky. Cover tightly and chill in fridge for 30 minutes to 1 hour.

Meanwhile, preheat oven to 350F. Line baking sheets with parchment paper.

Form 1 inch balls of dough and place on parchment-lined baking sheet. Bake about 8 minutes or just until edges look golden brown. Cookies may seem slightly underdone, but they will firm up upon cooling. Don't over bake.

Cool on baking sheet about 10 minutes, and remove to wire rack to finish cooling.

* Note: These cookies keep very well at room temp in an airtight container. Raw cookie dough can be tightly wrapped up and frozen for later use.
Nutrition (per serving)
Calories:
164
kcal
|
Carbohydrates:
20
g
|
Protein:
2
g
|
Fat:
9
g
|
Saturated Fat:
5
g
|
Polyunsaturated Fat:
0.3
g
|
Monounsaturated Fat:
2
g
|
Trans Fat:
0.2
g
|
Cholesterol:
25
mg
|
Sodium:
130
mg
|
Potassium:
49
mg
|
Fiber:
1
g
|
Sugar:
12
g
|
Vitamin A:
188
IU
|
Vitamin C:
0.03
mg
|
Calcium:
18
mg
|
Iron:
1
mg
Chew Out Loud, adapted from these Chewy Chocolate Chip Cookies
If you like your cookies chewy and soft, made with real butter, and tasting fabulous, here are a few of my favorites…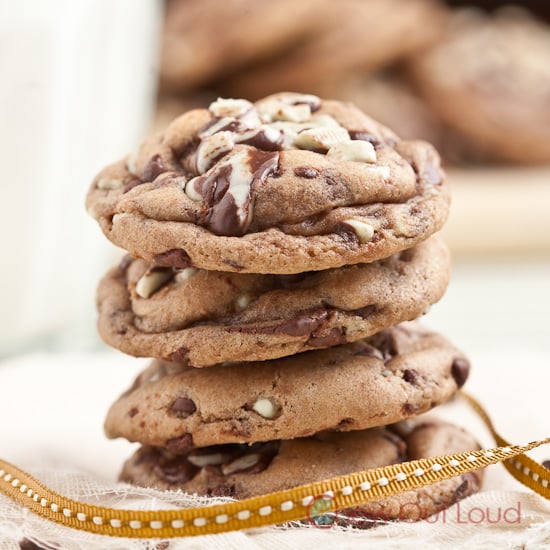 Triple Chocolate Chip Cookies: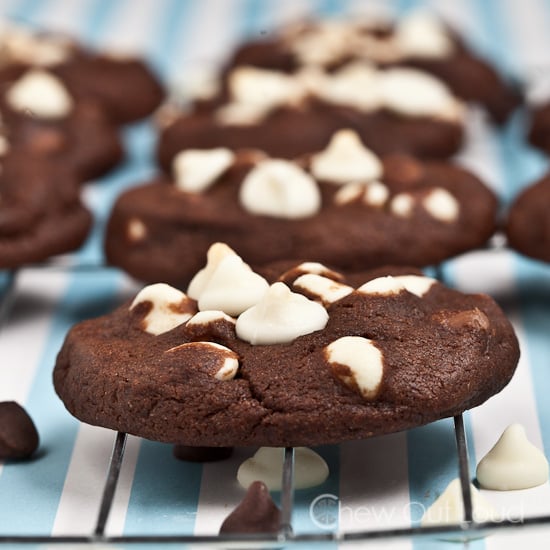 White Chocolate Macadamia Cookies: