Double Chocolate M&M Cookies
By Amy Dong
Published Apr. 17, 2014
Updated Aug. 17, 2022
These Double Chocolate M&M Cookies are rich, chocolatey, and brownie-like. Chewy and decadent. For brownie fans, cookie lovers, and chocoholics everywhere!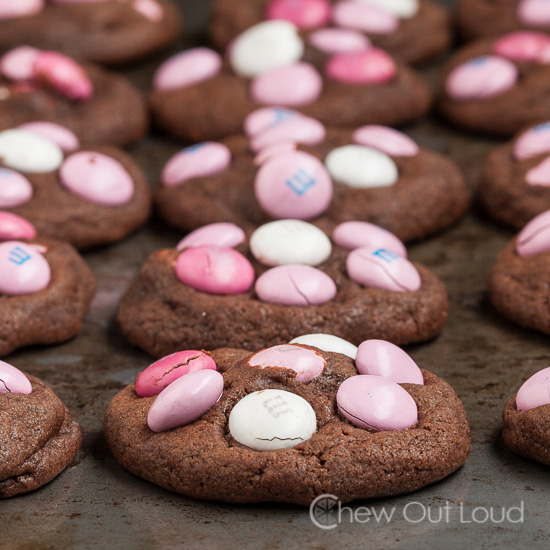 Hubby is into coffee the way I am into cookies. He gets his coffee beans freshly sourced every time. And he takes the time to grind the fresh beans just before brewing. Every. Time.
That trusty coffee grinder goes off every morning. This kind of thing is just too much work for lazy ol' me, and so I just ask Hubby to grind my entire batch of beans at once. That way, I'm set for a couple of weeks. It's just how I roll. Simplify, simplify.
Besides, there is a reason I keep it simple and don't use many gadgets and appliances beyond the basics.
I tend to break things…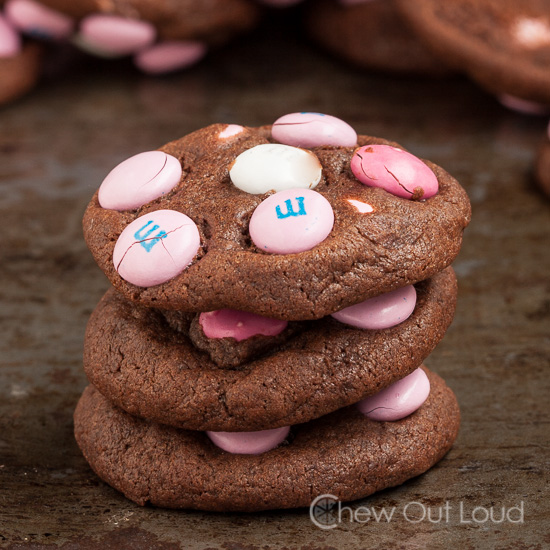 Therefore, I stick to the basics. Take my brand new mandolin slicer, for instance. It's actually been sitting in my cupboard for years. It sounded great in theory, but I realized I'm just a simple knife-and-cutting board type of gal. And I'm deathly afraid of shredding my hand in that slicer.
I also prefer to knead my own bread, rather than use a complicated bread machine I don't own. See this super yummy Rustic Rosemary Garlic Bread? I rely on as few gadgets as possible…keepin' it simple.
Plus, I did say I'm totally accident prone? For whatever reason, I decided to try my hand at using Hubby's coffee grinder for myself a few days ago. I broke the coffee grinder.
Hubby has been using that coffee grinder happily for 10 years. I broke it within minutes. Yeah, he'll be hiding his gadgets from now on.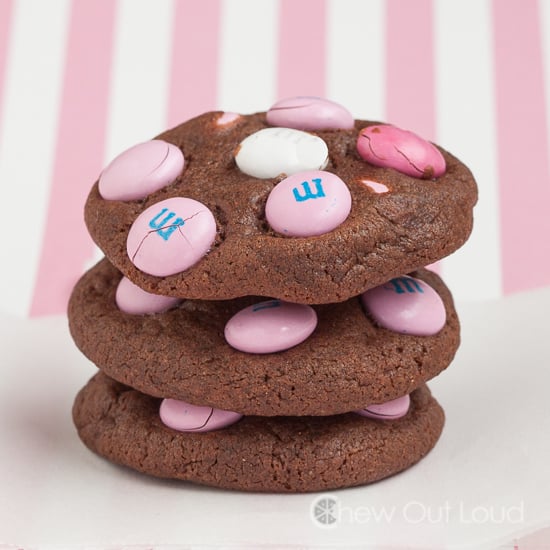 I'll stick to baking cookies. Cookies are always simple, straightforward, and forever good. I can't break cookie dough, after all. And if I do happen to break a cookie…well, all I have to do is eat it.
I can totally live with that.
These Double Chocolate M&M Cookies are the bomb. They are chewy, brownie-like, and chocolatey. They stay soft for days, and the cookie dough freezes beautifully. M&M's are always a good thing in cookies. Pick seasonal candy colors to suit your mood. They're sure to hit the spot for any cookie 'n chocolate craving!
Enjoy!
Did you make this?
Please give us a rating and comment below. We love hearing from you!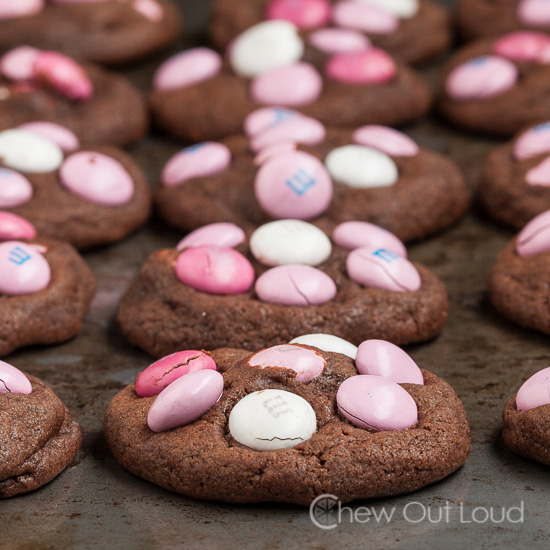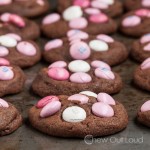 Double Chocolate M&M Cookies
These cookies are chewy, soft, and super chocolatey! Bursting at the seams with M&Ms, you KNOW these will be a hit wherever you bring them to.
Instructions
Preheat oven to 350F with rack on lower middle position. Line baking sheet with parchment paper.

In a large bowl, whisk together flour, salt, baking soda, and cocoa.

In another large bowl or the bowl of stand mixer, combine butter, both sugars, and vanilla. Beat on medium-high until it's as fluffy as it can get, scraping sides down periodically; about 3-4 minutes. Add beaten eggs and beat just to combine.

Using rubber spatula, gently fold flour mixture into butter mixture just until batter is completely moistened. Fold in M&M's.

Wrap and chill dough until firm enough to handle, about 30 min to 1 hour.

Form dough into walnut sized balls and flatten slightly, as these tend not to spread too much. Place on parchment lined baking sheet and bake about 8 minutes. They'll seem a bit underdone, but will set up nicely when cool.

Cool on wire rack and enjoy!
Nutrition (per serving)
Calories:
130
kcal
|
Carbohydrates:
18
g
|
Protein:
2
g
|
Fat:
6
g
|
Saturated Fat:
4
g
|
Polyunsaturated Fat:
0.2
g
|
Monounsaturated Fat:
1
g
|
Trans Fat:
0.2
g
|
Cholesterol:
19
mg
|
Sodium:
88
mg
|
Potassium:
30
mg
|
Fiber:
1
g
|
Sugar:
12
g
|
Vitamin A:
149
IU
|
Vitamin C:
0.1
mg
|
Calcium:
18
mg
|
Iron:
1
mg
Source: Chew Out Loud
Here are these decadent Triple Chocolate Cookies I adapted these M&M cookies from: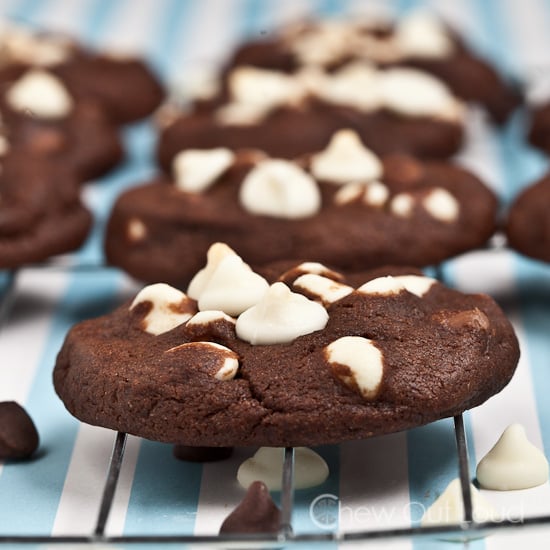 These Salted Caramel Kiss Cookies are something awesome. The depth of caramel and chocolate flavors combine to make this super chewy, delectable cookie: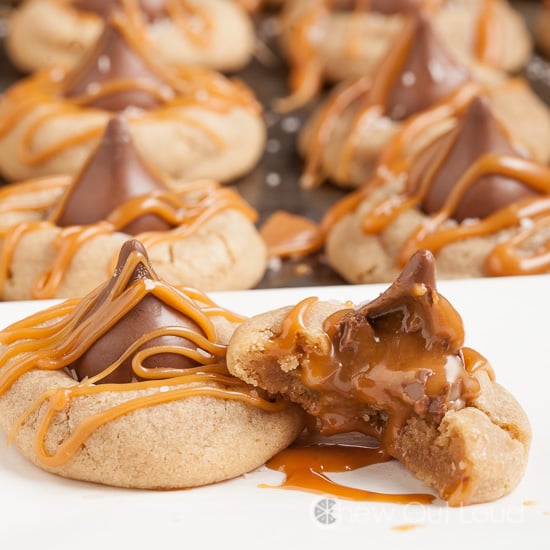 This super Chewy Chocolate Chip M&M Cookie stays puffy, soft, and chewy for…ever.