Cinnamon Roll Coffee Cake
By Amy Dong
Published Dec. 30, 2019
Updated Aug. 17, 2022
When you've got a hankering for cinnamon rolls yet you're short on time, this Cinnamon Roll Coffee Cake is just the thing. Easy, delicious, and perfect for brunch.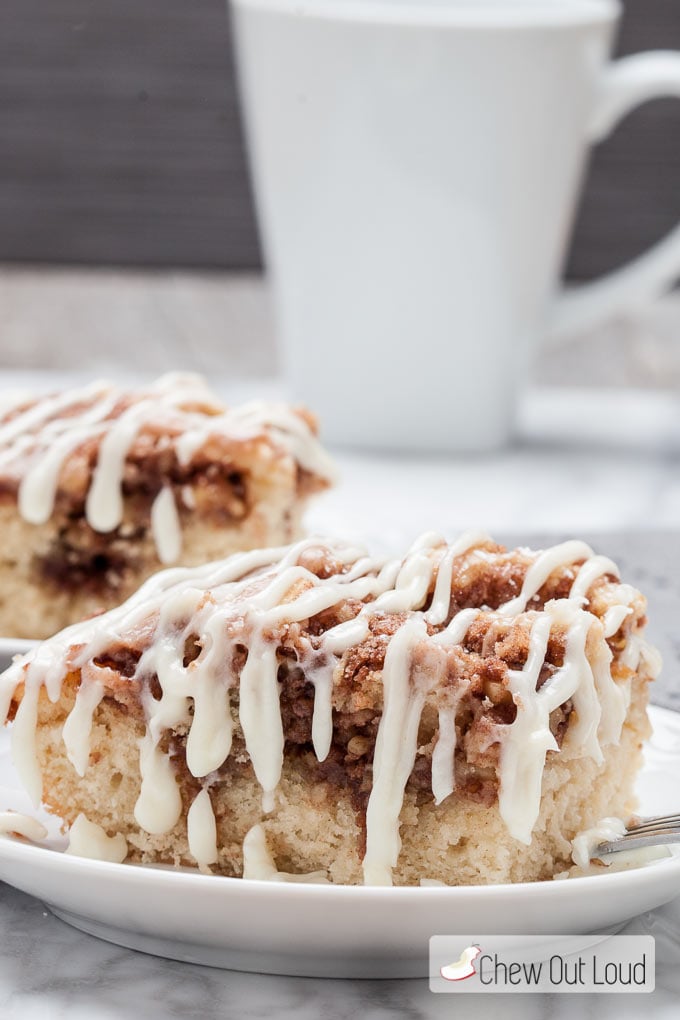 Moist Coffee Cake with Cinnamon Roll Topping
The Littles are on winter break and we're making memories out of small moments as much as possible.
This chasing of moments includes plenty of cinnamon rolls. We are suddenly on some kind of wonderful cinna roll kick. Undeniably, my family's all time favorite cinnamon rolls are these unparalleled ones from Cooks Illustrated.
But sometimes there are morning potlucks and brunches with hungry friends and family during busy season. You want the flavors of cinnamon rolls with luscious cream cheese icing. But alas, there's no time for yeast proofing, dough rolling, and yadda else.
Thats when this Cinnamon Roll Coffee Cake shows up in a big way. This moist breakfast cake is a tender coffee cake generously topped with your favorite cinnamon roll flavors.
Imagine a soft cinnamon coffee cake dreamily iced with cream cheese frosting…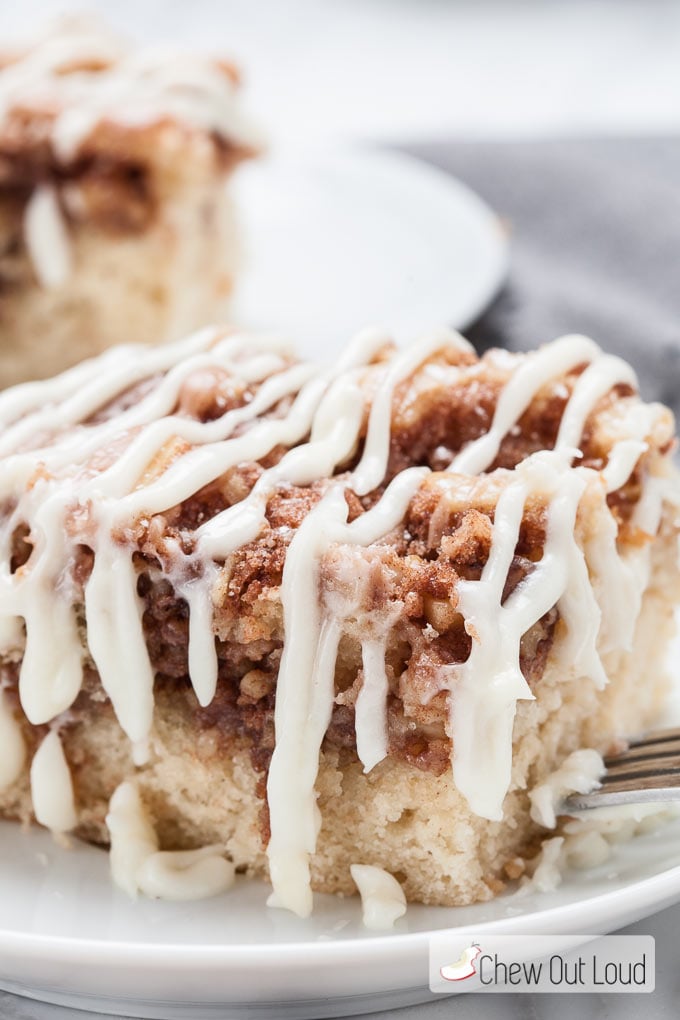 Pro Tips for your best coffee cake
Drop the cinnamon brown sugar topping by small spoonfuls evenly over the top of batter in the pan. This ensures that the topping is evenly dispersed throughout the cake after baking, and is prevalent in every bite. If desired, you can swirl the topping in further with a butter knife, but it's not necessary.
When testing cake for doneness, insert toothpick into a portion of the cake that has baked up without still-melty topping over it…some portions will have topping that's more melty than others. Find a "drier" part of the cake to test.
Cake is finished when toothpick comes out with a few tender crumbs still attached. Don't over-bake or it might come out dry.
Cake can be baked the night before; in fact, it's even more flavorful and moist the next day. Drizzle frosting on top just before serving.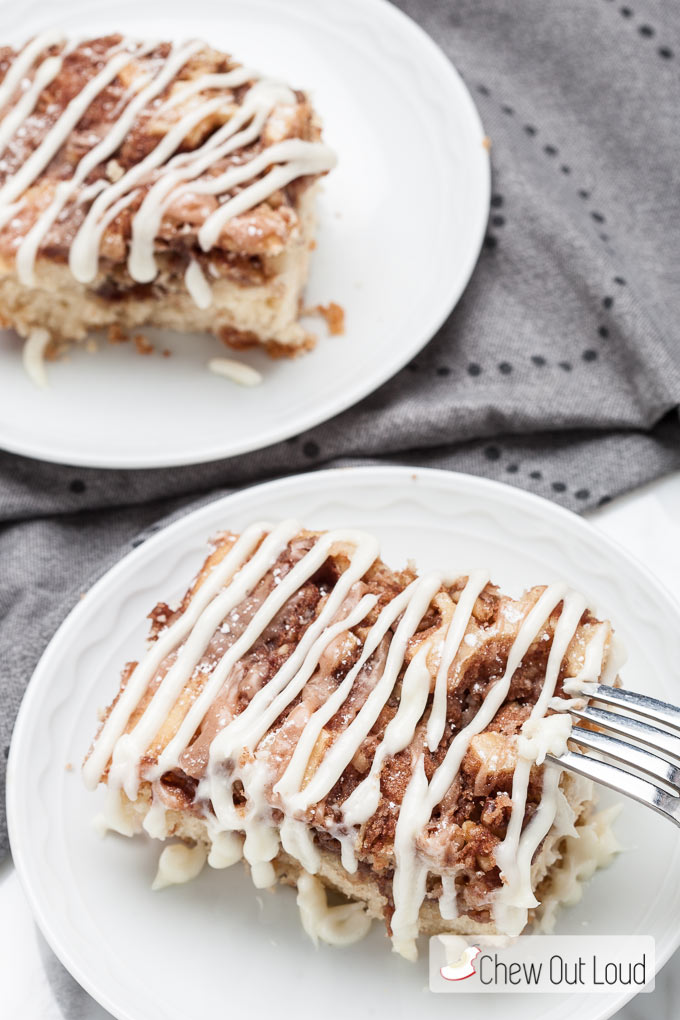 "Cinnamon Roll" Coffee Cake is the ultimate breakfast cake
With this Cinnamon Roll Coffee Cake you get the mouthwatering flavors of cinnamon rolls and cream cheese icing, all with no fuss. It's an easy pan cake that's loaded with melty goodness, begging to be dug into and devoured.
Be ready for recipe requests and happy smiles. In fact, you might be required to make this every year from now on.
Here's to cake for breakfast.

Try this delicious one-bowl apple cake for breakfast or dessert:
Did you make this?
Please give us a rating and comment below. We love hearing from you!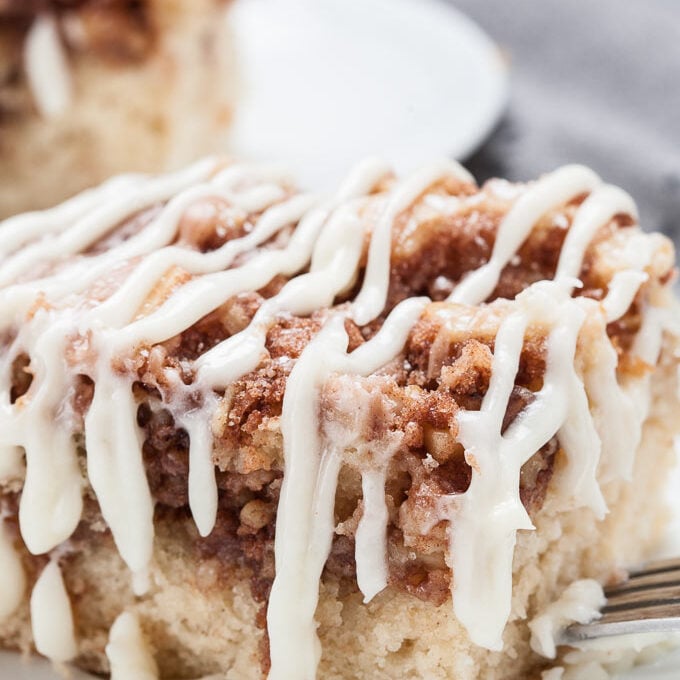 Cinnamon Roll Coffee Cake
When you've got a hankering for cinnamon rolls yet you're short on time, this Cinnamon Roll Coffee Cake is just the thing. Easy, delicious, and perfect for holiday brunches.
Instructions
Preheat oven to 350F, with rack on lower middle position. Grease a 9x13 pan and set aside.

In a bowl, whisk together the milk, eggs, vanilla extract, and sugar. In a separate bowl, whisk together the flour, salt, and baking powder. Using a rubber spatula, fold the milk mixture together with the flour mixture just until no dry flour streaks remain; do not overmix. Drizzle in the melted butter, gently folding to fully combine. Pour batter into prepared baking pan.

In a bowl, mix together all the topping ingredients, except for nuts, until well combined (the paddle attachment of a stand mixer works well here, but whisking by hand will work.) Mixture will be soft. Stir in the nuts. Drop topping in small spoonfuls evenly over entire top of batter, including corners and edges. Bake 33-37 minutes. Cake will appear wet in certain spots due to the melted topping; be sure to insert toothpick into a cake-only portion when testing for doneness (avoid testing parts of cake that are coated with melty topping.) When toothpick comes out almost clean, with a few moist crumbs attached, it's done. Do not overbake or your cake may become dry.

Let cake cool on wire rack while you make the cream cheese icing. Use an electric mixer or stand mixer to blend softened cream cheese with melted butter until smooth. Gently mix in powdered sugar and up to 3TB milk, until a thick drizzle consistency is reached. Drizzle cream cheese icing over warm or cooled cake. Leftovers keep very well in airtight container at room temp.
Notes
Cake can be baked the night before, covered airtight at room temp, and drizzled with cream cheese icing the next morning. If desired, warm cake up before serving. Cake is even better a day after it's been baked!
If you enjoyed this recipe, please come back and give it a rating 🙂
Nutrition (per serving)
Calories:
320
kcal
|
Carbohydrates:
43.8
g
|
Protein:
5
g
|
Fat:
14.5
g
|
Saturated Fat:
7.7
g
|
Trans Fat:
0.2
g
|
Cholesterol:
50.9
mg
|
Sodium:
112.6
mg
|
Fiber:
1
g
|
Sugar:
23.2
g
Cake for Breakfast is the stuff of dreams…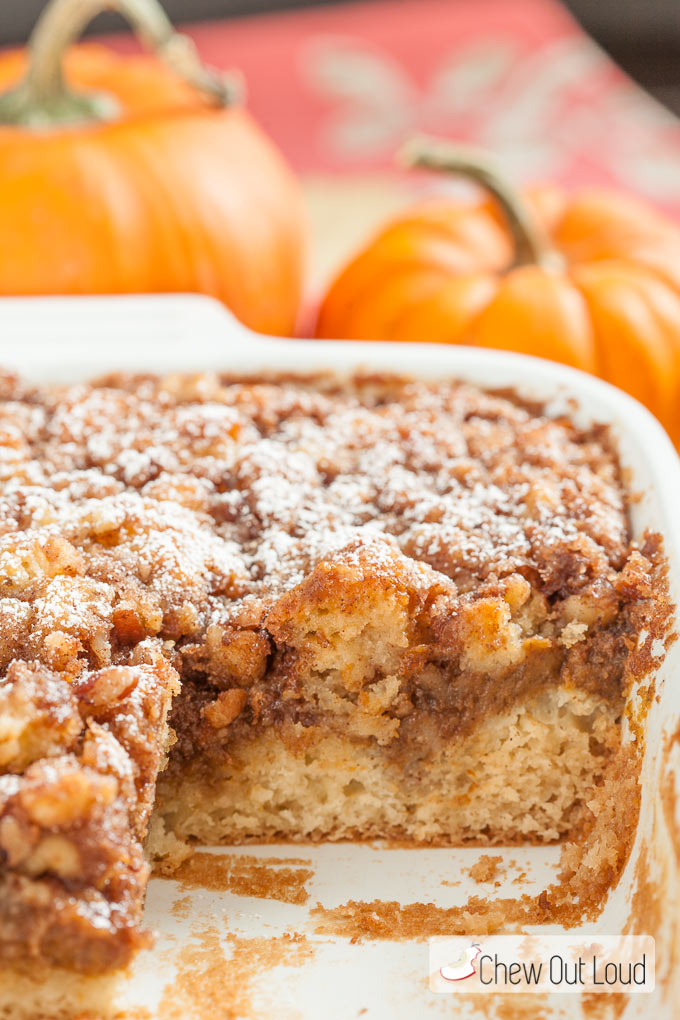 2. One Bowl Apple Streusel Coffee Cake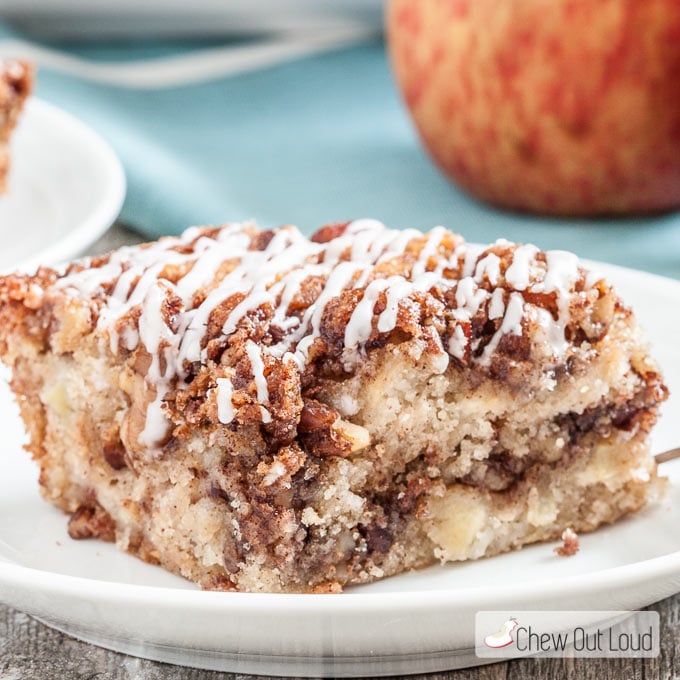 3. Cinnamon Streusel Yogurt Coffee Cake