Cinnamon Rolls with Cream Cheese Frosting
Homemade Cinnamon Rolls with Cream Cheese Frosting beats store-bought cinnamon rolls, hands down. These are soft, fluffy, and irresistible.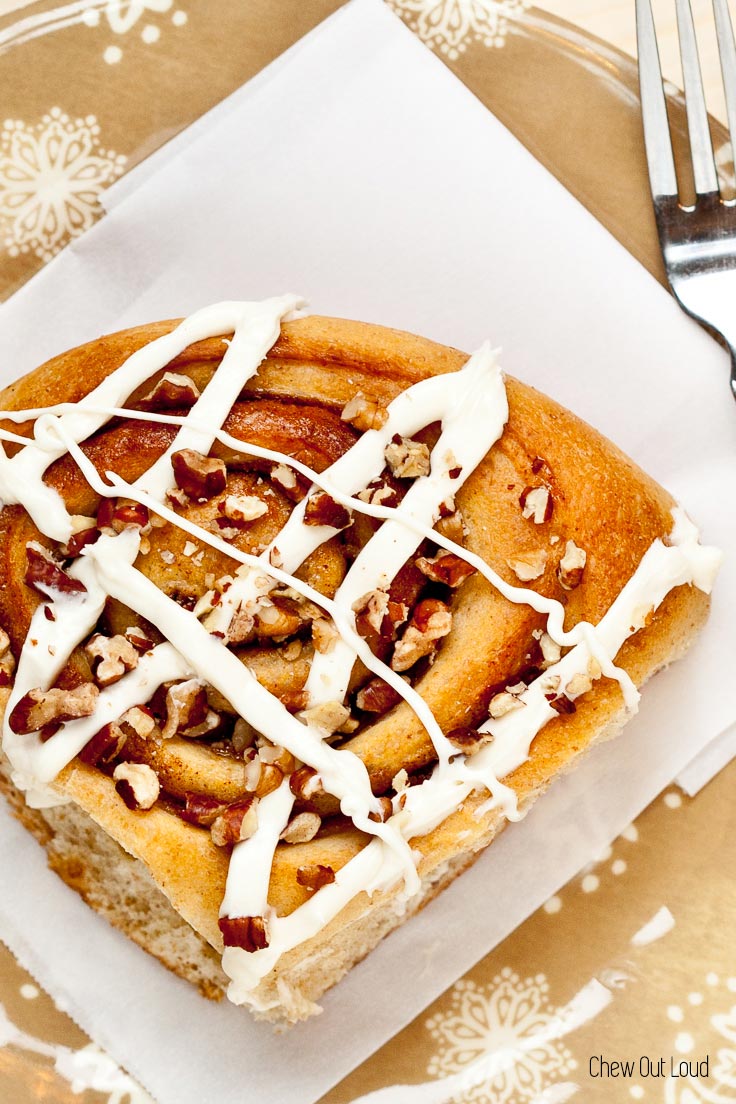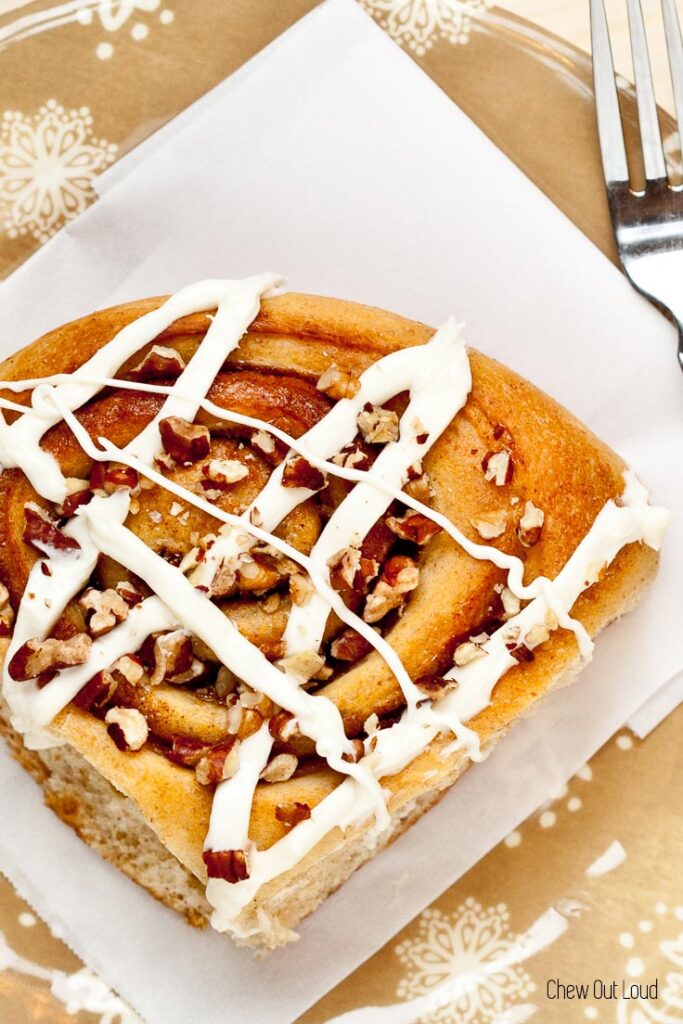 Homemade Cinnamon Rolls with Cream Cheese Frosting
These are THE cinnamon rolls with cream cheese frosting to make when you're craving the real deal, straight out of your own oven.
Never made your own fluffy cinnamon rolls before? No worries. We're here to give you the step by step on how to make cinnamon rolls that are so good, it'll kinda ruin all other cinnamon rolls for you.
In between classic cinnamon roll bakings, feel free to try our Cinnamon Roll Coffee Cake in a jiffy for a moist coffee cake with cinnamon-roll flavors.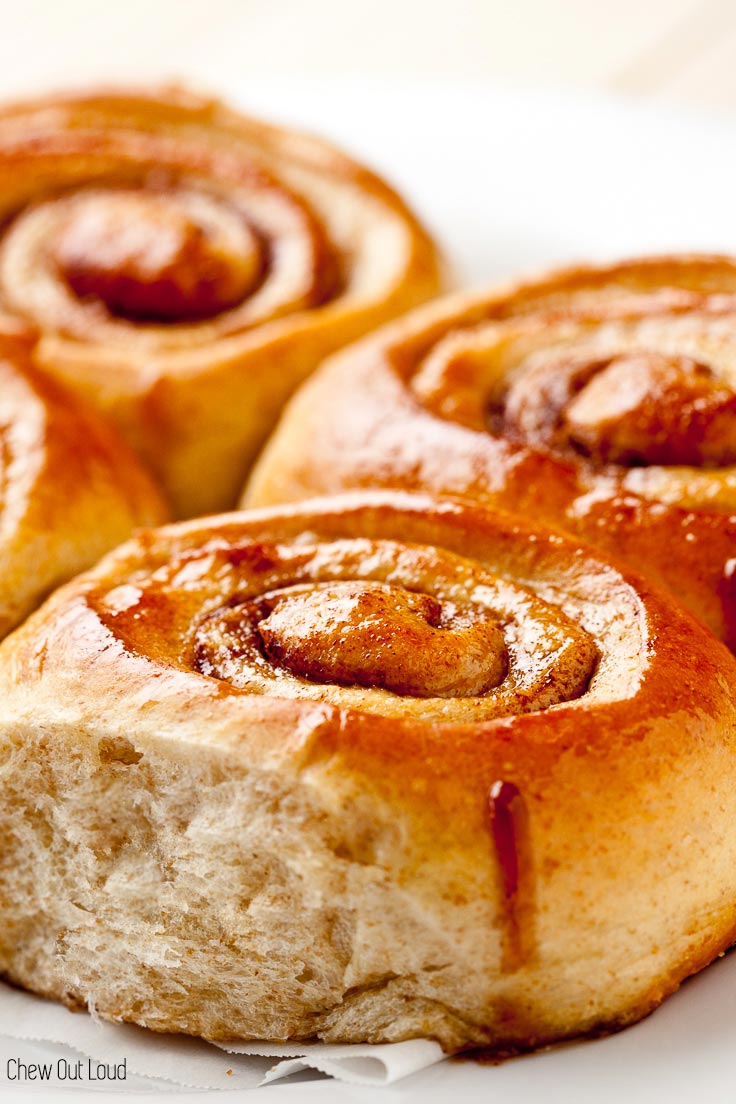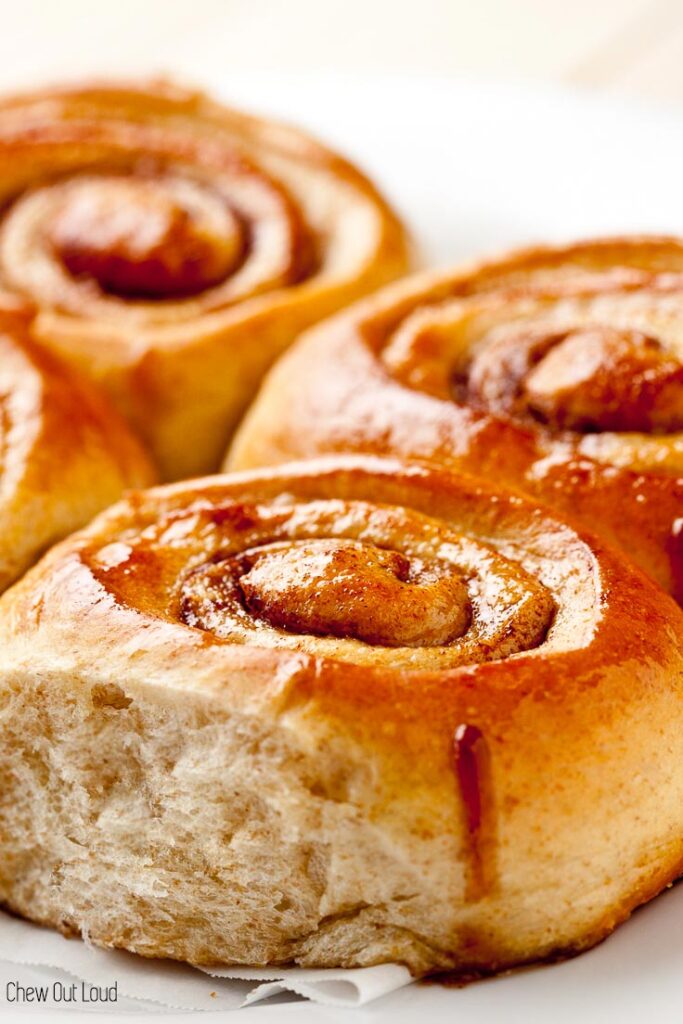 Your family will adore these fluffy, soft, and just-sweet-enough cinnamon rolls straight out of the oven. They may not bother to wait for you to top these with cream cheese frosting, and honestly?
This cream cheese frosting is similar to one we use for everything from Moist Carrot Cupcakes to Gingerbread Loaf Cake…which means it's ridiculously awesome. That said, you can choose to go without, because these freshly baked rolls are just that good.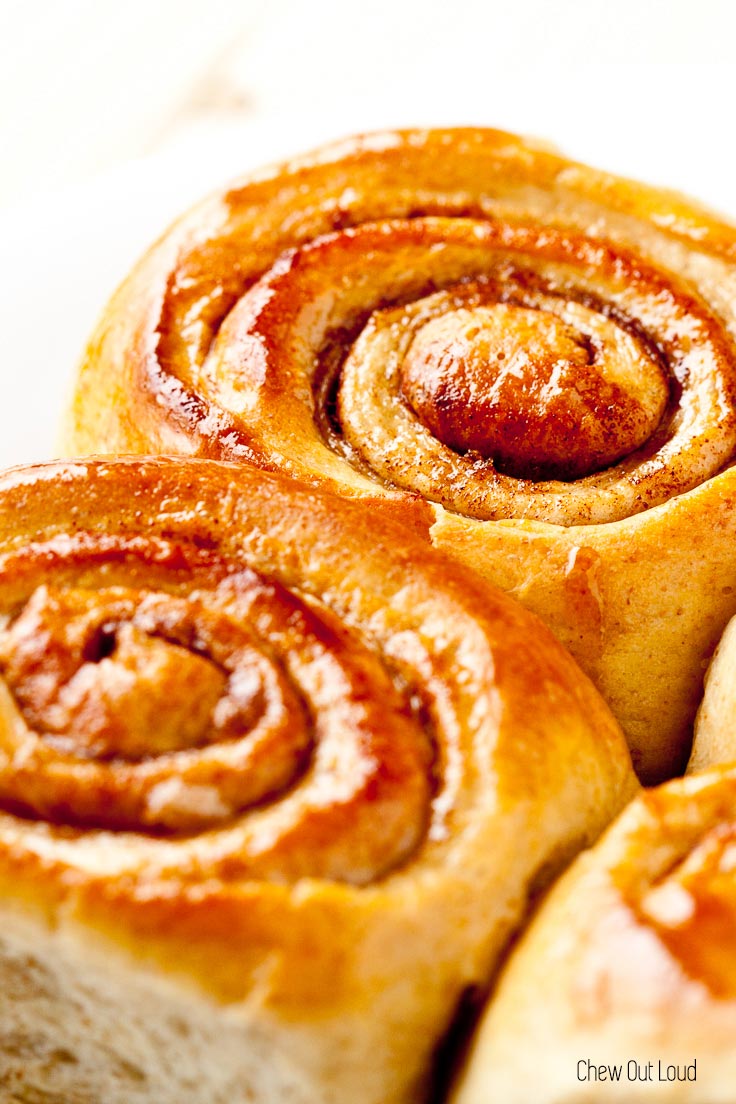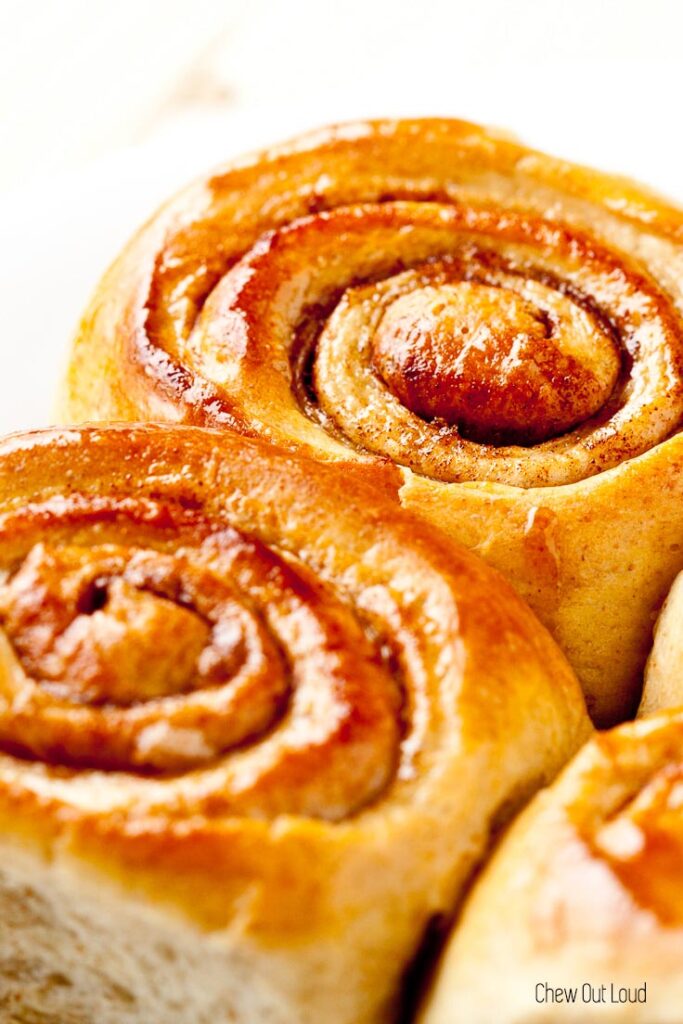 Ingredients for Your Best Cinnamon Rolls
For fluffy soft, melt-in-your-mouth cinnamon rolls, gather these 9 ingredients. You probably have half of these items in your pantry or fridge already:
milk
regular butter
1 packet (2 1/4 tsp) instant yeast, also called rapid rise yeast.
sugar
3 eggs
salt
all purpose flour
brown sugar
ground cinnamon
As for the luscious cream cheese filling, you'll need the following 5 ingredients:
real cream cheese
corn syrup (helps with the ooey-gooey texture, but you can go without it if you prefer.)
heavy cream
powdered/confectioner's sugar
vanilla extract.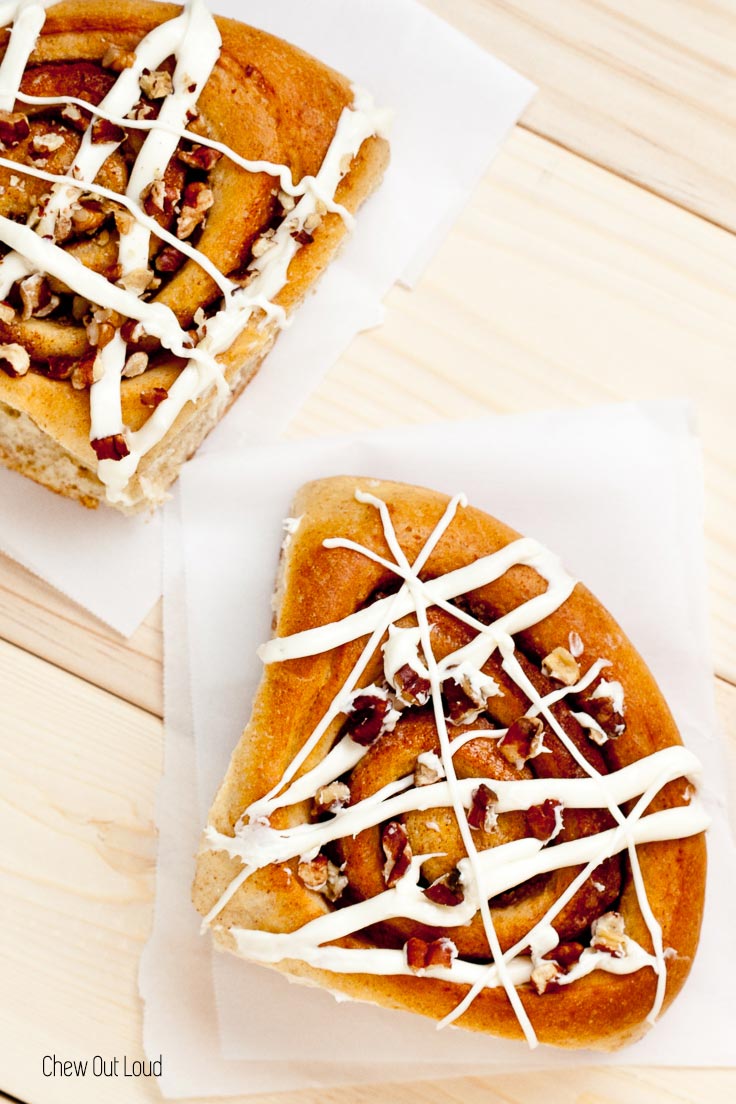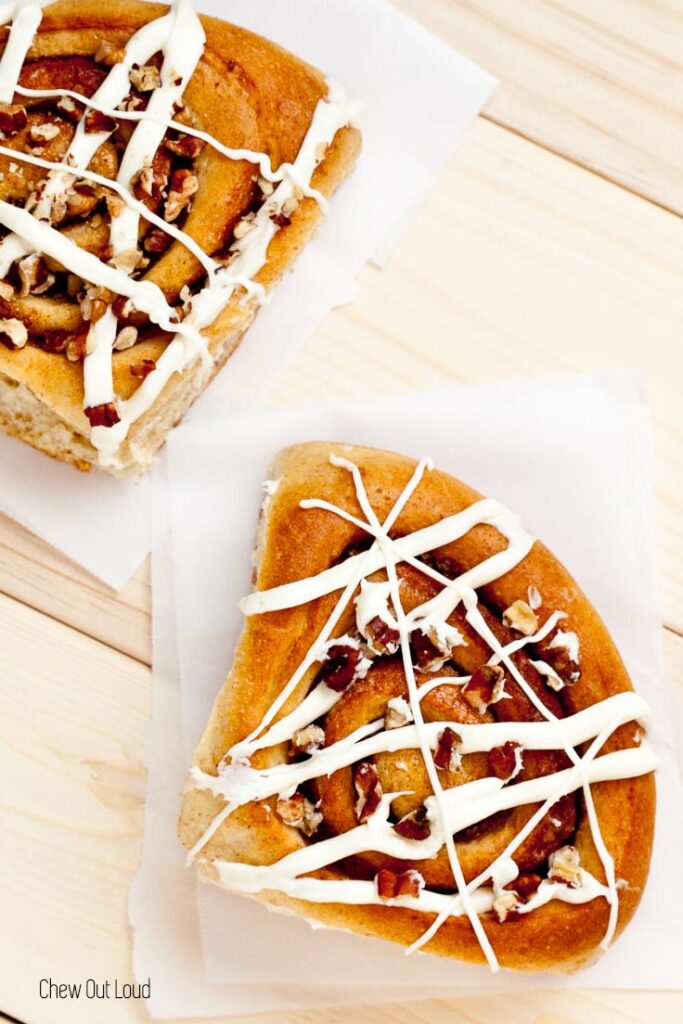 Quick Pro Tips
You'll notice that we don't simply pour all the flour in when mixing the dough; you'll add it in increments, which is very important to the dough texture. You'll ultimately aim for dough that's soft and pliable and smooth; not overly sticky nor dry/crumbly. Adding a bit of flour at a time is key.
This cream cheese frosting is unbelievably scrumptious. It's definitely not the thin, runny coating some of us are used to. This one is a rich, decadent frosting, thanks in part to the addition of corn syrup. Again, if you prefer to go without, you can omit the corn syrup as long as you don't mind a slightly thinner texture.
The frosting marries perfectly with the warm rolls. I habitually lessen the amount of sugar in almost everything I make, so I personally use less sugar than what the recipe calls for. If you opt to use a bit less sugar as well, know that the frosting will still be delicious.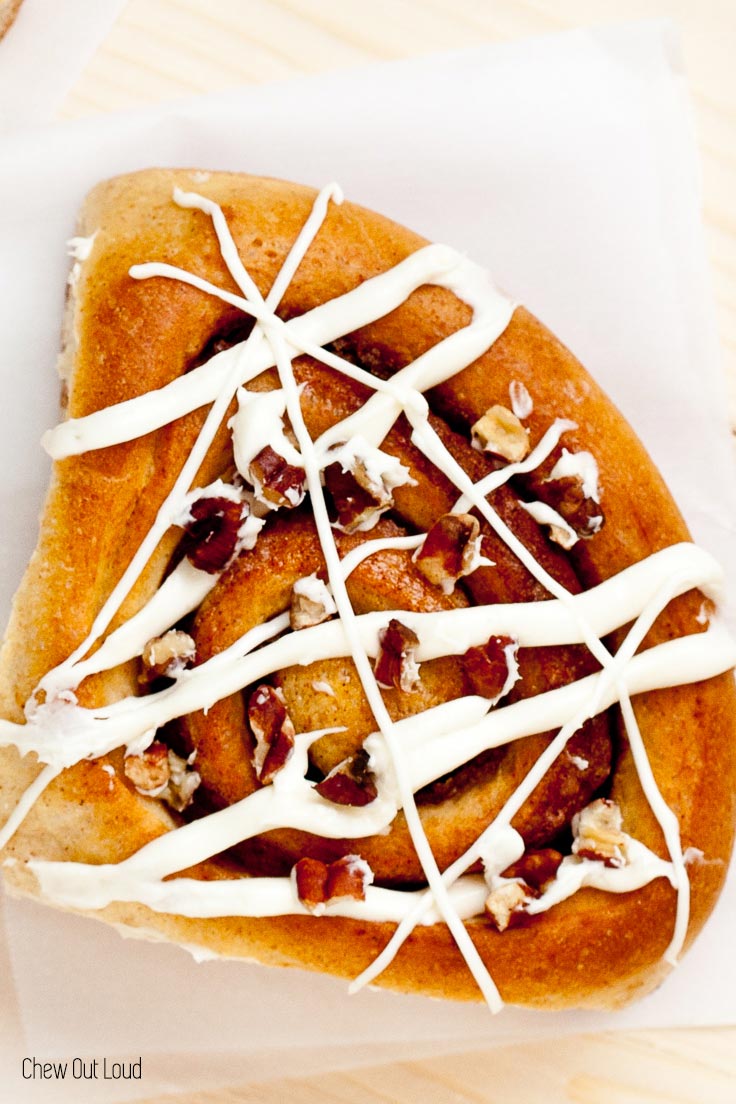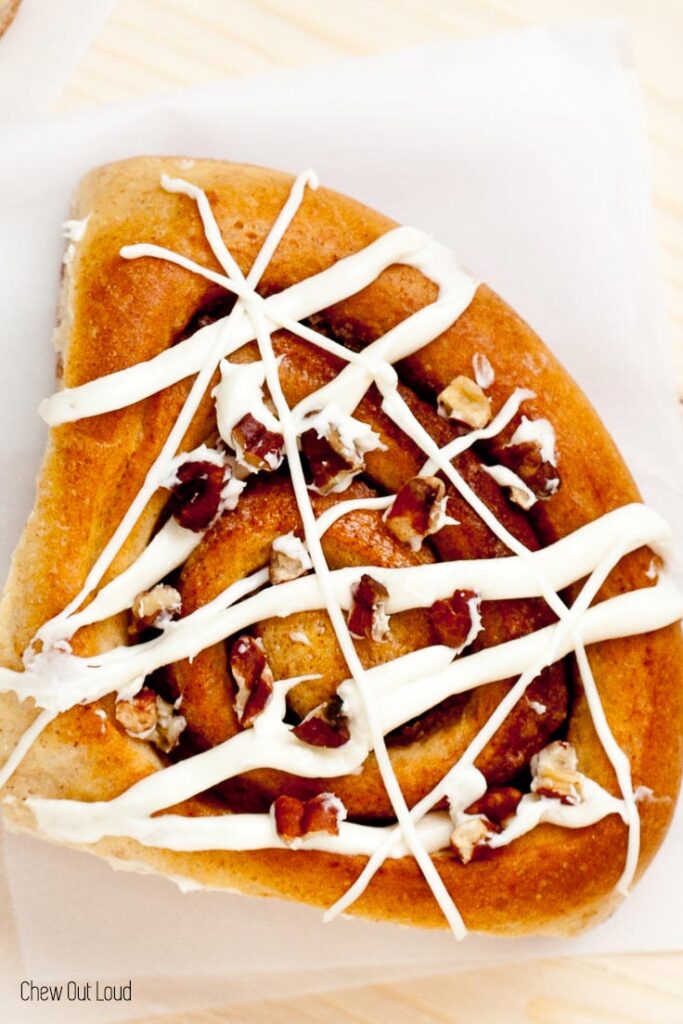 Prepare These Cinnamon Rolls Ahead of Time
My favorite thing about these cinnamon rolls is that they can be prepared the night before and taken out to bake the morning of! You just need to take it out to rise about 30 minutes in the morning, and it's ready to be baked.
Note also that the cream cheese frosting can be made entirely ahead of time and chilled until ready to use.
If you're not into the idea of waking up at 4am to make fresh cinnamon rolls, you'll love the fact that the unbaked rolls can be prepared the night before.
It goes without saying that once you bake your cinnamon rolls, they must be eaten immediately, while still warm. We doubt that'll be an issue at all.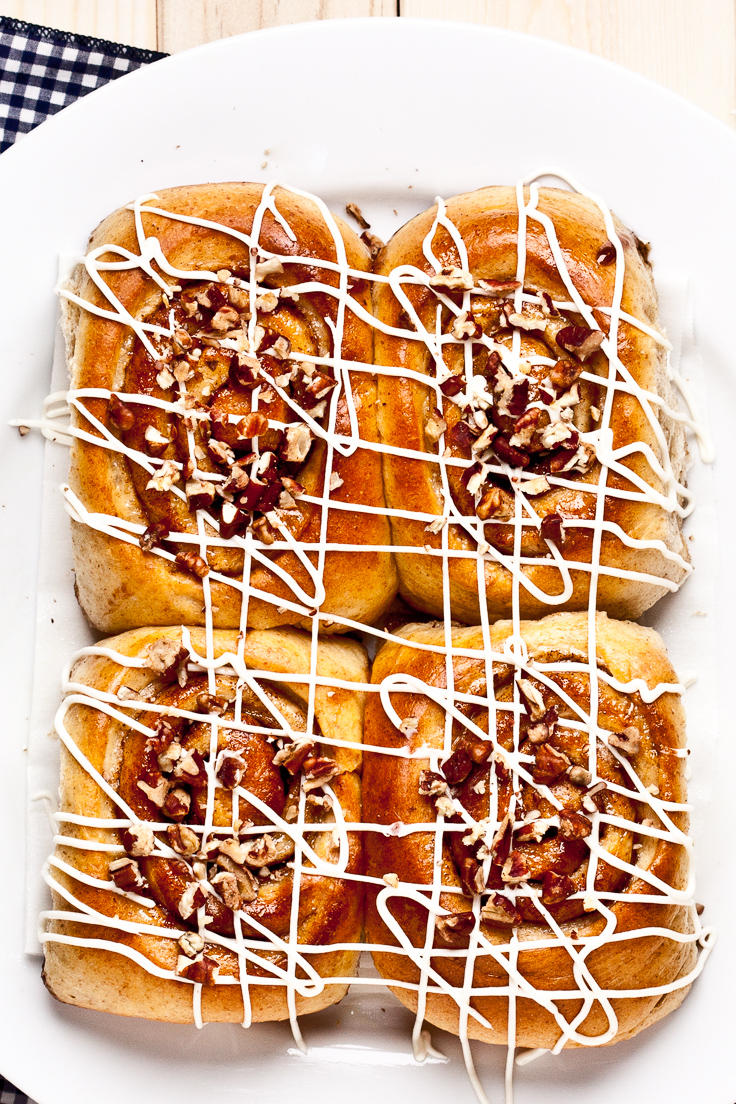 Watch This Recipe in action:
Did you make this?
Please give us a rating and comment below. We love hearing from you!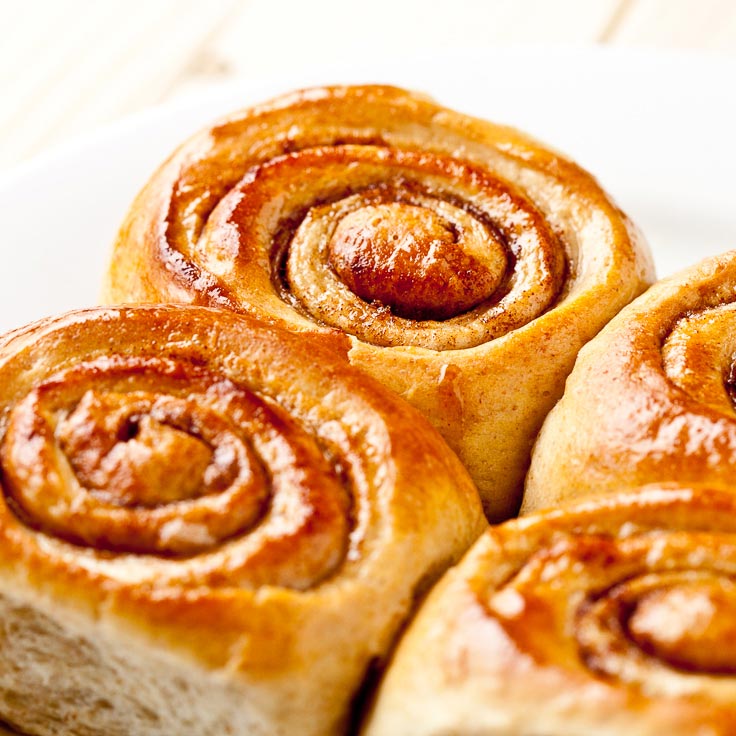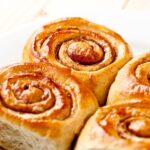 Cinnamon Rolls with Cream Cheese Frosting
Homemade Cinnamon Rolls with Cream Cheese Frosting beats store-bought cinnamon rolls, hands down. These are soft, fluffy, and irresistible.
Ingredients
For the dough:
½

cup

milk

1

stick regular butter

½

cup

warm water

,

110F

1

packet

, 2 1/4 tsp instant yeast

¼

cup

sugar

1

large egg + 2 more egg yolks

1

tsp

fine salt

4 - 4.5

cups

unbleached all purpose flour
For the cinnamon filling:
¾

cup

packed brown sugar

3

TB

good quality ground cinnamon

⅛

tsp

fine salt

For the Cream Cheese Frosting

8

oz

real cream cheese

,

softened but cool

1

tsp

corn syrup

2

TB

heavy cream

1

cup

confectioners' sugar

1

tsp

good vanilla extract

pinch

fine salt
Instructions
Make the dough: Heat milk and butter in microwave or saucepan until about 100F. In bowl of standing mixer fitted with paddle, mix water, yeast, sugar, egg, yolks at low speed until mixed through. Add salt, warm milk mixture, and 2 cups flour. Mix at medium until blended, about 1 minute.

Switch to dough hook, add 2 more cups of flour, and knead at medium until dough is smooth and clears sides of bowl, adding 1 TB flour at a time (up to 1/4 cup), only as needed. Do not add too much; just until dough comes together and is smooth and soft. Knead 10 minutes. Shape dough into a ball and place in lightly oiled large bowl. Cover with plastic wrap. Let rise in warm, draft free place until doubled in bulk. About 2 hours, but depends on room temp.

For the icing/frosting (can be made ahead of time): Combine all frosting ingredients and blend together at low speed in standing mixer for 1 minute. Increase speed to high and mix until frosting is smooth and free of lumps, about 2 minutes. Transfer to small bowl and cover. Refrigerate until ready to use.

Cinnamon filling: Mix together the three filling ingredients in small bowl and set aside.

After dough has doubled, press/punch it down and place on lightly floured surface. Roll out to a rectangle, roughly 16x12, with the lengthier side facing you. Sprinkle cinnamon mixture evenly over the dough, leaving a half inch border at the far edge.

Roll the dough, starting with the long edge closest to you. Roll tightly but carefully until you reach the far edge. Moisten far edge with water and seal the roll well. Press on roll gently if needed, to make a uniform cylinder.

Grease a 13x9 baking dish (I had to include another 8x8 dish). Cut roll into 12 equal pieces using sharp knife, lightly oiled if needed. Place rolls evenly in baking dish. Cover tightly with plastic wrap.

If baking the same day, place in warm, draft-free spot until doubled in bulk (approx. 2 hours). Preheat oven to 350F when dough is nearly doubled. (If baking the next morning, do not let rolls do their second rise yet. Put dish of rolls in fridge to sit overnight - bottom of rolls may grow a bit wet, but don't worry about it. The next morning, place the dish of rolls, still covered, in cool oven. With oven still off, place a large pan of boiling water on the rack below. Let rolls gradually rise for about 30 minutes or until they look fluffy and almost doubled. Take rolls and pan of water out of oven. Preheat oven to 350F while rolls finish rising on the counter.)

When rolls have doubled in bulk, bake at 350F for about 20-25 min or just until golden brown on top. Watch carefully to be sure they don't over bake. I start watching a few minutes early. When done, invert rolls onto wire rack and cool 5-10 min.

Transfer to serving plate and spread on thin layer of icing or drizzle on with piping bag (I just use a Ziploc bag with tiny hole cut at end.) Serve immediately, while still warm.
Notes
Prep time includes passive dough-rise time, for 2 risings.
You can sub half of the all-purpose flour with whole wheat flour, if you like.
If you enjoyed this recipe, please come back and give it a rating ♡
Nutrition (per serving)
Calories:
483
kcal
|
Carbohydrates:
61.3
g
|
Protein:
8.4
g
|
Fat:
23.1
g
|
Saturated Fat:
13.7
g
|
Trans Fat:
0.3
g
|
Cholesterol:
108.7
mg
|
Sodium:
286.7
mg
|
Fiber:
1.7
g
|
Sugar:
28.1
g