Cinnamon Apple Baked Donuts
These Cinnamon Apple Baked Donuts are bursting with all the season's goodness. Fresh, crisp apples and warm, autumn spices make the most delicious, cakey donuts perfect for on-the-go breakfast or dessert.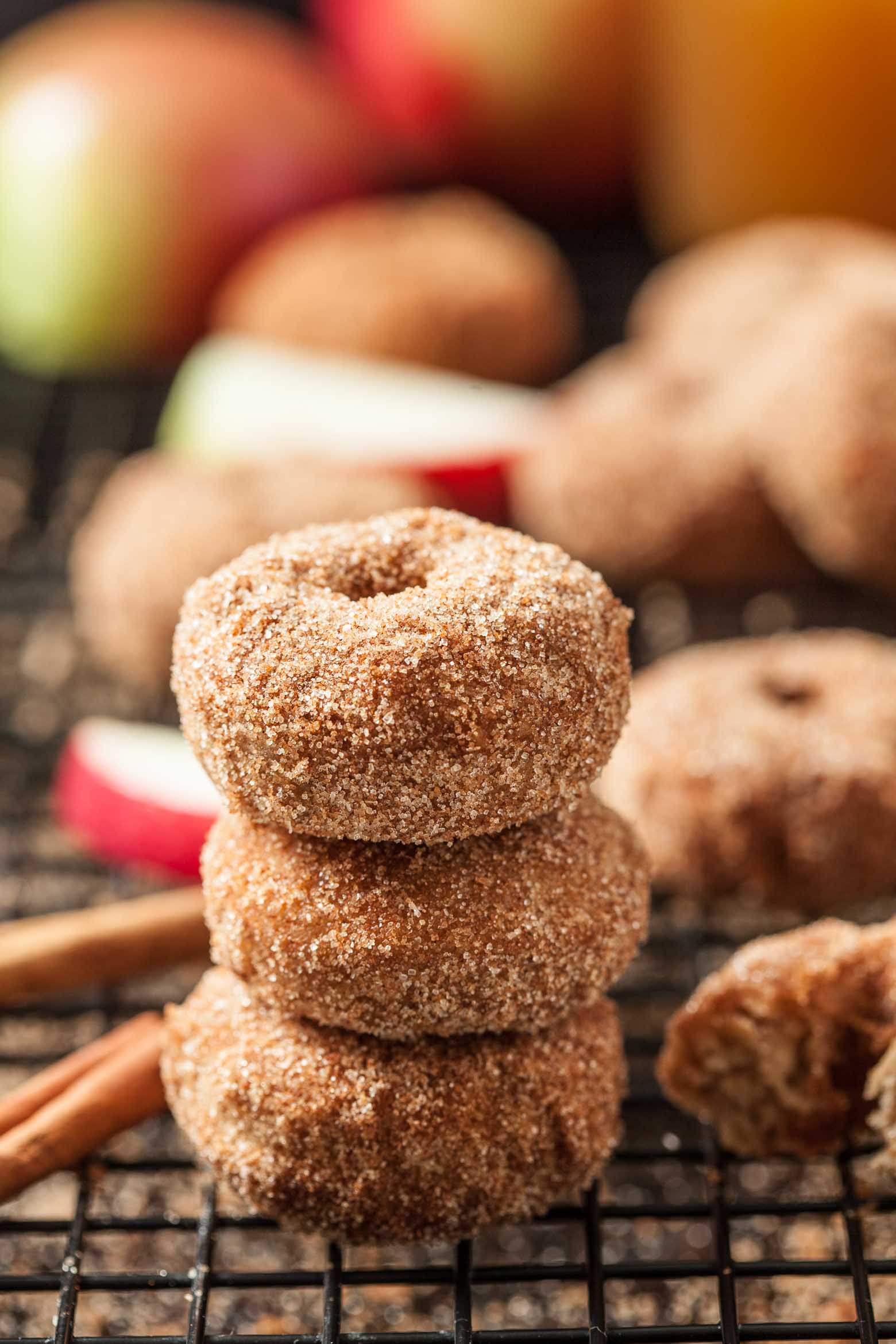 Apple Cinnamon Baked Donuts
We love fresh, soft donuts like these baked apple spice donut holes, especially with a nice hot cup of apple cider on a crisp fall day. However, making traditional deep-fried donuts at home can be messy and time-consuming. That's one of the reasons why we like baked donut recipes. These Apple Cinnamon Baked Donuts come together in less than 30 minutes, making them the perfect option for a simple and sweet breakfast and brunch option or a simple apple dessert.
What you'll get with this recipe is tender, soft, melt-in-your-mouth mini donuts that are reminiscent of cake donuts, loaded with the goodness of crisp fall apples and sweet cinnamon. They put store-bought donuts to shame! There's nothing artificial about these little homemade fall treats.
Why This Recipe Stands Out
It embodies some of our favorite fall flavors. Freshly grated apples, cinnamon, and nutmeg make these donuts sweet, warm, and comforting.
These cinnamon apple donuts are baked meaning easier prep and clean up, and a slightly healthier dessert.
It comes together in less than 30 minutes.
The donuts are freshly coated in a perfect butter, cinnamon, and sugar combo elevating them far above any store-bought donut.
Although, these are baked donuts, they come out soft, rich, and cakey. They have that melt-in-your-mouth texture that we simply can't get enough of.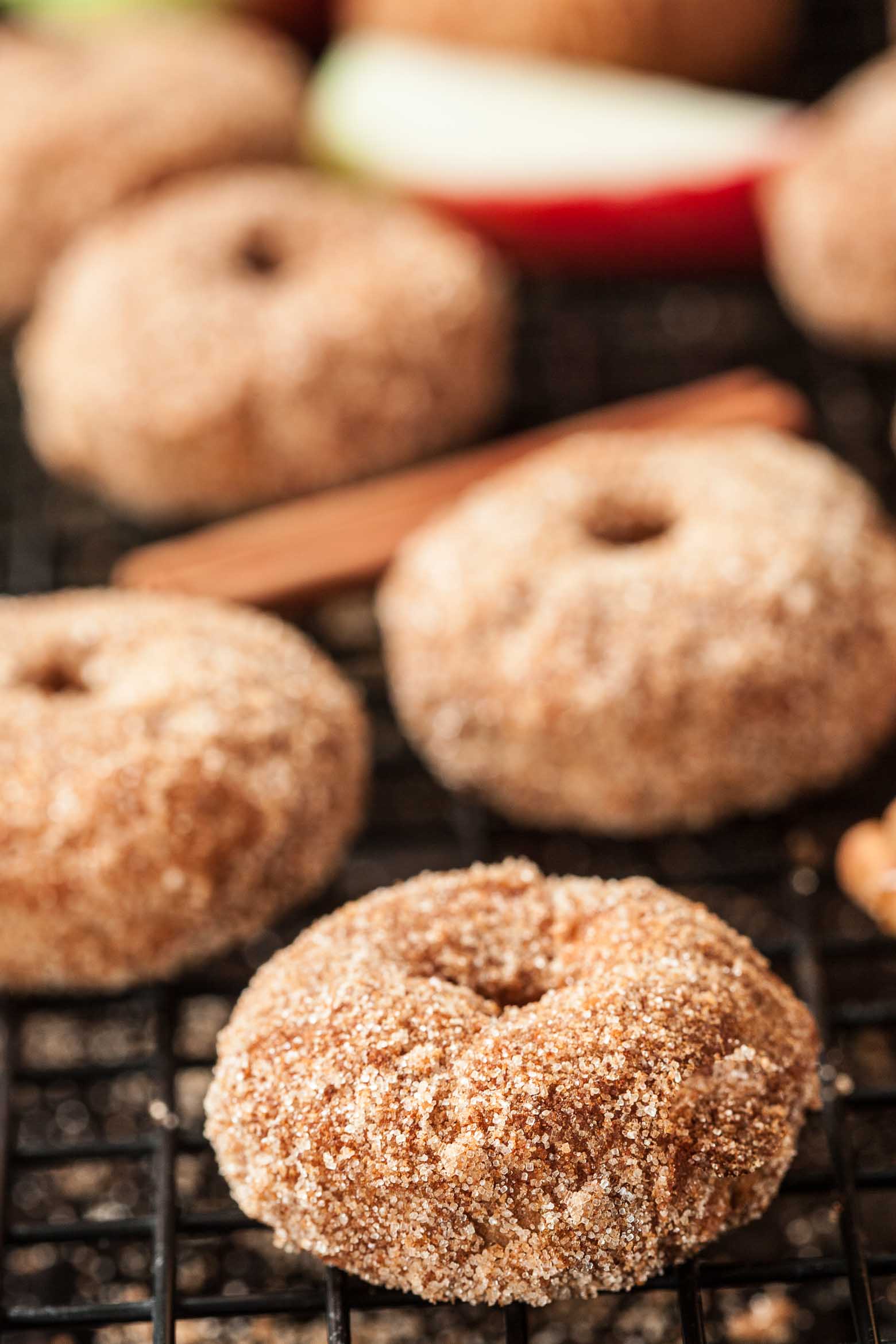 Key Ingredients
These Cinnamon Apple Baked Donuts are made with pantry staples that you may already have in your kitchen. Each ingredient works together to make the most tender, fluffy oven-baked donuts.
All Purpose Flour – Just simple all purpose flour works as the perfect base for this recipe.
Granulated Sugar – 2/3 cup of sugar is all that's needed to sweeten these donuts perfectly due to the sweetness of the apple and the cinnamon-sugar coating.
Baking Powder – Baking powder makes these donuts rise perfectly by releasing carbon dioxide when exposed to the wet ingredients.
Cinnamon – This warm, sweet spice works with the nutmeg and apple to bring our favorite autumn flavors to these donuts.
Nutmeg – Nutty and earthy this spice brings a nice depth of flavor to this dessert.
Whole Milk – We highly recommend using whole milk for this recipe as opposed to a lower fat percentage. We need all the fat in the milk to help make these donuts super tender and not-at-all dry.
Butter – Butter also helps keep apple cinnamon donuts moist and cakey. Not to mention, it brings that heavenly buttery flavor that we can't get enough of.
Eggs – Eggs make these donuts hold together and not crumble when you bite into them.
Vanilla Extract – Just the tiniest splash of vanilla elevates any dessert to the next level, and these donuts are no exception.
Apples – Undoubtedly the star of this dish, apples are grated and squeezed before being added to the mix. We like using Honeycrisp apples for this recipe, because of their sweetness and firmness that helps them hold together in baked goods.
Tools for Perfect Mini Baked Donuts
These silicone mini donut pans are our key tool for baking mini baked donuts that turn out perfect every time. They're highly heat resistant, naturally non-stick, and super easy to clean. Two pans will make 24 mini donuts at a time. However, feel free to use a full-sized donut pan as well. Cooking times will be similar if you don't fill them all the way.
If you don't have donut pans, you can absolutely use muffin tins instead to make these Cinnamon Apple Baked Donuts into muffins. Cooking times will vary slightly with the muffins. Just keep checking them. When a toothpick comes out mostly clean, they're done!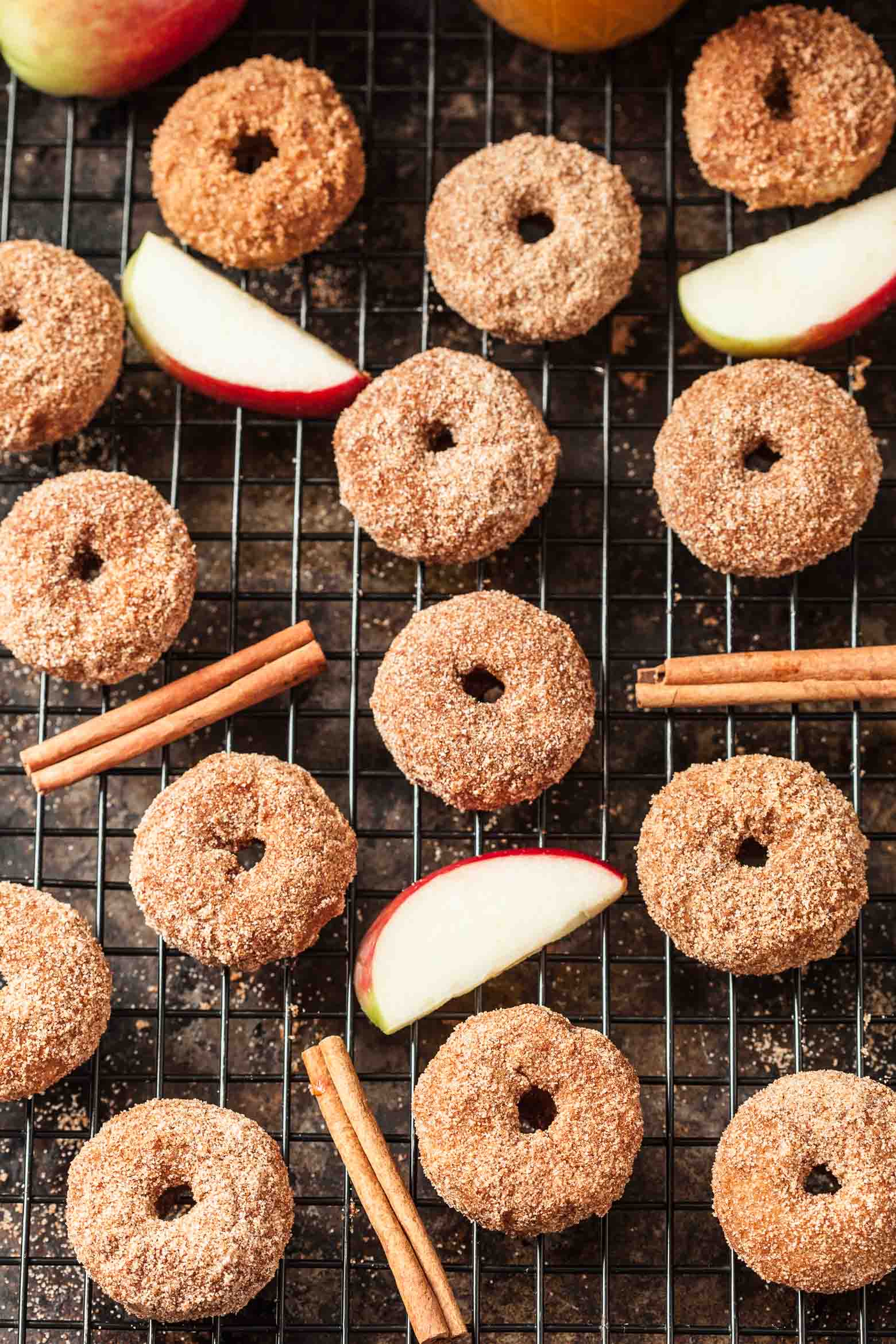 Key Tips For Success
Since we're not frying these donuts, prep and cooking is super easy for this recipe. There are only a few tips and tricks to take note of for the perfect donuts every time.
Squeeze the apples. Make sure to really squeeze the apple gratings dry. If there's excess moisture in them, it'll affect the texture of the donuts.
Spray donut pan. Regardless of the kind of pan we're using, we always like giving it a quick coating of cooking spray to make removing the donuts super easy.
Don't over mix. Just mix your wet and dry ingredients until barely combined. Overmixing could result in a tougher, dryer donut.
Wait to coat the donuts. For best results, we like to wait until we're ready to eat these donuts to cover them in the butter and cinnamon-sugar mixture. Eating them freshly coated will give you that coveted crispy on-the-outside, soft on-the-inside texture.
Prep-Ahead Tips
Whether you're baking with kids, or you just like having your ingredients streamlined ahead of time, here are our pro tips for easy prepping:
Make the cinnamon sugar topping ahead of time. Just combine the two ingredients in a bowl, cover, and keep at room temperature until ready to use. Feel free to keep a little container of cinnamon sugar at-the-ready for all the fall treats, like this irresistible Cinnamon Sugar Candied Nuts Snack Mix.
Wash, dry, and peel your apple ahead of time and submerge entire apple in a bowl of water to prevent it from oxidizing/browning. When ready, pat dry the peeled apple and grate.
The dry flour mixture can be whisked together well ahead of time; cover and keep at room temp until ready to use.
Though wet egg mixture shouldn't be mixed together too early, you can still have all ingredients measured out on the counter; it'll help make baking these donuts that much smoother.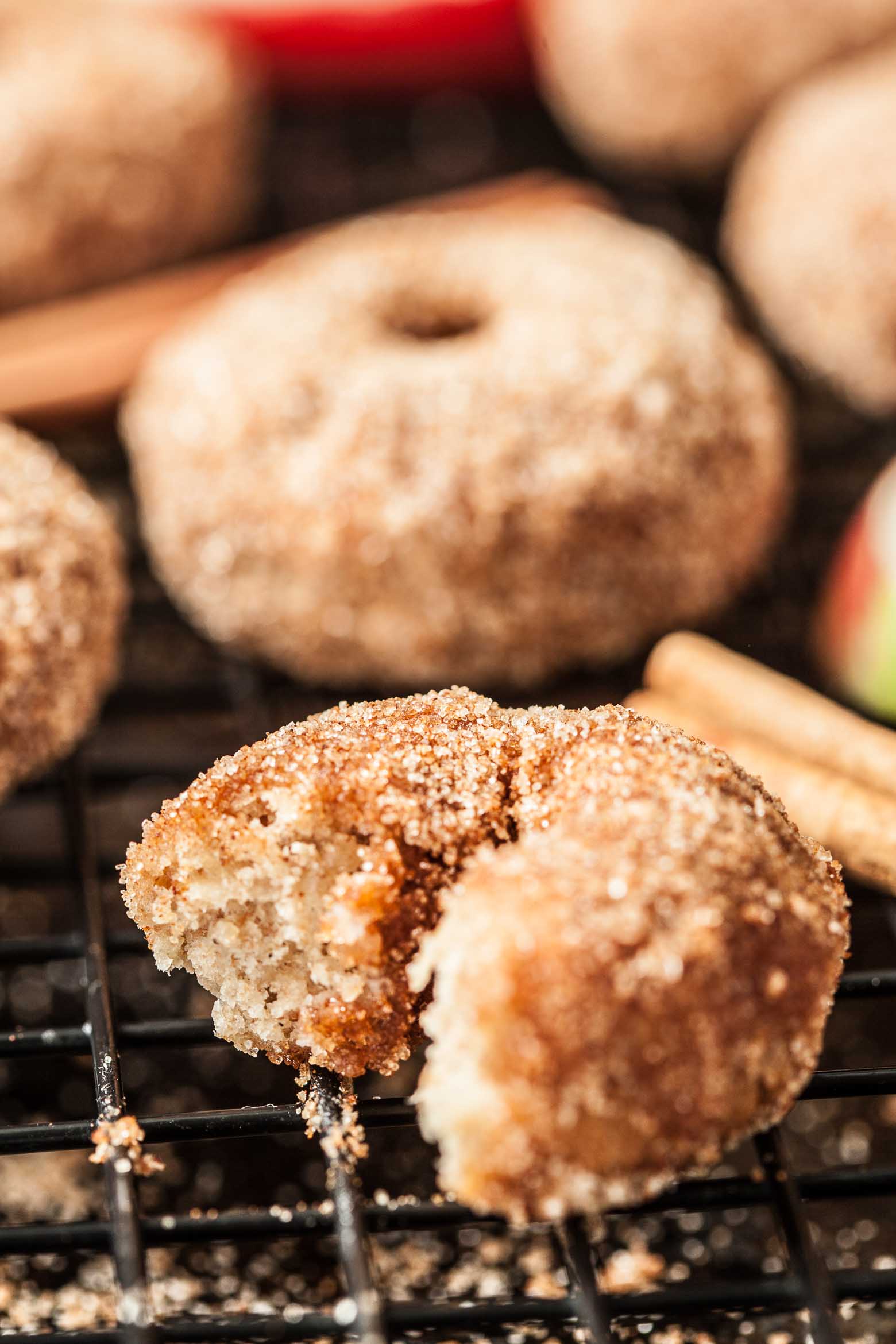 Commonly Asked Questions
How do I store Cinnamon Apple Baked Donuts?
To prevent donuts from getting stale, refrigerate in an airtight container for up to 4 days.
Does this recipe make cake donuts?
Yes, these donuts are technically cake donuts, because they're leavened with baking powder. Cake donuts can either be fried or baked.
Are baked or fried donuts better?
There are pros and cons to both. Baked donuts are easy-to-make, have less calories, and have a denser, cake-like texture. Fried donuts will vary in texture depending on whether they're cake or yeast donuts. Cake donuts will have that dense, rich texture while yeast donuts are light and airy. Fried donuts are higher in calories and require more effort to make. However, they have that crispy and soft deep fried texture that we love.
Why are my baked donuts dry?
If your donuts are turning out dry, check to make sure you used whole milk and butter. These ingredients help make moist donuts. Don't substitute them for lower fat alternatives. If you did that and they're still dry, you may have overcooked your donuts. Cook them just until golden. If you do the toothpick test, you should have a few moist crumbs on it.
Can I make these donuts ahead of time?
You can bake apple donuts in advance, but we recommend coating them with cinnamon-sugar mixture right before serving, as that allows them to be a bit crispy in texture. That said, you can definitely make them entirely ahead of time, if you don't mind the cinnamon-sugar mixture somewhat "melting into" the donuts.
Did you make this?
Please give us a rating and comment below. We love hearing from you!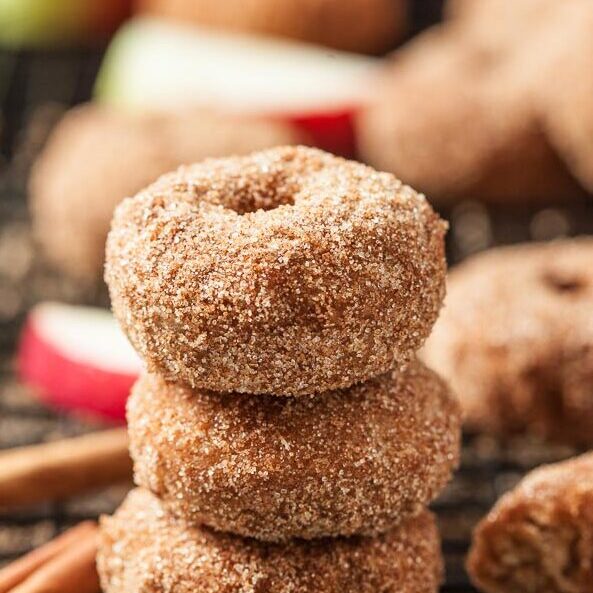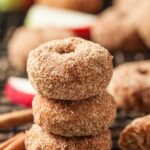 Cinnamon Apple Baked Donuts
These Cinnamon Apple Baked Donuts are bursting with all the season's goodness. Fresh, crisp apples and warm, autumn spices like cinnamon and nutmeg make the most delicious, cakey donuts perfect for breakfast or dessert.
Instructions
Preheat oven to 400F and set rack on middle or lower middle position. Grease mini donut pans and set aside.

In a large bowl, whisk together flour, sugar, baking powder, cinnamon, and nutmeg.

In another bowl, whisk together milk, eggs, 2 TB melted butter, vanilla extract, and grated apple – we use the largest holes of the box grater. Then squeeze out as much juice as you can. (Save juice for drinking – yum!)

Use rubber spatula to fold wet ingredients with dry ingredients, gently folding just until combined; do not over-mix or it won't be as tender. Spoon or pipe batter into greased mini donut pans until batter is level with the top of pan. Use damp fingers to gently smooth out the tops.

Bake about 8-9 minutes or until lightly golden. Cool in pan slightly, just until they are able to be easily removed. Set donuts on wire rack while you make the cinnamon-sugar coating.

Whisk together the sugar with desired amount of cinnamon in a small bowl – this can be done days ahead of time. Melt butter in another small bowl. When ready to eat, dip donuts in melted butter and roll generously in cinnamon sugar. Enjoy immediately.
Notes
We love using Honeycrisp Apples for baking recipes, as they impart a big and bright apple flavor without turning to mush. If you can use Honeycrisps, we highly recommend it. Otherwise, Granny Smiths work well too.
You can use 1 large apple in place of 2 small ones.
Do not dip donuts in butter/roll in cinnamon sugar until ready to serve, as the fresh coating helps provide a slightly crisp outer texture when eaten right away, though leftovers are still tasty.
Batter is deliberately not too sweet, since cinnamon sugar coating provides a lot of the sweetness. If you want a sweeter batter, use 1 cup sugar.
If using regular-sized donut pans, bake time will still be roughly the same or even a bit less time, as you will only fill each mold partway up, rather than all the way to the top.
If you enjoyed this recipe, please come back and give it a rating ❤️
Nutrition (per serving)
Calories:
81
kcal
|
Carbohydrates:
14
g
|
Protein:
1
g
|
Fat:
2
g
|
Saturated Fat:
1
g
|
Polyunsaturated Fat:
0.2
g
|
Monounsaturated Fat:
1
g
|
Trans Fat:
0.1
g
|
Cholesterol:
15
mg
|
Sodium:
39
mg
|
Potassium:
29
mg
|
Fiber:
0.4
g
|
Sugar:
8
g
|
Vitamin A:
87
IU
|
Vitamin C:
0.4
mg
|
Calcium:
21
mg
|
Iron:
0.4
mg