Pumpkin Pie Coffeecake
This Pumpkin Pie Coffeecake is like a pumpkin pie layered inside a spice cake. There's no coffee cake moister or pumpkinier.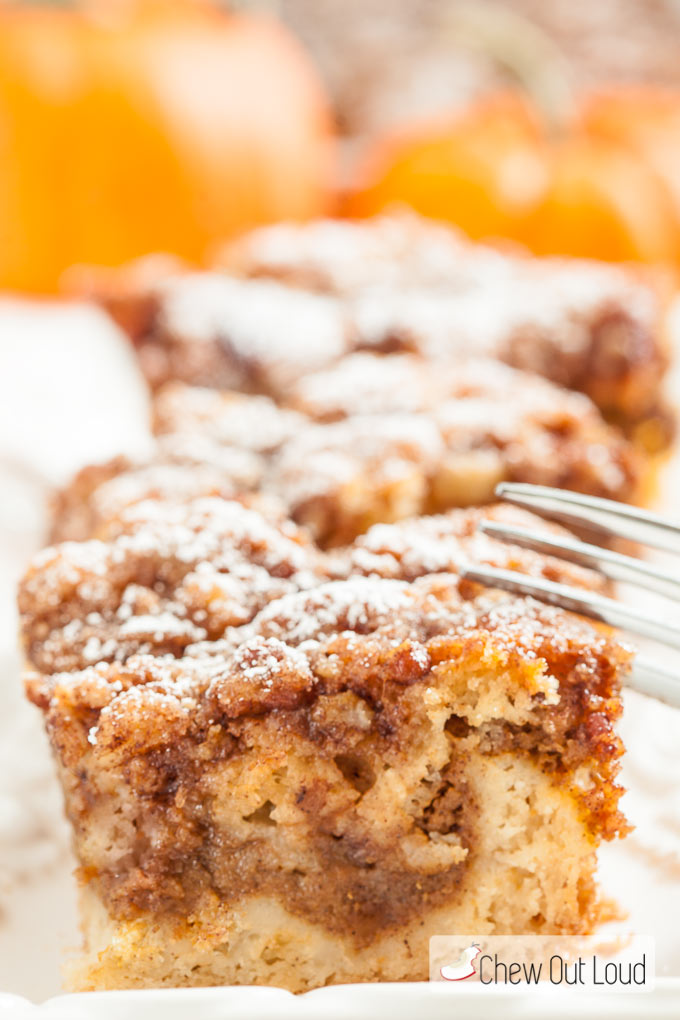 Our minivan of five has been on a fall quest to run wild and crazy – um, hike – at as many state parks as we can, while we can.
With the unusually mellow fall so far, there's just no excuse not to put All the Work on the back burner and procrastinate with a capital P.
Because all the Twin Citians know we gotta soak up the sunshine before the freezing black hole comes knocking.
Likewise, we have to carpe diem with pumpkins while fall is still teeming with orange…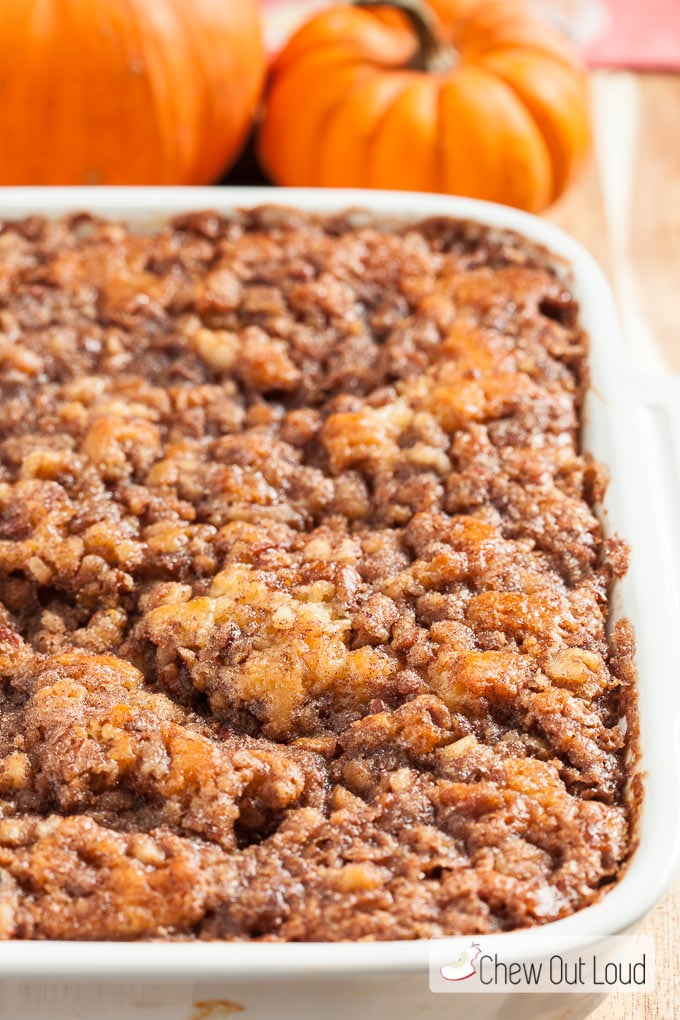 Let's just lay it all out. I am a sucker for moist cake. Especially in the morning and with coffee.
Hubby is a huge pumpkin pie fan. Especially after dinner.
The Littles dig anything in the realm of Bressert. Especially anytime.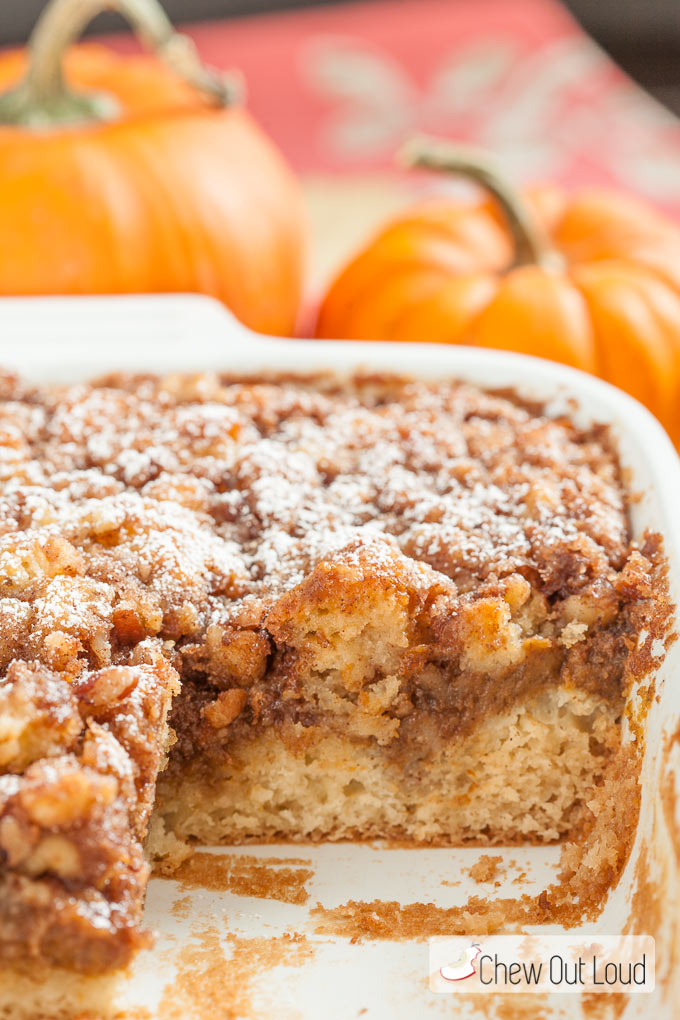 This Pumpkin Pie Coffeecake has all three bases covered. And brings it in for a home run.
It's a moist moist moist cake. Somewhere in there, a pumpkin pie layer shows itself off. It dares us not to attack it with a fork.
All of us quickly lost that dare.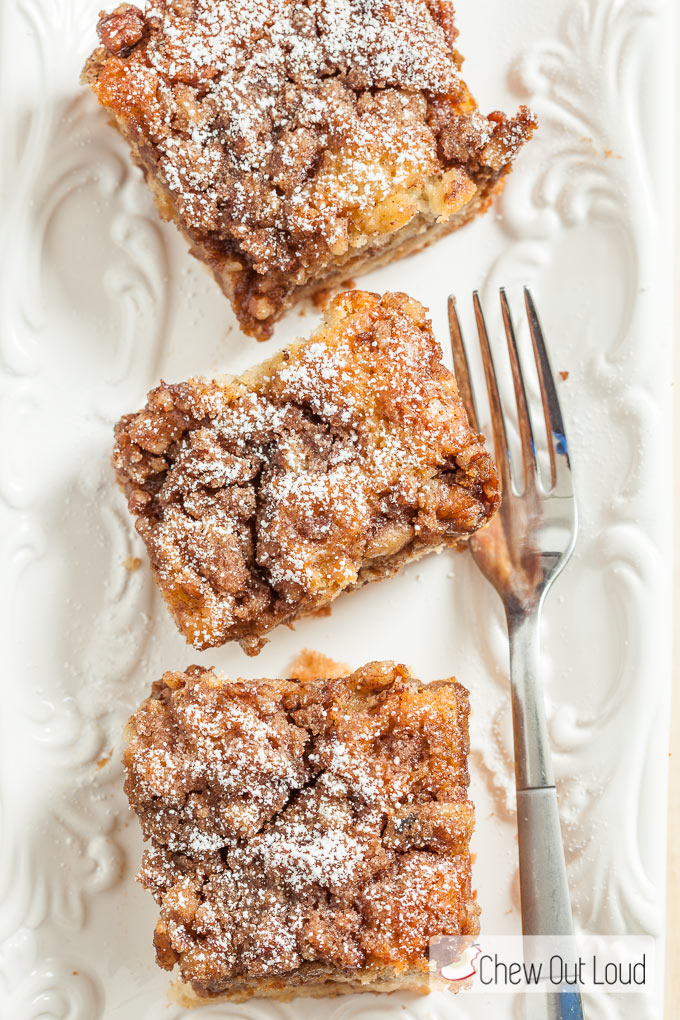 The entire thing is blanketed with a crispy layer of fall-spiked streusel.
I almost drizzled on a simple spice glaze. But I decided to just sprinkle on some powder power and let Miss Pumpkin have her spotlight.
And shine, she does.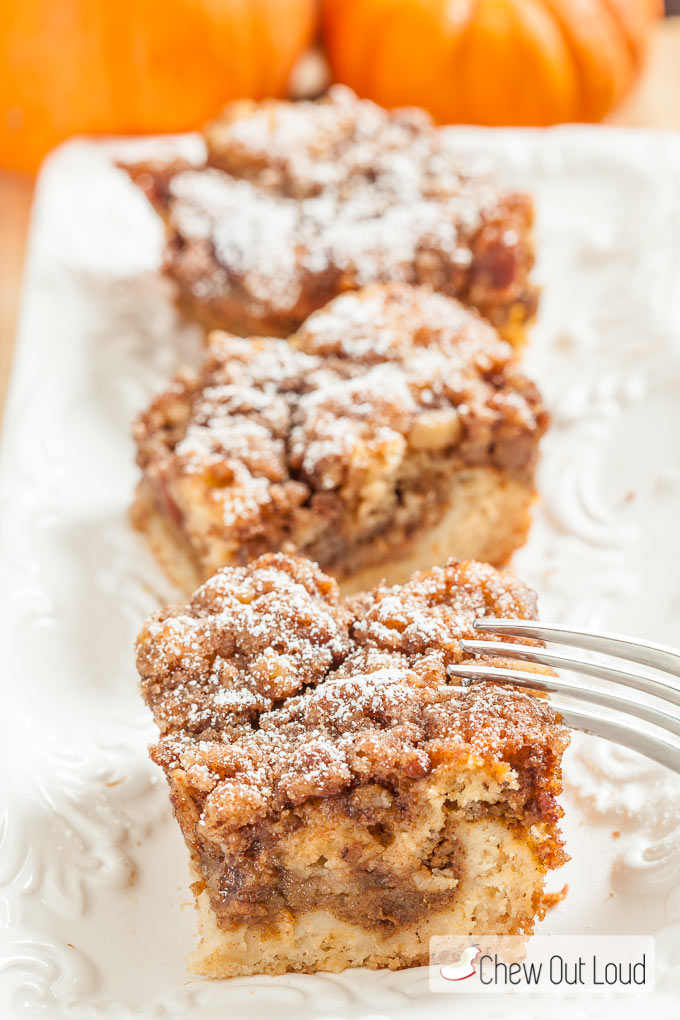 Here's to days too beautiful not to procrastinate.
Enjoy.
Print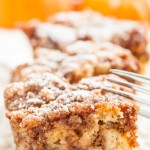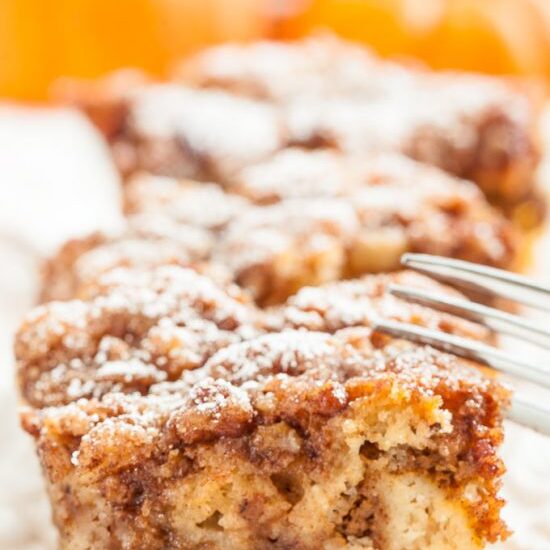 Pumpkin Pie Coffeecake
This Pumpkin Pie Coffeecake is like a pumpkin pie layered inside a spice cake. There's no coffee cake moister or pumpkinier.
Prep Time:

30 mins

Cook Time:

55 mins

Total Time:

1 hour 25 mins
For the Streusel Topping:

1/3 cup

butter, cold and cut into pieces

1 cup

brown sugar, packed

2 tsp

ground cinnamon

1 cup

chopped pecans or walnuts
For the Pumpkin Filling:

1

(15oz) can pure 100% pumpkin

3/4 cup

sugar

1/2 tsp

table salt

2 tsp

ground cinnamon

1/2 tsp

ground ginger

1/4 tsp

ground cloves

1/4 tsp

ground nutmeg

2

large eggs

1/2 cup

evaporated milk
For the Cake:

1/2 cup

butter, softened but not melty

2/3 cup

sugar

3

large eggs, room temp

1 tsp

pure vanilla

1 cup

whole plain Greek yogurt

2 cups

all purpose flour

1 tsp

baking soda

1 tsp

baking powder
Instructions
Make the Streusel ahead: Combine all streusel ingredients in a bowl and use clean fingers or a pastry cutter to work the mixture into texture of chunky damp sand. There should be bits and pieces of butter/nut chunks still present. Cover and chill until ready to use.
Make the Pumpkin Filling: In a bowl, whisk together the filling ingredients until well incorporated and smooth. Set aside.
Make the Cake: Grease a 9×13 baking pan and preheat oven to 325F with rack on lower middle position. Set aside. In the bowl of a stand mixer fitted with paddle attachment, cream the butter and and sugar together until light and fluffy. Add eggs one at a time, beating to combine in between. Add vanilla and beat to combine. Add yogurt and beat just until incorporated.
In a separate bowl, combine all dry cake ingredients (flour, baking soda, baking powder) and whisk to combine well. Using a rubber spatula, fold dry flour mixture with the egg/yogurt mixture just until combined; don't over mix.
Spread at least half of the cake batter into prepared cake pan, smoothing out to corners evenly. Spread pumpkin filing evenly over this (will be thick; it's ok if a little gets combined with batter. I use damp fingers if spatula is sticky.) Spread remaining cake batter over the pumpkin filling. It might be a thin layer, which is ok. Sprinkle streusel topping evenly over top of entire cake.
Bake for 50-60 minutes or just until a toothpick inserted in the cake portion of the center comes out almost clean. Let cool completely before cutting.
Notes
This cake is easier to cut after its been chilled. If you have time, cover and chill before serving. We think it tastes best chilled, too 🙂
Author:
Category:

breakfast, brunch
Source: Chew Out Loud
We love pumpkin bresserts, and if you try these, you'll likely become a fan:
Pumpkin Ginger Cupcakes. Oh my oh my oh my. So delicious, pretty, and fall-perfect.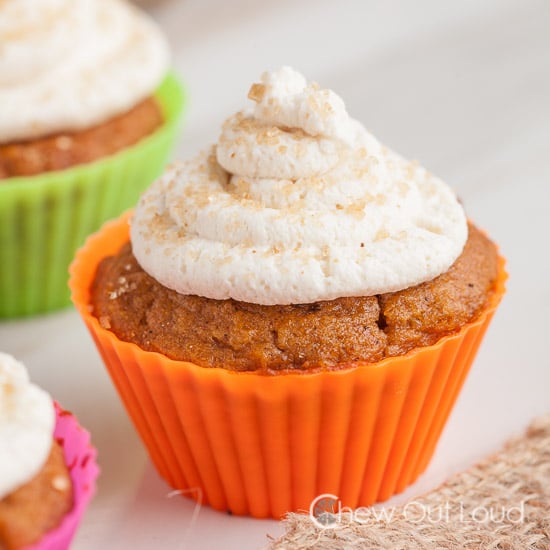 2. Pumpkin Churros are easy and fun! Sure, they're a little bit fried…but once a fall, it's worth the fun!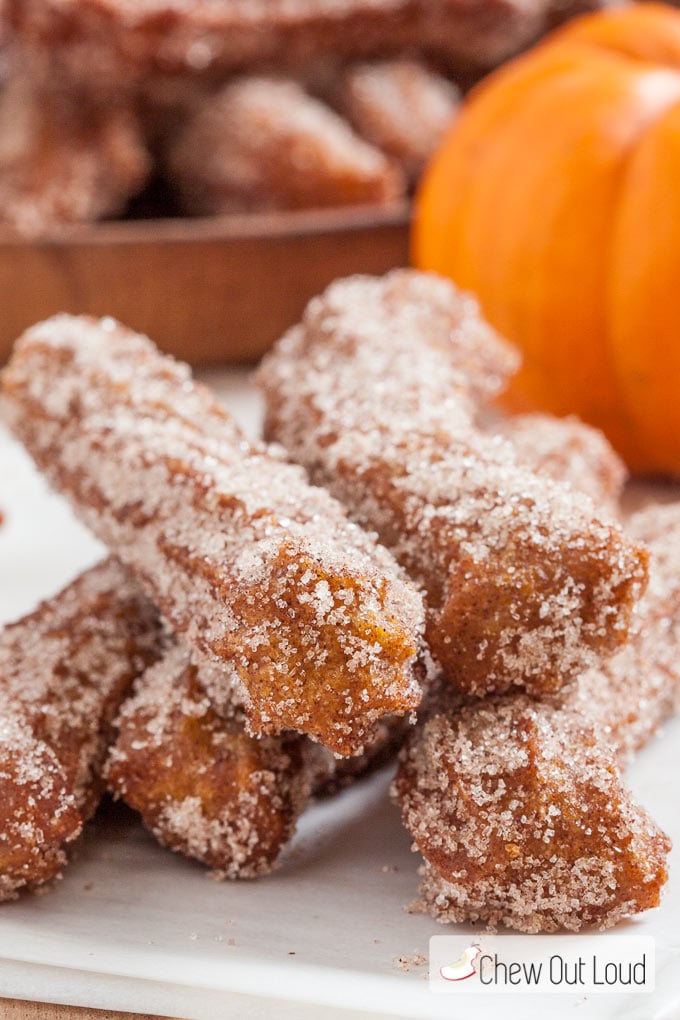 3. Pumpkin Spice Trifle. So so easy, it's a little embarrassing, but not really. Because your guests will devour this, especially if serve it with a cup of decaf after dinner.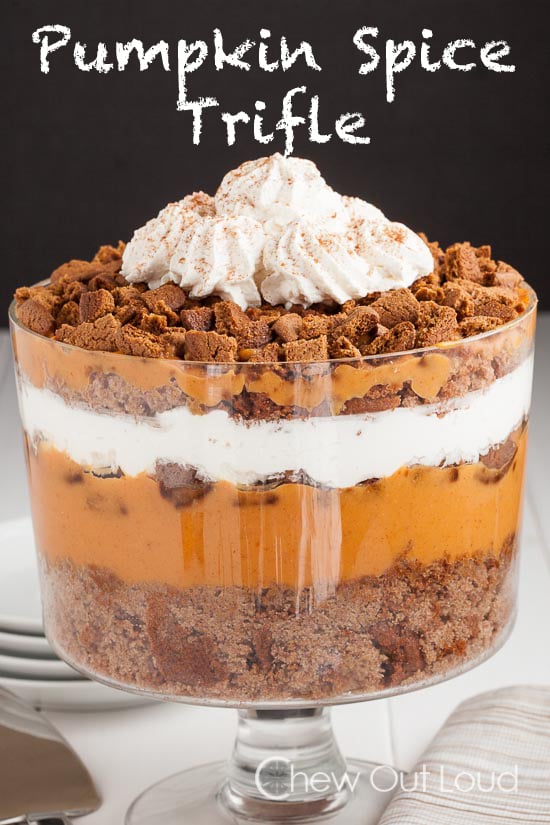 4. Double Pumpkin Chewy Cookies with Cream Cheese.They disappear faster than the Other Cookies on any cookie tray.