Moroccan Chicken Stew
By Amy Dong
Published Nov. 27, 2012
Updated Sep. 1, 2023
This Moroccan Style Chicken Stew is hearty, full of rich seasonings and spices, and simply perfect over rice or couscous.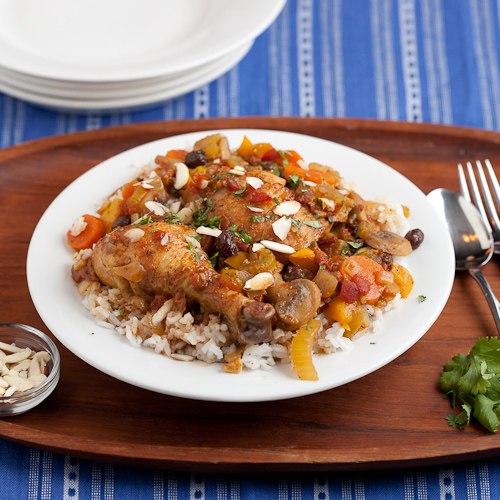 I love Throwdown! for its fun entertainment factor. It's positively wild exposure for fabulous cooks around the nation who are brave enough to throw it down against the famous Iron Chef. I lingered on every episode, even the reruns, back when Food Network was at my fingertips. Don't feel too sorry for me though, because I have access to something even better – the cookbook. I'm a huge fan of the food that Bobby's talented opponents dish up.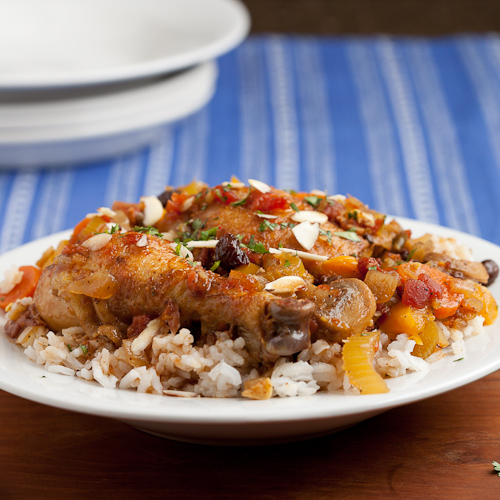 This time my hungry tummy begged to try a hearty southern stew, given the tough guy moniker "Country Captain." Like many people, I had never heard of Country Captain Chicken, but it sounded like a good hearty dish. Plus, the ingredients looked tempting yet simple. With an attractive listing of chicken, veggies, curry, and fluffy rice…can't go wrong, right? 😉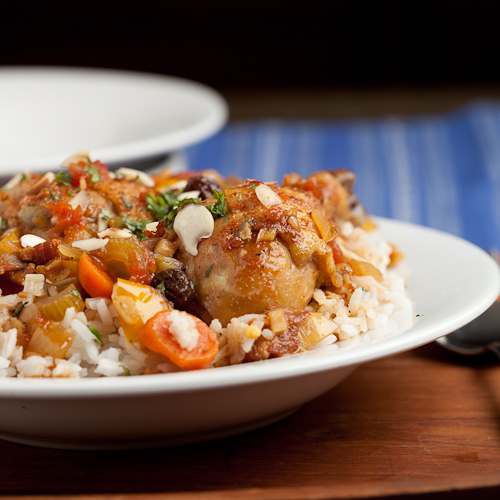 This is not the type of dish that comes to mind when I think of typical southern fare. With some vegetable additions, this stew is robustly flavorful and full of nutrition to boot! It's a phenomenal one-pot dish. We really appreciate how this stew reveals a succulent blend of both savory and sweet, with a richly tasty sauce that is generously poured over fluffy rice. What a delicious variation from the usual pastas or potatoes. Next time, I'll go even crazier and steam up our usual brown rice to be drenched in this delish stew.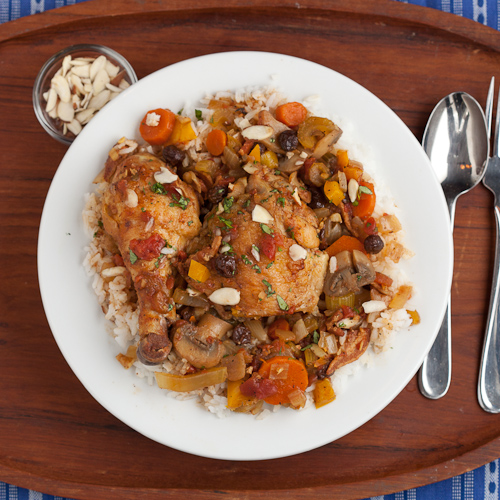 As always, my favorite part about this dish is that it is easily made ahead of time and reheats beautifully. It's one of those dishes that makes mouth-watering leftovers that you will actually look forward to eating again. Bonus: It makes just as good weeknight family grub as it does a weekend dinner for friends. Enjoy!
RECIPE (serves about 6)
INGREDIENTS
1/2 cup low sodium chicken broth
1/2 cup raisins
1 TB yellow curry powder
1 TB garam masala
4 oz slab bacon, chopped
12 chicken thighs and/or drums, skin and bone on
2 1/2 cups sliced carrots
2 cups celery, thinly sliced
2 cups diced yellow bell peppers
2 cups diced onion
6 cloves garlic, chopped
1 (28 oz ) can crushed tomatoes
3 TB honey
1 TB ginger powder
3 tsp kosher salt, plus more to taste
1 tsp fresh ground black pepper, plus more to taste
light olive oil
6 cups cooked white rice, hot
1 cup slivered almonds, toasted
1/2 cup chopped fresh flat-leaf parsley
DIRECTIONS
Preheat oven to 350F. Pour chicken stock into microwavable dish and microwave on high for 1 minute. Pour raisins into hot stock, and let sit to plump up. In another small bowl, combine curry powder, garam masala, 3 tsp salt, and 1 tsp black pepper. Set aside.
Saute chopped bacon in large heavy pot or Dutch oven over medium high heat. Cook until bacon is golden brown, about 5 min. Transfer bacon to a small bowl and set aside. Using bacon grease still in heavy pot, brown the chicken pieces in small batches over medium high heat. Do not overcrowd. Cook until golden brown, about 5 minutes per side. Repeat until all chicken is browned. Add 1-2 TB light olive oil if needed to finish cooking chicken. Remove chicken from pot and set aside.
If pot is dry, add 1 TB olive oil. Saute carrots, bell peppers, onions, and garlic until softened, about 6 minutes. Add tomatoes, honey, curry powder mixture, ginger, and raisins with their stock. Reduce heat to medium-low and simmer until sauce thickens around the vegetables, about 8 minutes.
Nestle chicken pieces gently into the sauce, so that skin side faces up and stays above surface. Tent pot loosely with foil and place in lower middle rack of oven. Bake 25 minutes. Uncover, and bake another 20 minutes. Sauce should be thickened and chicken skin should just begin to crisp.
Remove from oven and skim fat from surface. If needed, season to taste with additional salt and pepper. Spoon 1 cup hot rice into a wide bowl. Arrange a couple of chicken pieces on top, and generously spoon sauce over chicken/rice. Garnish with reserved bacon, toasted almonds, and parsley.