Creamy Chicken Wild Rice Soup
By Amy Dong
Published Dec. 1, 2014
Updated Aug. 17, 2022



Creamy Chicken Wild Rice Soup is a popular hearty soup for comfort. It's creamy, delicious, and nutritious. Leftovers are great the next day. This is a wonderful meal to make and share with others.




Creamy Chicken Wild Rice Soup




We've noticed the attention that wild rice and chicken gets around here in Minnesota. Ever since the air turned chilly, everyone started to gravitate towards hot soup and dunking bread for lunch. (I bet I didn't observe this during my lifetime in So. Cal. because flip flops hung on our toes year round.)




But here where it's snowy white, I am blessed to sit with lovely girlfriends over hot soup once a week and relish unhurried moments of encouragement, laughter, and genuine connection. When we have the chaos of Littles at home, this weekly midday meal feels almost sacred.




I wanted to pay homage to the bonding that happens over soup and bread with a scrumptious Creamy Chicken Wild Rice Soup recipe below.




There's nothing quite like a hot bowl of hearty and flavorful soup to sit down to together.




 




About that Soup




And that brings me full circle, back to our soup of the day.




When I was thinking about a recipe that would be great for sharing with another family this winter, I thought of this one.




This Creamy Chicken Wild Rice Soup is easy, delicious, and can be made ahead. Serve it with crusty bread for a satisfying meal. The next meal I bring someone will probably be this one.




Just get a wild rice blend, like this Lundberg brand that I got from Target.




Add in the aromatics. Celery, carrots, onion, mushrooms (my non-mushroom eaters had no clue there were secretly chopped mushrooms in here.)




Combine all that goodness with chicken and spices. You're done.




The most important part is not to allow the pre-cooked rice to stew very long in the soup. Since the rice is already cooked, it only needs to warm through in the soup and that's it.



Did you make this?
Please give us a rating and comment below. We love hearing from you!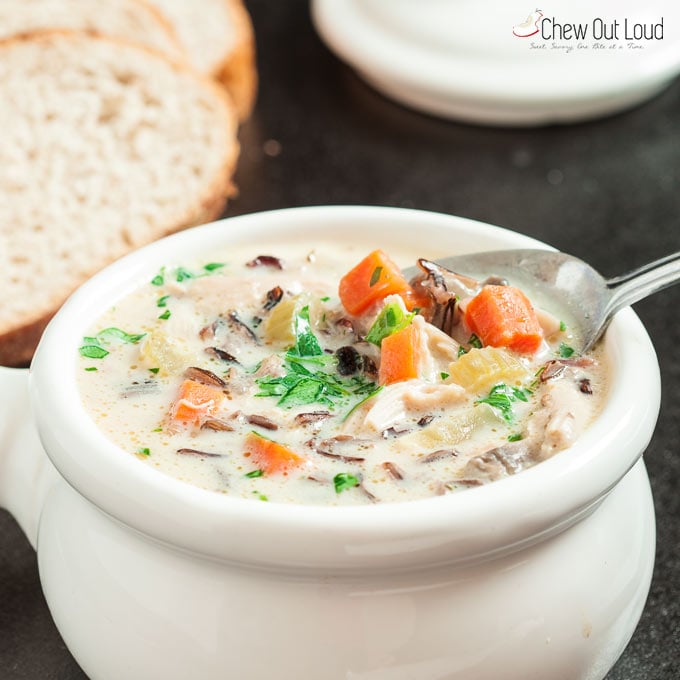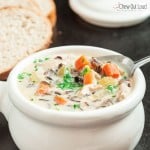 Creamy Chicken Wild Rice Soup
This Creamy Chicken Wild Rice Soup is easy, healthier than other creamy soups, and absolutely delicious! It's comfort food for cold weather months. Perfect for sharing with family and friends. Note that the rice and chicken should already be cooked.
Ingredients
48

oz

regular chicken broth

,

plus 1 additional cup for later

8

oz

mushrooms

,

chopped

1

large onion

,

peeled and finely chopped

1

cup

celery

,

finely chopped

1

cup

carrots

,

peeled and finely chopped

1

tsp

chicken bouillon powder

½

tsp

thyme

1

tsp

garlic powder

3

cups

cooked wild rice blend

2

cups

cooked chicken

,

shredded (rotisserie works great)

¼

cup

butter

,

cut into pieces

¼

cup

flour

1

cup

whole milk
Instructions
In a large Dutch oven or heavy stockpot, combine chicken broth, mushrooms, onion, celery, carrots, bouillon, black pepper, thyme, and garlic powder. Stir to combine well and bring to a boil. Reduce to simmer. Cover and simmer 30 minutes.

In a small saucepan, melt the butter on medium heat. Whisk in flour and continue whisking until mixture is smooth. Transfer butter mixture into the stockpot of soup. Bring it back to a boil and stir for a few minutes or just until thickened. Carefully whisk in the milk and additional 1 cup of broth. Gently add in the cooked wild rice blend. Add the cooked, shredded chicken. Simmer just to heat through and remove from heat after soup is heated through (you don't want to keep cooking the rice or it will start to break down.)

Serve hot, with crusty bread.