Creamy Chicken Wild Rice Soup is a popular hearty soup for comfort. It's creamy, delicious, and nutritious. Leftovers are great the next day. This is a wonderful meal to make and share with others.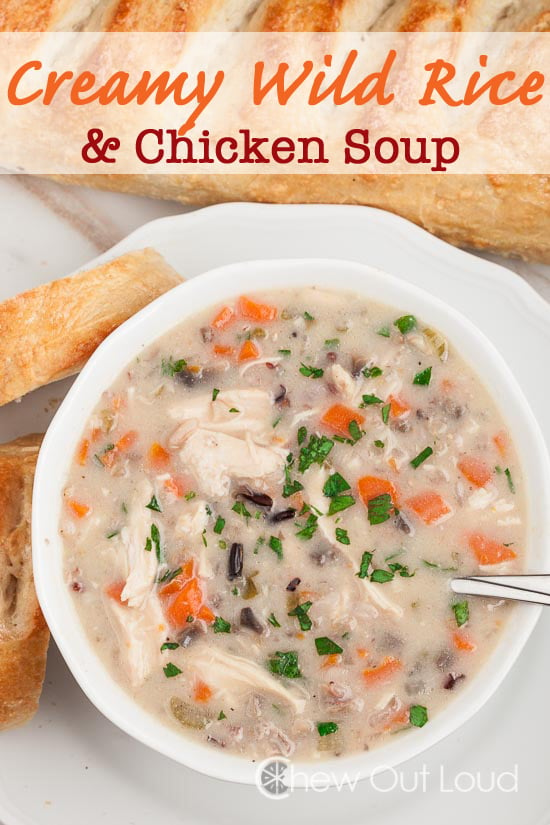 Creamy Chicken Wild Rice Soup
We've noticed the attention that wild rice and chicken gets around here in Minnesota. Ever since the air turned chilly, everyone started to gravitate towards hot soup and dunking bread for lunch. (I bet I didn't observe this during my lifetime in So. Cal. because flip flops hung on our toes year round.)
But here where it's snowy white, I am blessed to sit with lovely girlfriends over hot soup once a week and relish unhurried moments of encouragement, laughter, and genuine connection. When we have the chaos of Littles at home, this weekly midday meal feels almost sacred.
I wanted to pay homage to the bonding that happens over soup and bread with a scrumptious Creamy Chicken Wild Rice Soup recipe below.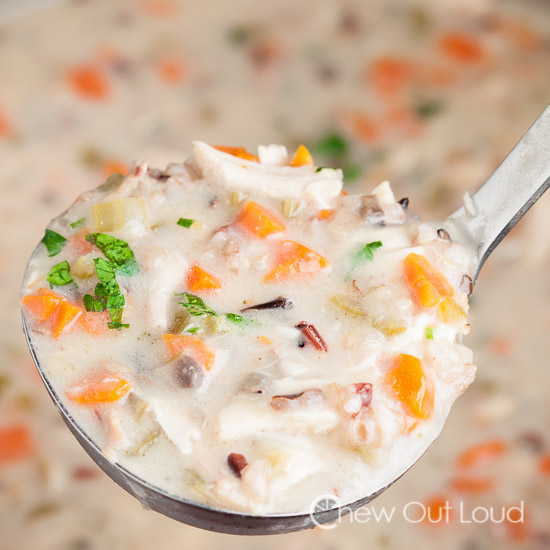 There's nothing quite like a hot bowl of hearty and flavorful soup to sit down to together. Which brings me to my other reason for ladling out this soup today.
We're in the thick of the glorious holiday season. Many of us are blessed to have family & friends to see and meals to share. But there are many who don't.
As my three children grow older each year, I find that my heart yearns intensely for them to develop their own hearts of compassion for children who have little. I often dream big, and I sometimes dream global.
But how about right now, right here?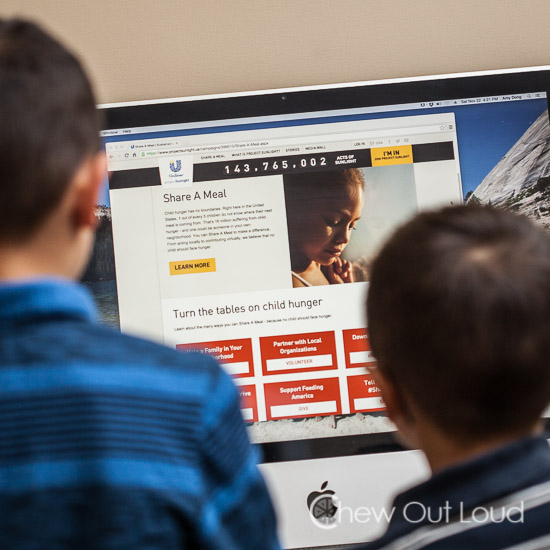 Share a Meal
Every holiday season (and year-round, really) I do some legwork to discover ways to involve my kids in helping others. Yeah, I want my boys to be smart, musical, athletic, friendly, etc. But I really want them to be brave and compassionate.
That's why my heart skipped a beat when I read about Share A Meal, which includes a free ToolKit full of great ideas. This is the kind of thing that gets the wheels in my head dancing.
Then I watched this 4-minute video about childhood hunger in America. Real people. Real children. Right here in our backyards. Not some far away distant country. In the same schools our kids attend. Living in our communities.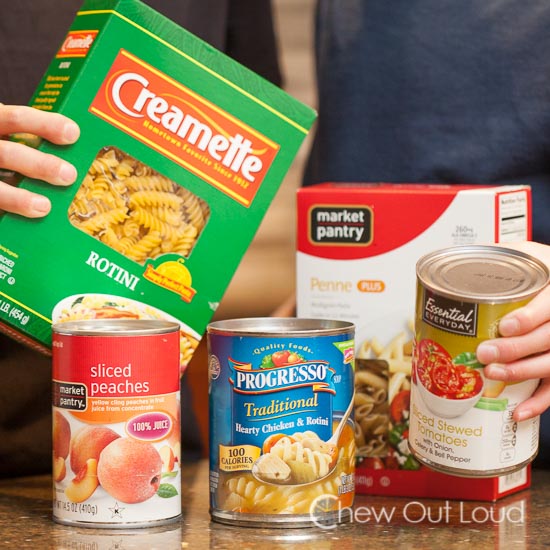 I immediately found our local emergency food shelf. We're doing this. 1 out of every 5 children in America don't know where their next meal is coming from. As a past teacher in Los Angeles, I know the only meals some students ate were the ones they got at school.
We can't solve the problem by ourselves, but collectively, we can make a huge difference. Here are some things we've done. I'd love to hear the ideas you guys have as well.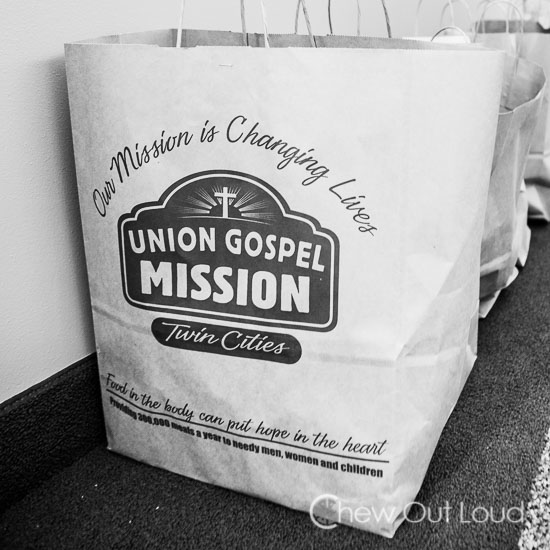 Feed a family (or two!) an entire holiday meal with just one brown bag of canned/boxed goods.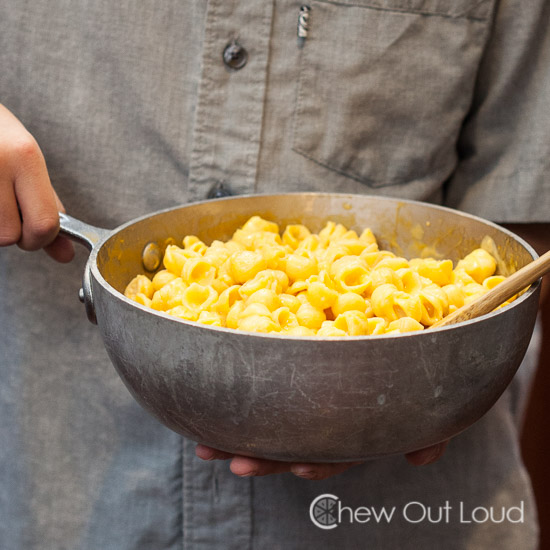 Involve the Family
Involve the kids in making simple, nutritious meals for others. Bring it to them or invite them over. I love having my boys help me bring casserole dishes (and cookies!) to others. It's hands-on and tangible.
Every holiday season, we flip through the pages of the World Vision Gift Catalog and choose a meaningful gift that the kids contribute to. How about giving a gift from here, in lieu of your usual store-bought gift?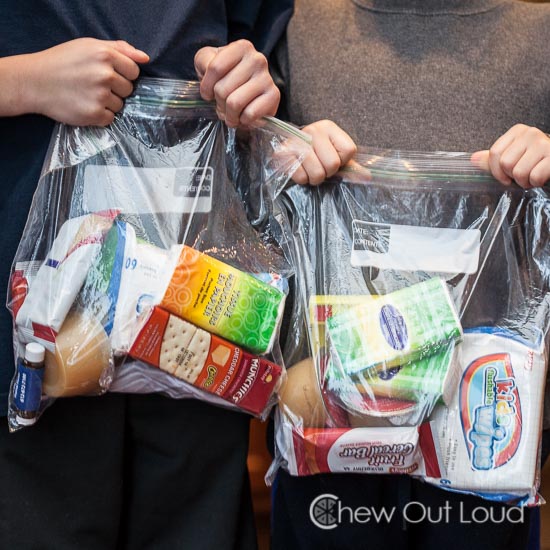 We routinely stock Care Packages in our car. Fill bags with items like applesauce, tissue, lip balm, soft cereal bars, toothbrushes, socks, etc. They're super handy to give away to that man/woman/child holding up a sign on the street.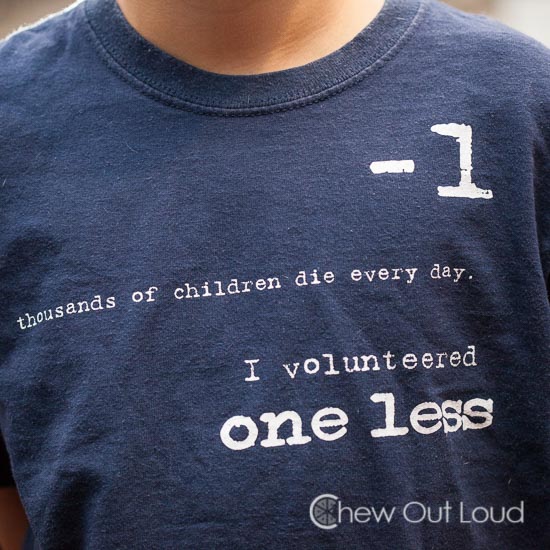 Here in the Twin Cities, we are big fans of Feed My Starving Children. What are some local organizations you can participate in with your family this holiday season?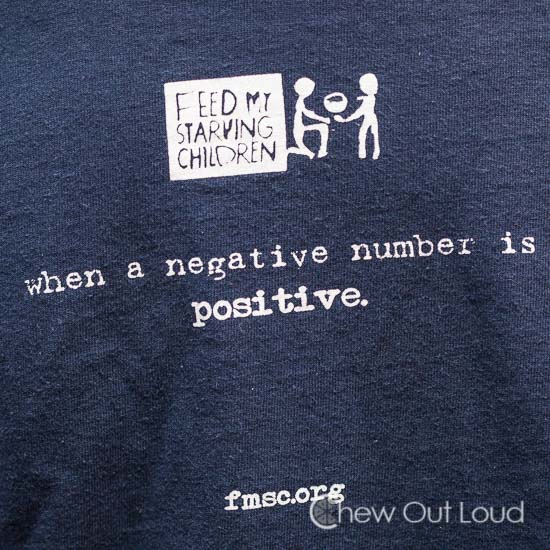 About that Soup
And that brings me full circle, back to our soup of the day.
When I was thinking about a recipe that would be great for sharing with another family this winter, I thought of this one.
This Creamy Chicken Wild Rice Soup is easy, delicious, and can be made ahead. Serve it with crusty bread for a satisfying meal. The next meal I bring someone will probably be this one.
Just get a wild rice blend, like this Lundberg brand that I got from Target.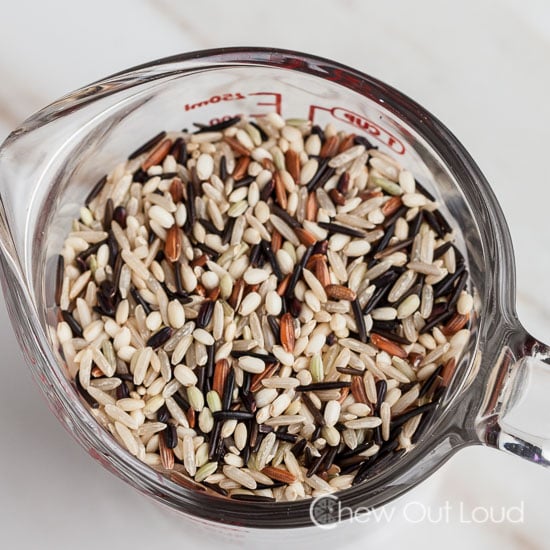 Add in the aromatics. Celery, carrots, onion, mushrooms (my non-mushroom eaters had no clue there were secretly chopped mushrooms in here.)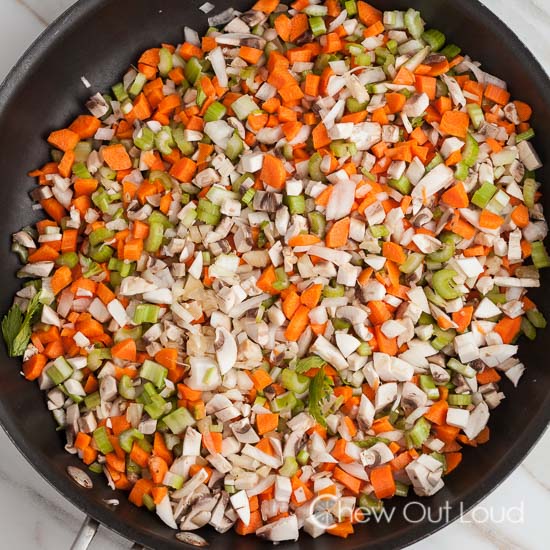 Combine all that goodness with chicken and spices. You're done.
The most important part is not to allow the pre-cooked rice to stew very long in the soup. Since the rice is already cooked, it only needs to warm through in the soup and that's it.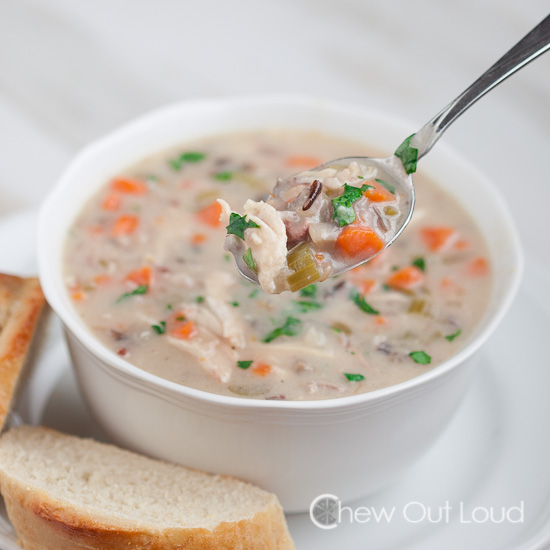 Print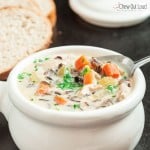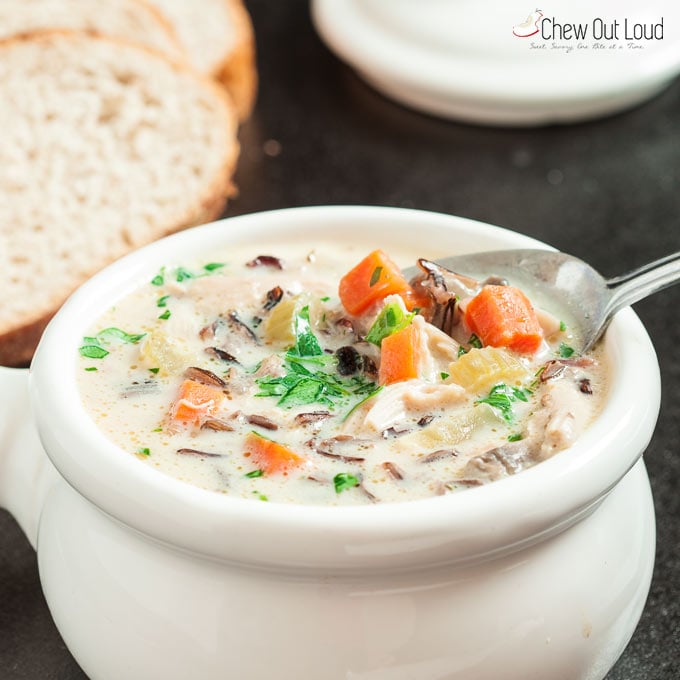 Creamy Chicken Wild Rice Soup
---
Description
This Creamy Chicken Wild Rice Soup is easy, healthier than other creamy soups, and absolutely delicious! It's comfort food for cold weather months. Perfect for sharing with family and friends. Note that the rice and chicken should already be cooked.
---
48 oz

regular chicken broth, plus 1 additional cup for later

8 oz

mushrooms, chopped

1

large onion, peeled and finely chopped

1 cup

celery, finely chopped

1 cup

carrots, peeled and finely chopped

1 tsp

chicken bouillon powder

1 tsp

freshly ground black pepper

1/2 tsp

thyme

1 tsp

garlic powder

3 cups

cooked wild rice blend

2 cups

cooked chicken, shredded (rotisserie works great)

1/4 cup

butter, cut into pieces

1/4 cup

flour

1 cup

whole milk
---
Instructions
In a large Dutch oven or heavy stockpot, combine chicken broth, mushrooms, onion, celery, carrots, bouillon, black pepper, thyme, and garlic powder. Stir to combine well and bring to a boil. Reduce to simmer. Cover and simmer 30 minutes.
In a small saucepan, melt the butter on medium heat. Whisk in flour and continue whisking until mixture is smooth. Transfer butter mixture into the stockpot of soup. Bring it back to a boil and stir for a few minutes or just until thickened. Carefully whisk in the milk and additional 1 cup of broth. Gently add in the cooked wild rice blend. Add the cooked, shredded chicken. Simmer just to heat through and remove from heat after soup is heated through (you don't want to keep cooking the rice or it will start to break down.)
Serve hot, with crusty bread.
Source: Chew Out Loud
About SheKnows' Hatch, the Hatch Hunger Project and Unilever Project Sunlight:
SheKnows' Hatch teamed with Unilever Project Sunlight to help families build awareness and take action around child hunger in America. The facts are startling: 16 million kids living in the United States don't know where their next meal is coming from. That equates to one in every five children – enough to fill 18,000 school buses and 223 football stadiums. On average, those who live in food-insecure households have only $36.50 to spend on groceries every week. That means that 80 percent of children may not understand the everyday struggle their peers – many of whom could be their own friends or neighbors – confront when there's not enough food on the table. The Hatch Hunger and Project Sunlight video and workshop aims to create empathy by showing kids what it means to shop for healthy, filling meals for an entire week on a thrifty budget. It teaches important math and teamwork skills. Finally, it is about action, empowering kids to have a positive impact on their community to Share A Meal with a family in need and donating food and canned goods to local food banks.