Easy Sangria Recipe [Ginger Pear]
By Amy Dong
Published Nov. 9, 2017
Updated Aug. 17, 2022
This Ginger Pear Sangria Recipe is super easy, crisp, and refreshingly delicious! It's perfect for gatherings, as you can easily make a pitcher several hours before guests arrive.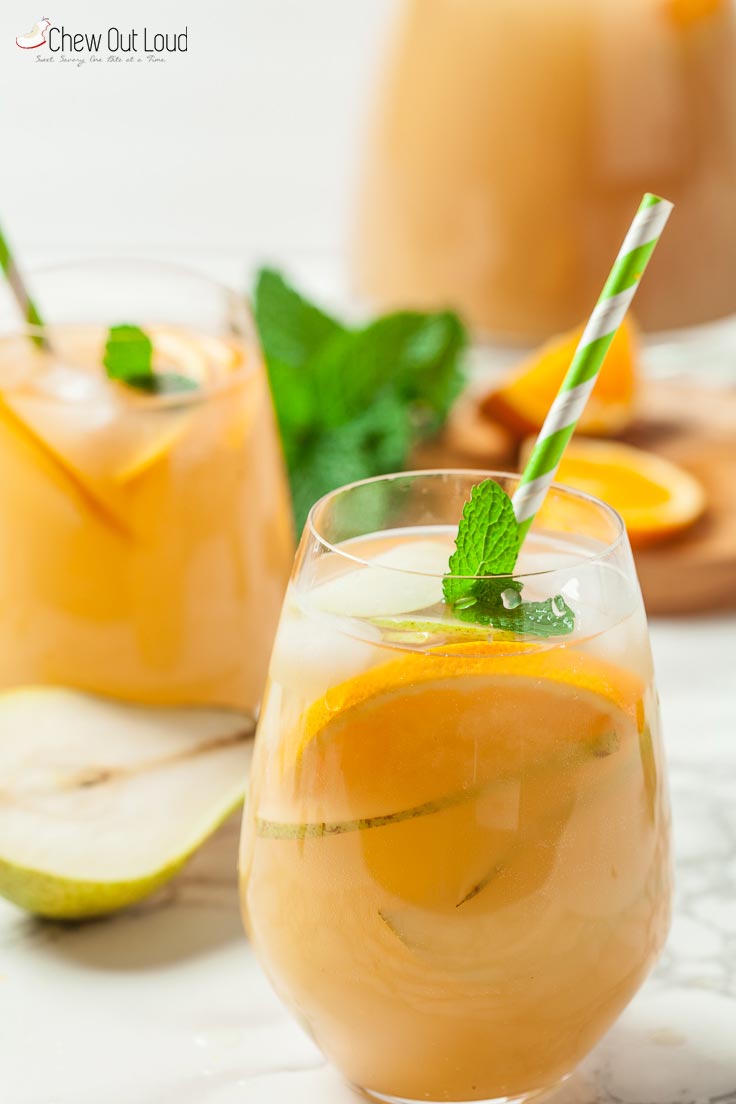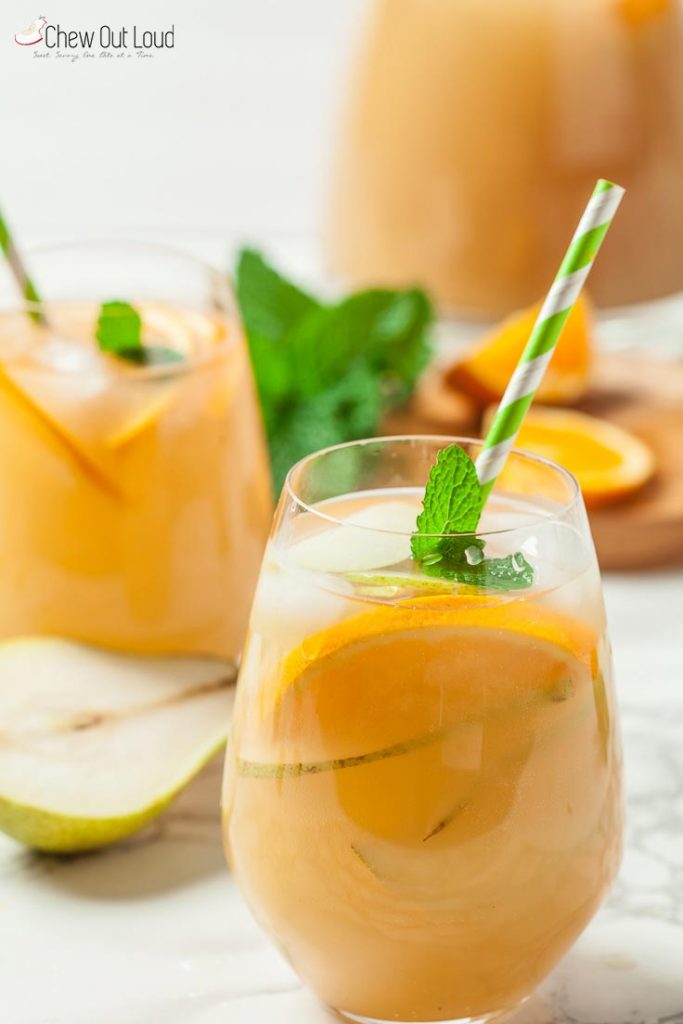 Easy Sangria – Ginger Pear
Several years ago, our Biggest Little went out of town for a weekend of dirt biking and other fun adventures with Hubby. Part of their excursion included a visit to an epic candy shop.
My boy came back with a concoction of sweets for his brothers. Then he unwrapped a special tin of ginger-pear candies for me. Heart melt. The boy knows I'm smitten with all things dark chocolate and anything gingery. I still have that empty tin.
Ginger pear is a classic taste bud combination and it's one of my favorites. From candy to tea. From cake to sangria.
Let's camp a bit on that last one and sing praises for sangria, shall we? Many people favor sangria over all other cocktails. I get it…200% get it.
Sangria can be red or white. Dreamy or lighthearted. Fruity, crisp, or sparkly. It's the versatile, fun, and make-ahead drink.
The make-ahead part is always my favorite part. I prefer to relax and mingle, rather than stress over mixing drinks while holding conversations at the same time. I'm just not that talented.
Here's how we pre-make this easy, delicious Ginger Pear Sangria…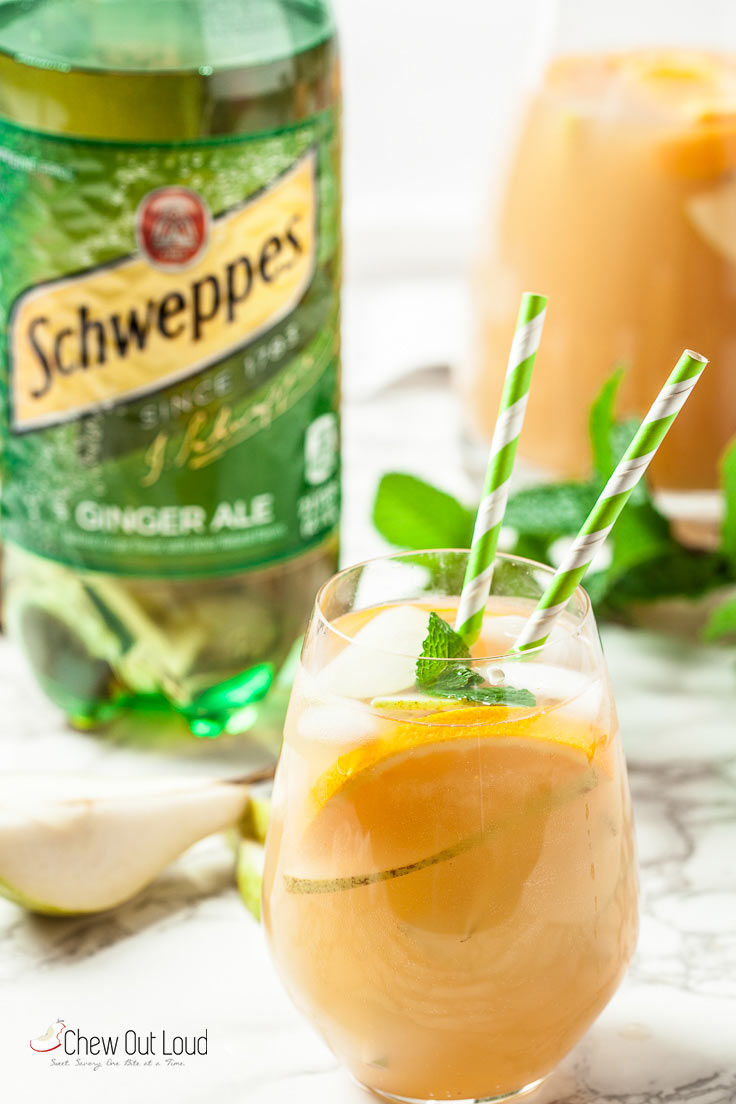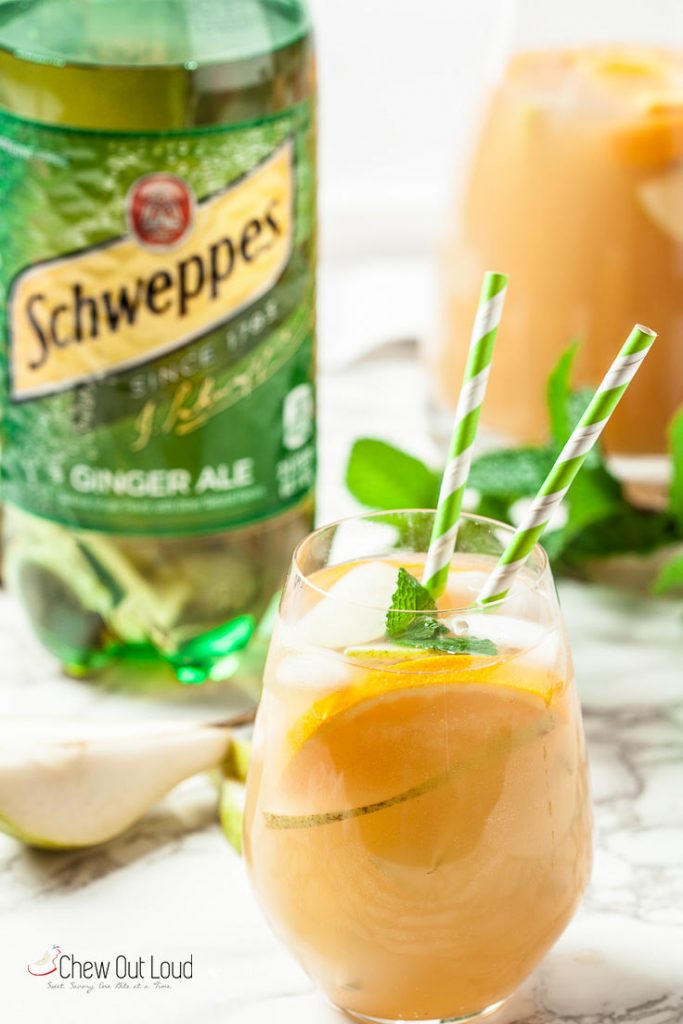 Can be prepped ahead
All you need to make this sparkling Ginger Pear Sangria is a handful of ingredients, including a bottle of fruity Riesling, pear juice, and a good ginger ale.
Feel free to use your favorite ginger ale for this recipe; the ginger ale goes in last. Everything else can be mixed up several hours ahead of time. This is one amazing Ginger Pear Sangria that will be a win at all the sparkly gatherings this season.
I can't wait for y'all to try this delicious bevie. Make it for your friends, for the parties, and for yourself. It'll be an instant hit wherever it goes. Just be prepared for people to request "your sangria" every year from this day forward.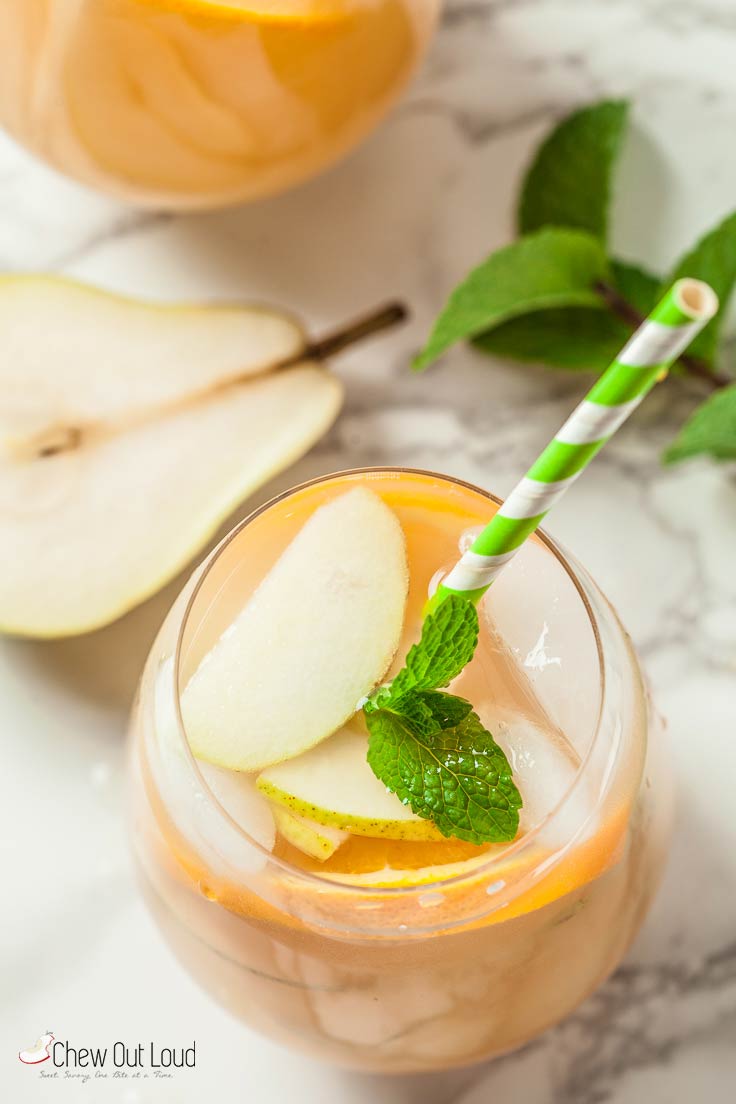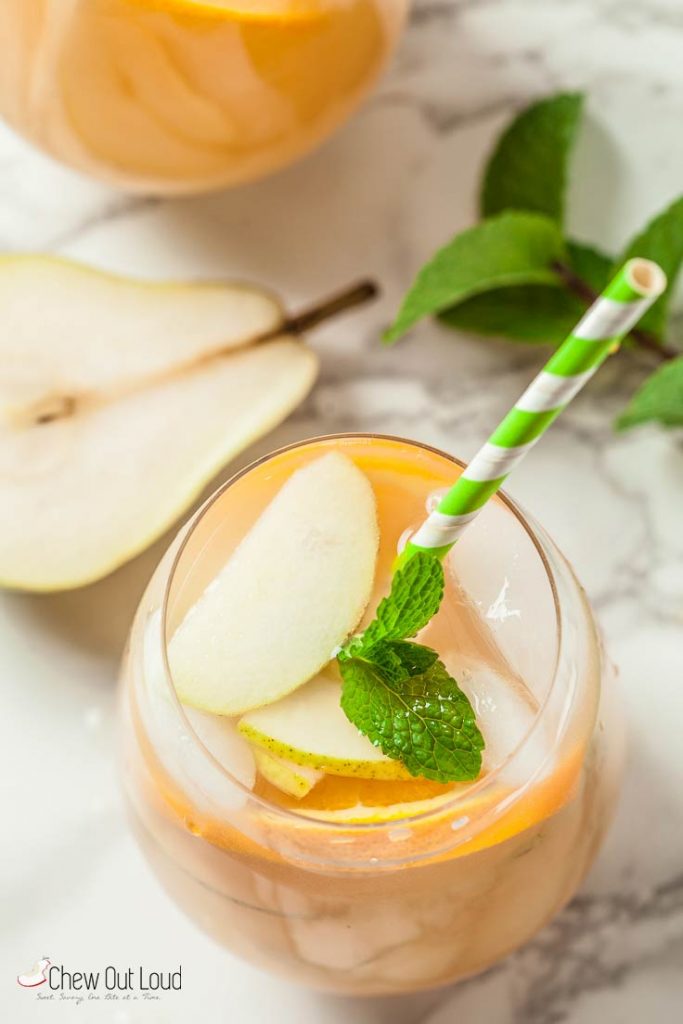 Did you make this?
Please give us a rating and comment below. We love hearing from you!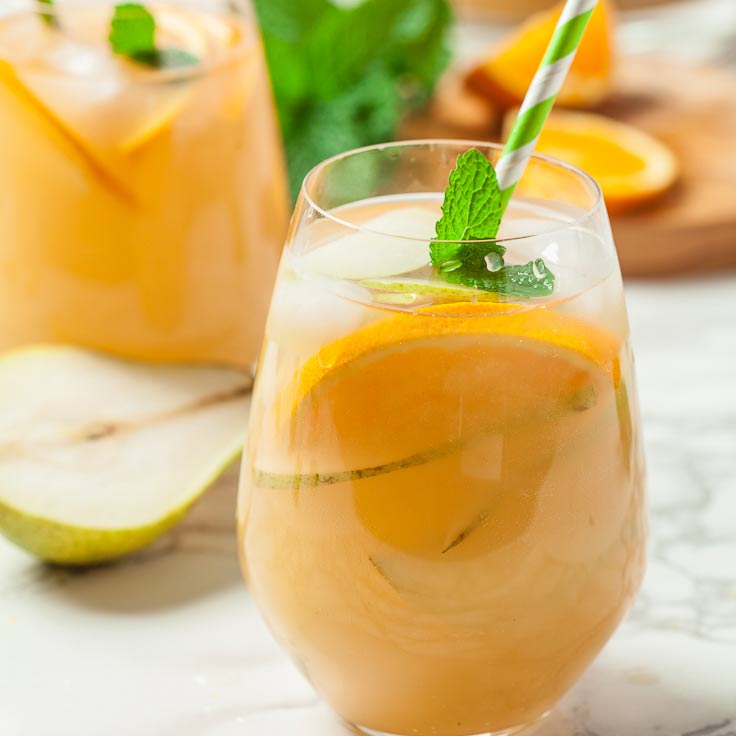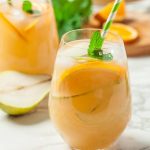 Easy Ginger Pear Sangria Recipe
This Ginger Pear Sangria Recipe is super easy, crispy, and delicious! It's perfect for gatherings, as you can easily make a pitcher several hours before guests arrive. It's an absolute crowd pleaser.
Ingredients
1

bottle

Riesling

,

750 ml, fruity, moderately sweet

1 ½

cups

100% pear juice

1

cup

Cointreau

1

semi ripe pear

,

thinly sliced pieces*

1

large

orange

,

thinly sliced pieces

3

cups

Ginger Ale

Optional: 1 tsp ginger powder
Instructions
In a serving pitcher, add Riesling, pear juice, Cointreau, and powder ginger (if using.) Stir well to incorporate. Cover and chill 2-4 hours, up to overnight. Add a few pieces of pear and orange to the pitcher 1 hour before serving; continue to keep chilled.

When ready to serve, give it a good stir. Slowly add ginger ale. Fill individual glasses with some ice, pour Sangria into glasses, and serve with remaining pears and oranges.
Notes
* Fruits can be sliced ahead of time. To prevent pears from browning, sprinkle with lemon juice and keep in airtight container until ready to use.
Nutrition (per serving)
Calories:
110
kcal
|
Carbohydrates:
19
g
|
Protein:
0.2
g
|
Fat:
0.1
g
|
Saturated Fat:
0.03
g
|
Polyunsaturated Fat:
0.04
g
|
Monounsaturated Fat:
0.02
g
|
Sodium:
8
mg
|
Potassium:
92
mg
|
Fiber:
1
g
|
Sugar:
17
g
|
Vitamin A:
38
IU
|
Vitamin C:
19
mg
|
Calcium:
13
mg
|
Iron:
0.2
mg