Best Sangria (Which Ingredients and Wine to Use)
By Amy Dong
Published Jun. 29, 2023
Updated Jul. 13, 2023
This is everyone's favorite Sangria for a reason. It boasts a gorgeous deep red hue with plenty of fresh fruits. This make-ahead recipe allows you to relax and enjoy your gathering.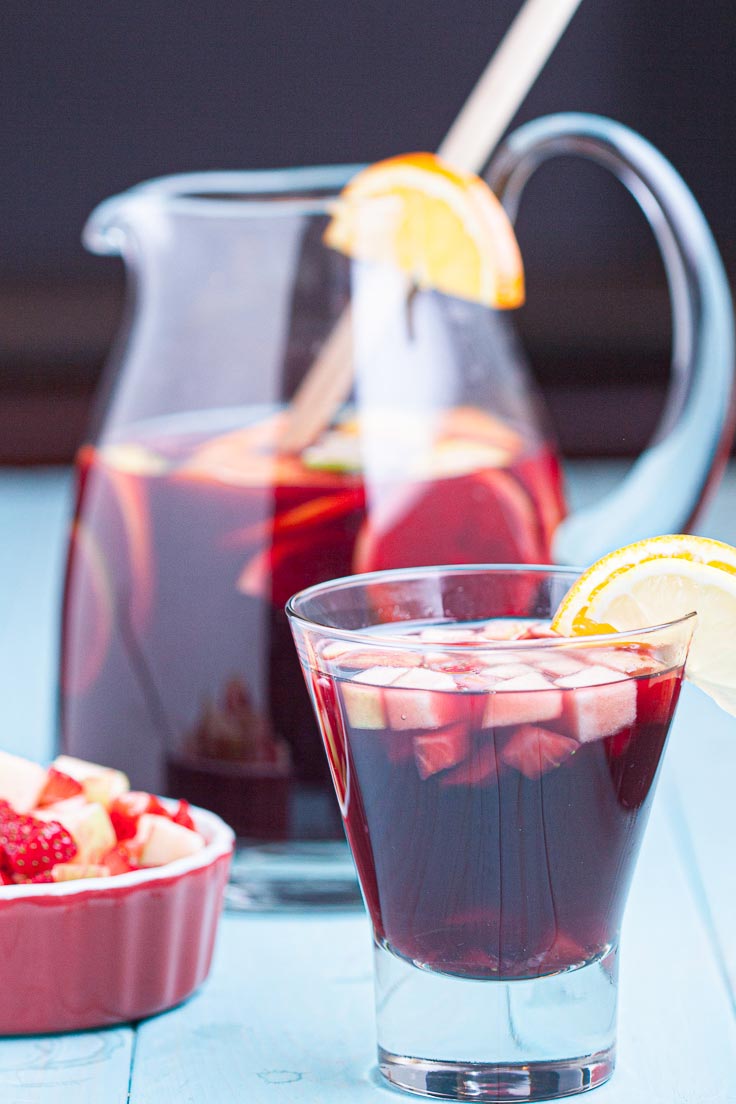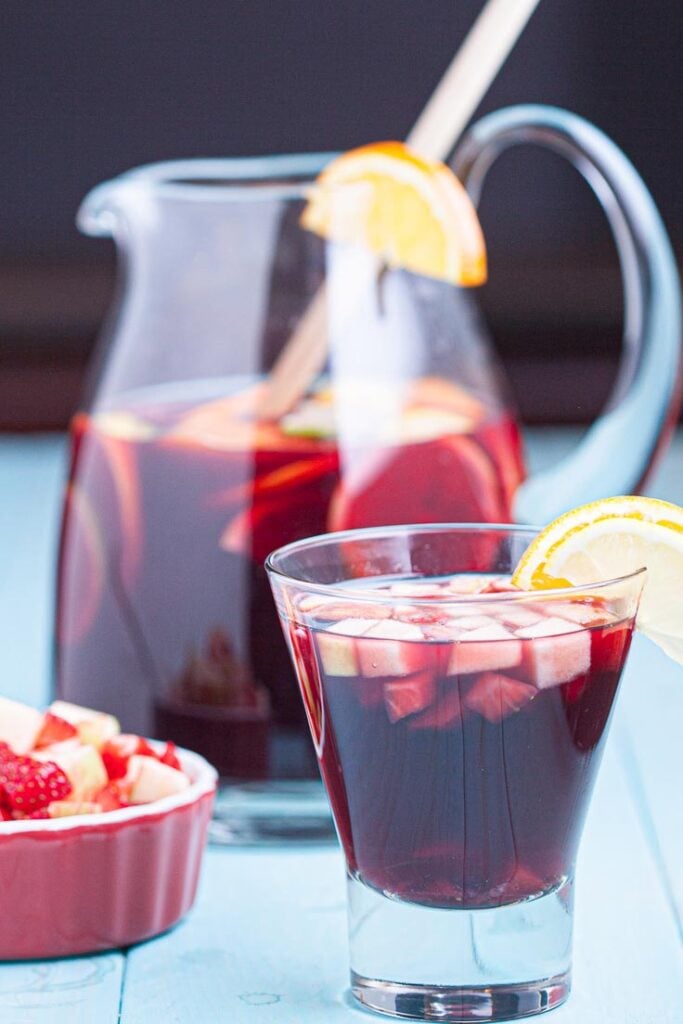 What is Sangria?
Common in Spain and Portugal, Sangria is typically a beautiful dark red beverage that consists of red wine, sweeteners, additional spirits, and a mixture of freshly chopped fruits. It's a favorite drink served in restaurants and gatherings throughout the year.
Sangria recipes vary quite a bit by the region, which is the reason there are a plethora of sangria ingredients that can be used. A red wine (typically Rioja) is the base of a traditional sangria, though white sangria recipes are now common as well.
It's not hard to get why sangria is one of the most popular drinks in the Spanish cuisine; it's extremely fun, versatile, and just 100% delicious. Nobody will complain when you pour them a glass of the best Sangria they've ever tasted.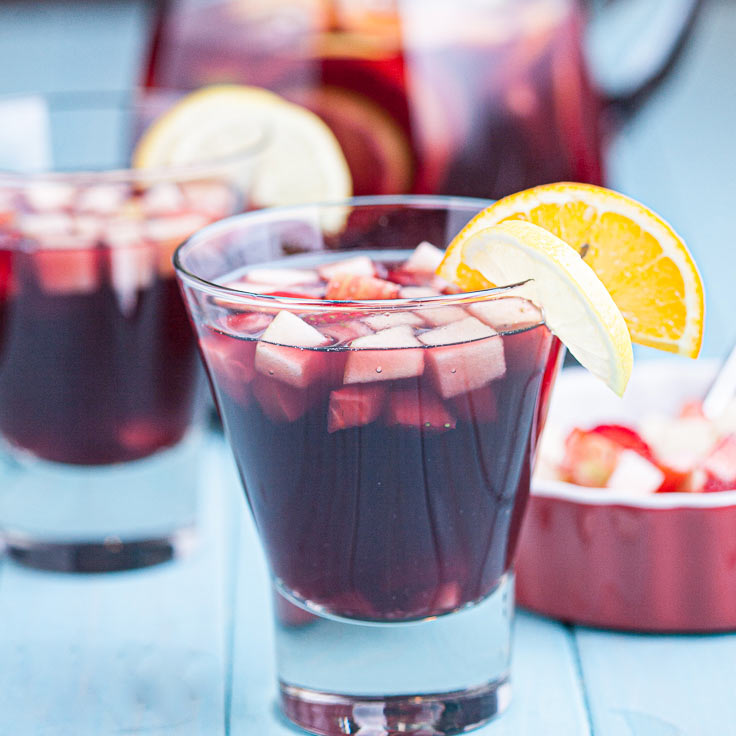 sangria ingredients
This Sangria comes after much taste testing and sharpening to perfection. We've added, subtracted, and experimented. The result is this tasty, fruity, and refreshing Sangria that people can't get enough of.
The ratios of sweeteners, juice, and liquor should remain consistent in this recipe. The fresh fruit, you can freely experiment with, aiming for what's in season.
Citrus: sliced rounds of lemon, orange, and lime are not only pretty, but lend wonderfully bright flavors to your punch. Do remove the seeds prior to using.
Spirits: orange-based liquors are common in sangria. A mixture of brandy (cognac) and Cointreau (triple sec) brings fabulous flavors. If you only have one kind of orange liquor, you can just use the one, if you prefer.
Wine: a bottle of dry red wine is the basis of this cocktail – details on this below.
Juices: a combination of pure orange and lemon juices enliven this festive punch and provide sweetness; stay away from artificial juices.
Fruits: strawberries, apples, oranges are an ideal combination for color, texture, and flavor. You can also use other fruit such as pineapples or peaches. These should be added just before serving.
Soda: for that bit of festive fizz, top off the sangria with lemon-lime soda. Sparkling water is also an option, though it'll be less sweet and tends to be less bubbly.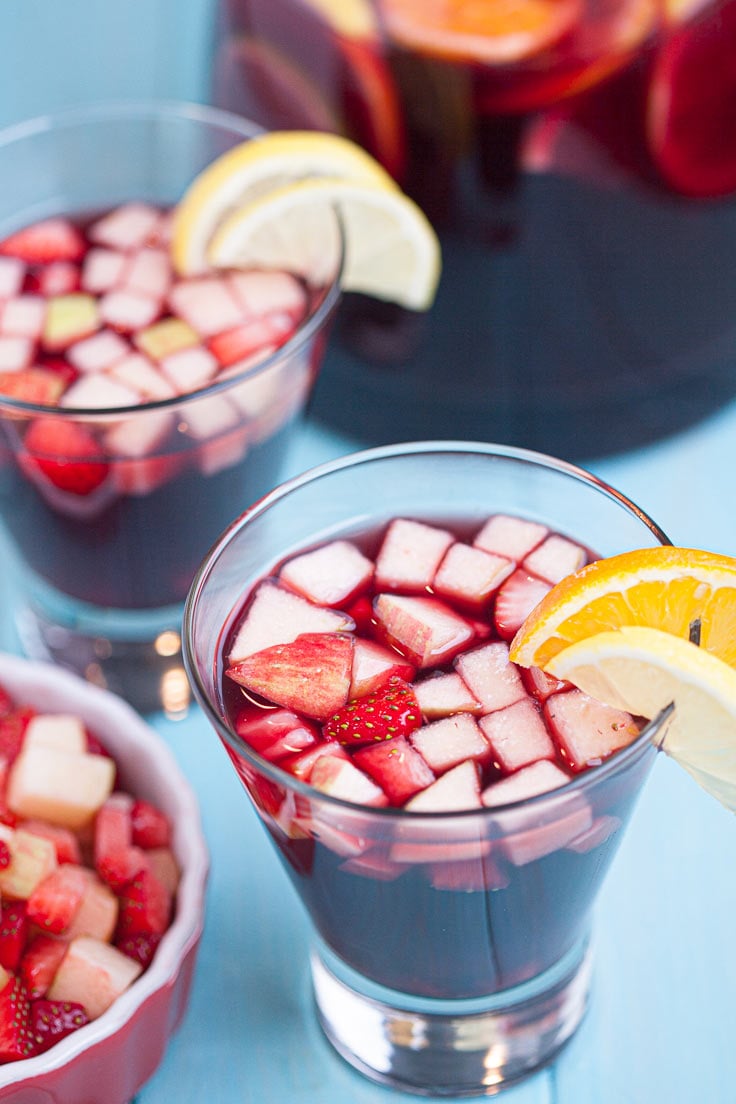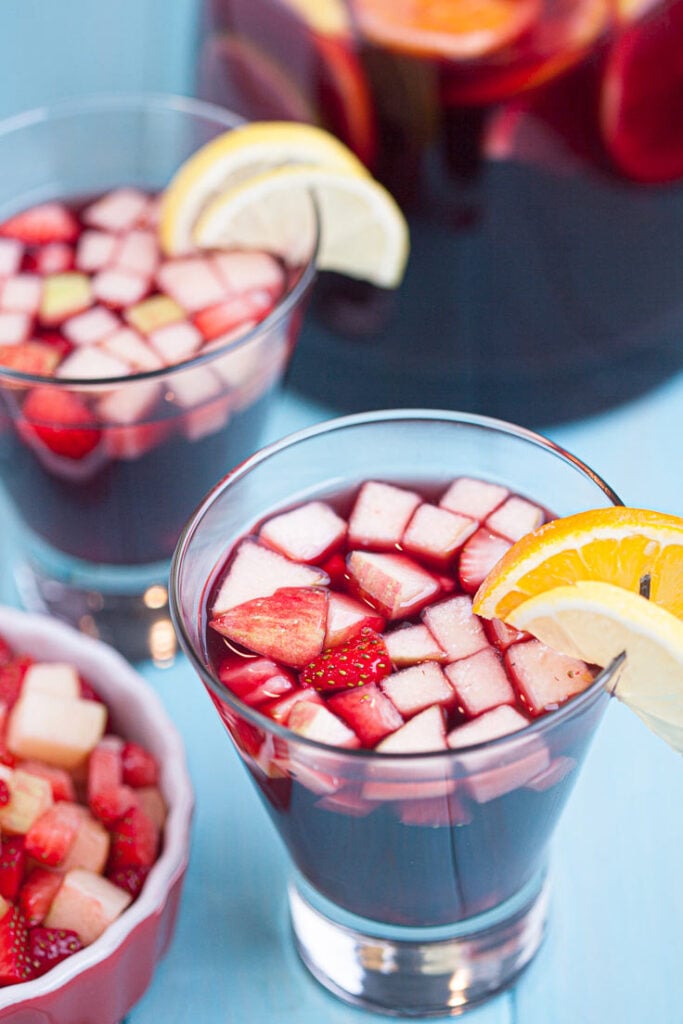 Type of Wine
Here's an occasion where you absolutely do not have to spend much for a red wine that works. Because sangria is infused with other spirits and juices, you can get away with an inexpensive red wine. Use an affordable red wine that you enjoy drinking on its own.
Rule of Thumb: if the red wine is fruity and tastes great by itself, then that's the one to use. The key is fruity and low in tannins…nothing bitter nor astringent. (As a general rule, never cook or mix anything with a wine you don't actually like.)
Examples of Wines to Use:
Garnacha/Grenache reds are typically ripe and fruity
Malbec is an Argentinian wine that tends to be deep red, fruity, and easy-drinking
Merlot is an easy-to-find option that's generally soft and fruity
Tempranillo is a full bodied Rioja that works well in red Sangria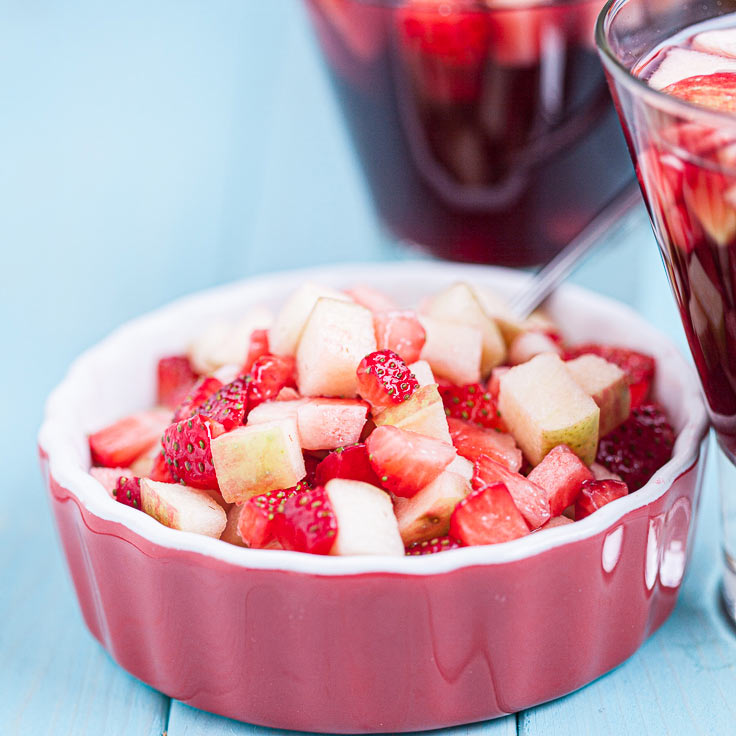 ---
Commonly Asked Questions
What is Sangria?
Sangria is a popular alcoholic beverage originating from Spain. It is typically made by combining red or white wine with chopped fruits, sweeteners, and a splash of brandy.
Can I make sangria with non-alcoholic wine?
Yes, you can make a non-alcoholic version of sangria by using non-alcoholic or dealcoholized wine. Simply substitute the alcoholic wine with your preferred non-alcoholic alternative, and proceed with the recipe as usual. Keep in mind that the taste might be different compared to traditional sangria, though it should still be delicious.
What fruits are commonly used in sangria?
Sangria typically includes a variety of fruits to add flavor and a refreshing touch. Common fruits used in sangria are oranges, lemons, limes, apples, berries (such as strawberries, blueberries, or raspberries), or peaches. Feel free to experiment with different fruits based on your preference and seasonal availability. We love keeping it simple, too!
Can I make sangria in advance?
Yes, sangria is often prepared in advance to allow the flavors to meld together. It is recommended to let the sangria sit in the refrigerator for at least a few hours or overnight to allow the fruits and other ingredients to infuse into the wine. This enhances the overall flavor and makes it more intensely fruity!
More to Enjoy
---
Did you make this?
Please give us a rating and comment below. We love hearing from you!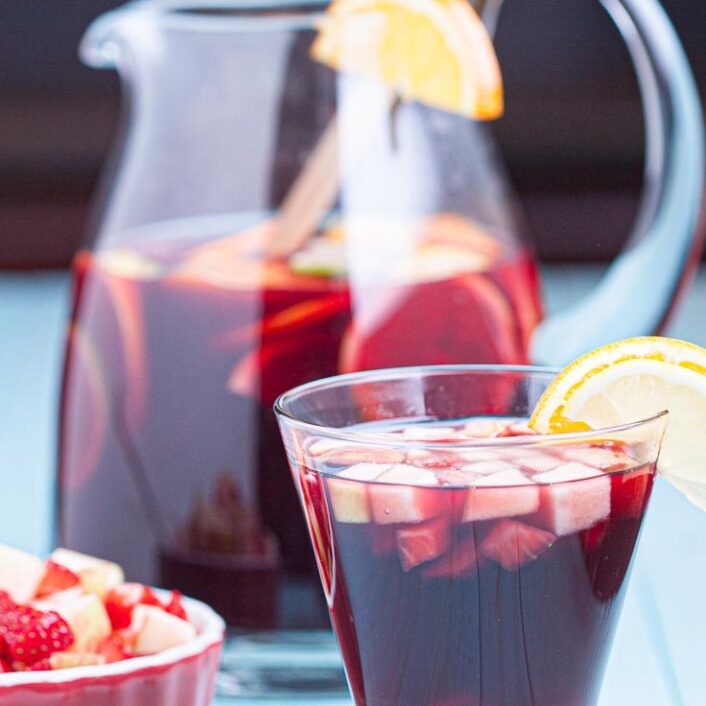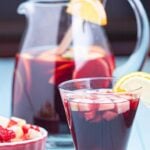 The Best Sangria
This is The Best Sangria for good reason. It is a perfection blend of juices, fruits, and wine. The liquids and citrus can be mixed up the night before and chilled overnight for best infused flavor. Add chopped fruits the day you're serving.
Ingredients
1

lemon

,

sliced into rounds with seeds removed

1

orange

,

sliced into rounds with seeds removed

1

lime

,

sliced into rounds with seeds removed

½

cup

Cognac

,

brandy

½

cup

Cointreau

,

triple sec

1

bottle

dry red wine

⅓

cup

orange juice

,

pulp-free

¼

cup

lemon juice

,

freshly squeezed

⅓

cup

frozen lemonade concentrate

Chopped fruits: Strawberries

,

apples, oranges (add just before serving)

2

cups

lemon-lime soda

,

add just before serving
Instructions
Combine: In a large pitcher or punch bowl, combine all ingredients (except for lemon-lime soda and chopped fruits). Stir well to incorporate and chill in fridge overnight.

Fruit: About an hour or two before serving, add desired amount of chopped fruit.

Soda: Right before serving, add the lemon-lime soda.

Garnish: Reserve some chopped fruit in a dish as garnish, for guests to add into their drinks as they wish.
Notes
Though chilling overnight results in the most complex flavors, you can chill sangria for a minimum of 4 hours.
Feel free to use various seasonal fruits, such as pineapple, pear, or peaches.
If you enjoyed this recipe, please come back and give it a rating ♡
Nutrition (per serving)
Serving:
1
serving
|
Calories:
188
kcal
|
Carbohydrates:
22
g
|
Protein:
1
g
|
Fat:
0.2
g
|
Saturated Fat:
0.03
g
|
Polyunsaturated Fat:
0.04
g
|
Monounsaturated Fat:
0.01
g
|
Sodium:
7
mg
|
Potassium:
121
mg
|
Fiber:
1
g
|
Sugar:
17
g
|
Vitamin A:
71
IU
|
Vitamin C:
32
mg
|
Calcium:
16
mg
|
Iron:
0.2
mg