Rainbow Layered Jello
By Amy Dong
Published Jul. 6, 2012
Updated Sep. 8, 2023
Rainbow layered jello is unbelievably fun to make and eat. Change up the colors and flavors to suit any occasion throughout the year.
Rainbow Layered Jello
Jello may typically be touted as kids' food, but this layered jello is beloved even by the grown-ups. I like to make rainbow layered jello almost every year, and my favorite color combo is the one I made this Independence Day: red, white, and blue. The colors pop and the flavor rocks!
The fun thing about this finger jello? You can unleash the kid in you, and experiment with cookie cutters and all sorts of shapes. I'm showing squares here, but circles and stars are great too!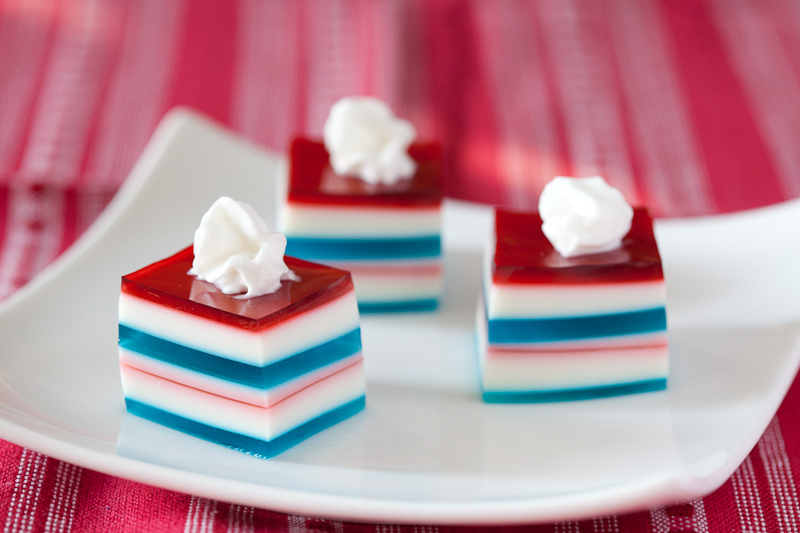 With its vibrant colors and smooth textures, this rainbow layered Jello is a treat everyone will adore. See if you can resist the urge to pull apart the layers!
Did you make this?
Please give us a rating and comment below. We love hearing from you!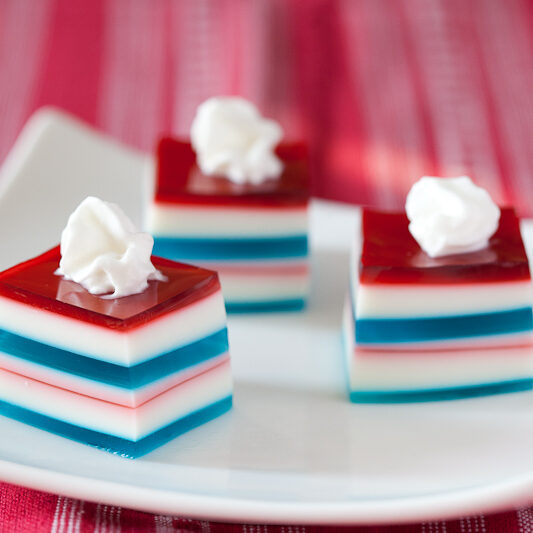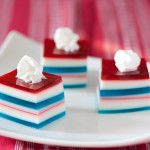 Rainbow Layered Jello
Rainbow layered Jello is incredibly fun to make and eat. Vary the flavors and colors to suit any occasion of the year.
Instructions
Dissolve 2 envelopes of Knox gelatin with 2 cups of boiling water in a bowl. Mix with sweetened condensed milk. Mix well, and set aside. Will be approximately 3 cups.

Divide the 4 boxes of Jello into 4 separate bowls. Add 1/2 envelope of Knox gelatin to every bowl. Add 1 cup of boiling water to every bowl and stir the mixtures until well dissolved.

Spray a 13×9 pan lightly with oil. Carefully pour 1 bowl of jello mixture into pan. Place pan in freezer, making sure it's level, 8-10 minutes for the first layer, just until there is a light fingerprint when you touch the top.

Pour 1 cup condensed milk mixture on top, and freeze for 7 minutes.

Continue layering and freezing for 7 minutes for each layer. Don't freeze too long between layers or they will not stick together as well.

If needed, microwave bowls of jello in 10-20 second increments, to keep from coagulation while you wait for each layer.

Once layers are done, cover and chill in fridge until fully set. Slice into squares with a sharp knife and serve on a platter, if desired.
Notes
If you enjoyed this recipe, please come back and give it a rating ❤️
Nutrition (per serving)
Serving:
1
serving
|
Calories:
43
kcal
|
Carbohydrates:
7
g
|
Protein:
1
g
|
Fat:
1
g
|
Saturated Fat:
1
g
|
Polyunsaturated Fat:
0.04
g
|
Monounsaturated Fat:
0.3
g
|
Cholesterol:
4
mg
|
Sodium:
17
mg
|
Potassium:
49
mg
|
Sugar:
7
g
|
Vitamin A:
35
IU
|
Vitamin C:
0.3
mg
|
Calcium:
38
mg
|
Iron:
0.03
mg