Easy Homemade Almond Jello
We used to rely on occasional trips to the Chinese market to stash up on our supply of prepared Almond Jello packets. No longer. It couldn't be easier to make your own homemade Almond Jello at home, using pure and simple ingredients you feel great about. If you haven't tried Almond Jello yet, this is your moment.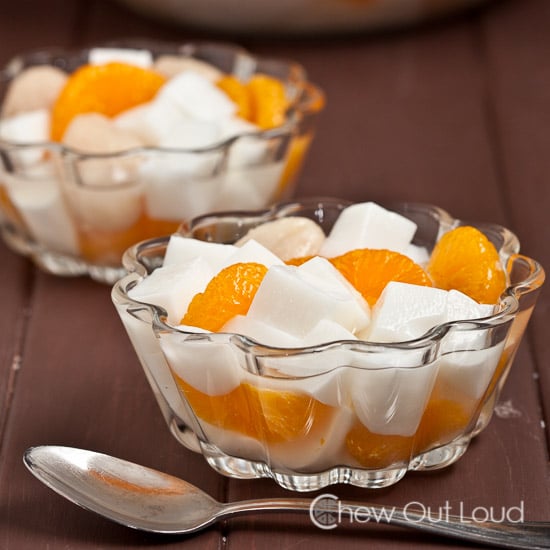 This one brings me back to the olden days of my youth.
My 10-year-0ld has officially coined my childhood days as way back then.
I'll embrace it. Hubby and I are gettin' old. But I still can eat like a kid, and I'll devour Jello with the best of 'em.
But not ordinary Jello. It has to be Almond Jello.
Almond Jello offers a throwback to childhood every time I eat it. If you've had Almond Jello, you know it's like gelatin nirvana. It's in a crazy good category way above the red/green/blue stuff.
If you haven't tried almond jello? Taste, just taste it. And never turn back…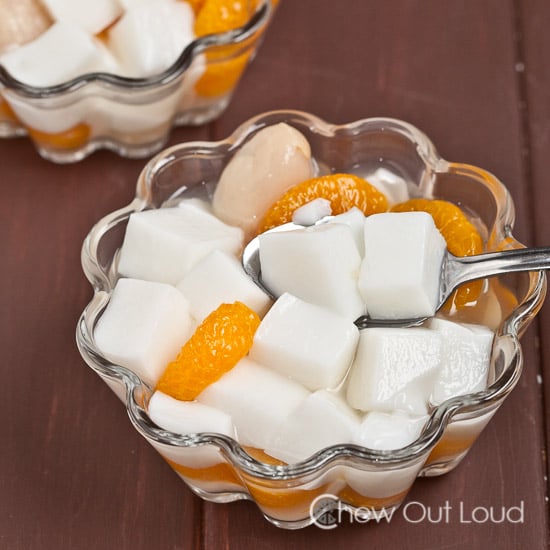 My dad used to make homemade Almond Jello for us kids often. He had the perfect recipe for it. Except his recipe was written in Chinese characters on a tattered old slip of paper taped onto the inside of his pantry door.
And that recipe has long since disappeared to nowhere land. Plus I can't read Chinese. Yeah.
So I did my google search and tried out a couple of promising looking Almond Jello recipes. None worked out quite the way I envisioned.
So the only thing left to do was tinker with gobs of gelatin in my kitchen until we got it just right. This here? This recipe comes after batches of Almond Jello, working until we got it just right.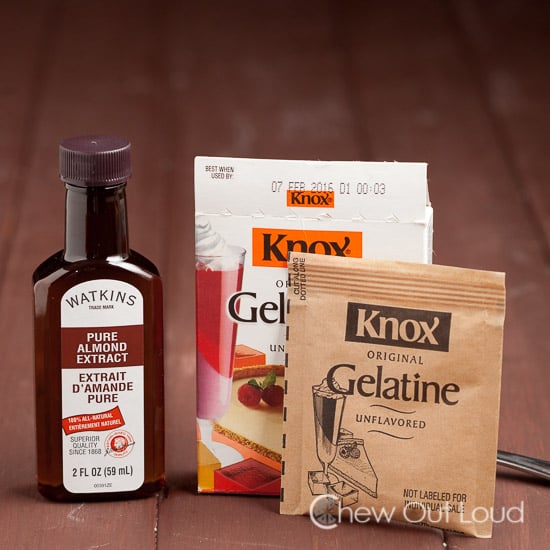 We fitzed with sugar amounts until the jello was sweet yet not overbearingly sweet.
We adjusted the amount of pure unflavored gelatin vs. liquid ratio until we came up with a finished Jello that was firm enough to be a finger jello. It should stand up to cutting into bite size squares and gently tossing with favorite fruits.
Classically, Chinese Almond Jello is served with fruit cocktail. But really, does anyone love fruit cocktail? No judgment if you raised your hand. The Littles around here would happily join you.
My personal favorite fruit combination, however, is simply lychees and mandarin oranges. The flavor combo is exotic and delicious.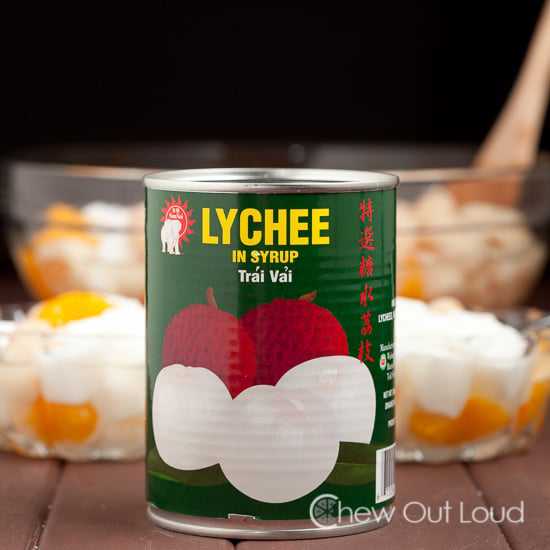 This Almond Jello is so easy, even kids can do it. In fact, my 10-year-old is the one who made our last batch. His proud creation was gobbled up in about 4 minutes.
It's just how I remember it when my dad used to make it for us… inhaled within minutes.
Guess things aren't that different today than they were way back then.
Did you make this?
Please give us a rating and comment below. We love hearing from you!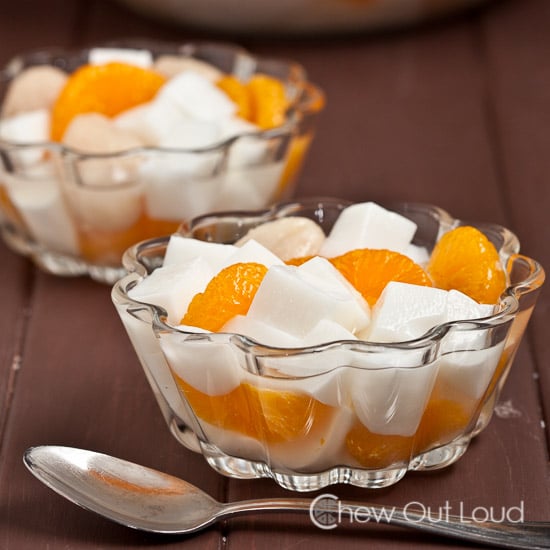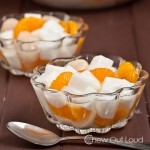 Easy Homemade Almond Jello
Forget the store-bought packets of almond jello powder. Make your own homemade almond jello, with just 4 pure ingredients! It's too easy to pass up. This homemade version is sweet, almond infused, and firm enough a finger jello. If you like your jello a bit softer, add a bit more milk.
Ingredients
1 ⅔

cup

boiling water

2

envelopes

,

.25 oz each plain gelatin (I use Knox)

½

cup

granulated sugar

4

tsp

pure almond extract

½

cup

cold whole milk

Optional: Lycheese

,

mandarin oranges, mangoes, or your favorite tropical fruits
Instructions
Pour boiling water into a bowl and whisk in the gelatin to fully dissolve. Add sugar and gently hand-whisk to dissolve. Add almond extract and whisk. Add milk and whisk.

Pour into an 8x8 or similar sized dish. Chill 2-3 hours or longer.

When completely set, cut into squares and serve with your favorite fruit. We love lychees, ripe mangoes, or mandarin oranges.
Nutrition (per serving)
Calories:
138
kcal
|
Carbohydrates:
27
g
|
Protein:
4
g
|
Fat:
1
g
|
Saturated Fat:
1
g
|
Polyunsaturated Fat:
0.03
g
|
Monounsaturated Fat:
0.2
g
|
Cholesterol:
4
mg
|
Sodium:
19
mg
|
Potassium:
53
mg
|
Sugar:
27
g
|
Vitamin A:
49
IU
|
Calcium:
40
mg
|
Iron:
0.1
mg
Source: Chew Out Loud
Here's another easy, refreshing sweet treat for the warmer days… in drink form. This Mango Smoothie is what blenders were made for.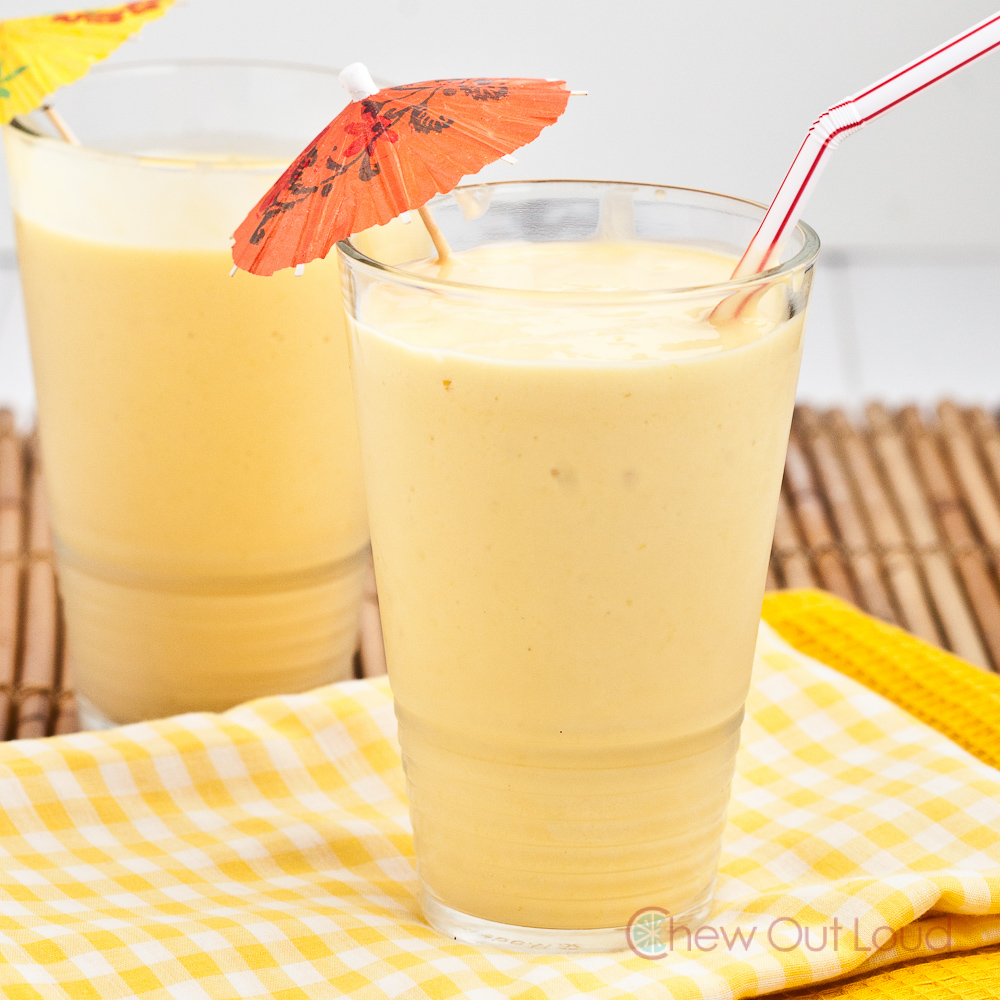 While we're talking smoothies, here's another tasty one. This Avocado Coconut Shake Smoothie is a popular Asian drink that is making a wave everywhere.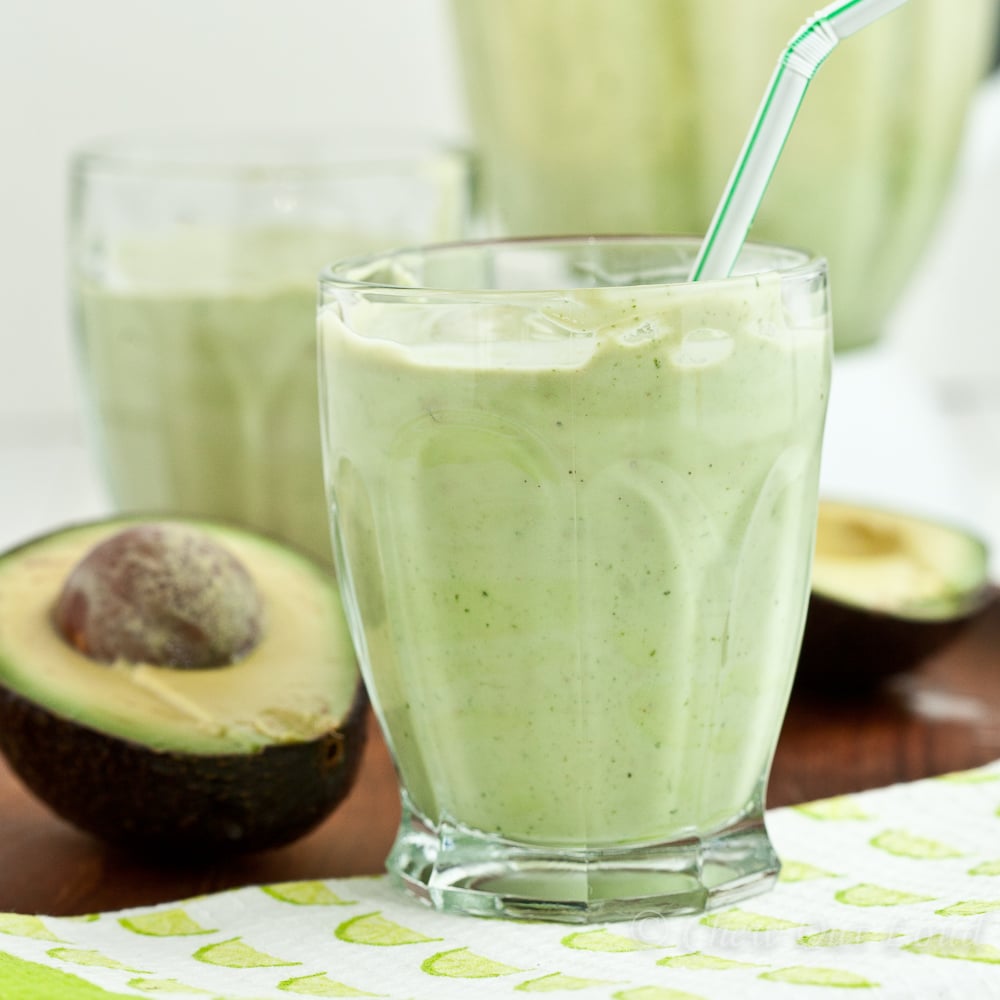 This sweet and pure Yogurt Honey Dip is awesome for treating that sweet tooth. Without ANY guilt at all.