Soft Funfetti Cookies
These Soft Funfetti Cookies are festive, delicious, and a plate of cheerfulness. The dough can be made ahead and chilled until ready to bake. Great way to bring on the fun!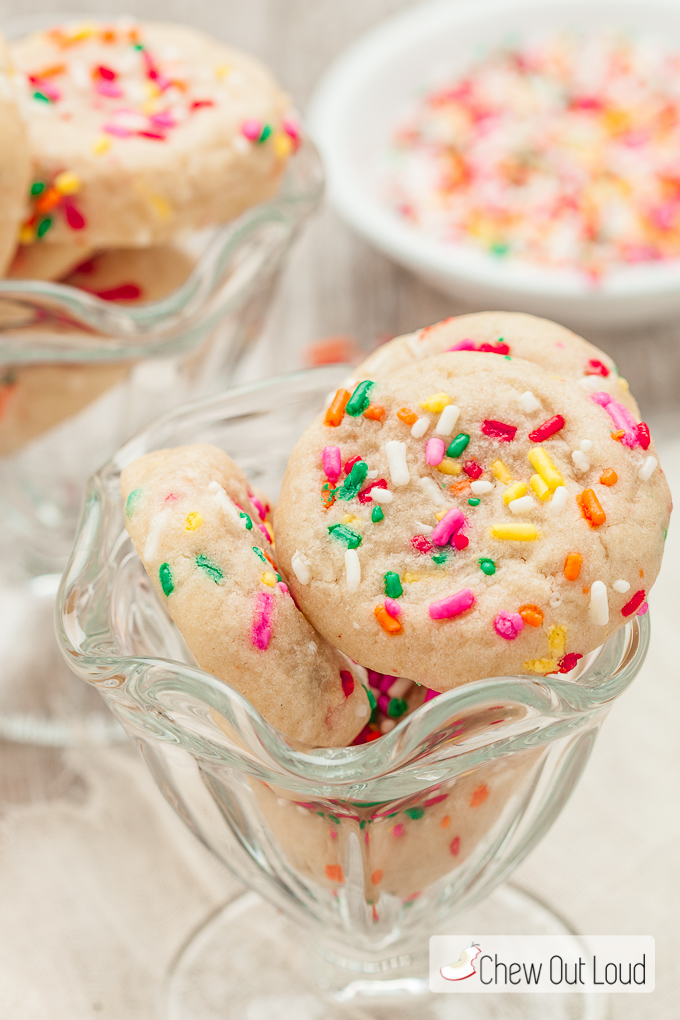 It's officially official. The last week of school is really and truly upon us. Even as I write, The Littles are enjoying their last week ever of being in Kinder, 3rd grade, and 5th grade.
This week is teeming with all sorts of bittersweet. The Biggest Little will clean out his locker for the final time and walk out of that elementary school permanently. The Littlest Little will hang his backpack in that cute little Kinder Building one final time. The Middle Little will say goodbye to the coolest teacher who's ever loved him.
Despite the bitter, there's plenty of sweet. Festivities are overflowing this roller coaster week…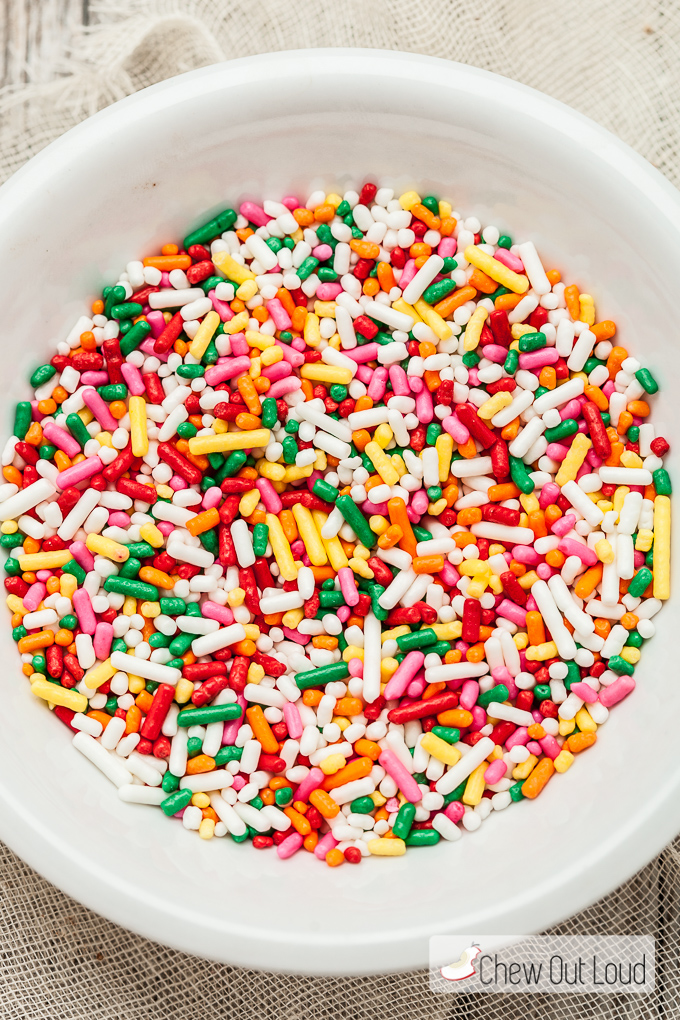 In the next few days, I'm bringing special lunches to eat with each of The Littles at school.
I'll show up on school grounds, toting the frowned-upon Golden Arches bag and maybe receive a few sideways glances from grownups when I bust out the fries that were not baked. I'll do this three times.
Such a rebel.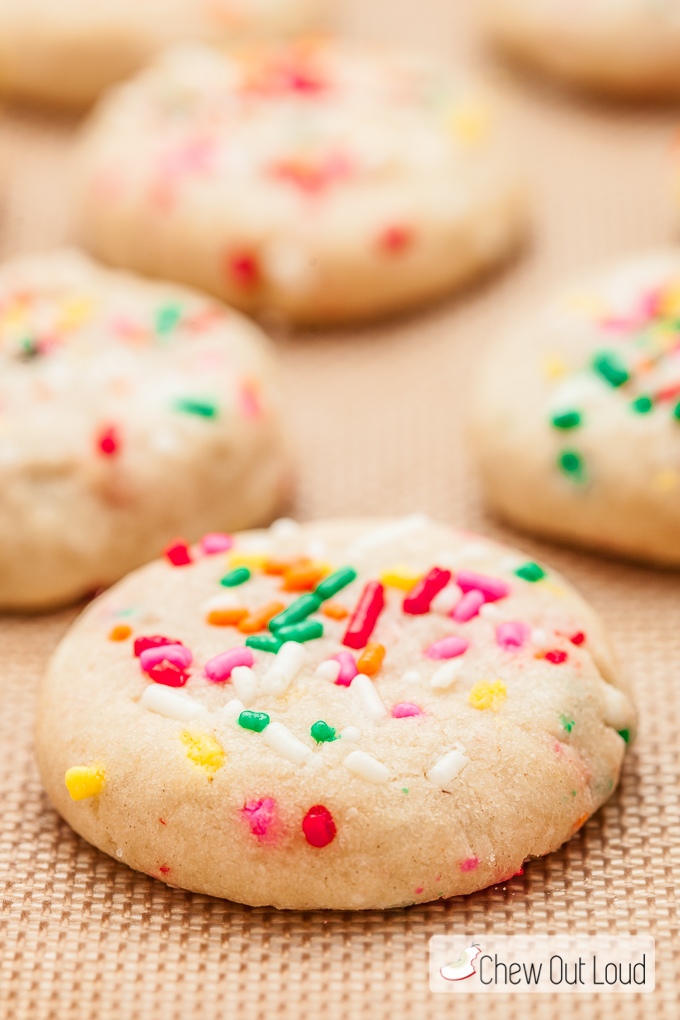 Hubby and I will, on separate days, lose a few hairs chaperoning classes of children at the zoo. We will likely need this at end of the day.
One of my Littles will host a big birthday bash with too many boys and too much cake.
I'll spend hours on campus scooping ice cream, manning relay races, or face painting…or all of the above.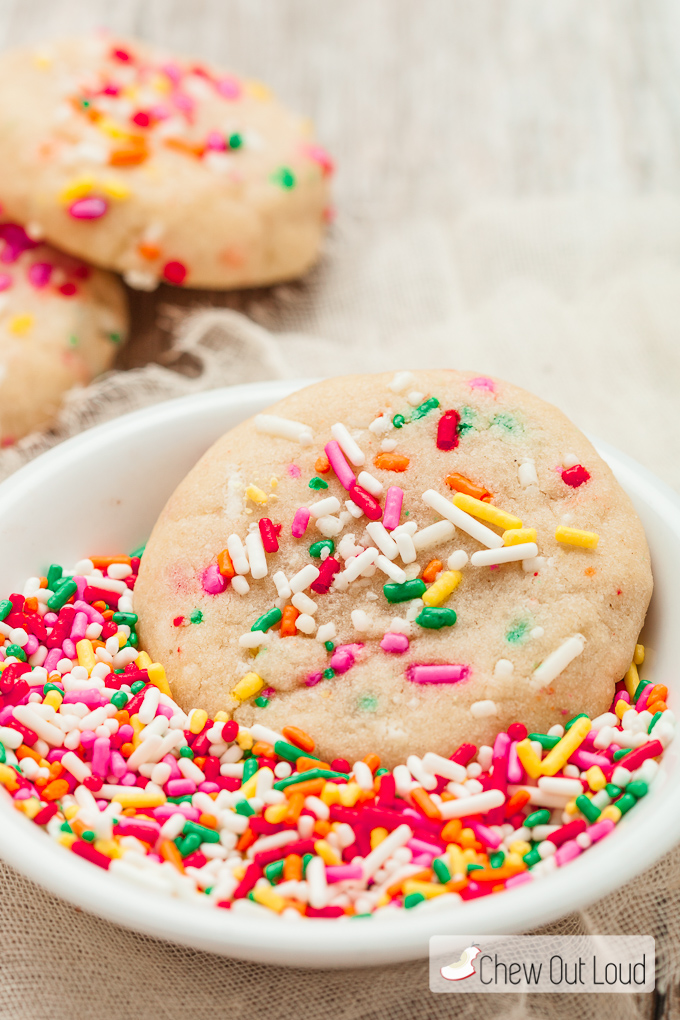 And come Friday afternoon, The Littles will storm through the door, backpacks overflowing with the year's artwork, photos, random leftover markers, and memories.
I can think of nothing better than a batch of soft funfetti cookies to share on such a celebratory week.
These cookies are deliciously buttery, melt-in-your-mouth soft, and just…happy.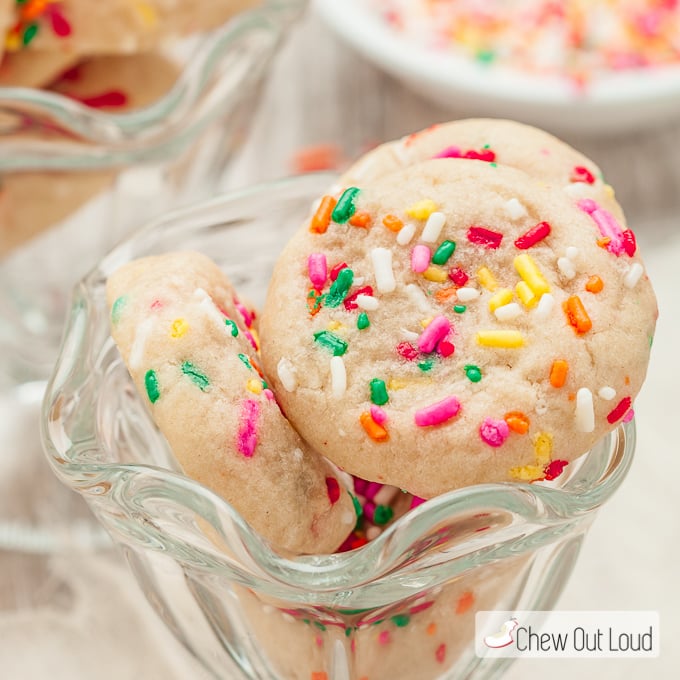 Here's to all the bittersweet moments, big and little. And to celebrating with sprinkles.
Enjoy!
Did you make this?
Please give us a rating and comment below. We love hearing from you!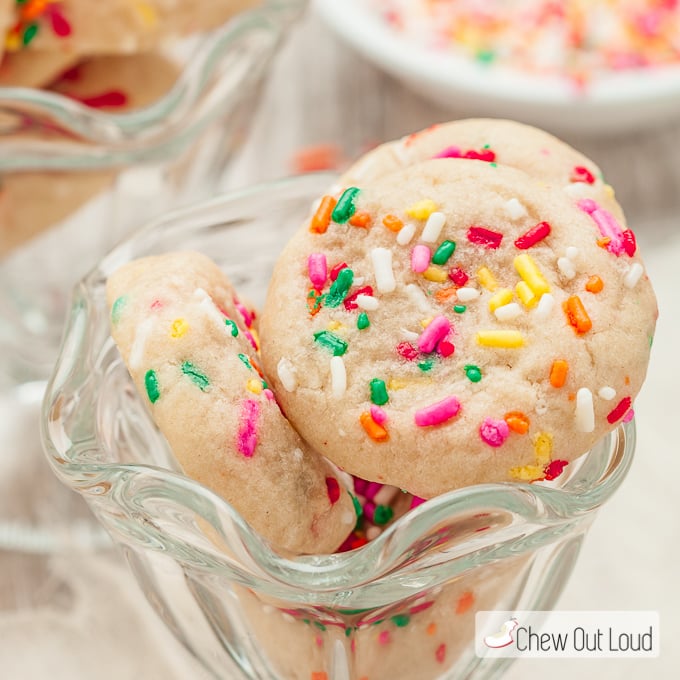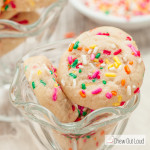 Soft Funfetti Cookies
These Soft Funfetti Cookies are easy to make and melt-in-your-mouth delicious! They're a great way to bring a little color and cheer into any occasion. Dough can be made ahead of time and chilled until ready to use.
Instructions
Preheat oven to 350, with rack on lower middle position. Line baking sheets with parchment paper.

In a bowl, whisk together the flour and baking powder. Set aside.

In the bowl of a stand mixer fitted with paddle attachment, blend the sugar and butter until light and fluffy, about 2 min. Add the egg and extracts and mix to fully incorporate.

Switch to low speed. Gradually add the flour mixture in 2 batches, beating just until combined, stopping to scrape down the sides and bottom of bowl as needed. Do not over beat.

The dough is a bit crumbly; Add desired amount of sprinkles into the dough, reserving some for sprinkling on top of each cookie if desired. Use your hands to work dough into a smooth ball. Cover tightly with cling wrap and chill at least 30 minutes or until ready to use.

Form dough into heaping 1 TB balls. Press down to flatten each ball a bit (into a thick disc.) Add more sprinkles to the tops of each cookie, if desired. Bake 9-10 min or until puffy and golden. Cool completely. Store in airtight container for up to 5 days.
Nutrition (per serving)
Calories:
166
kcal
|
Carbohydrates:
22
g
|
Protein:
2
g
|
Fat:
8
g
|
Saturated Fat:
5
g
|
Polyunsaturated Fat:
0.4
g
|
Monounsaturated Fat:
2
g
|
Trans Fat:
0.3
g
|
Cholesterol:
20
mg
|
Sodium:
97
mg
|
Potassium:
19
mg
|
Fiber:
0.4
g
|
Sugar:
10
g
|
Vitamin A:
237
IU
|
Calcium:
24
mg
|
Iron:
0.2
mg
Source: Chew Out Loud
Here are some other easy, fantastic tasting cookies for any day:
3-Ingredient Shortbread Cookies. Oh goodness, shortbread! It is the best cookie made of 3 ingredients, ever! All butter, no shortening. Tastes like a little bit of paradise. You can easily dec these up with sprinkles, should you so fancy!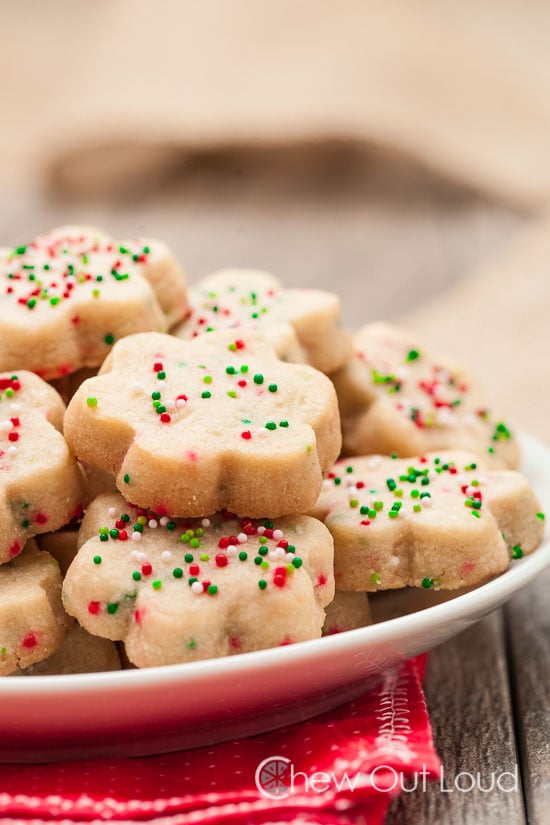 Buttery Jam Thumbprint Cookies. I love making these over the holidays, but they make appearances in our kitchen year-round. These are delicious little guys…chock full of your favorite jam flavors, and buttery soft!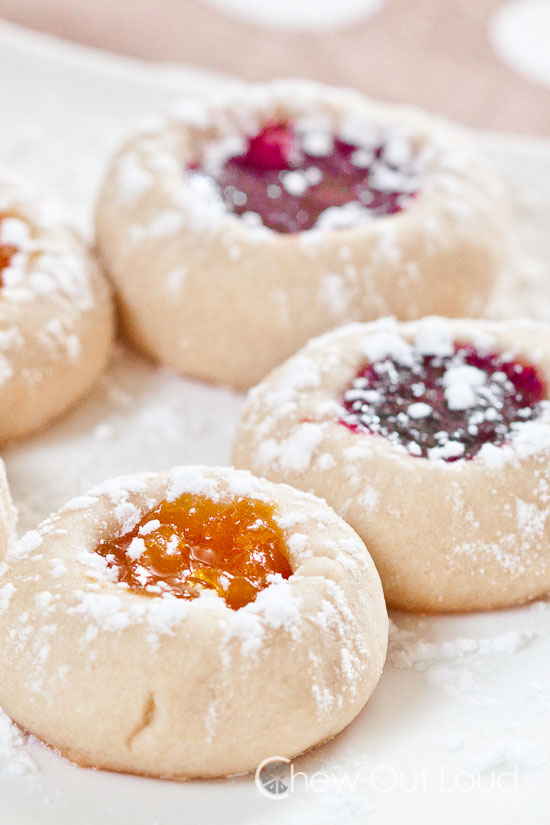 3.Chewy Chocolate Salted Caramel Cookies. These probably need no words. Just know they're full of chewy rich chocolate, drizzled with amazing caramel. That's all.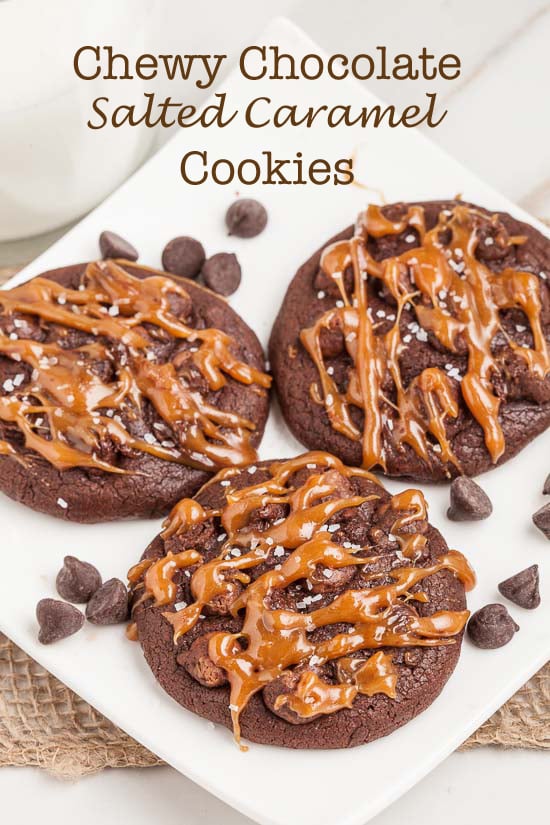 Chewy Chocolate Chip M&M Cookies. One of my favorites, both for kids and adults. Kids love M&M's. Adults love chocolate. Everyone loves a chewy thick cookie. Word.