Strawberry Cheesecake Hand Pies (pop tarts)
These adorable strawberry cheesecake hand pies (aka mini pop tarts!) are perfect for Valentines Day. Or change the shape to match whatever occasion you'd like! The wonderfully flaky, buttery crust encases a 3-ingredient strawberry cheesecake filling. These are seriously delish, and everyone will love 'em!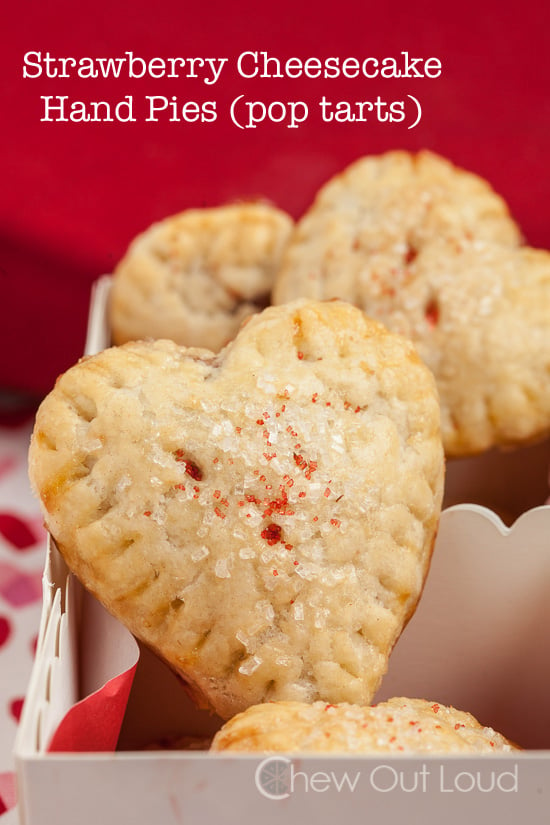 Ideally, these sweetheart pies would have been brought to you sooner. But better later than never. And these are SO worth waiting for. In fact, this recipe is such an awesome foundation that you can use it for making various shapes and sizes of hand pies to suit any occasion throughout the year!
I'm already thinking my next batch will be big, rectangular sized ones, similar to Pop Tarts. But these won't taste anything like the store variety, because homemade is always a zillion times better. I never buy boxed pop tarts, thanks to the paragraph of ingredients nobody can pronounce. So. Let's just make our own version, shall we?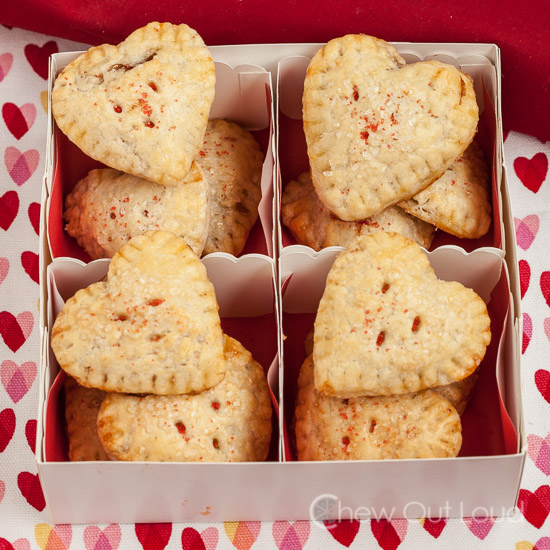 These strawberry cheesecake hand pies are so darn cute, they are perfect for giving away to friends, neighbors, or anyone in your life who deserves a special treat. They keep well overnight, so you have them all ready to go the night before, and confidently share them the next day.
I pretty much always use my beloved, easy, fail-proof pie dough for recipes that require pie dough. No plastic-wrapped, rolled up tubes needed. It only takes a few ingredients to make your own phenomenal pie dough, and there's just no substitute for the flaky, buttery, tender yet crispy crust that results from your labor of love. 🙂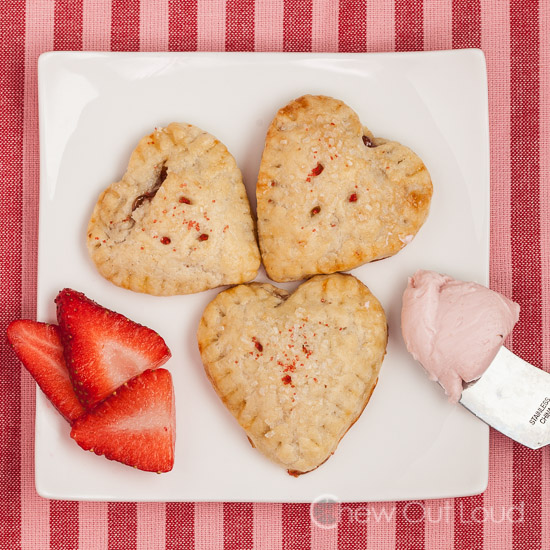 Yeah, this pie dough is going to knock your red socks off. It's fantastic for pies galore…big pies, mini pies, sweet pies, savory pies. And you can wrap and freeze extra dough, so it's ready to use in a jiffy next time! This I know by plenty of experience, and I love it.
The filling? It's a super simple, 3 ingredient filling that is reminiscent of strawberry cheesecake. All wrapped up snugly in said awesome crust. What's not to love about all that goodness?
Enjoy!
Did you make this?
Please give us a rating and comment below. We love hearing from you!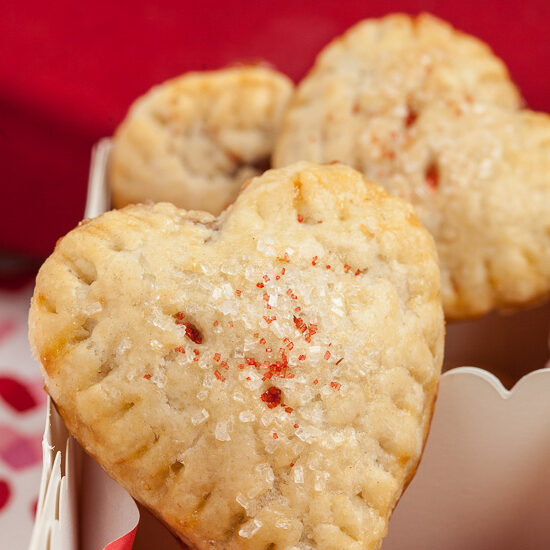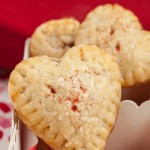 Strawberry Cheesecake Hand Pies (pop tarts)
These sweet little hand pies are perfect for making into any shapes to suit the occasion, year round! The crust is amazingly flaky, buttery, and tender yet crisp. The filling tastes like a little bite of strawberry cheesecake!
Ingredients
* The amounts are flexible

,

as it depends on how big your hand pies are!

1

recipe

for double pie crust

,

*See link in post or below

1

tub

Philadelphia strawberry cream cheese

1

jar

pure strawberry preserves

1

egg

,

beaten, for egg wash

coarse sugar for garnish
Instructions
Roll out half of the chilled pie dough to 1/8 in thick, on a lightly floured surface. (keep other half in the fridge while you work.)

Using cookie cutter, cut out desired shapes. Alternatively, use a knife to cut dough into squares or rectangles. Continue re-rolling dough scraps until first half of the dough is used up.

Spoon desired amount of strawberry cream cheese onto bottom crust of hand pies. Spoon desired amount of strawberry preserves on top of cream cheese. Keep in mind that the more filling you put, the harder it may be to keep it from leaking out when sealing! Sprinkle tops of filling generously with sugar.

Place top crusts on hand pies, and take care to seal them tightly. Use a fork to press down hard on edges, to finish the seal.

Using a sharp knife, cut little slits over the tops of hand pies. Brush each pie with beaten egg, and sprinkle with coarse sugar. Gently place pies on a parchment lined baking sheet.

Repeat with remaining half of pie dough.

Bake at 350F for 15-20 minutes, or just until tops are golden brown.

Let cool completely before serving.
Nutrition (per serving)
Calories:
122
kcal
|
Carbohydrates:
13
g
|
Protein:
2
g
|
Fat:
7
g
|
Saturated Fat:
2
g
|
Polyunsaturated Fat:
1
g
|
Monounsaturated Fat:
3
g
|
Cholesterol:
0.1
mg
|
Sodium:
109
mg
|
Potassium:
26
mg
|
Fiber:
1
g
|
Sugar:
0.02
g
|
Vitamin A:
1
IU
|
Vitamin C:
0.003
mg
|
Calcium:
5
mg
|
Iron:
1
mg
* Recipe for Flaky Buttery Crust (just follow the directions for the double crust pie portion)
Source: Chew Out Loud
Looking for a super simple Valentines treat that needs only 3 ingredients? Here you go – my favorite shortbread dipped in chocolate 🙂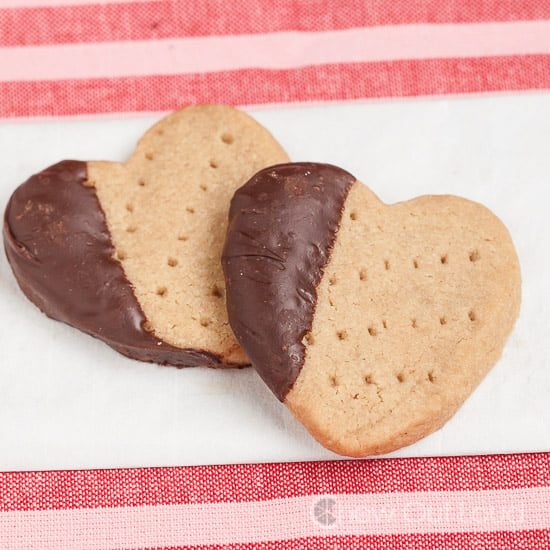 If you want a cake instead, nothing — really, nothing — beats this double chocolate cake with kahlua whipped frosting.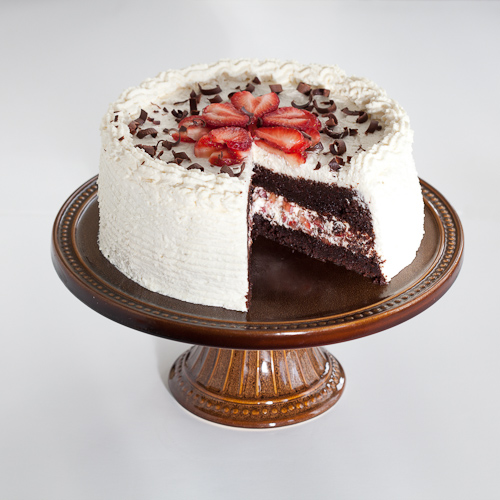 OK, and every Valentines day requires chocolate covered strawberries, yes?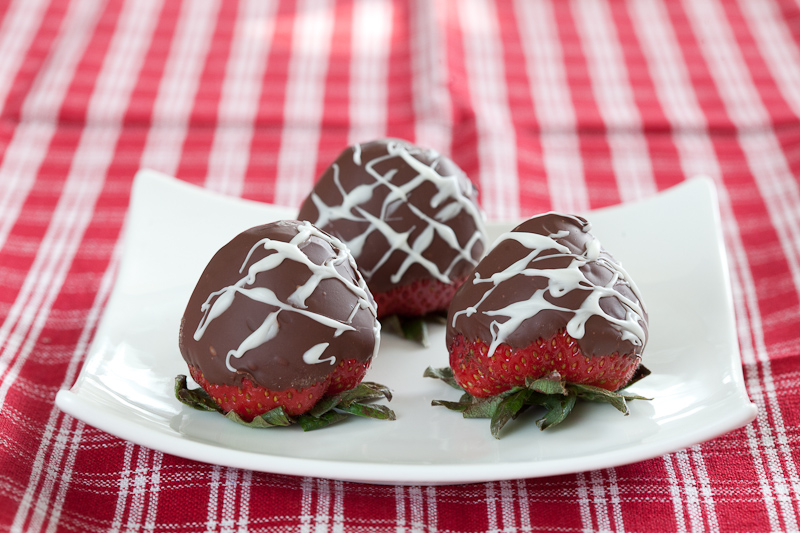 Here's a different spin on hand pies… these are my favorite pumpkin ones for fall, but change up the filling for any season!