Samoas Cookie Bars Recipe
By Amy Dong
Published Sep. 14, 2017
Updated Aug. 17, 2022
These Samoas Cookie Bars are melt-in-your mouth, magically delicious! They're like famous Samoas cookies, but made super easy in a dessert bar. We think you'll like these bars better than the original cookies.

Samoas Cookie Bars
We just got back in town from a road trip to Chicago. I super like Chicago, with it's gorgeous evening skyline and foodie scene. The quaint coffee shops with their smooth cold brews and Italian grandma-owned pizzerias are worth the 6-hour drive.
That's been our weird travel mission for years. We fly or road trip to major cities for the run of it. Not random running (though I'd totally do that too) but I mean legit races. I do the running while Hubby heroically manages to hustle alltheboys all over the city and acts as our race cameraman. [Like I said, he's a superhero.] Then, we all stay for the food. And maybe we get weirdly touristy while we're at it.
Theres actually now a name for this madness: Run-cation. I wasn't making it up. As trendy as it is, I think the run-cation is a concept that's here to stay.
Just like the ever-famous Samoas cookies. Those Girl Scout goodies hit the ground running and never looked back.
Nowadays there are everything and anything Samoas. There are Samoas cheesecakes – my next cheesecake endeavor – and there's this addictive Samoas Snack Mix that is party-perfect.
I'll go ahead and put in in writing that I'll likely never make round Samoas cookies with holes in 'em, because it involves rote cookie hassles that would drive me batty.
But these way easier Samoas Cookie Bars? I'll gladly take requests for these over and over again…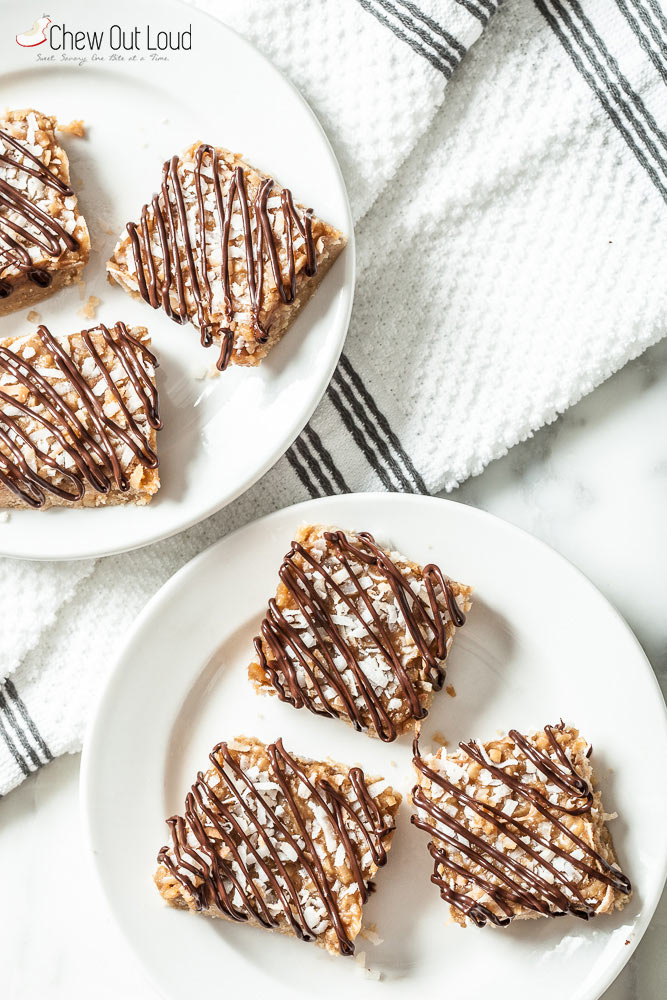 Better Than Cookies
These Samoas Cookie Bars are simple and crazy delicious. I've been told many times they are so much better than the boxed cookies. I'm a faithful Girl Scout cookie buyer [who can say no to those sweet faces?] but I must humbly agree…these bars kind of are better 😇
These Samoas cookie bars magically melt in your mouth. The cookie base is an irresistible buttery, tender shortbread.
That buttery shortbread is topped with all the chocolate and easy 4-ingredient homemade caramel. DIY caramel is an absolute game changer.
Don't forget the generous sprinkling of deliciously toasted coconut.
So. So. Good. Can't-stop-eating good. Tip: these are perfect for sharing at every gathering possible.
Here's to trends that are so good, they become permanent.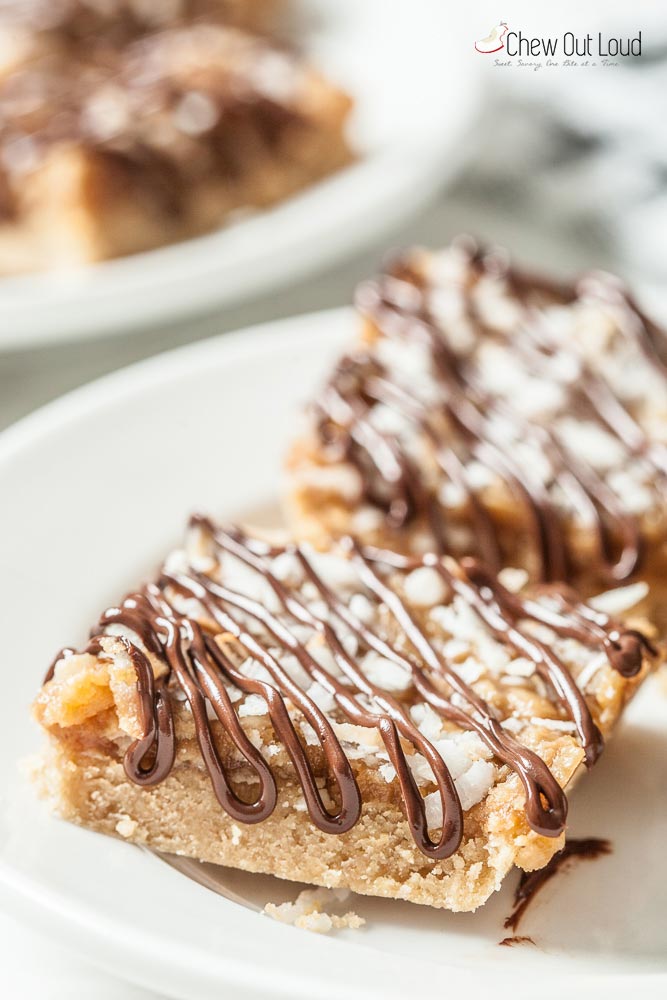 Watch us make luscious homemade caramel:
Did you make this?
Please give us a rating and comment below. We love hearing from you!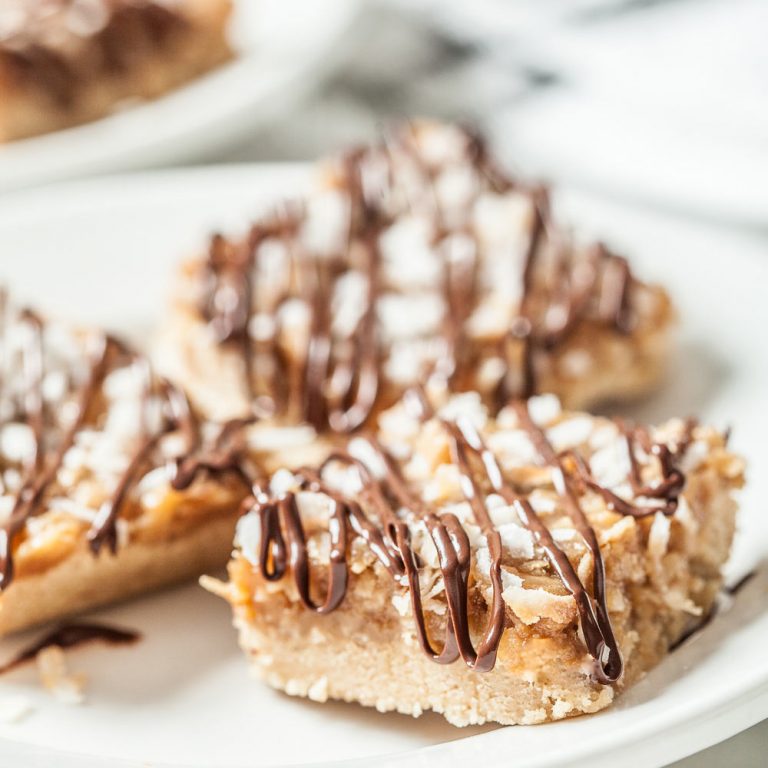 Samoas Cookie Bars Recipe
These Samoas Cookie Bars are melt-in-your mouth, magically delicious! They're like famous Samoas cookies, but made super easy in a dessert bar. You may like these Samoas Cookie Bars way better than the boxed originals.
Ingredients
For the Bars:
2

cups

Homemade Caramel Sauce

1 ½

cup

sweetened shredded coconut

,

toasted and divided

2

cups

dark chocolate chips
Instructions
Preheat oven to 350F, with rack on lower middle position. Lightly grease a 9x13 baking pan and set aside.

In bowl of stand mixer fitted with paddle attachment on medium speed, beat the butter and sugar until mixture is smooth and fluffy. Add flour and salt and continue beating just until mixture comes together to form a ball. Press dough mixture evenly into the bottom of your greased pan. Bake 15 min. Let shortbread layer cool while you prepare the rest of the dessert.

In a bowl, combine caramel sauce with 1 cup toasted coconut*. Stir to combine well. Spread mixture evenly over the shortbread layer. Sprinkle the rest of the 1/2 cups toasted coconut on top of dessert and lightly press it in so it sticks. Cover and chill until dessert is completely cooled and set.

Use sharp knife to carefully cut chilled dessert into bars. Place bars on a serving plate. Melt the dark chocolate chips* and drizzle it over the sliced bars. Cover and chill until ready to serve. Cover and chill leftovers.
Notes
* If needed, you can use store-bought caramel in place of homemade (the flavor will probably be somewhat different.)
* To toast coconut: Play shredded coconut in even layer on rimmed cookie sheet. Place in oven that's preheated to 350F; bake 10 min., stirring frequently during the last half of baking time, to prevent burning. Be very watchful, as coconut burns fast.
* To melt dark chocolate chips: Place chips in glass bowl and microwave in 30 second increments, stirring well in between each increment. Repeat until just melted; take care not to overdo it, or it will seize up. Place melted chocolate in a small Ziploc bag, cut a small hole in the corner, and drizzle onto dessert.
Nutrition (per serving)
Calories:
211
kcal
|
Carbohydrates:
28
g
|
Protein:
2
g
|
Fat:
10
g
|
Saturated Fat:
8
g
|
Polyunsaturated Fat:
0.5
g
|
Monounsaturated Fat:
1
g
|
Trans Fat:
0.2
g
|
Cholesterol:
11
mg
|
Sodium:
207
mg
|
Potassium:
124
mg
|
Fiber:
1
g
|
Sugar:
20
g
|
Vitamin A:
143
IU
|
Vitamin C:
0.2
mg
|
Calcium:
67
mg
|
Iron:
1
mg
* If you make this recipe or any others on our site, take a pic and show it off on Instagram! Hashtag it #chewoutloud so we can see your awesomeness 😋
It's Always the Season for: Dessert Bars!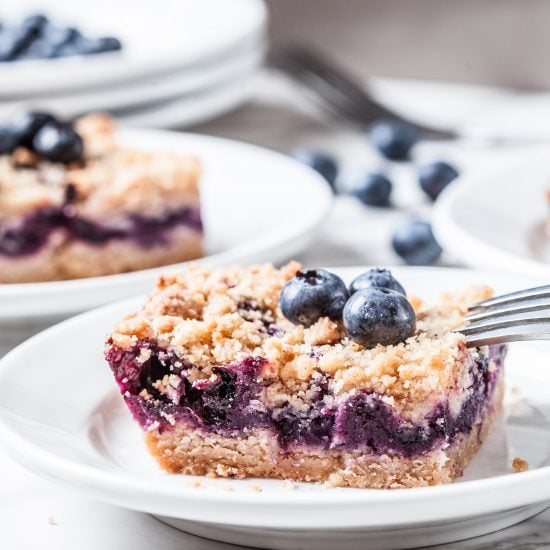 2. Chewy Monster Cookie Bars (One-Bowl!)