Chocolate Peanut Butter Rice Krispies Treats [Gluten-Free]
These Chocolate Peanut Butter Rice Krispies Treats are an instant hit. With only 6 ingredients, they're super easy and guaranteed to vanish. Switch out the colors for any occasion throughout the year.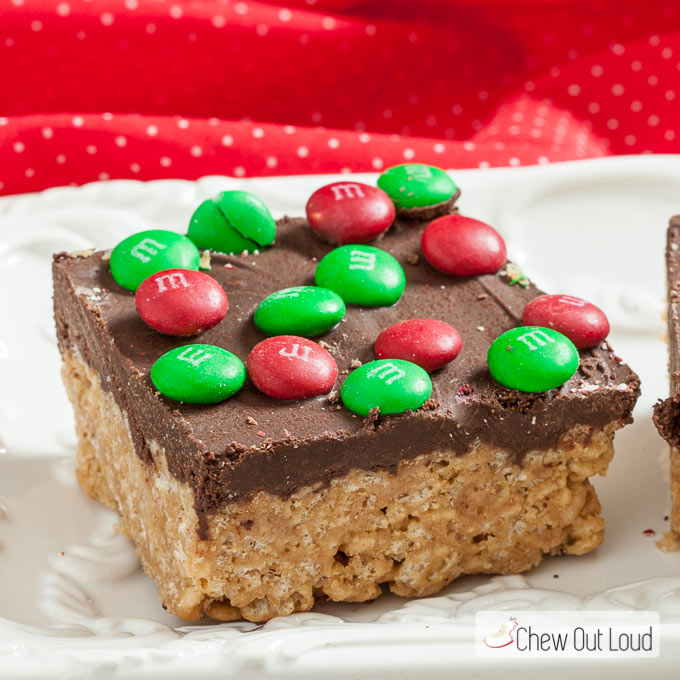 Peanut Butter Rice Krispies Treats
Will it be a brown Christmas this year in the Wild Wild Winter Land of the Twin Cities? It's forever and always TBD, but looking very possible.
Whatever kind of day you're having, rain or shine, it's looking up. Because even if your oven is out of commission, these peanut butter rice krispies treats can totally happen. These Rice Krispies Treats are an easy something-for-everyone kind of recipe. They're crispy, chewy, chocolatey, peanut-buttery, and can be topped with your choice of M&M candies or sprinkles.
No need to turn on the oven for these Festive Rice Krispies Treats
These Chocolate Peanut Butter Krispies Treats are so easy to make, even The Littles can help make them. If you want their help, that is. No judgment if you don't.
You'll only need to stir a few ingredients on stovetop to meld the goodness together. Then just set it and forget it, until it's ready to slice and serve. These krispies treats travel well for all the parties, or you can make them ahead of time if you're the host.
6 Pantry ingredients:
Pure honey – this provides some of the chewiness in the texture of the bars, as well as delightful sweetness/
Granulated sugar – we cut down on the sugar to only 1/2 cup, as the honey provides much of the sweetness here.
Creamy peanut butter – we use natural peanut butter that's well-mixed already, just to eliminate the need to mix separated oils. We do recommend sticking with peanut butter that is well incorporated in the jar.
Dry crispy rice cereal – there are a variety of flavors available these days when it comes to crispy rice cereal. If you'd like to try another flavor, feel free to play with it and have fun! We do prefer the plain rice cereal, which allows the peanut butter to shine.
Semisweet chocolate morsels – we prefer the semi-sweet for a balance of flavors, but if your eaters really love milk chocolate, feel free to use milk chocolate morsels for a sweeter profile.
Peanut butter morsels – these will be melted together with the chocolate morsels to form the frosted topping.
Optional – use your favorite M&M's to top it all off: regular chocolate M&M's are a classic favorite. Feel free to try peanut M&M's or sprinkles, if you'd like. Use any variety of colors that fit the occasion.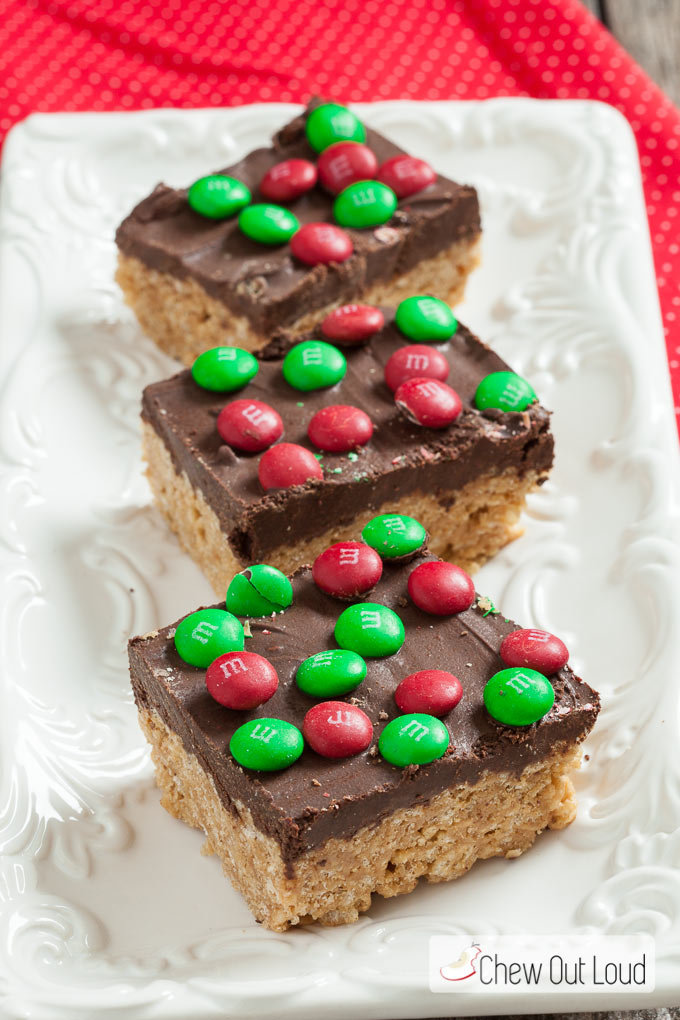 More to make and eat: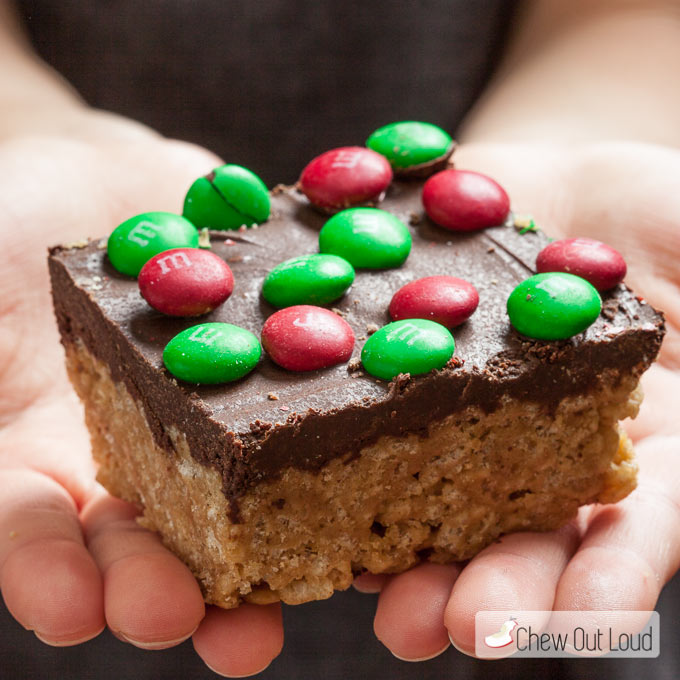 ---
---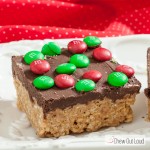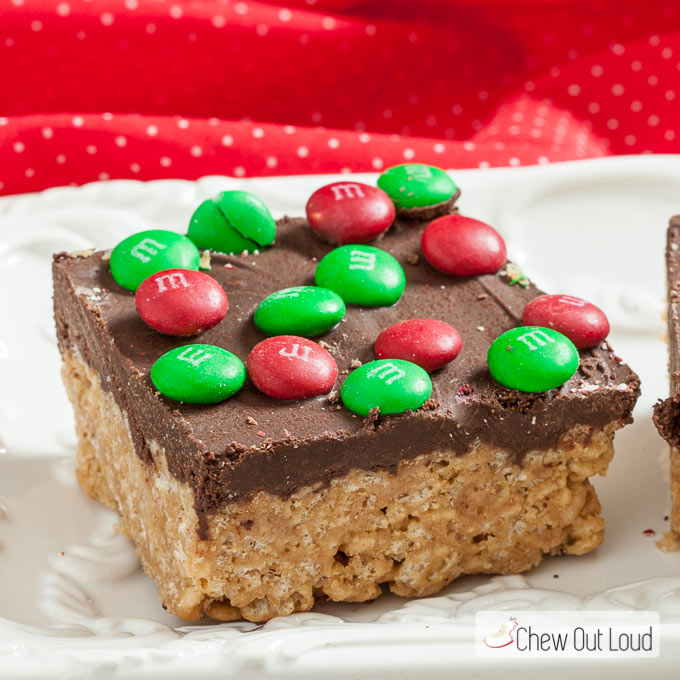 Chocolate Peanut Butter Krispies Treats
These Chocolate Peanut Butter Krispies Treats are a hit with kids and grownups alike. They're super easy and guaranteed to vanish. Switch out the colors for any occasion throughout the year. No baking involved!
Ingredients
1

cup

pure honey

½

cup

granulated sugar

1 ¼

cups

creamy natural peanut butter

6

cups

dry crispy rice cereal

2

cups

semisweet chocolate morsels

2

cups

peanut butter morsels

Optional: 2/3 cups M&M's

,

any flavor/colors to suit the occasion
Instructions
Prepare: Spray a 9x13 baking pan with oil and set aside. Place cereal in a large bowl and set aside.

Combine: In a large heavy saucepan, combine honey and sugar over medium high heat and bring to a boil, stirring often. Turn off heat. Immediately add the peanut butter, stirring until well combined. Use a rubber spatula to scrape mixture into the bowl of cereal. Stir until fully incorporated. Press mixture evenly into bottom and corners of greased pan. (Tip: Works well to use clean, damp fingers)

Melt: In the same saucepan (cleaned out,) combine the chocolate morsels and peanut butter morsels, over low heat, and continually stir until smooth and melted.

Chill and Set: Spread melted chocolate/peanut butter mixture over the crisp rice mixture in pan, smoothing out evenly. Evenly sprinkle on the M&M's. When bars reach room temp, cover and chill until set. Cut into bars and serve. (If your room temp is warm, it's best to keep bars chilled at all times until ready to serve.)
Nutrition
Calories:
535
kcal
|
Carbohydrates:
63.1
g
|
Protein:
14.5
g
|
Fat:
28.3
g
|
Saturated Fat:
8.4
g
|
Sodium:
181
mg
|
Fiber:
4.6
g
|
Sugar:
36.8
g
Did you make this?
Leave a comment below and tag @chewoutloud on Instagram