Chewy Blondie Recipe (Cookie Bars)
By Amy Dong
Published Feb. 10, 2020
Updated Aug. 17, 2022
These are the best Chewy Blondie Cookie Bars that'll ever grace your taste buds! They're chewy, chocolatey, and so easy. Switch up your blondie recipe to fit any occasion throughout the year.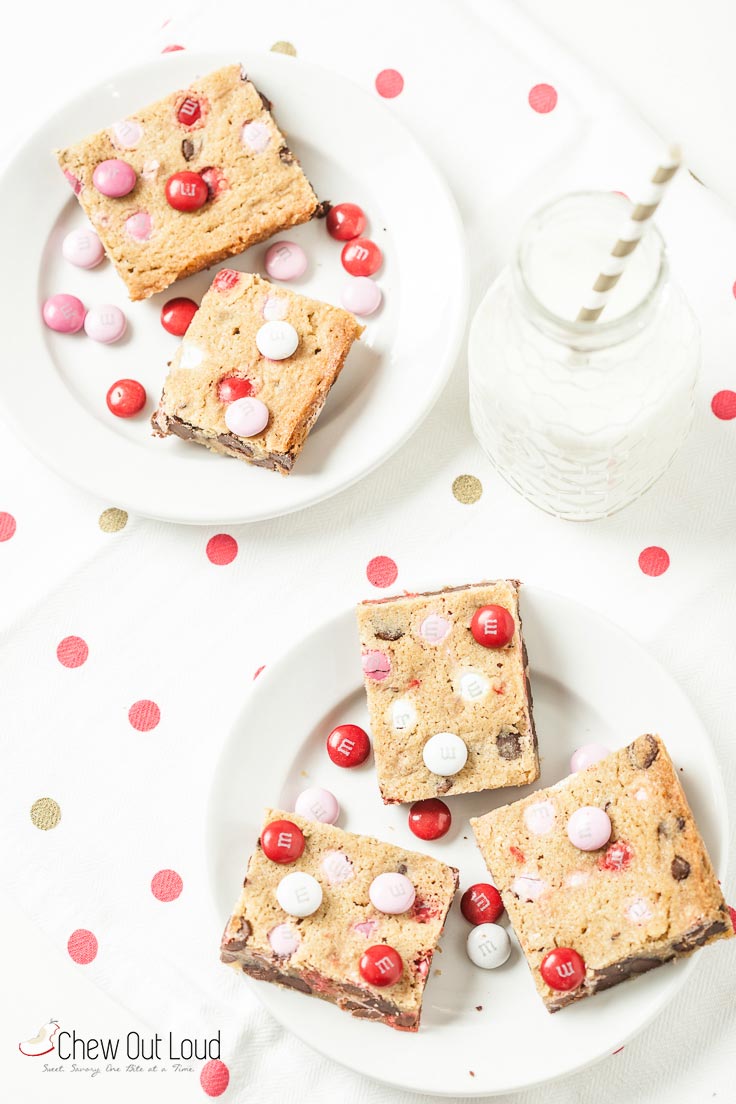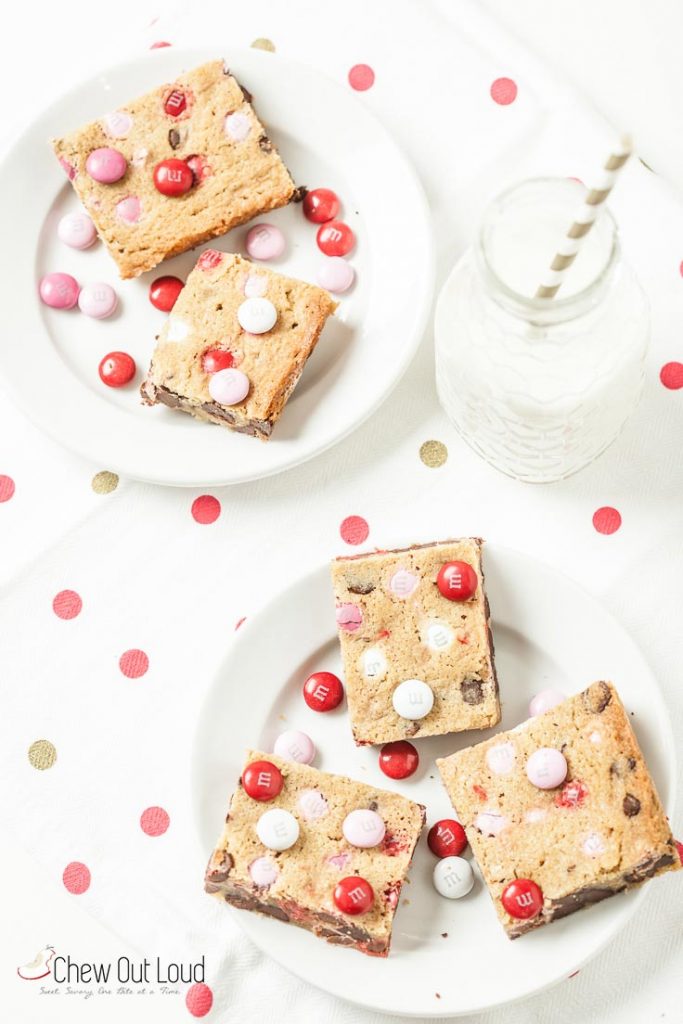 The Chewy Blondie Recipe You'll Want Forever
If you're on the hunt for the most chewy, most chocolatey, best blondie recipe on the planet, you've hit the mark right here, right now. I say that with the utmost humility of a cookie monster. 😇
Even if you weren't foraging for a luscious blondie dessert, it must be serendipity that has you colliding with these marvelous cookie bars today.
This one-bowl blondie recipe is essentially fail-proof, teeming with festive M&M's, and extra chocolate chips to captivate all the chocolate lovers in your life.
All you need: less than 10 ingredients, one big bowl, and sweet toothed tribe in your midst. In fact, I have a little story about this…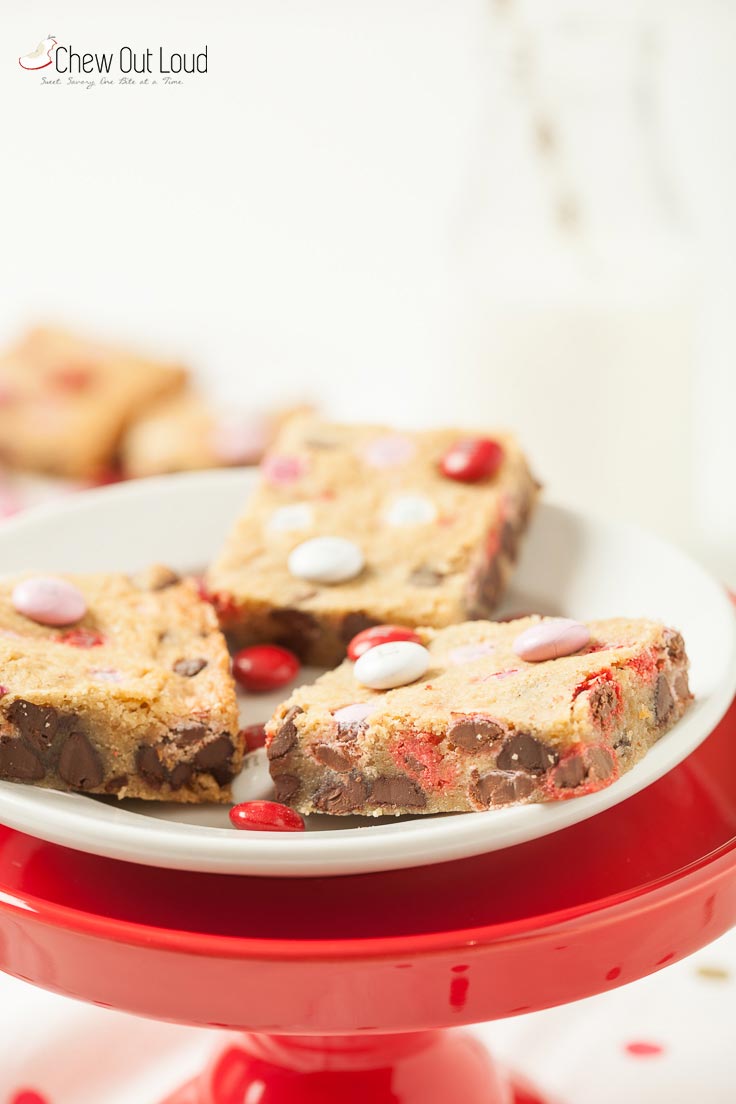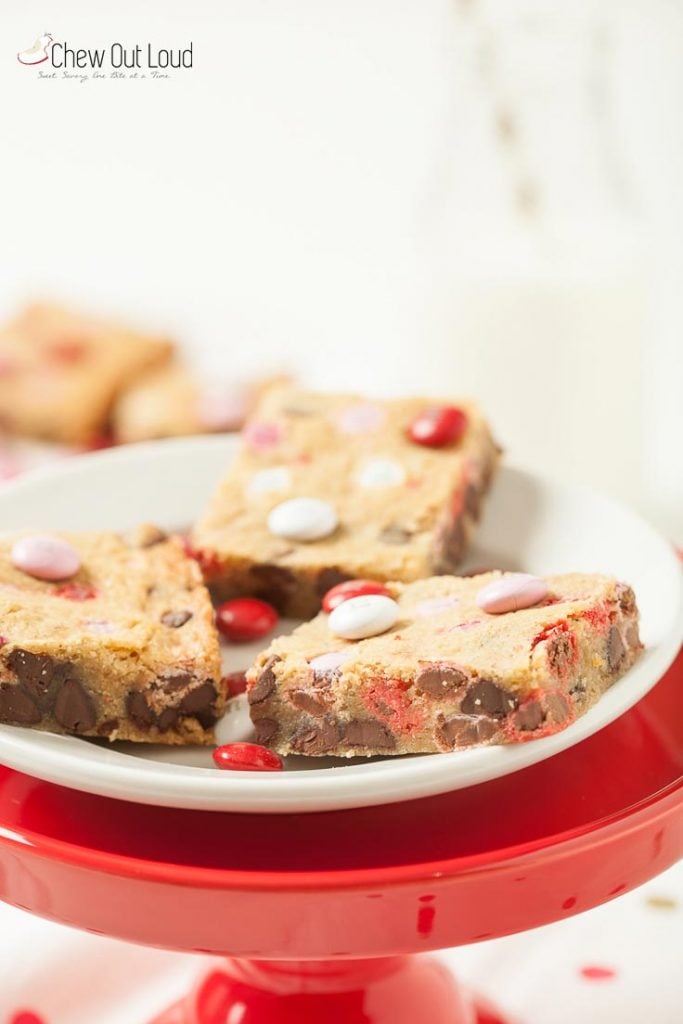 Favorite Blondie Recipe
I've shared before that our family is part of a rockin' team that's committed to reaching out to our homeless friends every month.
That awesome team faithfully serves on outdoor street corners for hours at a time. Be it rain, snow, sleet, or shine…that's no small commitment here in the Minnesota where baclava is an everyday word and nobody blinks twice when you go running around with one on.
Our monthly meal serves are one of our family highlights, as we really get to know our homeless friends when we share meals and spend time with them on a regular basis. Once I brought a huge platter of these very blondies to share with all our street friends. Not only did they cherish every morsel to the last crumb, many of were nostalgic about the homemade cookies.
My favorite gal devoured several of them and told me that these blondies reminded her of her grandma. She said when she was a little girl, nobody made cookies as good as her grandma did. But these humble blondies…they were just as good. I imagined her as that little girl, and I had no words.
Who knew something as simple as blondie cookie bars could do that?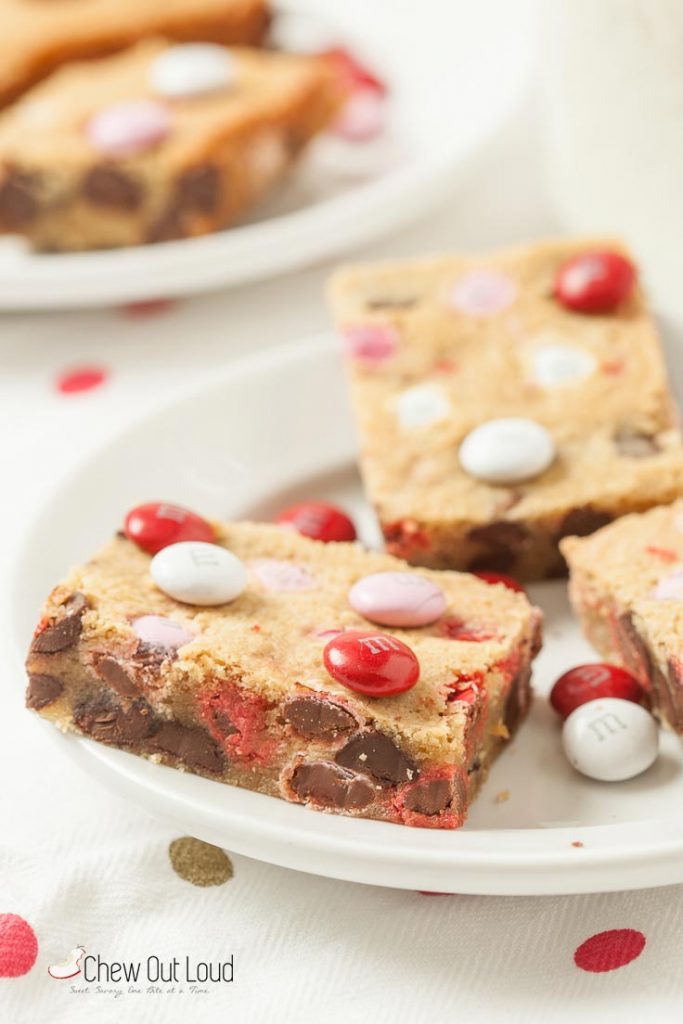 Tips for your best blondies
I use salted butter, but feel free to use unsalted if that's what you have. Be sure your butter is softened to moderate room temperature, but not at all melty.
When measuring brown sugar, be sure it's packed tightly. For best results, use a stand mixer or electric hand mixer to mix sugar and butter together until it's light and fluffy. Don't rush this process; it takes at least 2-3 minutes of continuous mixing on medium-high speed to "fluff up" the butter/sugar mixture
Let your egg come to room temperature before mixing it in; this helps dough mixture stay at correct texture.
When measuring flour, use the scoop & scrape method to ensure accurate measurement. You'll want a dry-ingredient measurement scoop that does not have extra top margin.
Use a combination of semi-sweet chocolate morsels and M&M's for plenty of chocolatey goodness and crunch. Change up your M&M colors to fit any occasion you'd like.
You may really like this one, too:
Did you make this?
Please give us a rating and comment below. We love hearing from you!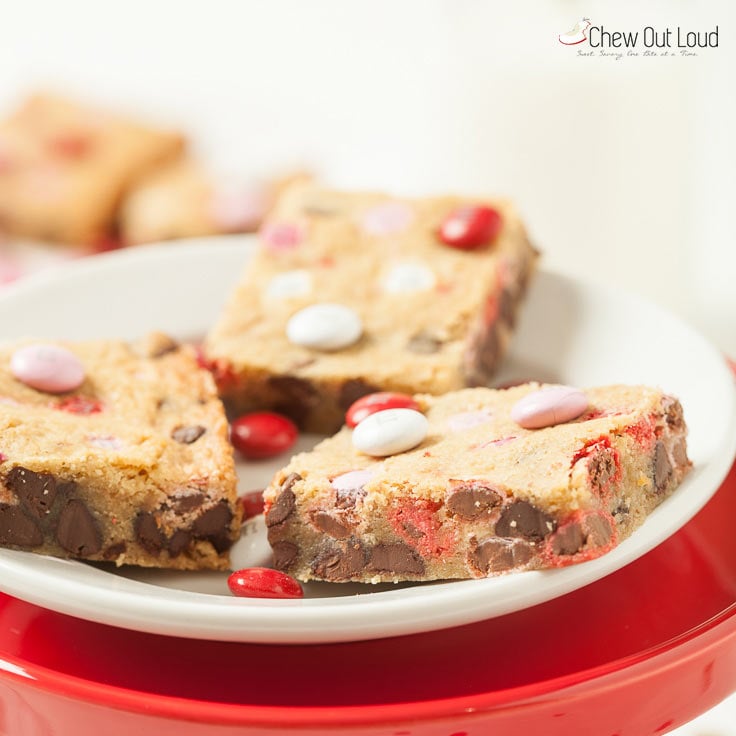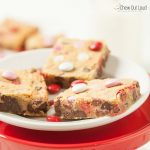 One-Bowl Chewy Blondies Recipe (Cookie Bars)
These are the best Chewy Blondies (Cookie Bars) that'll ever grace your taste buds! They're chewy, chocolatey, and easier than cookies. Choose the color scheme of your blondie dessert for any occasion throughout the year.
Ingredients
½

cup

salted butter,

soft but not melted

1

cup

brown sugar,

packed

2

tsp

pure vanilla extract

1

large egg

,

room temp

¾

cup

flour

¼

tsp

table salt

½

cup

semi sweet chocolate morsels

½

cup

M&M's for dough

,

plus 1/4 cup for garnish
Instructions
Preheat oven to 350F with rack on lower middle position. Line 8x8 baking pan with parchment paper or foil, with enough excess to create a "sling" that reaches over the edges of pan for ease of dessert removal. Lightly grease the paper or foil. Set aside.

In bowl of stand mixer fitted with paddle attachment (alternatively, you can use a large mixing bowl and electric hand mixer) add the softened butter and brown sugar; mix on medium high until mixture if fluffy. Add vanilla and egg, mixing to combine. Slowly and gently add the flour and salt, switching to low speed; mix just until combined (do not over mix)

Using a rubber spatula, gently fold in the chocolate morsels and M&M's. Scrape dough into lined/greased pan, ensuring corners are filled evenly. Bake about 25 min or just until toothpick inserted in center comes out barely clean. A few tender crumbs attached are great.

Let cool completely in pan on wire rack. Carefully remove entire dessert with sling overhang, directly onto a cutting board. Cut into bars and plate to serve.
Notes
Loosely cover dessert with foil if top browns too quickly.
Keeps well in airtight container at moderate room temp for several days.
May be frozen in airtight container for several weeks.
Nutrition (per serving)
Calories:
158
kcal
|
Carbohydrates:
21.7
g
|
Protein:
1.5
g
|
Fat:
7.6
g
|
Saturated Fat:
4.7
g
|
Trans Fat:
0.2
g
|
Cholesterol:
22.2
mg
|
Sodium:
75.5
mg
|
Fiber:
0.7
g
|
Sugar:
17.3
g
Kitchen Stuff We Love:
Popular Dessert Bars:
Chocolate Peanut Butter Bars (No-Bake)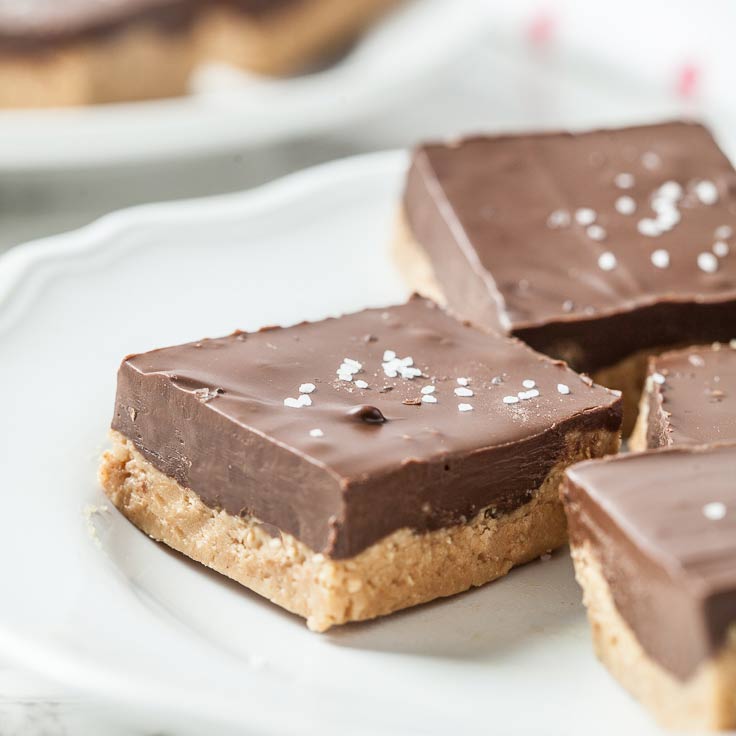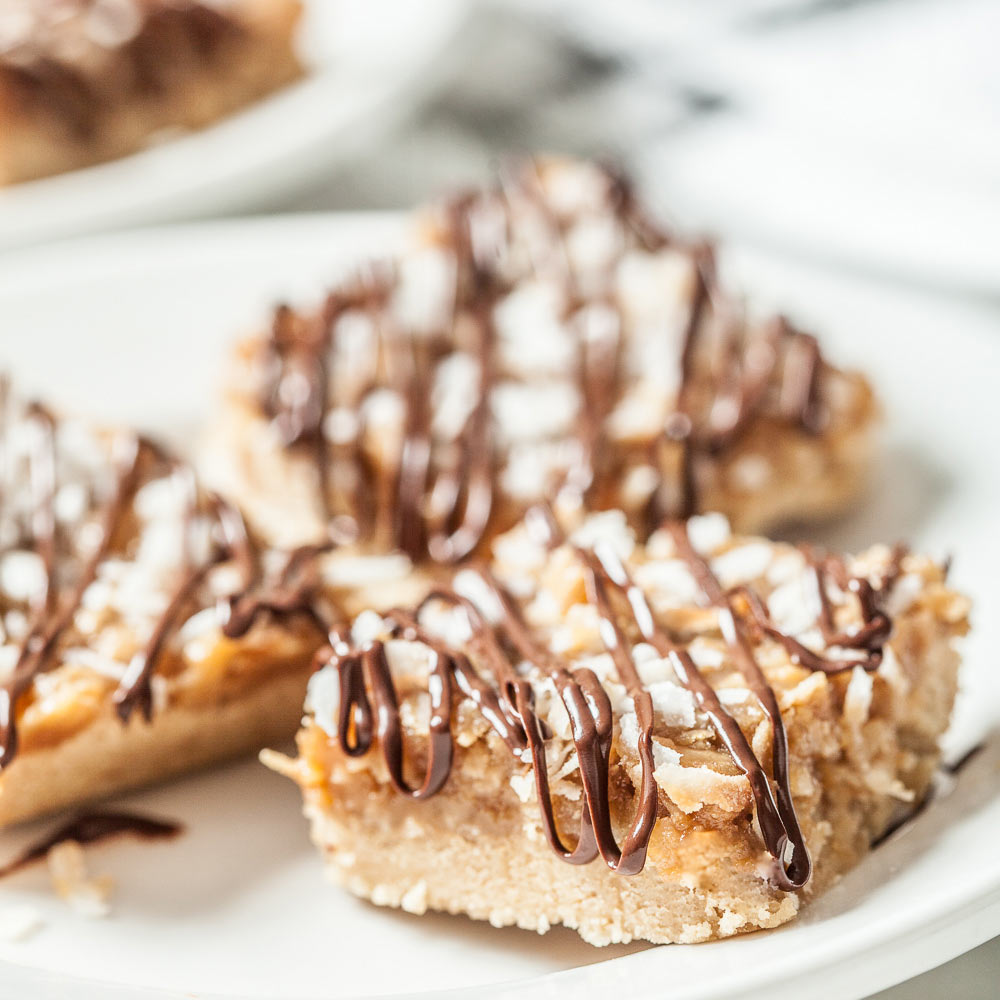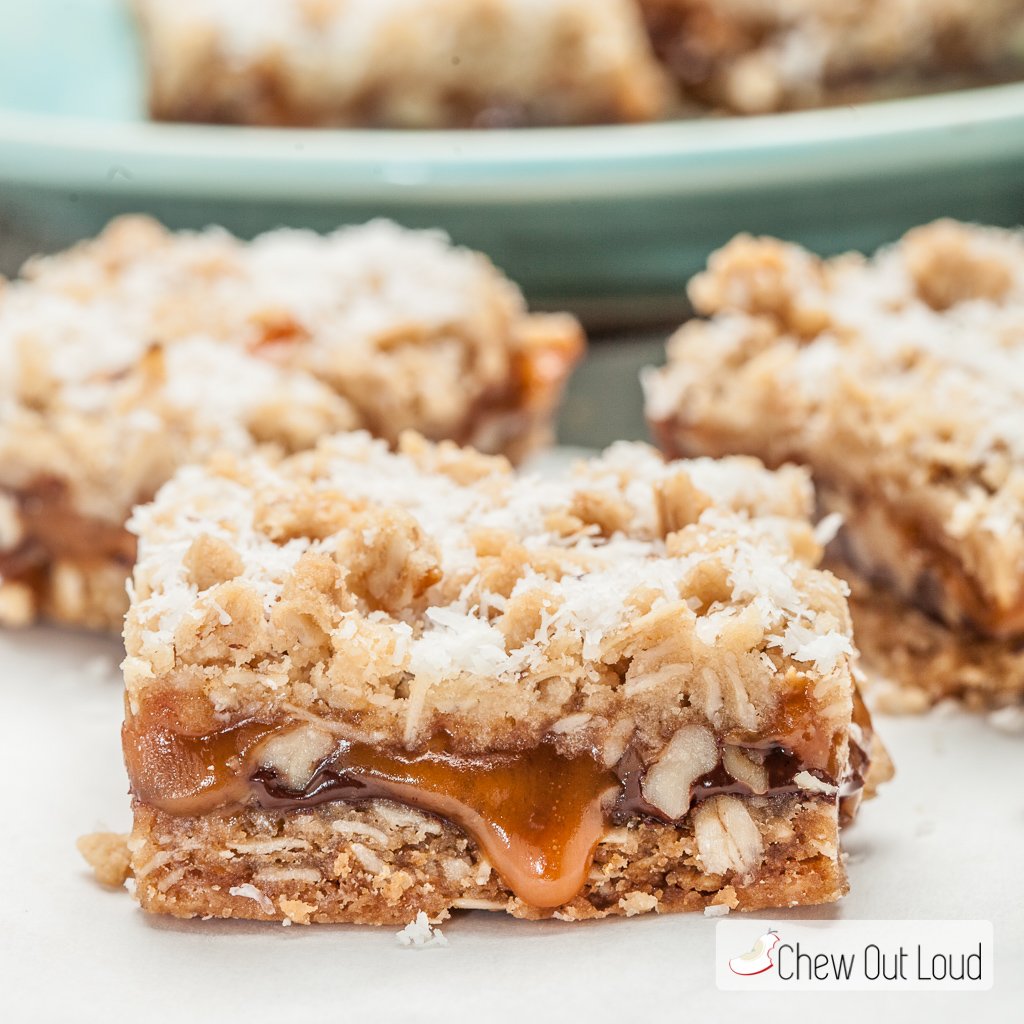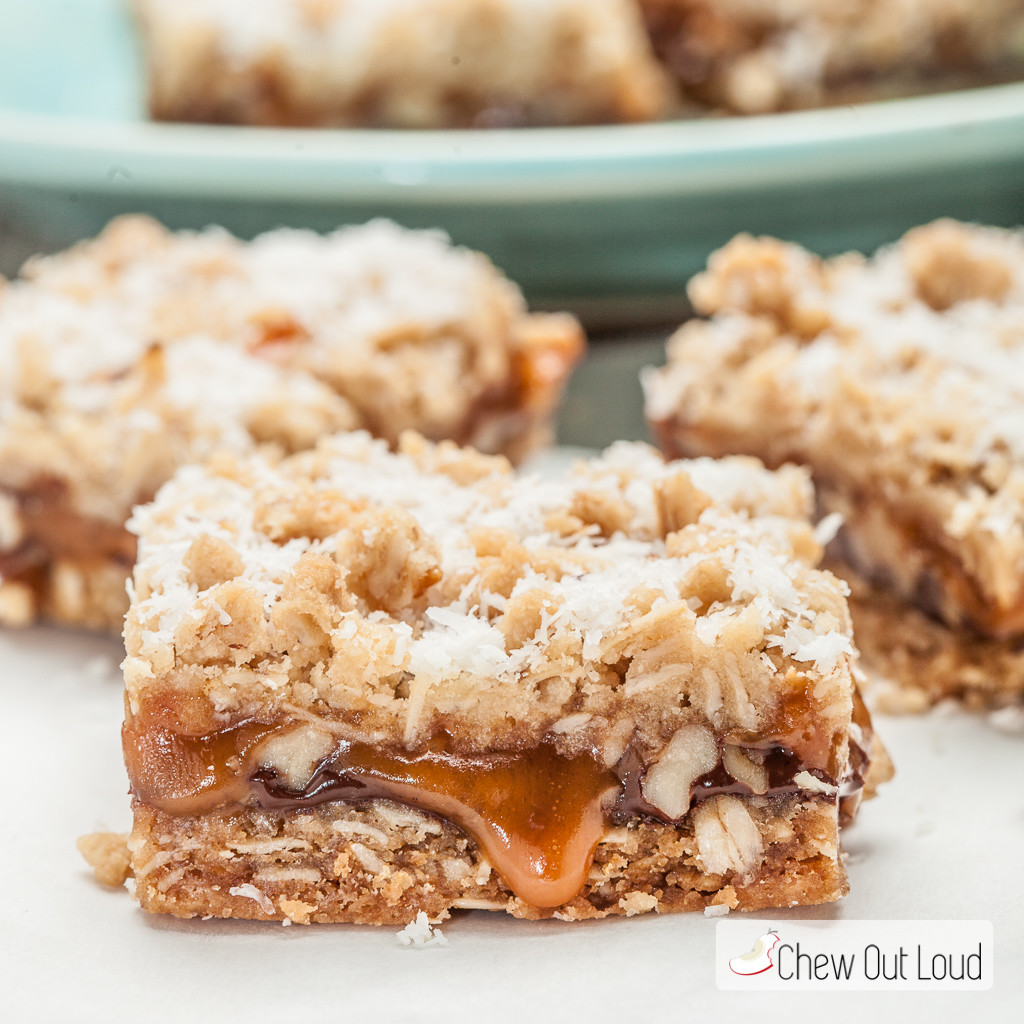 Chewy White Chocolate Cranberry Bars