Scallion Pancakes (Green Onion Cakes)
These flaky, crispy, tender Scallion Pancakes are also known as Green Onion Pies. Regardless of what you call them, these Chinese appetizers are wildly popular for good reason.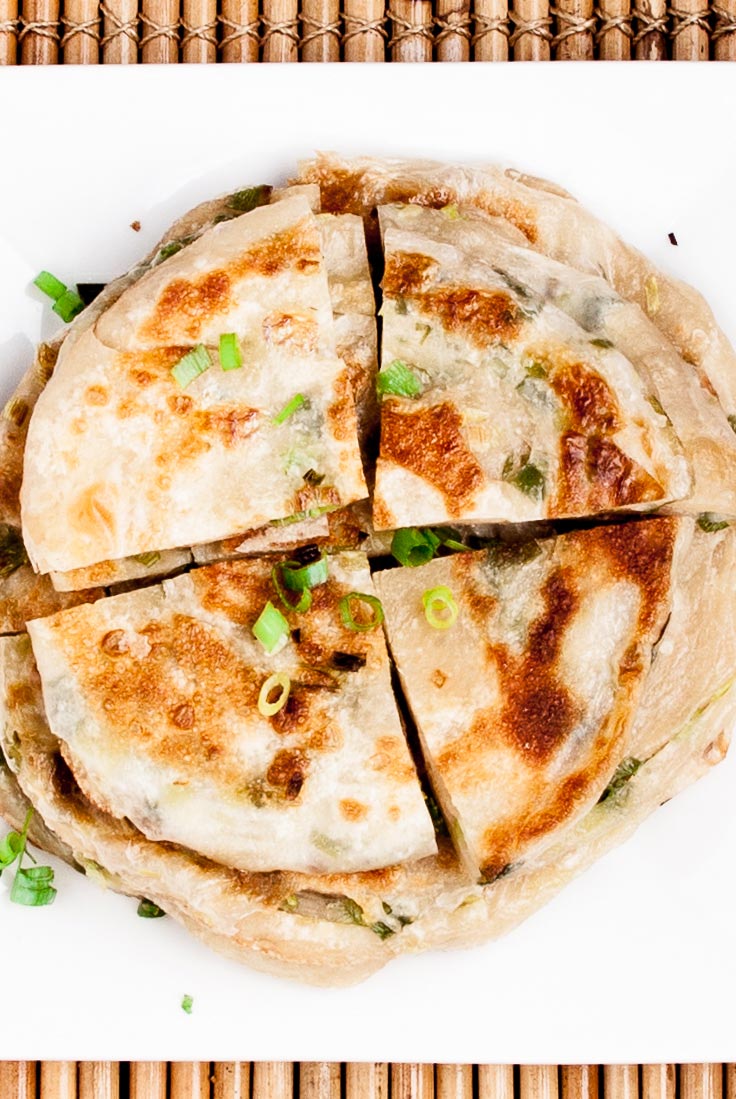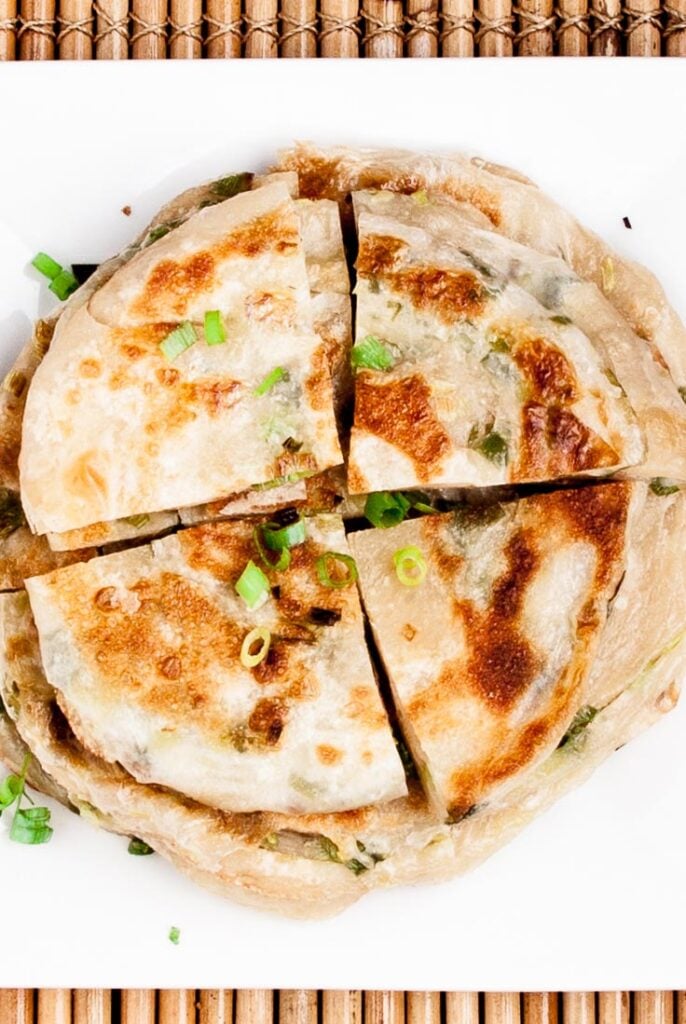 Chinese Scallion Pancakes
Chinese Scallion Pancakes and I go way back. My grandma made scallion pancakes for all, and we hardly went to any Taiwanese restaurant without ordering a plate of crispy, crunchy, delightful scallion pancakes, aka green onion cakes.
Whenever I sink my teeth into a flaky scallion pancake, the hot crispy cakes that come fresh off the frying pan are total bliss.
Fresh Scallion Cakes never disappoint. They're always mouthwatering, satisfying, and completely addictive. There's nothing else quite like them, and all you need are 5 super basic pantry ingredients you probably already have in your kitchen.
Scallion Pancakes Recipe In Action
Homemade Scallion PanCakes Need Only 5 Ingredients
If you don't live near an authentic hole-in-wall Chinese restaurant that makes crispy, flaky, delicious scallion cakes, you've got 2 options: find some frozen ones from Asian grocery stores or make them yourself.
In a desperate pinch, nobody will be judged for toasting up some frozen green onion pancakes. That said, we all know store-bought scallion pancakes don't come close to homemade. You can totally make this homemade scallion pancake recipe happen in your own kitchen. You'll only need these 5 basic pantry ingredients:
all purpose flour
salted butter
freshly chopped green onions
table salt
oil
Chinese scallion pancakes are traditionally served as an appetizer, they're delicious when served alongside Chinese Fried Rice or this faithful Chopped Asian Chicken Salad with Sesame Ginger Dressing.
You might be hailed as Best Cook in the World when you serve these up. All the eaters will snag 'em up so fast, you're encouraged to grab your fair share before putting these on the table.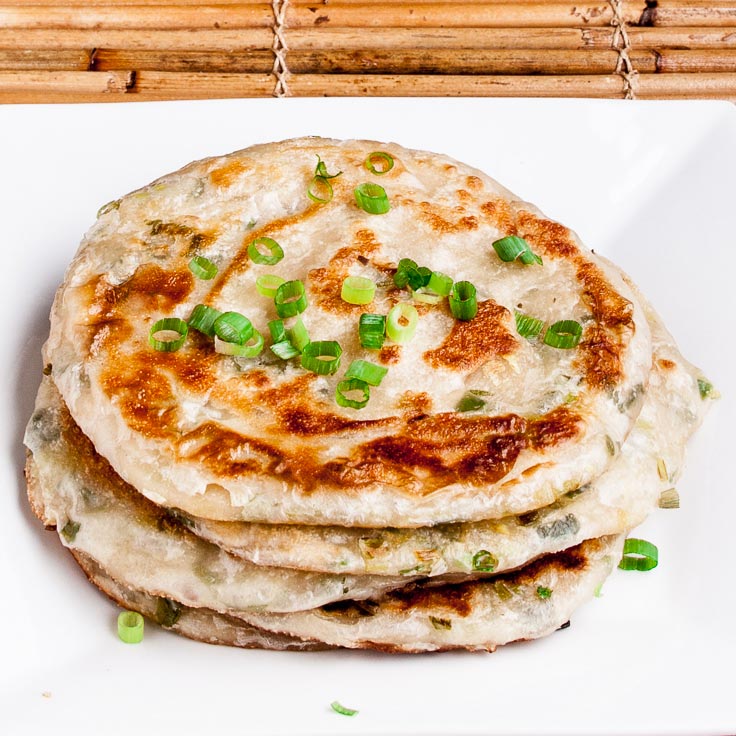 Scallion Pancake Recipe With Flaky, Tender Layers
It takes only a few ingredients to pull off these homemade scallion cakes. The main trick is rolling them out. Thinly rolling out the dough is what gives these pancakes their flaky layers inside. You just have to get one scallion cake up your sleeve and you'll have it down and be showing off your skills in no time.
How to Freeze scallion Pancakes
You can freeze uncooked scallion pancakes for your own stash of at-the-ready scallion cakes; we don't recommend freezing cooked pancakes, as they tend to resist crisping back up as nicely the second time around.
Just roll out the dough as instructed, and stack them with 2 layers of floured wax paper or parchment paper in between each uncooked pancake. It's important to use double layers of wax paper, as we've found 1 layer of paper to be too thin. Store in airtight container and freeze until you're ready to defrost and cook.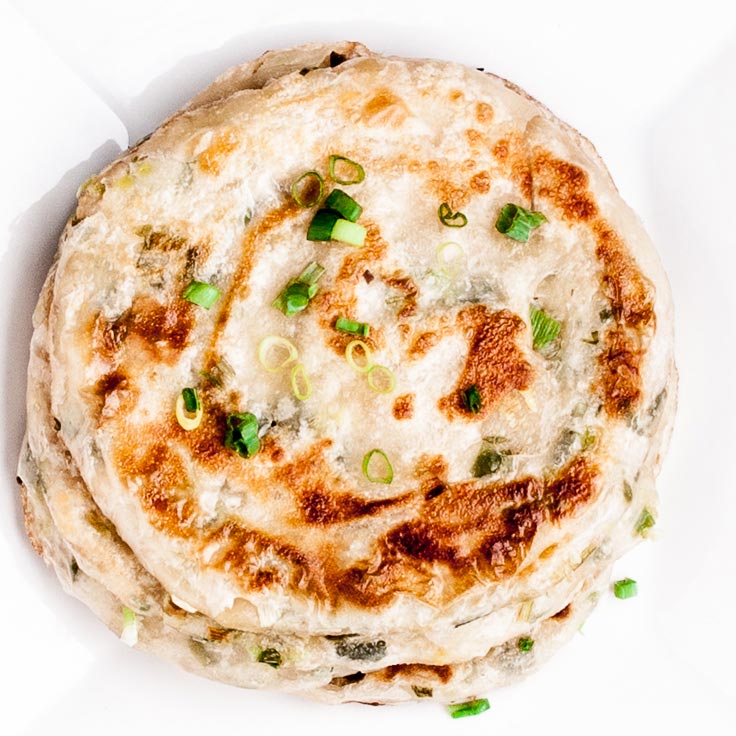 Scallion Pancakes
Commonly Asked Questions
What are Chinese scallion pancakes made out of?
There are only 5 simple ingredients in our scallion pancakes: flour, onions, salt, butter, and oil.
Are scallions and green onions the same thing?
Yes, they refer to the same item at the grocery store. The labels are used interchangeably for the same thing.
Are scallion pancakes Japanese or Chinese?
Scallion pancakes are also known as green onion cakes or Chinese Pancakes. They originated from the Chinese culture and are an ultra popular Chinese street food. In fact, any Chinese people enjoy them for breakfast.
Can you freeze homemade scallion pancakes?
We recommend freezing only uncooked scallion cakes – simply prepare them up to the point of cooking, and freeze them with sheets of wax or parchment paper in between each pancake. When ready, cook them from frozen.
More to Cook and Eat
---
Did you make this?
Please give us a rating and comment below. We love hearing from you!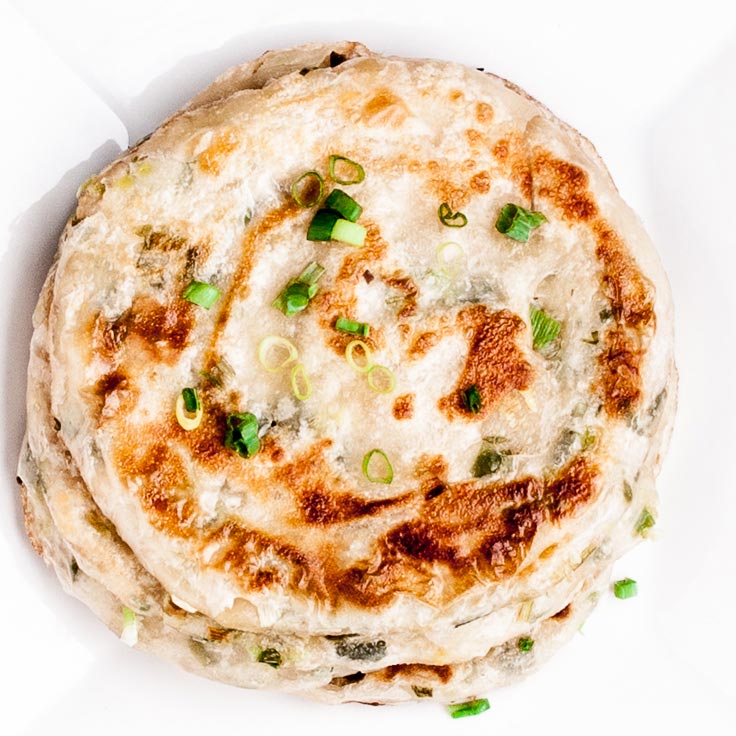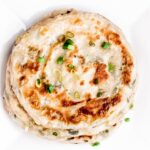 Scallion Pancakes (Green Onion Cakes)
These Scallion Pancakes are made with butter instead of lard. They are flaky, crispy, salty, and completely addictive. Plan ahead for a bit of rest time for the dough. Serve these guys immediately after frying, and watch them disappear.
Instructions
Place flour in a large bowl. Add boiling water and mix with wooden spatula (will be thick and rather dry.) Let cool a few minutes. Add the cold water and knead the dough 5 minutes, until it is smooth. If dough is too sticky, add a bit more flour. Dough should be pliable and smooth, a bit tacky (like play-dough) but not sticky.

Cover with cling wrap and let rest 1 hour at room temp.

Transfer dough to a floured working surface. Divide into 6 even pieces and roll each piece of dough into a 10-inch round. Spread about 1 TB of butter on top of each round. Sprinkle each round evenly with 1/4 tsp table salt, followed by about 1 TB green onions evenly over the surface of each.

Roll each round tightly up like a jelly roll (think taquito.) Then take one end and roll it up to the other side into a wheel (think cinnamon bun.) Secure ends tightly pinched. Let the buns rest, covered, for 15 minutes.

On a floured surface, gently press bun down to flatten (swirly side up) and roll out to 1/4 inch thick pancakes. Butter may seep out a bit during the rolling.

Heat 2 TB oil in a large nonstick pan, over medium-low heat. Once oil is hot, gently place one cake into pan and fry until crispy and browned, shaking pan often. Flip over and fry other side the same way. Repeat with remaining pancakes. Pancakes can be kept on a paper towel lined baking sheet in a slightly warm oven, until all are prepared.

Cut into wedges and serve immediately.
Notes
Please see original article for notes on how to freeze uncooked scallion cakes.
If you enjoyed this recipe, please come back and give it a rating ♡
Nutrition (per serving)
Serving:
1
g
|
Calories:
300
kcal
|
Carbohydrates:
44
g
|
Protein:
6
g
|
Fat:
13
g
|
Saturated Fat:
7
g
|
Polyunsaturated Fat:
1
g
|
Monounsaturated Fat:
3
g
|
Trans Fat:
0.5
g
|
Cholesterol:
30
mg
|
Sodium:
90
mg
|
Potassium:
3
mg
|
Fiber:
6
g
|
Sugar:
2
g
|
Vitamin A:
350
IU
|
Calcium:
43
mg
|
Iron:
2
mg