Everyone has a different name for these, ranging from Scallion Cakes to Green Onion Pies.  Regardless of what you call them, these Chinese treats are wildly popular for good reason.  They are savory, wonderfully aromatic, crispy, and flaky.  Nothing is quite like a good scallion pancake, fresh and hot off the skillet.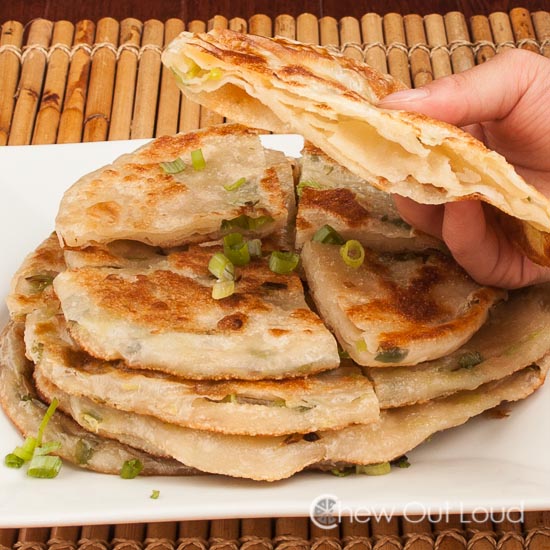 Chinese Scallion Pancakes and I go way back.  We're such old BFFs that I can't even remember the first time we met.
Whenever I sink my teeth into a crispy, flaky, salty scallion cake, I think of a couple of hole-in-wall Chinese restaurants that were favorite destinations for my parents to take us.  Piping hot savory pancakes fresh off the frying pan.  Total bliss.
Scallion Pancakes never disappoint.  They're always mouthwatering, satisfying, and completely addictive. There's nothing else quite like 'em…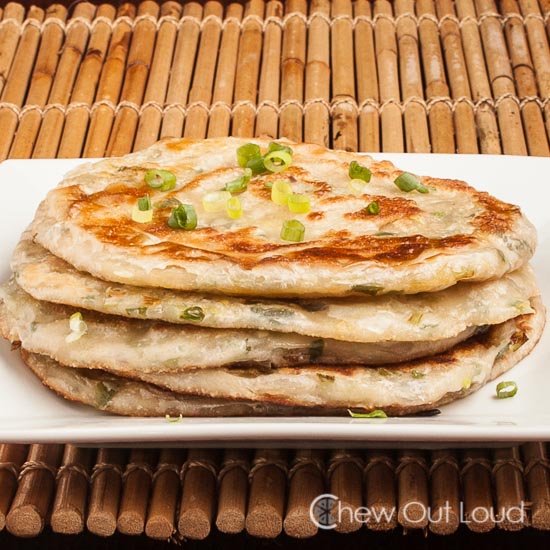 Now that we no longer live near those authentic hole-in-wall Chinese restaurants that make the most awesome scallion pancakes, my options are to settle for frozen ones from Asian grocery stores or make them myself.
In a desperate pinch, we'll go for toasting up some frozen scallion cakes.  But we all know store bought can't hold a candle to homemade.  Homemade scallion cakes are simply phenomenal.
Chinese scallion pancakes are supposed to be an appetizer, but we seriously eat so much of them that it's more like the meal itself.  I'm the Best Mom in the World when I serve these up.  The Littles and the Hubby snag 'em up so fast, I always help myself to my fair share before putting them on the table.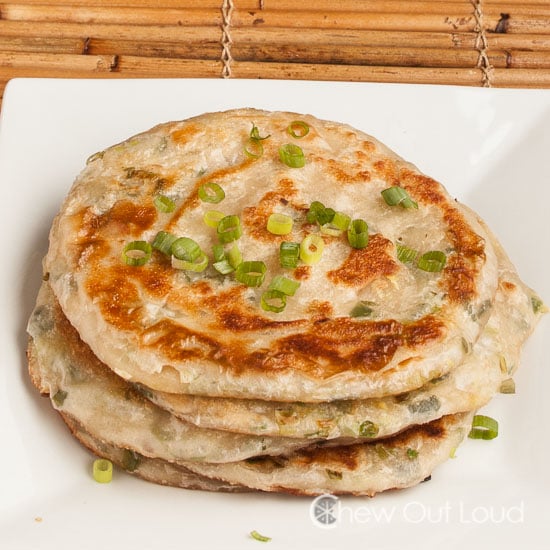 It takes only a few ingredients to pull off these homemade scallion cakes.  The itty bitty trick is rolling them up and out.  That's what gives these pancakes their flaky layers inside.  You just have to get one scallion cake up your sleeve and you'll have it down.
Classically, scallion pancakes are made with lard.  Previously infamous lard is actually enjoying a little comeback, but I'm still not doing it.  We sub it out with real butter, and it works beautifully.  Score.
Enjoy!
Print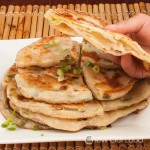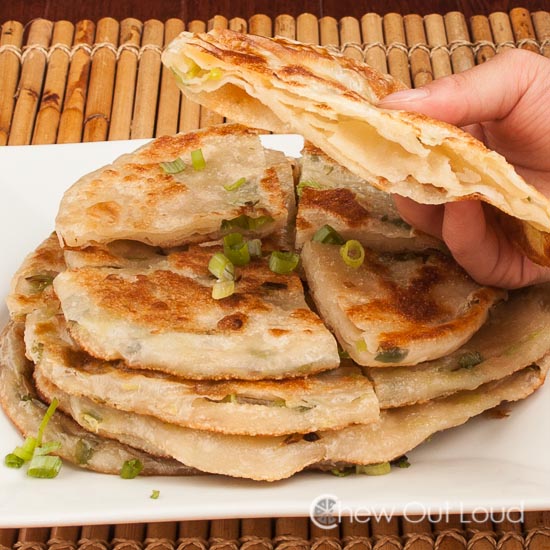 Scallion Pancakes (Green Onion Cakes)
Author:

Yield:

makes

6

pancakes

1

x

Category:

appetizer, asian
---
Description
These Scallion Pancakes are made with butter instead of lard. They are flaky, crispy, salty, and completely addictive. Plan ahead for a bit of rest time for the dough. Serve these guys immediately after frying, and watch them disappear.
---
Scale
Ingredients
3 cups

all purpose flour

1 cup

boiling water

1/3 cup

cold water

6

T salted butter, softened

6

T chopped green onions
table salt
oil for frying
---
Instructions
Place flour in a large bowl. Add boiling water and mix with wooden spatula (will be thick and rather dry.) Let cool a few minutes. Add the cold water and knead the dough 5 minutes, until it is smooth. If dough is too sticky, add a bit more flour. Dough should be pliable and smooth, a bit tacky (like play-dough) but not sticky.
Cover with cling wrap and let rest 1 hour at room temp.
Transfer dough to a floured working surface. Divide into 6 even pieces and roll each piece of dough into a 10-inch round. Spread about 1 TB of butter on top of each round. Sprinkle each round evenly with 1/4 tsp table salt, followed by about 1 TB green onions evenly over the surface of each.
Roll each round tightly up like a jelly roll (think taquito.) Then take one end and roll it up to the other side into a wheel (think cinnamon bun.) Secure ends tightly pinched. Let the buns rest, covered, for 15 minutes.
On a floured surface, gently press bun down to flatten (swirly side up) and roll out to 1/4 inch thick pancakes. Butter may seap out a bit during the rolling.
Heat 2 TB oil in a large nonstick pan, over medium-low heat. Once oil is hot, gently place one cake into pan and fry until crispy and browned, shaking pan often. Flip over and fry other side the same way. Repeat with remaining pancakes. Pancakes can be kept on a paper towel lined baking sheet in a slightly warm oven, until all are prepared.
Cut into wedges and serve immediately.
---
Source:  Chew Out Loud
There's also nothing quite like homemade potstickers.  These are made with ground turkey and napa cabbage, so they're healthier and totally delish!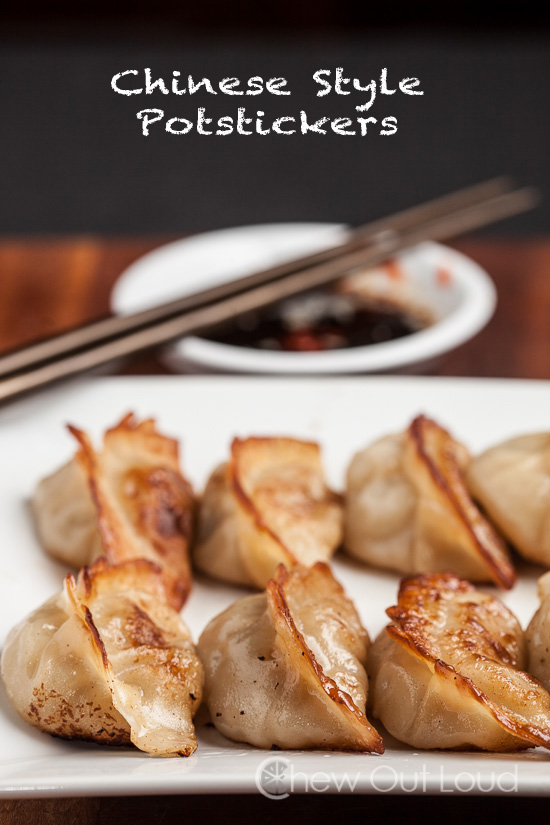 If you've never tried Dan Dan Noodles, it's a must-try.  So easy, flavorful, and crowd pleasing.  Kids and grown-ups alike will devour it.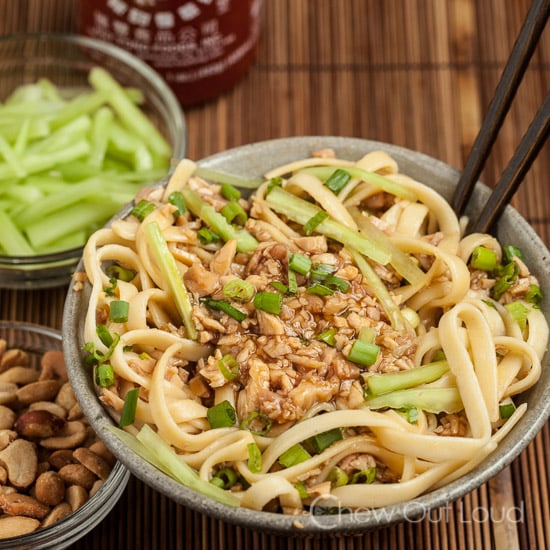 It's super easy to make your own Asian Sticky Rice.  We love make a big ol' pot full and having plenty of yummy leftovers, which keep very well.