Twenty. Twenty one. Twenty two. We stopped counting.
The number of cars that either spun into freeway ditches or were taken out on the side of the road were just too many to track. The weather hasn't been cooperating with wheels.
Maybe our plan of driving out miles 'n miles in icy weather to an indoor playground wasn't the most clever idea we've ever had.
We get ambitious in attempting to provide the boys a release from cabin fever. It's subzero outside and they have to run off their energy somewhere.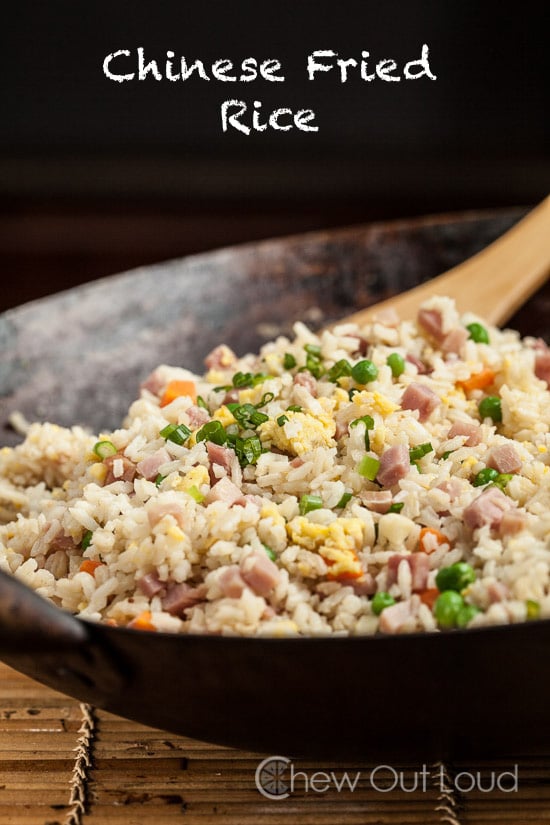 We said prayers for every collided vehicle we passed. Then drove verrry slowwwly all the way home.
I wasn't anticipating for it to be dark by the time we got home, but the gridlock got us home a couple hours later than planned.
Thankfully, I had cooked up a big batch of Chinese fried rice, so I didn't need to tax my exhausted brain about dinner solutions.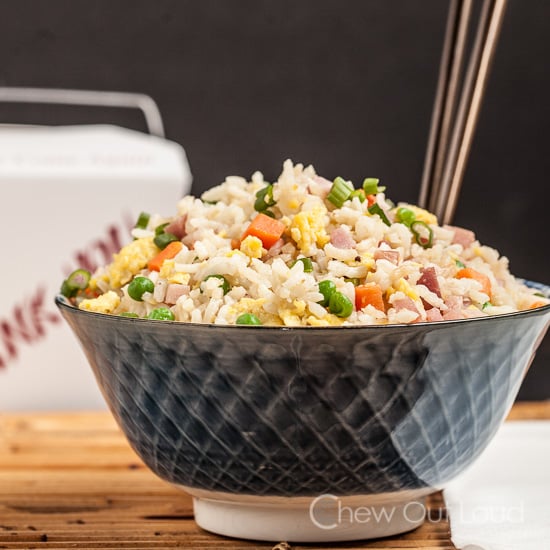 I made this fried rice recipe up based on all those years shadowing my folks in the kitchen. And getting assigned the garlic-chopping-veggie-washing tasks.
I learned that my sweet parents can't be bothered with recipes. Their idea of measuring: a few pinches of this and several splashes of that.
So. I worked to generate measurable amounts of ingredients for this flavorful fried rice. I don't think "just pour in some of that a-b-c until it looks like x-y-z" would fly with my readers.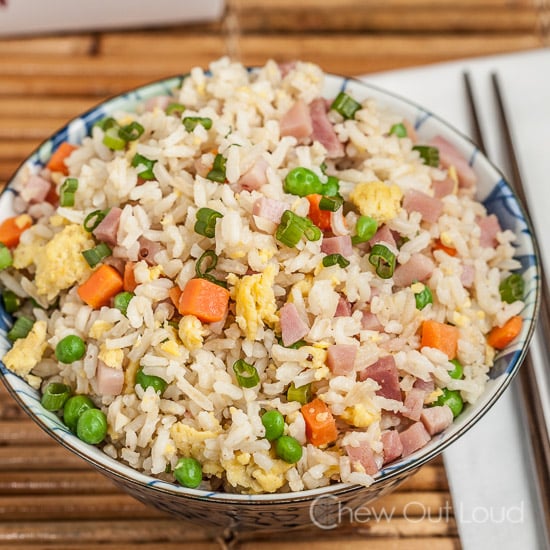 This Chinese fried rice beats any take out. I won't even call it takeout fakeout because there is no comparison. Homemade is immeasurably better than takeout.
I like to use diced ham for a quick protein addition, but when I have time I season ground meat like in this Asian Sticky Rice recipe. Other good options are Chinese sausage, shrimp, or seasoned chicken.
I pre-scramble my eggs before adding it to the mix, as I personally like the result better that way.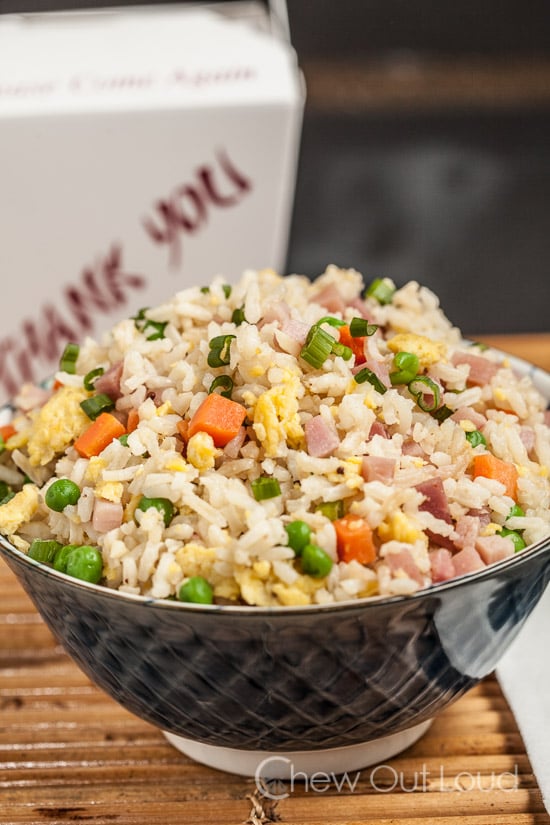 Stay warm, drive safe, and enjoy the last days of 2013.
And make some better-than-takeout fried rice!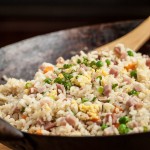 Chinese Fried Rice
This Chinese Fried Rice is way better than any takeout. It's easy to make, you can use any protein you have on hand, and tastes fabulous.
Ingredients
3

TB

oil

3

garlic cloves

,

minced

4 ½

cups

cooked long grain white rice

,

cooled to room temp (or leftover rice)

2

TB

Asian sesame oil

,

brown in color, highly aromatic, found in Asian aisles

1

tsp

Maggi seasoning sauce*

2

TB

regular

,

not light soy sauce

½

tsp

table salt

,

plus more to taste

½

tsp

white pepper

,

plus more to taste

½

cup

frozen peas/carrots

,

defrosted at room temp

1 ½

cups

cooked diced ham

,

Chinese sausage, shrimp, ground meat, or chicken all are good alternatives

2

large eggs

,

lightly beaten with 1/8 tsp salt, finely scrambled

2

stalks green onion

,

thinly sliced
Instructions
In a large wok, heat oil and saute garlic until fragrant, about 30 seconds.

Add rice and stir well. Add the sesame oil, Maggi sauce, soy sauce, 1/2 tsp salt, and 1/2 tsp white pepper. Stir seasonings into the rice to coat thoroughly.

Add the peas/carrots and diced ham. Stir to combine and heat through.

Add green onions and scrambled eggs. Stir to incorporate and heat through.

If desired, add a bit more salt and white pepper to taste.

Serve warm. Store any leftovers in airtight container.
Did you make this?
Leave a comment below and tag @chewoutloud on Instagram
*Maggi Seasoning Sauce can be found in Asian grocery stores, or you can try the Asian aisle of major grocery stores.
Recipe Source: Chew Out Loud
This homespun Asian Sticky Rice is my boys' favorite grub – it's easy and scrumptious!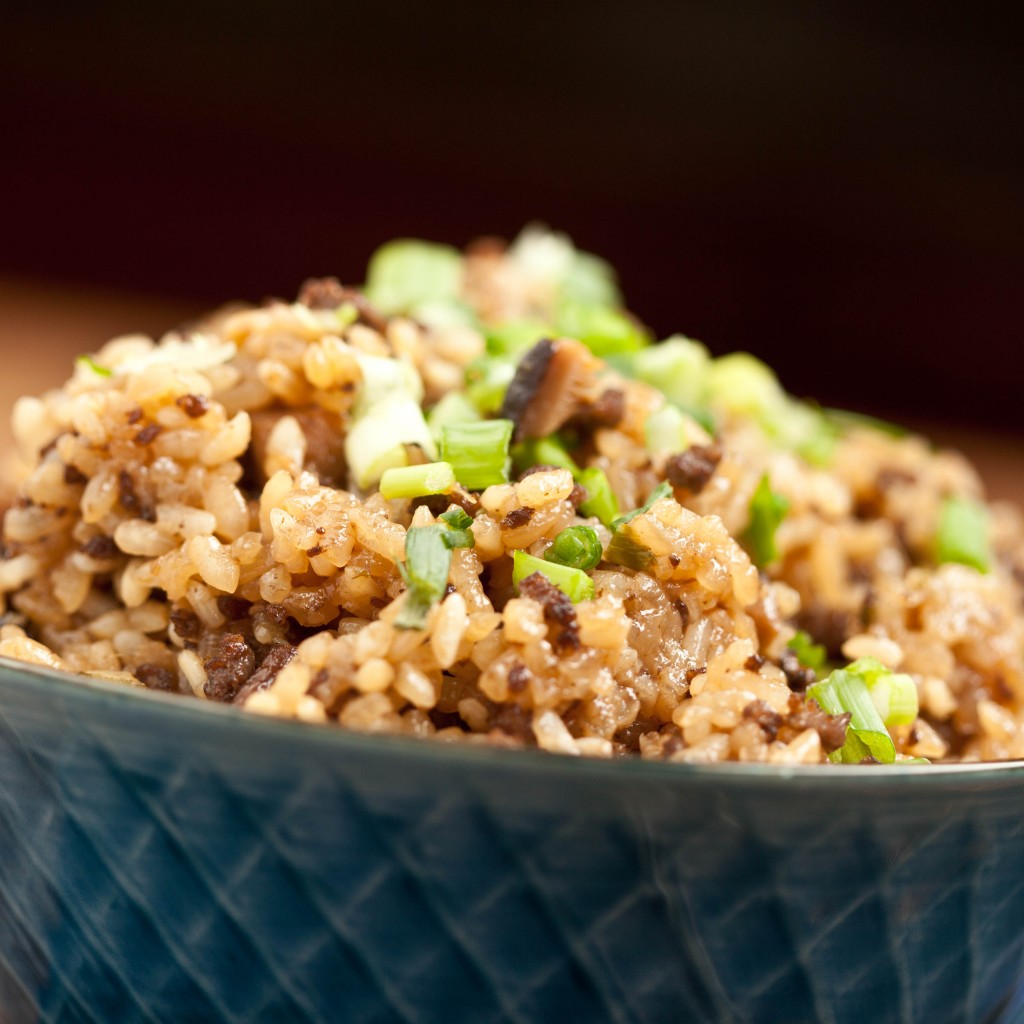 This Homestyle Chicken Chow Mein (lo mein) is one of my favorite easy dinners; one I KNOW will get eaten up like there's no tomorrow.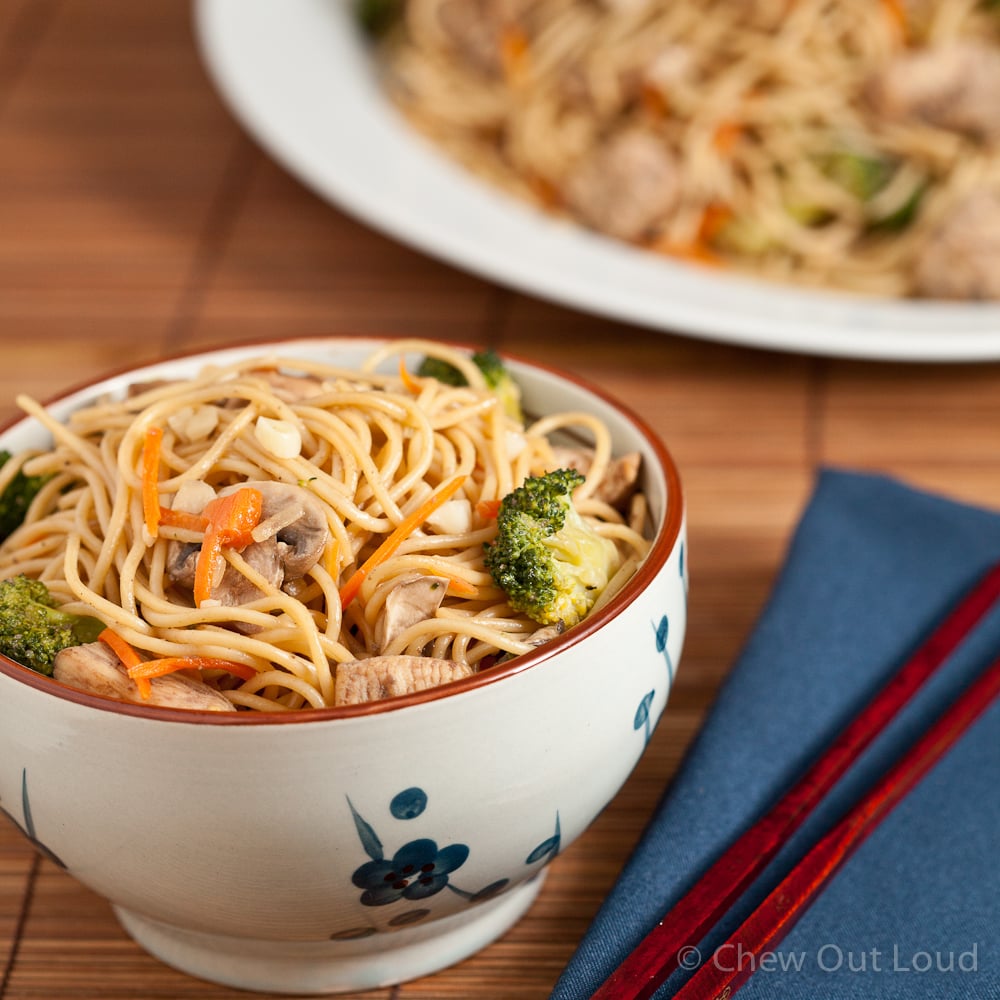 This Asian Peanut Sesame Noodles with Sriracha is one of my most popular dishes here for good reason: