Easy Fried Rice, Chinese Style
By Amy Dong
Published Jan. 4, 2023
Updated Oct. 11, 2023
Tastier than takeout, this Chinese fried rice recipe is a healthy, customizable dish that's perfect on any night of the week. Serve egg fried rice on its own or pair it with your favorite Asian dishes.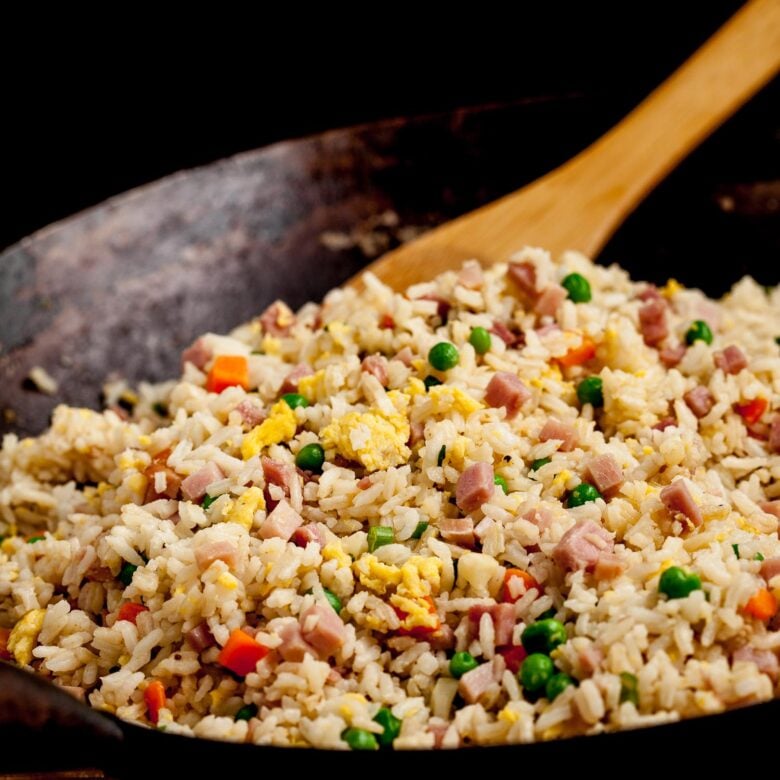 Chinese Fried Rice
Fried rice made a regular appearance in my mom and my grandma's dinner rotation, as it's super easy to make and comes together quickly once you have all your add-ins ready to go. With leftover rice, a couple of eggs, and whatever vegetables or proteins they had on hand, this simple and flavorful fried rice was a natural go-to. To this day, I love this easy fried rice for its simplicity and flexibility. Even our boys have made this dish on their own; we hope you'll love it just as much as our family does.
Video: Watch us Make This Recipe
How This Recipe Stands Out
Egg fried rice is great way to use up leftovers, it's loaded with inexpensive ingredients and easily customized to fit all your needs and preferences.
Egg fried rice is made in a large wok or a large, deep pan for a quick option that's easy to clean up.
Full of veggies, carbs, and protein, egg fried rice is a satisfying meal on its own but makes for a delicious side dish, too.
One batch of egg fried rice is enough to feed a crowd, and leftovers can be stored to enjoy throughout the week.
Chinese fried rice is guaranteed to be loved by both kids and adults alike.
This easy fried rice is so much healthier than takeout and happens to be gluten-free.
What Kind of Rice Should I use for The Best Fried Rice?
The secret to making the best fried rice recipe that's even better than takeout is in the type of rice you use. Technically, any leftover rice you have on hand can be used. However, if you really want the best fried rice, it's important to:
Use cold, leftover cooked rice. Letting your rice sit, covered, in the fridge for 1-2 nights draws out some of the moisture, preventing the grains from sticking to each other and becoming mushy in the wok or pan.
Opt for long-grain rice. Long grain rice like Jasmine rice is sturdier and less sticky than short grain or medium grain varieties. As a result, long grain rice cooks up in individual, separated grains and becomes fluffy without clumping together.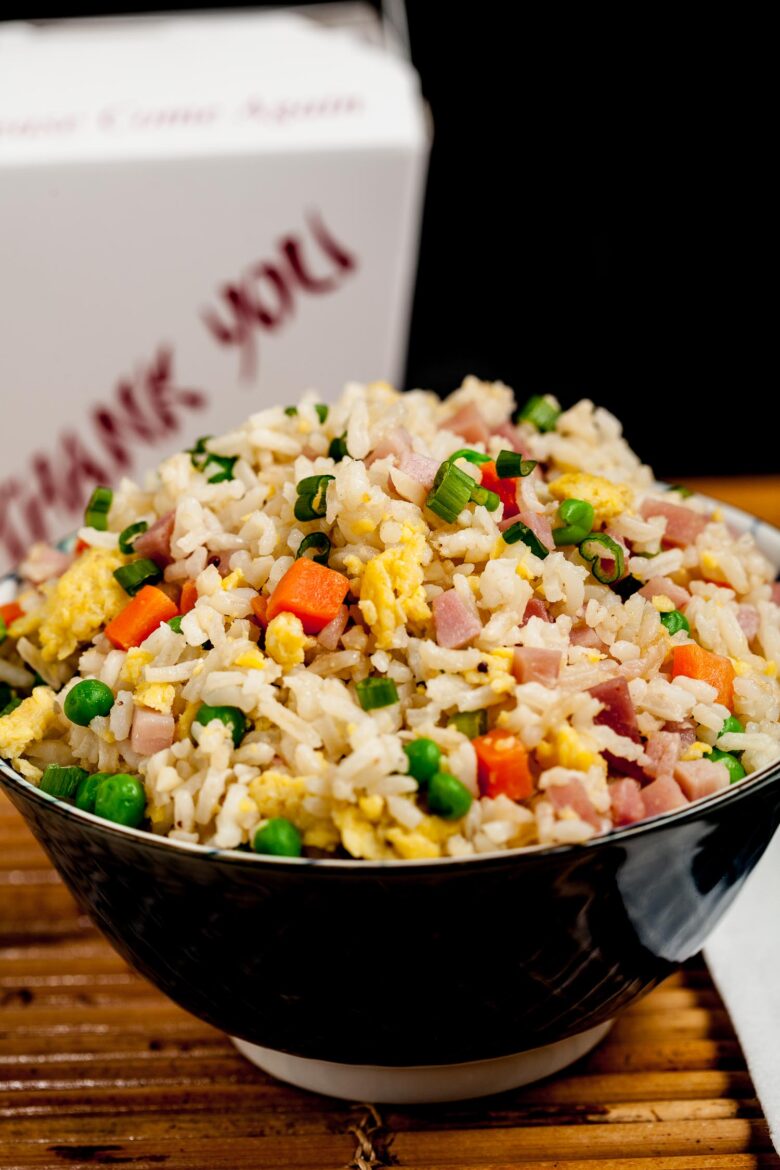 Egg Fried Rice Variations
One of the best things about fried rice is that it can easily be customized to include any ingredients you have on hand. For instance, some fun variations include:
Incorporating different vegetables, such as bell peppers or shiitake mushrooms.
Including protein sources like Chinese sausage, shrimp, cooked ground meat, or cooked chicken.
Mixing some kimchi into the rice.
Adding pineapple with ham, for a tropical fried rice.
Using cooked ground sausage or crumbled bacon with the eggs, for a breakfast fried rice.
Using leftover brown rice, for a healthy fried rice.
Pro-Tips for Best Results
Although its bold flavors might make it seem complicated to create, this egg fried rice recipe is really quite simple to whip up, especially when you follow the tips below!
Use a Large Wok or Large, Deep Pan. You'll want to use a wok that's quite large in order to allow the rice plenty of room to spread out and fry without overcooking. It also allows for easy tossing and mixing without ingredients spilling over or falling to the floor.
Work Quickly. Have your ingredients measured, chopped, and ready to go. Allow the wok to heat up completely. Then work quickly, keeping the ingredients moving to cook and combine so that they do not char or burn.
Season as You Cook. The soy sauce and seasonings will provide plenty of flavor. You'll start with a basic amount, and you can add more at the end, so as not to overpower your rice.
Don't Overcook the Eggs. We prefer to cook the eggs separately and add them back to the dish. However, you can also cook them in the wok with the other ingredients. Just be sure to push other ingredients to the side of the pan, away from the center to provide an empty "well" in the middle where you can quickly scramble the eggs.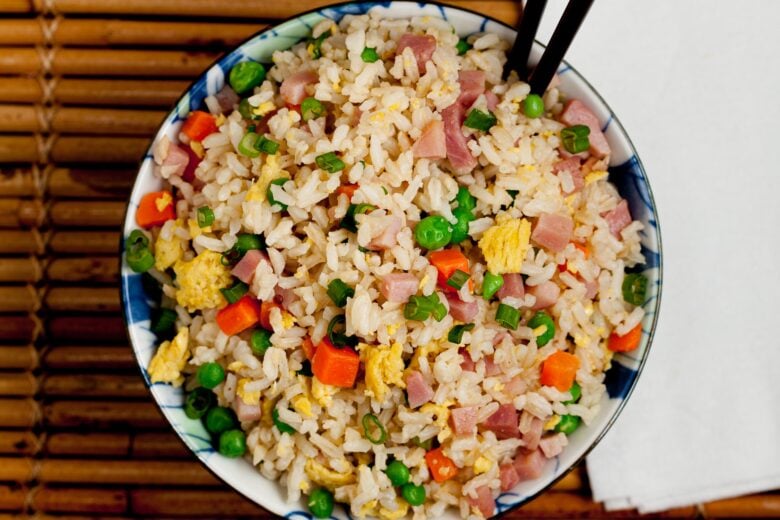 What to Serve with Egg Fried Rice
Feel free to serve this egg fried rice on its own as a complete meal, as it already contains plenty of protein and vegetables in one dish. Otherwise, pair it with your favorite Asian main courses for a full spread! Some of our favorite serving suggestions include:
Make Ahead and Storage Options
This easy fried rice recipe is great to prepare in advance! To keep it fresh, let it cool completely at room temperature. Then transfer it to an airtight container, and store it in the refrigerator for 3-4 days or in the freezer for up to 1 month.
When you're ready to eat, let your rice thaw in the fridge overnight. Then, warm it in the microwave or over medium heat in a wok or skillet the next day. Tip: If fried rice has lost moisture in the fridge, sprinkle with a bit of water before reheating.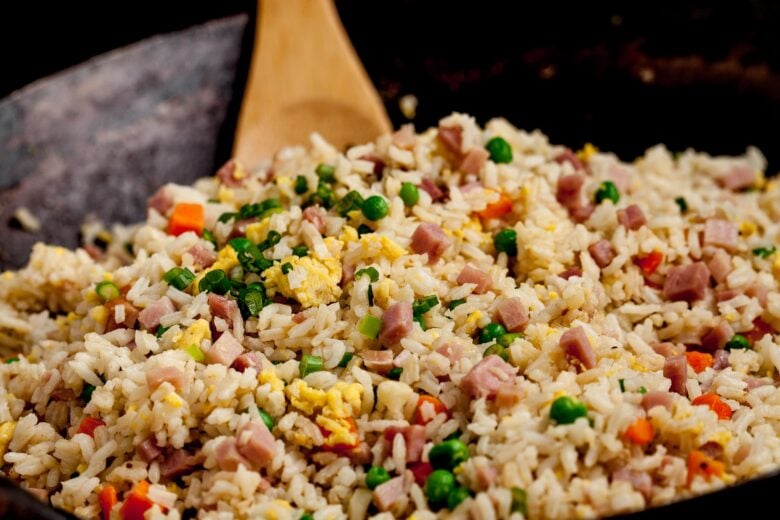 Commonly Asked Questions
Why is my Chinese fried rice not "crispy"?
Be sure to use leftover long-grain rice, and avoid overcrowding the wok. You want to allow enough room for the rice to spread out in an even layer in order for it to crisp up or brown nicely. Note: if you're starting out with mushy rice, it will remain that way even upon frying in the wok.
Why do most Chinese fried rice recipes use eggs?
Found in most fried rice recipes, egg adds protein, texture, and extra richness. Eggs also go extremely well with almost any vegetables and proteins.
How do Chinese restaurants make fried rice so good?
Some restaurants may add oyster sauce or butter and plenty of extra oil to their fried rice for extra browning and flavor. Restaurants also have commercial access to high heat and huge woks, which can make a big difference in how the rice cooks up. However, we can get fantastic flavor right at home, by using a jumbo pan or large wok and not overcrowding the pan.
Can I make Chinese fried rice ahead of time?
Chinese fried rice is perfect for meal prep. You can make a big batch of it and divide it into airtight containers to keep in the fridge for up to 5 days.
Can I freeze Chinese fried rice?
This easy fried rice can be frozen for later. Be sure to place leftovers in an airtight, freezer-safe container and freeze for up to one month.
---
---
More to Cook and Eat
---
Did you make this?
Please give us a rating and comment below. We love hearing from you!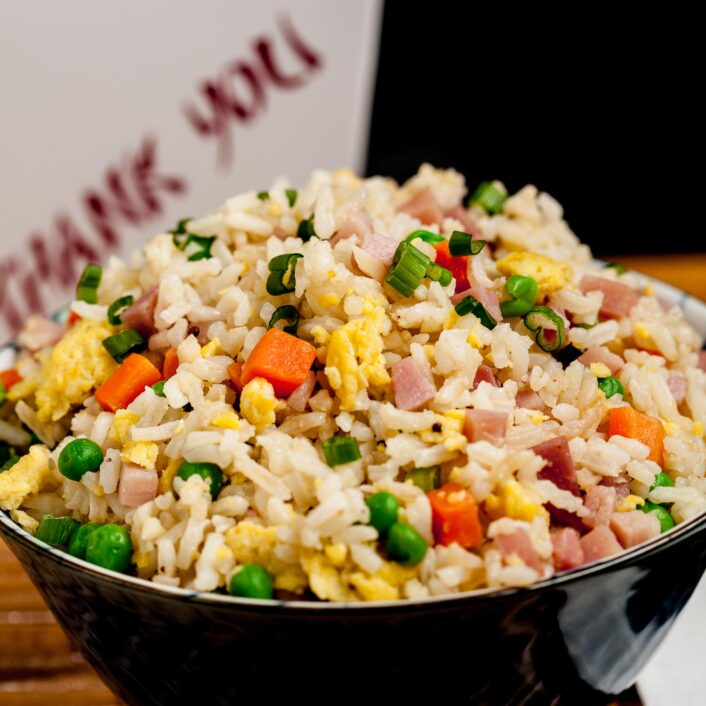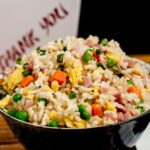 Easy Fried Rice, Chinese Style
Even tastier than takeout, egg fried rice is a healthy, customizable dish perfect for every occasion. Serve it on its own or as a side with your favorite Asian dishes.
Ingredients
3

TB

cooking oil,

such as peanut oil or vegetable oil

4

cloves

garlic,

minced

4 ½

cups

long grain rice,

such as Jasmine, fully cooked and cooled*

2

TB

Asian sesame oil

1

tsp

Maggi seasoning sauce

2

TB

regular soy sauce

½

tsp

table salt,

plus more to taste

½

tsp

white pepper,

plus more to taste

½

cup

peas/carrots,

if frozen, defrost at room temp

1 ½

cups

ham,

cooked, diced*

2

large

eggs,

lightly beaten with 1/8 tsp salt and scrambled into small bits

2

stalks green onion,

thinly sliced
Instructions
In a large wok or extra-large pan, heat the oil until hot. Add the garlic and stir for 30 seconds or until fragrant.

Add the rice, and stir well. Add the sesame oil, Maggi sauce, soy sauce, 1/2 tsp salt, and 1/2 tsp white pepper. Stir seasonings into the rice to coat thoroughly.

Add the peas/carrots and diced ham. Stir to combine and heat through. Add the green onions and scrambled eggs. Stir to incorporate and heat through.

If desired, add a bit more salt and white pepper to taste. Serve warm. Store any leftovers in an airtight container in the fridge for 3-4 days.
Notes
*Leftover rice that's 1-2 days old is best to use for fried rice.
*
Chinese sausage
, shrimp, browned ground meat, or cooked chicken all are good alternatives for ham. You can also omit meat, for a vegetarian egg fried rice.
*See original article for more variations and serving ideas.
*To keep fried rice gluten-free, use gluten-free soy sauce or
Tamari sauce.
*If you enjoyed this recipe, please come back and give it a rating ♡
Nutrition (per serving)
Serving:
1
serving
|
Calories:
694
kcal
|
Carbohydrates:
170
g
|
Protein:
31
g
|
Fat:
30
g
|
Saturated Fat:
6
g
|
Polyunsaturated Fat:
8
g
|
Monounsaturated Fat:
15
g
|
Trans Fat:
0.1
g
|
Cholesterol:
126
mg
|
Sodium:
674
mg
|
Potassium:
487
mg
|
Fiber:
4
g
|
Sugar:
1
g
|
Vitamin A:
216
IU
|
Vitamin C:
2
mg
|
Calcium:
108
mg
|
Iron:
3
mg