P.F. Chang's Mongolian Beef Copycat
By Amy Dong
Published Jul. 14, 2014
Updated Aug. 17, 2022
Beef morsels that are tender as can be. An intensely flavorful sweet soy garlic sauce. Easy enough for a weeknight meal, yet delicious enough to share with friends. Perfect over a bed of soft white rice. This is what P.F. Chang's Mongolian Beef is all about.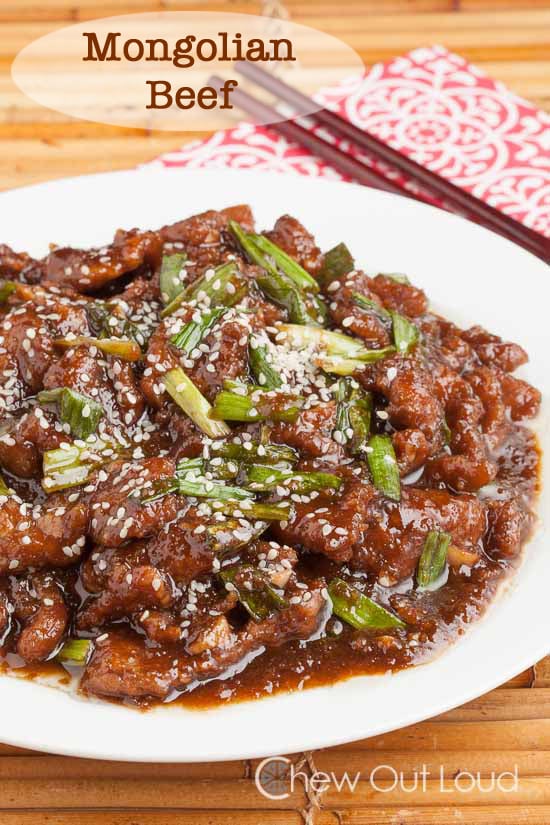 It's been longer than I can remember since I've had a hot, tender, richly flavored plate of Mongolian Beef. When I saw this P.F. Chang's version in my Top Secret cookbook, I tagged it right away.
Then I glimpsed a nice flank steak on sale at my local market and immediately decided what it would be transformed into.
The thought of tender bites of flank steak, immersed in a luscious sweet and savory sauce sent me diving into the kitchen to whip up a wok full of tantalizing Mongolian Beef.
Can't. Wait. For. Dinner.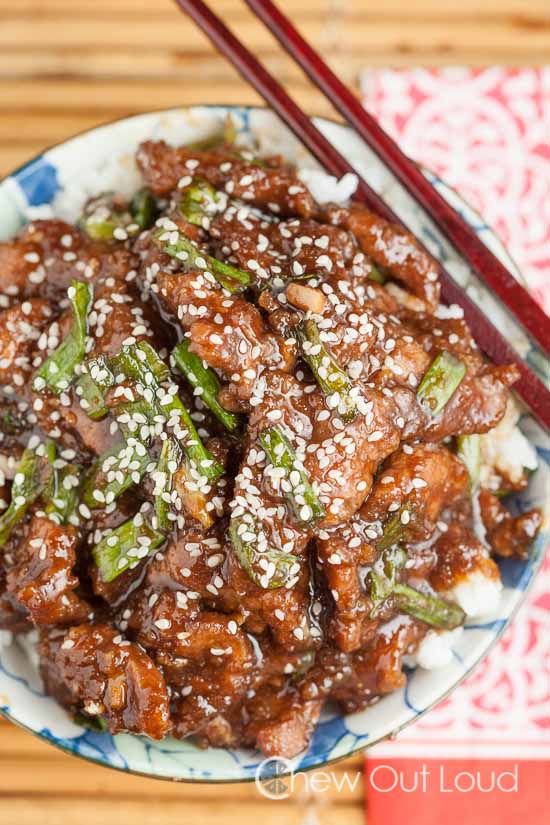 Even if you've never had Mongolian Beef, this dish is sure to capture your attention and tummy. It's like a beef stir fry, with a thick and richly flavored sauce that is amazing over fluffy white rice.
To ensure tenderness, slice flank steak thinly across the grain and do a quick little cornstarch coating (outlined in recipe) to guarantee a tender bite.
This dish is quick and easy to prepare, if you pre-measure all ingredients and have it ready to go when you start to cook. That way, you pretty much just toss, stir, and repeat.
Voila! Dinner is served.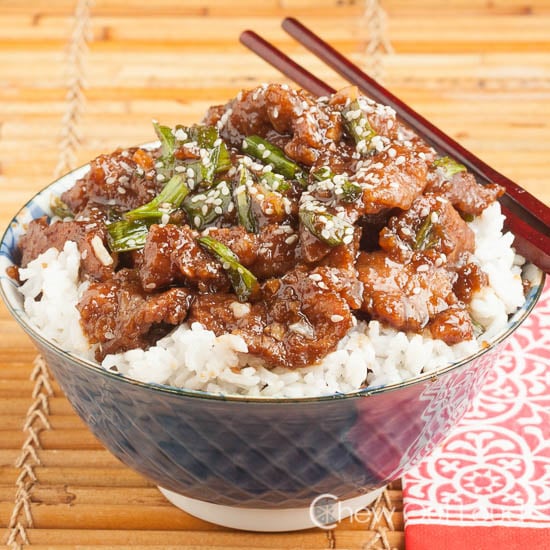 Despite the fact that Hubby is a great big beef eater, The Littles are typically not. Probably because beef often is chewier and tougher in texture than fish or chicken.
However, The Littles ate every last bite of their beef bowls made with morsels of flavorful Mongolian Beef and white rice smothered in the mouthwatering sauce.
If you like some kick to your Asian dishes, feel free to toss in 2-3 dried chilies.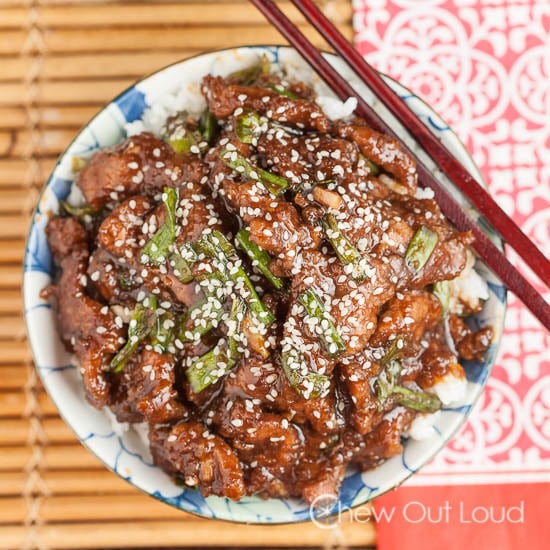 The result is an irresistible dish of tender, saucy, flavorful Mongolian Beef that everyone will devour.
It doesn't get better than this. Easy, quick, 100% mouthwatering dinners any night of the week.
Enjoy!
Did you make this?
Please give us a rating and comment below. We love hearing from you!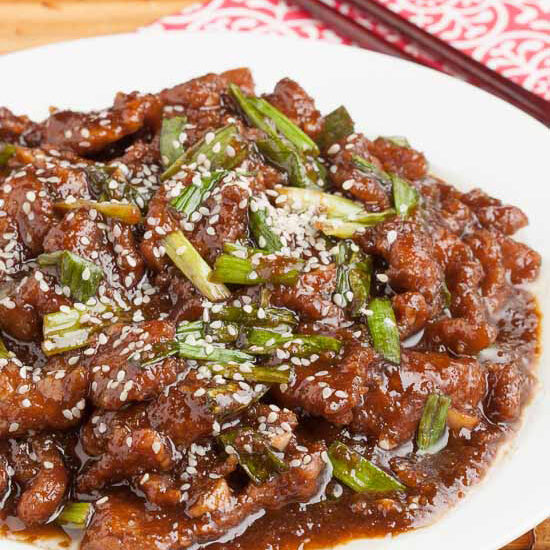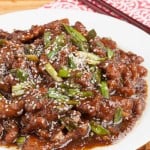 Mongolian Beef (P.F. Chang's clone)
This Mongolian Beef is luscious in every way. Sweet, savory, tender, and saucy. Be sure to cut beef thinly across the grain for superb tenderness. Have all ingredients measured and prepared so that your cooking process goes quickly and easily!
Ingredients
4

tsp

vegetable oil

1

tsp

minced ginger

2

TB

chopped garlic

1

cup

regular soy sauce,

not low sodium

1

cup

water

1 ½

cup

packed dark brown sugar

1

cup

vegetable oil

2

lb

flank steak

½

cup

cornstarch

½

tsp

table salt

1

bunch green onions

,

sliced into 1 inch pieces
Instructions
To make the sauce, heat 4 tsp vegetable oil in a saucepan over med-low heat, until hot but not smoking. Add ginger and garlic to the pan, stir for 30 seconds, and quickly add soy sauce and water.

Add brown sugar in the sauce, stir well, and bring to boil at medium heat 2-3 min. Sauce should thicken a little. Remove from heat and set aside.

Slice flank steak against the grain into 1/4 inch thick bite-size slices. To get nice cuts, tilt blade of knife at 45 degree angle.

Toss steak pieces into a large bowl with cornstarch. All pieces should be coated. Let beef sit 20 minutes (this step helps tenderize the beef.) Add 1/2 tsp table salt and toss to coat.

Meanwhile, heat 1 cup oil in a large wok or large skillet. Heat oil over medium heat until hot but not smoking. Add beef to pan and stir frequently, 2-3 minutes or until beef browns on the exterior. Beef will not be completely cooked, but remove with slotted spoon and place onto paper towel lined plate. Pour oil out. Throw the meat back into the empty pan and stir over medium-low heat for 1 minute. Add the sauce, cook and stir for 1 minutes. Add green onions. Cook 1 minute, stirring, until beef is fully cooked through and onions are wilted.

Serve beef over your favorite rice, with desired amount of sauce.

*Note: If you prefer a bit of kick, add 2-3 dried chilies into the beef during browning in the wok.
Nutrition (per serving)
Calories:
1250
kcal
|
Carbohydrates:
101
g
|
Protein:
55
g
|
Fat:
70
g
|
Saturated Fat:
14
g
|
Polyunsaturated Fat:
34
g
|
Monounsaturated Fat:
18
g
|
Trans Fat:
0.4
g
|
Cholesterol:
136
mg
|
Sodium:
3680
mg
|
Potassium:
1041
mg
|
Fiber:
1
g
|
Sugar:
81
g
|
Vitamin A:
60
IU
|
Vitamin C:
2
mg
|
Calcium:
142
mg
|
Iron:
6
mg
Source: Chew Out Loud, adapted from Top Secret Restaurant Recipes Cookbook 2
This P.F. Chang version of Dan-Dan noodles is not to be missed. The flavor is amazing, the noodles are luscious, and I've never met anyone who doesn't love it.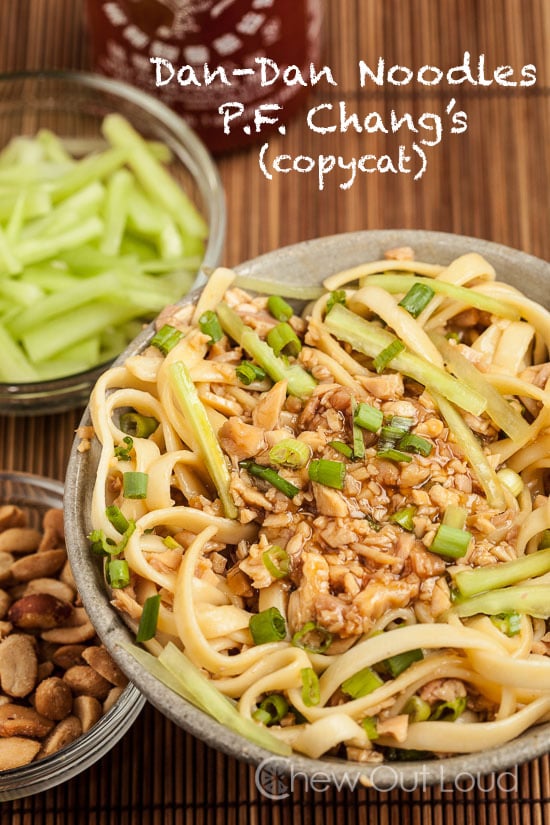 This is my homegrown version of tender, succulent Fish with Black Bean Sauce. It's one that my family adores, and it's super healthy and flavorful without being slightly fishy tasting at all.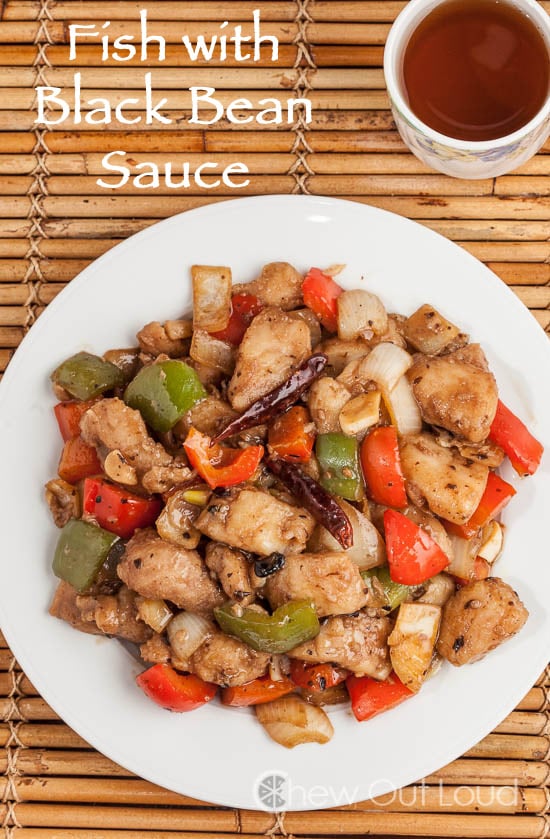 Homemade Scallion Cakes are the BEST. These are flaky, crispy, and just the right amount of salty. Seriously nosh-worthy.