Chow mein is one of those popular staples at any Chinese restaurant.  But…just like no two burger joints make a burger exactly the same way, every restaurant does their chow mein a little bit differently.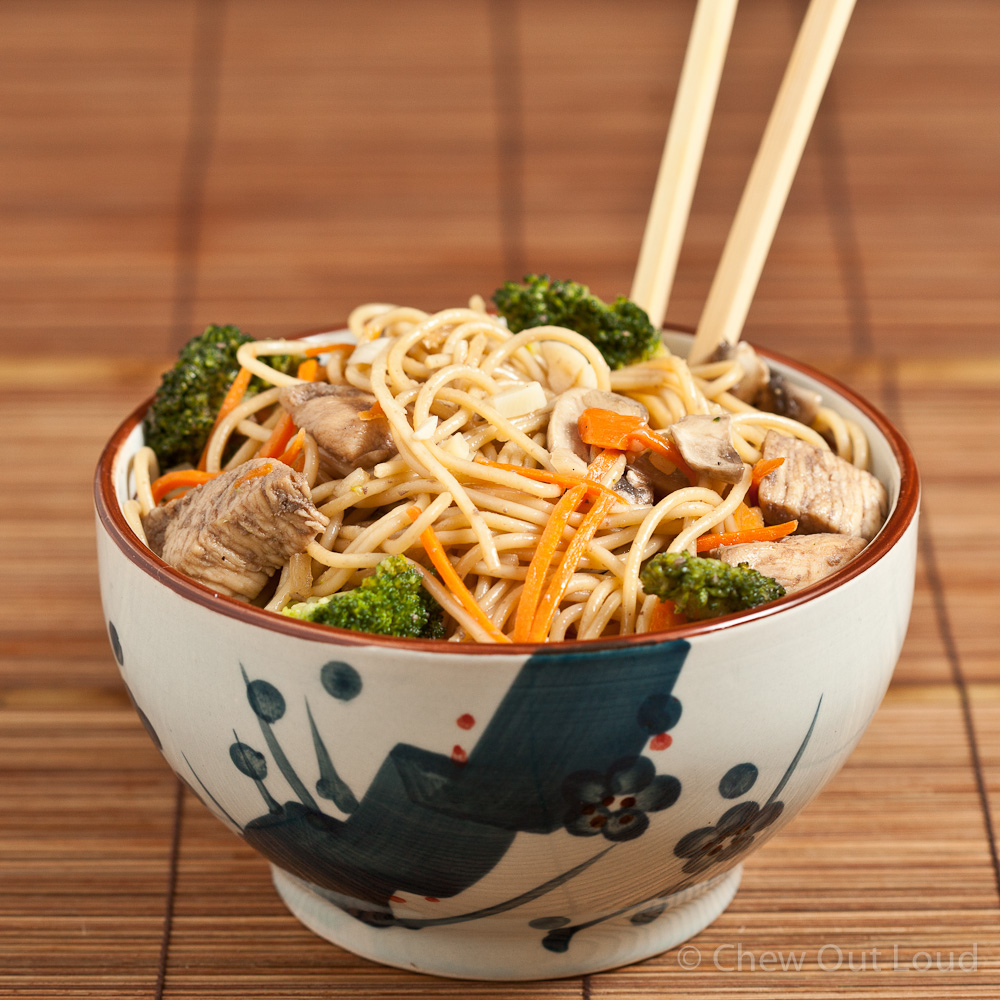 We're a family that's fond of all things pasta, so we'll happily nosh on most varieties of chow mein.  Thin noodles, thick noodles, noodles galore.  It's all good, as long as the "chow mein" is actually comprised of said noodles, and not a mountain of sprouts and crunchy stick things.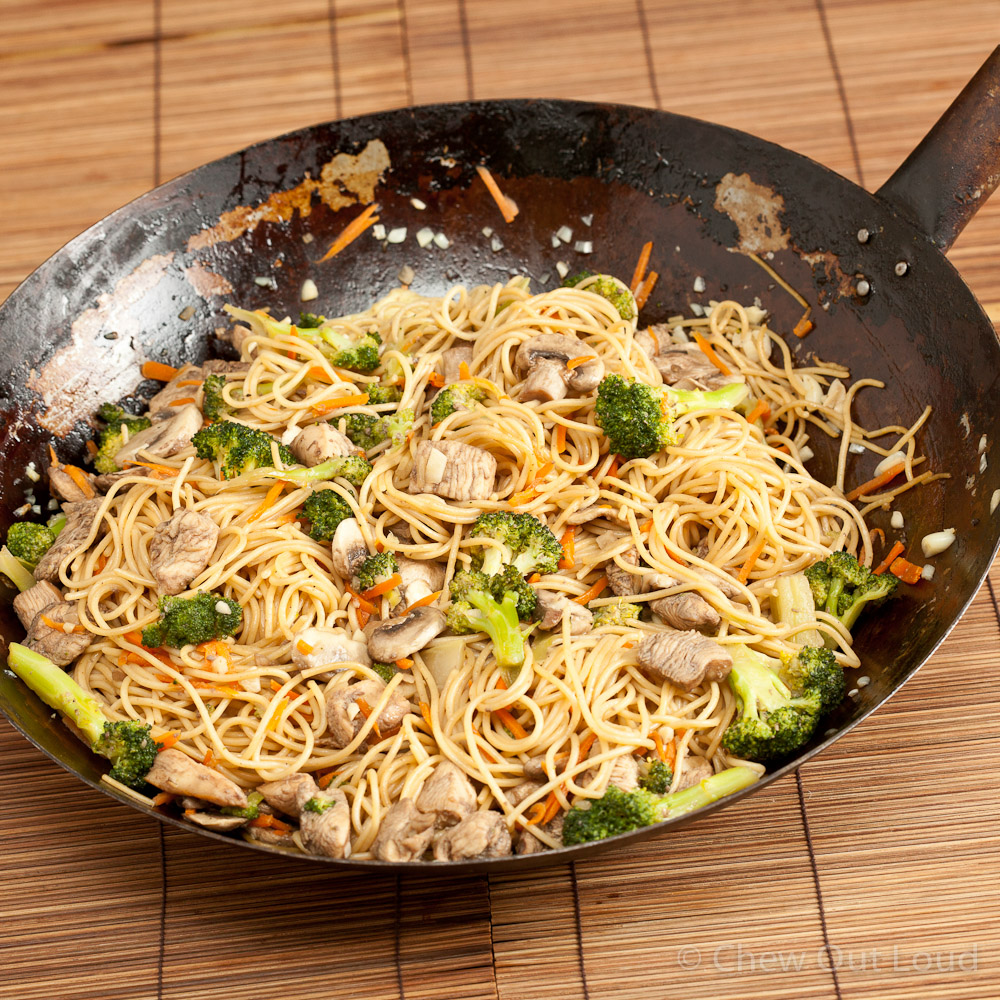 Of course, most dear to my heart is the homestyle variety… the kind of Chicken Chow Mein noodles my parents would make at home.  The kind I often throw together in my own kitchen and my kids devour.  The kind that quickly gets chowed down if taken to potlucks.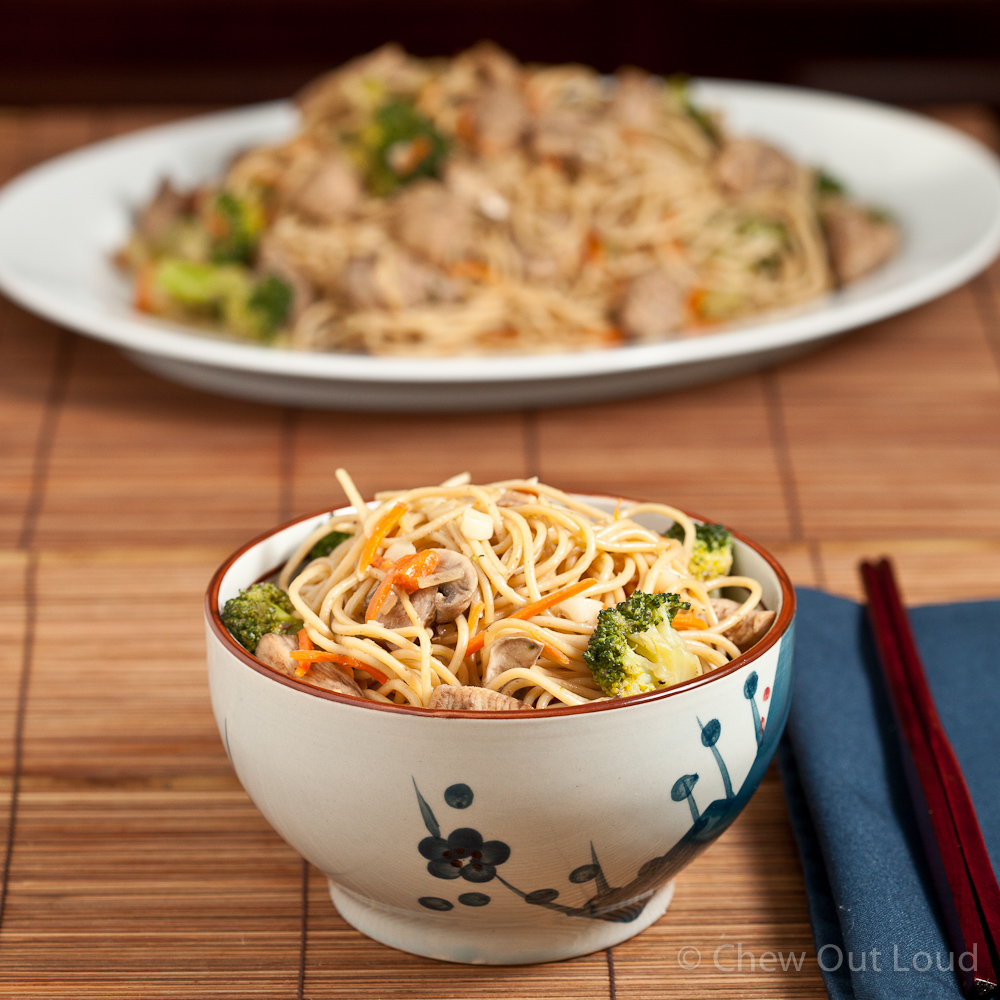 This homestyle chicken chow mein is chock full of chewy noodles, julienned carrots, broccoli florets, mushrooms, and chicken.  All good things, embellished with garlic and savory flavors.  Use whatever veggies and protein you like, and you'll have a dish you love.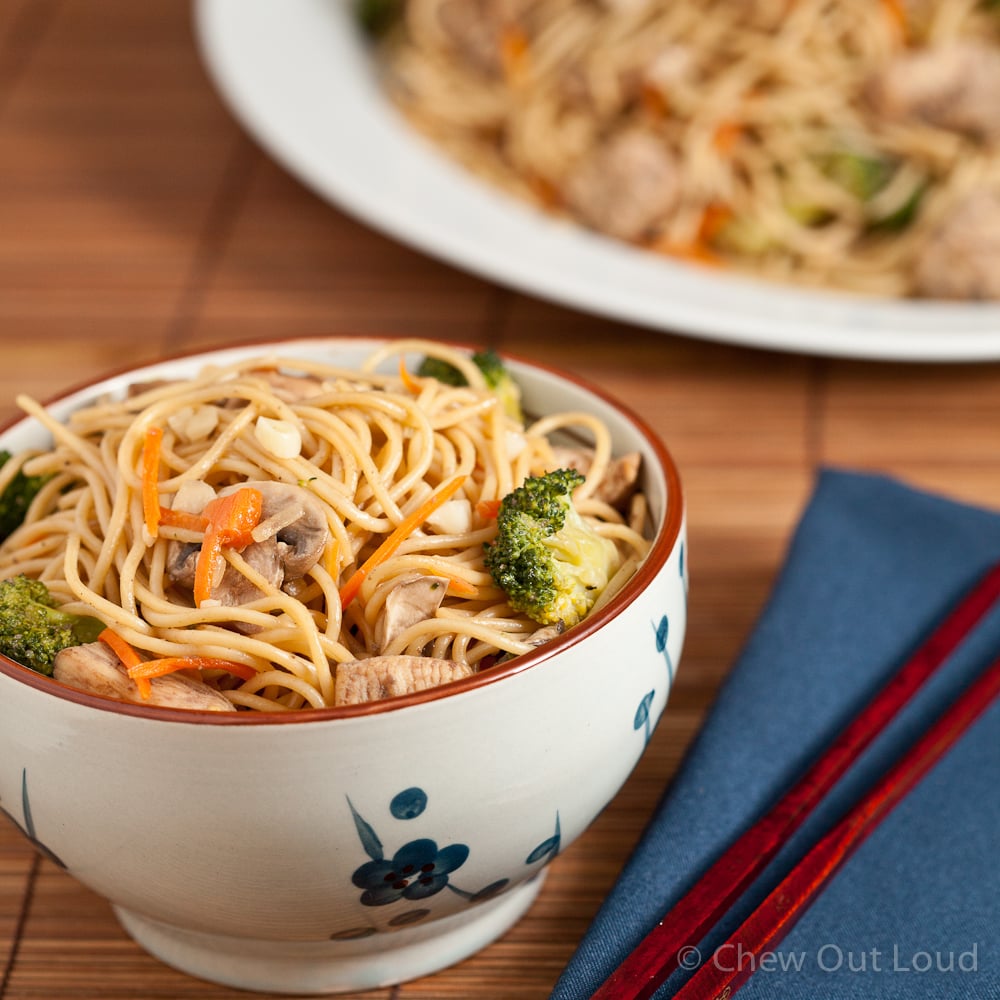 Try it and you'll quite possibly never look at Chinese take-out chow mein the same again.  It's super easy to cook up and reheats really well.   And…add those crunchy sticks if you must 🙂  Enjoy!
———————————————————————————————
RECIPE (makes 4-6 main dish servings)
INGREDIENTS
Peanut or light olive oil
6 garlic cloves, chopped and divided
1 head fresh broccoli florets, cut to bite size
1 cup carrots, peeled and julienned
8oz button or rehydrated Shitake mushrooms, sliced thinly
14.5 oz dried spaghetti
Asian oyster sauce
Kosher salt
Fresh ground black pepper
Optional:  Chopped scallions or cilantro for garnish
For the Chicken Mixture:
1 lb chicken breast, skinless and boneless
3 TB rice cooking wine (not vinegar)
3 TB regular soy sauce (not light)
1 TB Asian pure sesame oil, typically brown in color
2 TB sugar
1/4 tsp white pepper
1/2 tsp ground ginger
3 garlic cloves, minced
DIRECTIONS
Do Ahead:  Dry chicken breasts and cut into bite size pieces.  Mix chicken with all of Chicken Mixture ingredients, making sure all chicken pieces are in contact with marinade.  Marinade at least 2 hours or overnight.
Start boiling a large pot of salted water for the pasta.
Heat 2 TB oil in large heavy skillet or wok.  Cook chicken with marinade until chicken is no longer pink in center.  Do not overcook.  Transfer cooked chicken with juices to a large bowl and set aside.
In same skillet/wok, heat 2 TB oil and cook half of the chopped garlic until fragrant, about 30 seconds.  Add broccoli florets and julienned carrots.  Cook on medium high until just tender, adding dashes of water as needed to keep veggies from drying out.  Add 2 tsp kosher salt,  1 TB oyster sauce, and 1/2 tsp black pepper.  Stir fry another minute.  Add sliced mushrooms and cook just until soft.  Transfer veggies to the bowl with cooked chicken.
Cook spaghetti noodles just until al dente – not more.  Drain in colander; don't rinse.  Heat 3 TB oil in large pot or wok with rest of chopped garlic, cooking just until fragrant.  Add back the cooked noodles.  Add 2 T Asian sesame oil and 4 TB oyster sauce.  Stir fry the noodles on medium about 3 minutes (easier with chopsticks.)  Add salt/pepper to taste, if needed.
Stir in desired amount of cooked veggies/chicken mixture with juices (use all of it, or save some to go with rice the next day.)  Stir fry thoroughly a few more minutes, until well incorporated.
Garnish with chopped scallions or cilantro if desired.  Serve warm.
Source:  Chew Out Loud