Chicken Chow Mein: How to Stir Fry Noodles
Chow Mein is a popular Chinese stir-fried noodle dish popular on any takeout menu. Learn this simple method for making your own healthier, flavorful chow mein at home.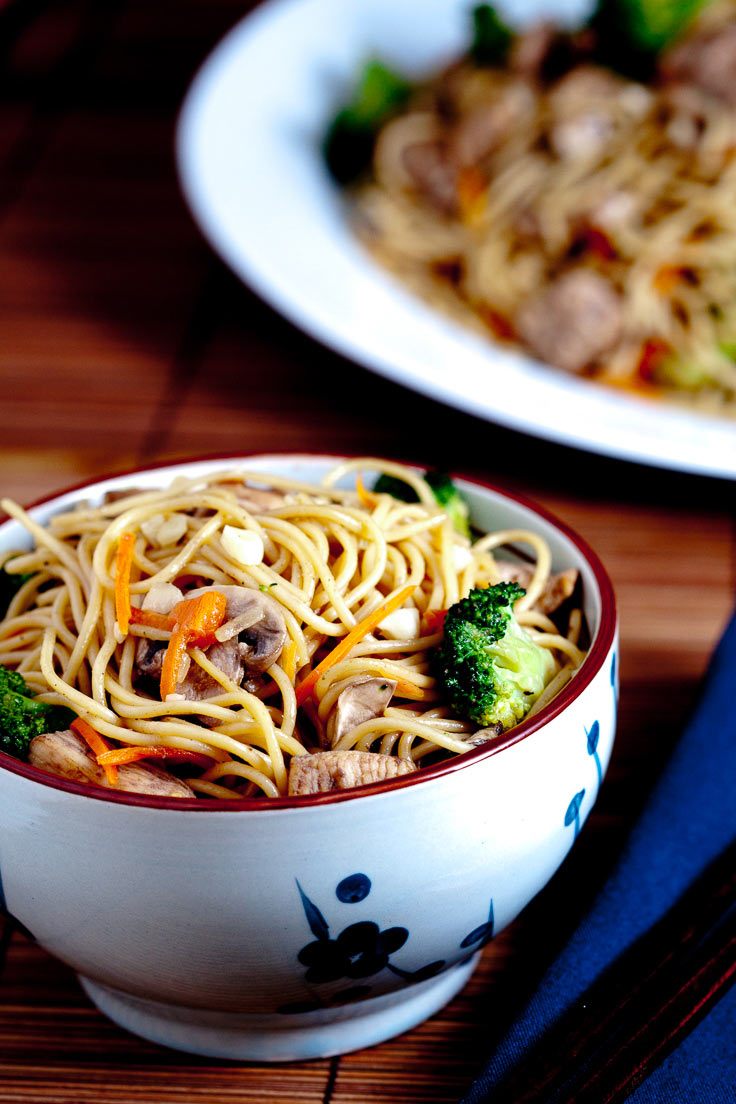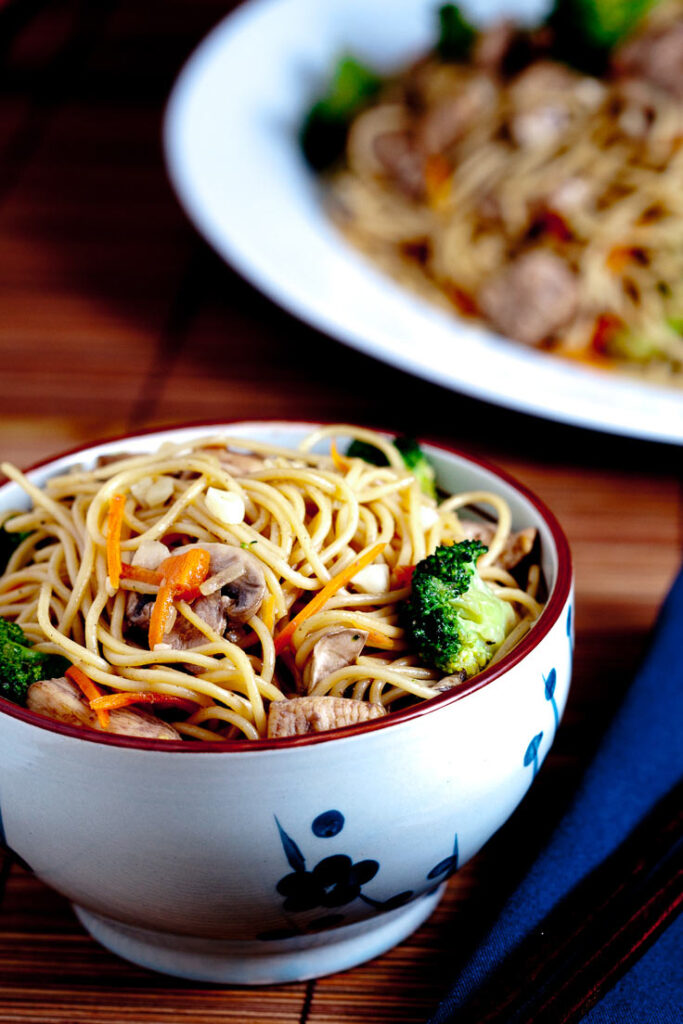 Easy, Homemade Chow Mein
For a hugely popular yet basic Asian dish, Chow Mein is famous for its variations. Just like no two pizza joints make exactly identical pies, Chinese restaurants can vary greatly when it comes to their signature stir-fried noodles.
As noodle lovers, we'll happily nosh on all varieties of chow mein. Thin noodles, thick noodles, crispy, soft…noodles galore, yes and thank you. It's all good, as long as the "chow mein" is actually comprised of actual noodles and not just a mountain of bean sprouts or little noodle-stick crisps.
Of course, most dear to my heart is the homestyle variety…the kind of stir-fried chow mein noodles my parents would make at home. I often toss up a batch of homemade chow mein in my own kitchen – it's on popular dinner rotation around here, as nobody ever complains when it's stir-fried noodle night.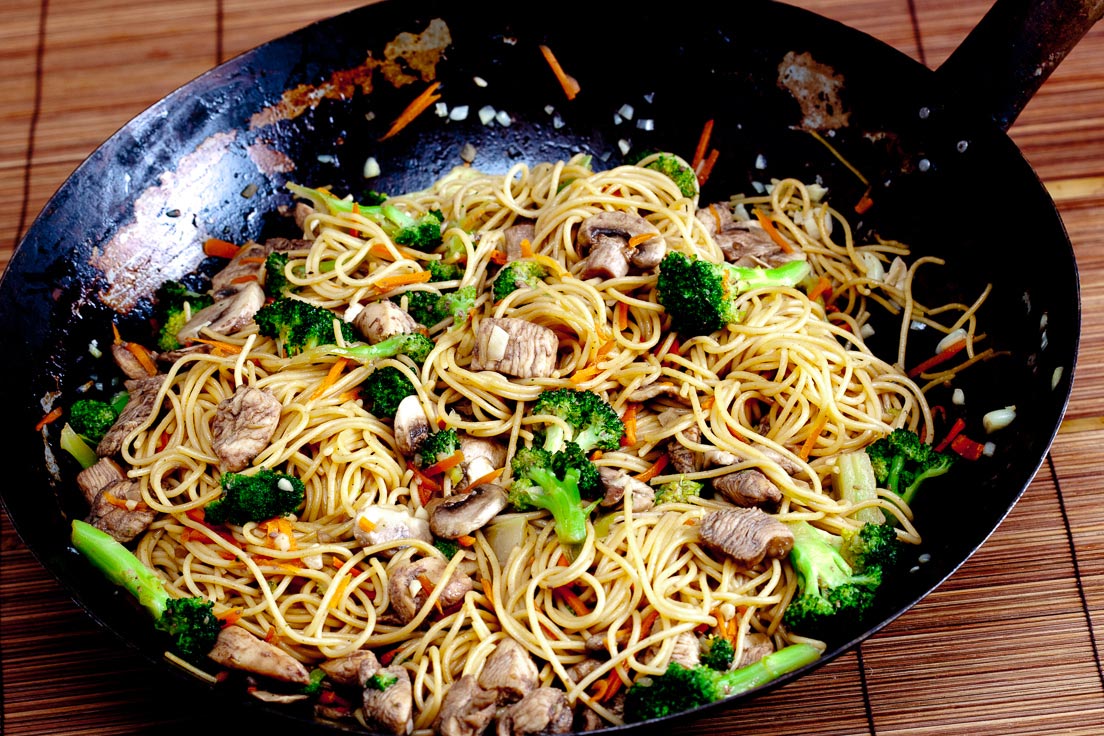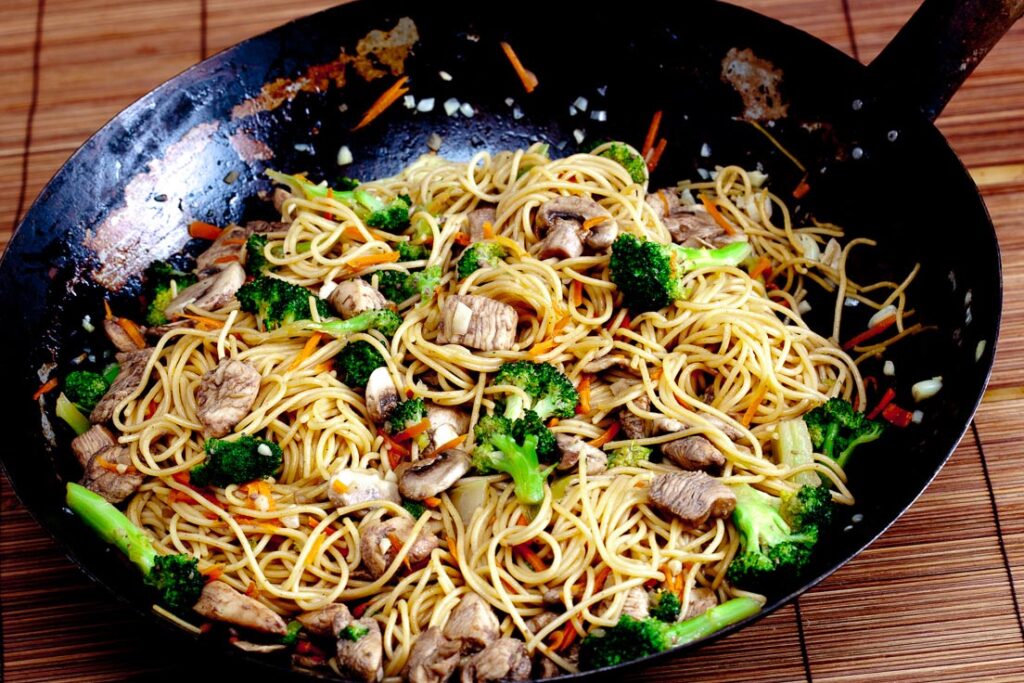 Do I need a wok or special pot?
A large carbon steel wok is perfect for stir-fried noodles, as the deep/wide shape allows for easy stirring and even heating. A moderate amount of oil gets the job done beautifully.
If you don't have a wok and don't want to grab one, you can use a large skillet or pan with extra depth, to allow room for stirring oodles of noodles.
What Kind of Noodles Should I Use?
There's no shortage of spirited feelings when it comes to the kind of noodles to use for chow mein, and you can quickly go down a rabbit hole.
Here's the super short version (you're welcome) of the deal:
Traditionally, fresh or dry thin Chinese egg noodles are used. The thin egg noodles are ideal for tossing up either a crispy Cantonese style chow mein, as well as a softer/chewy version.
In real life, you won't always be able to find thin Chinese egg noodles in time for tomorrow's dinner. In which case, dry spaghetti or angel hair pasta will do just fine.
What's the difference between chow mein and lo mein?
The main difference between these delicious takeout favorites is in the preparation. Both dishes use Chinese egg noodles, and both are typically tossed with similar proteins and vegetables.
Though chow mein can be made Cantonese-style with a bit of crunch to the noodles, lo mein aims solely for a soft and chewy texture.
Chow mein is all about stir-frying everything together in a wok or pan. Lo mein's star focus is the abundant sauce. Here's our quick and easy homestyle lo mein recipe.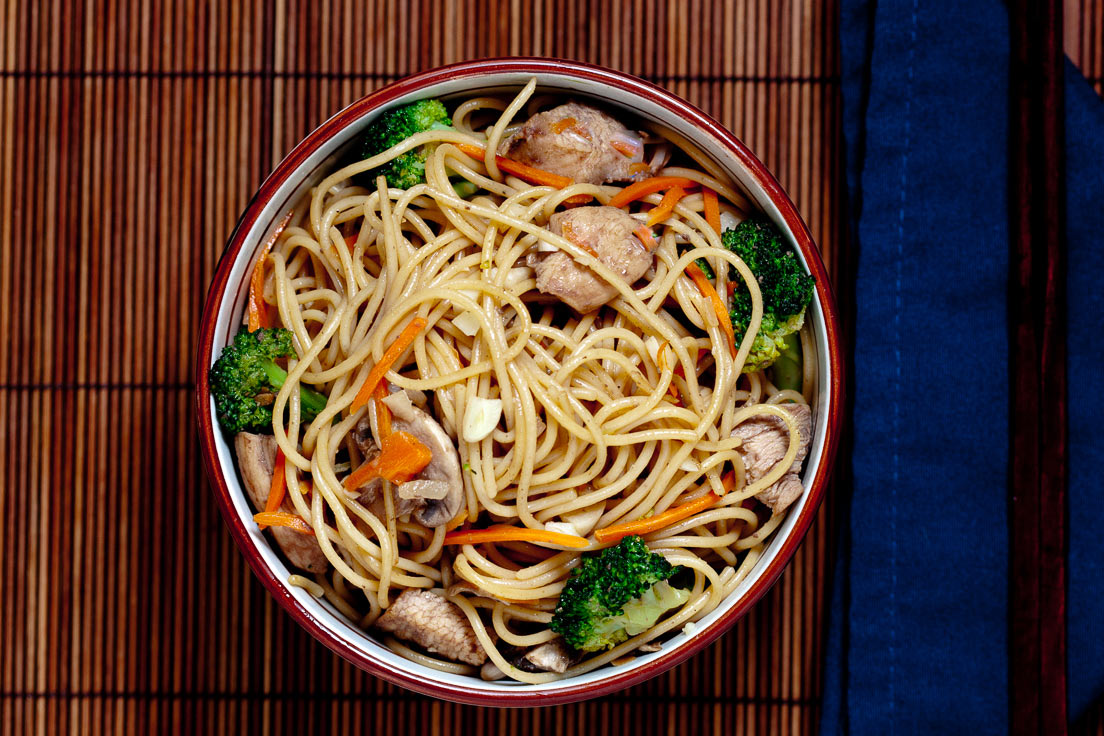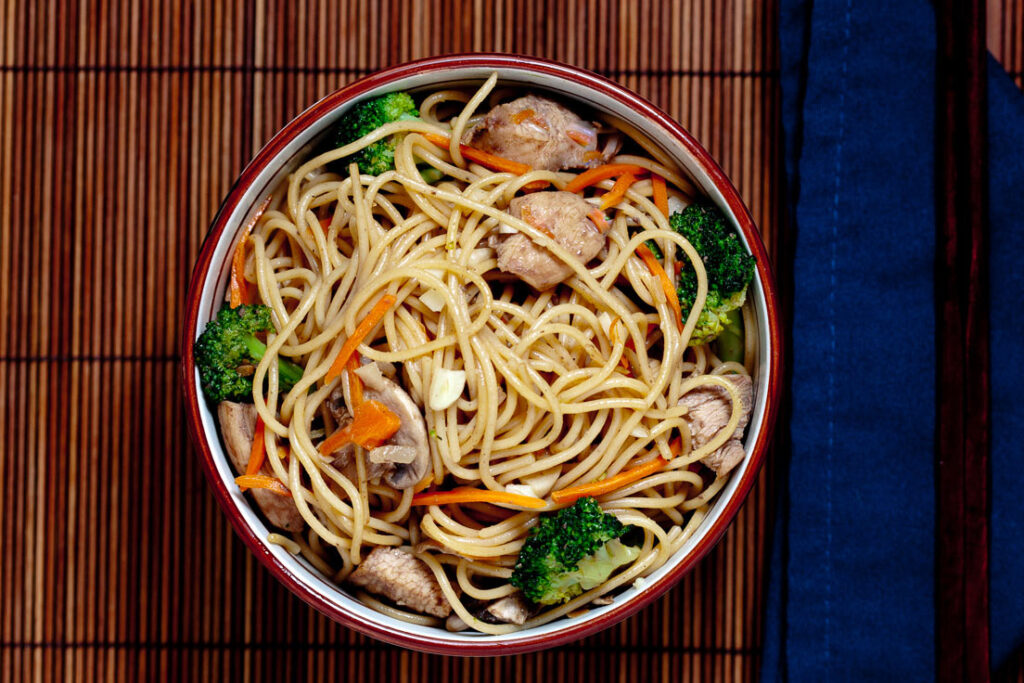 What proteins and vegetables Should I add?
This is the fun part – homemade chow mein is extremely flexible and versatile. Here are our favorite protein and vegetable choices:
Vegetables: julienned carrots, broccoli florets, and mushrooms are our favorite go-to veggies. They provide crisp texture, gorgeous colors, and abundant nutrition. Thinly sliced common cabbage or napa cabbage are also popular. If you can find Chinese broccoli, that's a favorite restaurant choice.
Protein: chicken thighs (or breasts) work perfectly, as they're easily accessible and soak up the marinade like a champ. Use thighs if you want to ensure tenderness. Tasty alternatives include raw, cleaned shrimp or very thinly sliced flank steak.
If using shrimp, skip the marinade time. If using thinly sliced beef, follow recipe as instructed.
Common Questions and Answers
Is Chow Mein Healthy?
Homemade chow mein is definitely healthier than takeout. We call this recipe healthyish, as it's loaded with garlic, broccoli, carrots, mushrooms, and lean protein.
What's the difference between chow mein and chow fun?
Chow mein is traditionally made with thin Chinese egg noodles. Chow fun refers to wide, flat-cut rice noodles. Both are stir-fried with a variety of vegetables and protein.
Does leftover chow mein reheat well?
Absolutely! It's a great idea to make a big batch of chow mein for meal prep, and enjoy it for the next few days. Microwave or stovetop work for reheating.
More to Cook and Eat:
---
---
Did you make this?
Please give us a rating and comment below. We love hearing from you!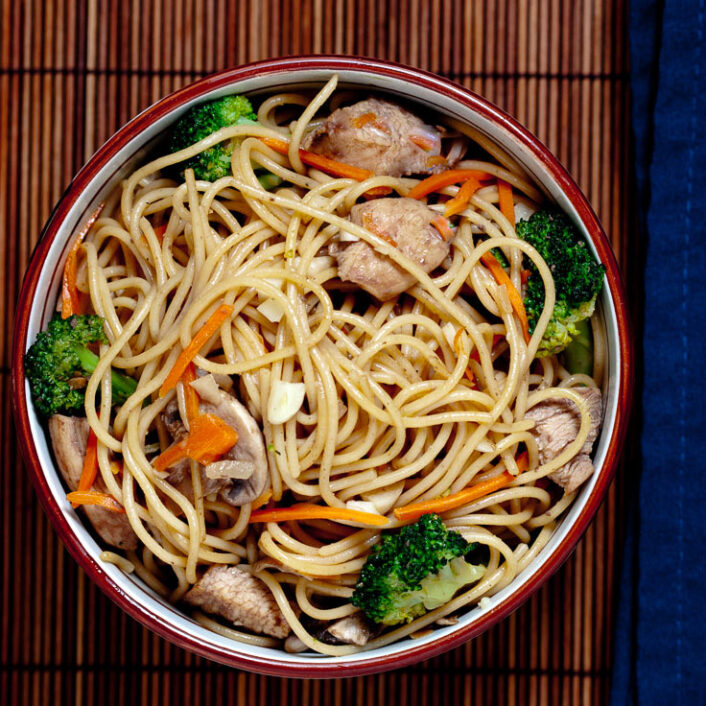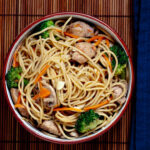 Chicken Chow Mein with Vegetables
Chow Mein is a popular Chinese stir-fried noodle dish popular on any takeout menu. Learn this simple method for making your own healthier, flavorful chow mein at home
Ingredients
Light olive oil (or peanut oil)

6

cloves

garlic

,

chopped and divided

1

head

broccoli florets

,

cut to bite size pieces

1

cup

carrots

,

peeled and julienned

8

ounces

rehydrated Shittake mushrooms

14.5

ounces

dry spaghetti or angel hair noodles*

6

tbsp

Asian Oyster Sauce

,

divided

Optional: chopped scallions or cilantro for garnish
For Chicken Mixture
1

pound

chicken thighs or breast

,

skinless and boneless

3

tbsp

Asian rice cooking wine

,

(not vinegar)

3

tbsp

regular soy sauce

1

tbsp

pure Asian sesame oil

,

dark golden brown in color

2

tbsp

sugar

¼

tsp

white pepper

½

tsp

ground ginger

3

garlic cloves

,

minced
Instructions
Do Ahead: Dry chicken breasts and cut into bite size pieces. Mix chicken with all of Chicken Mixture ingredients, making sure all chicken pieces are in contact with marinade. Marinade at least 2 hours or overnight.

Start boiling a large pot of salted water for the pasta. Heat 2 TB oil in large heavy skillet or wok. Cook chicken with marinade until chicken is no longer pink in center. Do not overcook. Transfer cooked chicken with juices to a large bowl and set aside.

In same skillet/wok, heat 2 TB oil and cook half of the chopped garlic until fragrant, about 30 seconds. Add broccoli florets and julienned carrots. Cook on medium high until just tender, adding dashes of water as needed to keep veggies from drying out. Add 2 tsp kosher salt, 1 TB oyster sauce, and 1/2 tsp black pepper. Stir fry another minute. Add sliced mushrooms and cook just until soft. Transfer veggies to the bowl with cooked chicken.

Cook spaghetti noodles just until al dente. Drain in colander; don't rinse. Heat 3 TB oil in large pot or wok with rest of chopped garlic, cooking just until fragrant. Add back the cooked noodles. Add 2 TB Asian sesame oil and 4 TB oyster sauce. Stir fry the noodles on medium about 3 minutes (easier with chopsticks.) Add salt/pepper to taste, if needed.

Stir in desired amount of cooked veggies/chicken mixture with juices (use all of it, or save some to go with rice the next day.) Stir fry thoroughly a few more minutes, until well incorporated.

Garnish with chopped scallions or cilantro if desired. Serve warm.
Notes
If you can find thin Chinese egg noodles, fresh or dry, use that and prep it according to package instructions for stir-fry.
If you enjoyed this recipe, please come back and give it a rating ♡
Nutrition (per serving)
Calories:
855
kcal
|
Carbohydrates:
147
g
|
Protein:
48
g
|
Fat:
11
g
|
Saturated Fat:
2
g
|
Polyunsaturated Fat:
3
g
|
Monounsaturated Fat:
3
g
|
Trans Fat:
0.02
g
|
Cholesterol:
108
mg
|
Sodium:
1685
mg
|
Potassium:
2042
mg
|
Fiber:
15
g
|
Sugar:
16
g
|
Vitamin A:
6321
IU
|
Vitamin C:
142
mg
|
Calcium:
146
mg
|
Iron:
5
mg