Happy Friday!
Not even the gloomy skies overhead can dampen our appreciation for weekends. In fact, rainy weekend mornings only serve to heighten our eager anticipation of sitting down together to a warm, hearty breakfast.
Or brunch, depending on how bright-eyed and bushy-tailed we feel in the morning.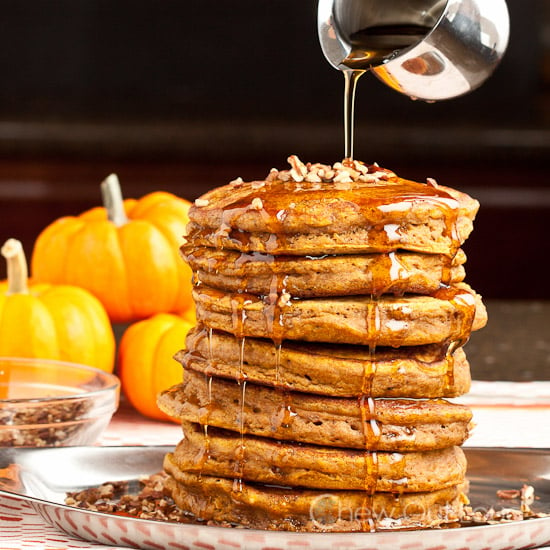 Kudos to Hubby for being the weekend morning chef when I'm still in dreamland. Needless to say, I'm no morning person. Which is why I appreciate breakfast recipes that can be mostly prepared the night before, like Cheesy Potato Breakfast Casserole and Eggs Benedict Casserole.
However, we love homemade fluffy pancakes, waffles, eggs, and the whole gig. At least on Saturdays or Sundays. It has become a tradition for us to have hot breakfast together one day a week, since M-F breakfasts are pretty much a DIY thing now that my kids are able to help themselves.
One of these days, I'll get around to sharing my fave recipes for basic pancakes and waffles. But it is SO pumpkin season right now and our kitchen is pumpkin-loaded. I had to make these unbeatable fluffy pumpkin pancakes for you. Did I mention they are surprisingly healthy?
You'd never know these are good for you by looking at this mouthwatering photo: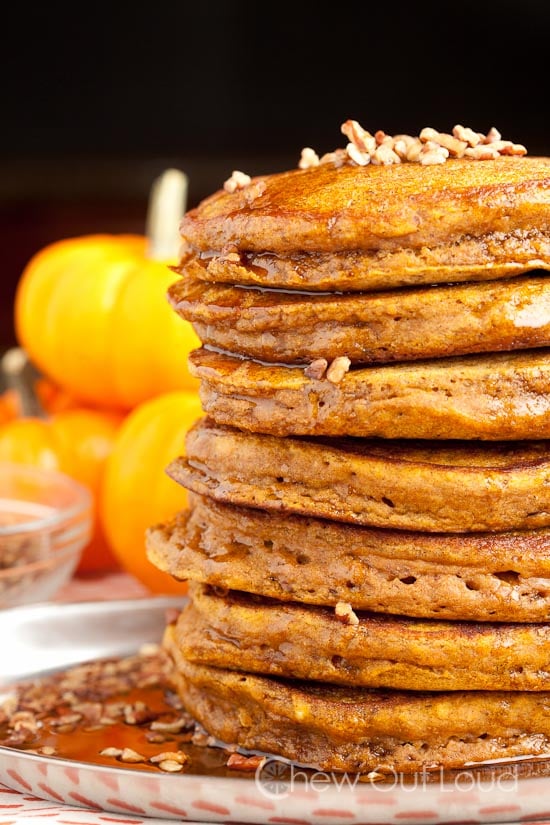 I confess, in the past, my quickest go-to pumpkin pancakes came from Trader Joe's. In years past, I literally hoarded TJ's seasonal pancake mix because they taste great and are free of artificial ingredients you can't pronounce.
I'm not saying I won't still stash a box or two of my beloved TJ's mix, but after these homemade fluffy pumpkin pancakes…well, as always, nothing beats homemade.
I hope I never lose this blissful pancake recipe. Important side note: the recipes I never want to lose are the only ones that make it on this blog.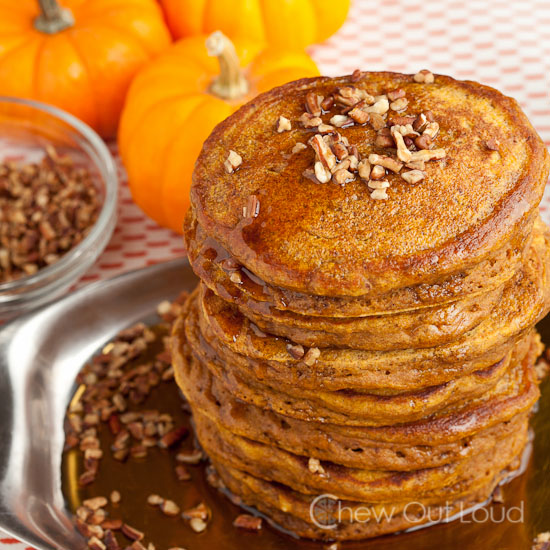 These toothsome pancakes are nearly just as easy to whip up as their boxed counterparts. They are the most amazingly tender, fluffy, tasty pumpkin pancakes…dare I say ever? These are scrumptious for breakfast, brunch, and the occasional breakfast-for-dinner.
I was planning to test out the pancakes' freezability, but the whole batch got devoured; no leftovers to freeze.
These pumpkin pancakes will get inhaled the minute you set them on the table.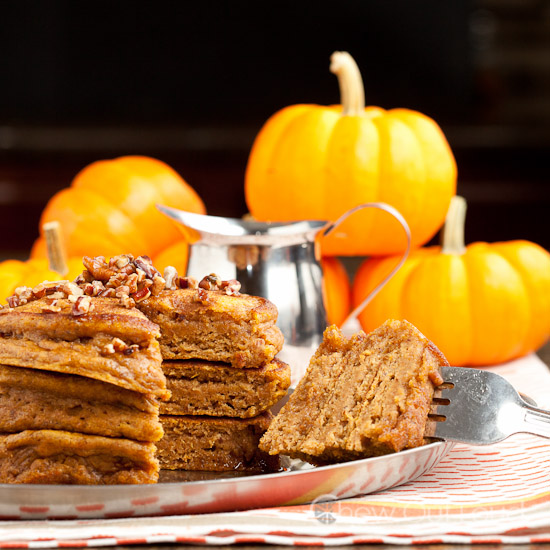 If you have a crowd of pancake lovers, you just might need to double the recipe.
Tender, soft, moist, fluffy pancakes with the rustic flavor of pumpkin. Lightly sweet with the warmth of cinnamon and spices. The perfect way to indulge in the flavors of fall. The best way to start a fall weekend morning.
Go ahead. Make 'em, and let your taste buds do the happy dance.
Enjoy!
Did you make this?
Please give us a rating and comment below. We love hearing from you!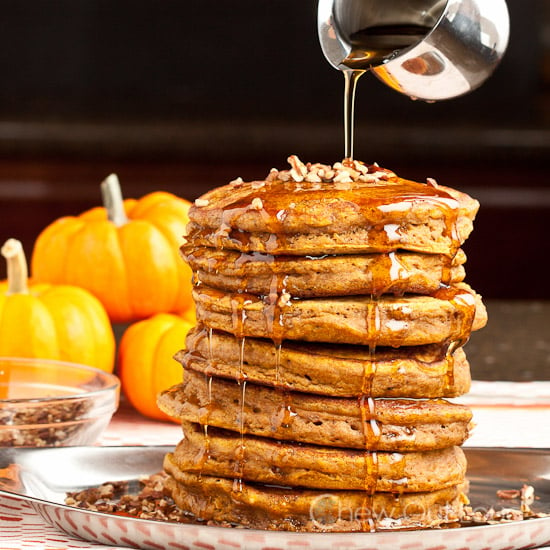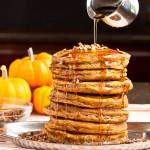 Fluffy Pumpkin Pancakes
These luscious pumpkin pancakes are tender, soft, moist, and rustic with pumpkin and spices.
Instructions
Combine milk with vinegar and let sit at room temp for at least 10 minutes or while you make the batter.

In a large bowl, whisk together: both flours, flax, baking powder, baking soda, nutmeg, cloves, cinnamon, ginger, and salt. Whisk together to fully incorporate.

In another large bowl, whisk together: pumpkin puree, egg, brown sugar, and olive oil until well combined and smooth. Add the milk/vinegar and stir until well incorporated.

Fold together the wet and dry ingredients until incorporated, but do not overmix. A bit of lumpiness is good. Batter will be thick.

Heat well-greased frying pan or griddle on medium high heat. When pan is medium-hot, pour about 1/4 to 1/3 cup of batter per pancake, taking care not to overcrowd. Immediately smooth top out a bit, if needed, right after pouring onto pan.

Once first side is golden brown, flip it over with a very large spatula. It helps to keep pan greased and not let it get overly hot, or cakes will brown too quickly.

Serve warm with nuts and maple syrup.
Nutrition (per serving)
Calories:
177
kcal
|
Carbohydrates:
30
g
|
Protein:
5
g
|
Fat:
5
g
|
Saturated Fat:
1
g
|
Polyunsaturated Fat:
1
g
|
Monounsaturated Fat:
3
g
|
Trans Fat:
0.002
g
|
Cholesterol:
23
mg
|
Sodium:
336
mg
|
Potassium:
176
mg
|
Fiber:
4
g
|
Sugar:
10
g
|
Vitamin A:
3904
IU
|
Vitamin C:
1
mg
|
Calcium:
133
mg
|
Iron:
2
mg
Source: Chew Out Loud