Chopped Asian Chicken Salad with Sesame Ginger Dressing
This Chopped Asian Chicken Salad with Sesame Ginger Dressing is healthy and 200% delicious. You'll definitely want to keep it in regular rotation; perfect for lunch, dinner, or sharing with friends.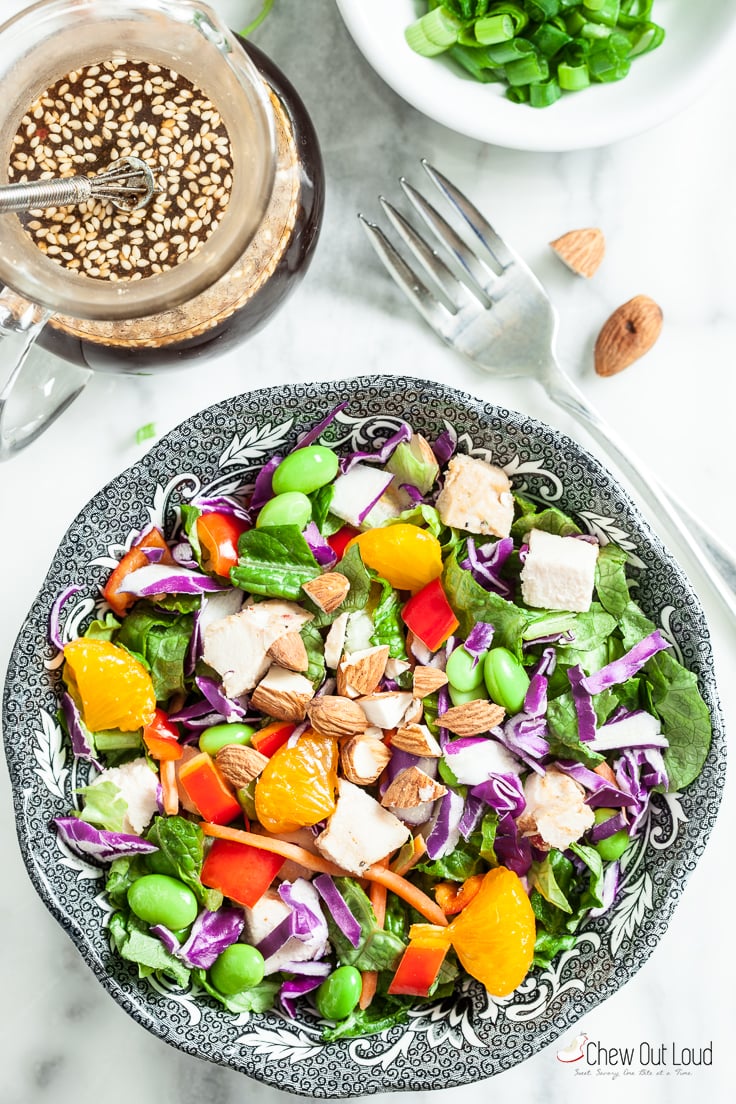 New Years Resolutions are everywhere right now.
I rarely chat resolutions because:
1) I'm not the type to officially change fourteen things in my life just because the calendar says January
2) Admitting the #1 makes me sound like the New Years Grinch.
Recently on my regular Trader Joe run, a teen cashier actually asked me what my resolutions were. My inner dialog said that even if I did have resolutions, I probably wouldn't share them at a busy cash register with a 17-year-old boy. Even if he sells Speculoos Cookie Butter.
Out loud, I said a nicer version of #1 above 😇
Even though I don't have a list of sudden self improvements, healthier eats are on the table this month. While we're at it, let's make it easy and enjoyable…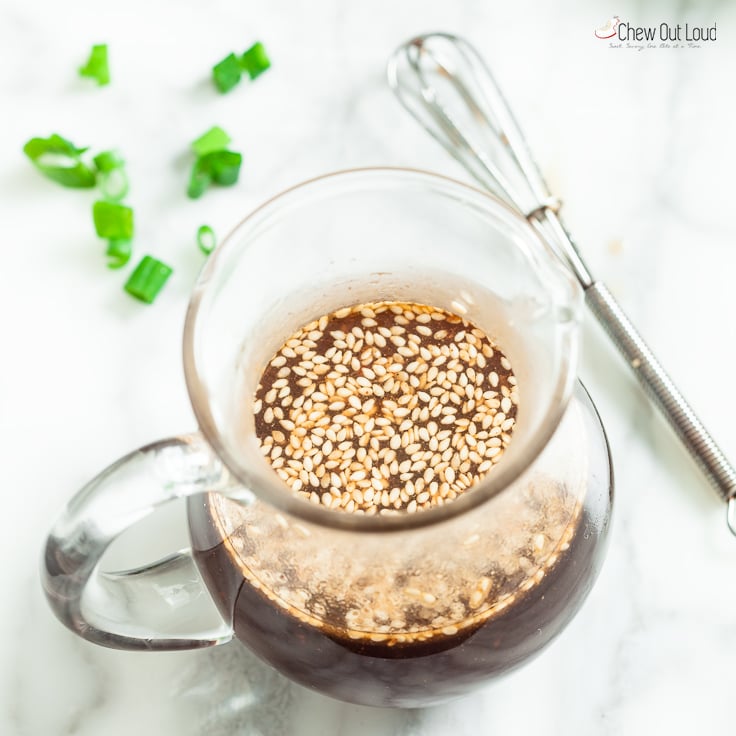 This here is one of my absolute favorite salads of all time: Chopped Asian Chicken Salad with Sesame Ginger Dressing. It's one of the best dressings in the universe. This flavorful dressing gets drizzled on pretty much most of my greens; it makes alltheveggies taste delish.
I'd highly recommend making extra dressing so you can keep it handy when all the store-bought versions of Asian style dressings just don't cut it. [They don't.] Sorry, Stores 😊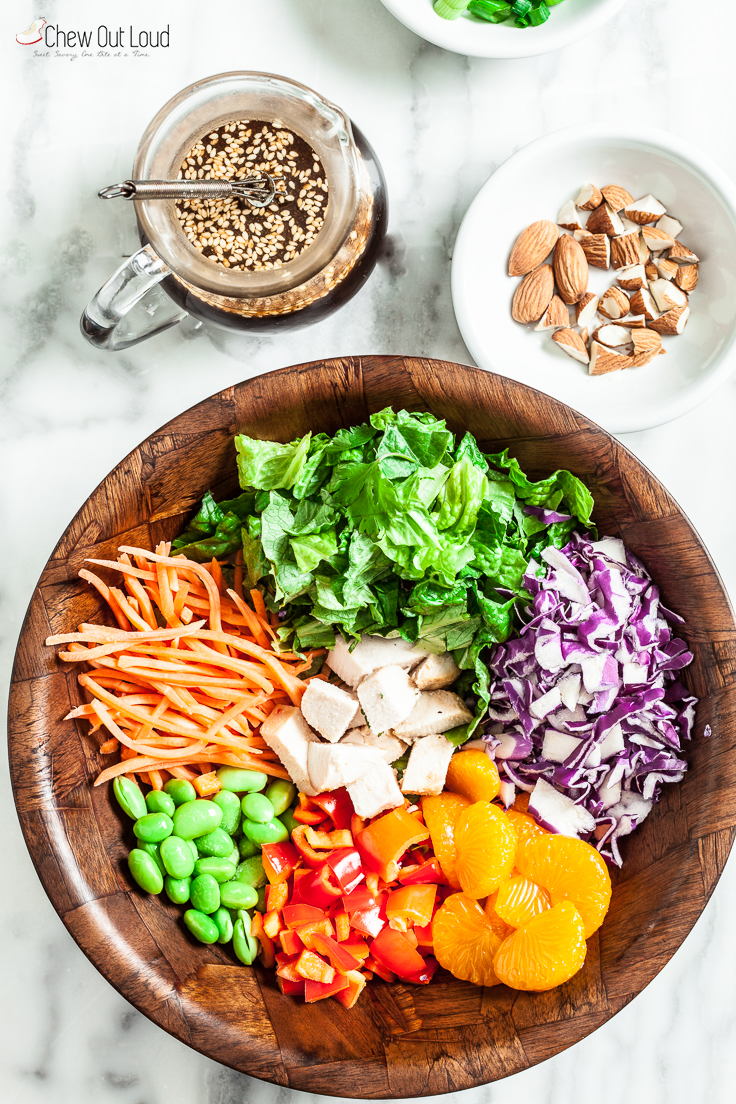 Make it easy on yourself; get the pre-cut matchstick carrots, pre-shelled edamame, and pre-diced red bells, if you can find it.
If you buy most of the ingredients pre-chopped/sliced/diced, you're well ahead of the game.
Nothing beats the flavor of roasting and chopping your own almonds, but pre-sliced almonds are fine in a pinch. [You can always give them a quick toss on the skillet for a home-roasted flavor.]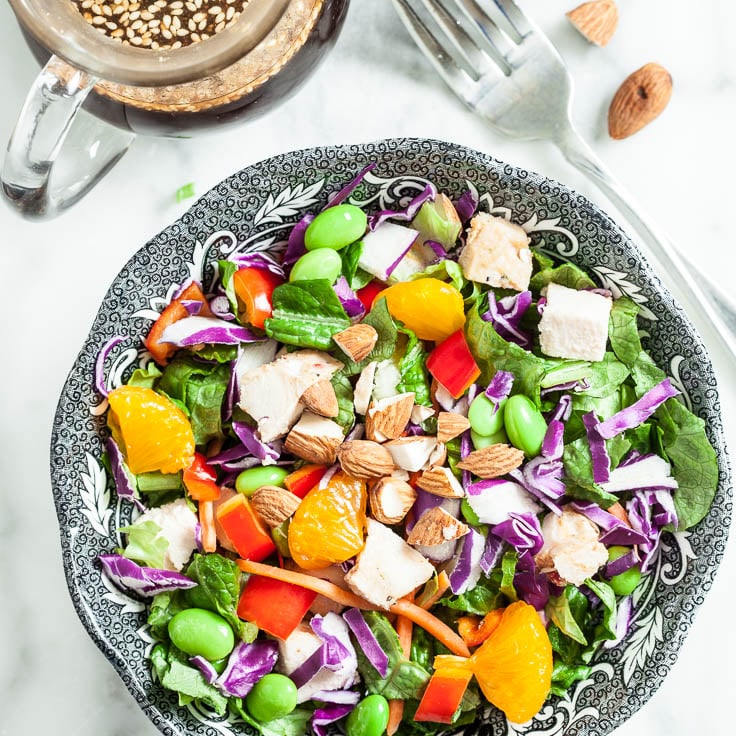 Here's to eating deliciously well, resolutions or not.
Enjoy.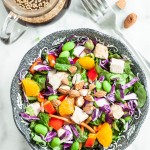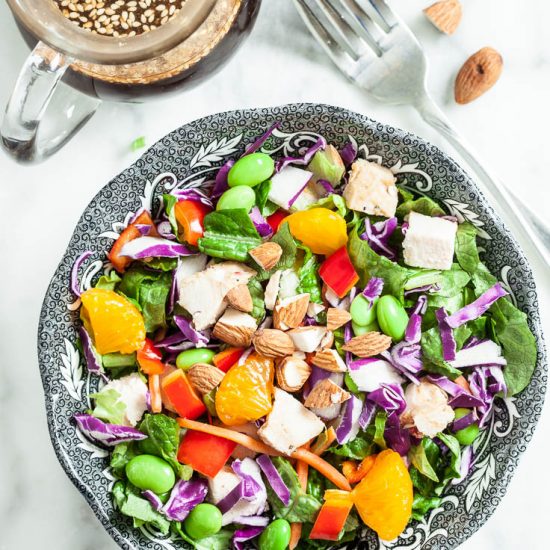 Chopped Asian Chicken Salad with Sesame Ginger Dressing
Ingredients
For the Salad:
½

head Romaine lettuce

,

chopped

1

cup

red cabbage

,

chopped

1

cup

pre-shelled edamame

1

medium red bell pepper

,

chopped

1

cup

matchstick carrots

¼

cup

fresh cilantro

,

chopped

¼

cup

scallions

,

thinly sliced

2

cups

rotisserie chicken

,

or freshly cooked chicken breasts, shredded

1

can

,

15 oz mandarin oranges, drained

½

cup

chopped almonds

,

toasted
Instructions
In a bowl, whisk together all dressing ingredients until well blended. Transfer to airtight container and keep chilled until ready to serve.

When ready to serve: In salad bowl, toss together all salad ingredients except chicken, oranges, and almonds. Toss in enough dressing to coat the veggies well. Gently toss in shredded chicken and mandarin oranges, sprinkling in more dressing as desired. Garnish top of salad with almonds when ready to serve. Serve immediately.
Notes
Extra dressing keeps nicely when chilled, in airtight container, for several weeks.
Did you make this?
Leave a comment below and tag @chewoutloud on Instagram
Source: Chew Out Loud
Spectacular Salads…