Lemon Pudding Cookies
By Amy Dong
Published Apr. 8, 2021
Updated Aug. 17, 2022
These Lemon Pudding Cookies are chewy soft, deliciously lemony, and have the best lemon glaze. Perfect for spring, summer, and sharing with friends.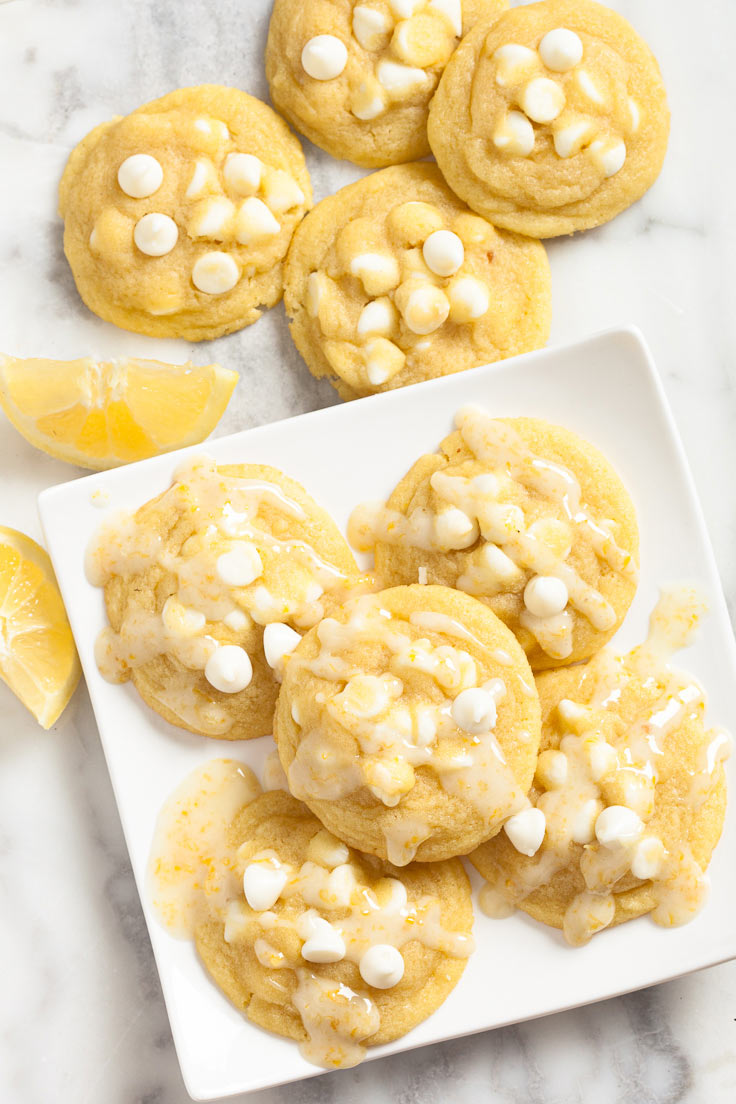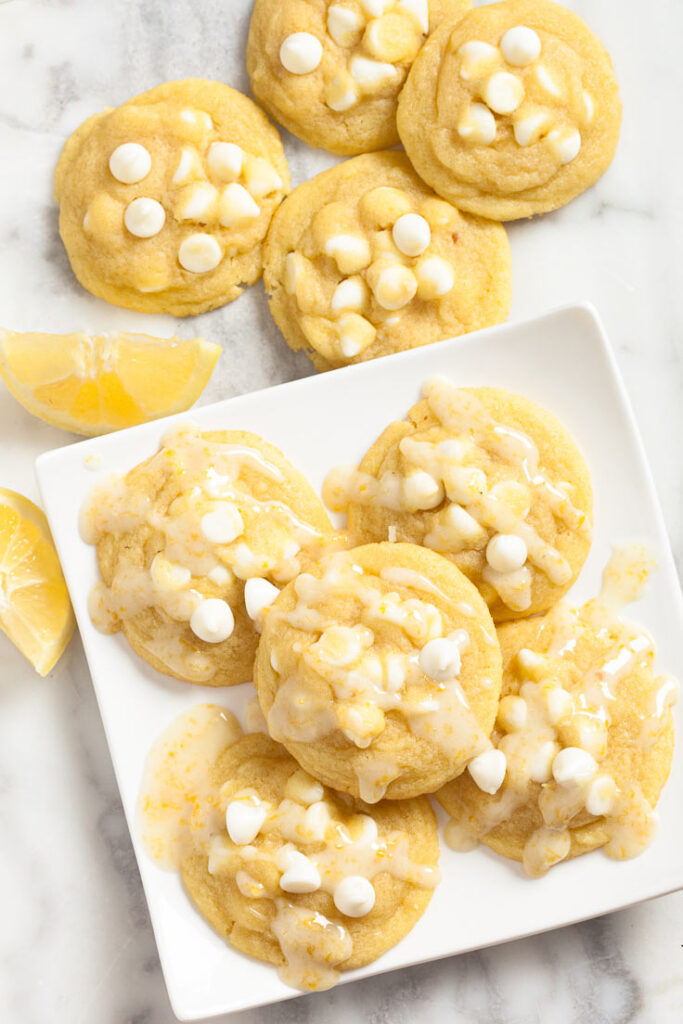 Lemon Pudding Cookies
For all the not-so-secret lemon admirers out there, these lemon pudding cookies are for you.
You might be lucky enough to have thriving lemon trees in your yard, with a beautiful mess of fresh lemons to use and share. Perhaps you're the fortuitous friend who is gifted lemons by the bulk from your citrus tree-owning pal. Or, if you're like me, your climate offers no such luck but you happily make up for it by eating all the lemony treats. Lemon cookies, anyone?
My philosophy: get lemons by the bag and then figure out what to do with them. Get first, think later. Thankfully, we won't have to think beyond a nanosecond, because these lemon pudding cookies are the unmistakable answer.
These lemon pudding cookies promise to deliver:
They're chewy soft and stay that way for much longer than most cookies
They have just the right balance of lemony tartness and sweetness
There's a certain amazing lemon glaze with invigorating flavor
We repeat: you won't want to skip the glaze on this one. Trust…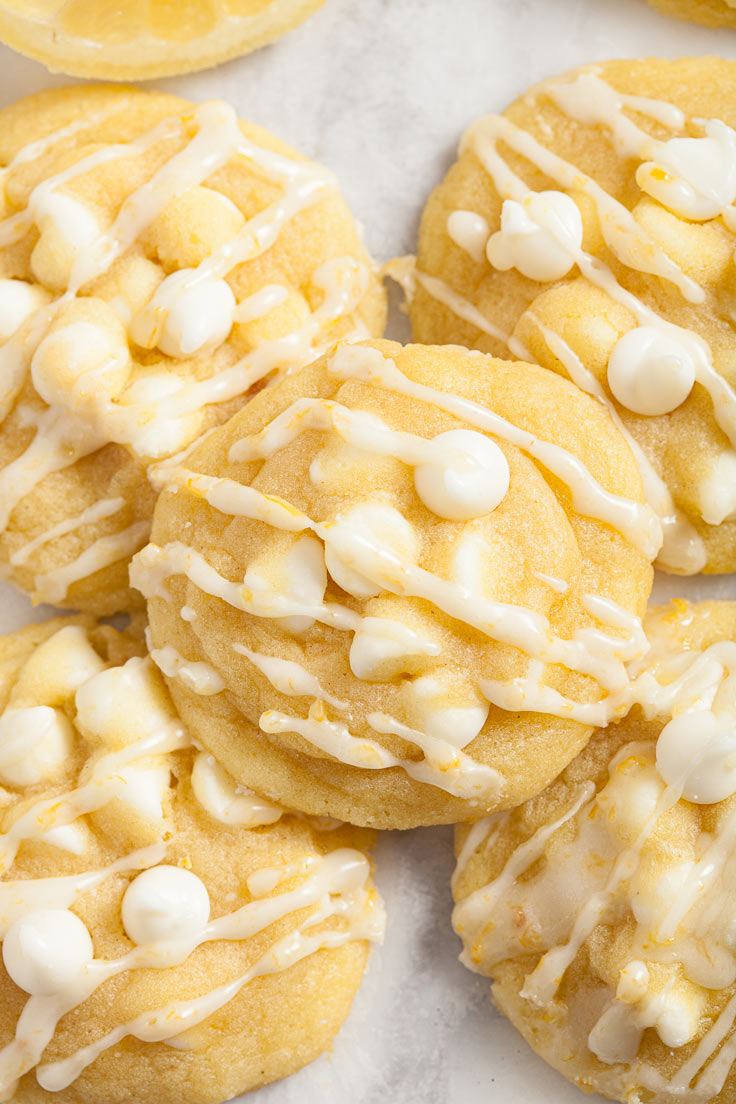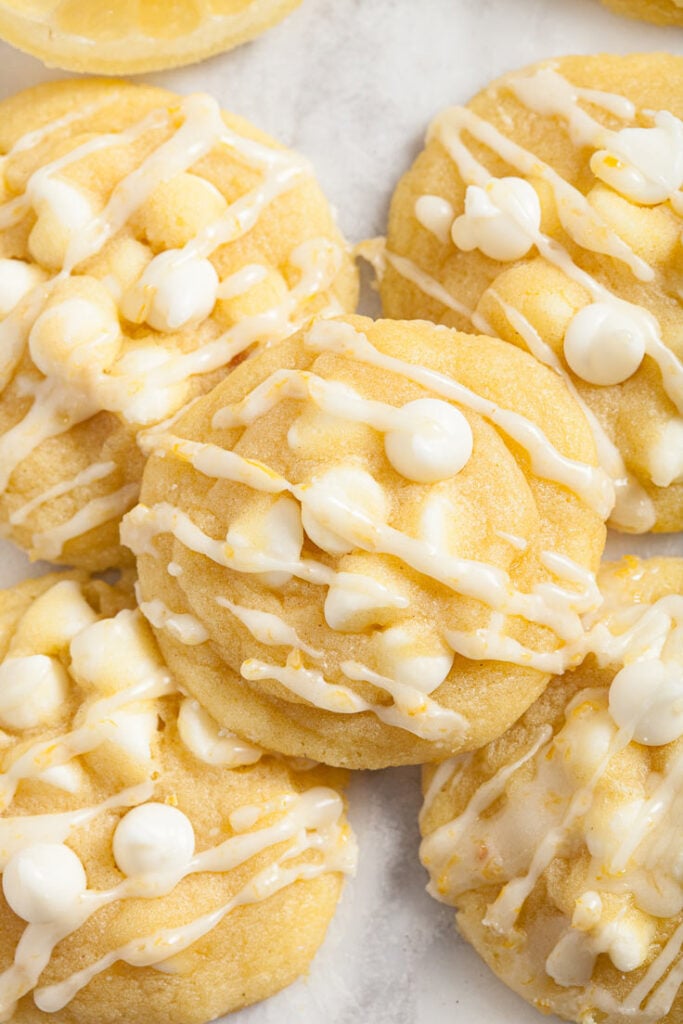 The proof is in the [lemon] pudding
Pudding cookies are about to become your favorite kind of cookies for sharing with friends and family. Here's why: pudding cookies have a knack for staying fresh and chewy-soft for days. If you were around during the soft-batch chocolate chip cookies craze, you get why they grew so popular so fast.
The secret: one little box of instant pudding in dry form. Simply add it to your cookie dough and taste the transformation – your cookies will take on unbelievable flavor and chewy soft texture.
Pro Tips
Soften the butter just to a moderate room temperate; be sure it doesn't sit out too long and become overly soft. It should still have enough structure to "cream" with sugar.
Chill the dough before rolling them into balls. This will ensure a nice, thick cookie you'll love sinking your teeth into.
This is one of our favorite types of cookie dough to freeze and bake later. The dough keeps well in the freezer for several weeks.
White chocolate chips are optional but outstanding in these cookies. They're not just for looks, as cute as they may be.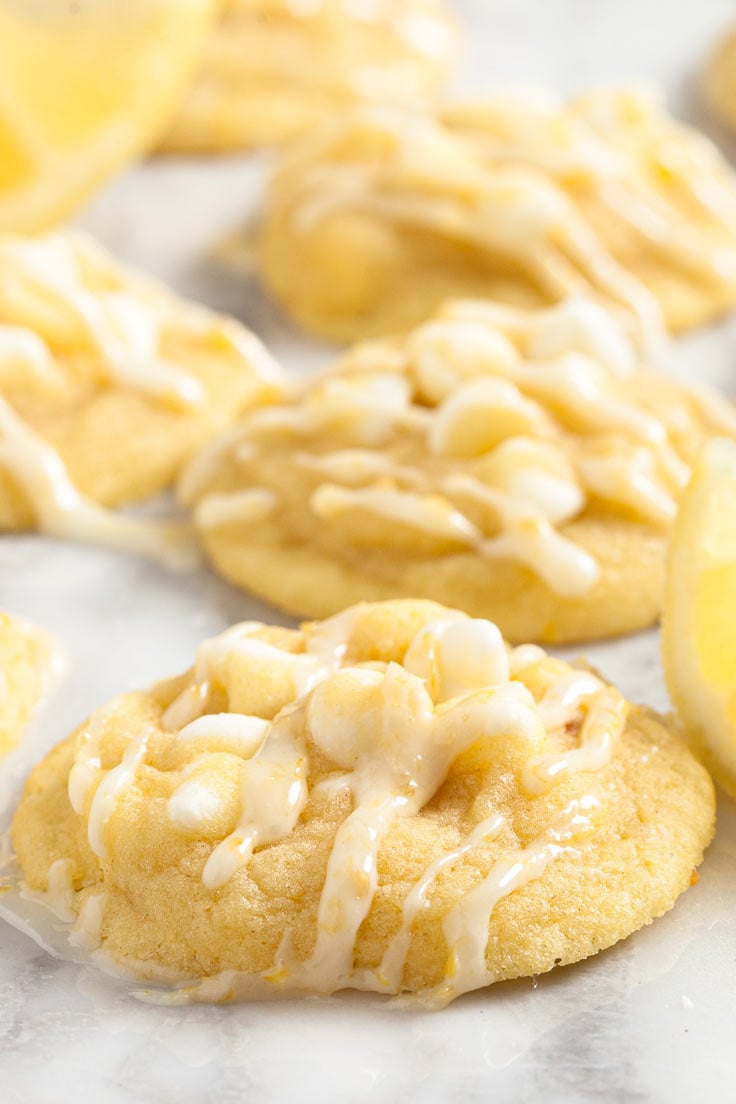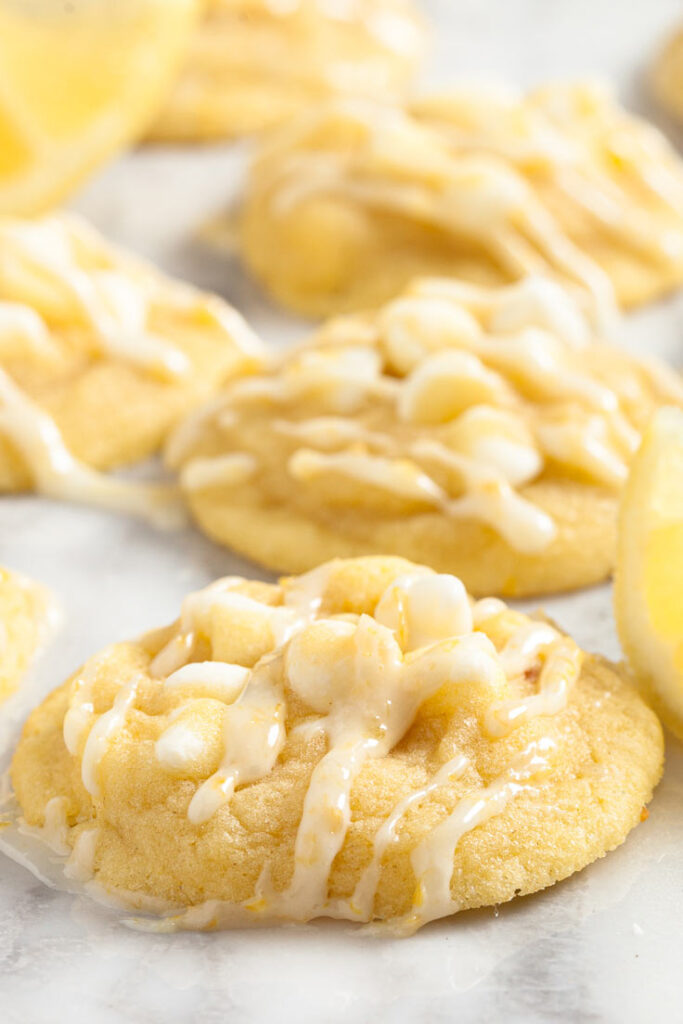 Don't skip The Lemon Glaze
This super easy and lemony glaze adds such a zesty and tangy depth to these Lemon Pudding Cookies.
Lemon zest is added into the glaze for extra flavor. The cookies themselves are quite delicious on their own, but if you're going to make lemon cookies, this glaze offers an extra dose of tart-yet-sweet flavors.
Aside from a fresh lemon, all you need is a bit of milk and powdered sugar to make this dazzling glaze a reality.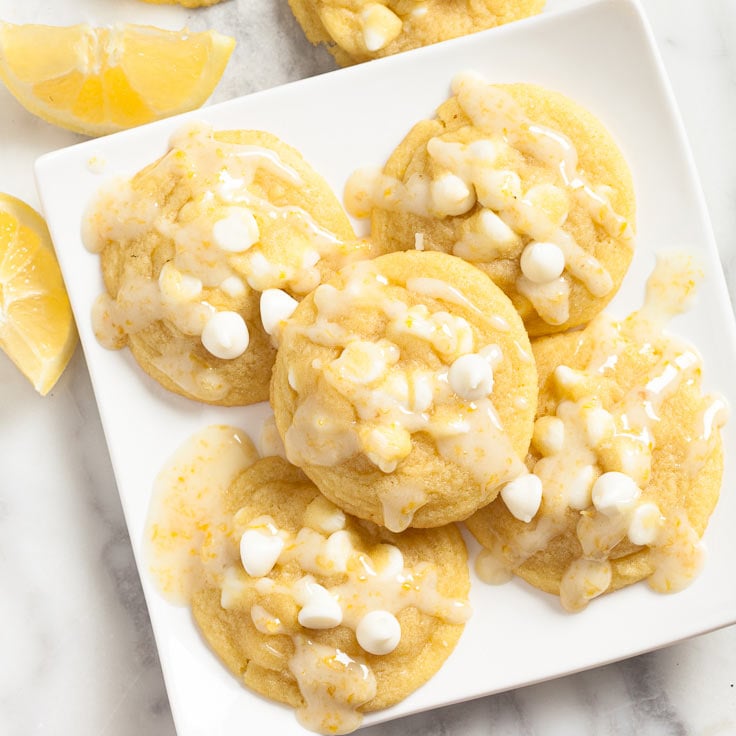 More Lemon Treats to Eat:
Some of the recipes in this post are part of our 15 Best Lemon Recipes collection.
---
Did you make this?
Please give us a rating and comment below. We love hearing from you!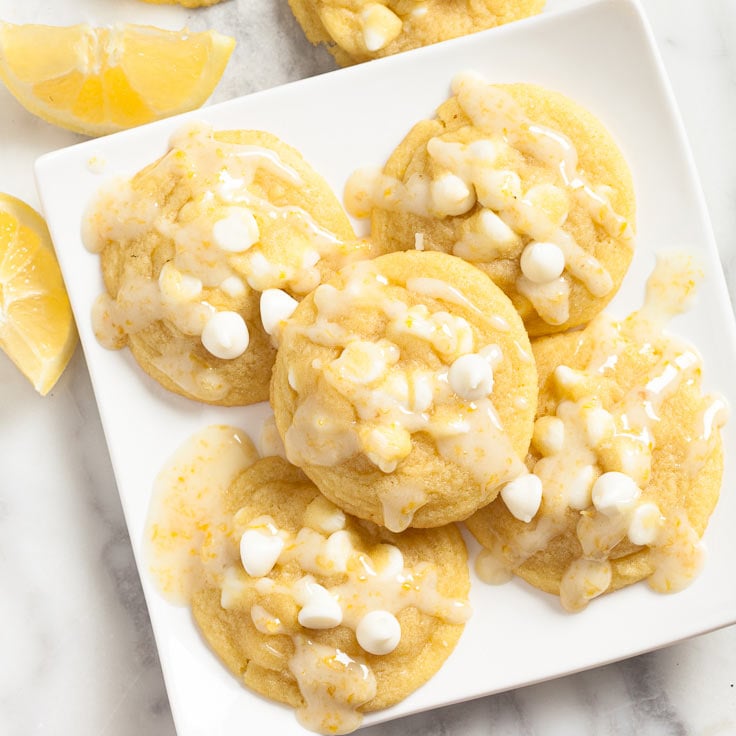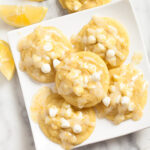 Lemon Pudding Cookies
These Lemon Pudding Cookies are chewy soft, with a delicious soft-batch texture. They're supremely lemony, with the most amazing lemon glaze. Make the dough ahead of time if you like; it freezes nicely.
Ingredients
For the Glaze:
1

cup

powder sugar

2-3

TB

milk

Zest of 1 lemon
Instructions
In a large bowl, add flour, baking soda, and salt. Whisk together well and set aside.

In bowl of a stand mixer, cream together the softened butter and sugar on medium high, until light and fluffy, at least 3 minutes.

Add pudding mix and beat until incorporated. Add eggs and lemon extract, blending well.

Slowly add in the flour mixture. Using rubber spatula, fold dry and wet ingredients together just until fully incorporated. Add the white chips and mix into the dough. If it gets too hard to mix, use clean hands to work the dough, as dough will be a bit sticky. Cover tightly and chill in fridge for at least 1 hour.

Meanwhile, make the glaze by combining glaze ingredients in a bowl and stirring until mixture is smooth and has a glaze-like consistency.

Preheat oven to 350F. Line baking sheets with parchment paper. Form 1 inch balls of dough and place on parchment-lined baking sheet. Bake about 8 minutes or just until edges look golden brown. Cookies may seem slightly underdone, but they will firm up upon cooling. Don't over bake.

Cool on baking sheet about 10 minutes, and remove to wire rack to finish cooling. Drizzle glaze onto cooled cookies.
Notes
These cookies keep very well at room temp in an airtight container. Unbaked dough can be tightly wrapped up and frozen for several weeks.
If you enjoyed this recipe, please come back and give it a rating ♡
Nutrition (per serving)
Calories:
178
kcal
|
Carbohydrates:
24.2
g
|
Protein:
1.8
g
|
Fat:
8.6
g
|
Saturated Fat:
5.1
g
|
Cholesterol:
25.9
mg
|
Sodium:
205.1
mg
|
Fiber:
0.2
g
|
Sugar:
9.3
g