Soft Chocolate Chip Cookies
By Amy Dong
Published Dec. 7, 2013
Updated Dec. 6, 2022
These soft batch chocolate chip cookies are chewy, soft, and fail-proof. They always turn out perfectly. Both dough and baked cookies freeze beautifully.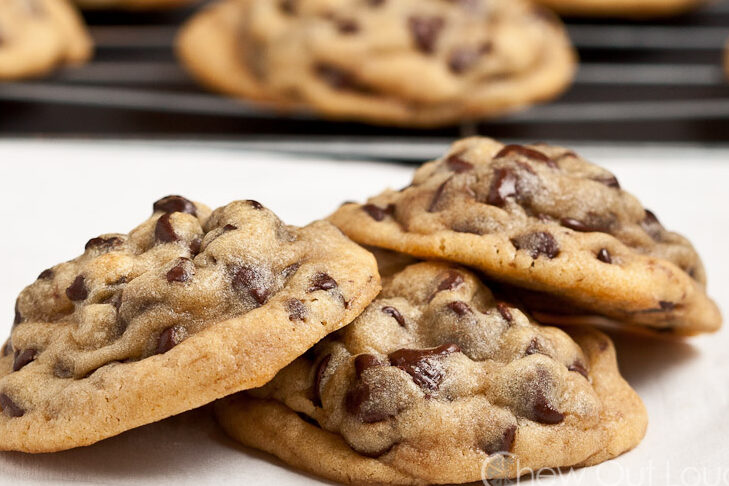 The Best soft chocolate chip cookies
It's not even winter yet, but we've hit subzero temps already in this land. I've no qualms with staying in, turning up the kitchen heat, and baking madly away. I've been up to my forehead in cookies galore. Even as I write, there are several batches of various cookie dough sitting in my fridge, waiting for their turn in the oven.
I realized a couple weeks ago: I've absentmindedly neglected to write up these superbly soft, chewy, and chocolatey chocolate chip cookies. Even though I bake them on a very regular basis.
These chewy soft chocolate chip cookies are my all-time favorite soft-batch style cookies that never fail when we want a sure thing that never misses the mark. These are soft, toothsome, winning cookies that stay soft – but not cakey – for a long time, without drying out.
It's like your favorite pair of jeans… so loved, so well-worn, and nothing else fits the same. That's what these chocolate chip cookies are like.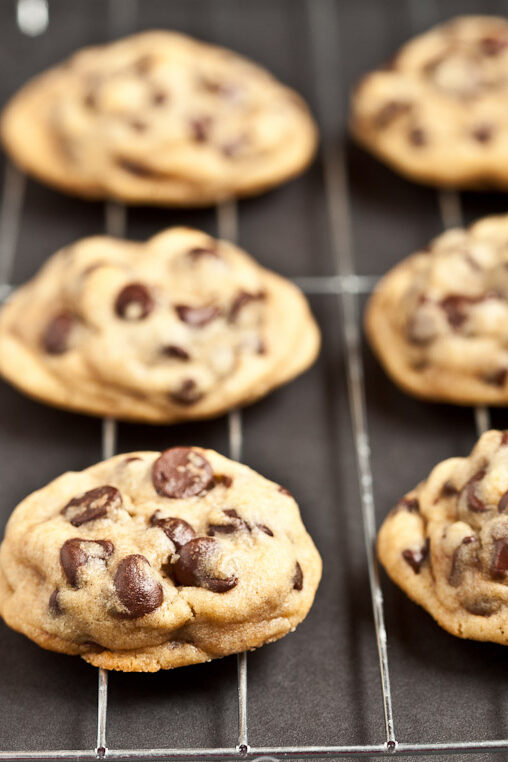 Never cakey, never dry
Always Soft Cookies
These chocolate chip cookies are … well, chewy 'n soft. They stay soft without being cakey, and they don't dry out or become stale. Fact is, they have never been put to the test longer than 2 days on our kitchen counter. But I just know they would stay soft several days longer if people would leave them alone. These are reminiscent of those soft-batch chocolate chip cookies that were crazy popular in the 80's, except this homemade version is undeniably more flavorful and way better tasting than anything that store-bought.
The secret is in the pudding
The reason these chocolate chip cookies stay decadently soft is because they're essentially pudding cookies. Adding vanilla pudding, still in powder form, straight into the dough keeps these cookies luscious and soft, without being cakey or dry at all. The pudding also packs an extra boost of vanilla flavor to the cookies.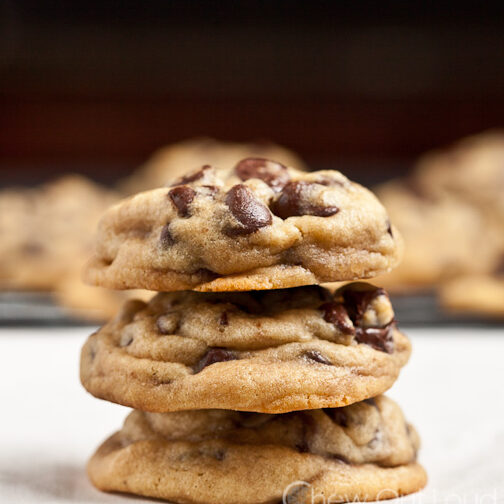 Cookies to Gift, share, or freeze
I have a habit of making my cookies on the smaller side…I make them the way I want to eat 'em. If they are smaller, I can absolutely eat as many as I want. Because the truth? It is impossible to eat just one of these soft chocolate chip cookies. Impossible.
Gift giving, party hosting, or anytime sharing… these cookies magically appear and disappear in an instant. However, if you were to make a mountain of these soft chocolate chip cookies, they keep exceptionally well at room temperature and are a prime candidate for shipping to your favorite people on their birthdays or during the holidays.
Bonus: both the dough and baked cookies freeze well in airtight containers. Freeze dough in one big ball or form pre-shaped rounds to freeze for easy baking anytime.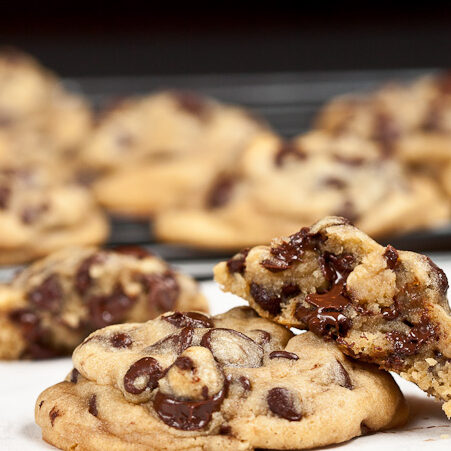 ---
More to Bake and Eat
---
Did you make this?
Please give us a rating and comment below. We love hearing from you!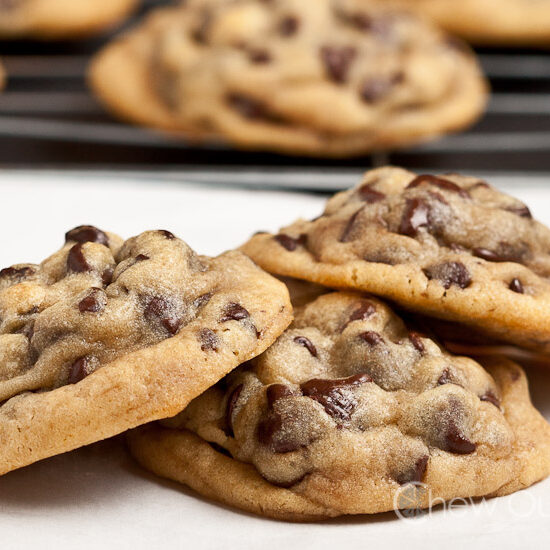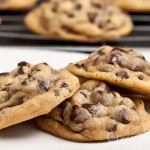 Soft Chocolate Chip Cookies
These chocolate chip cookies are super soft, extra chewy, and they stay soft (not cake) for a long time. This is recipe makes a big batch. Cookie dough freezes very well for future use!
Ingredients
4 ½

cups

all purpose flour

2

tsp

baking soda

1

tsp

salt

2

cups

unsalted butter,

softened just to room temp

1 ½

cups

brown sugar,

packed

2

3.4 oz each packages instant vanilla pudding

4

large eggs

1

TB

vanilla extract

4

cups

semisweet chocolate chips,

minis and chunks work great, too!
Instructions
Dry Ingredients: In a large bowl, add flour, baking soda, and salt. Whisk together well and set aside.

Wet Ingredients: In bowl of a stand mixer, cream together the softened butter and brown sugar on medium high, until light and fluffy. Add packages of pudding mix, and beat until incorporated. Add eggs and vanilla, blending well.

Fold Together: Slowly add in the flour mixture. Using dough hook attachment, fold dry and wet ingredients together just until fully incorporated

Add Chocolate: Add in chocolate chips and mix into the dough. (If it gets too hard to mix, I sometimes use clean hands to work the dough!)

Chill: Dough will be a bit sticky. Cover tightly and chill in fridge for 30 minutes to 1 hour.

Preheat Oven: Meanwhile, preheat oven to 350F. Line baking sheets with parchment paper.

Bake: Form 1 inch balls of dough and place on parchment-lined baking sheet. Bake about 8 minutes or just until edges look golden brown. Cookies may seem slightly underdone, but they will firm up upon cooling. Do not over bake.

Cool: Cool on baking sheet about 10 minutes, and remove to wire rack to finish cooling.
Notes
Yields about 72 smaller sized cookies. If you'd like to make them larger, bake a couple minutes longer, just until edges are golden brown and center looks slightly under-baked. Key is not to over-bake.
These cookies keep very well at room temp in an airtight container. Unbaked cookie dough can be tightly wrapped up and frozen for later use.
If you enjoyed this recipe, please come back and give it a rating ♡
Nutrition (per serving)
Calories:
166
kcal
|
Carbohydrates:
20.6
g
|
Protein:
2.1
g
|
Fat:
9
g
|
Saturated Fat:
5.5
g
|
Cholesterol:
23.9
mg
|
Sodium:
112.9
mg
|
Fiber:
1.1
g
|
Sugar:
13.8
g