Blueberry Lemon Bread (Fresh or Frozen Blueberries)
This Blueberry Lemon Bread is chock full of plump berries and fresh lemon. It has the perfect balance sweetness and lemony tang. The magnificent lemon glaze seals in moisture throughout the entire loaf.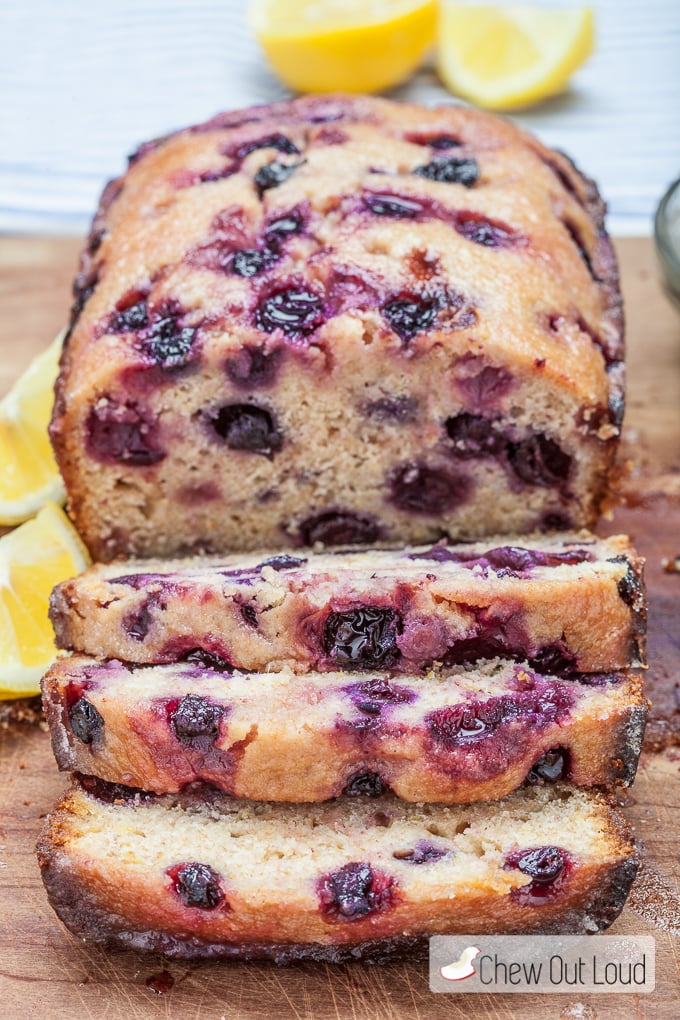 Blueberry Lemon Bread
This Blueberry Lemon Bread is everything you could want in a quick bread that champions fresh blueberries and citrusy lemons.
It's superbly moist and tender, thanks to all the juicy plump blueberries.
It is both wonderfully dense yet soft in texture (100% satisfying)
This bread has the perfect balance of sweetness and lemony tang.
Everyone in the house will want a slice or two of blueberry bread with their coffee or milk.
This quick bread doubles as breakfast and dessert (vanilla bean ice cream, anyone?)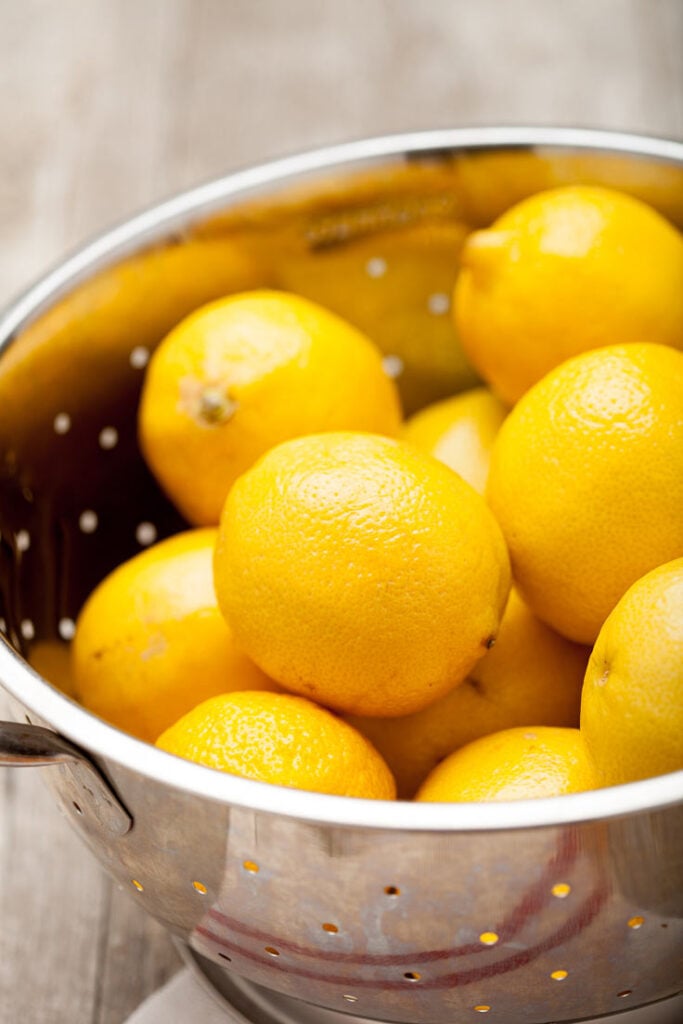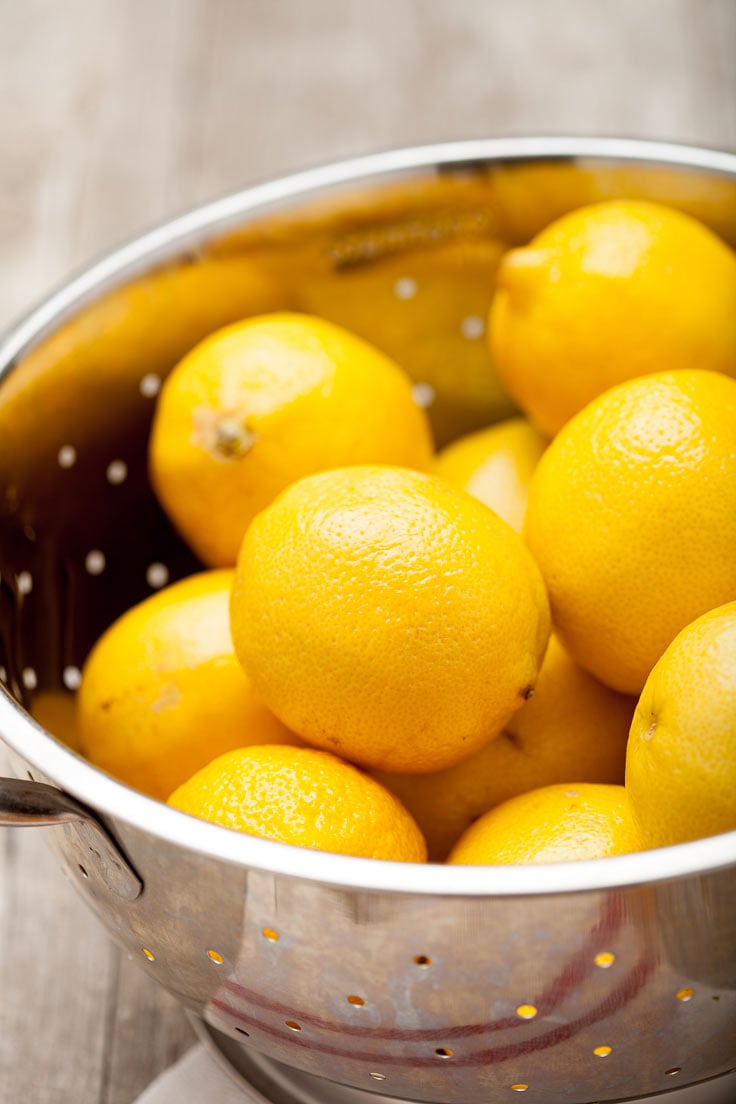 Don't skip the lemon glaze
Believe it or not, it gets better. The crazy-easy lemon glaze is a must. (Read: please don't leave it out)
It leaves a wonderful little "crust" on top and seals in a ton of moisture to keep the entire loaf tender. It also provides extra lemony goodness for all us lemon fanatics.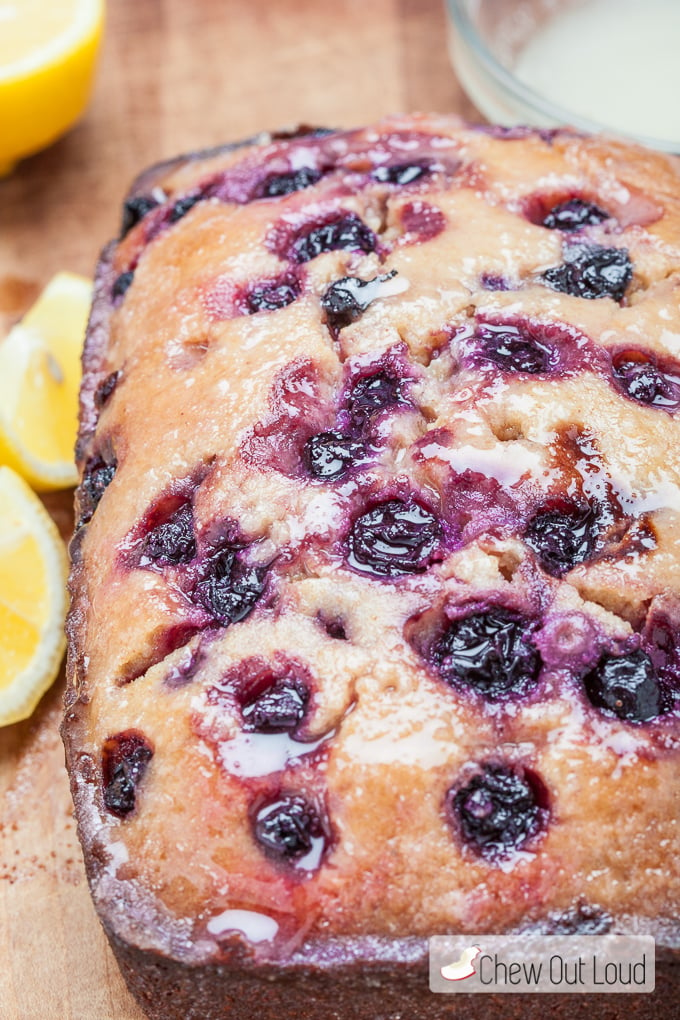 Fresh vs. Frozen Blueberries for baking
You'll appreciate this blueberry lemon bread's willingness to take on either fresh or frozen blueberries with good results. Generally speaking, there's a place for both frozen and fresh options in the world of baked goods.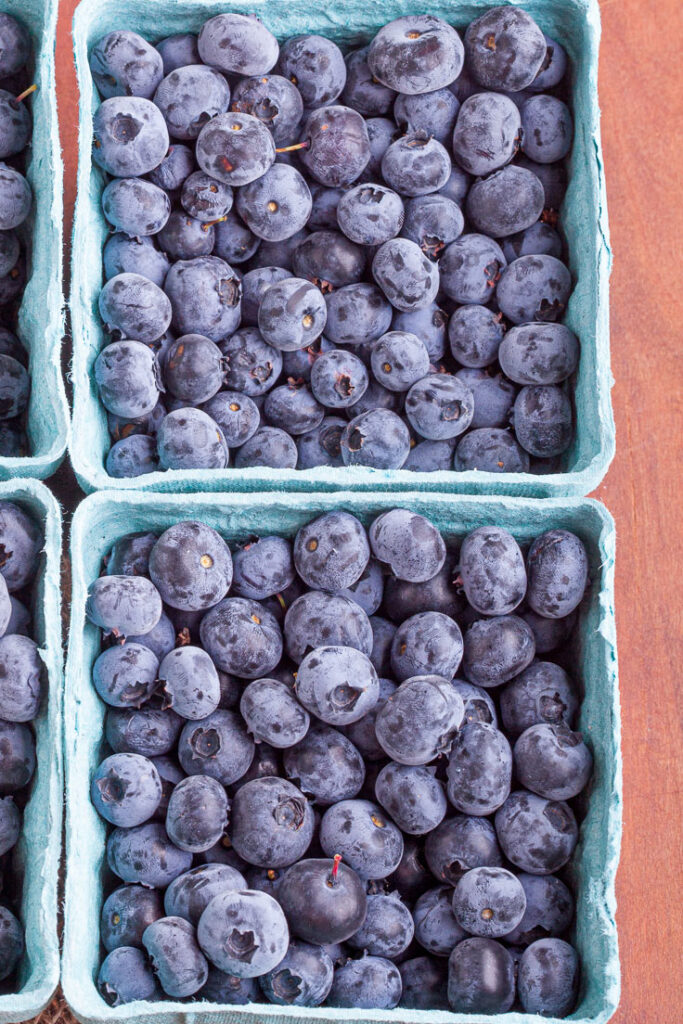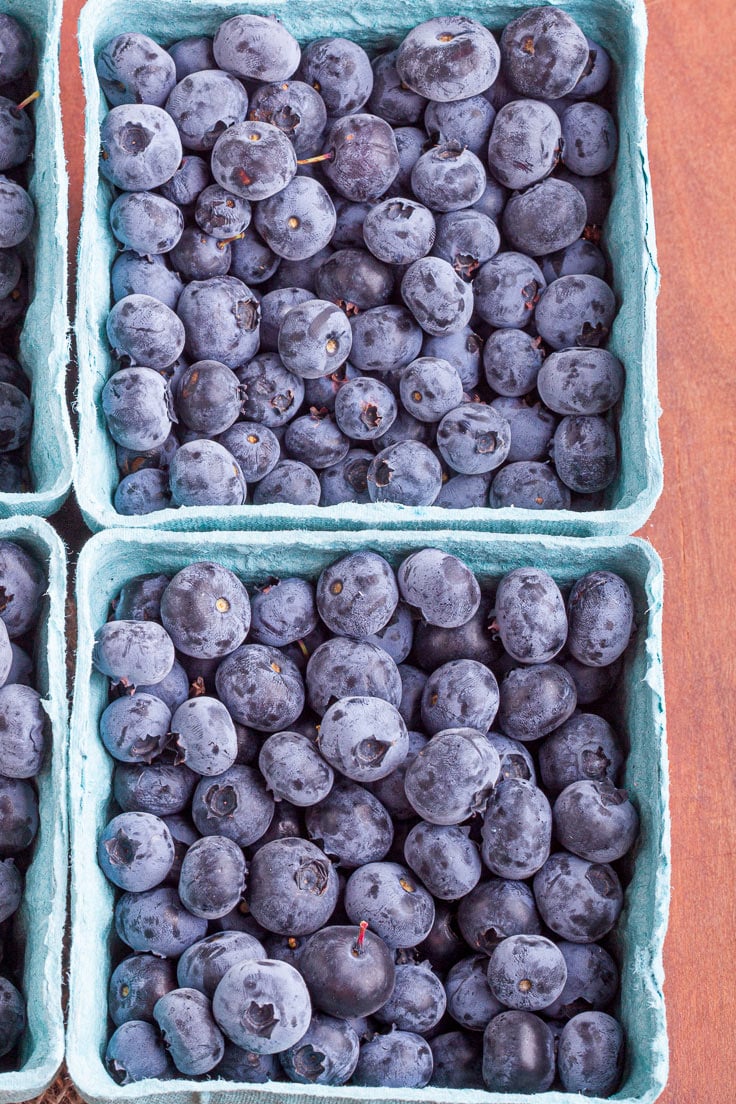 Pros and Cons for Baking with Fresh Blueberries
When they're in season, they are unparalleled in flavor, sweetness, and flavor. You simply have to grab some whenever you see them.
They won't "bleed" color and stay intact nicely for blueberry cakes, blueberry muffins, and most baked goods.
You can stir them into your batter even when berries have been sitting at room temp. No need to keep them at a certain cold temperature.
There aren't many cons to using fresh blueberries, aside from the fact that they're only in season during summer months.
Fresh blueberries during off-season that have been picked too early and imported can be a bit sour.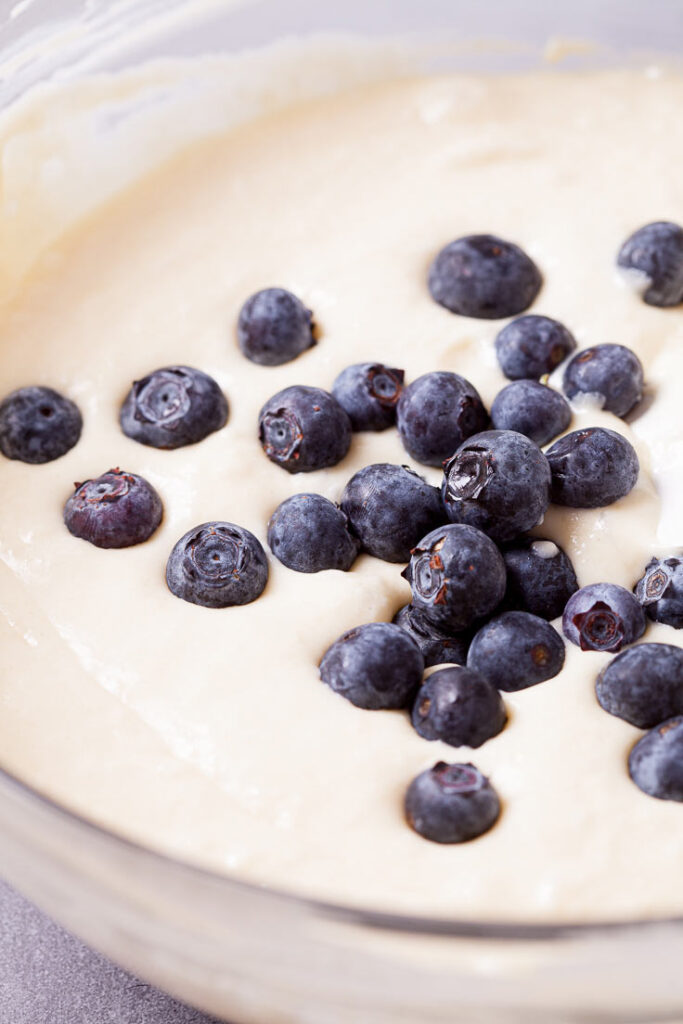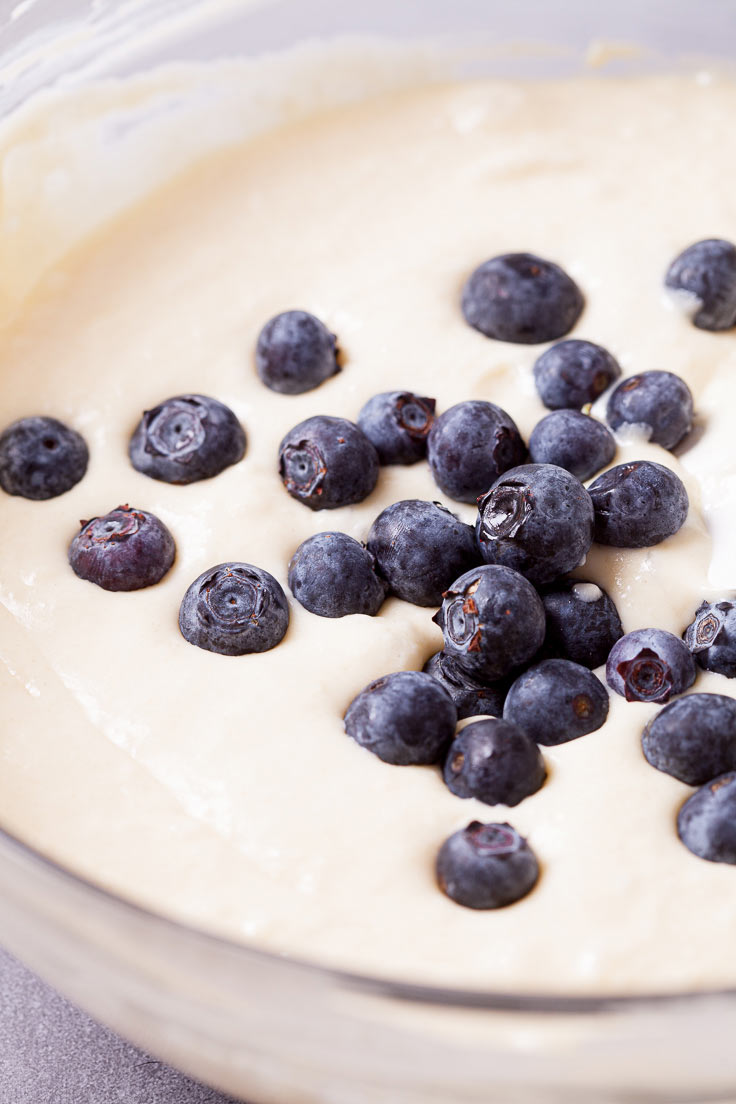 Pros and Cons for Baking with Frozen Blueberries
You can buy extra in-season fresh berries during the summer and freeze them airtight, for high-quality blueberries year round.
Frozen blueberries are generally available all year at most grocery stores
Frozen berries are great for blueberry pies, where keeping shape and preventing streaks doesn't matter.
The main issue with frozen blueberries is their tendency to "bleed" their blue juices into your golden batter when stirring.
Frozen blueberries are almost always less ripe and sweet than blueberry patch offerings.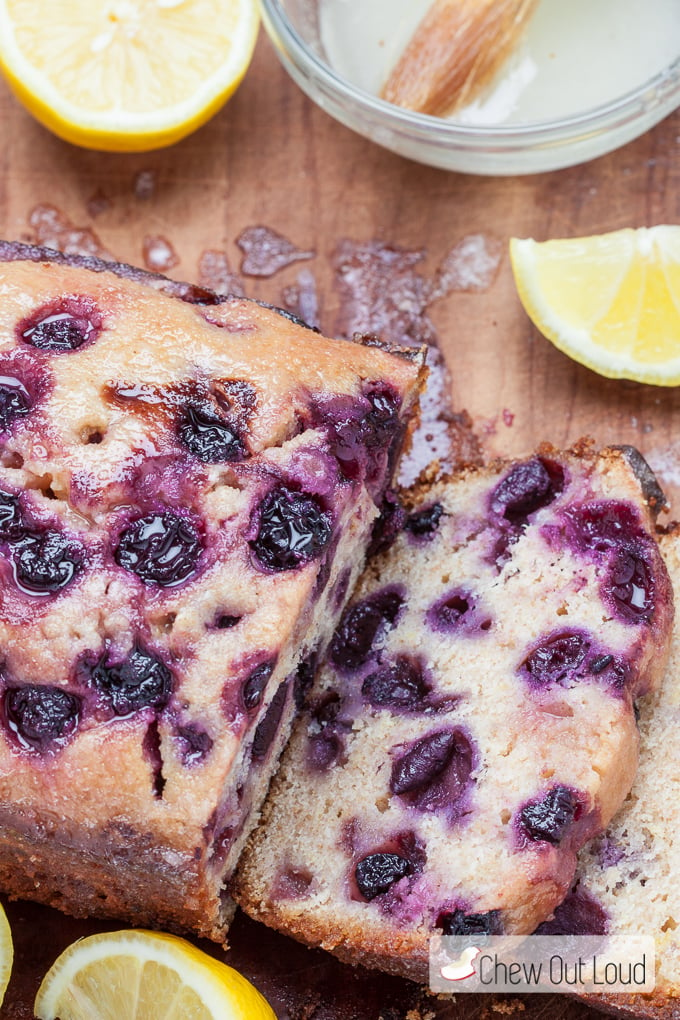 How to Prevent Frozen Blueberries from "bleeding"
Though you may not entirely prevent little swirls of blue showing up in your batter, you can greatly diminish it by keeping berries frozen to the point of adding; don't defrost.
Always add them at the very end, so they have less time to soften and melt into the batter before they hit the oven.
Use a rubber spatula to gently fold frozen berries into batter, and immediately stop once streaks start showing.
Immediately transfer batter into your baking dish and place in the oven, once frozen berries have been folded in; do not wait.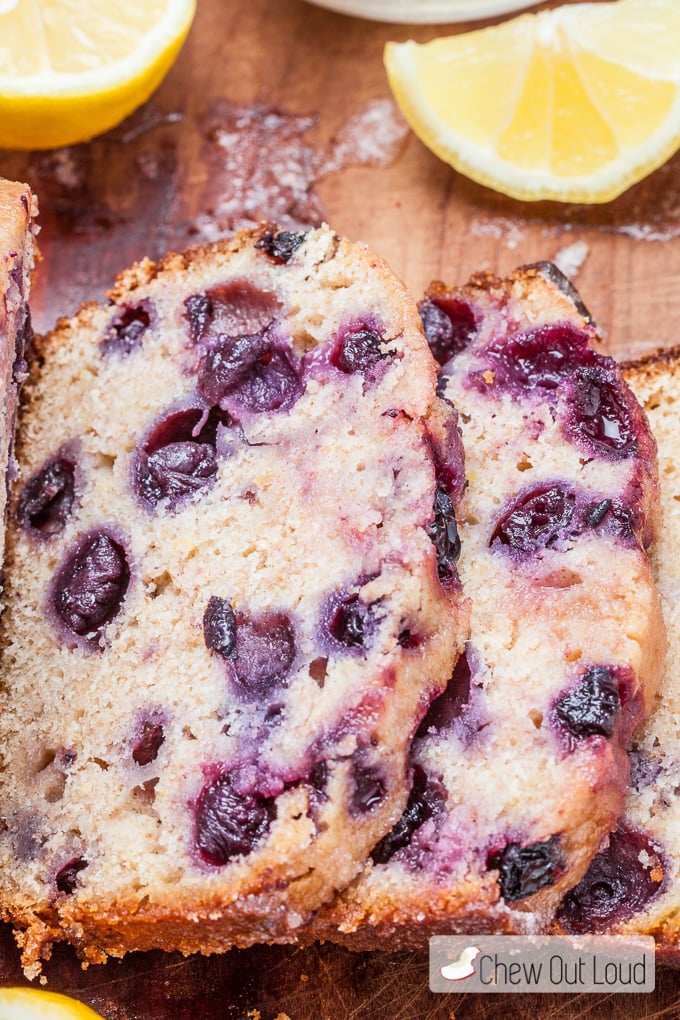 More quick Breads to Bake and Eat:
---
Print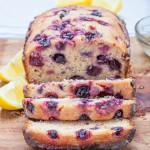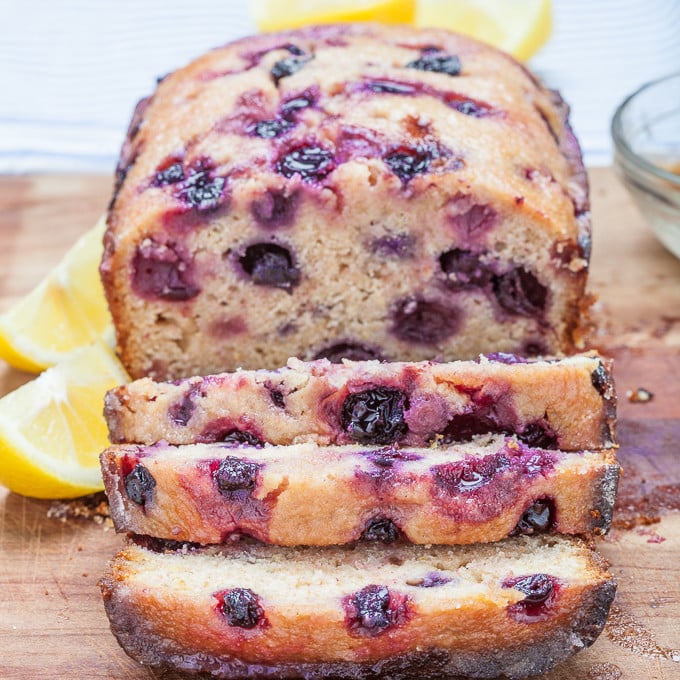 Blueberry Lemon Bread
This Blueberry Lemon Bread is full of plump berries and tangy lemons. The luscious lemon glaze seals in moisture throughout the loaf; don't skip the glaze.
Prep Time:

20

Cook Time:

60

Total Time:

1 hour 20 minutes
For the Bread:

1/3 cup

butter, melted

1 cup

granulated sugar

1/4 cup

freshly squeezed lemon juice (about

3

large lemons)

2

large eggs

3/4 cups

all purpose flour

3/4 cups

whole wheat flour

1 tsp

baking powder

1/2 tsp

table salt

1/2 cup

whole milk

1 cup

fresh or frozen blueberries (do not thaw)
Zest of

2

large lemons
For the Glaze:

3

TB freshly squeezed lemon juice (about

2

large lemons)

6

TB granulated sugar
Instructions
Preheat oven to 350F with rack on lower-middle position. Grease a 9×5″ loaf pan. Set aside.
In the bowl of a stand mixer fitted with whisk, beat butter, sugar, lemon juice, and eggs on medium speed until incorporated. Add milk and whisk until combined.
In a separate bowl, whisk together both flours, baking powder, and salt. Add dry mixture to wet mixture and whisk on low speed just until combined; don't over mix. Use a rubber spatula to gently fold in blueberries and lemon zest.
Scrape batter into prepared loaf pan. Bake 60-90 minutes or until a toothpick inserted into bread part (area without berries) in center of bread comes out with a few tender crumbs attached. Bake time will be on the longer side for a glass pan; shorter for dark metal pan.
Meanwhile, combine glaze ingredients in a small bowl, whisking to combine. Set aside.
Cool 15-30 minutes in pan. Carefully slide a sharp knife around bread to loosen and gently invert onto serving plate. Generously brush hot bread with glaze; it will slowly soak into bread and provide a thin layer of crisp topping when it sets.
Notes
See original article for details about baking with frozen blueberries, if using those.
If you enjoyed this recipe, please come back and give it a rating ♡
Nutrition
Serving Size:

1

Calories:

251

Sugar:

26.7 g

Sodium:

138.9 mg

Fat:

7.7 g

Carbohydrates:

44.9 g

Protein:

4.3 g

Cholesterol:

53.7 mg
Author:
Category:

Breakfast, brunch

Method:

baking

Cuisine:

American

Diet:

Vegetarian
Keywords: blueberry lemon bread, lemon bread, blueberry bread, quick bread
Quick and Delicious Breads:
1. Banana Yogurt Chocolate Chip Bread. Because ripe bananas + chocolate chip + Greek yogurt = Amazing bread.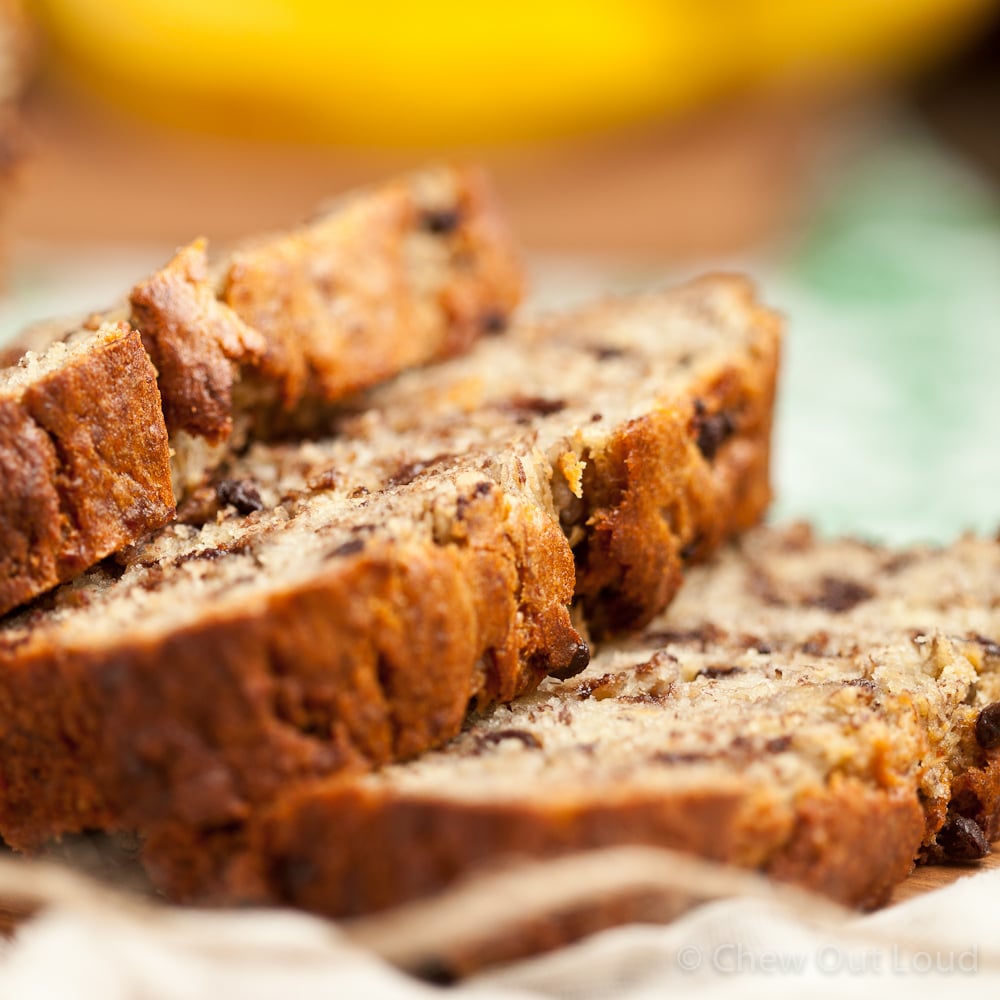 2. Strawberry Banana Bread. Add some lush strawberries to your bananas, and you're in happy land. Everyone loves this easy, quick breakfast/brunch…super moist and delish.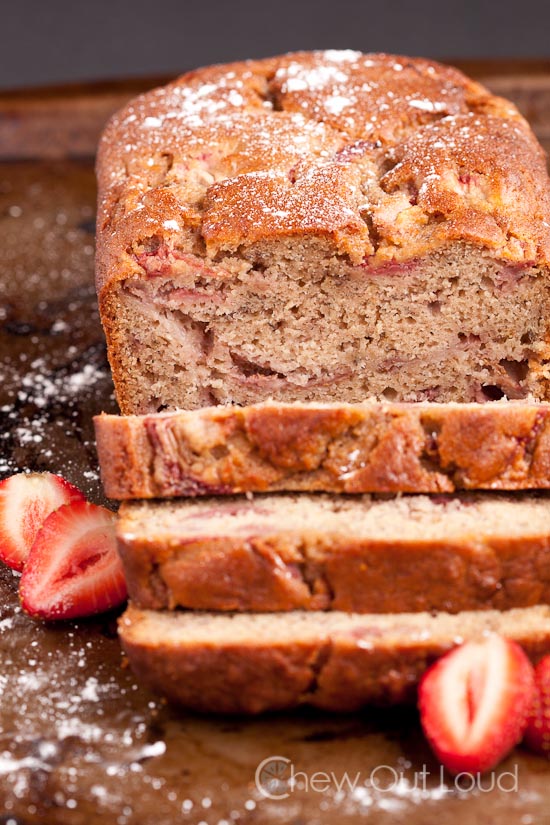 3. Honey Pear Bread. This was one of my first favorite quick breads. It quickly rose up the ranks as a favorite; the honey and ripe pears give this moist bread such delicious warmth.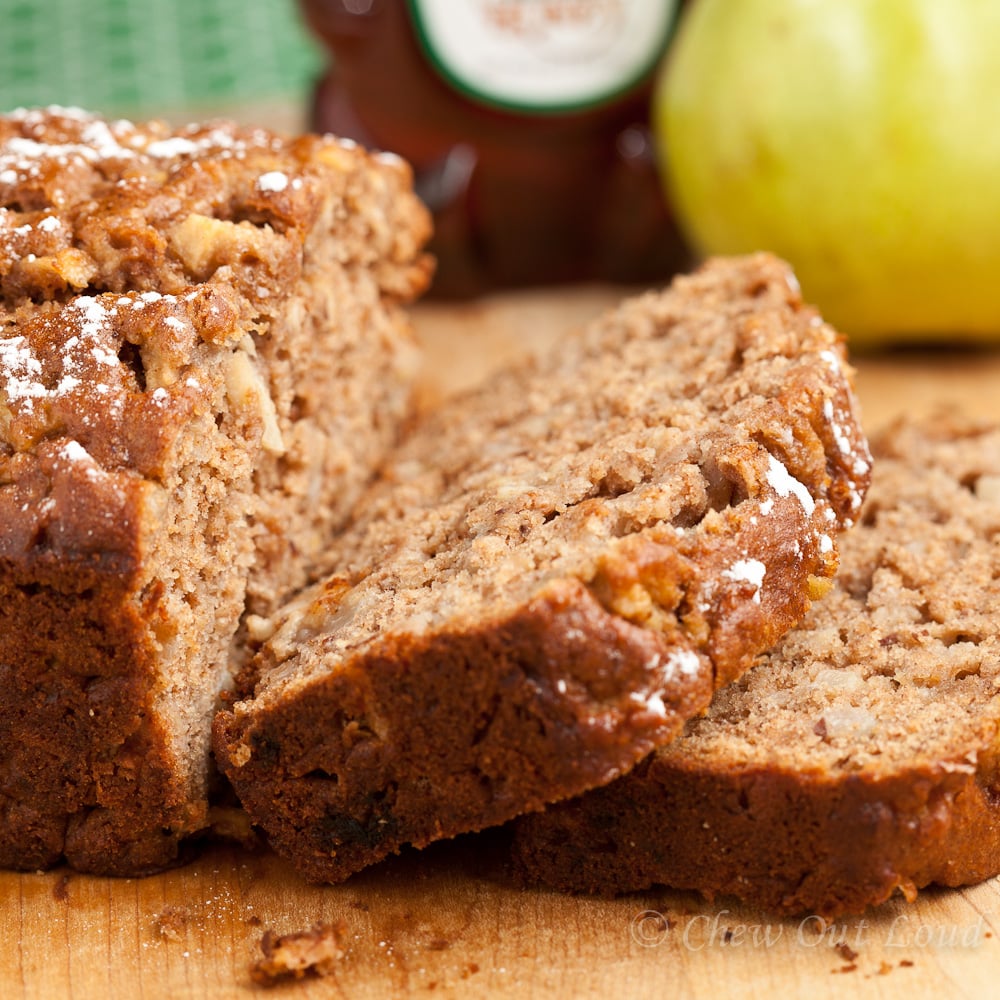 4. The BEST, Moist Pumpkin Bread. I've eaten a gazillion different pumpkin breads and made a bajillion of them. This is hands down our favorite. We think you'll agree.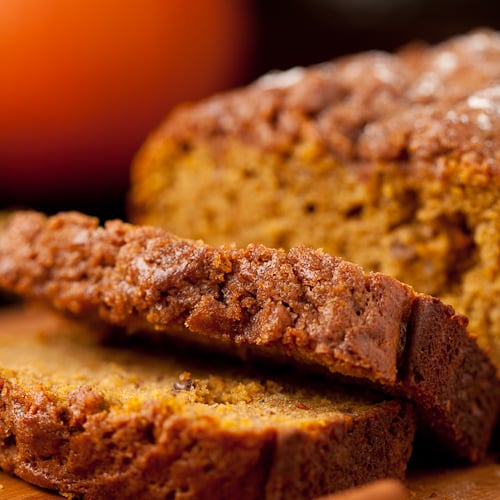 5. This Buttery Poppyseed Bread is incredible. I make this for people and then have to make another for me. Because I can't stop eating this moist, buttery, scrumptious loaf. It's ridiculous that a quick bread can be this yummy.