This Blueberry Lemon Bread is chock full of plump berries and fresh lemon. It has the perfect balance sweetness and lemony tang. The magnificent lemon glaze seals in moisture throughout the entire loaf.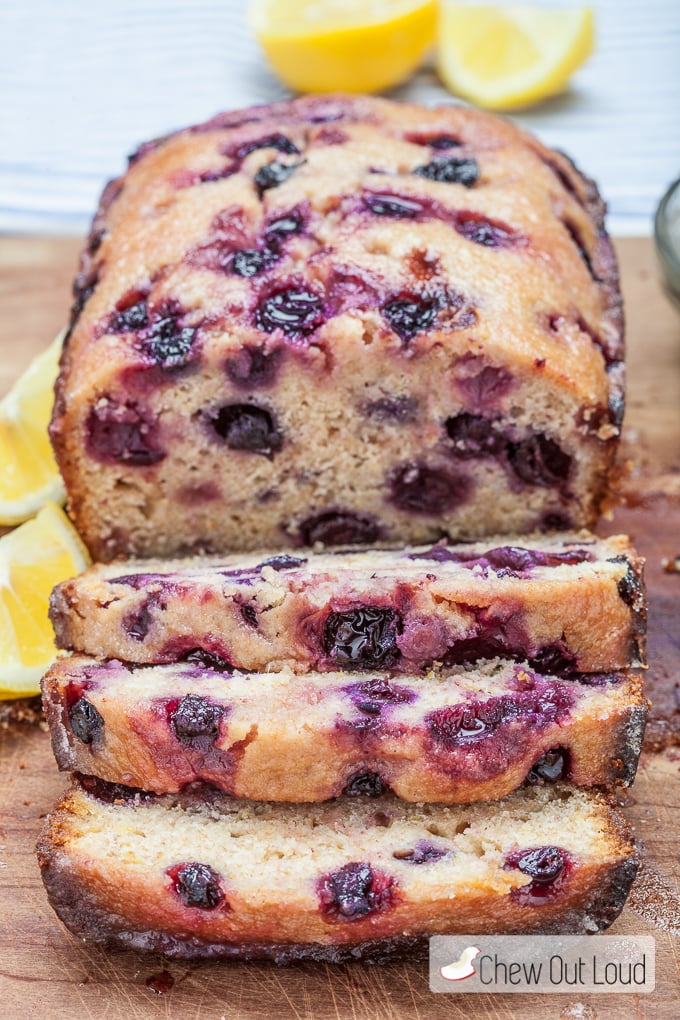 Not long ago, a child in my boys' school was diagnosed with Leukemia. Immediately, the school and neighborhood rallied behind the family. Before anyone could blink, several months' worth of meals, from morning to night, were filled up on the family's care calendar. Ribbons were tied to every tree for miles within the neighborhood. #loveinaction
We regularly bring people meals, even if we've never met the recipients. I know firsthand how physically and spiritually nourishing it is to be on the other side of receiving such a simple act of love. When I couldn't even put water into the kettle, others met me in my need. They fed my family when I wasn't strong enough to.
One never forgets such things.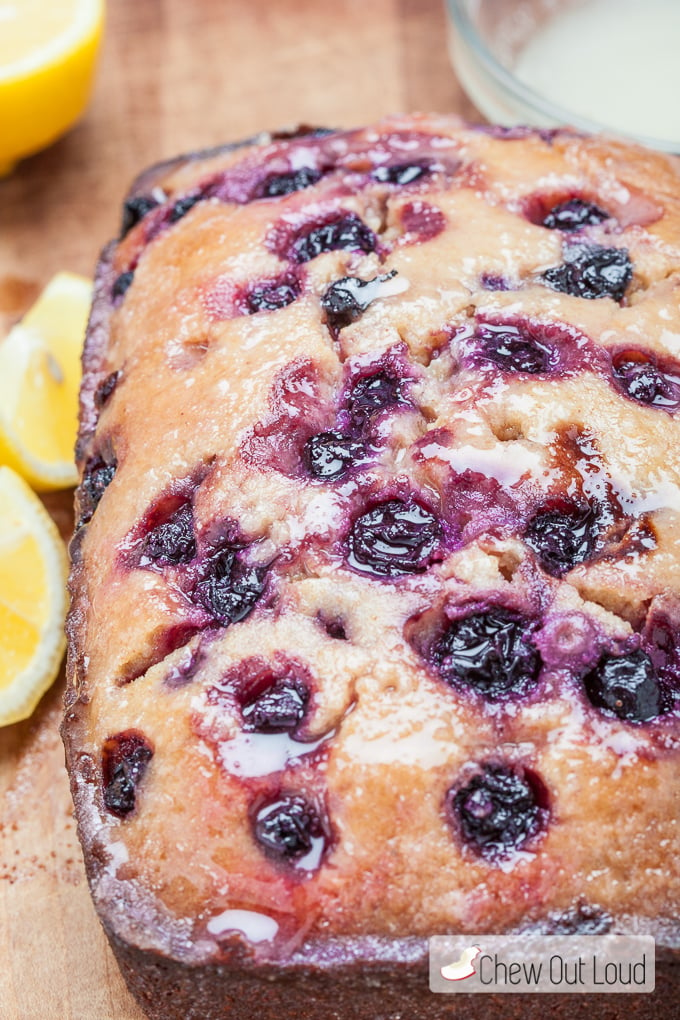 I pile heaping doses of love into the meals cooked for others, and I often take my boys with me to help lay it at the porches of friends and strangers alike.
I hope one day my boys will choose to share generously whatever gifts/talents they possess. It doesn't have to be casseroles and cookies. (It probably won't be casseroles and cookies.) Mowing someone's lawn…shoveling a driveway…handing out goodie bags to the homeless…small things make a world of difference.
The Littles have been sharing favorite piano pieces with our local memory care facility. Can't say I saw that coming. But I love it. The elderly patients' eyes light right up when they see kids. And when those kids bring along live music?
There are no words.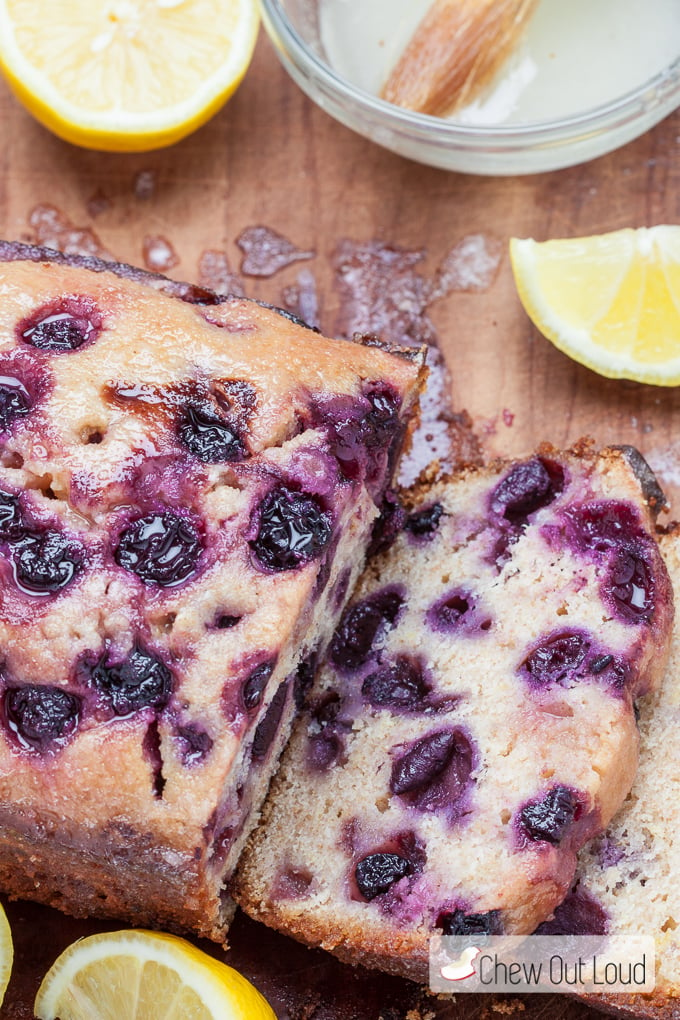 I adore including something sweet with the meals we bring others; sweets are kinda good for the soul, right?
Yesterday I dropped off this Blueberry Lemon Bread, opting for quick bread in lieu of cookies, because they needed something healthier than chocolate 🙂
Naturally, I made extra for The Littles, since blueberries are my Littlest's fave thing in the whole wide world. Plus, they beg like no tomorrow for a "taste" of everything. So my guys had this for breakfast today, too. A definite step up from the usual cereal.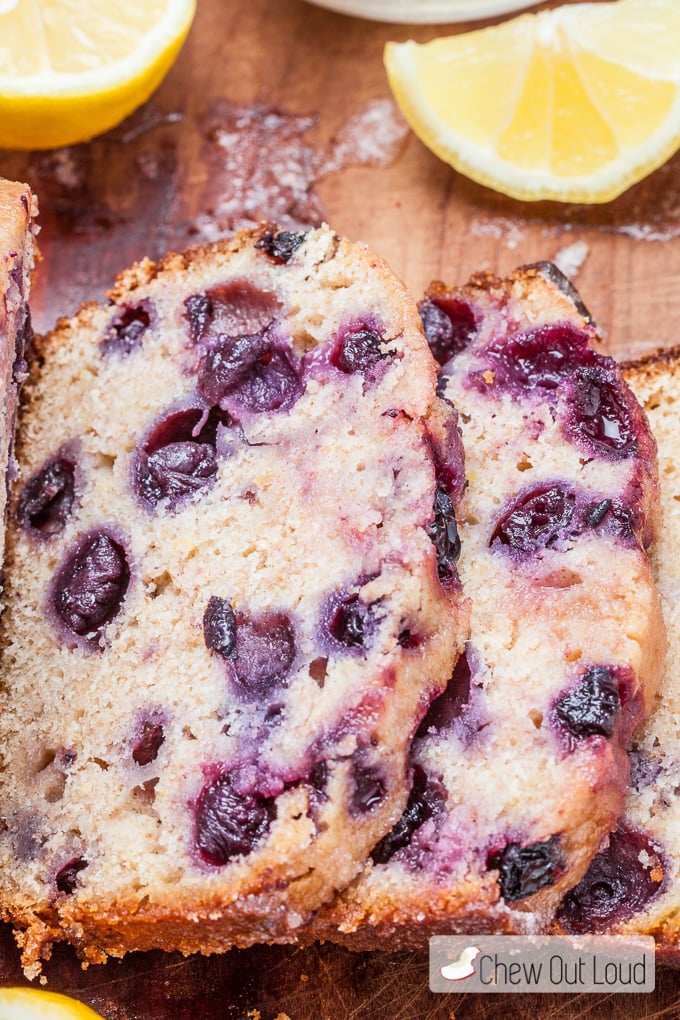 This Blueberry Lemon Bread is superbly moist. It's dense, soft, and totally satisfying. It has the perfect balance of sweetness and lemony tang. The lemon offsets the blueberries beautifully.
Believe it or not, it gets better. The crazy-easy lemon glaze is a must. (Read: please don't leave it out) It leaves a wonderful little "crust" on top and seals in a ton of moistness to keep the entire loaf tender. It also provides extra lemony goodness for all us lemon fanatics.
Enjoy 🙂
Print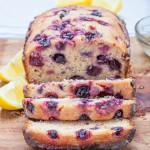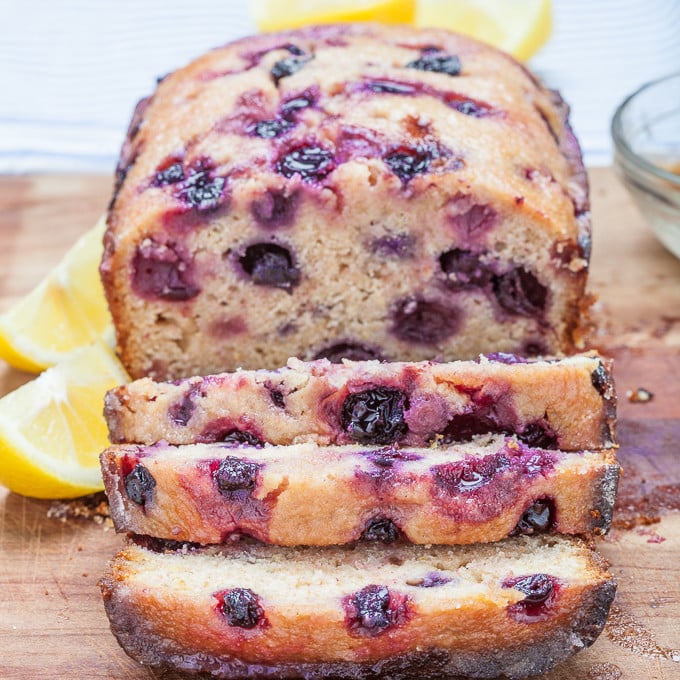 Blueberry Lemon Bread
Author:

Yield:

8

1

x

Category:

Breakfast, brunch
---
Description
This Blueberry Lemon Bread is full of plump berries and tangy lemons. The luscious lemon glaze seals in moisture throughout the loaf; don't skip the glaze.
---
Scale
Ingredients
For the Bread:

1/3 cup

butter, melted

1 cup

granulated sugar

1/4 cup

freshly squeezed lemon juice (about

3

large lemons)

2

large eggs

3/4 cups

all purpose flour

3/4 cups

whole wheat flour

1 tsp

baking powder

1/2 tsp

table salt

1/2 cup

whole milk

1 cup

fresh or frozen blueberries (do not thaw)
Zest of

2

large lemons
For the Glaze:

3

TB freshly squeezed lemon juice (about

2

large lemons)

6

TB granulated sugar
---
Instructions
Preheat oven to 350F with rack on lower middle position.
In the bowl of a stand mixer fitted with whisk, beat butter, sugar, lemon juice, and eggs on medium speed until incorporated. Add milk and whisk until combined. In a separate bowl, whisk together both flours,baking powder, and salt. Add dry mixture to wet mixture and whisk on low speed just until combined; don't over mix. Use a rubber spatula to gently fold in blueberries and lemon zest.
Scrape batter into a well greased 9×4 loaf pan. Bake 60-90 minutes or until a toothpick inserted into bread part of center (not berry part) comes out with a few tender crumbs attached. Bake time will be on the longer side for a glass pan; shorter for dark metal pan.
Meanwhile, combine glaze ingredients in a small bowl, whisking to combine. Set aside.
Cool 10-15 minutes in pan. Carefully slide a sharp knife around bread to loosen and gently invert onto serving plate. Generously brush hot bread with glaze; it will slowly soak into bread and provide a thin layer of crisp topping when it sets.
---
Source: Chew Out Loud, inspired by Taste of Home
We are serious quick bread fans. Here are a few of our best ones:
1. Banana Yogurt Chocolate Chip Bread. Because ripe bananas + chocolate chip + Greek yogurt = Amazing bread.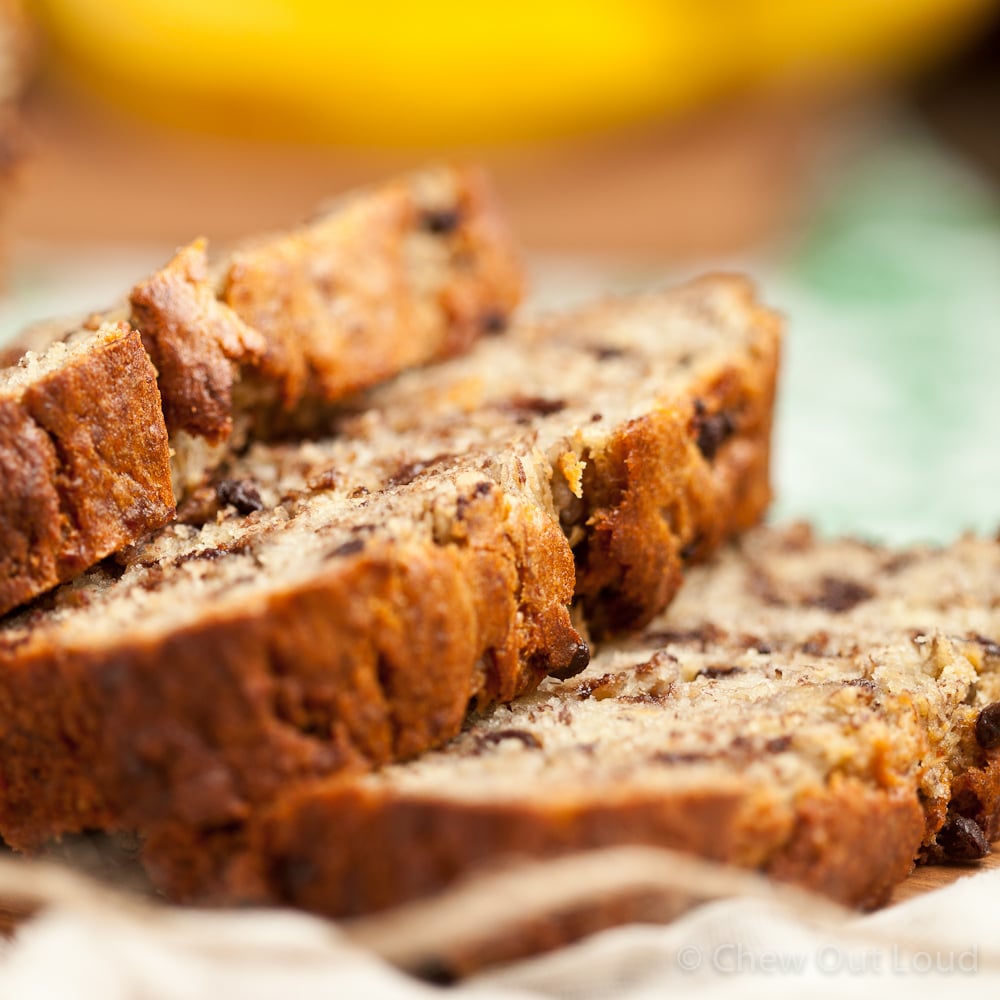 2. Strawberry Banana Bread. Add some lush strawberries to your bananas, and you're in happy land. Everyone loves this easy, quick breakfast/brunch…super moist and delish.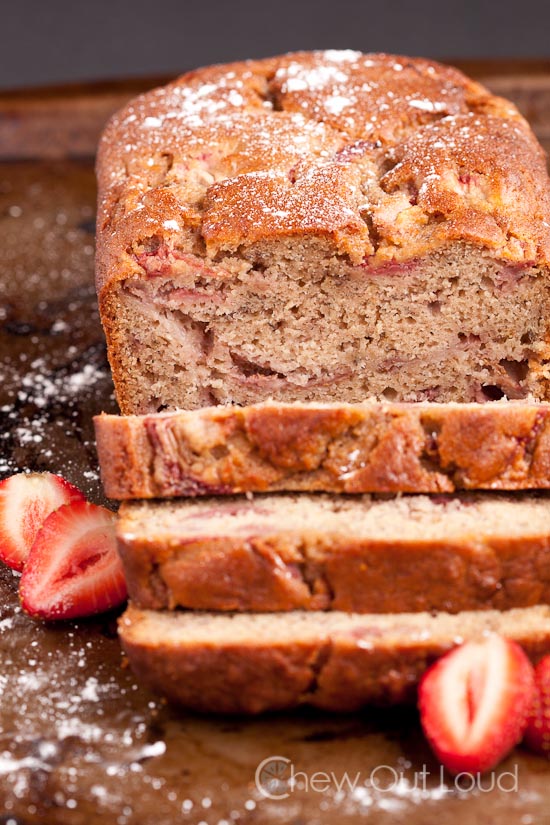 3. Honey Pear Bread. This was one of my first favorite quick breads. It quickly rose up the ranks as a favorite; the honey and ripe pears give this moist bread such delicious warmth.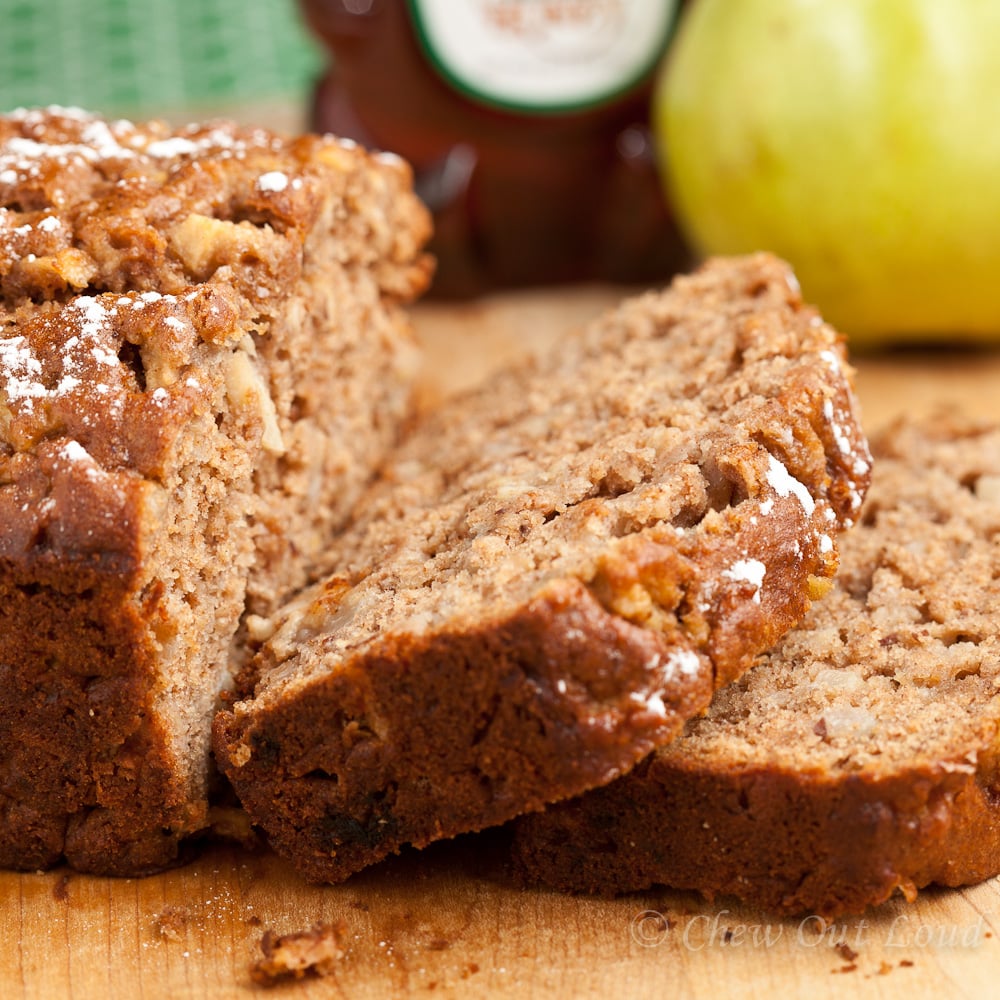 4. The BEST, Moist Pumpkin Bread. I've eaten a gazillion different pumpkin breads and made a bajillion of them. This is hands down our favorite. We think you'll agree.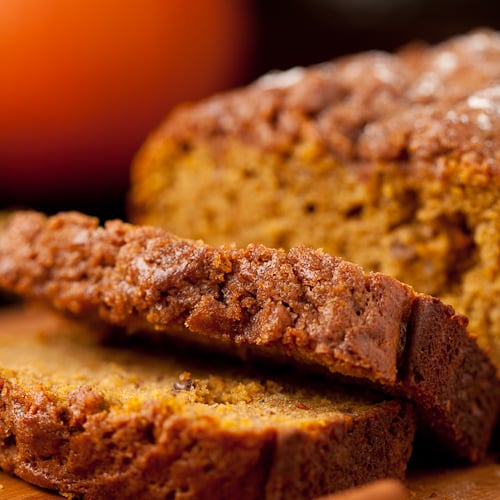 5. This Buttery Poppyseed Bread is incredible. I make this for people and then have to make another for me. Because I can't stop eating this moist, buttery, scrumptious loaf. It's ridiculous that a quick bread can be this yummy.