Best, Big Soft Sugar Cookies (Lofthouse Style)
Best, Big Soft Sugar Cookies are melt-in-your-mouth amazing. A surprise ingredient creates the ultimate soft cookie experience. These are a favorite at every holiday, birthday, or any occasion begging for cookies!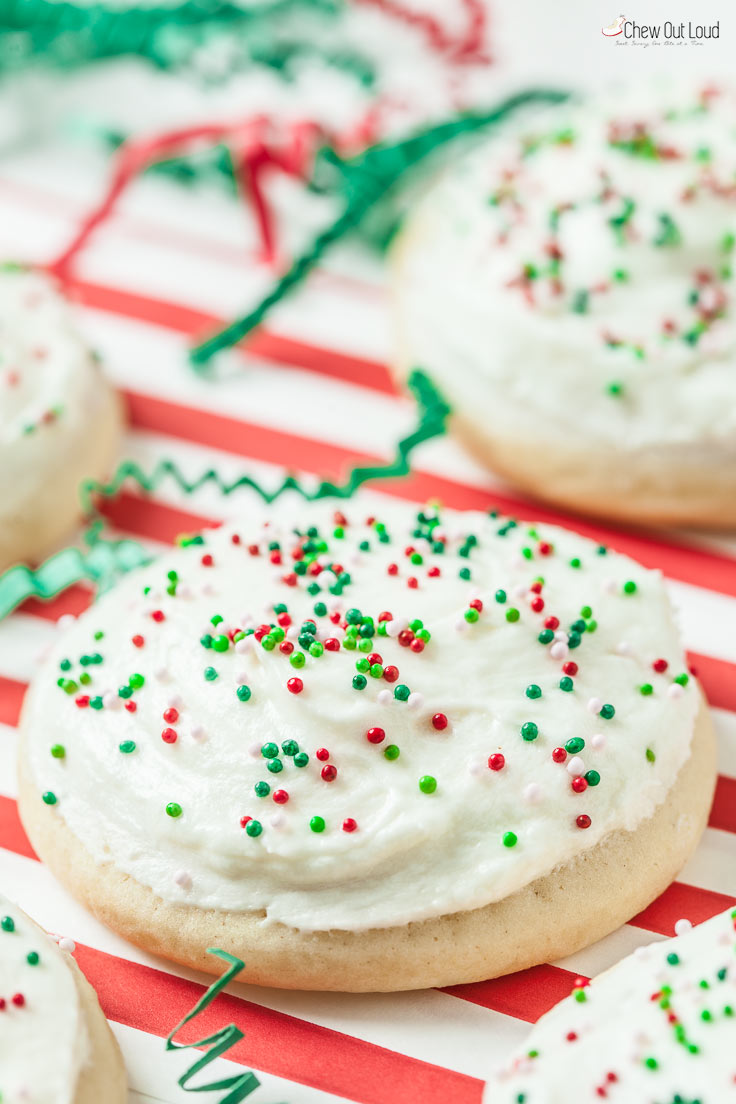 Lofthouse Style Sugar Cookies
These Best, Big Soft Sugar Cookies are easily one of the first cookies to disappear off any good cookie tray. Whether it's the holidays, birthdays, or just any random Tuesday.
I'm not just saying that. The Tuesday thing is true. The last time I took packages of these cookies to a weeknight event, these were one of the first goodies on the huge display of treats to vanish. Our own Littles were quite sad we didn't have a single crumb of soft frosty cookies leftover.
I've more than made up for said cookie loss. Funny thing, that. Because neither hubby nor I have gravitated towards soft, fluffy cookies until we devoured these (I'm usually mad about thick 'n chewy cookies.) Know this: if you don't happen to go for soft cookies, this recipe will be your game changer.
The Littles and I have been happily baking enough of these Surprise Frosted Sugar Cookies to share with family, friends, and neighbors.
Bonus: we didn't forget ourselves this time.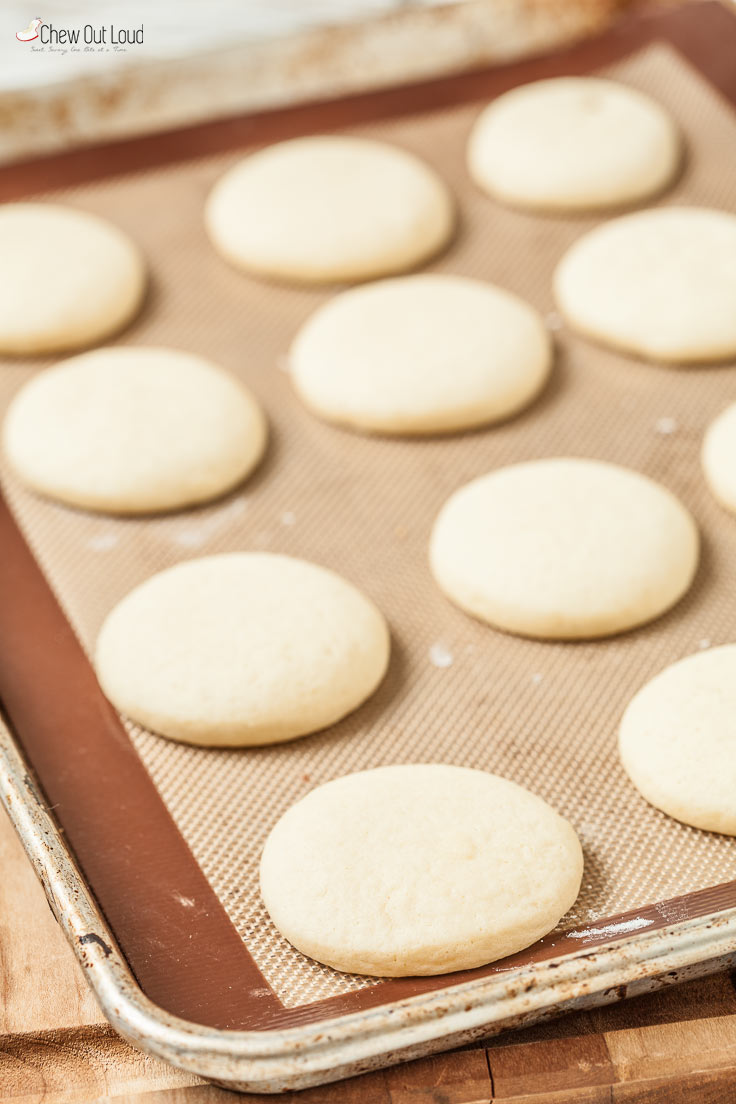 Some of you know this: I have three boys. They're fun, smart, and talented. They also happen to be loud, highly active, adventurous boys who would bounce off ceilings all day long if they could reach. This is why we do allthesports.
But when I get them into the kitchen? Somehow those hyper gears switch into creative mode. They transform into little sous chefs, quickly rummaging for the measuring spoons, whisks, and ingredients.
When the task involves cookies and frosting and sprinkles…well, we've got a party going on.
Which brings me to our surprise ingredient. Sour cream. It's the secret ingredient that creates the amazing melt-in-your-mouth texture of these cookies.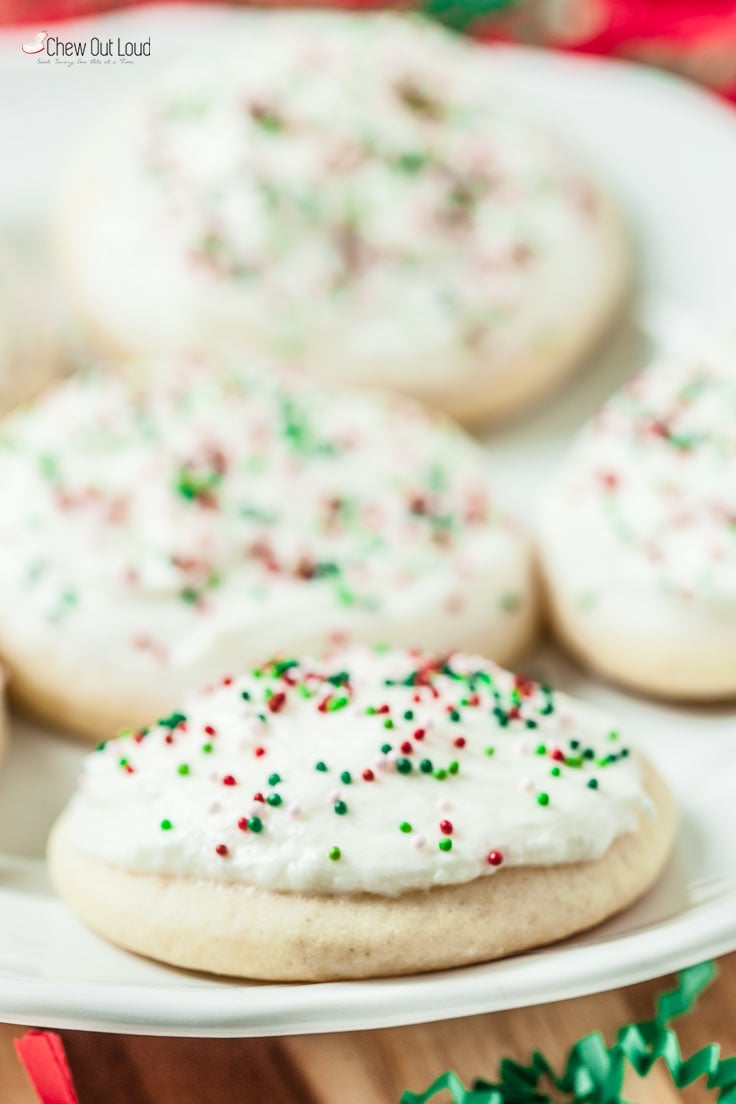 Fluffy Buttercream Frosting with a surprise
These Best Sugar Cookies are frosted with the most delicious, unforgettable frosting I've smeared on a cookie in a long, long time.
This frosting is sublime with its almond extract infusion, which livens up the entire cookie and makes your taste buds dance. Funny thing again, because I typically go light on the frosting (unless it's airy whipped cream frosting.)
But this buttercream gig is light, airy, and just right sweet. The fluffiness of this frosting is splendid on top of this pillowy cookie.
Go all out and have loads of fun! Mix up the colors, shower on the sprinkles, and make it a party in your kitchen – for the holidays or just any random Tuesday.
Enjoy today's recipe; Happy baking and frosting and eating. 😋
Print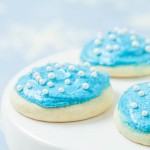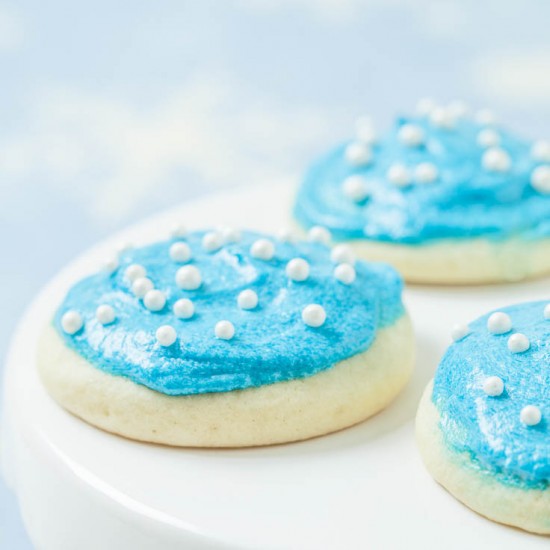 Surprise Frosted Sugar Cookies
Best, Big Soft Sugar Cookies are melt-in-your-mouth amazing. A surprise ingredient creates the ultimate soft cookie experience. These are a favorite at every holiday, birthday, or any occasion begging for cookies!
Prep Time:

25 min

Cook Time:

8 min

Total Time:

33 minutes
For the Cookies:

6 cups

all purpose flour

3 teaspoons

baking powder

1 teaspoon

baking soda

3/4 teaspoon

table salt

1 cup

whole sour cream (I used Daisy Sour Cream)

2 cups

granulated sugar

1 cup

salted butter, softened just to room temperature

4

large eggs, room temperature

1 teaspoon

almond extract
For the Frosting:
1 cup

butter, softened to moderate room temp, but not melty at all

3 cups

powdered (confectioners') sugar

½ tsp

almond extract

½ tsp

vanilla extract

⅛ tsp

salt

2

TB milk
Instructions
For Cookies: In a bowl, whisk together the flour, baking powder, baking soda, and salt to combine. Set aside.
In the bowl of a stand mixer fitted with paddle attachment on medium speed, beat the sour cream, sugar, butter, eggs, almond extract until well combined. Using a spatula, fold the dry ingredients with sour cream mixture until fully combined (will be sticky.) Cover bowl and chill dough fridge until firm enough to roll out (I chill mine about an hour.)
Lightly flour your working surface. Divide chilled dough into quarters and roll out one quarter of dough at a time, keeping the rest of dough chilled until ready to roll. Roll dough to ¼ inch thick and use cookie cutter to cut out circles (my cutter is about 2-inches in diameter.)
Meanwhile, heat oven to 350F with rack on lower middle position. Place cut-out dough circles 2 inches apart on parchment or silicone lined baking sheets. Bake 8-10 minutes, depending on size of your cookie cutter. Color of baked cookies should be light and pale golden. Do not over-bake. Cool on cookie sheet 10-15 minutes before removing to cool completely.
For Frosting: In stand mixer fitted with whisk attachment, whisk butter until very light and fluffy, 3-4 minutes. Add sugar and continue whisking to combine well. Add remaining frosting ingredients except for the milk; whisk on medium-high until mixture is fully incorporated, light, and fluffy, adding a tablespoon of milk at a time as needed. If desired, add coloring. Frost cooled cookies and add sprinkles.
Notes
Frosted cookies can be kept at moderate room temperature in airtight container for a few days. Unfrosted cookies can be wrapped airtight and frozen for a couple of weeks. Leftover frosting can be chilled in airtight container for future use (will need to come to room temp before using.)
If you enjoyed this recipe, please come back and give it a rating 🙂
Author:
Category:

Dessert

Method:

Baking

Cuisine:

American
Keywords: Lofthouse Cookies, Sugar Cookies, Soft Sugar Cookies