Buttery Jam Thumbprint Cookies
These melt-in-your-mouth jam thumbprint cookies are supremely tender and buttery! We made a new video for you. See why they're the Most Pinned Holiday Cookie.
* These cookies were the Most Pinned Holiday Cookie, as featured on Good Morning America and ABC News. Since these thumbprints are so popular, they deserved an update with new step-by-step photos below. We also added a new video for those of you who've been asking to see these cookies in action. Hope you love it. 💛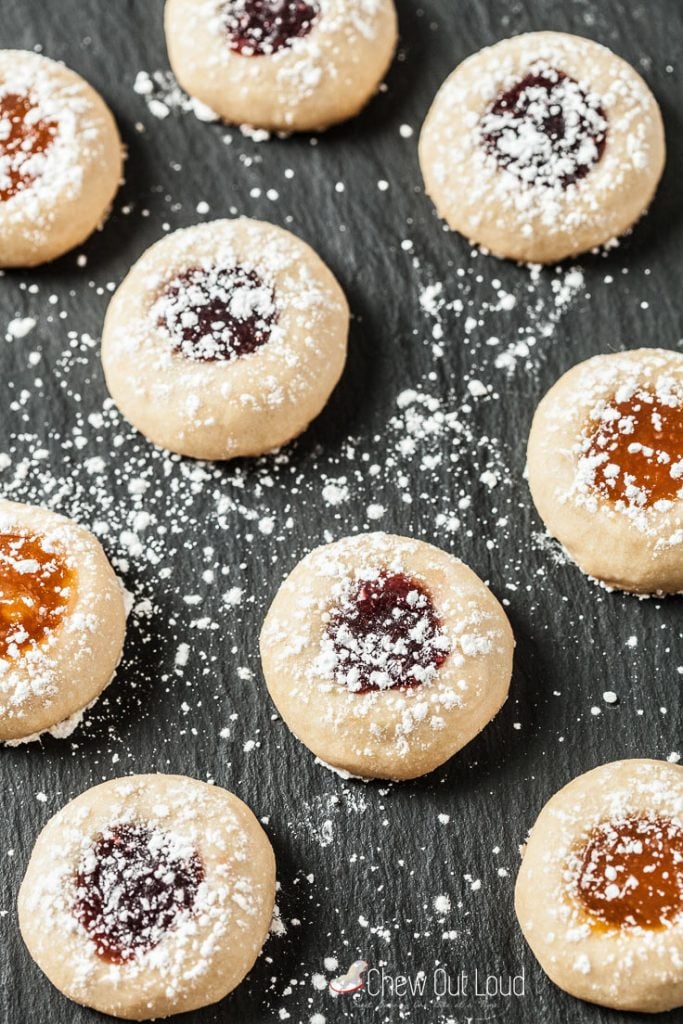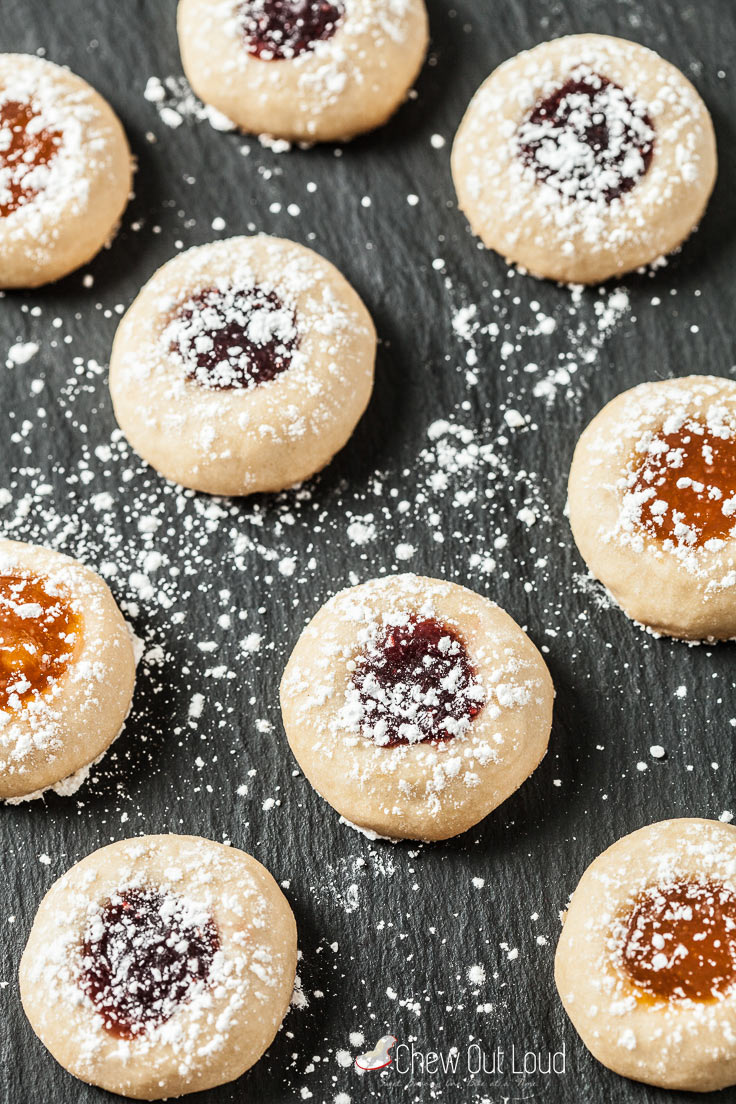 Jam Thumbprint Cookies are still the classic favorite
The first time I had these tender, melt-in-your-mouth Buttery Jam Thumbprint Cookies was over a decade ago.
A close friend of mine had graciously whipped up a delicious batch of these one night and shared a plate of them with us. I remember it being nighttime, and I was more tired than hungry, so I thought about declining.
For a nanosecond.
[I don't actually decline cookies.]
One bite and I was smitten. I ended up eating more than a couple right then and there. Plus a few more to go.
I didn't stand a chance against the buttery, tender, melty goodness of these cookies. Similar to these Twix Thumbprint Cookies Recipe and these 3-Ingredient Buttery Shortbread Cookies …they always get recipe requests.
Watch us make these Buttery Jam Thumbprint Cookies:
Totally easy and irresistible, right? 👆🏼
I was so taken by these buttery jam thumbprint cookies that I immediately tore out a piece of paper and scribbled out the recipe by hand.
This was well before iPhones and iPads. Plus retina display blah blah. An era my children will never know.
These scrumptious cookies, however, said kids have come to know and love quite well.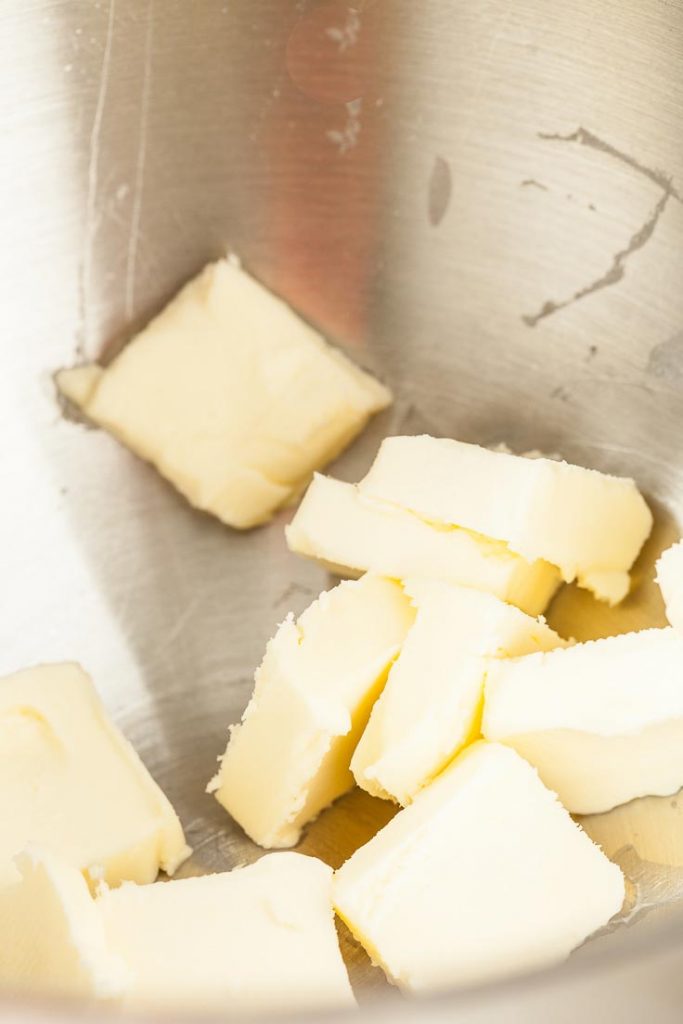 Slightly softened butter
Super important: this is in the recipe instructions, but it's worth mentioning because it makes all the difference — be sure your butter is slightly softened, but not at all melty. This will determine the texture of the cookies. Butter should be just soft enough to give a bit when you gently press, but not too soft.
Then, beat the semi-soft butter with sugar for about 2 minutes, until mixture is light and "fluffy" as pictured above. Then add the remaining ingredients and beat only until dough comes together into a sticky ball that needs some time to chill.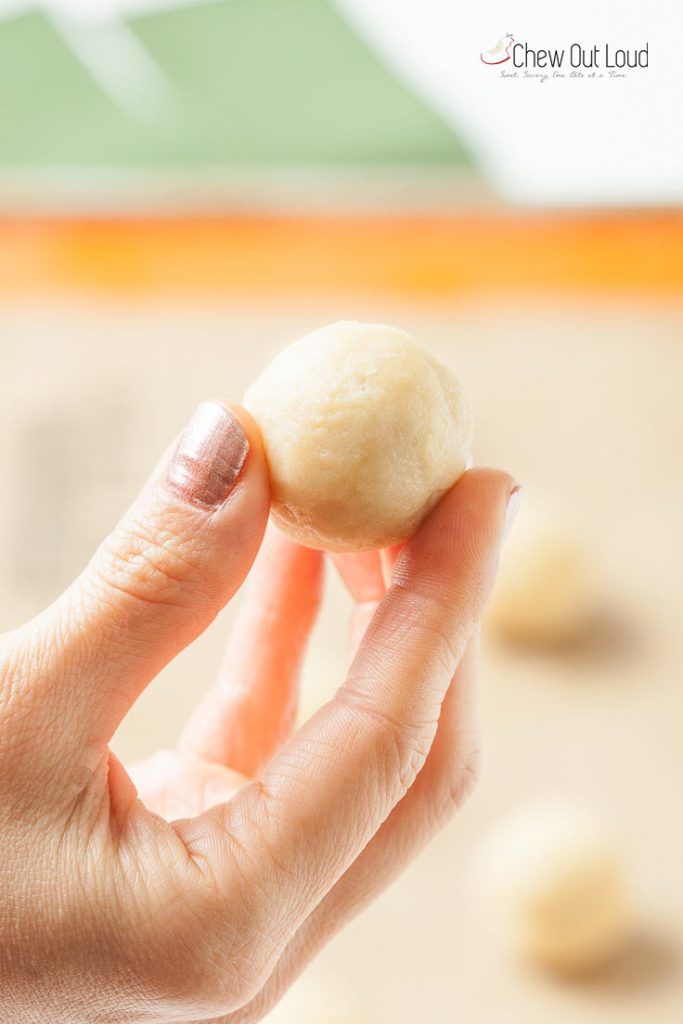 Narrow, Deep Wells
Once dough has fully chilled, you can easily work out your dough balls.
I trend toward smaller cookies, about 1-inch size dough balls. The center well should be deep but not too wide; this prevents the cookie from spreading out too thinly during baking.
You'll be rewarded with adorably cute round cookies that are way better than anything store bought. The kind that's perfect for bringing to a friend, for cookie exchanges, holiday gatherings, or just for you.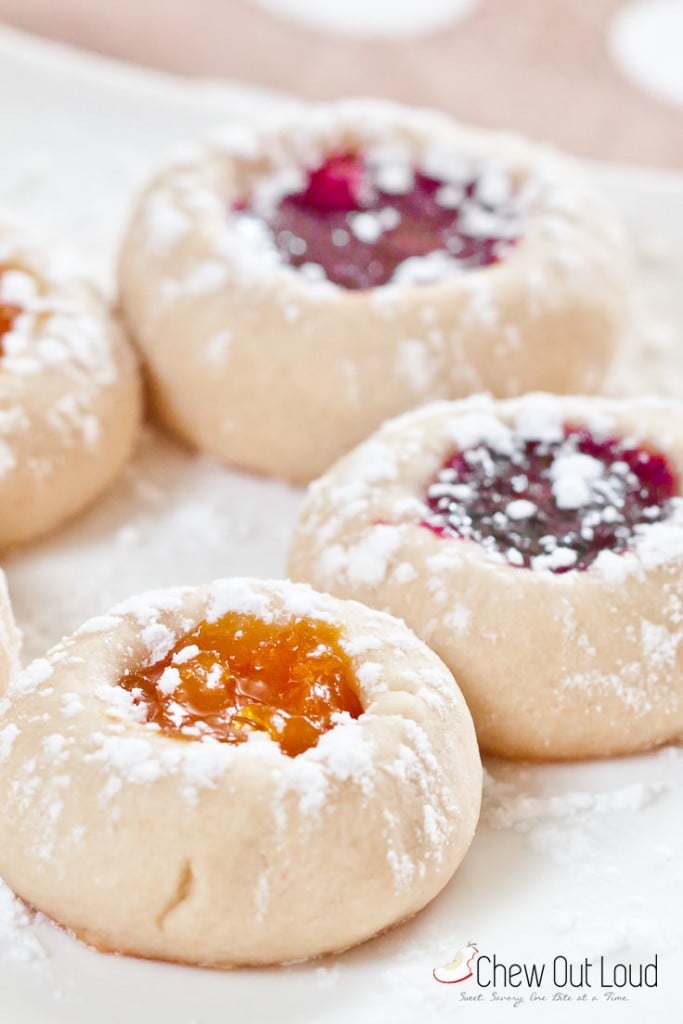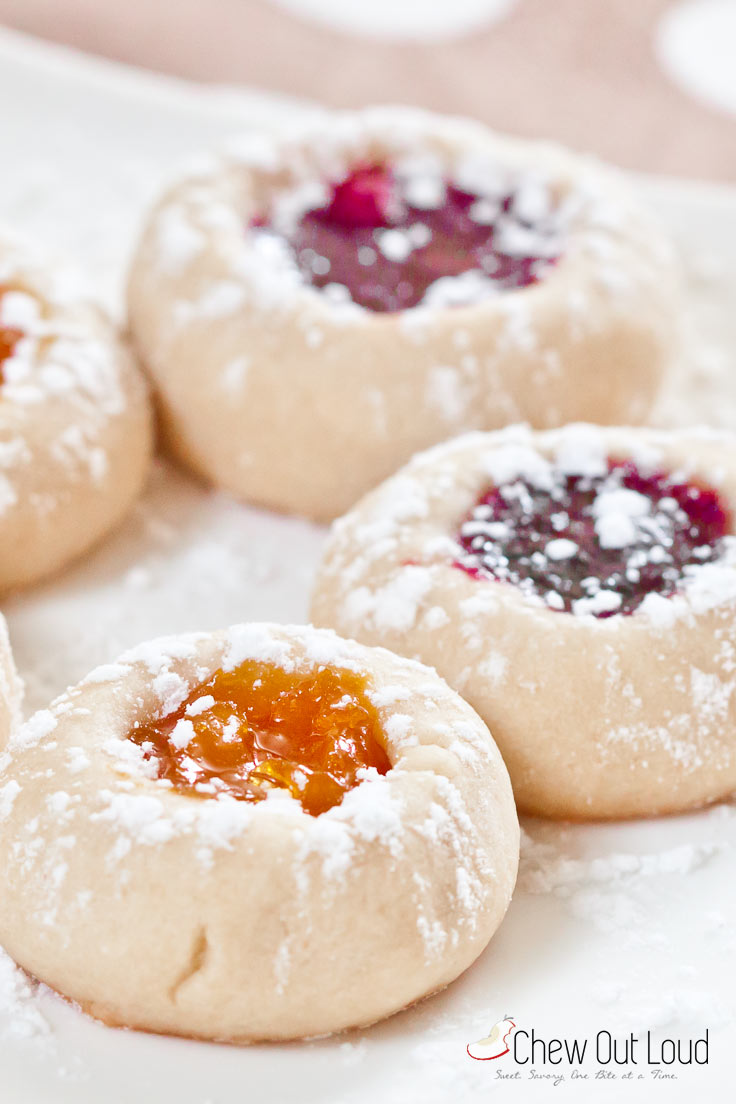 What's your jam?
If your finished cookies want a tiny top-off of fresh jam after baking, feel free to oblige them. Just a little dollop of extra jam on top of freshly baked cookies will give them a special sparkle 🌟
Sprinkle with powdered sugar to your tummy's content.
Eat, share, repeat. Pass along the cookie joy.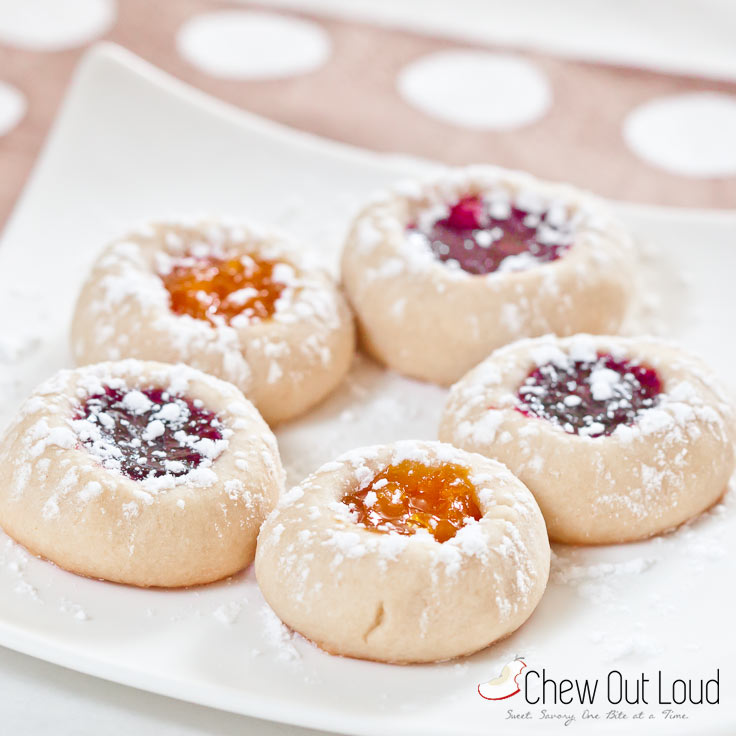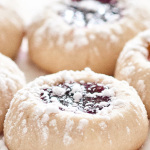 Buttery Jam Thumbprint Cookies
These Buttery Jam Thumbprint Cookies are so tender and melt-in-your-mouth delicious! They're also super easy and need only a handful of ingredients. These are always a hit with grownups and kids alike.
Ingredients
1

cup

2 sticks/16 TB butter, softened (soft enough that it will give when you lightly press it, but not melted.)

½

cup

confectioners'

,

powdered sugar, plus 1/4 cup more for dusting

2

teaspoons

pure vanilla extract

⅛

tsp

table salt

2

cups

all purpose flour

½

cup

thick fruit preserves

,

i.e., raspberry, blackberry, peach
Instructions
Preheat oven to 325°F with rack on middle position. Line a baking sheet with parchment paper.

In the bowl of a stand mixer fitted with paddle attachment on high speed, beat butter and sugar until creamy and light, 2-3 minutes (do not rush this part, as it will determine how your dough turns out.) Add vanilla and salt, scraping down bowl as needed. Switch to medium-low and gently mix in flour, just until combined. Dough should be somewhat sticky. Form into a ball shape, cover, and chill 30-60 minutes.

Roll tablespoonfuls of dough into 1-inch balls. Place dough balls on parchment-lined baking sheets or silicone baking mats. Press down the center of each ball with handle-end of a wooden spatula or finger, making a deep well in the middle – deep but not too wide (it helps to hold the dough ball in palm of hand while forming the well with your finger.)

Fill cookie centers generously with jam/preserves. I use either a very small spoon or a piping bag. Bake 20-25* minutes or until golden brown and puffy. Let cool 5 min. on baking sheet, then gently transfer to finish cooling on wire rack.

When cookies are completely cooled, dust with confectioners' sugar. Cookies can be kept in airtight container at room temp for a few days.
Notes
This cookie dough is less sweet than others, making space for the very sweet jam/preserves and the generous dusting of powdered sugar at the end.
Cookies will taste like the jam/preserves you use, so use a good quality, thick one (thinner jams tend to "run" during baking.)
These cookies are not intended to brown much, as they're more of a shortbread color; if you want more browning on top, bake on upper middle rack.
I like baking these 20 minutes for a softer, meltier texture. If you prefer a bit crisper/browned texture, bake longer up to 25 min.
Did you make this?
Leave a comment below and tag @chewoutloud on Instagram
Kitchen Stuff We Love:

Crazy for Cookies…
Chewy Mint Chocolate Cookies. Minty Andes morsels are used in these soft and chewy cookies; sure to please!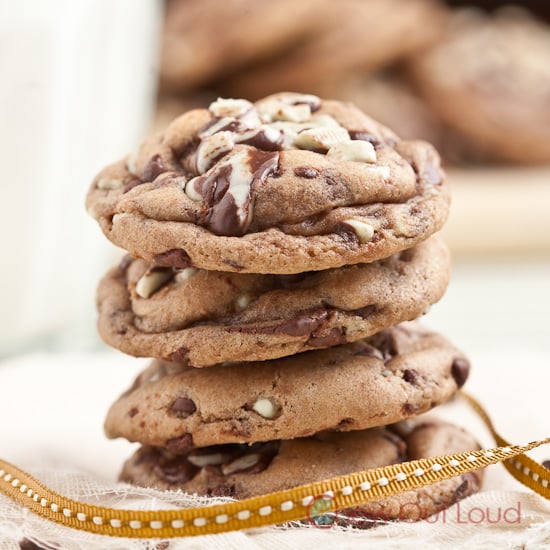 White Chocolate Macadamia Cookies. These are my personal favorite cookie of all time. I just love crunchy macadamia and velvety white chocolate. These stay chewy forever. Or several days, at least.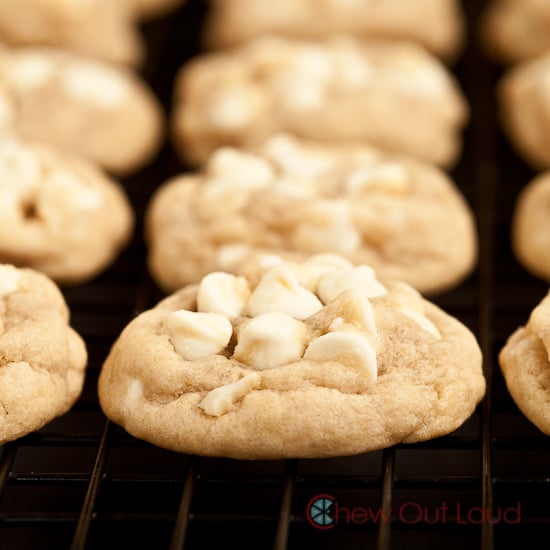 Salted Caramel Kiss Cookies. Melty caramel kisses, tucked into soft little cookies? Yes, of course I'll have a dozen of those.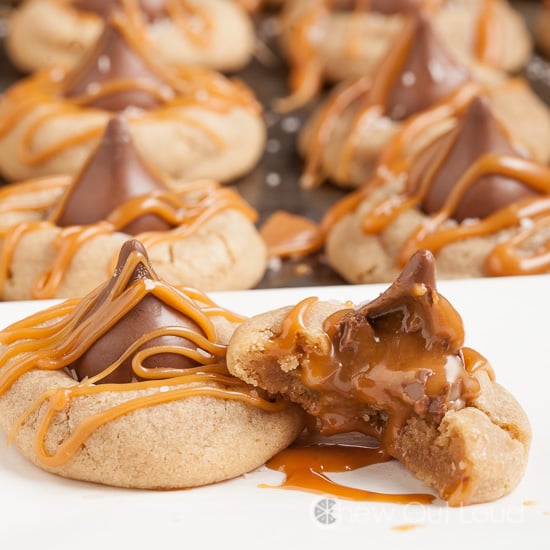 Double Chocolate M&M Cookies. Uber chocolatey, chewy, and full of crunchy M&M candies. Yummo!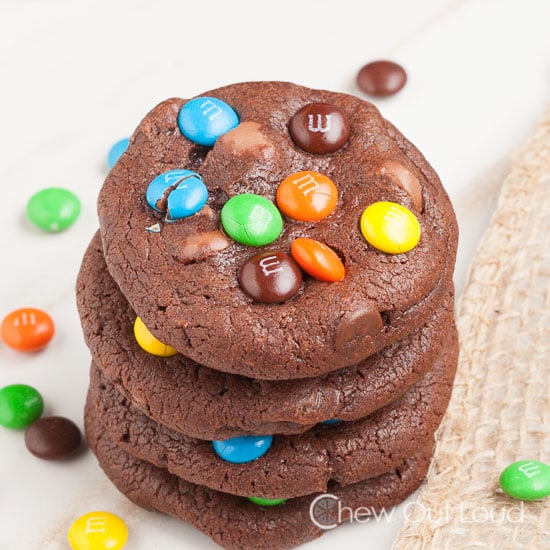 Snowball Cookies. The quintessential Christmas cookie. Love these. Melt in your mouth, guaranteed.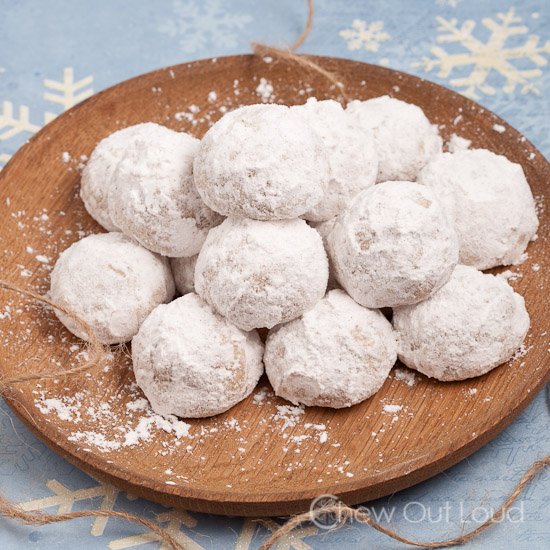 3-Ingredient Buttery Shortbread Cookies. These are the best shortbread we've ever had the pleasure of baking and eating.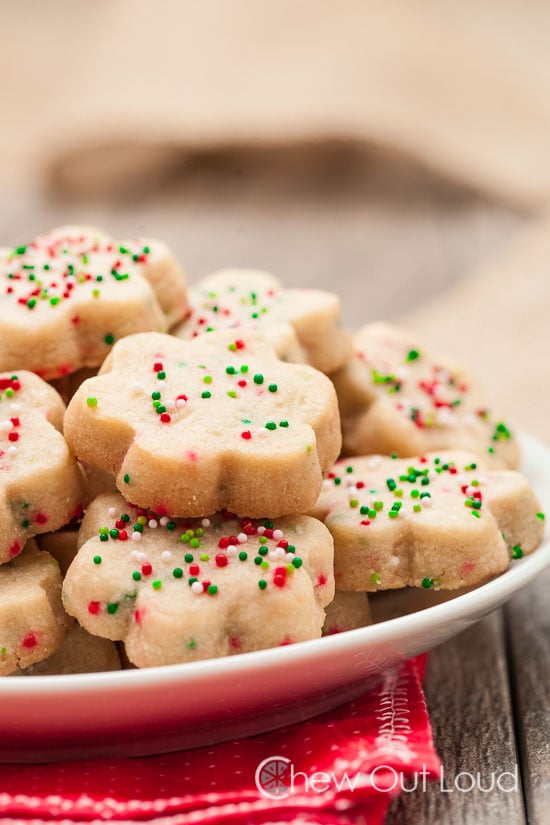 Of course, Chewy Snickerdoodles. It's not Christmas baking without these delicious cookies on the tray.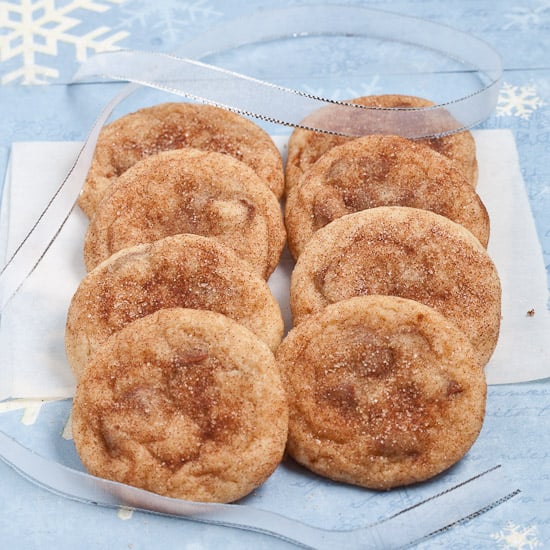 These are the BEST, thick, chewy Chocolate Chip Cookies!