Chewy Oatmeal Raisin Cookies
These are the best Oatmeal Raisin Cookies we've ever made or eaten! They are every bit as thick and chewy as bakery cookies, and loaded with the goodness of rolled oats and plump raisins. They're great plain or iced.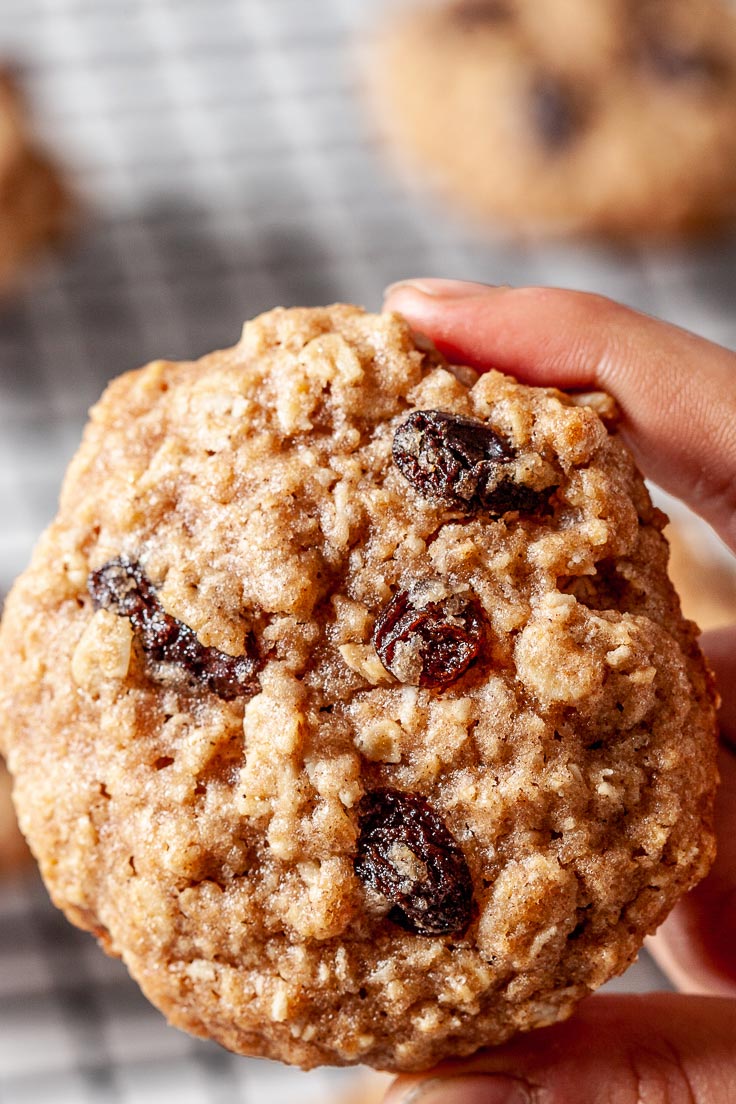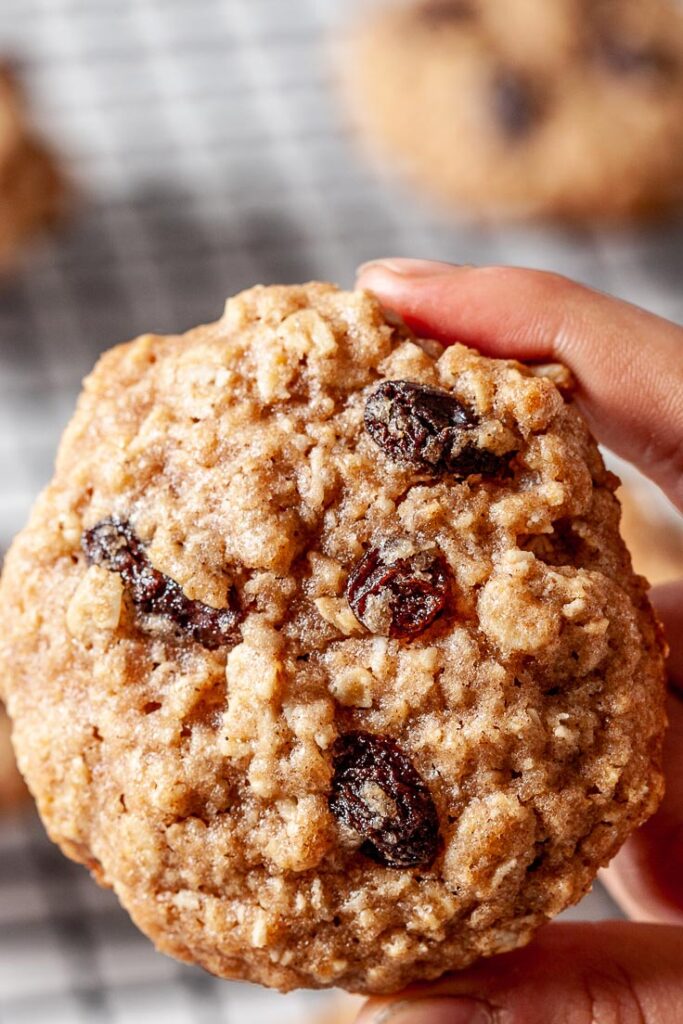 The Best Oatmeal Raisin Cookies
It's my sweet tooth that compelled me to start painstakingly collect stacks of cookie recipes to try, even as a teenager. I beamed high and wide when I produced my first trays of successful cookies. Since then, I've never stopped baking up All the Cookies: from chewy Peanut Butter Cookies to bakery style Chocolate Chip Cookies to these thick, chewy Oatmeal Raisin Cookies inspired by Cooks Illustrated's version.
These oatmeal raisin cookies are indeed perfection – they're thick, chewy, and everything you'd expect from a bakery style cookie.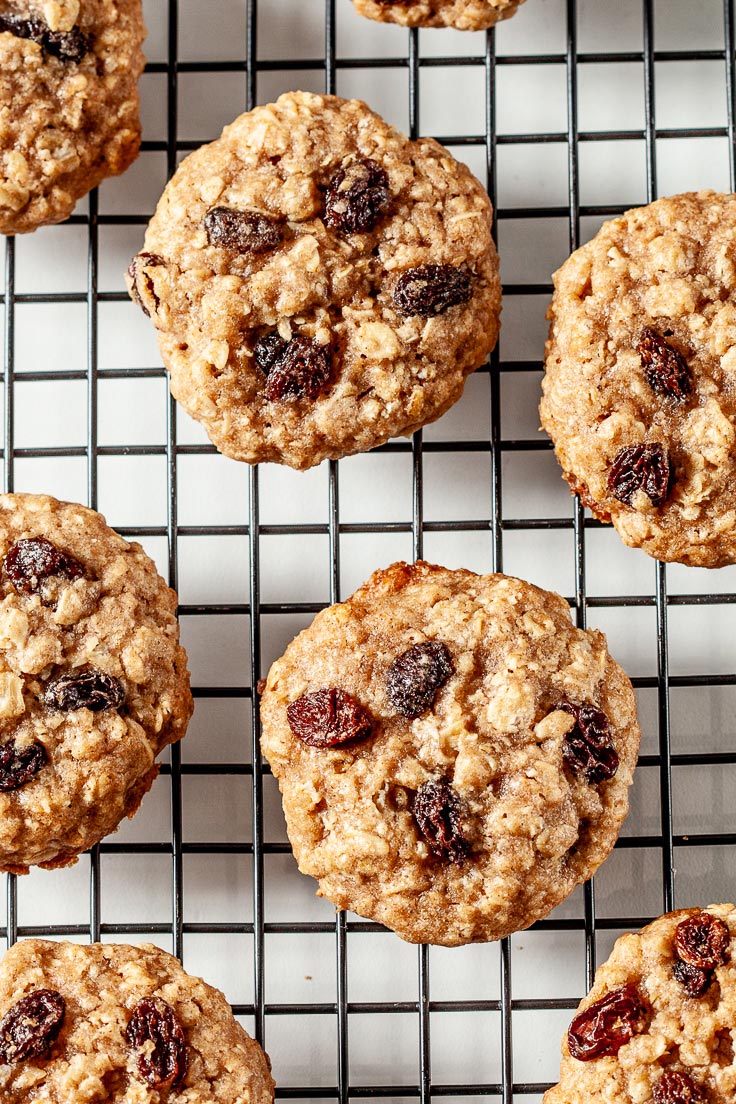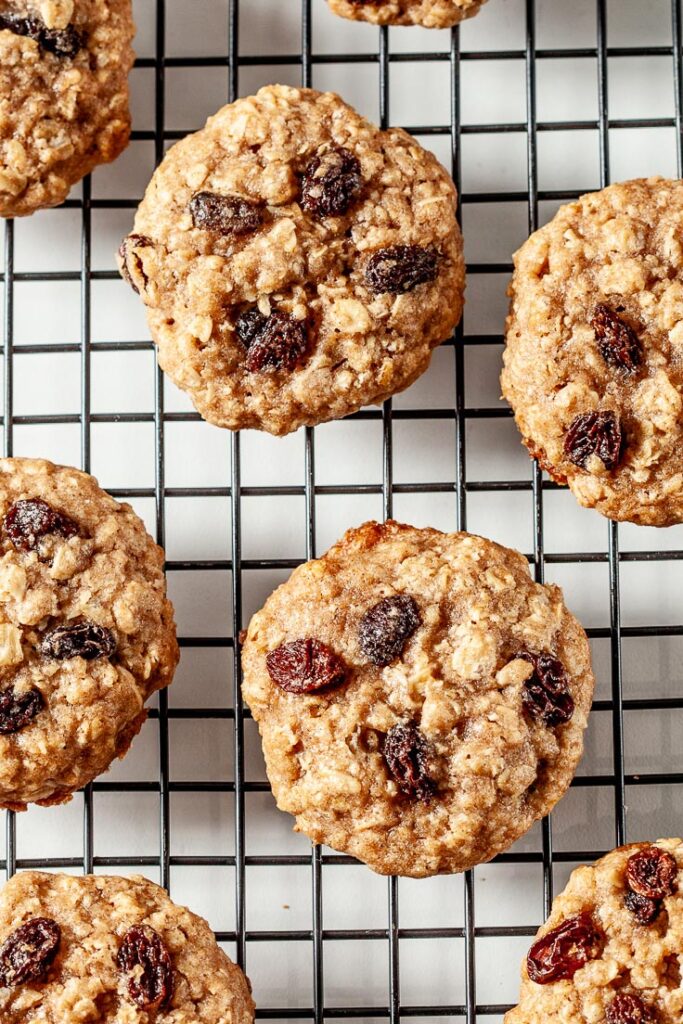 Key Ingredients for Chewy Oatmeal Raisin cookies
As a young girl, I often made oatmeal raisin cookies, as they're my brother's favorite. Over [many many] years, I've modified, tweaked, and experimented with oatmeal raisin cookies until they were bakery-style perfect.
Here are some key ingredients you'll want to have on hand:
All purpose flour works perfectly for this recipe. Feel free to sub out half of the regular flour with white whole wheat flour for that extra dose of whole grain.
Baking powder (not baking soda) and table salt are dry ingredient essentials
Wonderfully warm spices include cinnamon and nutmeg
Be sure your real butter is softened just to moderate room temp, ensuring that none of is it melty at all
We go with half brown sugar and half granulated sugar. The brown sugar lends a slightly caramel-molasses like flavor to the cookies
Fresh, room temperature large eggs will bind the cookie dough together
We use plenty of old fashioned rolled oats in these oatmeal raisin cookies. Whole rolled oats are hearty, toothsome, and provide texture,
The fresher your raisins are, the plumper they will be in the dough. Check that your raisins haven't been open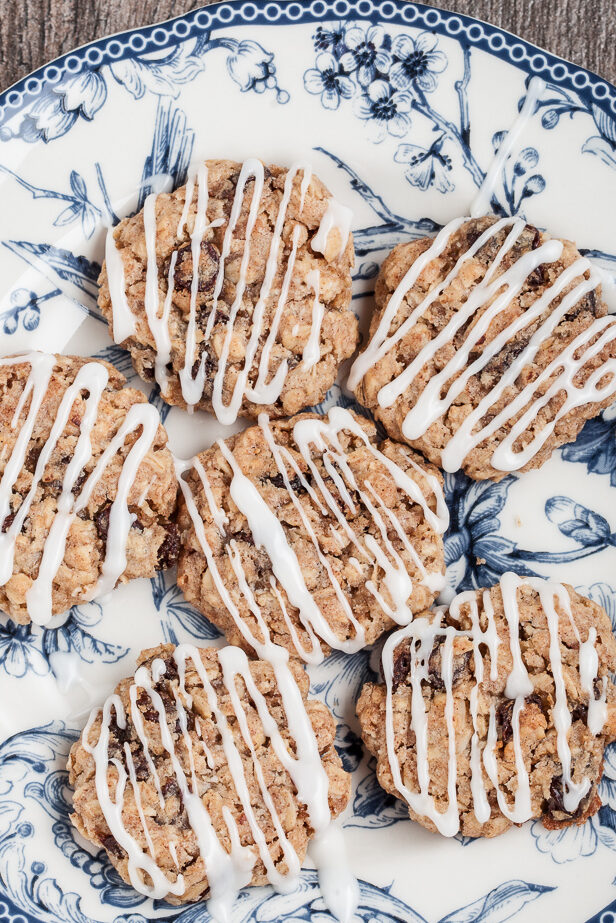 Pro tips for Crispy Edges and Chewy Centers
Use either an electric mixer to beat room-temperature butter with both sugars until the mixture is airy, light, and fluffy. Take your time with this process; it will be at least 2-3 minutes of beating. This step is important for cookies to turn out thick and chewy.
Do not over-mix the dough once dry ingredients are added to the butter mixture; over-mixing causes end result to be tough rather than tender.
Use old fashioned rolled oats for best texture.
When measuring flour, use a measuring cup meant for dry ingredients, which do not have fluted lips. Gently fill the measuring cup and level excess flour off the top with the flat side of a butter knife. Do not shake, tap, or pack in the flour at all.
Brown sugar needs to be fully packed in tightly.
Biggest tip: do not over bake. Bake for lowest specified time and check cookies for doneness…they are done when the edges are browned but center looks slightly under-baked. Center may appear a bit glossy, but edges and bottoms will be nicely browned. Once cookies cool, they will set perfectly at this point.
Oatmeal Raisin Cookies
Common Questions
Should I chill oatmeal raisin cookie dough before baking?
There is no need to chill the dough in this recipe, as the dough will be thick and ready to form right away. However, you can definitely chill the dough for later use, if you're making it ahead of time.
What causes oatmeal cookies to turn hard?
The main culprits of hard or tough cookies is over-mixing and over-baking. Once you've combined the wet and dry ingredients together, take care not to over-mix. When baking, take cookies out when they're puffy and golden brown at the edges, but seem slightly under-baked. They will set well upon cooling.
Can I freeze oatmeal raisin cookie dough? Can I freeze baked cookies?
Yes to both. You can freeze the dough, wrapped airtight, for up to 3 months. Baked cookies should be wrapped airtight and frozen up to 2 months.
Did you make this?
Please give us a rating and comment below. We love hearing from you!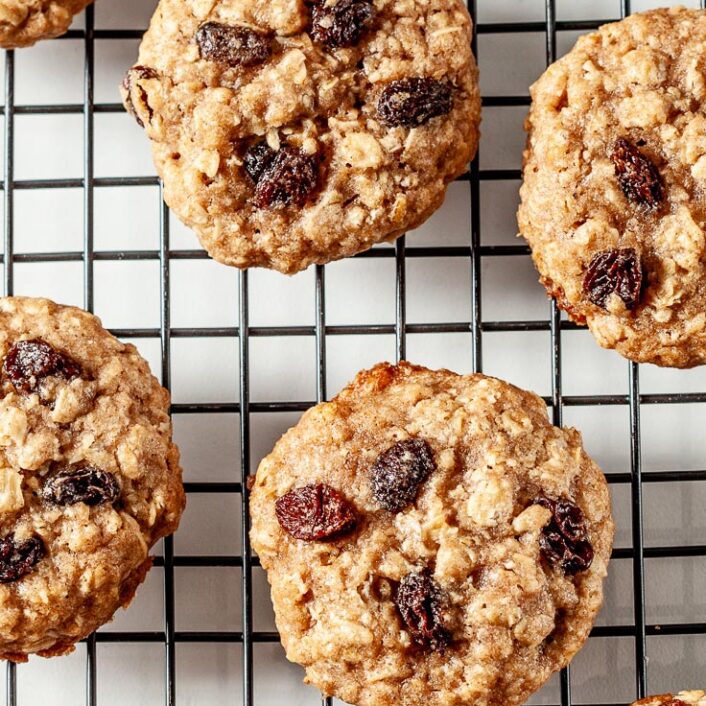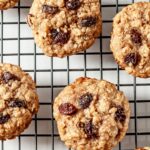 Oatmeal Raisin Cookies
Made with simple ingredients and even better than your favorite bakery's recipe, these oatmeal cookies are thick, chewy, and easy to bake for a delicious, crowd-pleasing treat!
Instructions
Preheat oven to 350F with rack on lower middle position. Line baking sheets with parchment and set aside.

In a bowl, whisk flour, salt, baking powder, cinnamon, and nutmeg to fully incorporate.

In the bowl of a stand mixer fitted with paddle attachment set to medium speed, beat together the butter and both sugars until light and fluffy, a full 3 minutes.

Add eggs one at a time and mix until combined. Reduce speed to low and add dry ingredients, beating just until combined; don't over-mix here. Gently mix in the oats and raisins, just until combined.

Roll dough into 2 TB sized balls and place 2 inches apart on lined baking sheets. Gently flatten each ball into a disk shape. Bake 13-15 minutes or just until edges are golden. Cookies will seem a bit under, but they will set upon cooling.

Optional Simple Icing: In a bowl, stir together powdered sugar and vanilla extract. Add water or milk until desired consistency is reached. Transfer into a piping bag or you can use a Ziploc bag and cut a small hole in the corner. Drizzle over cooled cookies. Icing should harden within 30 minutes.
Notes
If you enjoyed these cookies, please come back and give them a rating ♡
Nutrition (per serving)
Serving:
1
serving
|
Calories:
200
kcal
|
Carbohydrates:
32
g
|
Protein:
5
g
|
Fat:
7
g
|
Saturated Fat:
1
g
|
Polyunsaturated Fat:
2
g
|
Monounsaturated Fat:
3
g
|
Trans Fat:
0.001
g
|
Cholesterol:
14
mg
|
Sodium:
19
mg
|
Potassium:
115
mg
|
Fiber:
2
g
|
Sugar:
19
g
|
Vitamin A:
20
IU
|
Vitamin C:
0.01
mg
|
Calcium:
32
mg
|
Iron:
1
mg
Here are some other oatmeal cookies we think you'll love:
1. Thick 'n Chewy Dark Chocolate Oatmeal Cookies. So you prefer chocolate over raisins in your oatmeal cookies? This one's for you. Hearty and satisfying.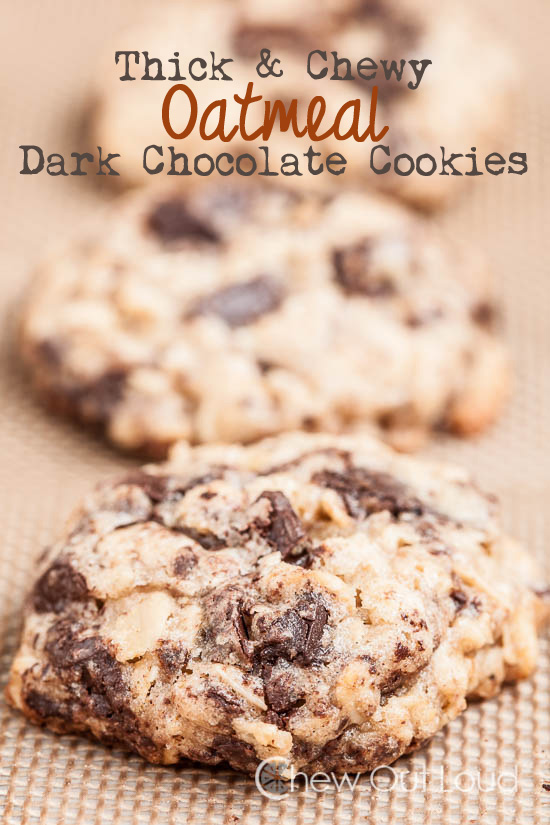 2. Oatmeal Butterscotch Cookies. These are easily habit forming. Full of oats and delicious butterscotch flavors, every bite is a mouthful of chewy yumminess.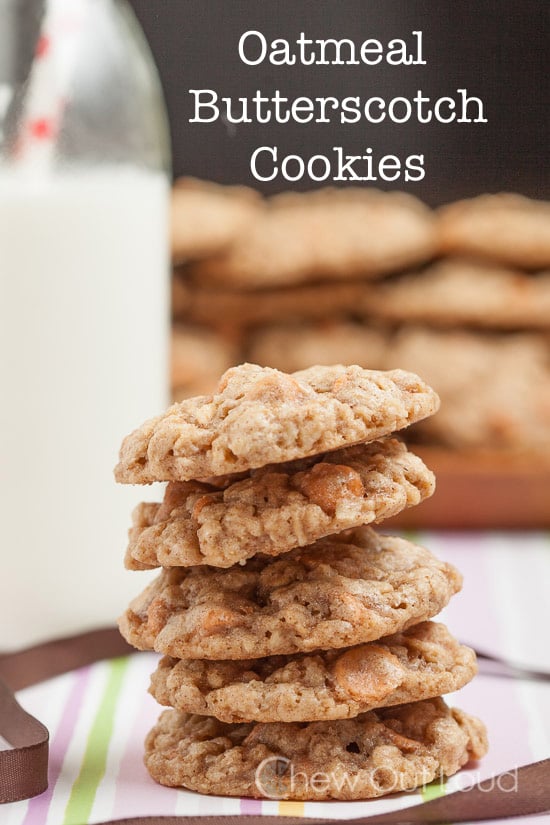 3. Flourless Peanut Butter Oatmeal Cookies. If you're a PB lover, you'll adore these. Made hearty with the addition of oats, these flour-free cookies are delicious and perfect for GF cookie fans.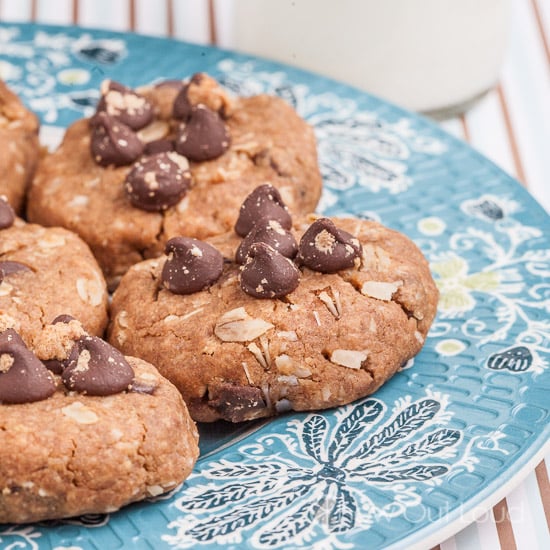 4. Oatmeal Energy Cookies (nut free). These are the perfect healthy-ish cookies on the go. We eat these for breakfast or afternoon pick-me-ups. Great for pre/post workouts, too.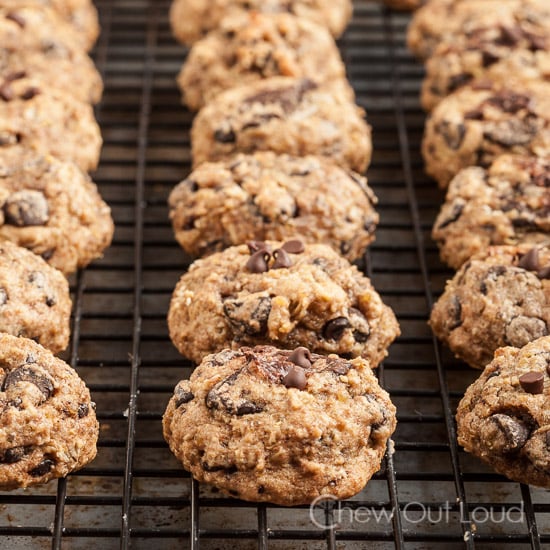 5. Soft Apple Oatmeal Cookies. Want a bit of apple-y goodness in your oatmeal cookies? We hear ya. We threw on some caramel for good measure.