Forever Chewy Chocolate Chip Cookies
We're sharing the secret to these forever chewy chocolate chip cookies – the best cookies you'll ever taste. Thick, chocolatey, and supremely chewy, they're unbelievably addicting and worth every bite!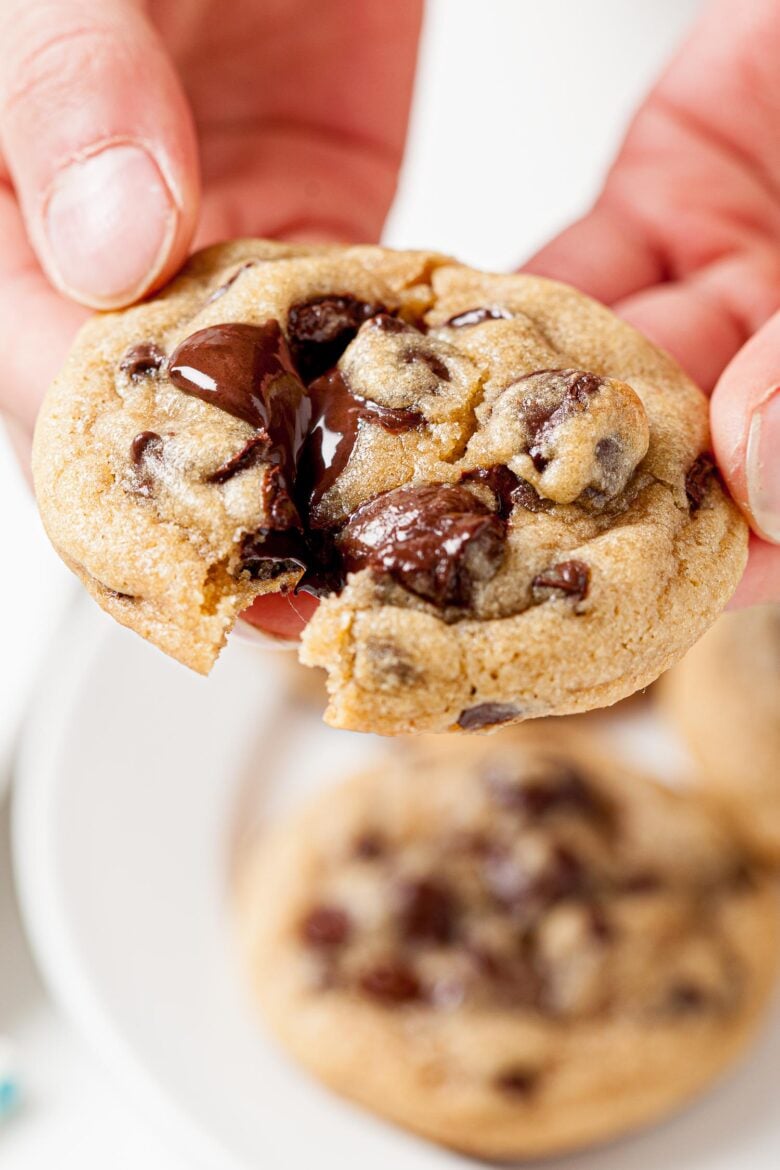 Why You'll Love Chewy Chocolate Chip Cookies
Just 8 pantry staple ingredients are all you'll need.
With no butter melting or dough chilling required, these cookies couldn't be any easier to make.
Every bite bursts with warm chocolatey goodness.
Chewy chocolate cookies are the best for packed lunches, holiday parties, or giving away as gifts.
Although they disappear almost immediately, these cookies are incredibly soft and chewy and stay that way almost forever 🙂
Pantry Staple Ingredients
Basic items are all you'll need for this recipe. In fact, you'll likely be able to get started without even needing to run to the store!
All-Purpose Flour – To make your cookies gluten-free, swap it out with a 1:1 gluten-free flour alternative.
Baking Soda – This is crucial to achieving tender chewy perfection.
Salt – Used to enhance the natural flavor of the rest of the ingredients.
Salted Butter – Creamed and mixed into the dough for a rich taste.
Sugar – After countless tests, we found that brown sugar works best to lock in moisture and keep your cookies soft.
Eggs – You'll need one egg and a separate egg yolk to add structure and extra chewiness.
Vanilla Extract – If you can, opt for 100% pure vanilla extract to deepen the flavor of the cookies.
Semi-Sweet Chocolate – Use chocolate chips or morsels in the dough and sprinkled on top for a classic taste.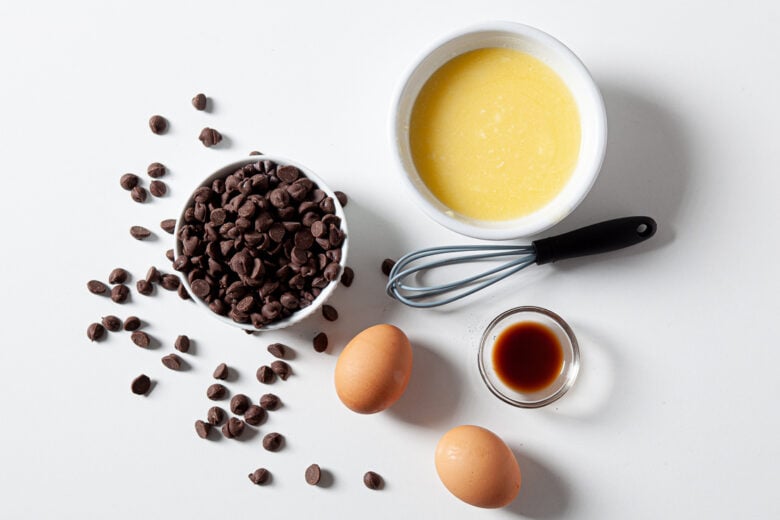 Optional Mix-Ins
If you want to add even more flavor and texture to this recipe, you can easily include extra ingredients in the dough. For instance, try incorporating:
Chopped nuts like pecans or walnuts
M&Ms
Small candy pieces
Pieces of chocolate bars
Dried fruit
Tools You'll Need
There is no fancy equipment needed for these cookies. However, there are a few tools we recommend for successful cookie-making of any kind. They include:
Silicone Baking Mats or Parchment Paper
Baking Sheets
Hand Whisk
Stand Mixer (Or a hand mixer, but they require more work)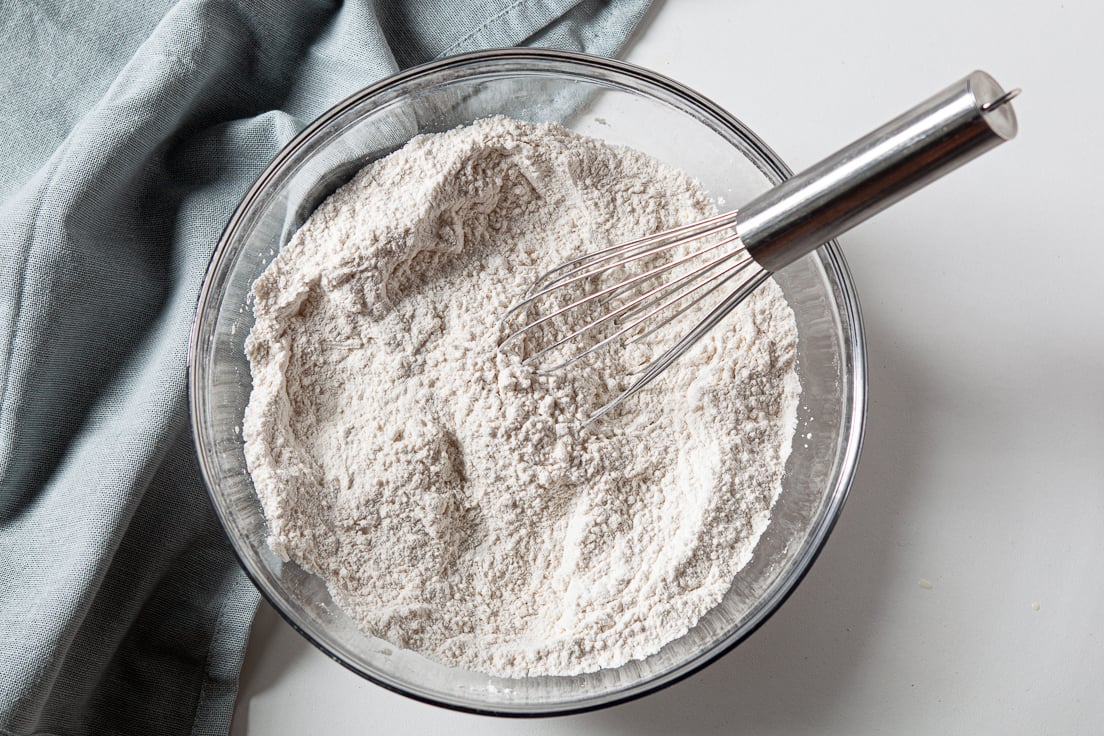 The Secrets to Chewy Chocolate Chip Cookies
When it comes to cookie making, the key to a chewy texture is largely in the ingredients used. For instance, white sugar has less moisture than brown which would dry out the dough; thus, we use all brown sugar only. In addition, adding one extra egg yolk, without the egg white, increases the moisture content – the extra fat creates a chewier texture.
The second largest contributor is the technique used to create and bake the cookies. To begin, you'll want to mix the ingredients until they are just combined. Over-mixing will activate the gluten, creating a tough texture.
The other important piece here is using cold butter, not softened butter – you'll beat that cold butter all by itself for a whole 2 minutes before adding anything else. Then, you'll want to make sure your dough is slightly chilled and easy to work with. This helps the fat distribute evenly as it bakes, creating tender layers in the cookies.
Lastly, Removing the cookies from the oven just as they turn golden brown allows them to finish baking as they cool and ensures they do not overcook and dry out. Over-baked cookies are a big culprit for dry cookies that lack a chewy texture.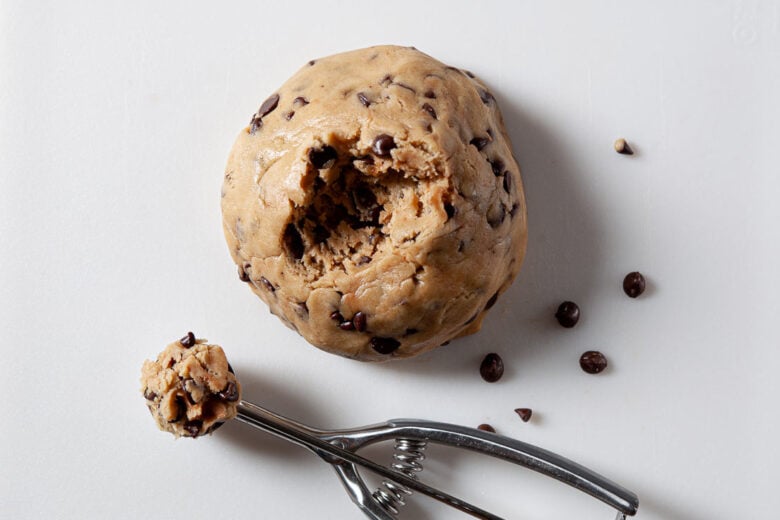 Expert Tips for Cookie Baking
Now that you know the secret to making your cookies chewy, you'll also want to follow the tips and tricks below to ensure they turn out perfectly every single time.
Cream the cold butter alone first. Then, cream it again with just the brown sugar. This lets you skip melting the butter which not only speeds up your cookie-making process but also allows the butter to melt into the dough forming buttery layers as it bakes.
Don't over-mix the dough. Take extra care to incorporate the ingredients just until they are well mixed and smooth, scraping the edge of the bowl as needed.
Avoid over-baking. Every oven will bake slightly differently. So, be sure to keep a close eye on your cookies, and check on them as they bake, removing them from the oven as soon as they begin to turn golden brown.
Separate the edges. If your cookies accidentally spread into one another while in the oven, use a rubber spatula to gently push the edges of each cookie back to the center while they're still hot.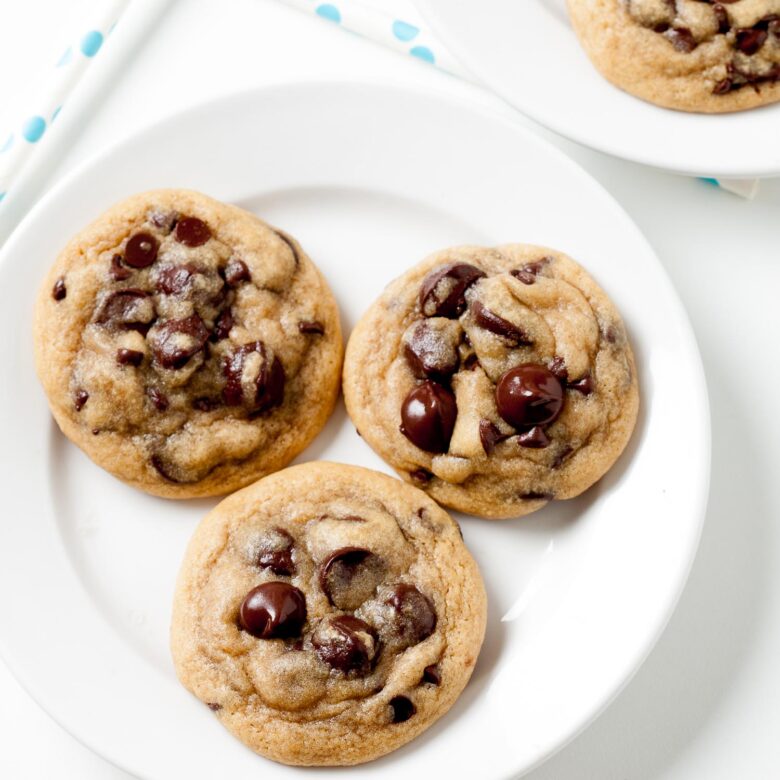 How to Store and Freeze Chocolate Chip Cookies
Baked Cookies: It's almost impossible not to devour these cookies right away. However, if you happen to have leftovers, they can be kept in an airtight container at room temperature for up to 3 days. Or, freeze your baked chewy chocolate chip cookies for up to 3 months.
Cooke Dough: If you want to prepare the dough in advance, store it covered in the fridge for up to 2-3 days. Or, roll it into balls, and freeze them for up to 3 months.
---
More to Bake and Eat
---
---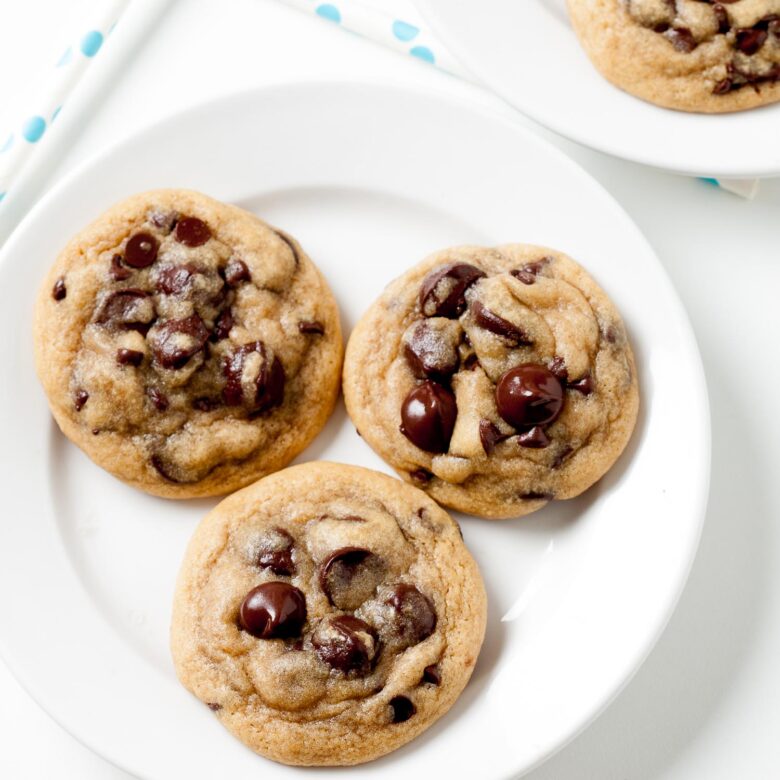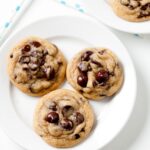 Forever Chewy Chocolate Chip Cookies
Made with a secret technique, these chewy chocolate chip cookies are the best cookies you'll ever make. Thick, chocolatey, and supremely chewy, they're unbelievably addicting and worth every bite!
Instructions
Preheat oven to 350F with rack on lower middle position. Line baking sheets with parchment paper or silicone baking mats.

In a bowl, add flour, baking soda, and salt. Hand-whisk to combine well. Set aside.

In the bowl of a stand mixer, beat the sliced/cold butter with paddle attachment on medium speed, 2 min. Use rubber spatula to scrape down sides of bowl as needed. Add brown sugar and continue beating until smooth, 1 min. Add egg, egg yolk, and vanilla extract. Beat on low speed just until mixture is fully incorporated, scraping down sides.

Gently add the flour mixture and mix on low speed just until no flour streaks remain and mixture is combined; don't over mix. Add chocolate chips and mix on low speed just to incorporate; again, do not overmix. Use rubber spatula to fully scrape down sides/paddle.

Form a large dough ball with hands. If dough is somehow too sticky, cover and chill a bit until dough is manageable, 15-30 minutes. Form 1 1/4 inch dough balls and place 2 inches apart on lined baking sheets, keeping remaining dough chilled while in between batches.

Bake 8-9 minutes or edges are turning golden and cookies are somewhat puffy. Cookies will still seem under-baked, but will set nicely upon cooling. Don't over-bake. If desired, gently press in a few extra chocolate chips on tops of hot cookies. Let cookies cool 10 min on baking pan before transferring to wire rack to finish cooling. Cookies must cool to set correctly.
Notes
If using unsalted butter, add an additional 1/4 tsp salt.
If cookies accidentally spread into one another, use a rubber spatula to gently push edges of each cookie back towards its center, while cookies are hot.
Actual bake time will vary depending on temperature of dough and specific ovens. We recommend baking a half-batch of cookies first, to get the timing down, before proceeding with remaining batches.
These cookies keep wonderfully for days when sealed airtight at room temp.
Unused cookie dough can be wrapped airtight and frozen for several weeks. Baked cookies can be frozen, too.
If dough is very cold, you may need to bake an extra minute.
If you enjoyed this recipe, please come back and give it a rating ♡
Nutrition
Serving:
1
cookie
|
Calories:
114
kcal
|
Carbohydrates:
13
g
|
Protein:
1
g
|
Fat:
6
g
|
Saturated Fat:
4
g
|
Polyunsaturated Fat:
0.3
g
|
Monounsaturated Fat:
2
g
|
Trans Fat:
0.1
g
|
Cholesterol:
19
mg
|
Sodium:
55
mg
|
Potassium:
54
mg
|
Fiber:
1
g
|
Sugar:
8
g
|
Vitamin A:
114
IU
|
Calcium:
15
mg
|
Iron:
1
mg
Did you make this?
Leave a comment below and tag @chewoutloud on Instagram