Biscuits and Gravy Casserole
By Amy Dong
Published Jan. 27, 2022
Updated Nov. 20, 2022
Biscuits and Gravy Casserole is an easy, delicious, and supremely comforting meal the whole family will devour. Flaky golden biscuits drenched in savory gravy in every bite.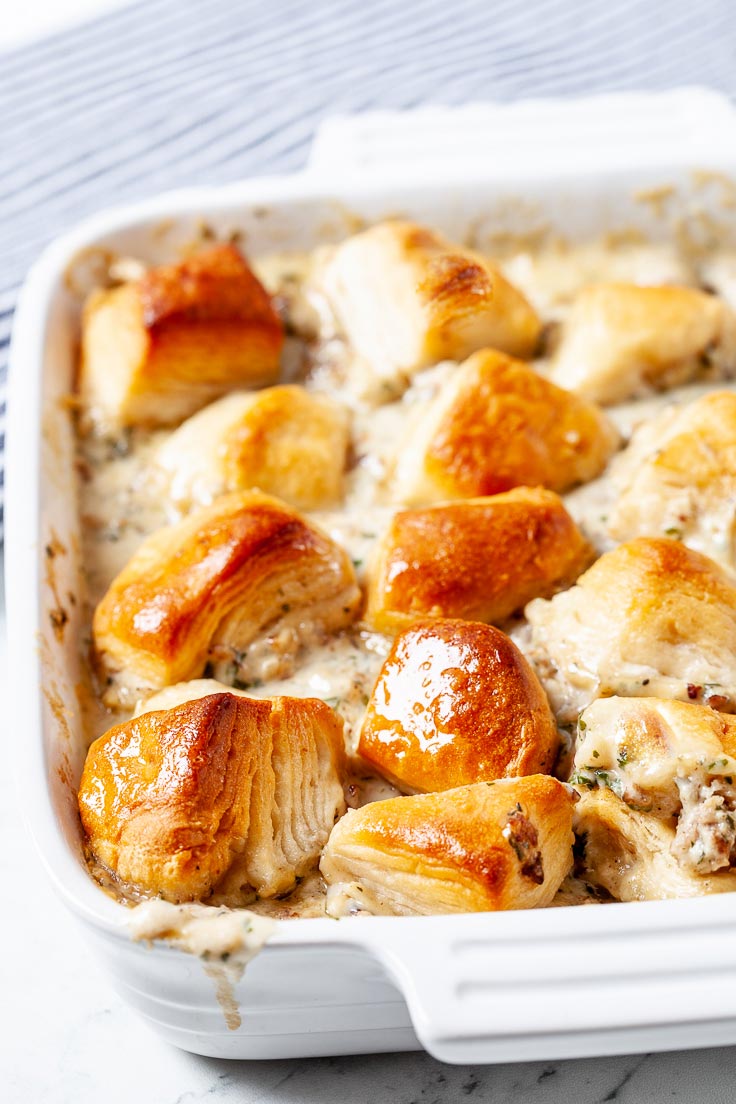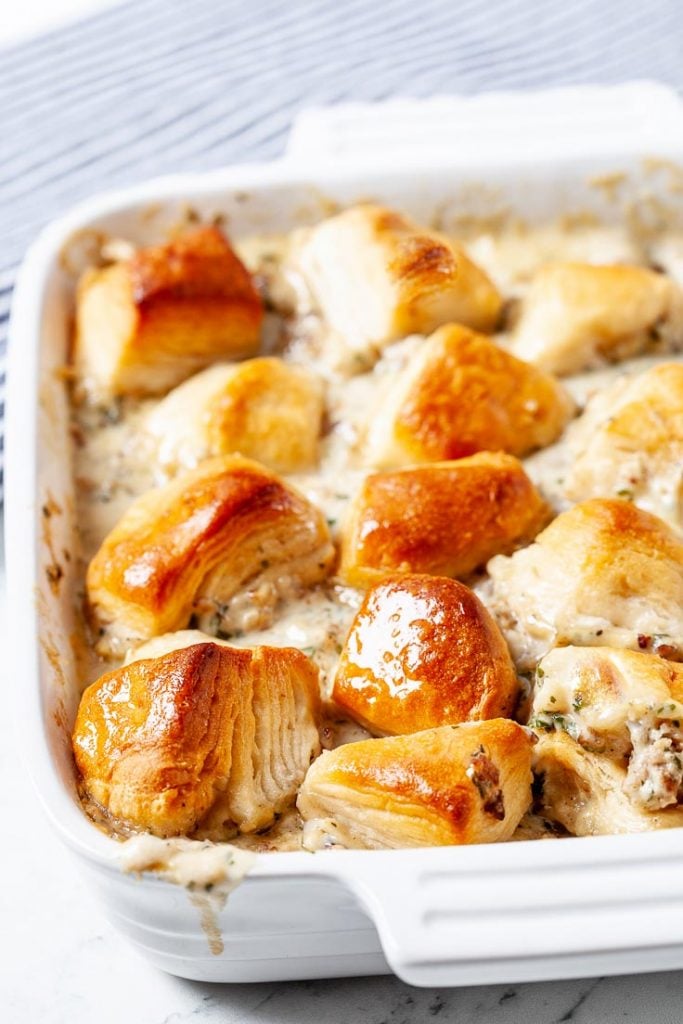 Biscuits and Gravy Casserole
Before I launch into this delightful Biscuits and Gravy Casserole recipe, I just have to say that some nights truly need dinners like this. This dish is all about flaky golden biscuits drenched in savory gravy that's worth every single warm bite.
This Biscuits and Gravy Casserole is waiting to become your family's next favorite recipe on regular rotation, as it's the ultimate comfort food meal and requires very little elbow grease.
In fact, if you have the following 8 basic pantry ingredients and less than an hour, you're in business.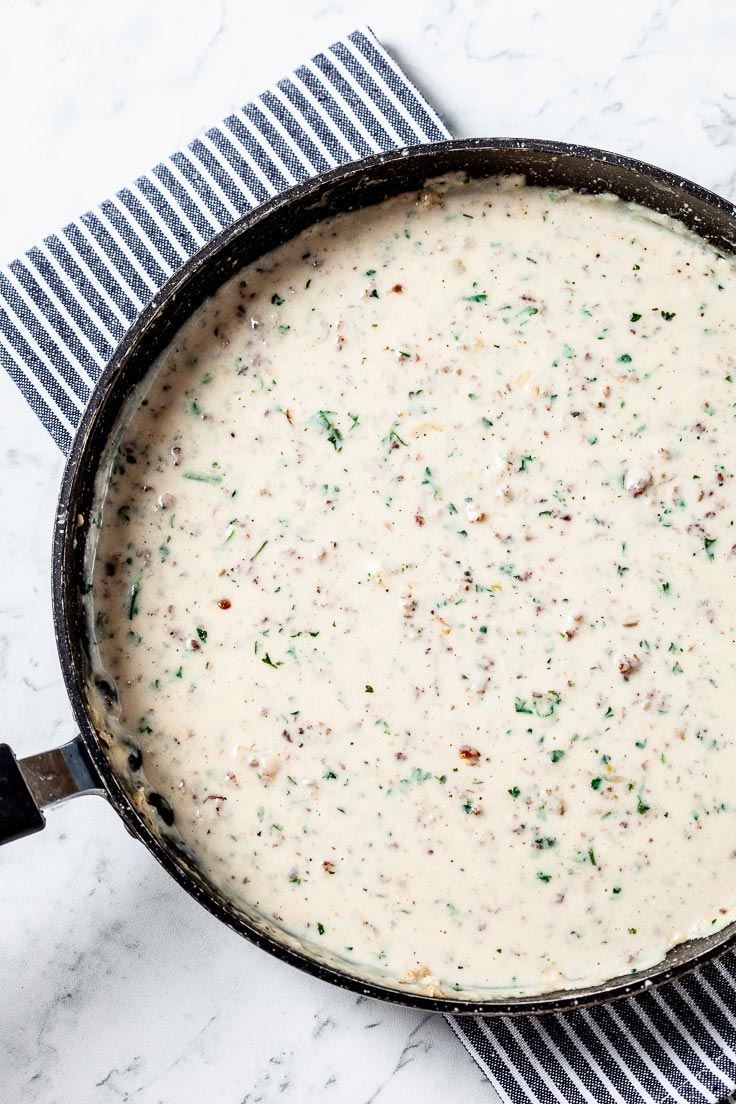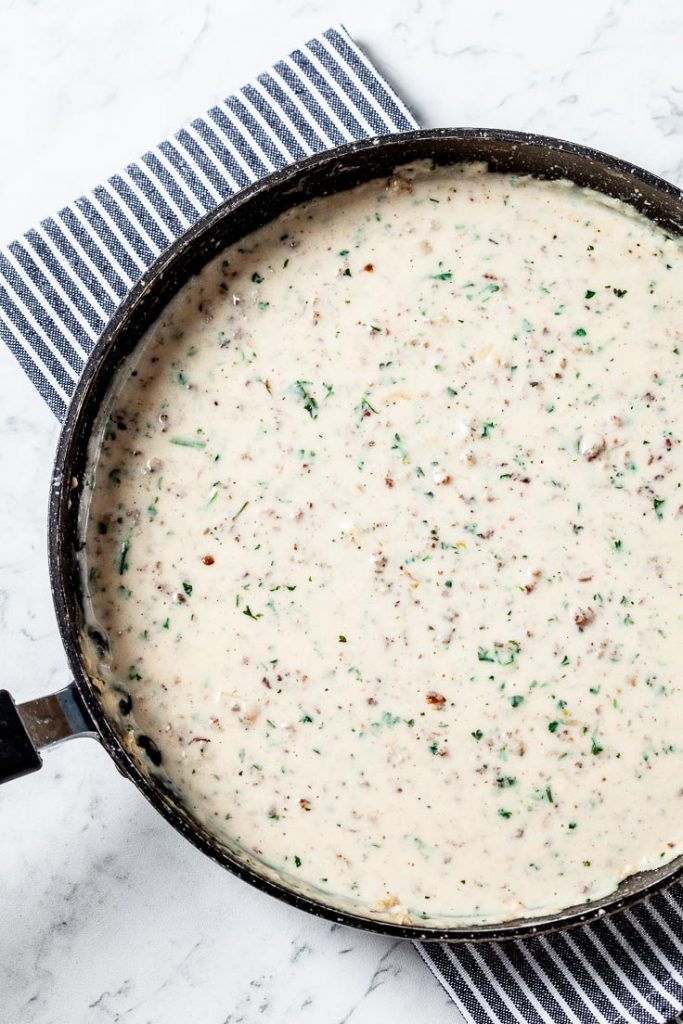 Basic Pantry Ingredients for Biscuits and Gravy
You'll only need a handful of simple ingredients. Biscuits and gravy is an ultra easy, comforting meal that should require no extra elbow grease. That's what makes it great for a quick and delicious meal you can easily whip up for brunch or dinner.
Half pound of your favorite breakfast sausage provides much of the flavor in the gravy; too much sausage can make the gravy chunkier than you want, so we stick with 1/2 pound.
Chopped onion and garlic always provides wonderful flavor to sauces.
A few tablespoons of flour helps the gravy to thicken to a nice, creamy consistency.
Milk allows the gravy to thin out to your preferred thickness; feel free to add more to thin it out if needed. Whole or lowfat milk both work well.
Chopped fresh parsley gives the gravy some color and extra flavor.
1 can of large, flaky biscuits for layering and soaking up the amazing gravy.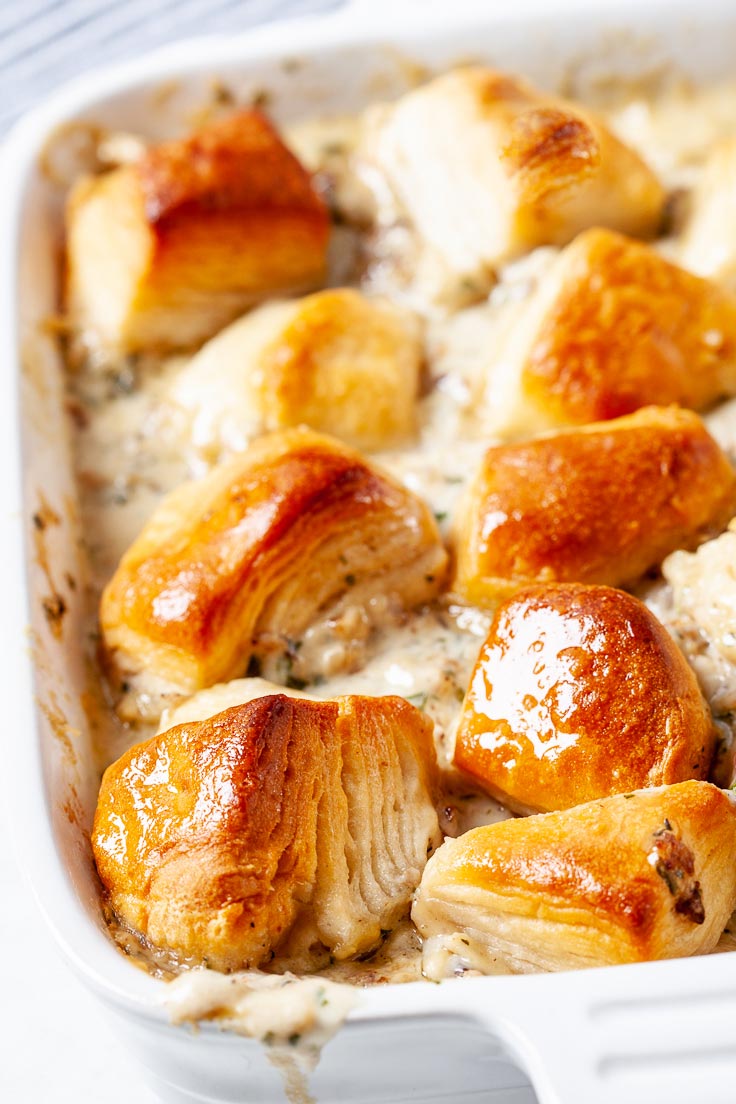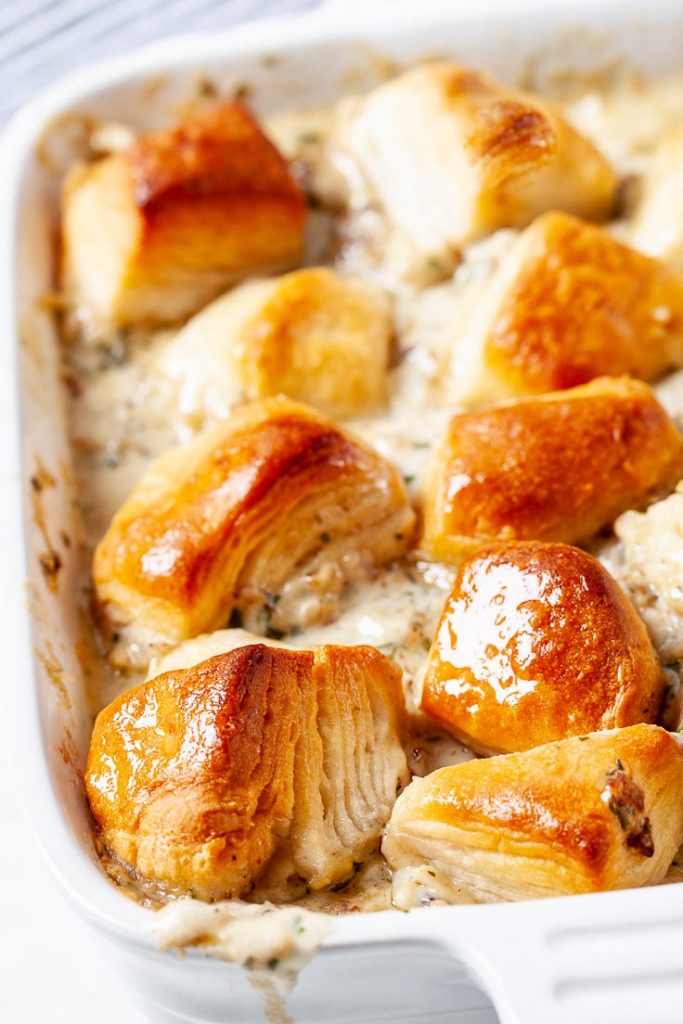 Tips for making perfect Biscuits and Gravy:
Be sure to use large, flaky biscuits. Homemade or store-bought cans from the refrigerated aisles are perfect.
Keep in mind you'll be baking the first layer of biscuits about 10 minutes to get the bottom layer cooked and browned.
Brown your sausage and crumble it well, so it distributes evenly into the gravy.
Adjust the thickness of gravy by using more or less milk
To prevent over-browning, we bake the casserole loosely covered with foil first, and then remove the foil for golden browning during the last 10 minutes.
This recipe is for an 8×8, which easily feeds 6 in one shot. If you have more people to feed and this is the main dish, you may want to double the recipe to fit a 13×9 pan.
---
More to Make and Eat:
---
Did you make this?
Please give us a rating and comment below. We love hearing from you!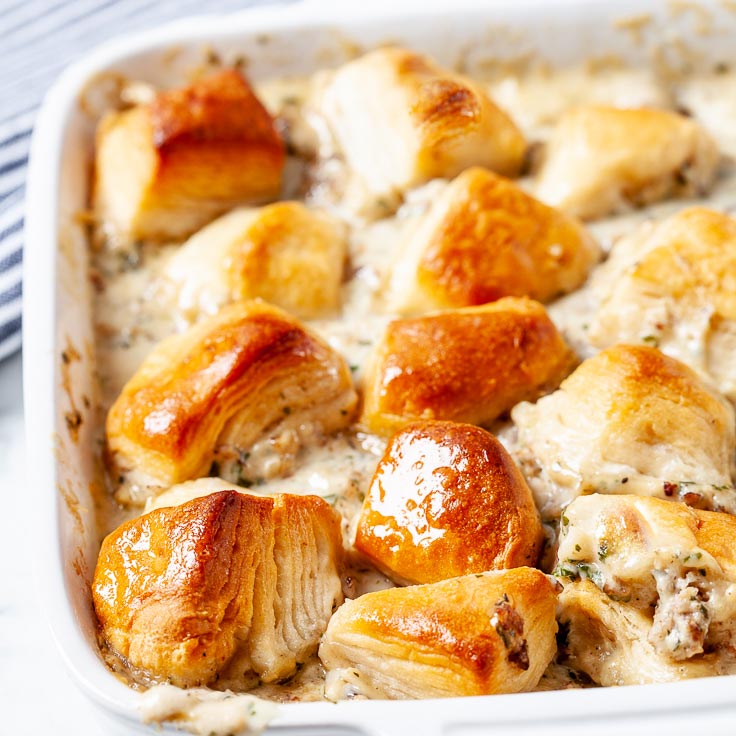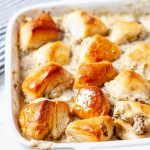 Biscuits and Gravy Casserole
Biscuits and Gravy Casserole is an easy, delicious, and supremely comforting meal the whole family will devour. Flaky golden biscuits drenched in savory gravy in every bite.
Instructions
Preheat oven to 375, with rack on lower middle position.

In a large skillet, heave olive oil on medium-high heat until hot. Add onion and garlic, stirring until aromatic and translucent, 2-3 minutes. Add ground sausage, stirring to crumble it up well and brown it.

In skillet with cooked sausage, add flour and gently stir until fully incorporated. Add milk and stir. Add 1/2 tsp kosher salt and 1/2 tsp black pepper. Bring mixture to low boil, stirring, until sauce is thickened to desired gravy consistency. (It should be creamy, yet thin enough to evenly pour into casserole. Taste gravy and add more kosher salt or black pepper as needed. Turn heat off and cover to keep warm.)

Cut the biscuits into even quarters. Grease bottom of 8×8 baking dish and layer half of the biscuit quarters evenly into bottom – it's fine for there to be space between each biscuit. Bake 10 minutes uncovered, or until puffy and golden brown.

Evenly spoon the gravy over baked biscuits. Place remaining biscuit quarters evenly on top of gravy. Cover loosely with foil and bake 14 minutes. Remove foil and continue baking 10 more minutes or until tops are puffy and golden brown. Serve immediately.
Notes
If you enjoyed this recipe, please come back and give it a rating ♡
Nutrition (per serving)
Calories:
334
kcal
|
Carbohydrates:
57.2
g
|
Protein:
11.1
g
|
Fat:
6.5
g
|
Saturated Fat:
1.2
g
|
Cholesterol:
3.9
mg
|
Sodium:
121.3
mg
|
Fiber:
2.1
g
|
Sugar:
6.5
g