Best Buttermilk Biscuits
These Southern Buttermilk Biscuits are super easy and melt-in-your-mouth delicious! They're tender and fluffy; perfect for drizzling with honey, butter, or sugar. Eat these while they're fresh and warm for a biscuit the whole family will adore.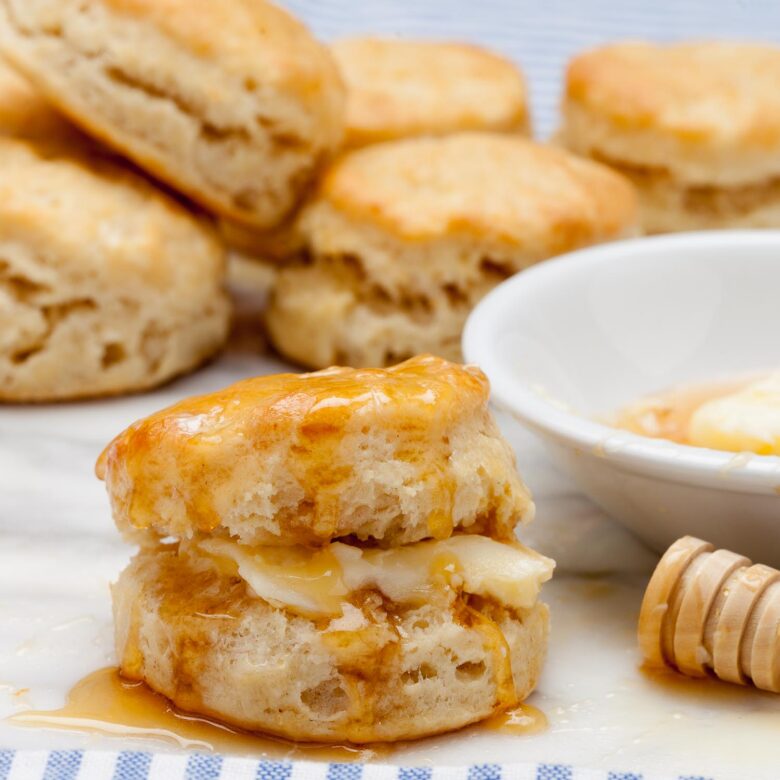 Watch Us Make These Buttermilk Biscuits
Homemade Biscuits
Years ago, I discovered my husband's buttermilk biscuit habit. It almost always manifested itself when we went out for fried chicken. He'd regularly order extra biscuits. Sharing wasn't high on his priority list, so I had to fend for myself when hot biscuits were on the table. Now, we've perfected the Best Buttermilk Biscuits at home. These buttermilk biscuits are warm, soft, and fluffy – just the way we love all our breads. We think your family will devour these with just about any dinner.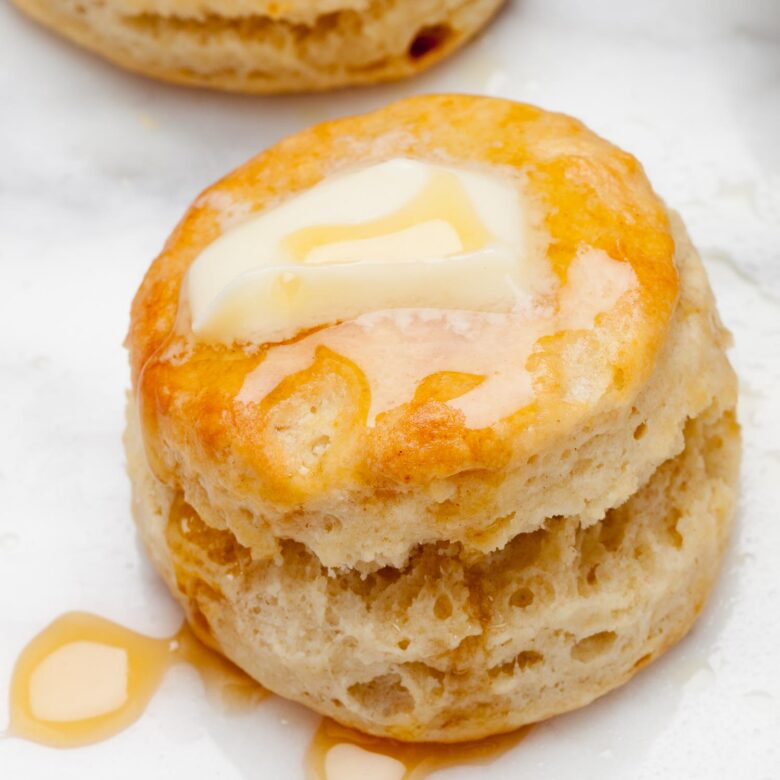 Why This recipe Stands Out
We appreciate the ease of store-bought refrigerated canned biscuits, and they do come in handy for fun recipes like these 30-Minute Steamed Buns. But, this homemade version is quick, easy, and simple. Totally manageable, even for a weeknight dinner.
One of the best parts about making biscuits is that it requires no rising. There's no messing with yeast, no first rise, second rise, or any rise.
Just get out 7 ingredients, make it into a dough, pat it, and cut out the biscuit rounds. You don't even need a rolling pin for this! Add this recipe to your list of wonderful bakery items made with 10 ingredients or less.
These are golden, tender, moist, buttery, and absolutely addictive. Eat these right out of the oven, while they're still warm and fresh and at their most irresistible at that point.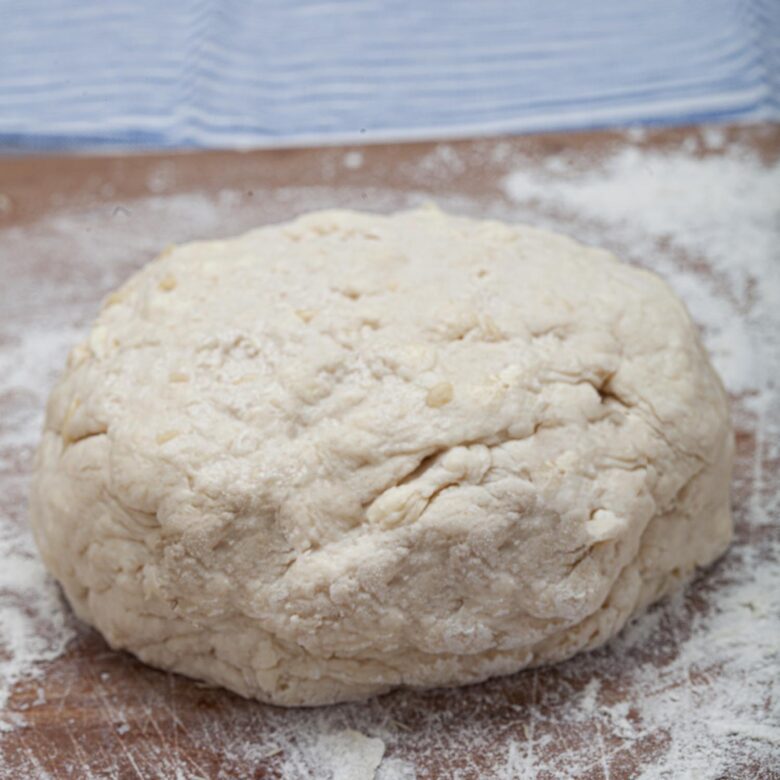 Key Ingredients
These biscuits require no yeast – only simple pantry ingredients your kitchen likely already has.
Flour – Use unbleached all-purpose flour. This makes up the bulk of the biscuit and is also used to keep your working surface from sticking.
Baking soda – Leavening agent that works in coordination with the acid in the buttermilk to help the biscuits rise.
Baking powder – Another leavening agent to help make the biscuits light and airy.
Salt – Classic and subtle flavor element.
Butter – We recommend unsalted butter. You use this ingredient cold to cut into the dough.
Buttermilk – The star of the show known for its thick, tangy flavor.
How to Make Buttermilk Biscuits
These biscuits come together quickly and incorporate a few classic baking techniques such as cutting in cold butter. The images below provide a quick step-by-step tutorial.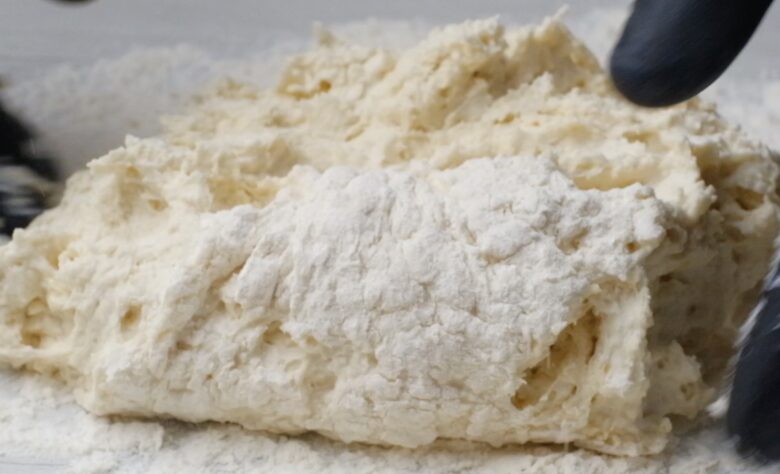 Make Ahead Tips
This recipe is a great option to make ahead of time! You really can have homemade Southern Buttermilk Biscuits ready on a whim. See the tips below for the best outcome.
Make the dough and cut it into biscuit rounds before placing them on a parchment-lined baking sheet as if you were going to bake them. But, instead of popping them into the oven, cover the tray with Saran Wrap and place the tray into the freezer.
Wait until the biscuits are completely frozen, pull the tray out, place all of the frozen raw biscuits into a gallon ziplock bag, and then put the bag back in the freezer for up to 3 months.
When the time to bake them comes, remove the bag, place the biscuits on a parchment-lined tray, and bake.
You can either let them thaw and bake at the normal temperature and time, or bake them from frozen and add 5-10 minutes of bake time.
What to Serve with Buttermilk Biscuits
Biscuits are a versatile, hearty, and all-around delicious option for a variety of meals. You really can eat them for any meal of the day. You can enjoy these buttermilk biscuits:
With soup – Soup is easily one of the most popular meals to serve with biscuits for a cozy weeknight dinner. Speaking of cozy, check out these cozy soup recipes.
In a casserole – Most casseroles are made with a carb base such as bread or potatoes. Check out Biscuits and Gravy Casserole for a delicious breakfast option or these Cheesy Bacon Pull Aparts for dinner.
Pair it with a protein – The classic chicken and biscuits meal is popular for a reason! Enjoy biscuits paired with your favorite protein like these Crispy Baked Chicken Tenders.
Enjoy smothered in your favorite topping – Devour these delicious biscuits on their own covered in butter, honey, jam, or any other topping you can smear on top to melt in your mouth with every bite.
Commonly Asked Questions
What is buttermilk?
Buttermilk is fermented milk made of water, milk proteins, milk sugars, and fat. It's thicker than regular milk and has a distinct tangy smell (some people describe the smell as closer to sour milk while others explain it smells almost like vinegar). The flavor is similar to plain yogurt, and it's acidic.
What's the difference between buttermilk biscuits and regular biscuits?
The key difference between buttermilk biscuits and regular biscuits is that regular biscuits do not utilize buttermilk as an ingredient. Buttermilk adds a distinct tangy flavor and also yields a puffier biscuit thanks to the way the acid in buttermilk reacts with the leavening agents.
How long do these Best Buttermilk Biscuits stay good for?
When stored at room temperature, buttermilk biscuits will stay good for 1-2 days in an airtight container. To keep them fresh for longer, store them in an airtight container in the fridge for up to a week.
Can I use milk instead of buttermilk?
Unfortunately, milk is not a good substitute for buttermilk. Buttermilk contains a higher level of acid than regular milk which interacts with the baking powder and baking soda to help the biscuits rise. Buttermilk gives these biscuits the best tangy buttermilk flavor that buttermilk biscuits are famous for, and it also yields the best fluffy outcome.
More to Bake and Eat
Did you make this?
Please give us a rating and comment below. We love hearing from you!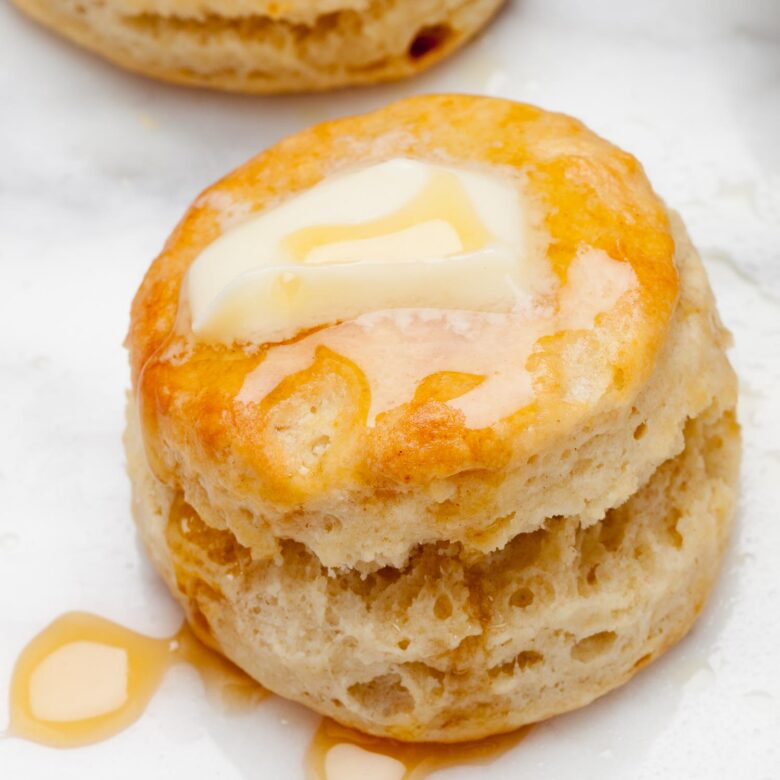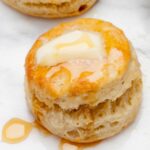 Buttermilk Biscuits
These Southern Buttermilk Biscuits are super easy and melt-in-your-mouth delicious! They're tender and fluffy; perfect for drizzling with honey, butter, or sugar. Eat these while they're fresh and warm for a biscuit the whole family will adore.
Ingredients
2

cups

unbleached all-purpose flour

,

plus more for dusting the board

¼

tsp

baking soda

1

TB

baking powder

1

tsp

table salt

6

TB

unsalted butter

,

very cold

1

cup

buttermilk

Optional: 1/2 cup sugar for topping

,

honey, or butter
Instructions
Preheat oven to 450F, with rack on middle position. Line a large baking sheet with parchment paper or silicone baking mat.

Combine flour, baking soda, baking powder, and salt in a bowl (or bowl of a food processor.) Using a pastry cutter or a food processor, cut the butter into chunks and cut into the flour mixture until it resembles course meal. Ideally, there will be little bits of butter that are still intact.

If using a food processor, just pulse a few times until this consistency is achieved. Gently add the buttermilk and fold with a rubber spatula just until combined wet/dry ingredients are combined – don't over-mix. If it's too dry, add a bit more buttermilk. Dough should be relatively wet.

Turn the dough out onto a floured board. Gently, use your hands to pat dough out until it's about 1/2" thick – do not use a rolling pin; it will help to have a little bowl of oil and coat your palms with oil.

Use your hands to fold the dough 5 times into a ball and then gently press the dough to 1" thick.

Use a round biscuit cutter to cut dough into rounds. (I used 2.75" cutter. Place the biscuits on a cookie sheet. For soft edges, place them touching each other. For crusty edges, place them 1 inch apart.

Bake for about 10-12 minutes or until biscuits are light golden brown on top and bottom. Do not overbake. Serve warm; top with sugar if desired.
Notes
The dough must be handled as little as possible or you will have tougher biscuits. If you have one, a food processor works well, because the ingredients stay colder and there's less chance of over-mixing.
Leftover scraps can be made into a few more biscuits, but they may not be as tender, due to extra handling.
Be sure to pat dough down gently with hands rather than use a rolling pin; rolling will increase toughness.
If you enjoyed this recipe, please come back and give it a rating ❤️
Nutrition (per serving)
Serving:
1
g
|
Calories:
164
kcal
|
Carbohydrates:
23
g
|
Protein:
5
g
|
Fat:
6
g
|
Saturated Fat:
1
g
|
Polyunsaturated Fat:
1
g
|
Monounsaturated Fat:
3
g
|
Cholesterol:
3
mg
|
Sodium:
414
mg
|
Potassium:
113
mg
|
Fiber:
1
g
|
Sugar:
2
g
|
Vitamin A:
40
IU
|
Calcium:
107
mg
|
Iron:
1
mg