Chicken Shawarma (Easy & Healthy)
This Easy, Healthy Chicken Shawarma is incredibly tender and scrumptious! It's a hit every time we serve this flavorful dish. (It happens to be Whole30 and Paleo approved.)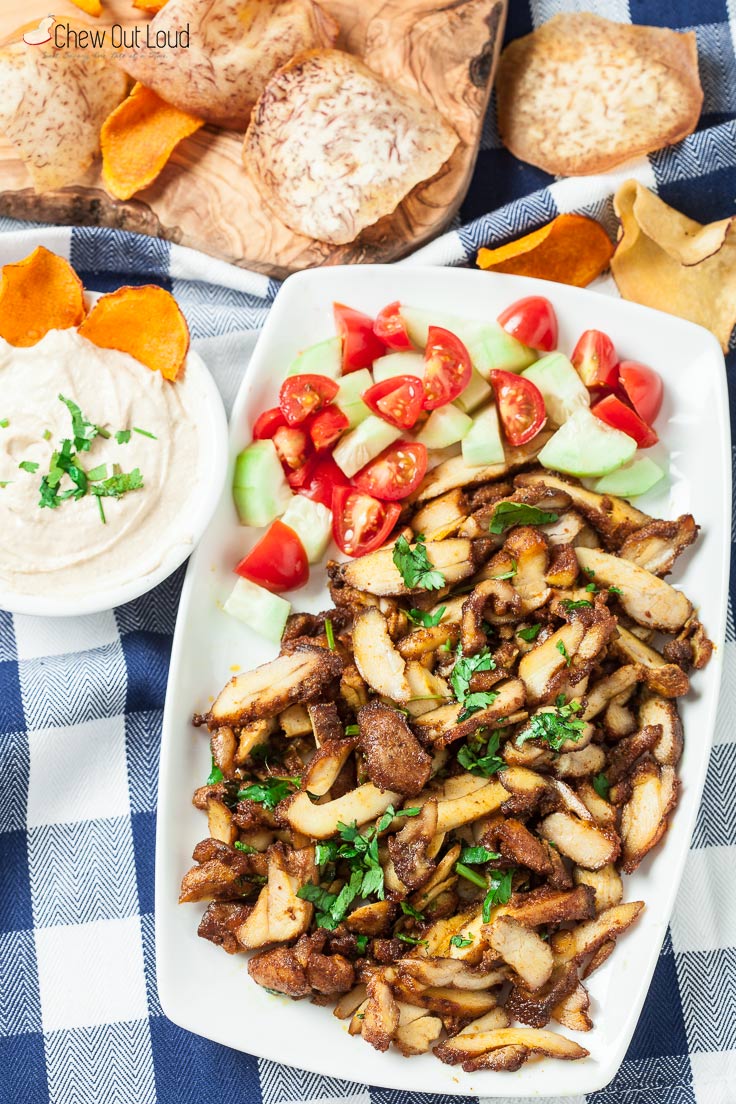 The Best Homemade Chicken Shawarma
This chicken shawarma fascination might have started with my first dreamy bite at our newly opened Naf Naf Grill restaurant. That adoration was further was cemented with the amazing Mediterranean street food I sunk deeply into while eating my way through NYC.
Chicken Shawarma became an irrevocable obsession with the realization that I could recreate similar flavors at home. With only the ingredients we love and want; nothing else. And it wasn't even hard.
I'm not sure how it started precisely, but it's here to stay: my undeniable infatuation with healthy, tender, ultra flavorful chicken shawarma.
This is a contagious kind of shawarma fondness, as the rest of my family and food-loving friends can't seem to get enough, either…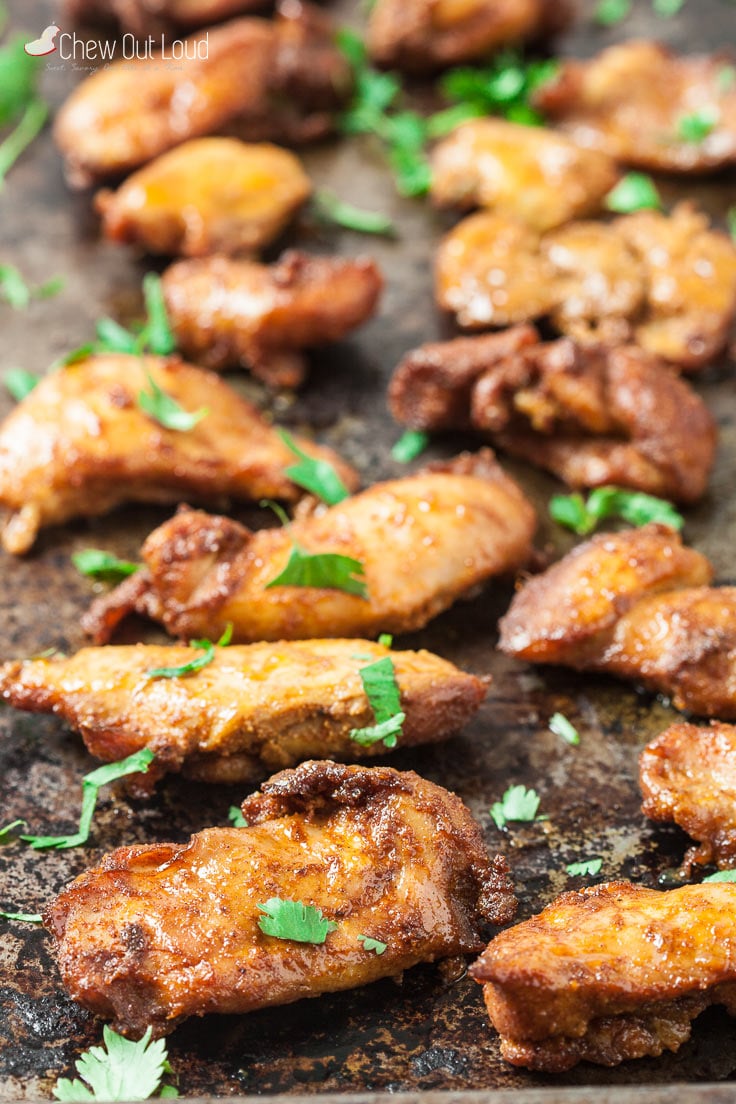 How to make irresistible chicken shawarma
Chicken Shawarma is a Middle Eastern dish that's loaded with aromatic spices that make your mouth water. Traditionally, shawarma consists of paper-thin slices of meat from a vertical rotating slow-roaster. The result is a deliciously tender, flavorful plate of chicken, beef, or other protein.
Wild guess: most of us don't own a monster-sized rotating spit at home. Despite that tidbit, you can absolutely make tantalizing homemade chicken shawarma. All you need is a great dry rub for your chicken to marinade in, an oven that reaches 400F and doubles as a broiler for the great finish.
Key Ingredients
Chicken thighs are essential here; boneless, skinless thighs are your friend when it comes to tender and flavorful shawarma
Extra-virgin olive oil is used to bind seasonings to the chicken. You can opt to use a bit more oil if needed, but don't omit it
Dry rub seasonings are what makes all the difference in this chicken shawarma's big bold flavors. As always, use the freshest seasonings/spices because you probably already know that the older those pantry spices are, they less flavor they hold.
Paprika, cumin, allspice, cayenne, garlic and onion powders, tumeric, and cinnamon are all included in this powerhouse dry rub mixture. Skip nothing, if at all possible, as each spice adds its own unique flavor profile to the finished dish.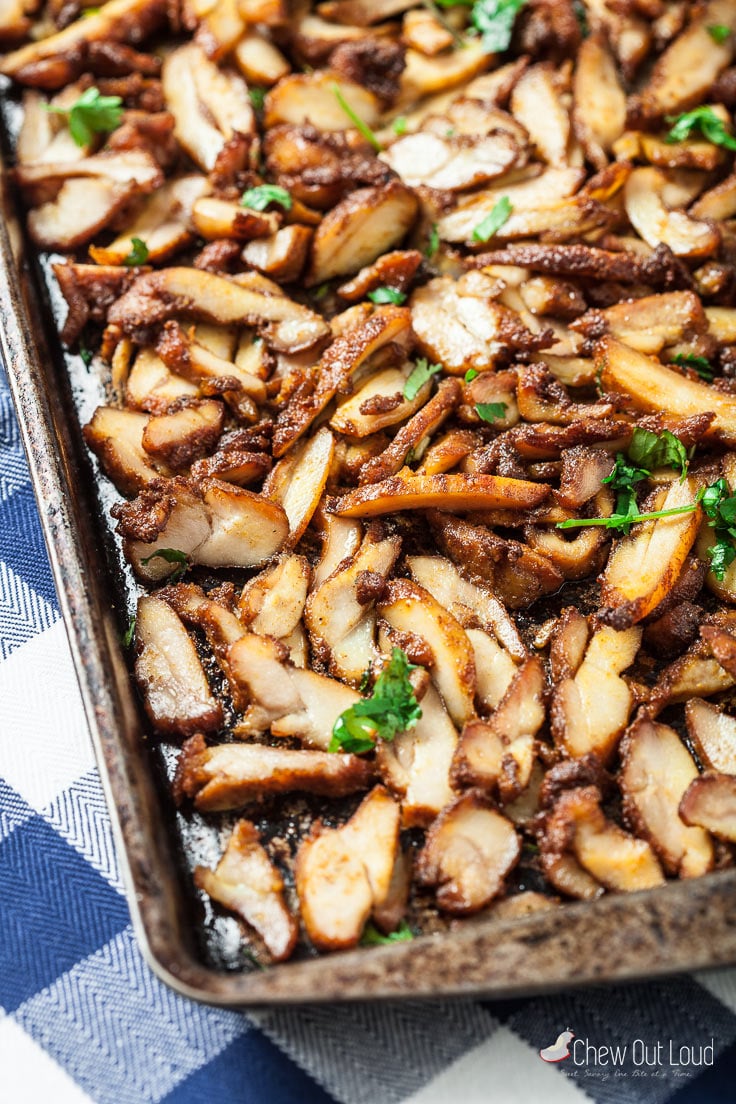 Pro Tips for the best chicken shawarma
Giant cone-shaped spit aside, we home cooks can still make some outrageously rockin' chicken shawarma at home.
Even if you're normally a die-hard white meat cooker, go with chicken thighs here. Skinless, boneless chicken thighs are actually quite lean and turn out so much more tender (translation: they're harder to mess up.)
Rest the chicken in an aromatic dry rub marinade at least 3-4 hours, preferably overnight in fridge.
Speaking of which, double check that all your spices/seasonings are fresh and haven't lost their zing.
Be sure the oven is well preheated to 400F when ready to cook. Use the preheat time to let your chicken come to room temp. Better results will happen if your chicken isn't super cold. Roast the chicken in a single layer for even browning.
Slice just-cooked chicken as thinly as you can, arrange slices in a single layer on sheet pan, and broil to perfection.
Note: Using the grill or skillet for cooking chicken is always an option, but oven-roasting is by far the easiest and I'm into easy.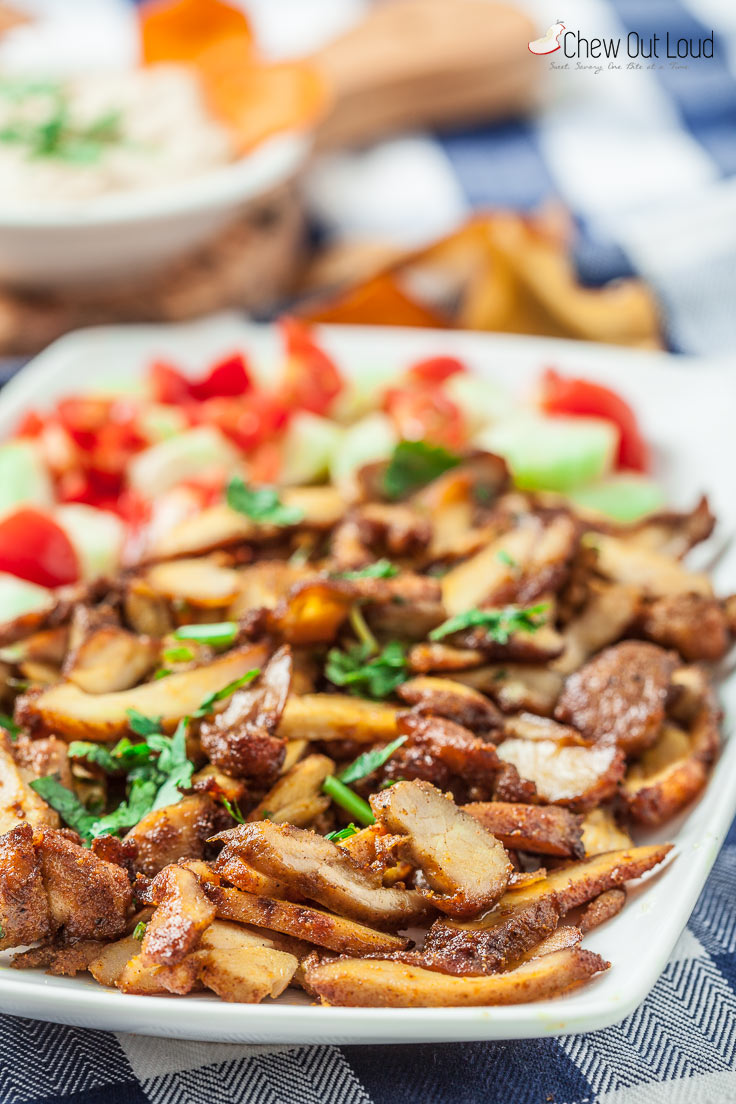 Print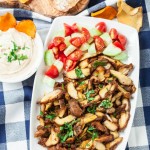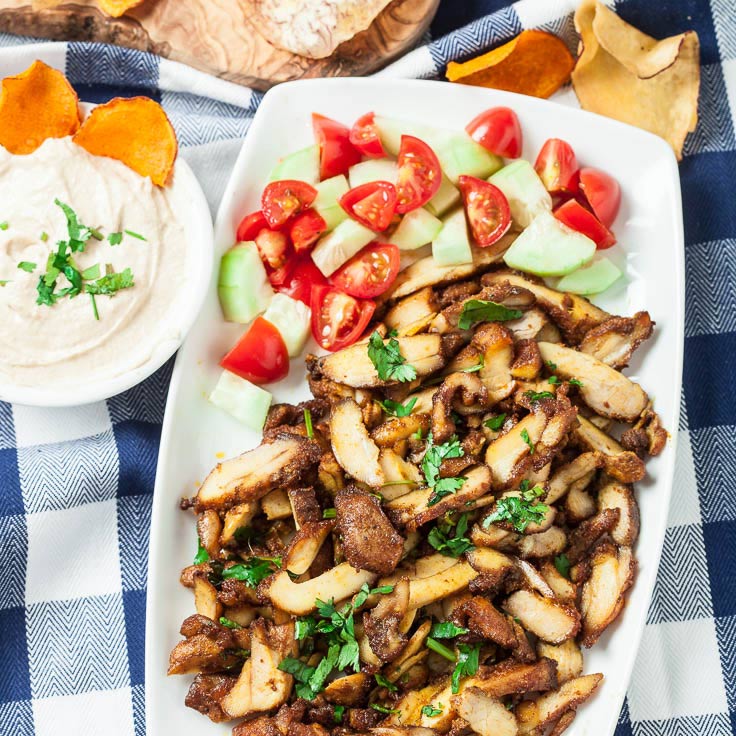 Chicken Shawarma (Easy & Healthy)
This Easy, Healthy Chicken Shawarma is waist-friendly and incredibly scrumptious! It's a hit every time we serve up this flavorful dish. (Bonus: It's great for Whole30)
Prep Time:

10 mins

Cook Time:

25 mins

Total Time:

35 mins
For the Dry Rub:

2 tsp

paprika

2 tsp

cumin

1 tsp

garlic powder

1 tsp

onion powder

1 tsp

allspice

1 tsp

ground tumeric

1 tsp

kosher salt

1/4 tsp

ground cinnamon

1/4 tsp

freshly ground black pepper

1/8 tsp

cayenne

2

TB extra virgin olive oil
For the Chicken:

3

lb boneless, skinless chicken thighs (don't use breasts)

1

TB extra virgin olive oil
Instructions
In a large bowl, whisk together all the spices to combine well. Add 2 TB olive oil and mix into a paste. Set aside.
Thoroughly towel-dry the boneless, skinless chicken thighs. Slice each thigh into quarters, and coat with 1 TB olive oil. Add chicken into the bowl with marinade. Use tongs or clean hands to thoroughly coat all pieces of chicken evenly, on all sides. Cover tightly with cling wrap and chill overnight (at least 3-4 hours.)
Let chicken come to room temp as you preheat oven to 400F, with rack on upper middle position.
Place chicken pieces in a single layer on a large, foil-lined baking sheet. Take care not to overlap or overcrowd the pieces. Roast 15 min or until just cooked.
Let chicken cool enough to handle. Slice all chicken into thin slices. Place back onto the baking sheet in an even layer. Broil on high for 7-10 minutes or until edges are nicely browned. Serve immediately with pita bread, basmati rice, or hummus.
Notes
Chicken Shawarma can be served bowl-style with basmati rice and your choice of toppings, or wrapped in a pita with toppings. It's delicious with garlic hummus and any Mediterranean style salad. Garnish ideas include cilantro, red onions, or pickles.
Author:
Category:

main, dinner
Chicken dinners not like all the others…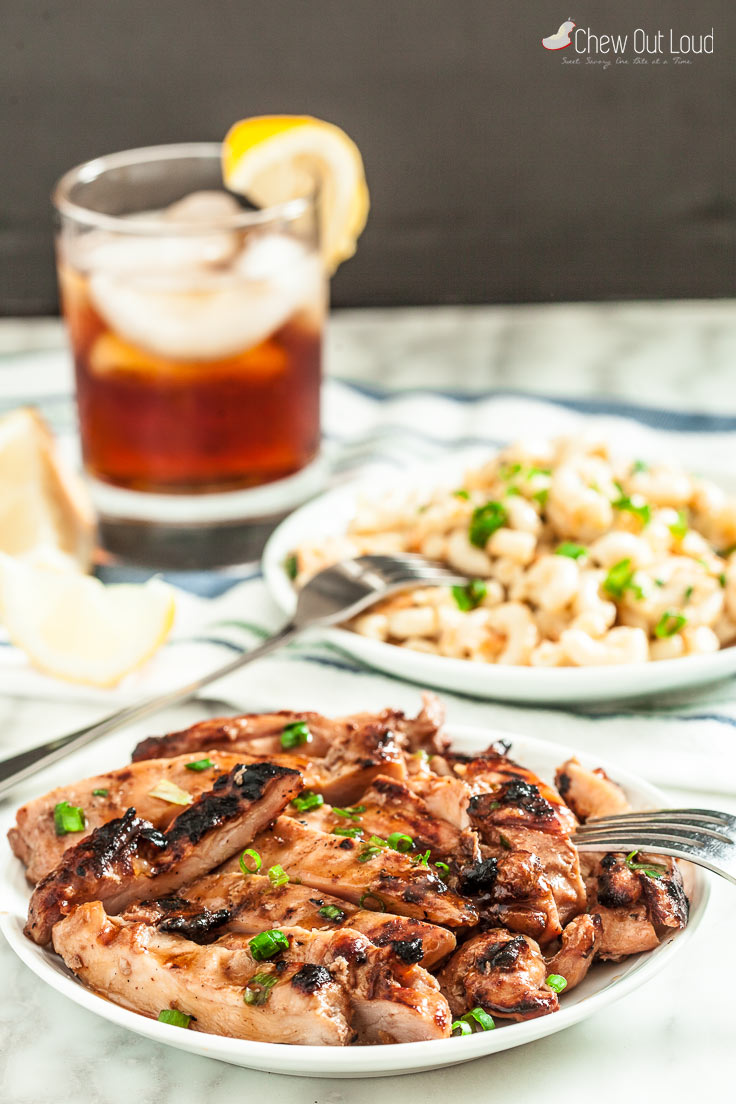 2. Chicken Tikka Masala – the ONE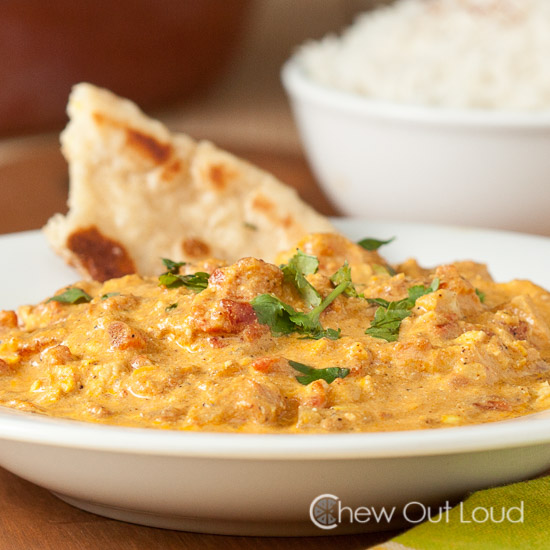 3. Easy Indian Tandoori Chicken