Honey Mustard Chicken with Curry
Chicken is arguably the most easy, popular, versatile protein. The only fuss my family has with chicken is who gets dark vs. white meat. Despite that ongoing saga, chicken is always a winner. Especially this honey mustard chicken dish – it's a crowd pleaser I've been making and loving for years. Whenever I want something that is consistently popular, I pull out this recipe.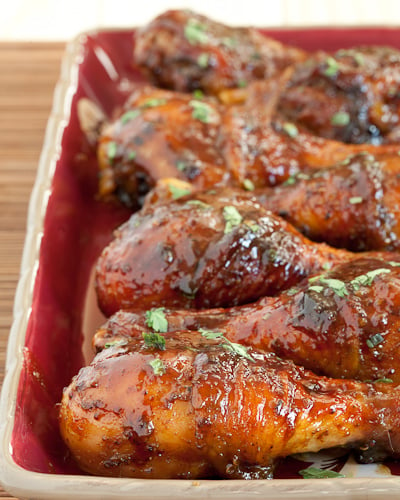 This is one of those super flexible recipes. The bit of curry gives it an exotic splash of flavor people can't quite put their finger on, but they keep going back for more. This chicken is great grilled or baked, and is just as good with a cut-up whole chicken or legs-only. I prefer to bake mine because it tends to result in a juicier, more tender meat. We've also grilled this in the summer with delicious results. I am a legs-only girl when feeding a crowd, because that eliminates the dark vs. white meat dispute. It's also easier than cutting up whole chickens. Personally, though, I'm a white meat fan…shh! 😉
This yummy chicken dish is adapted from a favorite recipe handed down from "Auntie Priscilla." Priscilla is one of the first people I met after Hubby and I started dating, way back in the day. Once I met her, I didn't let her go! Priscilla was my mentor during those earlier years of marriage and a close friend. Bonus: she is one awesome cook and even owned a cool food truck once!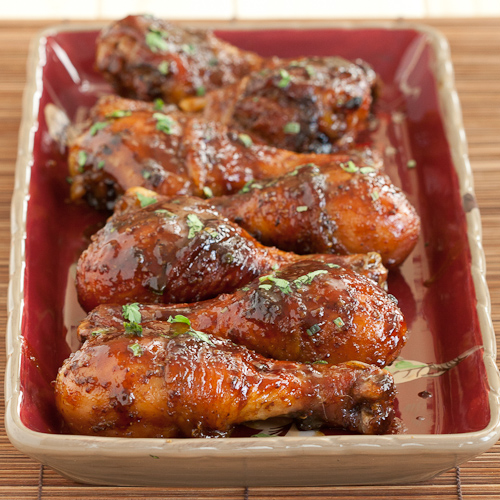 If you can, marinade the chicken overnight. The flavors will soak in with more time. Try it and enjoy it soon!
RECIPE (makes 16-20 drumsticks)
INGREDIENTS
16-20 chicken legs
1 cup honey
1/2 cup whole grain mustard (with seeds in it)
2 tsp soy sauce
2 tsp yellow curry powder (red can be quite hot; yellow is milder)
2 tsp fine salt
1 tsp ground ginger
1 tsp fresh ground pepper
extra salt for sprinkling
DIRECTIONS
Mix together all ingredients except for chicken. Set marinade aside. Thoroughly dry chicken pieces with paper towels. Place chicken pieces evenly flat on baking sheet or large cutting board. Using a fork, pierce each chicken piece several times all over. Give every piece of chicken its own pinch of salt, evenly sprinkled on top.
In large bowl or sturdy zipper bags, combine chicken pieces with marinade. Make sure every piece of chicken is in direct contact with marinade. Marinade in fridge overnight if possible, or at least for several hours. If needed, turn chicken once during marinade time.
Remove chicken from marinade and set the sauce aside. Place chicken flat in a foil-lined baking pan. Pour about half or so of the marinade over the chicken, so chicken is draped with sauce. Bake at 350F for 65-75 minutes, basting generously every 15 minutes with the remaining marinade. Don't skip the basting, as this is what makes the chicken so tasty and good! (If you're concerned about the raw marinade, you can boil it for a minute before using to baste.)
Enjoy!
Source: Chew Out Loud, inspired by my friend Priscilla