Saucy Baked Chicken Legs (Drumsticks)
By Amy Dong
Published Aug. 2, 2023
Updated Sep. 2, 2023
Bubbling hot and saucy, this baked chicken legs/drumsticks recipe is better than anything in a restaurant, thanks to the aromatic yellow curry powder. It's almost effortless.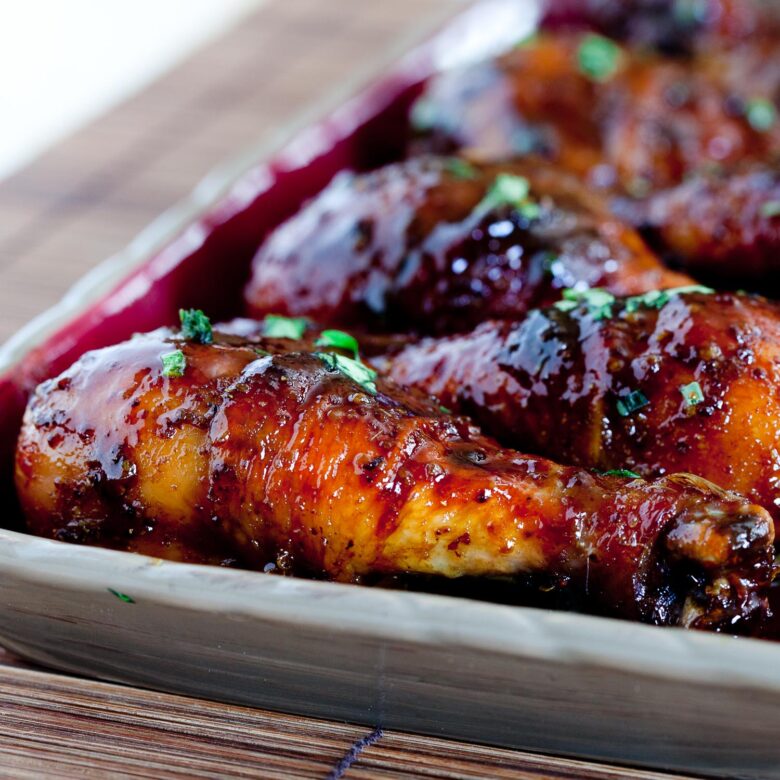 Video: Watch Us Make This Recipe
Baked Chicken Legs
This baked chicken legs involves marinating chicken legs in a combination of honey, mustard, and delicious seasonings including a secret ingredient – yellow curry, which amps up the flavor phenomenally.
This easy chicken recipe is the best thing to make for a large family dinner. It will bring everyone to the table when they smell it cooking in the oven. The mixture of sweet, salty, earthy, and umami flavors are tantalizing. As good as it tastes when it is fresh out of the oven, it's just as good the next day for lunch.
This honey mustard chicken is perfect for your meal prep. Just add a few drumsticks to your lunch containers, and then all you need is a quick salad to go along with it.
Why This Recipe Stands Out
There are only a few ingredients in the marinade, and all of them are easy to find in the spice section of your grocery store.
This is a gluten-free chicken leg recipe that's perfect for anyone that is gluten intolerant.
It's easy to make this a low-carb recipe. Just use a sugar-free honey substitute instead of real honey.
It's a crowd pleaser that doesn't take much time to prep. Just marinate the chicken, place it in a baking dish, and let the oven do all the rest.
The ginger gives the chicken legs a bit of a bite. Use freshly-grated ginger for a stronger aroma as it cooks.
Key ingredients For the Marinade
There are only a handful of ingredients in this sweet and spicy chicken marinade. Here is what you'll need before you get cooking:
Honey: This is a natural sweetener that is actually good for your blood sugar.
Whole Grain Mustard: When you use the kind with the seeds in it, you are eating more fiber and getting much more depth of flavor.
Soy Sauce: This gives the chicken a deep umami flavor.
Yellow Curry: Adds a bit of a bite to the chicken – for more heat, use red curry powder.
Ginger: Adds even more spicy notes to the sweet flavors, giving it a well-rounded flavor profile.
Salt and Pepper: Enhances all the other flavors in the marinade.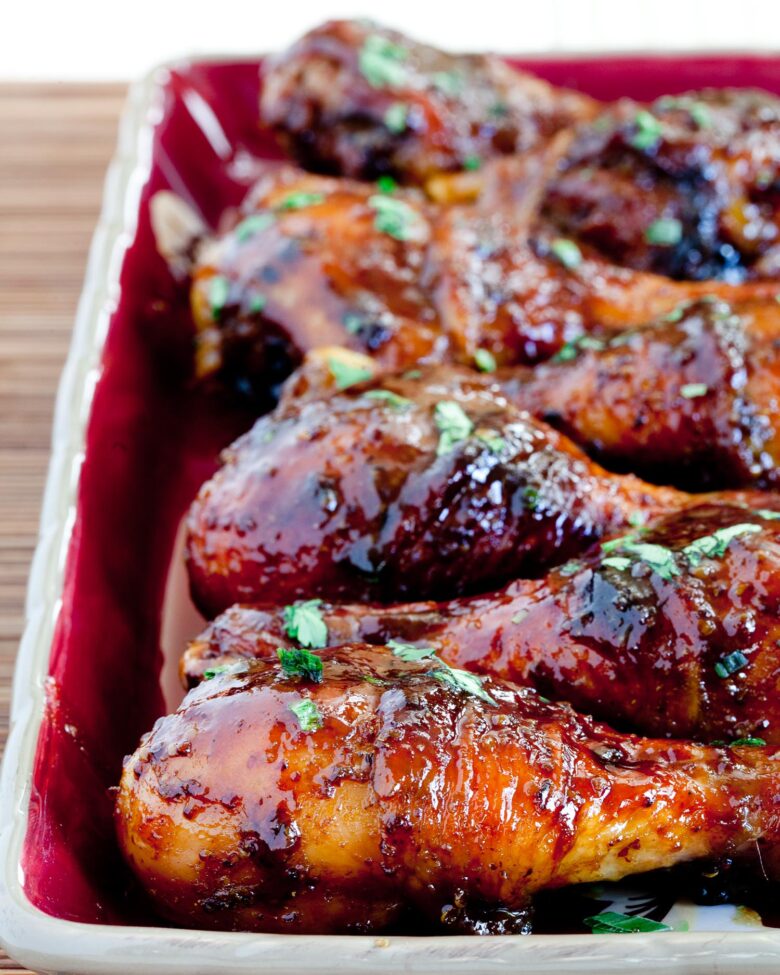 Pro Tips For Perfectly Baked Chicken
Make the chicken marinade days ahead of time. This will speed up your cooking process.
Marinate the chicken legs in a resealable food storage bag. This way, you can mix it a few times a day to make sure all of the pieces marinate evenly.
Adjust the level of spices to suit your tastes. If you want it to be spicier, use red curry powder instead of yellow.
COMMONLY ASKED QUESTIONs
Can you make this chicken without curry powder?
Yes, you can make these chicken legs without curry powder. However, the curry rounds out the rest of the flavors, balancing the umami and sweet notes with some heat. You won't regret using it.
What are the best pieces of chicken to use?
As long as you use a bone-in chicken with dark meat, this will taste delicious. Chicken thighs or chicken legs are great to use for this recipe.
How long should I marinate the chicken?
Marinate the chicken for at least 4 hours. We suggest allowing it to marinate overnight to really give the spices and sauces time to infuse into the meat.
Can I use chicken breast?
You can certainly adapt this recipe for chicken breast, but we recommend chicken legs or thighs, as they are much more forgiving when it comes to over-cooking and tenderness
Can I make this recipe in advance?
This baked chicken recipe is perfect for meal prep. Make a big batch at the start of the week and enjoy it throughout the week.
MORE TO Cook AND EAT
Did you make this?
Please give us a rating and comment below. We love hearing from you!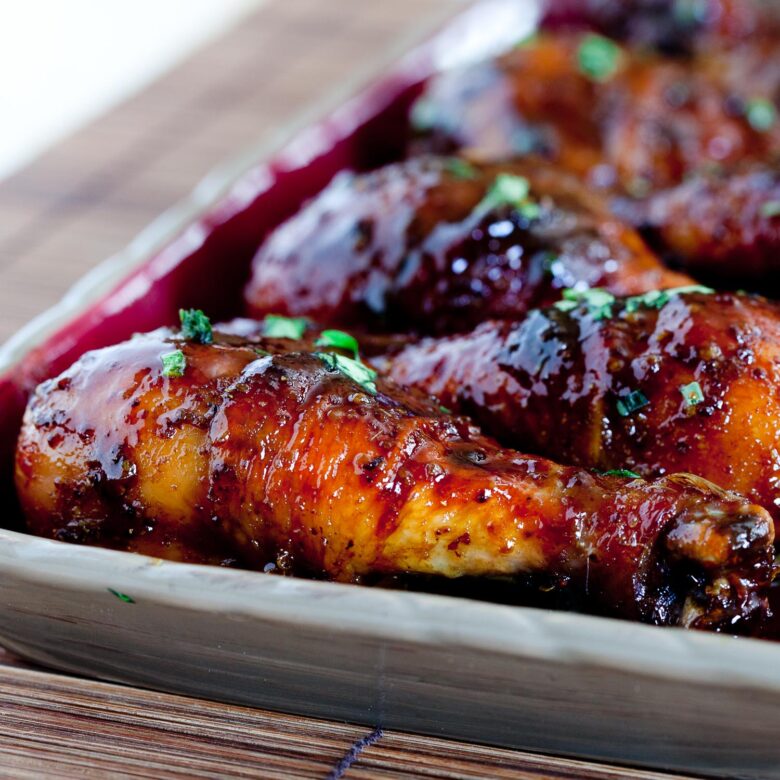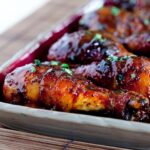 Saucy Baked Chicken Legs (Drumsticks)
Bubbling hot and sticky-sweet, this honey mustard chicken recipe is better than anything in a restaurant, thanks to the aromatic yellow curry powder. It's so easy to make that you won't feel like a full-time chef – it's almost effortless!
Instructions
Mix together all ingredients except for chicken. Set marinade aside. Thoroughly dry chicken pieces with paper towels.

Place chicken pieces evenly flat on baking sheet or large cutting board. Using a fork, pierce each chicken piece several times all over. Give every piece of chicken its own pinch of salt, evenly sprinkled on top.

In large bowl or sturdy zipper bags, combine chicken pieces with marinade. Make sure every piece of chicken is in direct contact with marinade. Marinade in fridge overnight if possible, or at least for several hours. If needed, turn chicken once during marinade time.

Remove chicken from marinade and set the sauce aside. Place chicken flat in a foil-lined baking pan. Pour about half or so of the marinade over the chicken, so chicken is draped with sauce.

Bake at 350F for 65-75 minutes, basting generously every 15 minutes with the remaining marinade. Don't skip the basting, as this is what makes the chicken so tasty and good!
Equipment
Large Bowl

Aluminum Foil

Baking Sheet
Nutrition (per serving)
Calories:
168
kcal
|
Carbohydrates:
2
g
|
Protein:
25
g
|
Fat:
6
g
|
Saturated Fat:
1
g
|
Polyunsaturated Fat:
1
g
|
Monounsaturated Fat:
2
g
|
Trans Fat:
0.02
g
|
Cholesterol:
117
mg
|
Sodium:
514
mg
|
Potassium:
332
mg
|
Fiber:
1
g
|
Sugar:
1
g
|
Vitamin A:
53
IU
|
Vitamin C:
0.4
mg
|
Calcium:
20
mg
|
Iron:
1
mg